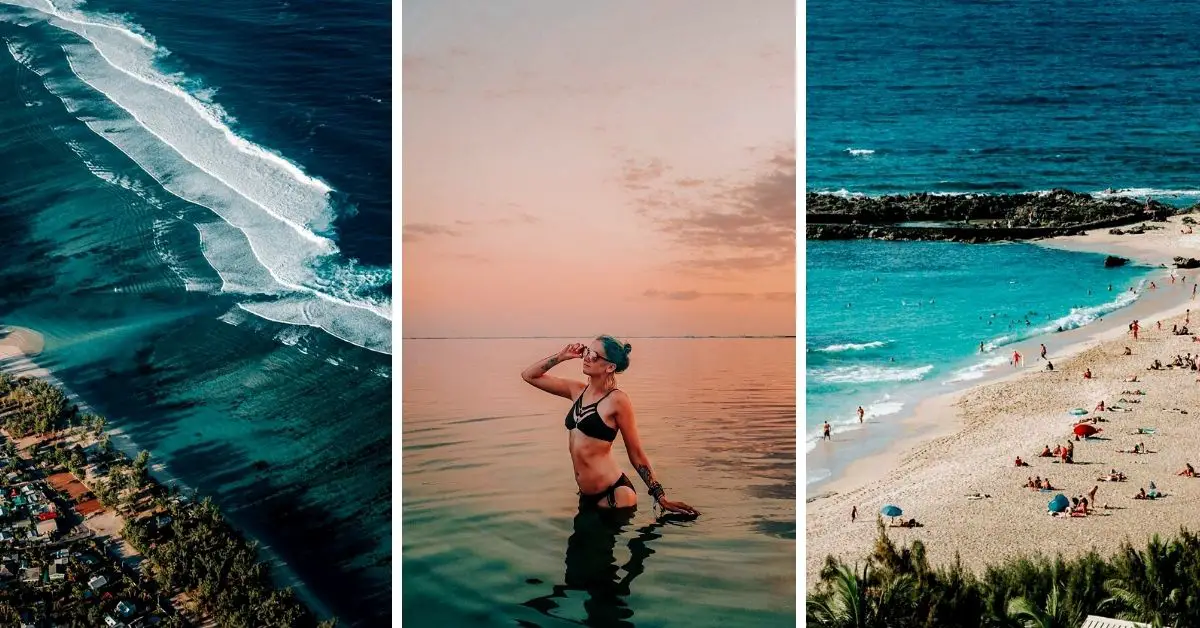 With its ideal location in the middle of the Indian Ocean, one of Reunion Island's strongest bragging points are its surplus of dreamy beaches (plus the waterfalls and bubbling volcano!)
And the creme de la creme of its picturesque strips of unspoilt sand? The West Coast of the island.
If your idea of the PERFECT holiday is with your bum firmly planted in the sand, ridiculously good-looking sunsets and tres magnifique beach bars and restaurants – stay in the Saint Gilles Les Bains area along the West Coast.
While some areas around Reunion aren't safe to swim because of sharks, Saint Gilles is protected by beautiful coral reefs and nets, making it the best place on the island for beach bums.
Keep reading to find out which white sand "plages" on the West Coast of Reunion Island deserve your sun-worshipping, what you can expect from each beach and more!
Psst…Want more Reunion Island travel tips? Check out these other posts:
The Best Beaches on the West Coast of Reunion Island
Plage de L'Hermitage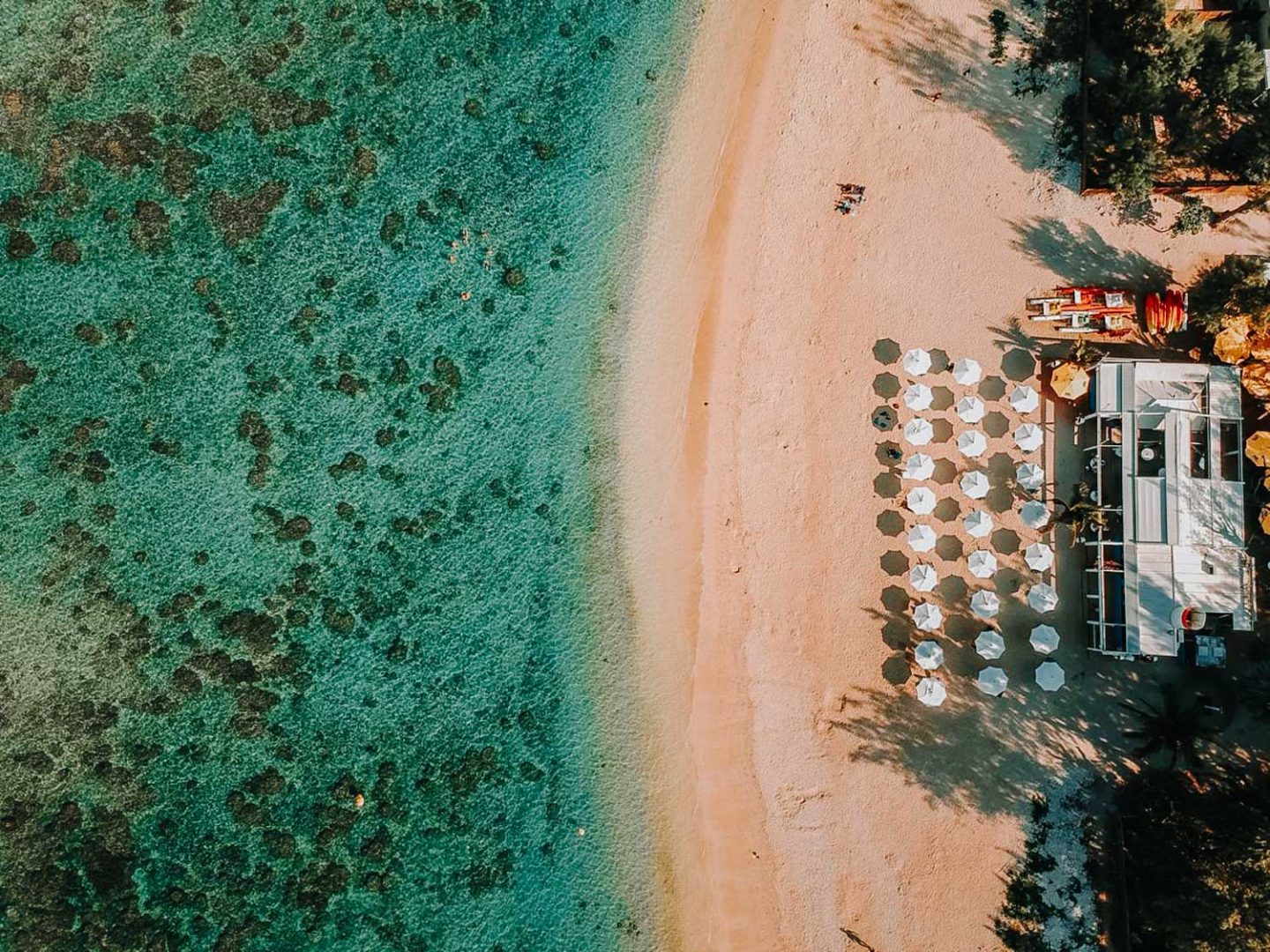 Plage de L'Hermitage is one of the most beloved beaches on Reunion Island. Towering palm trees frame this stunning strip of sand and its strategic position between St. Gilles and la Saline Les Bain attract beach lovers in droves.
During my last trip to Reunion, I spent a good couple of afternoons cooling off in the warm waters lapping at the shore and snorkelling past the colourful tropical fish in the lagoon.
But what makes Plage de L'Hermitage a must-visit for beach bums is the local cuisine. With cafes and restaurants dotting the beachfront, you'll have plenty of options to choose from when hunger strikes and a cocktail or cafe au lait is never too far away.
Read More: Reunion Island Itinerary: How to See the Best of Reunion Island in One Week
La Salines-Les-Bains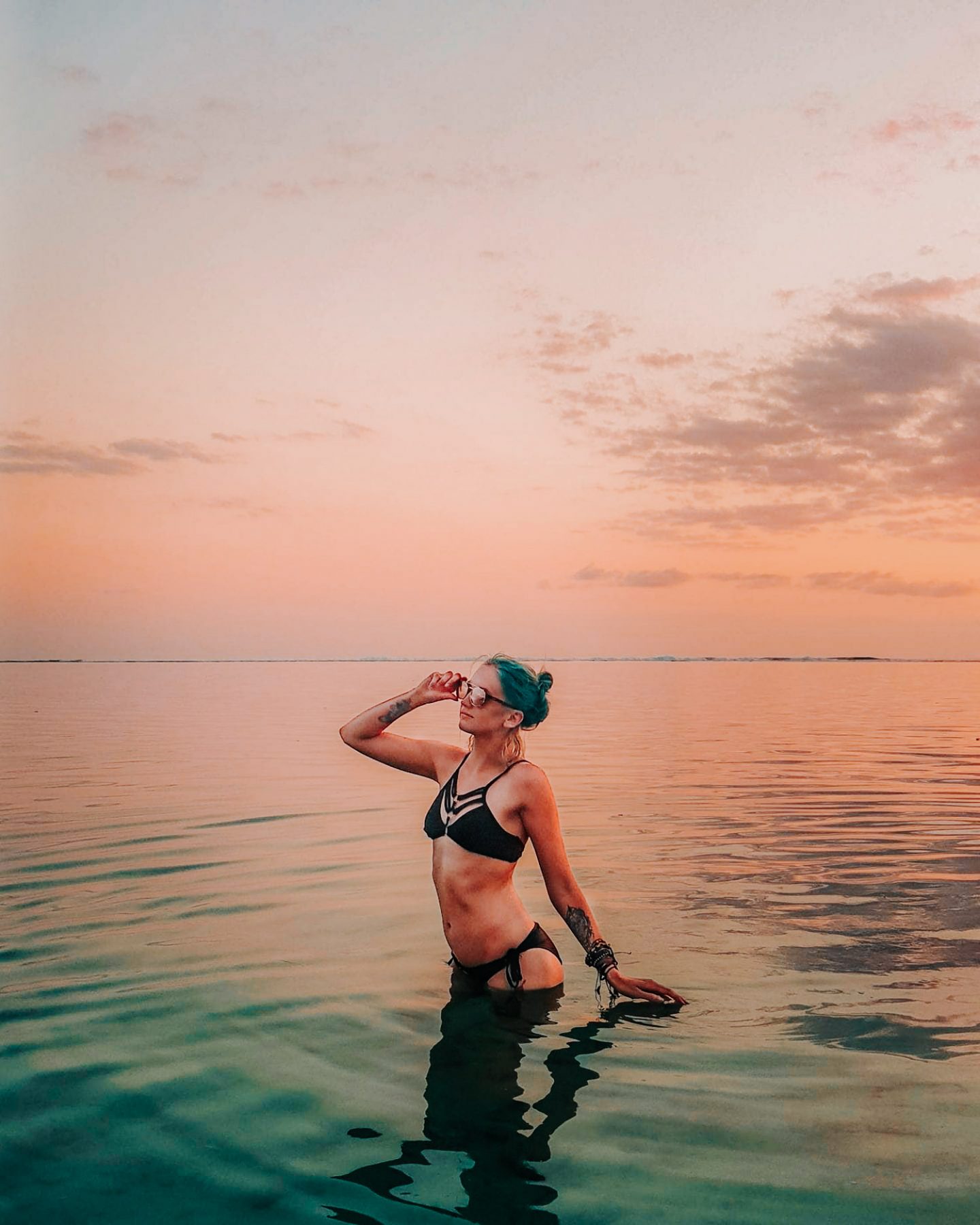 Okay, I'll admit it. I am extremely biased when it comes to the magnificent La Salines Les Bains.
After all, I spent every single morning of my week-long trip on that beach. Soaking up the tropical views with a cup of coffee in hand and my feet tucked beneath the warm sand.
With hardly anyone around in the early morning, time stands still here.
And the sunsets? Absolute magic! As the sun dips over the horizon, the sky slowly turns wondrous shades of cotton candy pink.
If that's not enough to convince you to spend at least a few hours on the La Salines Les Bains beach, hold onto your wallets.
One of La Salines Les Bains biggest selling points is its glass-bottomed kayak hire! For approx. €10, you can cruise around the lagoon, gliding over the tropical fish and watching the day bow out in style while you sip on a local Bourbon beer.
Read More: Reunion Island: The Perfect Tropical Escape for LGBTQI+ Travellers
Plage de Boucan Canot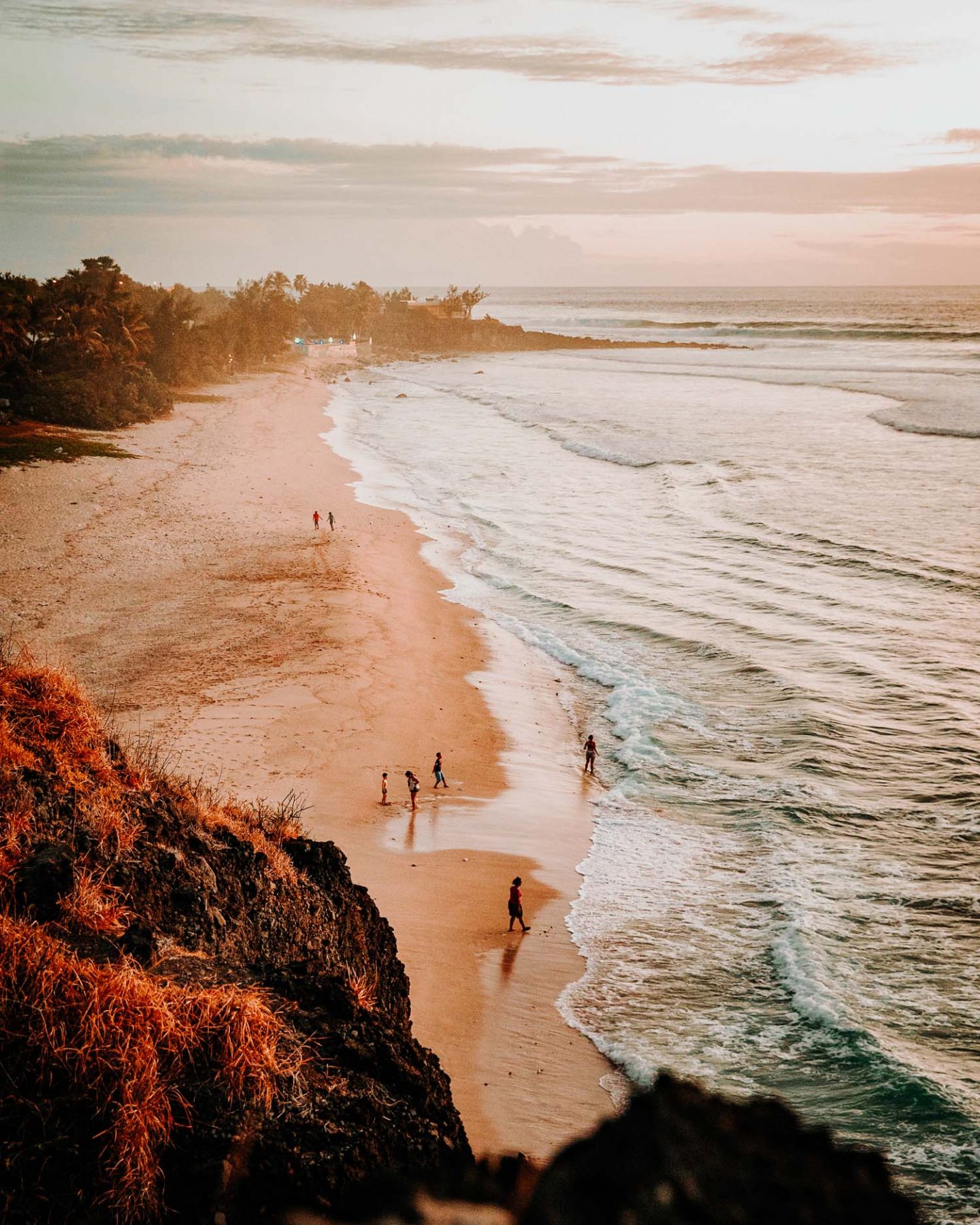 Not far from Plage de L'Hermitage is the Reunionnaise version of Saint-Tropez.
Plage de Boucan Canot is a white sand beach with an esplanade lined with delicious cafes, snack bars, and cocktail lounges.
And much like it's French Riviera doppelganger, the beach plays host to an array of artistic and cultural events like the Reunion Film Festival. A giant screen is set up on the beach, transforming it into a picturesque open-air cinema!
Held in October, it's your best bet for a celebrity sighting as famous actors and directors flock to Plage de Boucan Canot.
Top Tip: Get away from the crowds by walking further away from the centre. You'll soon find secluded strips of sand you can enjoy all to yourself!
Read More: Rum As You Are: A Delicious Guide to Reunion Island's Signature Rhum Arrangé Drink
La Plage des Brisants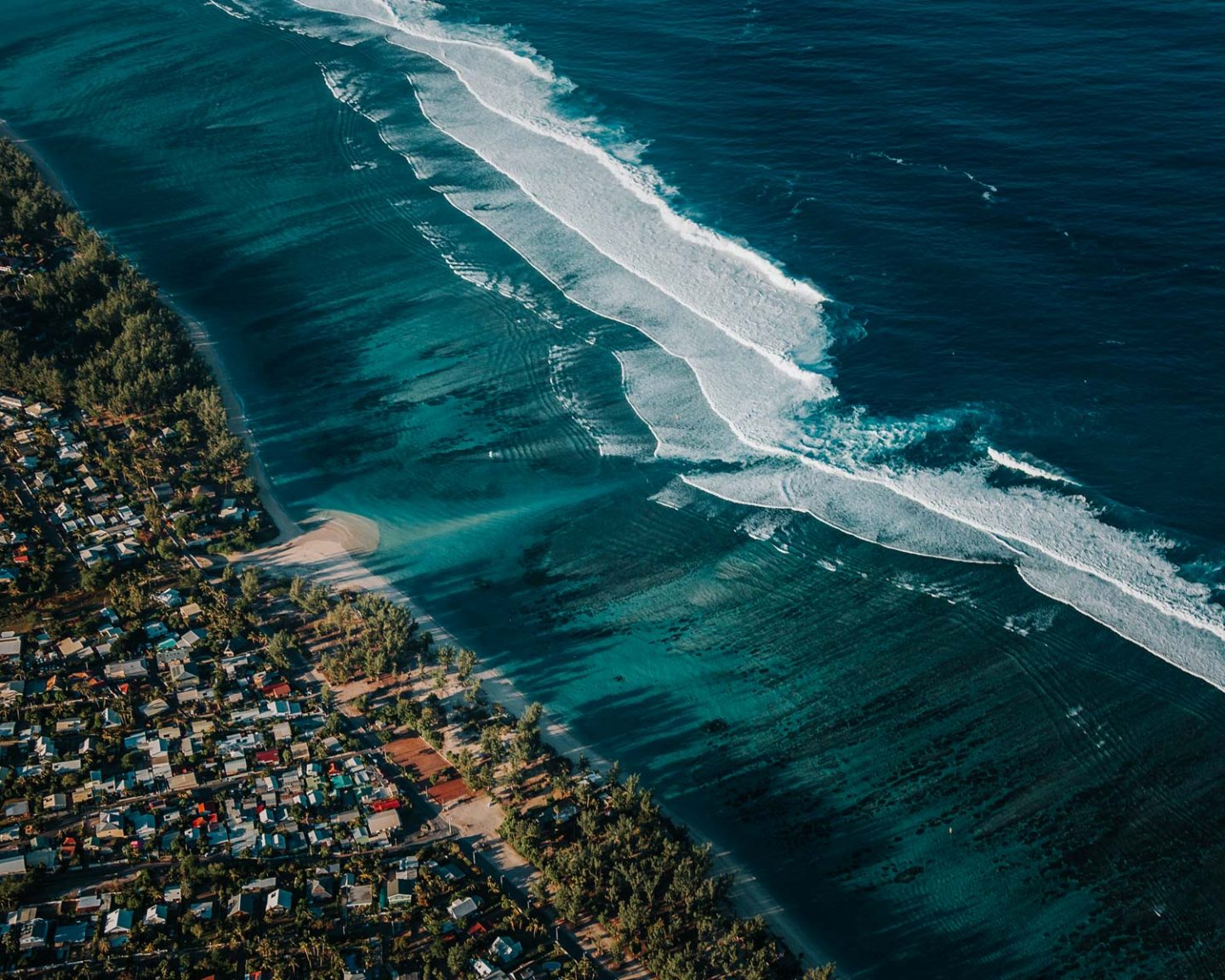 Stretching from the Port of Saint-Gilles to Plage de L'Hermitage is La Plage des Brisants.
It's one of the longest beaches on Reunion Island (2.5km of golden sand heaven to be exact) and is known as the sundowner spot on the West Coast.
Come here in the late afternoon and stay for a sunset drink at the Sauvage bar and restaurant. Grab a spot right on the beach and listen to live music as you sip on a local beer or an iced margarita.
Want to get in a workout while on the beach? La Plage des Brisants is known for its beach sports with regular competitions for volleyball, football and rugby.
Plage des Roches Noires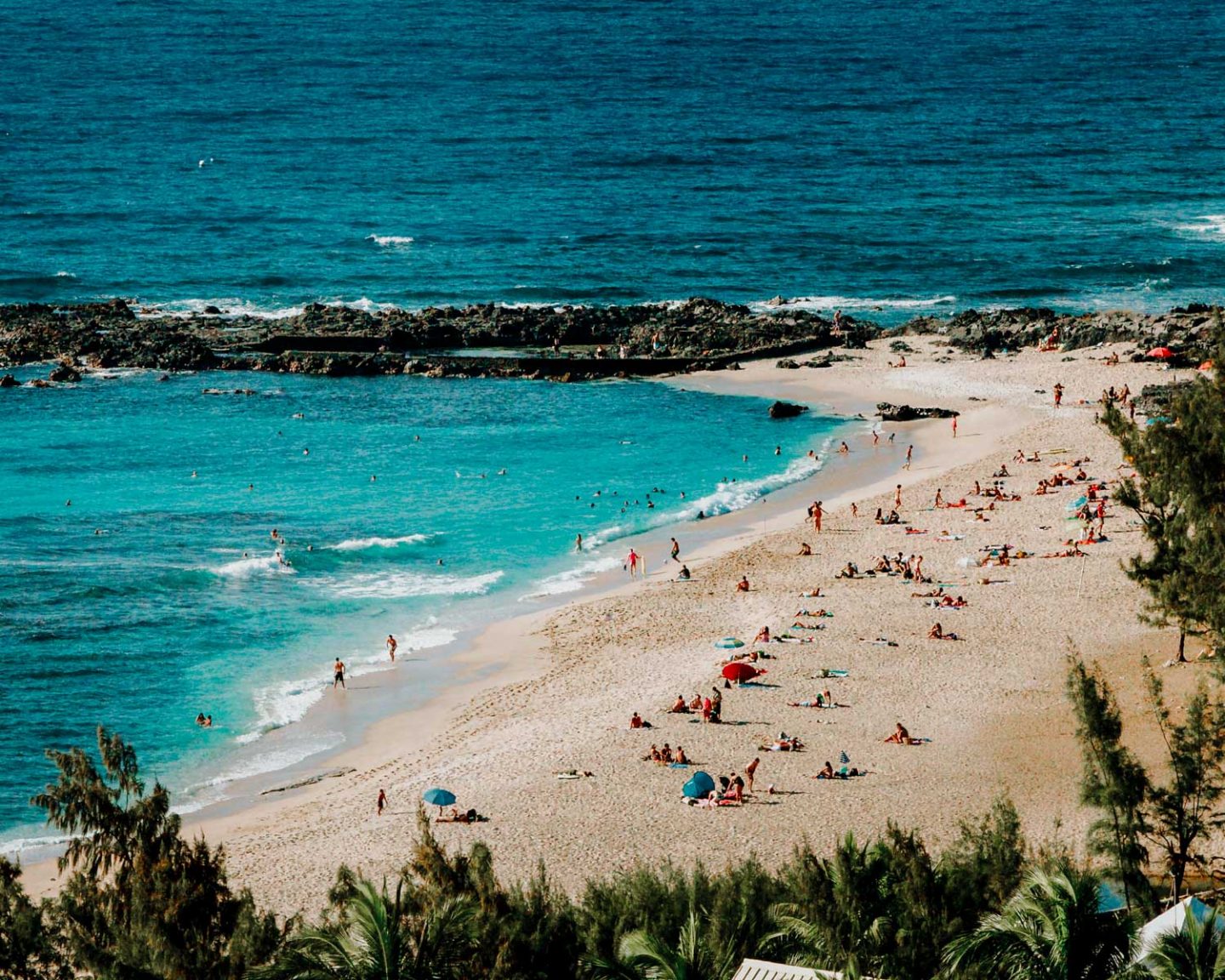 Plage des Roches Noires is the setting for one of Reunion Island's biggest annual events, the Grand Boucan carnival.
The festival celebrates King Dodo, and a giant effigy (almost 9 metres high) is set alight followed by a spectacular fireworks show and live music.
But if you can't plan your trip around the festivities, Roches-Noires is still a beautiful beach to plough through your latest summer read and work on your tan.
BONUS: Plage de l'Étang-Salé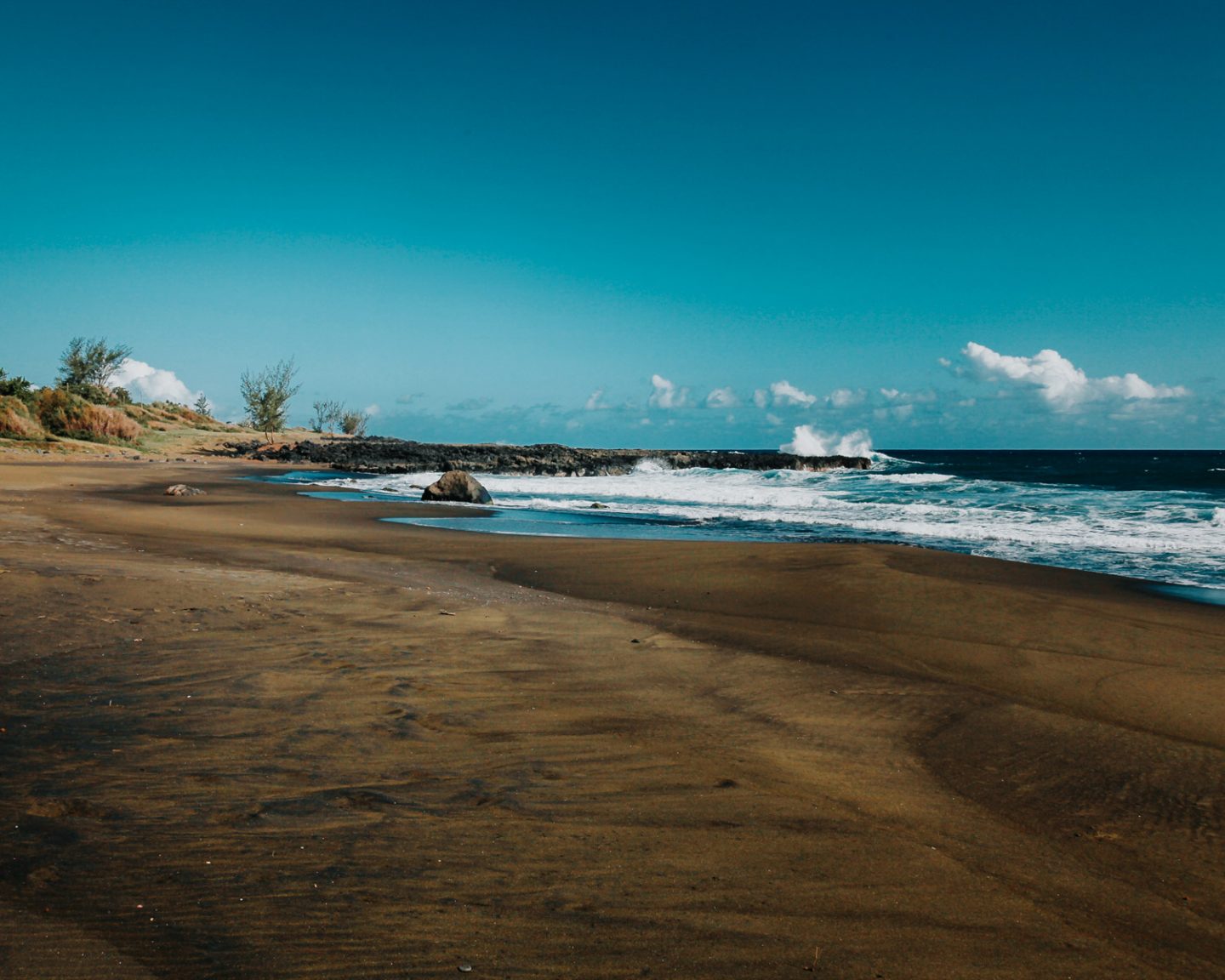 Okay, hear me out.
Plage de l'Étang-Salé isn't technically on the West Coast, it's a bit more south, BUT it deserves a mention.
Why?
Well, for one it's only a 25-minute drive from L'Hermitage and two, it's one of the best black sand beaches on Reunion Island.
That in itself is worth the road trip for a spectacular beach day and a prime sunset spot.
The village of l'Étang-Salé has island-time written all over it!
(And then there are those UFO rumours…spooky!)
---
Experience More of Reunion Island's Natural Wonders
Reunion Island is more than it's gorgeous West Coast beaches. It's the island of adventure for a reason!
Here are some of the best ways to experience its impressive natural wonders:
Piton de la Fournaise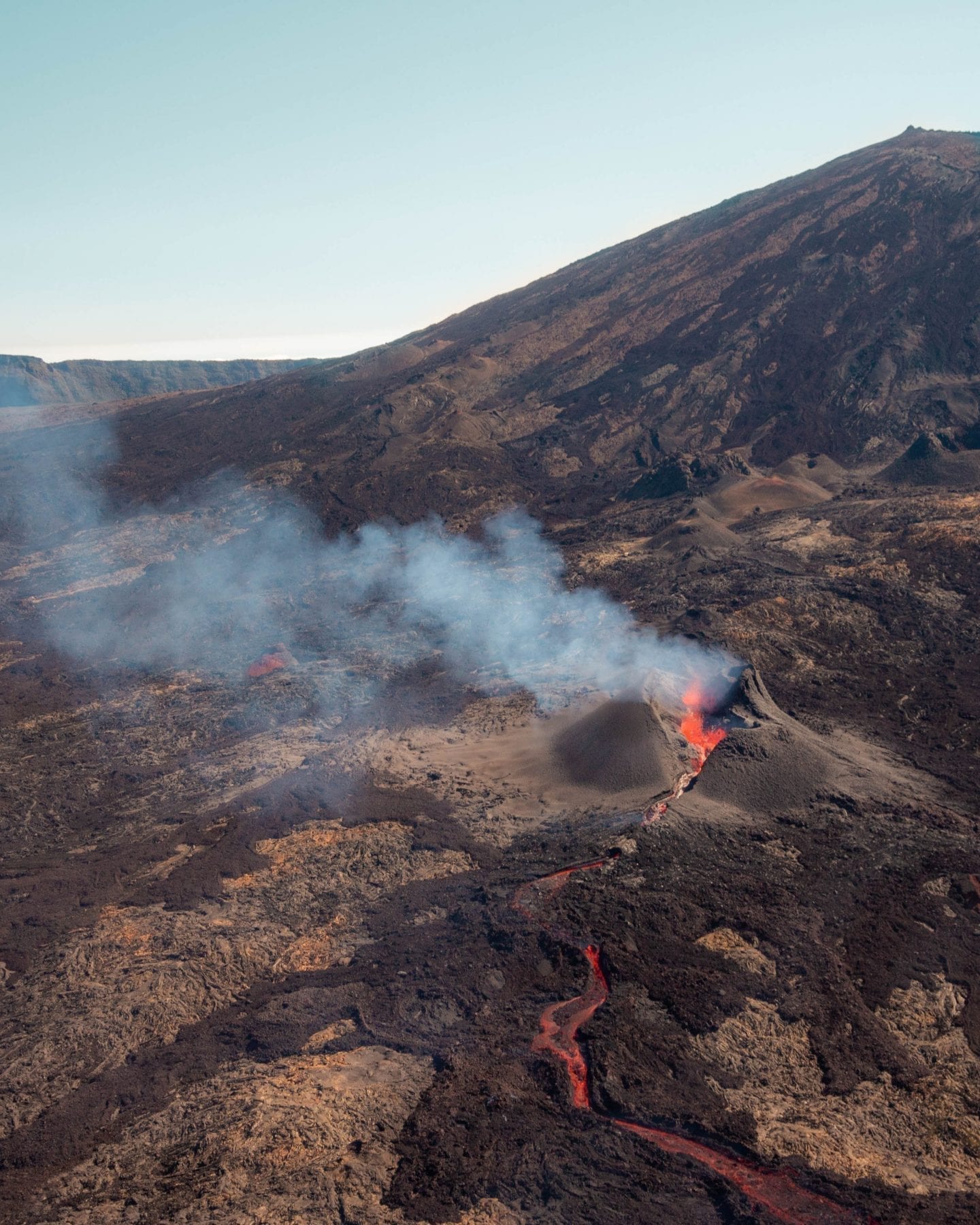 The bubbling Piton de la Fournaise is one of the most active volcanoes in the world.
You can hike it, bike it or go on an exhilarating helicopter ride over the lava as it drools into the Indian Ocean.
After a lazy day at the beach, leave Saline des Bains around 3:00 pm and drive two hours to the start of the volcano hiking trail.
It will give you more than enough time to find a good spot for sunset and watch the lava flow light up the night's sky!
Rivière Langevin
Need a dose of adrenaline? Book a canyoning adventure at Rivière Langevin.
The tour starts at the Grand Galet waterfall (one of the most impressive cascades of water I've ever laid eyes on!) where you'll zipline down to the base of the falls.
From there, you'll traverse over the rocks, and jump off ledges of different heights as you make your way downstream.
Bassin la Mer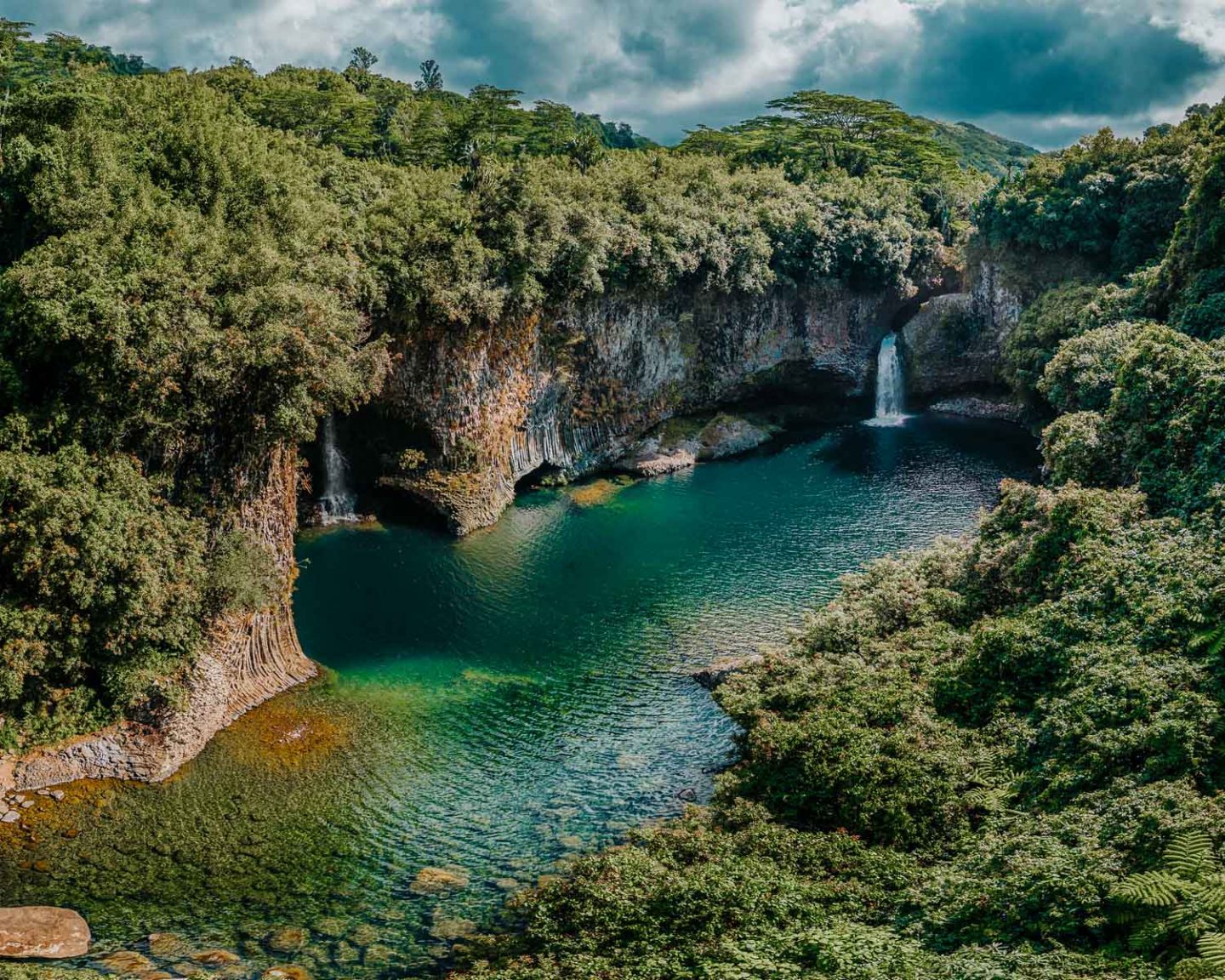 Continue chasing waterfalls in Reunion Island and visit the stunning Bassin la Mer. It's close to the West Coast and easy to add to your itinerary if you're booking a canyoning experience.
Pack a picnic (don't skimp on the croissants or baguettes!) and spend an afternoon swimming beneath the falls and enjoying an ice-cold beer or two.
---
How to Get to Reunion Island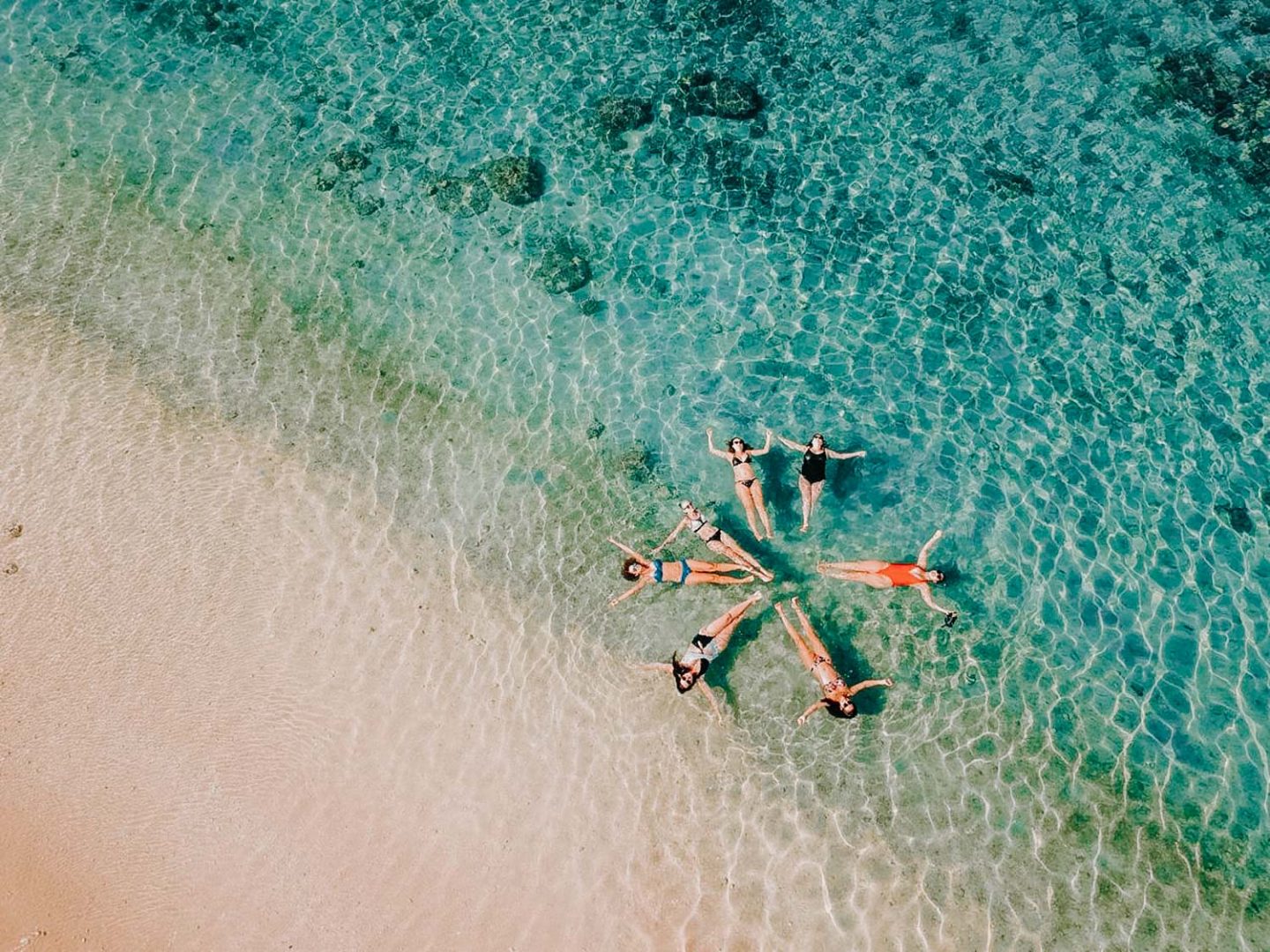 Located in the stunning Mascarene Archipelago in the Indian Ocean, Reunion Island is only a 4-hour direct flight from South Africa.
The best part? It's a visa-free destination for South Africans!
Yup, you read that right.
Mahala!
You can visit a French territory that's part of the EU without spending a cent on a Schengen visa.
I don't know about you, but those words "visa-free" are pretty much all you need to say to me to get me to buy a plane ticket, pack my bags and dash to the airport.
Read More: The Complete List of Visa-Free Countries for South Africans
---
Plan Your Magnifique Voyage to the "Ultimate Island"!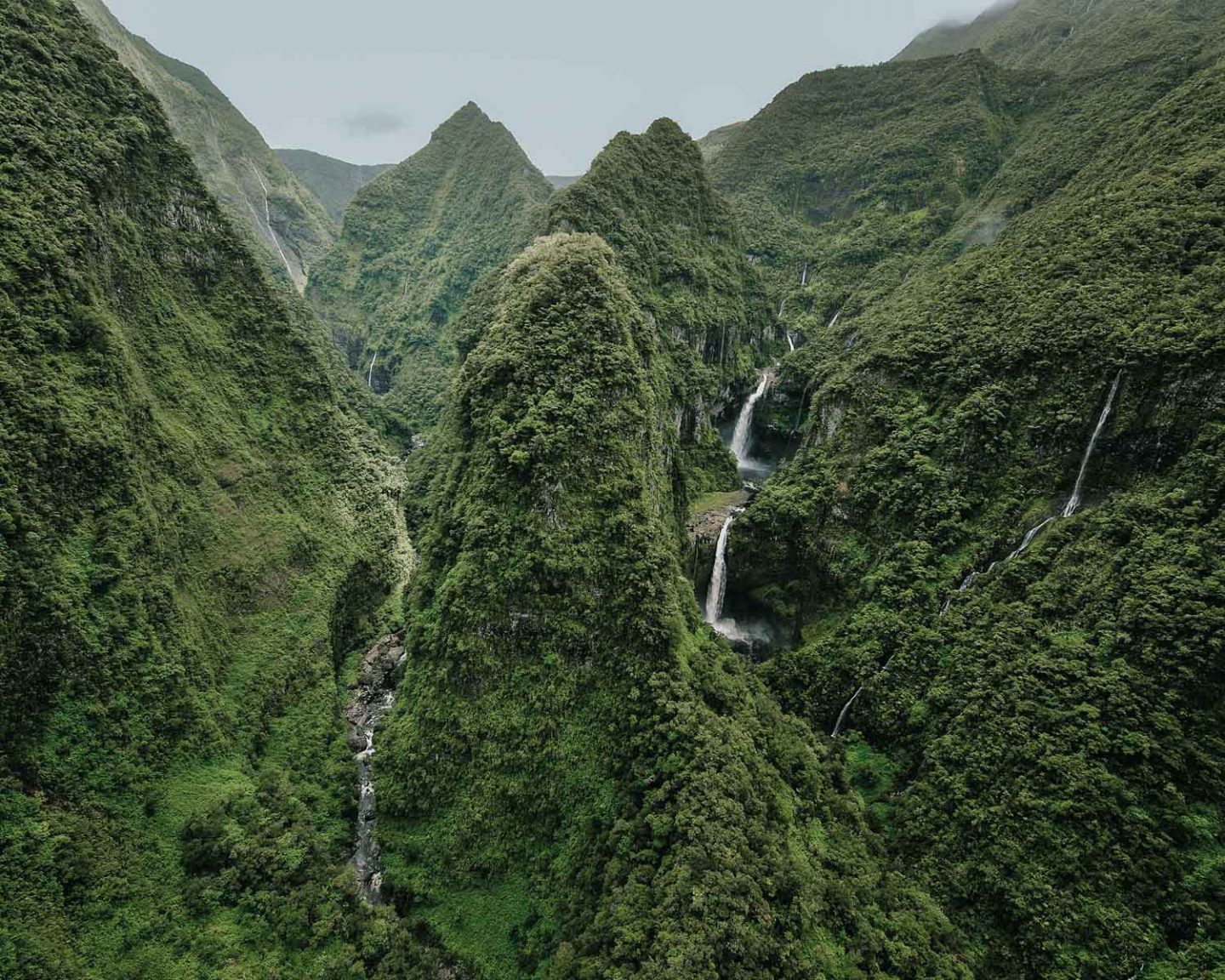 To book the ultimate beach hopping holiday along Reunion Island's West Coast, and plan the perfect itinerary visit www.reunion.fr.
For further information, contact the Reunion Island Tourism Board South African Office at reunionisland.za@atout-france.fr
If you like it, then you should put a pin on it!