a>
This is not a drill. I repeat this is NOT a drill. I have found return flights to 14 of the cheapest rand-friendly destinations from South Africa for under R 6000.00! Prepare your credit cards. Get your suitcases out of storage. It's time to put in some leave and explore the world at one of these rand-friendly holiday destinations.
Finding cheap flights to destinations around the world is the number one thing I get asked from my family and friends. And to bid adieu to winter, I thought I'd put my digging skills to good use and see what international flights I could find for under R 6000 return from September to December.
Want to know how I find my prices? Here's my 9 step guide to finding the cheapest flights to anywhere!
It's time to stop using our weak currency and the extortionate visa fees we pay as a reason not to travel abroad. Instead get out your suitcase, cut down on those coffees from Vida and explore a new country!
Here are my top picks for cheap rand-friendly destinations to visit this summer from South Africa!
How To Find Cheap Flights Departing From South Africa
Before we get started, and your credit card gets some much-needed love, you need to know how I found these flights. While I do use a bunch of different websites to find the best deals, I always start with Skyscanner to get an idea of where I want to go and work from there.
I found the below flights by doing the following:
Entering South Africa as my starting point and set my destination to "everywhere".
Changing my travel dates to the cheapest month of the year.
Selecting economy seats and one passenger.
This search criteria will now give you the cheapest holiday destinations for South Africans from all around the world!
The prices below are what I found on Skyscanner this week. Please keep in mind that they may go up or down by the time you start looking and in some cases, the tickets might already be sold out. But I hope this post can give you some frugal inspiration on where to travel in the final months of 2016.
Looking for visa-free destinations from South Africa? Here's a list of 14 unique visa-free countries for South African passport holders to visit in 2017!
Cheap Flights To Rand-Friendly Destinations in Africa
1.      Nairobi, Kenya
I have yet to meet someone who doesn't want to go to this country. I'll even admit that the amount of praise this country gets makes me jealous on behalf of South Africa. But can we really compete with the annual migration of one and a half million wildebeest dubbed "the greatest wildlife show on earth?"
The thing that has always fascinated me about Kenya, aside from its rich biodiversity, is the culture of the Maasai. It's kind of amazing how their lifestyle has remained unchanged for centuries.
With a return ticket coming in at under 4K, flying into Kenya has never been more affordable and is all the motivation you need to experience this country that will take your Insta feed to the next level.
Departure City: Johannesburg
Arrival City: Nairobi
Travel Dates: Fly out on either 5th, 9th, 16th, 19th or 26th and leave on the 9th, 16th, 23rd or 30th of October.
Price: R 3 800 +/-
Visa for South African Passport Holders: No visa required
Exchange Rate: 1 ZAR = 7.5 KES ( USD dollars used for tourist activities)
Top attractions: Maasai Mara, The Great Rift Valley, White River Rafting in Tana River, Mount Kenya and Mount Kilimanjaro, Mombasa Marine Park

Photo by: Benh Song
---
2. Dar Es Salaam, Tanzania
When I say Mount Kilimanjaro do you only think Kenya? For shame. Tanzania is the other half of this natural world wonder that boasts breath-taking landscape, picturesque beaches and is teething with wildlife.
Known for its exceptional luxury safari lodges, there is only one thing that can top those five-star escapes into the bush. A safari in a hot air balloon. Say it with me now – shut up and take my money!
But wait there's more! Tanzania is only a hop skip away from Zanzibar, one of Africa's most beautiful islands that boasts 30 different beaches! You can literally spend your holiday kitesurfing around the island visiting each one. #GOALS
Departure City: Johannesburg
Arrival City: Dar Es Salaam
Travel Dates: 21 – 26th September; 5th – 10th October; 19th – 31st October;  20th – 30th November
Price: 2 900 +/-
Visa for South African passport holders: No visa required
Exchange Rate: 1 ZAR = 162 TZS ( USD also widely accepted)
Top attractions: Mount Kilimanjaro, Zanzibar, Misali Island, Kitesurfing, Serengeti National Park, Hot Air Balloon Safari, Ngorongoro crater

Photo by: Yoni Lerner
---
3.      Maputo, Mozambique
You know you're onto a good thing when a band starts singing about a destination. In Fuzigush's ode to Mozambique, they famously sang: "You turn around to take a final peek / and you see why it's so unique to be / among the lovely people living free / upon the beach of sunny Mozambique."
Our neighbouring country is one the most affordable destinations for South Africans. During my trip in 2015, I managed a 10-day trip including activities for just under R 6000! This attractive price point means adventure enthusiasts don't have to count pennies to fill their days exploring the thriving coral reefs, scuba diving with whale sharks or sea kayaking to nearby islands.
Flights between Johannesburg and Moz are notoriously ridiculous. Before my trip, I was hard-pressed to find return flights for less than R 4000.00 which led me to enter the country overland. So if you don't have time to travel by bus or car and can find a cheap flight – don't hesitate. Buy that ticket.
READ NEXT: Budget Holidays: How to Travel to Mozambique on the Cheap
Departure City: Johannesburg
Arrival City: Maputo
Travel Dates: 21st – 25th October; 5th – 14th December
Price: 3 500 +/-
Visa for South African passport holders: No visa required
Exchange Rate: 1 ZAR = 5.3 MZM
Top attractions: Scuba Diving, Ocean Safari, Island Kayaking, Gorongosa National Park, Archipelago das Quirimbas, Traditional Dhow Cruise, Inhaca Island
---
4. Mauritius
"Mauritius was made first and then heaven, and heaven was copied after Mauritius."
Swoon!
What is it about island getaways that captivates our hearts and souls so much? There is just something so alluring about imagining yourself on a gorgeous beach, chasing the sun and your only worry being your tan lines.
The island's mountainous terrain offers some insane hiking with Le Morne Brabant reaching an elevation of 500m (!) Challenging bicycle routes will have your glutes burning in no time while you cycle past waterfalls, groups of Aldabra tortoises and stunning plantation houses from years gone by.
With return flights to the undisputed jewel of the southern Indian Ocean under R 6000, it's a great choice for budget and luxury travellers alike, giving you more room to splurge on that room upgrade or adventure activities.
Departure City: Johannesburg
Arrival City: Port Louis
Travel Dates: 8th – 15th November; 20th – 27th October; 15th – 23rd September
Price: R 5 200 +/-
Visa for South African passport holders: No visa required
Exchange Rate: 1 ZAR = 2.65 MUR
Top Attractions: Le Morne Brabant, Seakarting, Ziplining, Kite Surfing,  Île aux Cerfs,  Ser Seewoosagur Ramgoolam Botanical Gardens, Sugar Adventure Tour, Seven-Coloured Earth

Photo by: Matteo Fini
---
Cheap Flights To Rand-Friendly Destinations in Europe
5. Lisbon, Portugal
With the Rand seeing a wee bit of a bump after our recent Municipal elections, visiting European destinations like Portugal has become slightly more affordable. But while South Africans will still fork out quite a bit for food, activities and accommodations, the cheap flights currently doing the rounds for Lisbon make it all worth it.
If you like to have options when abroad, Portugal is the Holy Grail. In fact, a more adept question to ask would be what doesn't this country have? From thrill-seeking daredevils to nature lovers, history buffs and social butterflies – the chances of you running out of amazing things to do in this location are slim to none.
What makes this destination even more alluring is that it is a dirt cheap flight to Europe. It's one of the cheapest rand-friendly destinations in Europe to visit from South Africa. Which means we can all start living our best lives by FINALLY acting out our own Euro Trip. It's time to put Scotty Doesn't Know back onto your playlists kids.
Departure City: Johannesburg
Arrival City: Lisbon
Travel Dates: Fly out on either the 5th or 9th and leave on the 19th or 20th of September.
Price: R 4 200 +/-Visa for South African Passport Holders: 3 month Schengen
Exchange Rate: 1 ZAR = 0.067 EURO
Top attractions: Ziplining, paragliding, island hopping, road trip to Alentejo, visiting the Bairro Alto neighbourhood, Archipelago of the Azores,  Palácio da Pena,  Cais da Ribeira riverfront, visitingGuimarães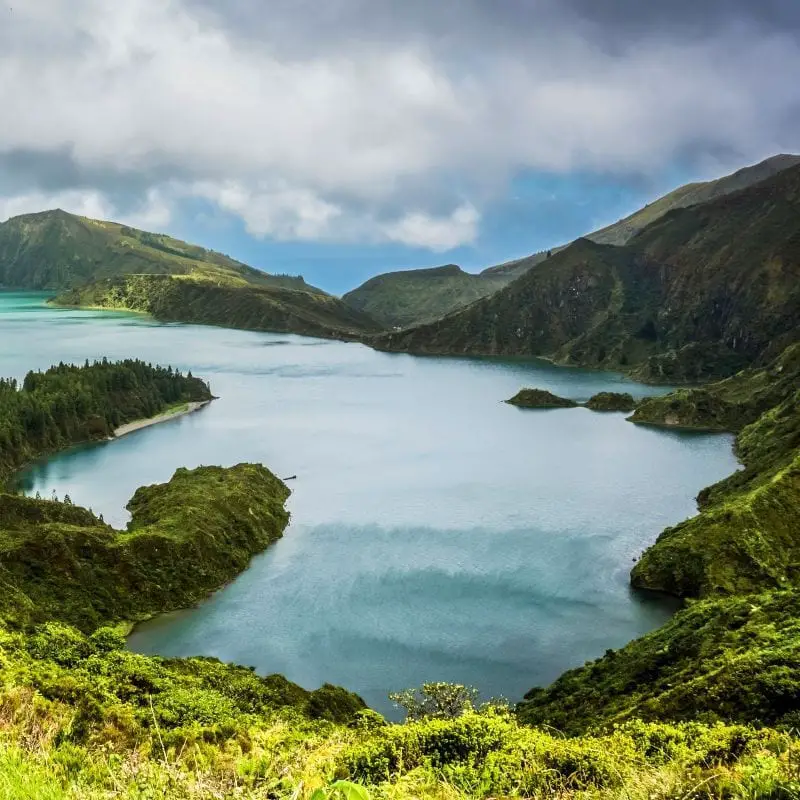 ---
6. Frankfurt, Germany
Ah, Germany the land of beer, fairytale castles and the best industrial metal band – Rammstein. If you are looking to explore a unique European country rich in history, culture and beauty natural beauty –you need to explore this place in November.
Visit the famous Alps and try your hand at snowboarding, experience what it's like to live in a country where things run on time or explore the amazing surrounds of the Black Forest.
With this flight being one of the most expensive on this list, you will also need to have a bigger budget to survive once in Germany. But it is still possible to travel there on a tight budget despite a pricey flight– even with the South African exchange rate.
Nomadic Matt has a comprehensive frugal travel guide on how to travel this great European destination on the cheap.
Departure City: Johannesburg
Arrival City: Frankfurt
Travel Dates: 1st – 30th November
Price: 5 900 +/-
Visa for South African passport holders: 3 month Schengen visa
Exchange Rate: 1 ZAR = 0.067 EURO
Top attractions: Castle Neuschwanstein, Bavarian Alps, Black Forest, architecture of Nuremberg, driving Romantic Road, Museum Island, Berchtesgaden National Park, Schloss Colditz, Berlin Wall, Burg Eltz
---
7. Athens, Greece
Do you really need a reason to visit the land of the Gods? The birthplace of modern democracy? A country whose myths eventually gave us the greatest on-screen couple of all time Hercules and Xena: Warrior Princess? HELL to the NO.
But with return flights under R 6 000.00 and Greece still recovering from its economic meltdown, there is even more incentive. It is one of the most rand-friendly destinations in Europe for South Africans with dorm rooms starting at R 300 a night and 3-star hotels at R 500.
So it's time to crack open that piggy bank and unleash your inner history nerd this summer. Learn about the ancient Greek Gods (who let's be honest are the result of some pretty dope psychedelics), party it up in Mykonos and eat all the baklava you can stomach!
Departure City: Johannesburg
Arrival City: Athens
Travel Dates: 8th – 22nd September
Price: 5 900 +/-
Visa for South African passport holders: 3-month Schengen visa
Exchange rate: 1 ZAR = 0.065 EURO
Top attractions: Santorini, Mykonos, Shipwreck Bay, Monasteries, Mount Olympus, Samaria Gorge, Lion Gate, The Acropolis, Delphi, Windsurfing

Photo: Edward Dalmulder
---
8. Copenhagen, Denmark
Denmark. The birth place of LEGO, home to Hans Christian Anderson's The Little Mermaid and now the world's happiest country. Often overshadowed by Scandinavian heavyweights like Norway and Sweden, this small country packs quite the punch.
It offers travellers a glimpse back into time with its beautiful architecture, rich Viking history and collection of 400-year old castles speckled around the region. It is also a food lover's paradise with Copenhagen holding the title of best restaurant in the world.
But it is one of the more expensive destinations on this list.  South Africans can expect budget hostel accommodation to start at R 700 for one night with mid-range hotels coming in at just under R 2000.
Departure City: Johannesburg
Arrival City: Copenhagen
Travel Dates: 4th – 11th September
Price: 5 900 +/-
Visa for South African passport holders: 3-month Schengen visa
Exchange Rate: 1 ZAR = 0.065 EURO
Top attractions: The Black Sun, Noma restaurant, island of Bornholm, Rosenborg Castle, Legoland Resort, Tivoli Gardens, Funen, Kronborg Castle, Royal Deer Park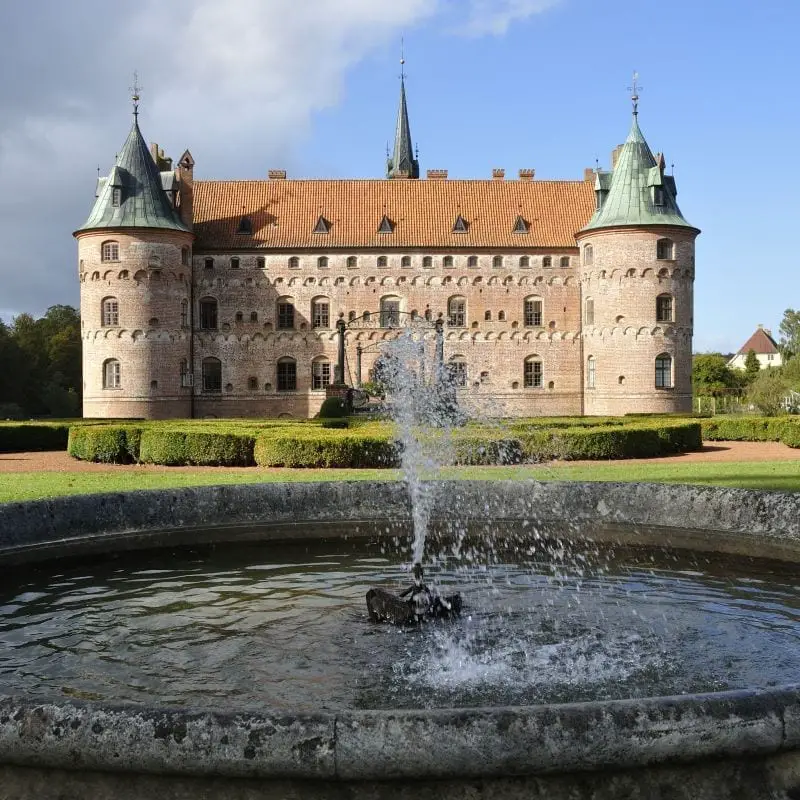 Photo by: Johan Wieland
---
Cheap Flights To Rand-Friendly Destinations in Asia
9. Mumbai, India
India is one of those destinations that people either love or hate. After my trip in February, I found myself leaning closer towards hate, until I started to realise how much I missed the things I really loved. I craved my ritual morning Chai tea, the delicious traditional dishes and even the craziness that seems to surround every single tuk-tuk driver.
As one of my favourite bloggers Brooke Saward said:
"Few countries in the world carve such a deep, lasting impression on a traveller as India does."
With flights to India cheaper than ever, it's the perfect excuse to visit this country and make up your mind for yourself. It is by far one of the cheapest rand-friendly destinations to travel to from South Africa, not only with flights but also for food, accommodation and activities.
It's not often that an ordinary South African millennial can travel abroad and afford a first-class ticket to anything – let alone a train.
And if India isn't working for you, the Maldives or Sri Lanka are inexpensive destinations just a stone throw and a couple of hours in the sky away. But one thing is for certain: no matter how long you spend in India, it will leave its mark on you.
READ NEXT: A Quick & Easy Guide to Train Travel in South India
Departure City: Johannesburg
Arrival City: Mumbai
Travel Dates: 30th of November to the 30th of December or 9th to 16th of September.
Price: R 4 500 +/-
Visa for South African Passport Holders: 6-month tourist visa
Exchange Rate: 1 ZAR = 5,03 INR
Top attractions: The Golden Triangle, Backwaters, Mysore Palace, Taj Mahal, the Ganges, yoga retreat in the Uttarkhand hills, City Palace in Jaipur, Abbey Falls
---
10. Colombo, Sri Lanka
Adventure. Wildlife. History. Unbeatable scenery. It's not hard to imagine why Sri Lanka has seduced travellers for centuries. The love affair it sparked in Arab traders led to the island being given the name Serendib which gave rise to the English word "serendipity".
Escape the Johannesburg rat race and hit that recharge button by discovering Sri Lanka's legendary natural beauty and the glories of its early Buddhist civilisation that still captivate its national identity. Explore the country's wildlife-rich low-land jungles, the healing power of Ayurveda or some of its two thousand years of recorded history.
With return flights between Sri Lanka and South Africa at an all-time low and a decent exchange rate, there's no better time to visit it's palm tree fringed beaches and magnificent temples. Plus – there is no visa paperwork. #Winning
Departure City: Johannesburg
Arrival City: Colombo
Travel Dates: 4th – 24th October
Price: R 4 900 +/-
Visa for South African passport holders: 30-day E-Visa
Exchange Rate: 1 ZAR = 10.97 LKR
Top attractions: Yala National Park, Dambulla Buddah Caves, Ella Rock, Arugram Bay, Sigiriya Rock Fortress, Sinharaja rainforest, Adam's Peak

Photo: Jean-Louis Potier
---
11. Kuala Lumpur, Malaysia
Malaysia is the South East Asia destination that will fulfill all your travel dreams – and then some. It's super cheap, has something for literally every kind of traveller and has that perfect holiday weather we are all looking for.
Malaysia is a melting pot of Chinese, Indian and neighbouring Southeast Asia cultures all coming together in the best way possible – delicious food. Spend your break lounging about on deserted beaches, hiking for orangutans in prehistoric rain forests, white river rafting or exploring its hybrid culture.
While our Rand is not that strong against the local currency, this is helped by the fact that it is a relatively low cost of living. Backpacker hostels start at R 79 a night, and according to the Daily Backpacker Index, you can easily get away with only spending R 460.00 a day or less.
Frugal travel for the win!
Departure City: Johannesburg
Arrival City: Kuala Lumpur
Travel Dates: 1 – 9th October
Price: 5 900 +/-
Visa for South African passport holders: No
Exchange Rate: 1 ZAR = 0.30 MYR
Top attractions: Redang beaches, Snake Temple, Batu Caves, Penang, Turtle Cave, Sunway Extreme Park, Cameron Highlands, Tioman Islands, Kuala Kubu Bharu
---
12. Bangkok, Thailand
Of course, a cheap rand-friendly destinations list for South Africans would not be complete without an appearance from Thailand. This is also a VERY strong hint to all my friends and family who have yet to come visit me.
Thailand is one of those places where you can end up starring in your own Hangover movie trilogy, splurge on a luxury resort or see you having an intense cultural experience that you will remain with you forever.
Flying into Bangkok is the perfect starting point for whatever type of holiday you want to get out of Thailand. Head down south to explore the famous islands, full moon parties and world-class diving spots or go further north and discover the traditional hill tribes, lush rainforests and epic rock climbing routes.
READ NEXT: 8 Cheap and Walkable Things To Do in Chiang Mai
Departure City: Johannesburg
Arrival City: Bangkok
Travel Dates: 20th – 29th October; 1st – 12th December; 5th – 12th December
Price: 5 700 +/-
Visa for South African passport holders: Visa on arrival
Exchange rate: 1 ZAR = 2.58 THB
Top attractions: Chatuchak market, Chiang Mai, Ayutthaya, Phi Phi Islands, Koh Tao, Krabi, Phang Nga Bay, rock climbing, scuba diving, Chiang Rai, Phuket
---
13. Beijing, China
The culture shock is real here folks.
The bewilderment when first arriving in China is a common topic among travellers. It's the Lucky Egg destination of the world that will see you levelling up from travel noob to hardened traveller in half the time.
So if you are looking for a challenge this summer – you won't be disappointed.
China is a country that is rich in culture, home to impressive architecture and has a written history that is 4, 000 years old. Its food has given rise to distinctive culinary styles and it proudly boasts over 40 World Heritage Sites. It's natural beauty is nothing short of majestic with the other worldly misty peaks of the Hallelujah Mountains, the beautiful Li River and eerie mud flats of Xiapu.
The only thing left to ask is, are you ready to level up bro?
Departure City: Johannesburg
Arrival City: Beijing
Travel Dates: 15th – 29th October
Price: 5 900 +/-
Visa for South African passport holders: Yes
Exchange rate: 1 ZAR = 0.49 CNY
Top attractions: Great Wall of China, Everest, Zhangjiajie, Gobi Deserts, Hainan, The Forbidden City, The Terracotta Army, Yellow Mountain, Li River, Potala Palace, The Temple of Heaven
---
14. Ho Chi Min, Vietnam
Vietnam has a reputation for, well, being bat shit crazy. It is the epitome of organised chaos – especially in busy major cities and has received a bad rep from notable travel bloggers.
But it's definitely not a reason to miss out on this South East Asia country. Vietnam is also thrilling, beautiful, serene and comes with a unique mix of culture and history you won't find anywhere else.
It's an obvious choice for history buffs who want to explore the Cu Chi tunnels, but also great for coffee lovers, adventure addicts and self-professed foodies.
Vietnam is also dirt cheap rand-friendly destinations for South Africans on a budget or those looking to live large for less. And with flights less than their usual R 10 K starting point, it's time to get on board and ride that crazy train!
Departure City: Johannesburg
Arrival City: Ho Chi Min
Travel Dates: 4th – 11th December
Price: 5 900 +/-
Visa for South African passport holders: Yes
Exchange Rate: 1 ZAR = 1657,28 VND
Top attractions: Ha Long Bay, Son Doong Cave, Mekong Delta, Sapa, Con Dao, Hoi An, Cu Chi tunnels, My Son Sanctuary, War Remnants Musuem, Pong Nha-Ke Bang National Park
Which of these cheap rand-friendly destinations from South Africa are you going to explore this summer?