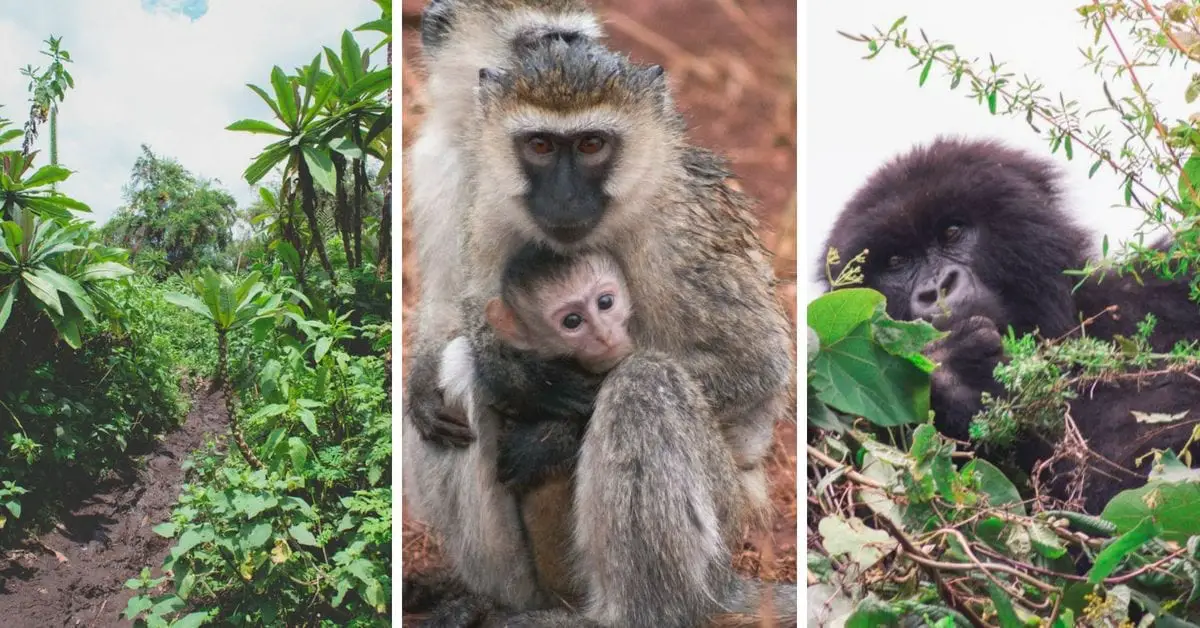 Most people travel to Rwanda to trek with the endangered mountain gorillas. Yet, many others hold off on this once in a lifetime adventure because they buy into the idea that Rwanda, like much of Africa, is unsafe.
Yes, the country isn't as developed to European standards, and yes, it's neighbours tend to be a bit batshit crazy, but that's all part of Rwanda's charm. Its imperfections make it one of the top destinations in Africa, and at the moment it's also one of the cheapest.
But travelling to Rwanda doesn't need to be difficult. With tourism growing each year, the infrastructure is improving, and it's becoming easier than ever before to explore the Land of a Thousand Hills.
Here are 15 things to know about Rwanda before you leave home!
How to Get Your 30-Day Visa on Arrival for Rwanda
If you're like me and you hate visa paperwork, you'll love Rwanda. All African nationals are either visa-exempt or get their visa on arrival. South African's fall into the later, and you'll be happy to know the whole process is quicker than a queue at Home Affairs.
To get your visa, you'll need two things: your passport and $30.
If you haven't exchanged money before your trip, don't worry. Rwandan immigration accepts Visa and MasterCard payments.
Once you've paid for your visa, you'll go to a second queue where you'll have a quick chat with an immigration official.
And then you're done!
If you're travelling to Rwanda from a country outside of Africa, here's a handy map to see the visa requirements for different countries.
Is It Safe to Visit Rwanda?
Yes! It is safe to visit Rwanda. In fact, Rwanda is the safest country in Africa and the 9th safest in the world.
You can stop worrying Mom.
You're more likely to get shot in America than not survive a trip to Rwanda.
I felt completely at ease here. While people did stare at me, it was more my blue hair colour then leering. I also didn't witness or experience any catcalling.
Plus it is nowhere near as homophobic as its neighbours, should we add most progressive East African country to the list as well?
If you do encounter any problems, there is a policeman or someone from the army on every block – for real. While they might look intimidating, Rwandans are some of the friendliest people you will meet and will be more than happy to help.
It's also a good idea to get a travel insurance policy, especially if you're planning a trip to Rwanda on going gorilla trekking. The terrain can be quite difficult to climb (depending on the time of year) and if you do fall you'll want to be covered for my hospital visits or broken gear.
Don't Drink the Tap Water
The tap water is not safe to drink in Rwanda. Luckily, most hotels and hostels will have a free water dispenser that you can use. Before you travel to Rwanda, pack a reusable water bottle in your bag and fill up as you explore.
If you need to buy water, it's inexpensive and available at any of the shops and supermarkets around the country.
Rwanda Travel Vaccinations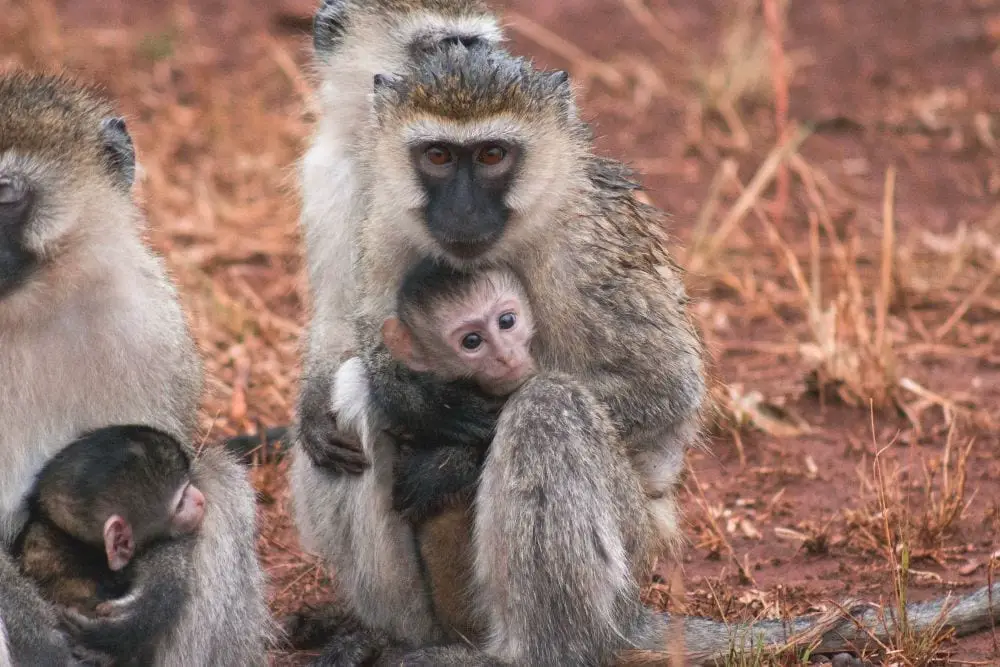 You can travel to Rwanda without a Yellow Fever vaccination.
YAS QUEEN!
This means that there are no Rwanda travel vaccinations that you NEED to have. Of course, there are the recommended ones, but you won't be denied entry into the country.
But if you're flying in from or to any of the neighbouring countries like Kenya or Uganda, you will need proof that you've had the vaccination.
Update: Although none of the resources I encountered (and no one asked to see any Yellow Fever vaccination before any of my flights) some people in the comment section are saying otherwise.
According to the link above, the CDC does not recommend a yellow fever vaccination for most travellers to Rwanda and Rwanda only requires proof of a Yellow Fever vaccination if you're travelling from an at-risk country.
However, if you want to check all your bases, feel free to get the vaccination. It lasts for 10 years, and you won't have to worry.
Hostels in Rwanda
A quick search on Booking.com will only show a measly nine hostels in Rwanda.
But this doesn't mean those are your only options.
A lot of the places don't advertise on online booking sites. I recommend making a reservation for your first night and then exploring your options once in the country.
The hostel scene is small in Rwanda, but it's growing. If you pay a little bit extra, you can usually get a whole 6-bed dorm to yourself. This is because most backpackers stick to the cheaper 12-bed dorms and the hostels are rarely full to capacity.
What Currency is Used in Rwanda?
The official currency in Rwanda is the Rwandan Franc.
However, the US dollar is widely accepted. You'll only need RWF to pay for smaller purchases, local transportation and food. Everywhere else will accept both currencies.
Is Rwanda Expensive?
Yes and no.
Visiting Rwanda can quickly become expensive depending on your itinerary.
The national parks, like Akagera, have a steep $40+ entrance fee for foreign nationals, and the gorilla trekking permits cost well over a $1,000.
But you can still enjoy Rwanda as a cheap destination.
The local food in Kigali is affordable if you stay away from international restaurants. When it comes to transport, there are cheap motorbike taxis and long-distance minibuses that will take you to most of the towns around the country for a couple of dollars.
Internet Access in Rwanda
I didn't have a problem getting online while in Rwanda. While it wasn't the fastest connection, I wasn' staring at my screen begging it to load.
If you aren't planning on getting a local sim card for data, you might struggle to find a connection while exploring. Most of the restaurants I went to didn't have WiFi except the cafe at the Genocide Memorial.
But then again I was eating at super cheap places.
Download a map of the area and join the cheapskate club if you don't want to hunt WiFi down.
How to Get a Permit for Gorilla Trekking and Other Hikes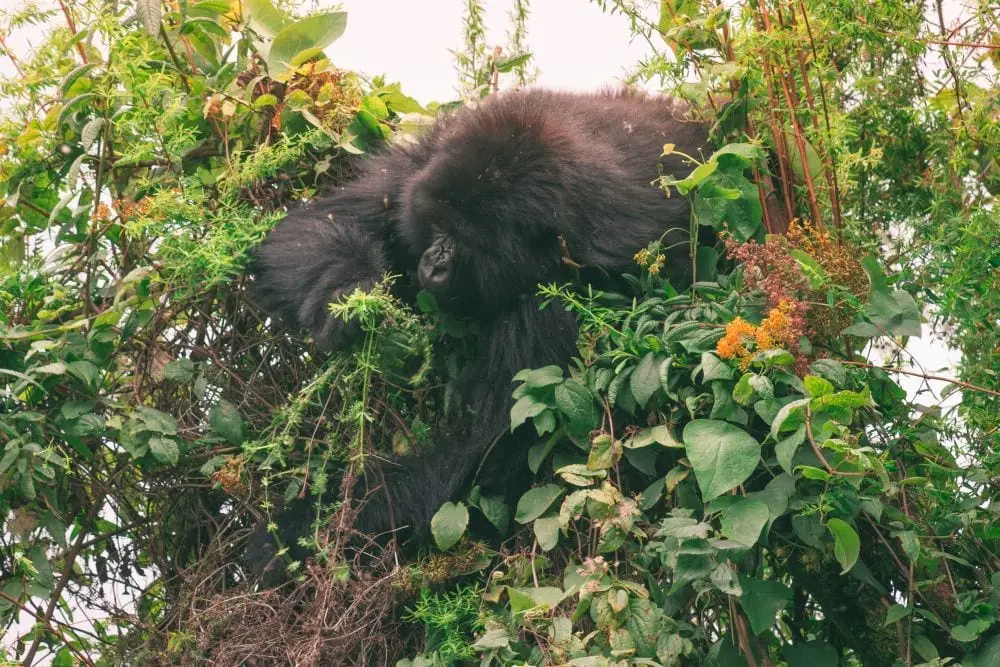 One of the best things to do in Rwanda is to go gorilla trekking. But you can't just go on a hike and hope to see these majestic creatures.
You need a permit.
The permits for Volcanoes National Parks hikes and gorilla trekking can be bought either at the Tourism Headquarters in Kigali or the offices outside the national park.
Prices for the permits vary as well as their availability. For example, Rwanda tourism restricts the number of people that can see the gorillas each day, whereas the Dian Fossey Hike isn't capped.
I recommend emailing the tourism headquarters to find out what availability is like before you go.
Another important thing to remember is that the dates of the permit cannot be changed. If you can't go on that day anymore, you'll need to purchase a whole new permit.
How Much Does a Gorilla Permit Cost in Rwanda?
The Rwanda gorilla trekking permit costs $1500 per person. It's a super steep price and the most expensive out of the three countries (Uganda and Congo) that offer the experience.
The reason the price is so high is that it keeps the trekking exclusive. The gorillas are vulnerable to human diseases and it would be irresponsible to have hundreds of people seeing the gorillas each day.
It would ruin their habitat and change their behaviour.
Plus, your money goes towards their conservation and curbs poaching as the gorillas are now more valuable alive than dead.
When is the Best Time to Travel to Rwanda to go Gorilla Trekking?
The best time to go gorilla trekking in Rwanda is during the dry season. Not only will the terrain be easier to navigate, but you won't have to worry about the rain ruining your chances of seeing the gorillas.
I did the Dian Fossey trek at the beginning of the rainy season, and all the non-avid hikers found it difficult. There was lots of mud, steep inclines and swampy parts where almost everyone lost a shoe.
What to Wear for Gorilla Trekking in Rwanda
Shoes: A good pair of hiking shoes with a high ankle and good grip.
Hiking gaiters: If you don't have your own you can rent a pair for RWF 10,000 (R 160.00) from your guide.
Clothes: Wear long pants and a long-sleeved shirt in neutral colours. This will protect you from the stinging nettles and help you blend in.
Other essentials: A rain jacket for the sporadic showers, and a small backpack that can hold your water, camera and lunch.
Food in Rwanda
The local food is delicious. While I couldn't taste the majority of the dishes as it's quite meat-heavy, I enjoyed everything that I did get my hands on.
Travelling to Rwanda as a Vegan
In the capital city of Kigali, I found it pretty easy to get hold of vegan food. While there aren't any vegan restaurants, all the places I went to had a vegetarian option that could easily be modified into a cruelty-free meal.
A typical Rwandan breakfast includes a platter of fresh fruit so you shouldn't have any problems munching down.
Cooking Class Tours
If you want to learn how to make some of Rwanda's most famous local dishes, go to a cooking class.
The Nyamirambo Women's Center offers one for only RWF 15,000 (R 250.00). Not only will you be helping vulnerable women in the community make a living, but you'll get an authentic look into the preparation and creation of traditional meals.
Plus, they have vegetarian options that can be made vegan on request.
Jumia Food – The Uber Eats of Rwanda
In case you don't know, I'm an odd creature of comfort. I have no problem falling asleep just about anywhere, and once I've found a spot I like, I'm in it for the long haul.
So, as much as I love sampling the local food, I don't love the whole actually going to a restaurant. Sometimes I just want the food and me to have a moment without all the stress that comes along with going out.
In steps Jumia Food. It's Kigali's answer to Uber Eats, and it's fantastic. The app has a wide range of cuisines and price ranges to choose from that will be delivered straight to your hostel door with a swipe of a finger.
I highly recommend the Ethiopian restaurants if you don't mind the splurge. But if you want cheap and mouthwatering, order anything from Chap Chap.
Tipping in Rwanda
Tipping is not customary in Rwanda restaurants unless you're dining at the higher-end establishments in Kigali.
Tipping Guides in Rwanda
If you're doing a hike, you'll need to tip the guide. How much seems to be a debatable issue and I'd recommend asking the hotel staff or the company organising your tour for some guidance.
Keep in mind that the guides, porters and trackers are most likely former poachers. Your business helps them to make a living ethically and see the value in keeping the gorillas alive.
The Best Time to Visit Rwanda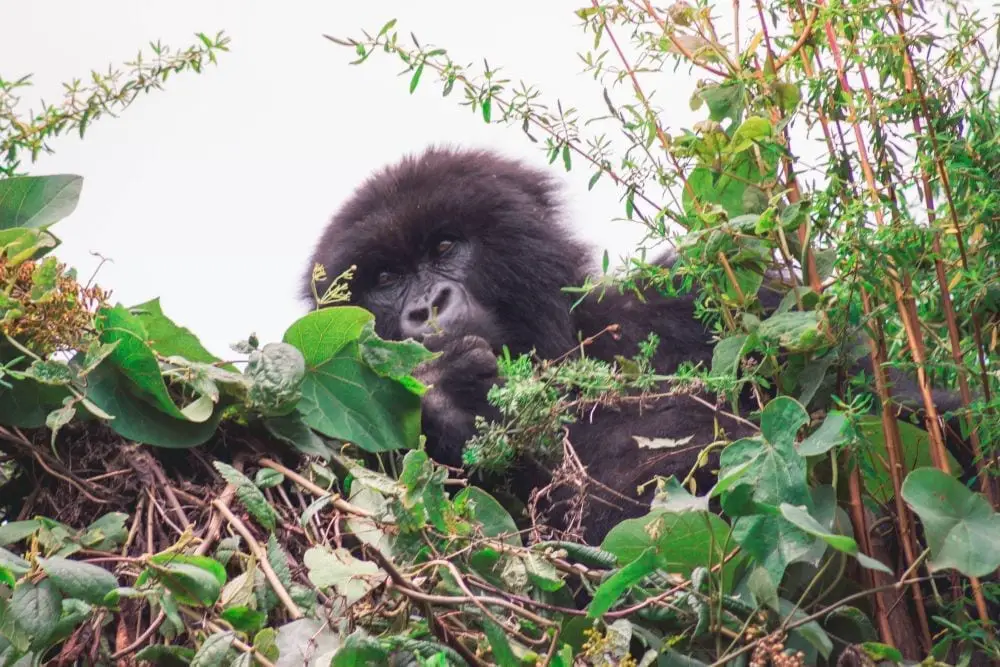 The best time to visit Rwanda is during the dry season. From June to September, there will be minimal chance of rain ruining any of the great outdoor activities in the country.
Plus, it's also a great time of year to see Rwanda's wildlife. The animals in Akagera National Park will be easier to spot as they make their way to the watering holes and hiking conditions will be at their easiest.
The only downside is that it's peak tourist season during this time. Rates will be higher for flights, hotels and activities.
If you visit outside these months, it will be cheaper, but you'll have to plan around the spots of bad weather.
How to Travel to Rwanda
The quickest way to get to Rwanda is to fly. I bought my return flights from South Africa to Kigali for under R 3000, but prices tend to hover around R4000.
If you're already in East Africa, there are local buses that run between the different countries. Some of the most popular routes are from Kampala, Uganda to Kigali or Nairobi, Kenya to Kigali.
Read More: Travel to Kenya: 15 Useful Things To Know Before You Go
How to Get Around Rwanda
The easiest way to get around Rwanda is to hire your own car, but it's expensive.
Luckily, the country does have a decent public transport system that makes it cheap and easy to travel in Rwanda without a car.
If you want to visit Akagera National Park, you'll need to join a tour or use your own wheels. The same goes for Volcanoes National Park; no public transport runs to the entrance of the park.
However, if you're just around the cities and towns, there is no reason to hire a car. There are dozens of moto-taxis waiting to take you around at reasonable rates. The best part is that the drivers don't inflate their prices and you don't need to waste time haggling.
But most drivers won't know street names. It's a good idea to have your final destination open on Google Maps to show the driver and to make sure you're going in the right direction.
Read Up on Rwanda's History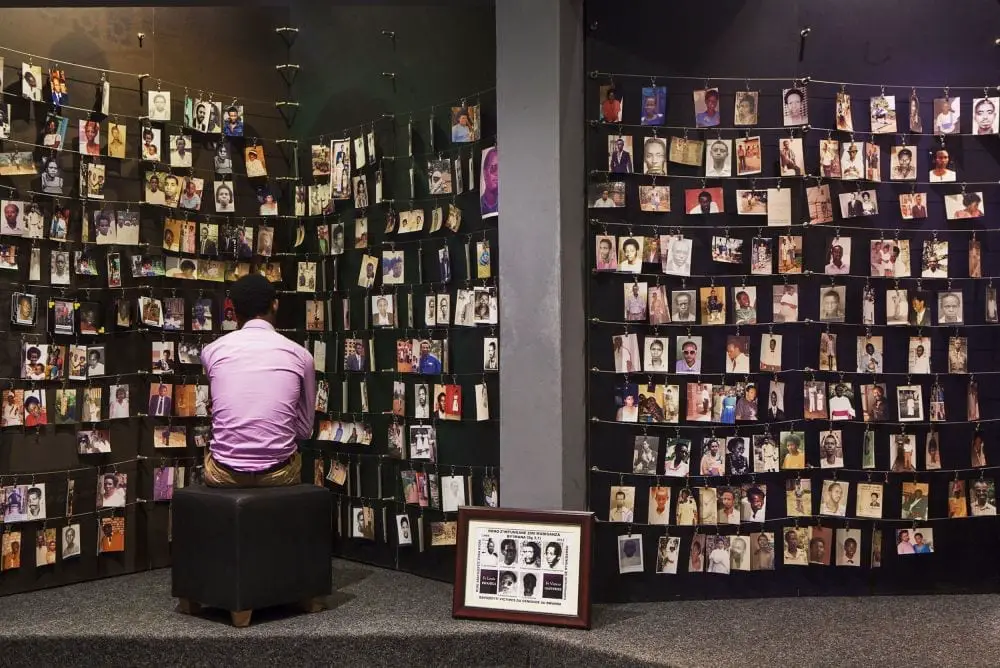 Photo by: Kigali Genocide Memorial
In 1994, Rwanda went through a dark period where around one million Tutsis were murdered in 100 days.
Only 25 years have passed, and it's still a fresh wound in the country. One thing that stood out for me while in Kigali was the high number of young people as most parents were killed during this period.
Before you going to Rwanda, watch the movie Hotel Rwanda to understand the basics of what led up to this traumatic event.
And of course, a visit to the genocide memorials is a must to understand Rwanda's history and how the genocide has affected the entire nation.
---
Do you have any Rwanda travel tips? Hit ya gurl up in the comments below!
---
Want more African travel inspiration? Check out my other posts:
Did you find this post useful? Save it for later on Pinterest!
Travel to Rwanda doesn't need to be difficult or scary. In fact, it's one of the world's safest countries and has loads to offer the adventurous traveller.