The Pitch Perfect Toolkit for Freelancers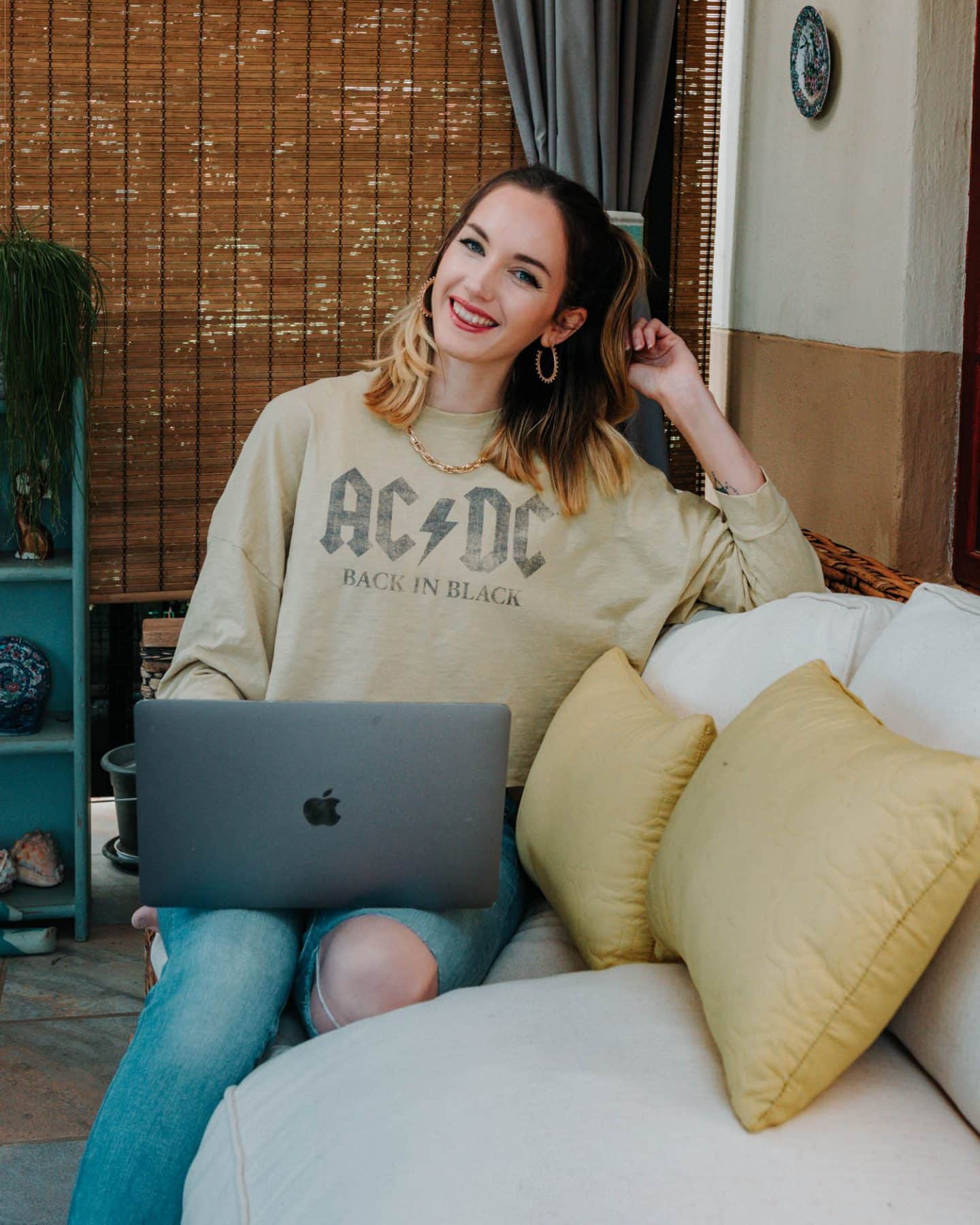 Your pitches?
Attracting crickets.
Your client roster?
An arid desert.
…YOU KEEP SEEING ALL THESE INCREDIBLE FREELANCER SUCCESS STORIES. YOU WANT THAT FOR YOURSELF…
BUT YOU'RE JUST STUCK.
Imagine finally getting off the pitching struggle bus and working with your DREAM client…
You'd be able to wake up to PAYING CUSTOMERS because you're finally positioning yourself as the go-to EXPERT in your niche.
You know how to write a pitch that SELLS YOUR SKILLS faster than a Kylie Lip Kit drop.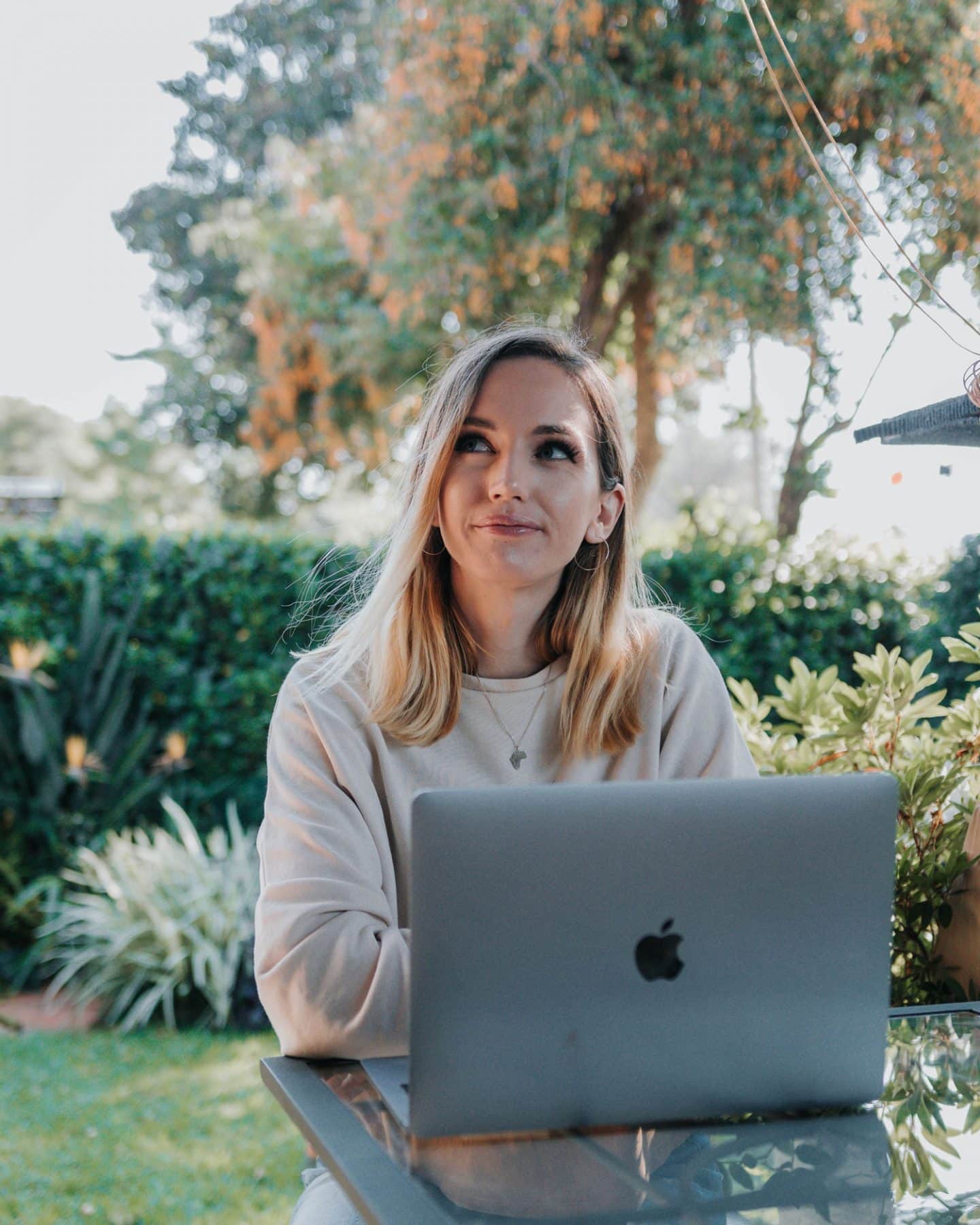 You know you have something aca-amazing to offer
…BUT You're tired of second-guessing your business:
Am I over-priced? 

Is my service a stale kale chip? 

Is this a sign I should give up and go back to the cubicle life?
…Or you're scared shitless, and you stare at your computer screen for hours instead of hitting send on that pitch or job board ad.
Here's the kicker…
If you're not putting yourself out there, how the heck are you going to get hired?
Sure, you can wait around until that dream job appears on a job board – but who knows when that could happen?
Are you really prepared to put your dreams on hold (and keep your passport dusty and unused) until the stars align?
And if that perfect job does come around, do you know how to sell yourself to beat out all the other applicants?
A well-crafted pitch is all that's standing between you and landing the gig.
Introducing THE PITCH PERFECT TOOLKIT FOR FREELANCERS
a comprehensive masterclass that will help you write bomb ass pitches that land clients in only 1 hour 30 minutes.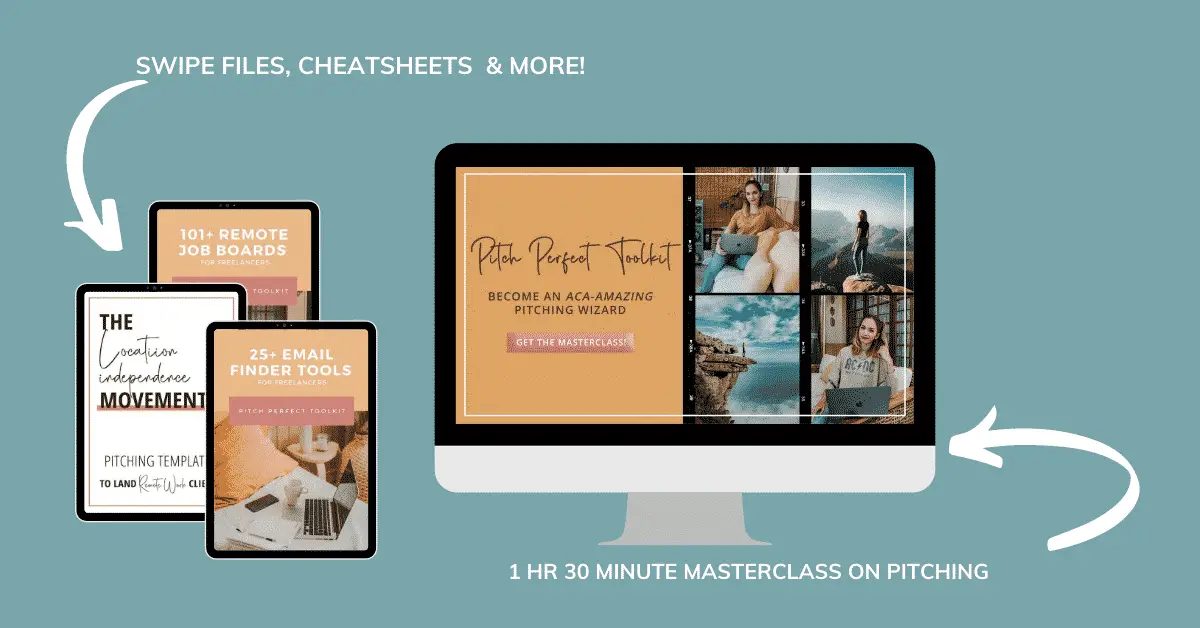 This process is the exact method I used to land high paying freelance clients and TRIPLE my salary from $850 to $2400+ per month.
Pitch Perfect Toolkit is made up of 7 VIDEO TRAININGS, TUTORIALS, TEMPLATES, and CHEAT SHEETS to help you master the art of pitching and grow your freelance biz.
Pursing location independence shouldn't be just some pie in the sky daydream.
Let's make your business lucrative.
"The investment has already paid itself off with 1 client.
I have the confidence to know what my value is, what I am good at, who my client is and what I can achieve for them, which has in turn lead to a paying travel client during a pandemic.." – Taylor Hutton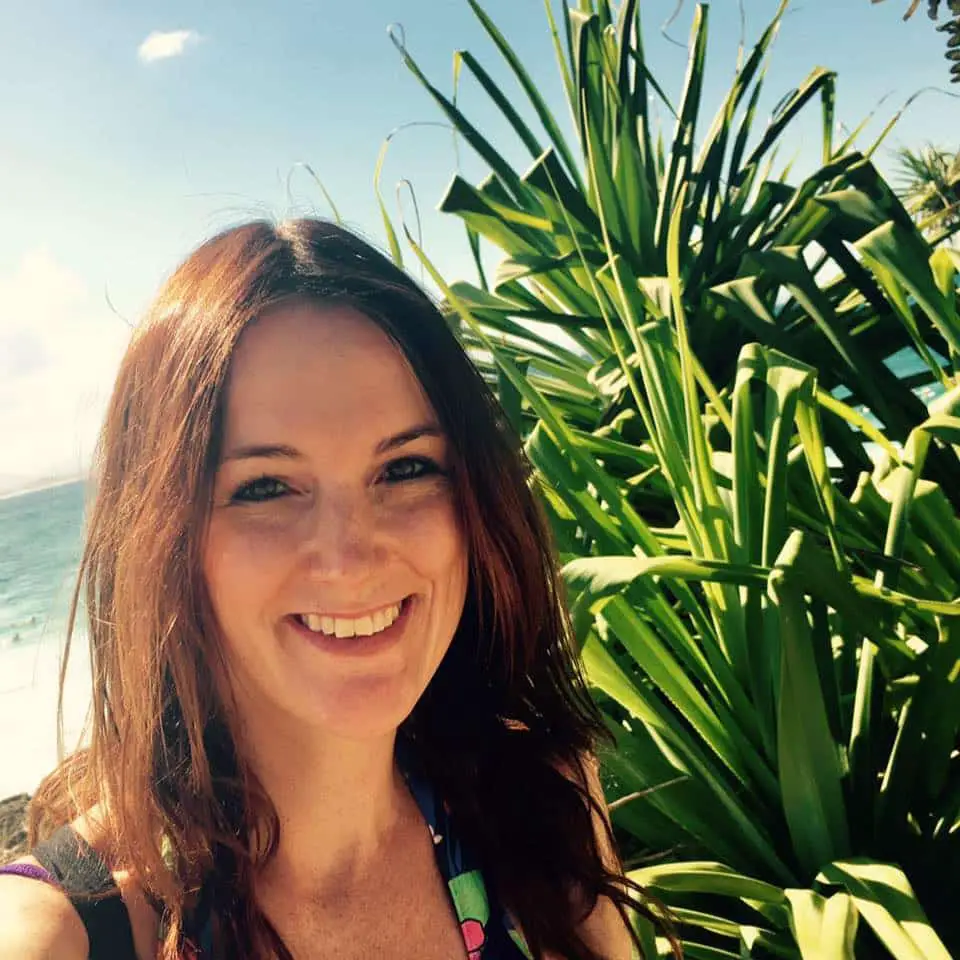 "Before taking this masterclass, I was totally lost with regards to pitching potential clients. I didn't know where to start, how to start or who to contact. As soon as I heard about this course, I knew it was the bridge I needed for my next step.
PPT was more than I expected. I was glued to my screen every step of the way. Lauren has a way of putting together content that makes everything fascinating and relevant and I was quite sad when it ended.
The biggest takeaway for me was figuring out how to niche down properly (something I've struggled with for ages), to write pitches with confidence, and knowing where to look for clients. I researched a few new companies (which I found easily with Lauren's tips), and I wrote quite powerful pitches to send to each of them. I am feeling so energised and positive for the first time in a while! " – Celeste Everitt
Here's what you can expect inside the masterclass…
Lesson 1 // What is Your Niche & Why You Need One When Pitching
YOU NEED TO GET SUPER CLEAR ON WHO YOU ARE WANT TO HELP.

The spray and pray approach isn't going to get you clients FAST.
Lesson 2 // 4-Step Hermione Process to Become the Wizard of Your Niche
LEARN HOW TO CHANNEL YOUR INNER HERMIONE

and become the go-to expert of your niche and why being seen as EXPERT will turn your pitch into a paying customer.
Lesson 3 // The Complete Guide to Cold Emailing
NOT SURE WHAT COLD EMAILING IS OR WHY IT'S SUCH A POWERFUL TOOL?

This lesson will teach you everything you need to know about sending a cold pitch and how to find those elusive emails.
Lesson 4 // The Pitch Perfect Process
THE ONLY FORMULA YOU NEED TO KNOW TO WRITE A BOMB ASS PITCH.

Plus, examples from my inbox and how to structure your pitch.
Lesson 5 // How to Optimise Your Social Media Accounts to Attract Clients
IF YOUR SOCIALS AREN'T OPTIMISED TO ATTRACT CLIENTS – YOU'RE LEAVING MONEY ON THE TABLE

. You'll learn how to tweak your LinkedIn and Instagram to get clients to make the first move.
Lesson 6 // The Mindset and Energetics Behind Pitching
DIVE INTO THE LAW OF ATTRACTION AND GETTING INTO THE RIGHT MINDSET TO ATTRACT CLIENTS.

Learn how to "act as if" and get rid of "thirsty" energy that's driving your desires away. I credit mindset and energetic principles to helping me make my first $3,000 sales week.
Lesson 7 // Creating a Pitching Workflow
FINALLY, WE TIE IT ALTOGETHER BY CREATING A WORKFLOW FOR PITCHING.

You'll get a pitching spreadsheet and we'll lock your pitching schedule into your calendar.
Once You Click That Button and Enrol…
You'll get a CONFIRMATION EMAIL with all of the important details: Where to log in, how to do it, etc.


Within 1hr 30min, you'll know HOW TO PITCH! I've broken up each section of the masterclass into 7 easy-to-digest videos.



Take your time to work through each one or blast through everything at once. Life throws you a curveball? No worries. You've got LIFETIME ACCESS.


One week from now, you're EMAILING YOUR DREAM CLIENTS like a boss! From niching the f*ck down to writing pitches that position you as an expert, you're showing off your incredible value and securing that bag!

And did someone say BONUSES?
A copy of my

PITCHING TEMPLATES E-BOOK

to kick writer's block to the curb.


25+ EMAIL FINDER TOOLS

to make it super easy to get your cold emails in front of the decision-maker — and not the receptionist.


101+ REMOTE JOB BOARDS

— so you can bookmark your favourites and stop fear and procrastination from getting in the way.

"The Pitch Perfect Toolkit is comprehensive, detailed and thorough. That's how I'd describe Lauren's pitching masterclass.
If you apply her easy-to-follow, strategic advice, you'll have no excuse for not landing your dream clients with successful pitches!" – Elise Kirsten
"I was so nervous before I did pitching and sending out cold emails but with Lauren's guidance I built up the confidence to do it.
After a few failed attempts I wasn't confident but just two days after I sent out an email to my perfect client they came back to me and I landed that client.
Pitching is so important and with this master class you have all the tools you need to land your perfect client.." – Rebecca Gower
"I've just begun my location independence journey and I'm totally new to the idea of freelancing and had no idea where to start or how to go about it.  I'm so glad I came across Lauren's PPT course, there is SOOO much valuable information packed into the course and the bonuses are amazingly handy. 
The biggest take away for me was the awesome tip on how to get the right persons email address when sending emails to companies. That's a total game-changer for sure. The information is definitely valuable to people who are already on this journey as well, not just for those starting out." – Anna Pyjama
You Could…
Carry on waiting for that PERFECT GIG to manifest itself (it might take a few years, but who's counting?)
Or you could…
Create your own OPPORTUNITIES.
You could MOVE BEYOND not hitting send on an email and stop feeling lost when it comes to pitching.
…And MOVE TOWARDS getting super clear on how to write pitches that get replies and put money in your bank account.
Get off the struggle bus.
Demystify the pitching process.
Get clear on WHO your ideal client is, HOW to position yourself as the best person for the job, and STOP letting your fear, self-doubt and procrastination get in the way of you working a cafe in Tokyo or Santorini.
Your investment for PITCH PERFECT TOOLKIT?
1h 30min masterclass
Pitching templates e-book
25+ email finder tools cheatsheet
101+ remote job boards cheatsheet
All of this and a bag of chips** for only$37!
**Bag of chips not included. Can send a picture of a bag of chips on request.
This is the lowest price that the Pitch Perfect Toolkit will ever be offered!
Get it while it's hot, save money and pitch-slap your future clients.
"I never thought that optimizing my LinkedIn profile for SEO would be a thing, and then Lauren came along. She taught me basic steps on how to update my profile bio for SEO and I honestly don't know why I hadn't done it sooner!
Since implementing her optimization techniques I have received tons of connections, enquiries and even job offers! And what's more impressive is that for the first time these connections and profile enquiries have been relevant to my niche, my offering and my skillset.
My LinkedIn has never been so busy. Do yourself a favour and get Lauren to help you SEO the shizniz out of your LinkedIn, meow!" – Jemma Wild
In Case We Haven't Probably Met Yet…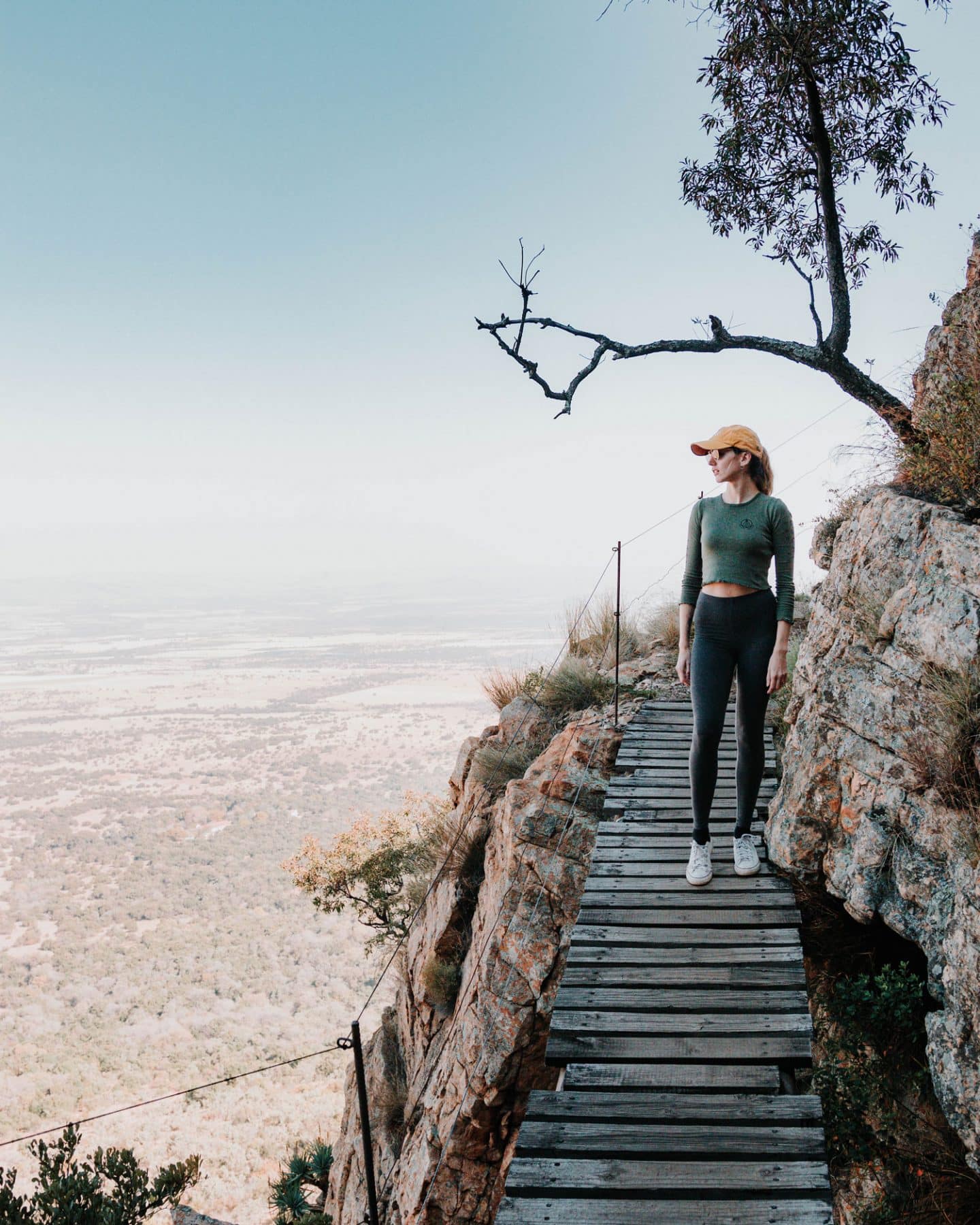 I'm Lauren. I've made it my mission to help women (like you) travel more by creating an online business that gives time freedom and location independence.
My biggest value is honesty. I pride myself on cutting out the bullshit. I don't want you ever to feel like you're getting fluff. Your success is important to me because I want you to experience how location independence has transformed every single aspect of my life.
In the last four years, I went from earning $800 per month to making as much as $2300, $3000 and even $3500 with my freelance writing business.
I am passionate about helping women achieve freedom in their lives.
Whether it's the freedom to get on a plane whenever you want, financial freedom (say goodby to that salary cap) or time freedom to plan your life around work instead of the other way around.
THE Pitch Perfect Toolkit is for YOU IF…
You're new to freelancing…but you're

FEELING DEFEATED AND FRUSTRATED

because landing clients has been an uphill battle with no water breaks or end in sight. 
You're tired of trying to figure out everything by yourself, and you want someone to hold your hand,

SHOW YOU THE ROPES

and give you plenty of examples on how to pitch like a boss.
You also want to put your social media accounts to work **Alexa, play Britney Spears**. Sending pitches is great and all, but getting clients to make the first move? You want

SUCCESS STORIES

like that in your biz.
You're done with not taking action. You're ready to roll up your sleeves and figure out this pitching thing once and for all, with an organised, methodical approach. You're ready to

PUT IN THE TIME

and do what it takes to land your first, 5th and 10th *paying* client.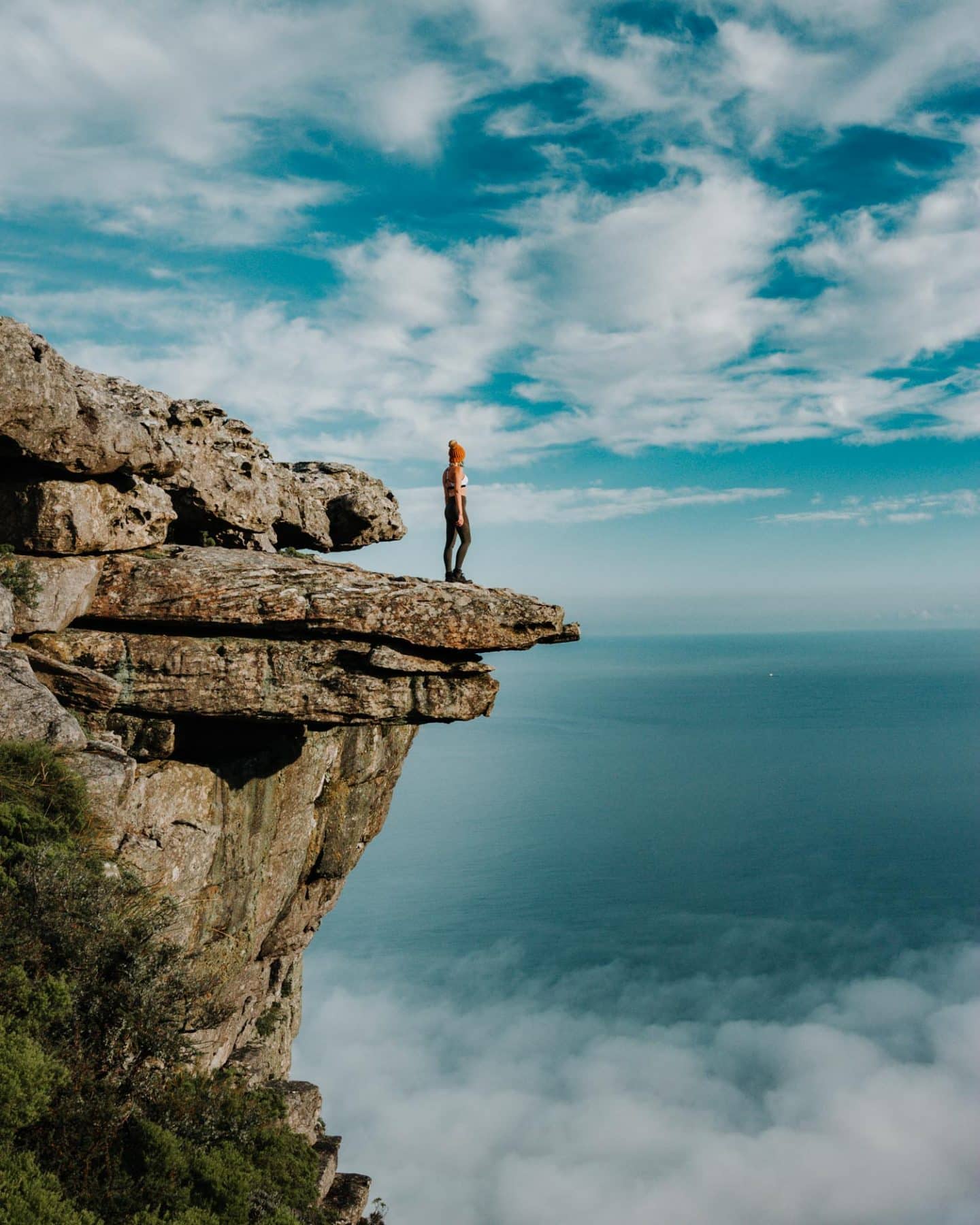 At this point, it comes down to this:
How much longer do you want to suck at pitching?
You could carry on writing the same ol' pitches (if you're not paralysed by fear every time you sit in front of your laptop) that don't get RESULTS.
OR
You can INVEST in yourself, in your business and say goodbye to wasting hours on pitches that go nowhere and start growing your freelancing biz.