Last Updated on April 5, 2021 by lauren
I'm not a city slicker at all.
But hot damn, Bangkok knows the way to my heart.
It's frothing with delicious street food, vegan restaurants, and unicorn cafes.
Incredible temples, massive Buddha statues and historical sites lie around unsuspecting corners.
Then there's the cheap as chips massages, luxury accommodation on a budget and hidden bars that all add to Bangkok's spellbinding charm.
After teaching English in Thailand for six months and all my subsequent returns to the city, I've crafted the best Bangkok 3-day itinerary.
I'll take you past all of the above as well as a few spooky surprises in between.
Here's what you'll find in this post:
Quick Tips for Your 3-day Bangkok Itinerary
Bangkok is a bustling metropolitan city. Here are a few need-to-know travel tips you need to know before your trip:
How to Get Around Bangkok
BTS Skytrain / MRT
The cheapest way to get around Bangkok is with the BTS Skytrain / MRT system. It runs across the city with stops near most of the top attractions and landmarks.
A single trip ticket will costs between 15 – 52 THB (R 7.00 – R 24.00). But if you're planning on spending the whole day out on the town, buy a day pass. It costs 140 THB (R 65.00), and you'll get unlimited travel across all the zones.
You can buy your ticket from a booth or machine at each station. There is an English option, so you don't need to whip out Google translator to figure out how to get to your next destination.
Grab
Grab is Thailand's version of Uber. All you need to do is download the app, and you can catch a ride with a few taps of your finger.
I'd only recommend this option if you're not in a rush as the traffic in Bangkok is often gridlocked. If you want to get around faster, take a Grab moto-taxi. It's cheaper than a car, but make sure you wear a helmet, and you're comfortable on the back of a motorcycle.
Metered Taxis
If your phone dies or you don't want to wait for a cab, hail a taxi from the street.
The flag down rate starts at 35 THB (R 16.00), and short trips should cost around 70-100 THB (R 32.00 – R 46.00).
If a driver tells you that the meter is broken or there is a flat fare, get out of the cab. It's a common tourist scam, and you'll get charged an exorbitant amount.
Boat
Avoid Bangkok's notorious traffic jams and take a boat ride. The Saen Saep express is used by the locals to get to and from work while the Chao Phraya express is a cheap way to visit the Grand Palace.
Bus
The bus is a cheap – but slow way to get around Bangkok. It can be confusing, but the routes are on Google Maps. All you need to do is make sure you get on the right number, count your stops or use your phones GPS to see when you need to get off.
Tuk Tuk
Tuk Tuks are for the quintessential Thailand experience more than getting to your next destination on time. The ones in Bangkok are also infamous for their many tourist scams and often take tourists to gem stores to try to earn a commission from any sales.
Read More: 50+ Genius Ways To Save Money for Travel
When is The Best Time to Visit Bangkok?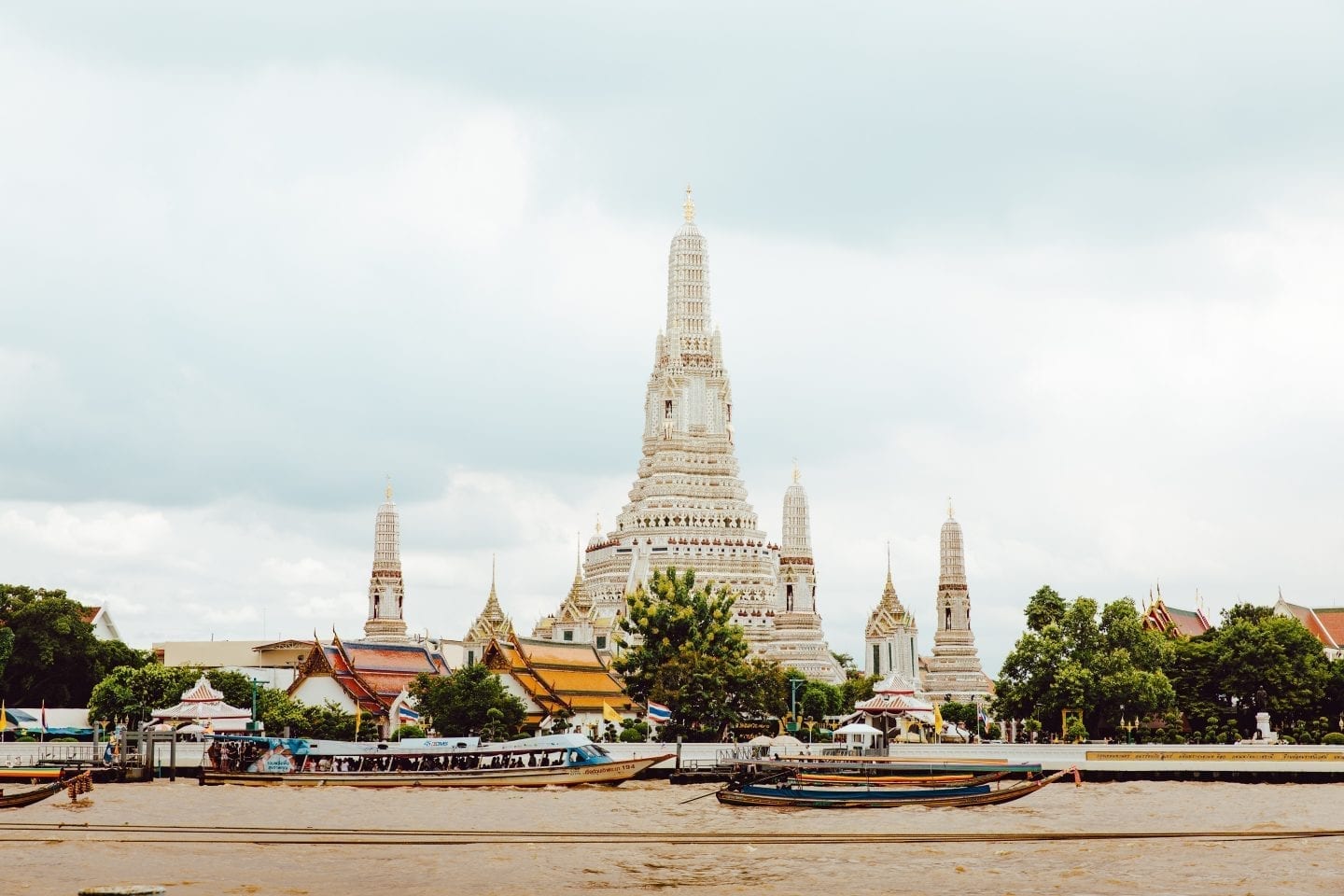 The best time to visit Bangkok is between November to February. Temperatures are cool and the monsoon season is a distant memory.
But if you're travelling to Bangkok on a budget, it's one of the most expensive periods to visit the city. Travellers flock here for the end of year holidays, driving up prices for flights, accommodation, and activities.
From March onwards, Bangkok starts to heat up. If you're not good with sticky humidity, make sure you book an air-conditioned room and stay hydrated.
On the plus side, you can cool off at the Songkran Festival in April. It's a nationwide water fight that lasts for four days and celebrates the Thai New Year.
Thailand's monsoon season lasts from July to October and is the country's low season. You can expect bursts of torrential downpours and occasional flooding in the city.
For budget travellers, it's the best time to spend 3-days in Bangkok. You won't have to look hard to find deals on flights, and you'll have the top attractions all to yourself.
Bangkok Travel Tips
WiFi: You know what's painful? Swapping out sim cards every time you travel. If you're worried about losing your sim, rent a 4G portable WiFi device. You can pick up and drop off your device at Bangkok's two major airports, and it fits right in your pocket.
Thai Sim Card: Planning on staying in Thailand for a while? It's waaaay more affordable to buy a local sim card. You can grab one on arrival at the airport and top up your data at 7 Eleven shops.
Electricity: South Africans – you need to bring an adaptor. The power outlets in Thailand are two-prong round or flat sockets. You won't be able to find SA to Thailand plugs once you leave, so make sure you buy one before your international flight.
Drinking Water: You can't drink the tap water in Thailand. Bring a reusable bottle and fill up at the water stations around the city. You can also buy water at 7 Eleven, but try to keep your plastic consumption to a minimum. It's a major problem in the country.
Visa: South Africans don't need to apply for a visa for Thailand. Once you arrive at the airport, you'll get a 30-day visa on arrival stamp in your passport.
Travel Insurance: From cancelled flights to stolen cameras and making sure you're covered for any adventure activities, take out a comprehensive travel insurance policy with World Nomads. Plus, you never know if Delhi Belly might strike in Bangkok ?
Where to Stay in Bangkok
Calling all digital nomads! The Quarter Poshtel is THE place in Bangkok to get shit done and explore the city on a budget.
It's right smack-dab in the middle of Bangkok, and only steps away from a BTS and Airport Rail Link stations. It's the perfect spot to base yourself as explore Bangkok's attractions.
The poshtel is beautiful, from it's bright, airy rooms and modern furnishings to its minimalist decor and rooftop chillout area.
The on-site co-working space is equipped with lightning-fast internet, private meeting rooms and is open from 07:00 to midnight. When hunger strikes, head downstairs to the onsite cafe and bar.
Breakfast is on the house, and you choose from freshly baked goods or simple Thai-style meals for lunch.
Dorm rooms: 650 THB ( R 300.00) per person per night.
Private room for 2-8 people: 2,200 – 3,500 THB ( R 1,020.00 – R 1624.00) per night.
Simple to Sleep Hostel
If you don't mind a longer commute to some of Bangkok's top attractions, you can find much cheaper accommodation options without sacrificing on the quality.
Simple to Sleep Hostel is located 650m from Chatuchak market. The dorms and private rooms are clean, cheap and perfect for budget solo travellers. An excellent breakfast is included, and there are plenty of chill areas around the hostel.
Dorm rooms: R 188 per person per night.
Private rooms: R 460 per person per night.
If you're a coffee-lover, you need to book a night or three at Heyyy Bangkok. Its onsite cafe doesn't play when it comes to serving up a delicious cup of joe or a tall, handsome glass of ice coffee.
The rooms at Heyyy Bangkok are next level for their price point. Expect tastefully decorated bedrooms, modern bathrooms, and a cosy atmosphere.
While the hotel does offer dorm rooms, don't expect a hostel vibe. It's a sophisticated choice that is far away from the party scene of Khao San road.
Dorm rooms: R 183.00 per person per night.
Private rooms: R 559.00 per night.
Want more options? Use Hotels Combined to search all the budget hostel and hotel sites in one place. Gone are the days where you need tabs open for Expedia, Booking.com, and Hostelworld to try to see who has the better deal.
---
3-Day Bangkok Itinerary
Bangkok Itinerary Day 1: Temples, Fairies and Vegan Thai Food
Wander Around The Grand Palace
Get up early, grab some free breakfast from your hotel and head straight to the Grand Palace.
Trust me. You'll want to avoid the crowds and have as much time as possible exploring the grounds.
While you can't go inside the palace, there's more than enough to see. There are over 100 buildings all decorated with gold, diamonds and precious stones.
The former home of the Thai monarchy is also where you'll find the famous Temple of Emerald Buddha. It's considered the most important Buddhist temple in all of Thailand.
P.S. Make sure you have dressed appropriately, or you won't be allowed entry into the temple. Wear a shirt that covers your shoulders and a pair of long pants or a maxi skirt. You'll also need to bring a pair of socks if you're wearing flip-flops as no bare feet are allowed.
Opening hours: Monday to Sunday from 08:30 a.m. to 3:30 p.m.
Entrance fee: 400 THB ( R 184.00)
Optional: Wat Samphran – The Dragon Temple
If you've been to the Grand Palace before, or you want something a little bit more unique, visit Wat Samphran. It's a towering pink temple in Bangkok that's wrapped with a giant green dragon.
The only downside? It's a mission to get here.
It's located 40km from the city and it takes about an hour to get here in Bangkok's traffic.
Marvel at Wat Pho's Gigantic Reclining Buddha
After exploring the Grand Palace, walk on over to Wat Pho.
It should take you about 10 minutes, and it gives you the perfect opportunity to sample some of Bangkok's famous street food stalls along the way.
At the temple, you'll find 394 gilded Buddha images and the impressive 46 m and 15 m reclining Buddha! It's covered in gold leaf, mother-of-pearl ornaments and illustrates Buddha is entering nirvana.
But there's way more to see than just the giant statue. Visit one of the 91 stupas, wander around the courtyard or enjoy a traditional Thai massage.
Opening hours: Monday to Sunday from 8:00 a.m. to 5:00 p.m.
Entrance fee: 100 THB (R 46.00)
Lunch at Chamlong Asoke
Are you a budget vegan or vegetarian traveller? Or do you just enjoy eating mountains of food for pennies? Then you need to get your rumbling stomach over to Chamlong Asoke.
It's a vegetarian food court run by Santi Asoke Buddhists. Load up your plate with delicious curry, spicy papaya salad, fresh spring rolls and SO much more.
All you need is 100 baht ( R 46.00) to feed two people. Yes – whole TWO people. My entire meal of various curries, a plate of rice and a couple of spring rolls only set me back R 25.00.
Address: 586 26 586/26 Kamphaeng Phet 1, Chatuchak, Bangkok 10900
Opening Hours: Tuesday to Friday from 6:00 a.m. – 2:00 p.m. and Saturday to Sunday from 6:00 a.m. – 3:00 p.m.
Climb Up to The Golden Mount Temple
If you're wondering what to do in Bangkok, head to the Golden Mount aka Wat Saket.  It offers incredible views over Bangkok and it's usually free from the hordes that hog the royal palace.
The only catch is that you have to climb 344 stairs to reach the summit.
Apart from the mount, the grounds also feature an ordination hall, a cemetery and a chapel that dates back to Thailand's ancient kingdom of Ayutthaya.
Opening hours: Monday to Sunday from 08:00 – 19:00
Ticket price: 50 Baht per person.
Dinner at May's Veggie Home
I wanted to splurge a wee bit on dinner and took my taste buds to May's Veggie Home. It's one of the top three vegan restaurants in Bangkok and has one of the most robust plant-based menus I've seen in Thailand.
Looking to try Thai style dishes sans the meat? They've got it.
Feeling a little homesick? Chow down on some top-notch Western dishes.
Feel like Japanese food? No problem.
The prices for a meal here range from 129-220 THB ( R 60.00 – R 102.00).
Address: Soi 16 Ratchadapisek Road Khlong Toei, Bangkok 10110
Opening Hours: Monday to Sunday from 10:00 a.m. to 11:00 p.m.
Drinks at Iron Fairies
Want your Bangkok bucketlist to take you off the beaten path? Unleash your inner geek at Iron Fairies. It's a premium bar where you'll find a medieval blacksmith theme that extends to the smallest details.
There are bottles of fairy dust, winged creatures, secret doors and a maze of iron staircases.
Iron Fairies signature cocktails start at 280 THB (R 129.00), and local beers cost 120 THB (R 55.00).
Address: 402 Soi Thonglor, Sukhumvit 55 Rd. Bangkok, Thailand.
Opening hours: Monday to Saturday from 6:00 p.m. to 2:00 a.m.; Sundays from 6:00 p.m. to midnight.
---
Bangkok Itinerary Day 2: Shopping, Unicorn Junk Food, and Espionage
Go Shopping at Chatuchak Weekend Market
The Chatuchak Weekend Market deserves a spot on any Bangkok itinerary.
The maze of 15,000 vendors is full of delicious street food, hand-made items, heaps of clothes and so much more.
(Confession: I'm still wearing a bracelet I bought the first time I was here three years ago).
Plus the prices are REALLY good. And that's even before you start bargaining with the shop owners.
As a rule of thumb, always cut the first price you're offered in half and work up from there. It's a good way to make sure you aren't getting ripped off by "tourist prices."
So what happens if you aren't visiting Bangkok over the weekend? The market is still open, but with a limited number of stalls.
Or you can add some of the nearby mega shopping malls during your three days in Bangkok. Get your fix at Siam Square, Central World, MBK or Pratunam.
Address: Kamphaeng Phet 2 Rd
Opening Hours: Wednesday to Thursdays from 7:00 a.m. to 6:00 p.m.; Friday from 6:00 p.m. to midnight; Saturday to Sunday from 9:00 a.m. to 6:00 p.m.
Explore Bangkok's Tailing Chan Floating Market
Instead of heading to the larger Damnoen Saduak floating market, make your way to downtown Bangkok.
Here you'll find the Tailing Chan market. It's one of the best things to do in Bangkok and it's easily accessible by public transport, so you don't need to splurge on a group tour.
Once you arrive, you can buy a ticket for a small longtail boat cruise, sit back and watch the hustle and bustle of the market unfold.
Come here first thing in the morning if you want to avoid the crowds. You'll beat the tour groups and get some beautiful pictures of the market in action.
Address: 300 Chak Phra 17 Alley, Khwaeng Khlong Chak Phra, Khet Taling Chan, Krung Thep Maha Nakhon 10170, Thailand
Opening Hours: Saturday to Sunday 8:00 a.m. to 6:00 p.m.
Lunch at The Unicorn Cafe
Your most magical dreams are about to come true at Bangkok's Unicorn Cafe.
It's not the healthiest option, but when are you going to be able to have lunch with the entire cast of My Little Pony again?
Order some pastel coloured rainbow spaghetti (200 THB / R 92.00), a unicorn blood frappe (200 THB / R 92.00) or see if you can finish a serving of unicorn choco toast ( 180 THB / R 82.00).
Address: Soi Sathorn 8, Bangkok, Thailand
Opening Hours: Tuesday to Sunday from 12:00 p.m. to 8:00 p.m.
Jim Thompson House
Calling all fans of history, mystery, and espionage!
A visit to Jim Thompson's house will intrigue you and leave you bursting with conspiracy theories as well as an appreciation for Thai architecture.
Once an American spy and silk merchant in Thailand, Jim disappeared in 1967 during a trip to Malaysia. More than 500 people were involved in a search operation that lasted for 11 days.
Nobody ever asked for ransom money, and his body was never found. Some theories suggest he left on a secret mission involving the Vietnam war or was eliminated by business rivals.
Today, his house is a unique attraction and one of the best things to do in Bangkok in 3 days. Your ticket price includes a guided tour of the building, a brief history of Jim, the silk industry and Thai design.
Address: 1 Khwaeng Wang Mai
Opening Hours: Monday to Sunday from 9:00 a.m. to 6:00 p.m.
Entrance fee: 200 THB (R 92.00).
Dinner at Brocolli Revolution
Broccoli Revolution is not a cheap vegan restaurant. It's bougie as all hell, but the food is delicious.
If you're on a super tight budget, give this one a skip and grab some cheap street food – your wallet will thank you.
For those that have more room to splurge, your inner foodie is in for a treat.
First up, is the all-day breakfast smoothie bowl. Then there is the Broccoli Quinoa Charcoal Burger. It's one of the best vegan burgers I've had and is worth the 220 THB ( R 102.00) price tag.
Besides Thai food, you can also find dishes from neighbouring countries such as Myanmar and Vietnam as well as far-flung destinations like South America and Italy.
Address: 899 Sukhumvit Road, Soi 49 Klongton-nua, Bangkok, Thailand
Opening Hours: Monday to Friday 9:00 a.m. to 10:00 p.m., Saturday to Sunday 7:00 a.m. to 10:00 p.m.
Drinks at Havana Social
When was the last time you need a secret password to enter a bar?
That's what you can expect IF you manage to find the entrance of Havana Social.
It's one of the top hidden bars in Bangkok, located in an alleyway along Soi 11. There's also zero signage or a door. If you want to get in, you need to find the payphone booth and punch in the correct password.
A Bangkok itinerary with a scavenger hunt? Yes, please!
If you can get all the right, you'll be allowed to enter a retro Cuban-style bar complete with distressed decor and one of the best mojitos in town.
Call 0614503750 to get the entry code.
Drinks: Starting from around 200 THB (R 92.00)
Address: Sukhumvit Rd. Soi 11, Bangkok, Thailand
Opening Hours: Monday to Saturday from 6:00 p.m. to 2:00 a.m. and Sunday from 6:00 p.m. to midnight.
Bangkok Itinerary Day 3: Ghosts, Pampering and Michelin-rated Phad Thai
Pamper Yourself with a Thai Massage
For three perfect days in Bangkok, you need to schedule in at least one massage.
Start your day off by visiting one of the many spas around the city. Choose from a no-frills Thai massage or splurge on an aromantic session complete with a foot massage and facial.
For an affordable, yet bougie experience, head over to Health Land. You can get a two-hour traditional Thai massage for 600 THB (R 270.00) and treatment packages start from 5,200 THB ( R 2,300) for couples.
Or you can browse spa package deals with Klook.
Address: 120 North Sathorn Rd., Silom, Bangrak, Bangkok
Opening Hours: Monday to Sunday from 9:00 a.m. to midnight.
Lunch at Hom Duan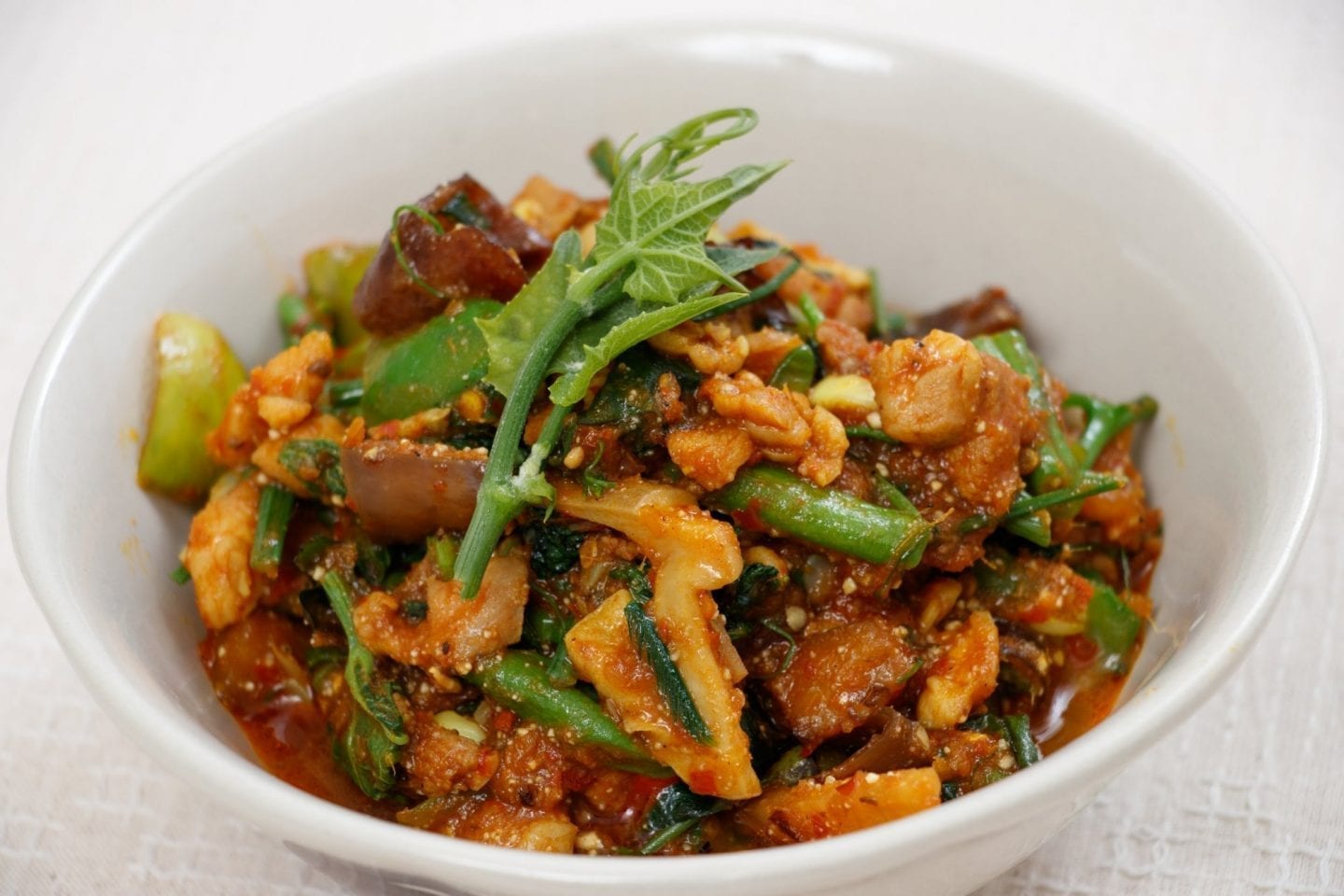 Don't have time to visit Chiang Mai? Get a taste of northern Thailand at Hom Duan.
This eatery boasts an array of Isaan dishes that you and your wallet will love. A bowl of khao soi costs 65 THB ( R 30.00), and a choice of Thai curries will only set you back 45-65 THB ( R 20-30.00).
The dishes are pre-made, so you can only order what is on display. While it doesn't guarantee you'll get what you're craving, it will force you to try different dishes, and you can expect something new every day.
Address: 70/2 Soi Ekkamai, Sukhumvit 63 | Klangtan Nuea, Wattana, Bangkok
Opening hours: Monday to Friday from 9:00 a.m. to 5:00 p.m.
Climb Bangkok's Abandoned Skyscraper
Back in 1997, the Thai Baht collapsed during Asia's 1997 Financial Crisis.
And a luxury apartment building meant for the upper-middle-class turned into one of the Bangkok's most haunted places.
Locals believe the "Ghost Tower" is located on an ancient burial ground and it's the epicentre of superstitious folklore.
But if you can get past the general creepiness of the building, the rooftop boasts incredible views of Bangkok's skyline and Chao Phraya River.
It should take you about 30 minutes to reach the top and it's one of the best sunset spots in the city.
Entrance Fee: 500 THB (R 230.00)
Opening Hours: Monday to Sunday from 2:00 p.m. to 8:00 p.m.
Dinner at Thip Samai Pad Thai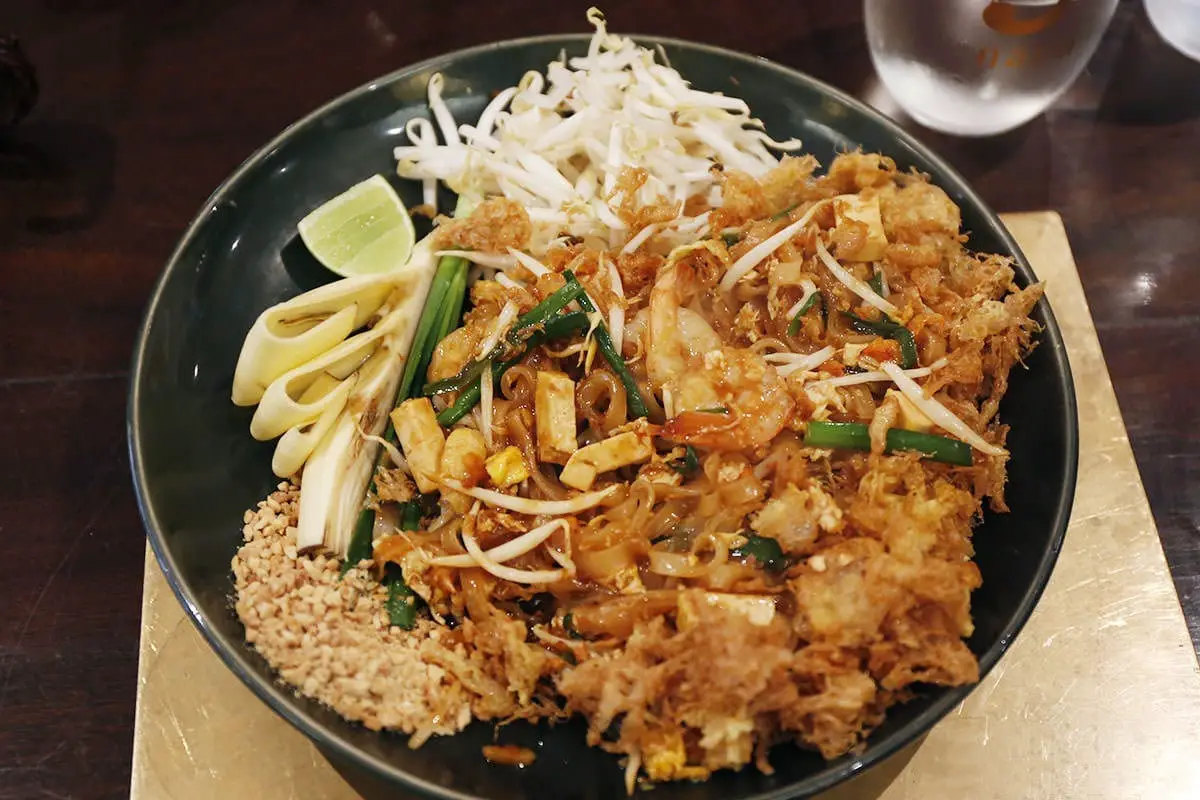 Are you looking for the BEST Phad Thai in the city? Then add Thip Samai. It's a Michelin-rated street stall that always has a line of drolling customers.
It's the perfect stop for a midnight snack after a night of bar-hopping on Khao San road. But keep in mind that a plate of food can take anywhere from 10 minutes to one hour.
Address: 313-315 Maha Chai Road, Khwaeng Samran Rat, Khet Phra Nakhon Krung Thep Maha Nakhon, 10200, Thailand
Opening Hours: Monday to Friday from 5:00 p.m. to 2:00 a.m.
Have a Drink on Khao San Road
It wouldn't be a short trip to Bangkok without a stop at Khao San Road.
The street is full of dirt-cheap backpackers, bars, clubs, restaurants, and street food vendors.
There's always something going on any day of the week, and you won't have to look hard for decent drink specials.
Head to The Brick Bar if you're a fan of ska music or Adhere on 13th for live blues bands. Day of the Dead Bar is known for its loud rock music, Mexican food, and a karaoke floor.
And that's just the tip of the iceberg.
---
Your Best of Bangkok Itinerary
Phew!
That is one beast of a post! Here's a nice copy-and-paste list of my entire 3-day Bangkok itinerary for you to keep on hand.
Day 1:
Check into your hotel
Explore the Grand Palace
Visit Wat Pho's Reclining Buddha
Lunch at Chamlong Asoke
Climb up to the Golden Mount
Dinner at May's Veggie Home
Drinks at Iron Fairies
Day 2:
Breakfast at your hotel/hostel
Shopping at Chatuchak Weekend Market
Visit the Tailing Floating Market
Lunch at the Unicorn Cafe
Go on a Tour of the Jim Thompson House
Dinner at Brocolli Revolution
Drinks at Havana Social
Day 3:
Breakfast at your hotel/hostel
Indulge in a Thai massage
Lunch at Hom Duan
Explore Bangkok's Ghost Tower
Dinner at Samai Phad Thai
Drinks at Khao San Road
---
Which part of my 3-day Bangkok itinerary are you DYING to explore? Drop me a comment below! Is it the cheap street food, beautiful temples, hidden bars or creepy ghost stuff? You didn't miss that part about the unicorn cafe, did you?? Scroll back up! Drop me a comment below.
Psst… Want more Thailand travel inspiration? Check out my other posts below:
Did you find this post useful? Save it for later on Pinterest!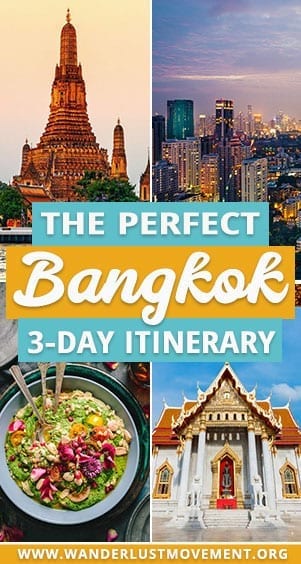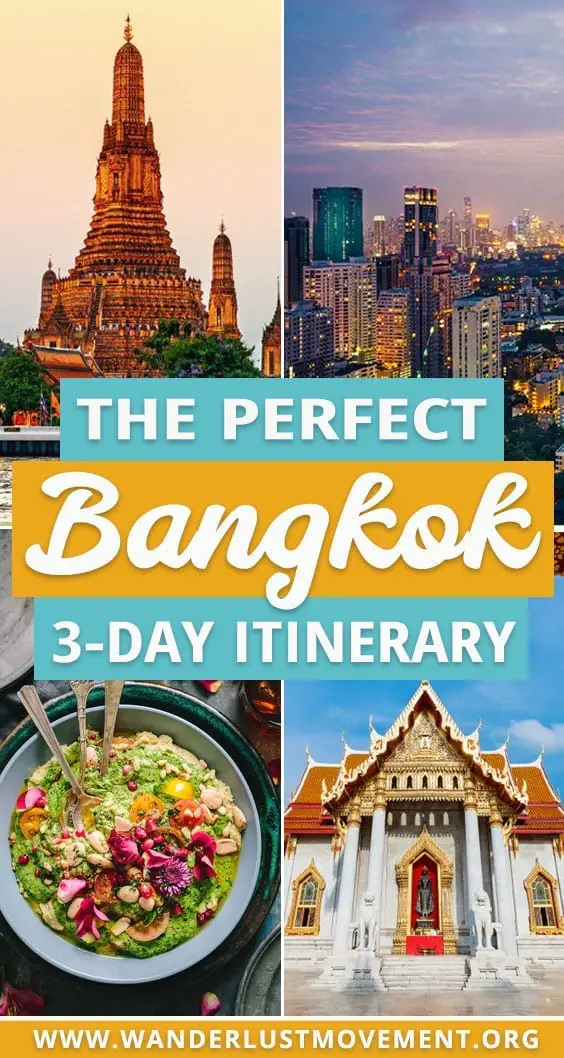 Searching for the ultimate 3-day Bangkok itinerary? From delicious food to haunted buildings; temples and unicorns - this guide has it all!