Last Updated on January 11, 2021 by lauren
I landed in Tbilisi, Georgia two days after Ireland deported me. Just like Istanbul, I had done minimal research and had no idea what to expect from this former Soviet Nation.
After a quick search on Booking.com, I landed up booking a week at Namaste. By the time I left Georgia, I had been there for almost a month.
While this was in part because my bag was stolen with my passport and all my camera equippment, I like to think of it as fate intervening.
Here's my experience staying at Namaste Hostel!
– Getting There –
The easiest way to get from the airport to Namaste hostel is with a taxi. The hostel can book a transfer for you, and the driver will meet you at the arrivals terminal.
The transfer costs 50 GEL (R 280.00) and is the best option if you don't want to navigate the streets of Old Tbilisi on your arrival. If your flight arrives after 11 pm, a taxi will also be your only option.
If you land in the day and want to use public transportation, you can use the bus or the metro.
The metro is the cheapest way to get into central Tbilisi. A one-way fare costs GEL 0.50 (R 2,80), and the line will take you to the central railway station where you'll have to transfer to get to Freedom Square. Once there, you can either walk or take a taxi to Namaste Hostel. But bear in mind that the train from the airport only runs at 8:45 am and 6:05 pm.
The bus is another cheap option if you don't have a lot of luggage. Take the yellow minibus number 37 from the airport to Freedom Square. The buses run every hour from 7 am to 11 pm and costs 0.50 GEL (R 2,80).
It's a 900-meter walk from the Liberty Metro Station to the hostel.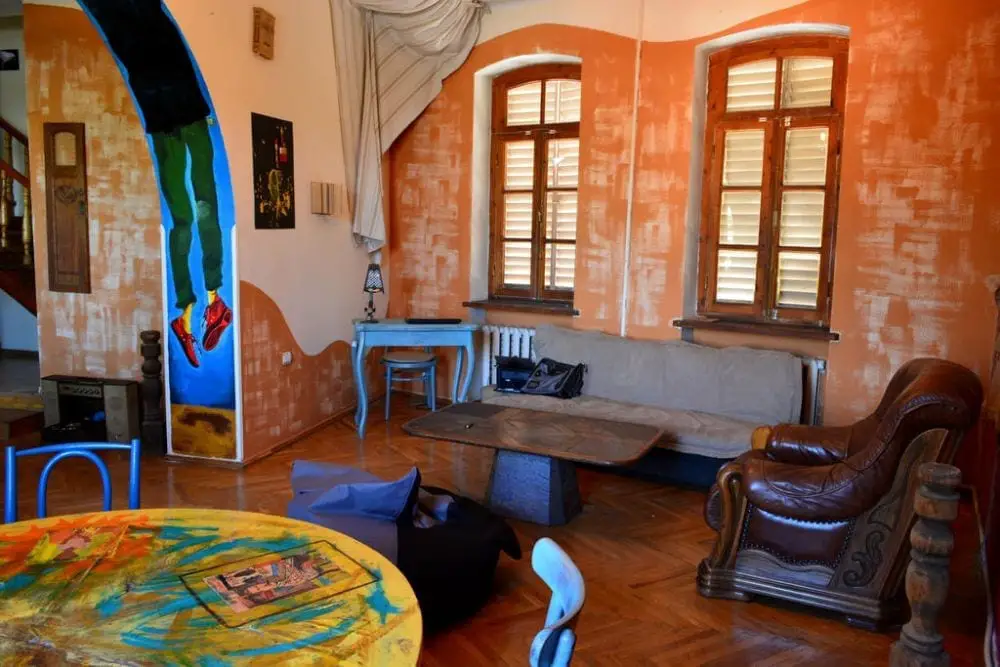 Photo from Booking.com
---
– Namaste Hostel –
Namaste Hostel has a 24-hour reception, meaning no matter what time you stumble in you'll be greeted by a staff member and offered some delicious Turkish coffee.
The hostel is located in Old Tbilisi, and it's a great place to base yourself to explore the city's ancient walls and buildings. You're a few minutes walk away from Tbilisi's lively nightlife, museums, monuments and restaurants.
It's also only a short walk, or a taxi ride away from any of the bus stops you'll need for day trips.
But the best part about Namaste is its view. The hostel sits on a hill, and the balcony looks out over the sprawling city below. It's a great spot to unwind after a long day of exploring to watch the sun go down with a glass of Georgian wine.
If you need any help getting around or advice on how to get somewhere, ask the friendly hotel staff. They speak English, Russian and Georgian and are more than happy to help.
Photo from Booking.com
Photo from Booking.com
---
– The Dorm Rooms –
Namaste Hostel has a variety of dorm and private rooms to choose from. If you're on a tight budget, grab a spot in the 12-dorm mix for GEL 25 (R 140.00), but I recommend spending a bit more for the 6-dorm mix. For GEL 30 (R 170.00) you'll most likely have the dorm to yourself or share with two other people as it's not the most popular option.
For couples, or travellers that prefer their own rooms, the hostel has three for you to choose from. If you are visiting during summer and need a fan to sleep, it's worth the splurge. The dorm rooms don't have aircon and can get stuffy with all the body heat.
All the rooms come with:
WiFi
Laundry Service (ask about the prices)
Fresh Linen
A towel
Lockers
Electrical points to charge your devices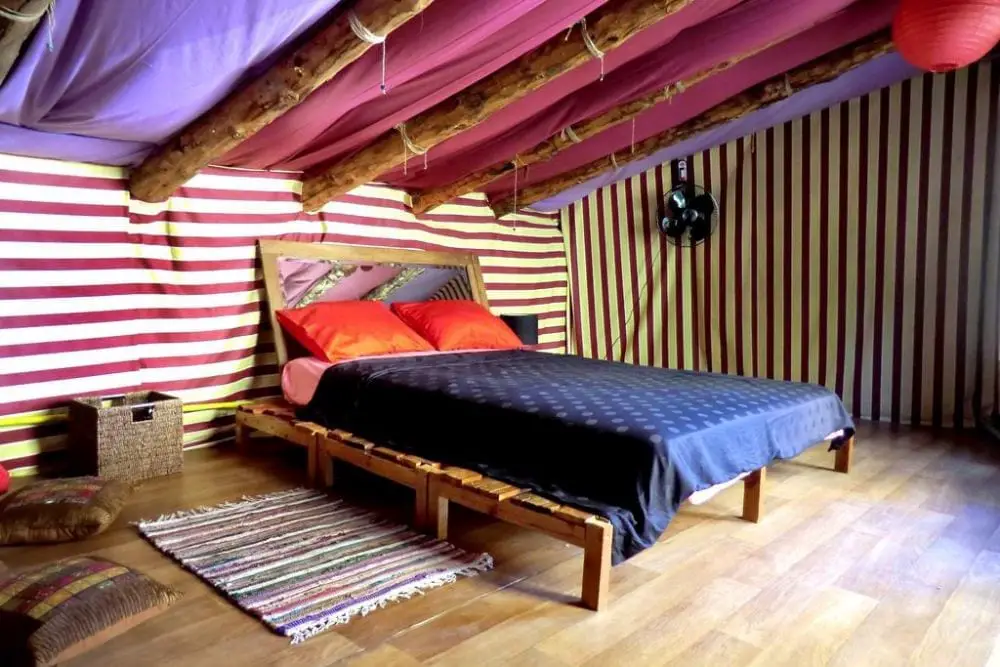 Photo from Booking.com
Photo from Booking.com
---
– The Area –
Namaste hostel's location is perfect for exploring Old Tbilisi on foot.
Some of the city's main sights that you can easily walk to include:
The Sulfur Baths
Liberty Square
National History Museum
Narikala Fortress
Botanical Gardens
The Sioni Cathedral of the Dormition
Statue of King Vakhtang Gorgasali
Art Museum of Georgia
For vegan travellers, travelling around Georgia is tough. The typical local cuisine isn't that vegan-friendly and the few dishes that are get old quickly. Luckily, there is a vegan restaurant in Tbilisi called Kiwi Cafe, and it's a short walk away from the hostel.
[mc4wp_form id="3805″]
It's also right by the city's nightlife. So if you are looking for a quiet night's sleep, you may want to stay at another hostel. The Art Cafe is a few houses down from the hostel and plays loud dance music on the weekends. Every night you will also hear some throwback tunes from the early 2000's and the latest top 40 wafting up from the clubs on the main street.
If you plan on doing your own cooking, there are mini markets around the block from the hostel. The nearest one stays open until about 11:00 pm, which I abused many a time for late night snacks.
Photo from Booking.com
---
 – In My Opinion –
Namaste Hostel is the perfect place to base yourself if you want to explore Old Tbilisi. You can spend a good few hours simply wandering the cobbled streets taking photos of the intricate doors from an era gone by.
It may be more expensive than the other hostels in the city, but it more than makes up for it with free coffee, an incredible view and some of the best customer service I've had from hostel staff.