Last Updated on August 2, 2020 by lauren
Do you like making your Rand work for its worth when you travel?
Well, I'm back with another budget travel challenge for South African travellers!
The rules are simple:
I have R 400 to spend in 24 hours.
This must include accommodation, three meals, transport and a minimum of three activities.
After attempting the challenge in Bangkok and Siem Reap, I wanted to see just how far the South African Rand can stretch while exploring Istanbul.
Here is my budget guide on where to stay, what to eat and how to explore Istanbul with only R 400!
Budget Hostel Accommodation In Istanbul
Here are the three different hostels I had bookings for in Istanbul. Unfortunately, I only got to stay with one, as my bag was stolen in Georgia with my passport and I missed my flight back to Turkey.
World House Hostel
Rating on Booking.com: 8.3 / 10
Price: 14-bed dormitory @ R 122.00 per night + breakfast included
World House Hostel is situated in the trendy neighbourhood of Karakoy. If you want to be in walking distance of the city's nightlife and art galleries, this is the hostel for you.
Inside the 150-year-old Genoese style building, you'll find views of the city below and modern furnishings. Access into the hostel and each room requires a security code. There are also lockers outside the rooms that just need a lock.
The hostel is only a few steps away from the iconic Galata Tower and the famous Istiklal Avenue. It's also within walking distance of two local metro stations, making it a great place to base yourself as you explore the city.
Read Next: Checking In: World House Hostel Istanbul
Photo from: Booking.com
Stay Inn Taksim Hostel
Rating on Booking.com: 8.6 / 10
Price: 4-bed dormitory @ R 155.00 per night + breakfast included
If you like your hostels to be a bit more on the posh side – head to Stay Inn Taksim.  It's stylish, comfortable and affordable, making it perfect for budget travellers who want some luxury without breaking the bank.
The hostel has an onsite cafe and bar as well as a chic dining room where you can catch up on emails or enjoy your cup of Turkish coffee. It also offers a shuttle service for guests from any of Istanbul's two airports with prices your taxi driver won't be able to beat.
Nearby you'll find the Galata Tower, the lively Nevizade Street with its many bars and restaurants, Taksim Square and the Taksim metro station.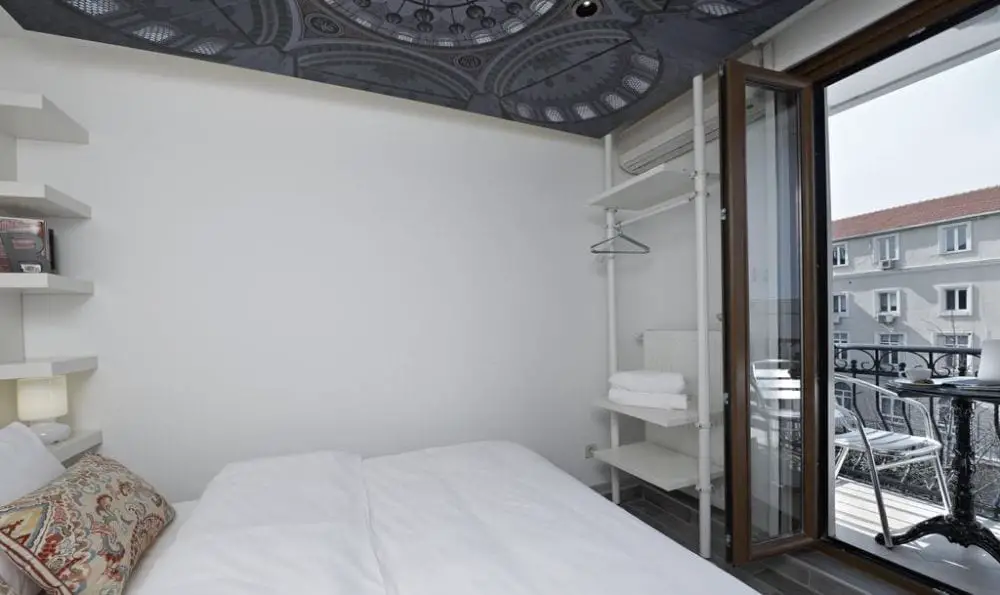 Photo from: Booking.com
Vegan Bella Vista Hostel
Rating on Booking.com: 8.5 / 10
Price: 8-bed dormitory @ R 110.00 per night + breakfast included
It's only fitting that I managed to find a vegan hostel while in Istanbul. Although I had to cancel my booking here,  Vegan Bellavista Hostel will be the first place I check into next time I'm in Istanbul.
The rooms in Bella vista each come with a wardrobe, locker and hairdryer. There is also complimentary all-day tea and guests can tuck into the delicious vegan-only meals served at the on-site restaurant.
The hostel is close to the Taksim Metro Station and is a five-minute walk to Taksim Square. But one of the best parts about staying here is that it's only 7 minutes from Istanbul's nostalgic and Instagrammable tram.
Total for one-nights accommodation: R 122.00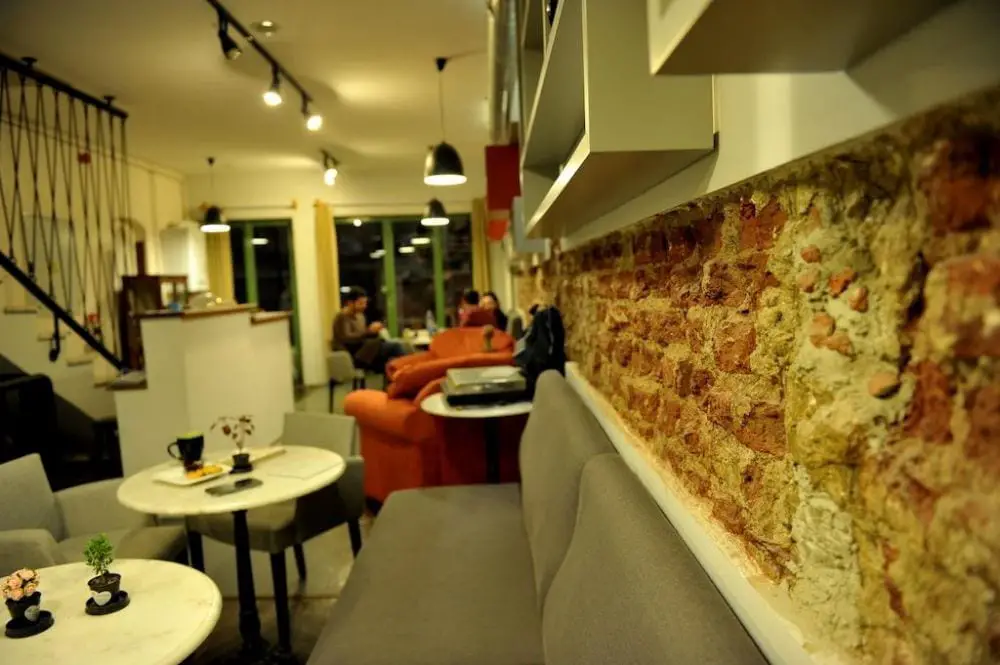 Photo from: Booking.com
---
Budget Vegetarian / Vegan Food In Istanbul
Breakfast
With so many hostels and hotels offering a complimentary breakfast in Istanbul; it's easy to save on the most important meal of the day.
Bear in mind, that it will be a traditional Turkish breakfast. Forget about scrambled eggs on toast; you'll start your day with tomatoes, cucumbers, olives, cheese, hard boiled eggs, bread and honey.
Subtotal: R 0.00
Lunch
Shout out to Happy Cow for helping me find Cigkofteci Ali Usta!
For only 3 TL(R 11.20) you can get a massive all-vegan bulghur and spice ball wrap. It's delicious and will keep you filled up as you walk around the city.
Inside the wrap, your taste buds will find cigkofte, lettuce, and a squeeze of lemon. If you don't like spicy foods, let the guys know for a more mild option.
Subtotal: R 11. 20
Address: Muhzirbasi Sokak 2, Eminonu, Istanbul, Turkey
Open hours: Monday to Sunday from 11:30 am to 8:00 pm
Dinner
Do you love cats and cheap vegan eats? Then you'll fall head over heels with Community Kitchen.
The restaurant is popular for a reason. It offers vegan lasagna, vegan baklava and more! The best part of the Community Kitchen, besides its menu, is that it serves its food in a traditional Turkish presentation. Plus it doesn't hurt that 10 TL (R 33.32) will be more than enough to fill you up.
The owner rescues stray cats and helps them find new homes. So you'll get to enjoy your meal with some of the cutest fluff balls around town as well.
Subtotal: R 33.32
Address: Kumbaracı Yokuşu 57/ A, Beyoğlu, Istanbul, Turkey
Open hours: Tuesday to Saturday from 2:00 pm until 11:00 pm
Total for Food: R 44.52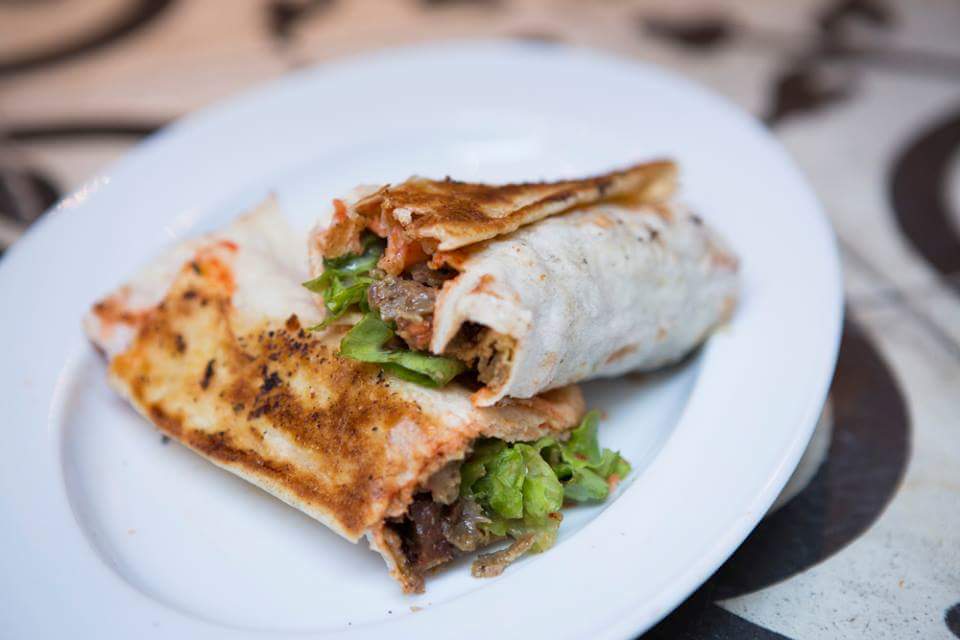 ---
Exploring Istanbul on a Budget
Istanbul has so many options for budget travellers who want to spend next to nothing on sightseeing. Whether you're visiting the city as a layover or you've got time for an action-packed five-day Istanbul itinerary.
Here are some of the top FREE things you can do in the city:
Visit the Blue Mosque for free.
Get lost in the 15th century, 55 000 square metre Grand Bazaar.
Explore Istanbul's Basilica Cistern, a former water reservoir built in the 6th century.
Shop for souvenirs at the night market.
Go to one of the many museums that offer free entrance such as the Elgiz Museum of Contemporary Art or the Doğançay Museum.
Sign up for a free Istanbul Walking Tour and learn about the city's history from a local.
Besides all the free things to do in the city, I decided to go into the Hagia Sofia. It's one of the best places to visit in Istanbul! Entrance is 40 TL (R 149,91) and if you want a guided tour its only 20 TL more. However, if you aren't into history, old buildings or religion I would skip going in and admire the building from outside.
For museum buffs, you can buy the Museum Pass Istanbul. It will set you back 85 TL (R 317.32), but you'll get access to many of the top sites including Topkapi Palace and the Hagia Sophia as well as discounts on activities, shops, restaurants and other museums. The pass is valid for 5-days so while it is pricey if you use it properly it's great value for money.
Total for Activities: R 149.91
---
Budget Transport Around Istanbul
The best way to around Istanbul is with the metro. I highly recommend picking up an IstanbulKart for 6 TL (R 22.39). It will reduce your rides from 5 TL one way to 2.5 TL (R 9.33) which can end up saving you quite a bit of money if you plan on using public transport to get around.
The metro line is extensive and can take you to all of the city's top attractions within minutes.
Total for Transportation: R 41.05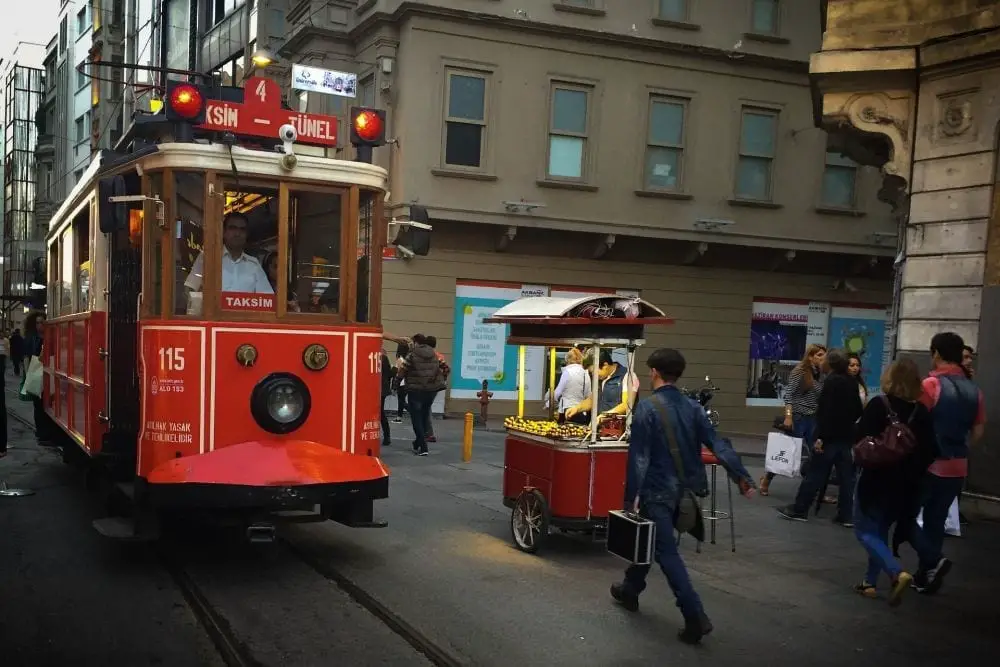 In 24 hours, I managed to spend just under R 400 in Istanbul. It's this great value for money that makes this city and country one of the best places for South Africans to visit. If you plan your budget right, you'll save big and have more room to splurge on big-ticket items.
My top choice? Use your extra change for something unforgettable like a sunrise air balloon ride over Cappadocia.
Grand Total Spent: R 357.48
What are some of your favourite ways to explore Istanbul on the cheap?

Travelling as a South African and on a tight budget? Here's how you can eat, sleep and explore Istanbul on less than R400 a day!