Dun dun duh duhduhduh duh duh duh duh!
Admit it. You sang it too.
As the world gears up for the finale of Game of Thrones, I finally made it to the ultimate fangirl destination of the TV series – Dubvronik, Croatia.
I spent 24 hours (a girl knows this is too short) soaking up the sights of King's Landing and singing the theme song out loud as I walked along the walls of the Old Town. Unfortunately, the weather wasn't on my side and spent 2 hours running around the city in the rain trying to see as much as possible before we drove up to Split.
Yes, I was soaked, but it was absolutely worth it.
I'd also like to take a moment to appreciate that we live in an era where iPhones are waterproof. Otherwise, I'd be on the phone to Outsource right now and crying on the inside that I've lost my OutBonus for zero claims.
But back to Westeros!
While you can sign up for a guided walking tour of the Game of Thrones filming locations in Dubrovnik, I don't think it's worth the price. You can easily get to all of the locations by yourself and I'm about to give you all the information you need to know about each scene.
I'm basically that cool, portable travel guide in your pocket and occasionally, I've got some sick rhymes.
I've also saved you a bunch of Euros that you can use for more (coffee) (gelato) (wine) and I've saved you time by putting together a self-guided Game of Thrones walking tour.
Here's where to find Game of Thrones filming locations in Dubrovnik!
---
Map of Game of Thrones Filming Locations in Dubrovnik
---
Game of Thrones Locations in Dubrovnik: A Self-Guided Walking Tour
Pile Gate: The Entrance to Old Town
Start your journey into King's Landing at the Pile Gate. It's the entrance of Old Town and it was used a number of times in Season 2 and 3. The entrance of Pile Gate was used in Season 3, Episode 10 " Mhysa" when Jamie returns to King's Landing.
When you walk through the gate, you'll stand in a long entrance way that was used as a filming location for one of Game of Thrones most iconic scenes. In Season 2, Episode 6 "The Old Gods and the New" Joffrey returns to the Red Keep after Marcella is sent to Dorne. He is attacked by an angry mob here and screams "Kill him, kill them all!"
There is also a doorway at the end of the corridor that is where Sansa runs to try and escape the mob of men chasing her.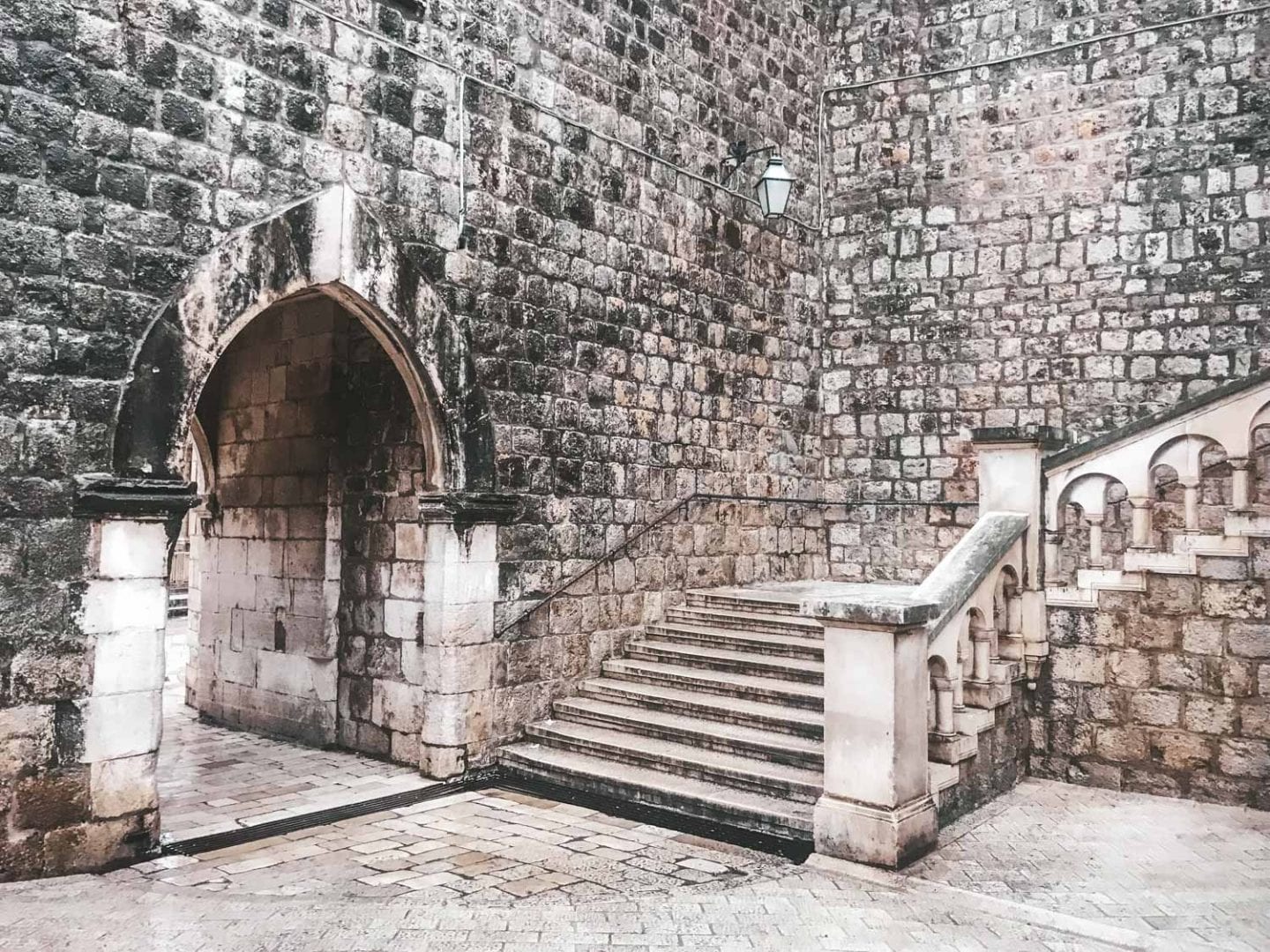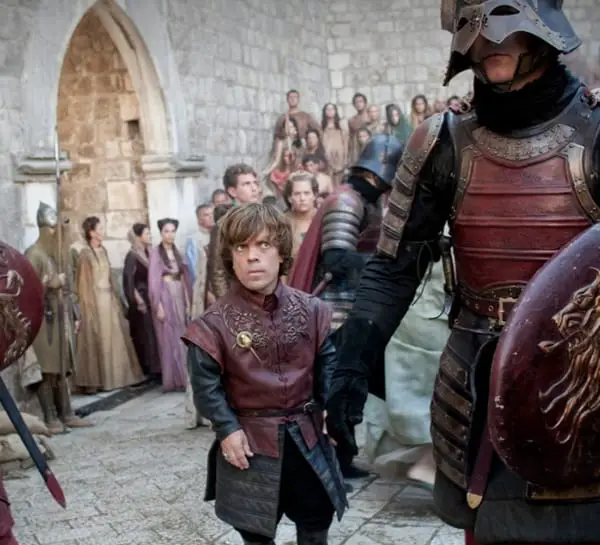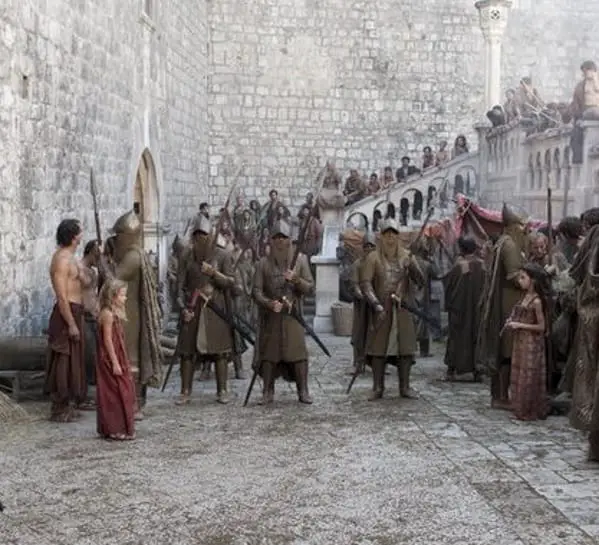 The City Walls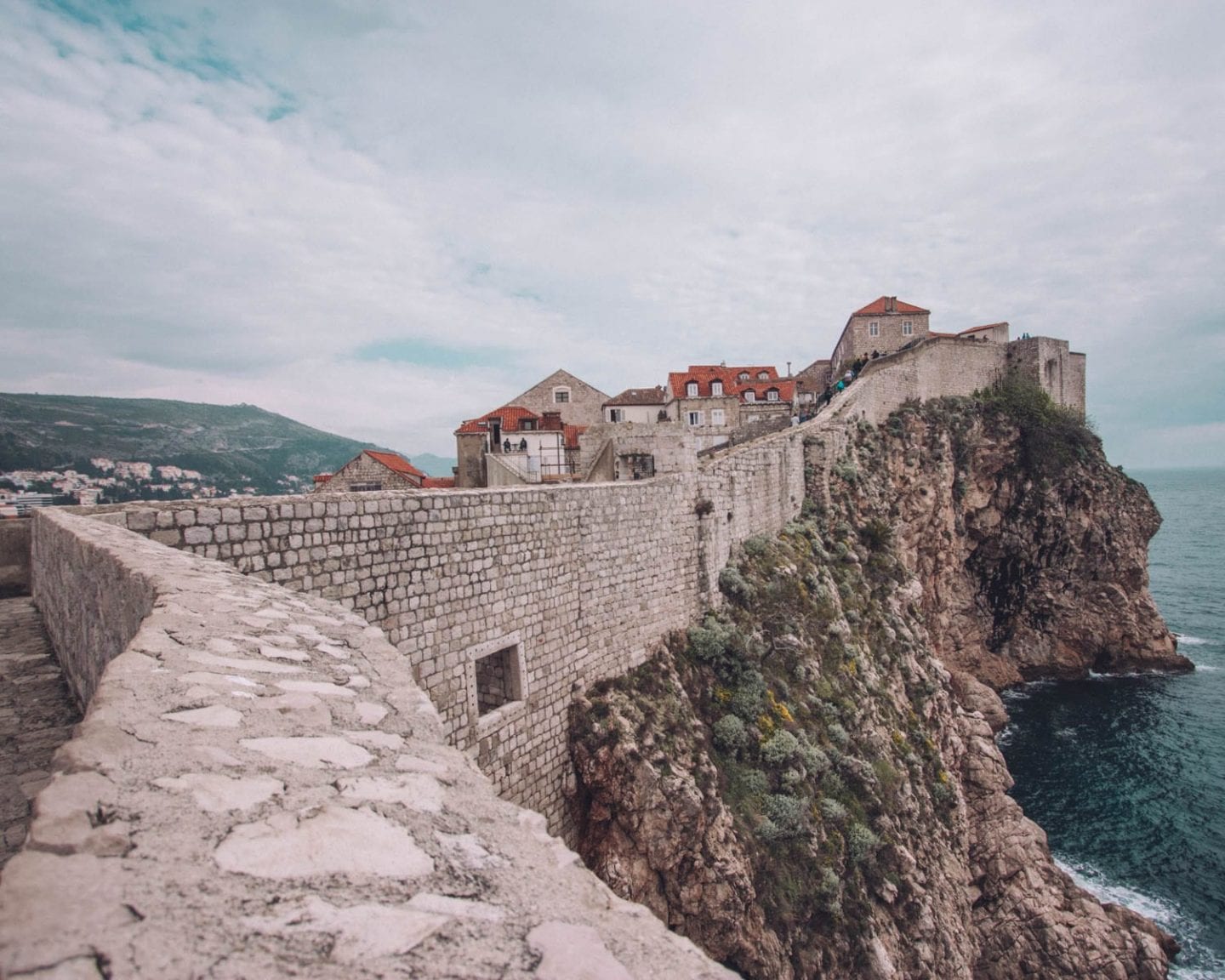 Once you've walked through Pile Gate, you'll find yourself in the main square of Old Town. To your left, you'll see the entrance to the climb the city walls.
Entrance is 200 HRK (R433.00 / $30 USD) per person.
The price also includes the entrance to Fort Lovrijenac which was also used as a Game of Thrones filming location (more on that below).
The best time to visit the walls is 8 AM (as soon as the walls open). You'll beat the crowds and if you're visiting Dubrovnik during the peak season (June to August) the early start is always worth it.
The City Walls are featured numerous times throughout the series. In Game of Thrones Season 3, Episode 1 "Valar Dohaeris". Tyrion, Bronn and Podrick walk along the walls as workers repair the damage from the Battle of Blackwater.
In Season 5, Episode 3 "High Sparrow", King Tommen and Cersei walk the walls and he tells her to return to Casterly Rock.
Fort Bokar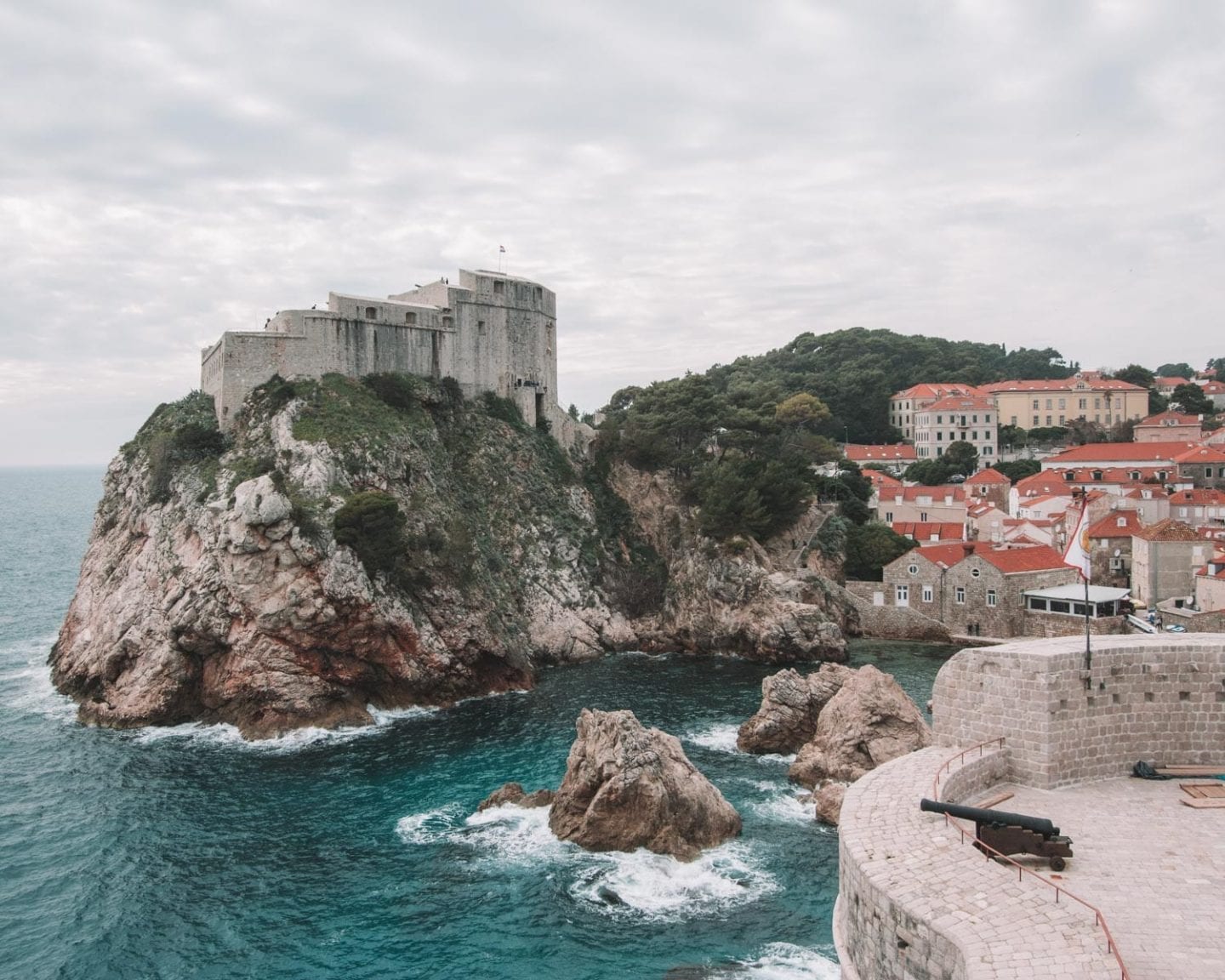 Fort Bokar is the first Game of Thrones filming location you'll come across as you walk the City Walls. It's been used in a number of episodes. In Season 2, Episode 8, Lord Varys and Tyrion discuss war strategies on top of the fortress and in Season 7, Episode 1, Jamie and Cersei watch the Iron Fleet arrive from Bokar Fortress.
As I was running around in the rain, I didn't get the best shots of the fortress. If you're visiting Dubrovnik and the heavens aren't pouring, the best views of Bokar Fortress are from Fort Lovrijenac or when you're walking the walls.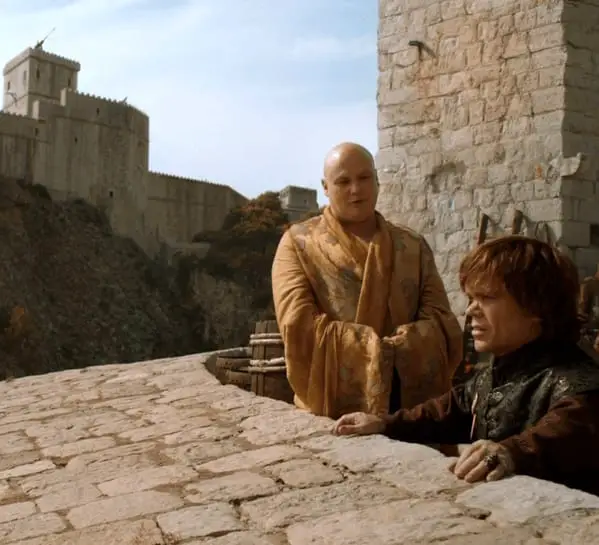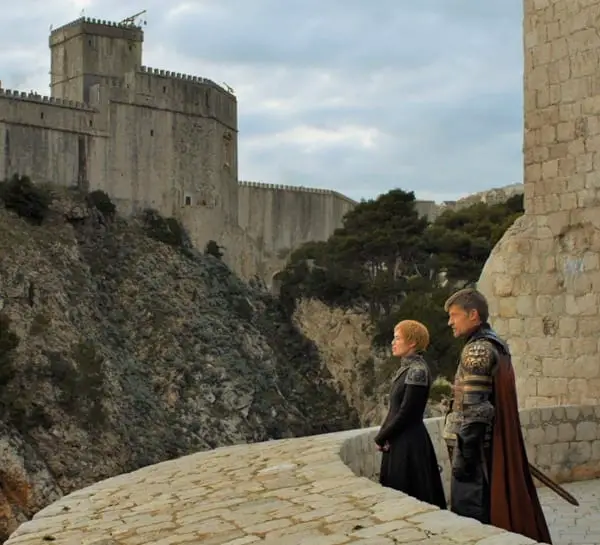 View of King's Landing
If you walk the walls clockwise, you'll end up at the North side of the wall with an incredible birds-eye view of Dubrovnik. The view is used for establishing shots of King's Landing in Game of Thrones (minus the fancy CGI).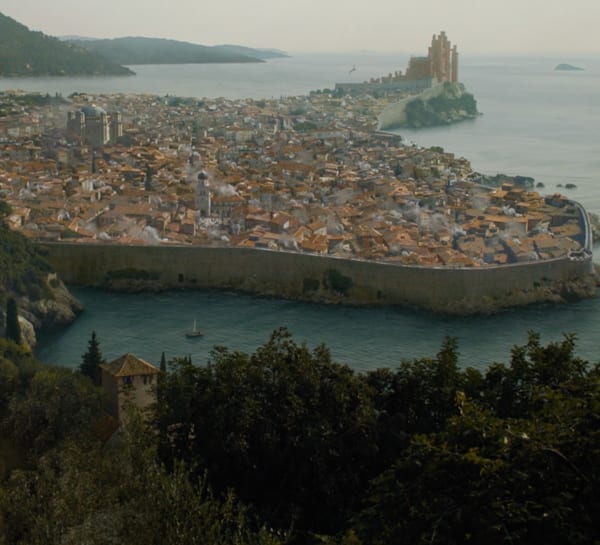 Minčeta Tower
The final Game of Thrones filming location along the City Walls is the Minčeta Tower.
The exterior of the buildings is used as the House of the Undying in Season 2, Episode 10 "Valar Morghulis". Daenerys Targaryen searches outside of the tower for her stolen dragons.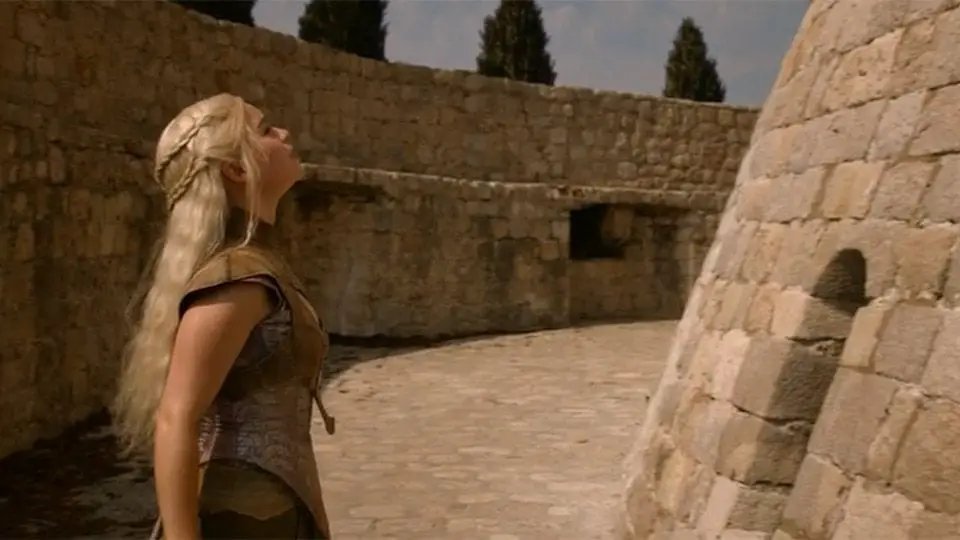 Ethnographic Museum
Once you've finished walking the walls, you'll exit where you entered by Pile Gate. Your next stop on your self-guided Game of Thrones walking tour will be the Ethnographic Museum.
In Game of Thrones, it's a filming location for Littlefinger's brother in King's Landing. The museum is also used in Season 4, Episode 1 "Two Swords" when Tyrion asks to speak to Oberyn Martell and in Season 5, Episode 3 when the High Septon is forced to walk naked through the King's Landing.
I didn't get a chance to go inside as the museum was closed ?Avoid my mistake by planning your visit to the museum between 9 AM and 4 PM.
The Jesuit Staircase
Next, make your way to the Jesuit Staircase. It is one of the Game of Thrones filming locations for Cersei's Walk of Shame – an most iconic and meme-worthy scenes of the series.
However, we first see the staircase for the first time in Season 5, Episode 1 "The Wars to Come" when Cersei arrives at Tywin Lannister's funeral. She walks up to the steps past mourners and into The Great Sept.
Later in the season, the Jesuit Staircase becomes the starting point of the infamous Walk of Shame in Season 5, Episode 10 "Mother's Mercy". If you want to follow Cersei's steps exactly and visit all the filming locations for that scene, you'll need to visit Od Margarite Street, St Dominik Street, and Ploce Gate.
Chants of "Shame" are optional but encouraged.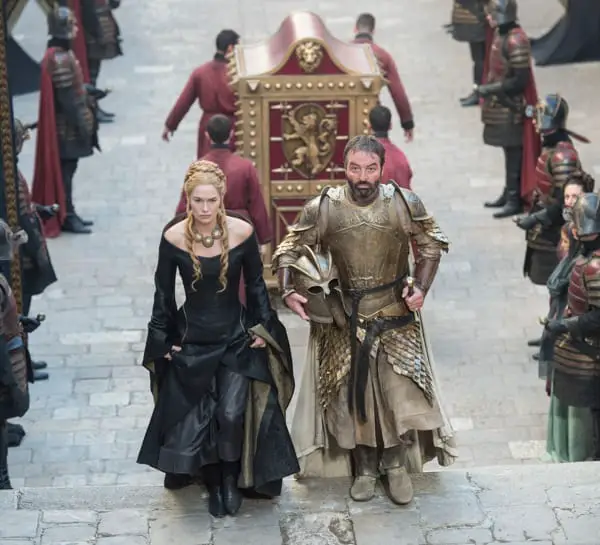 The Rector's Palace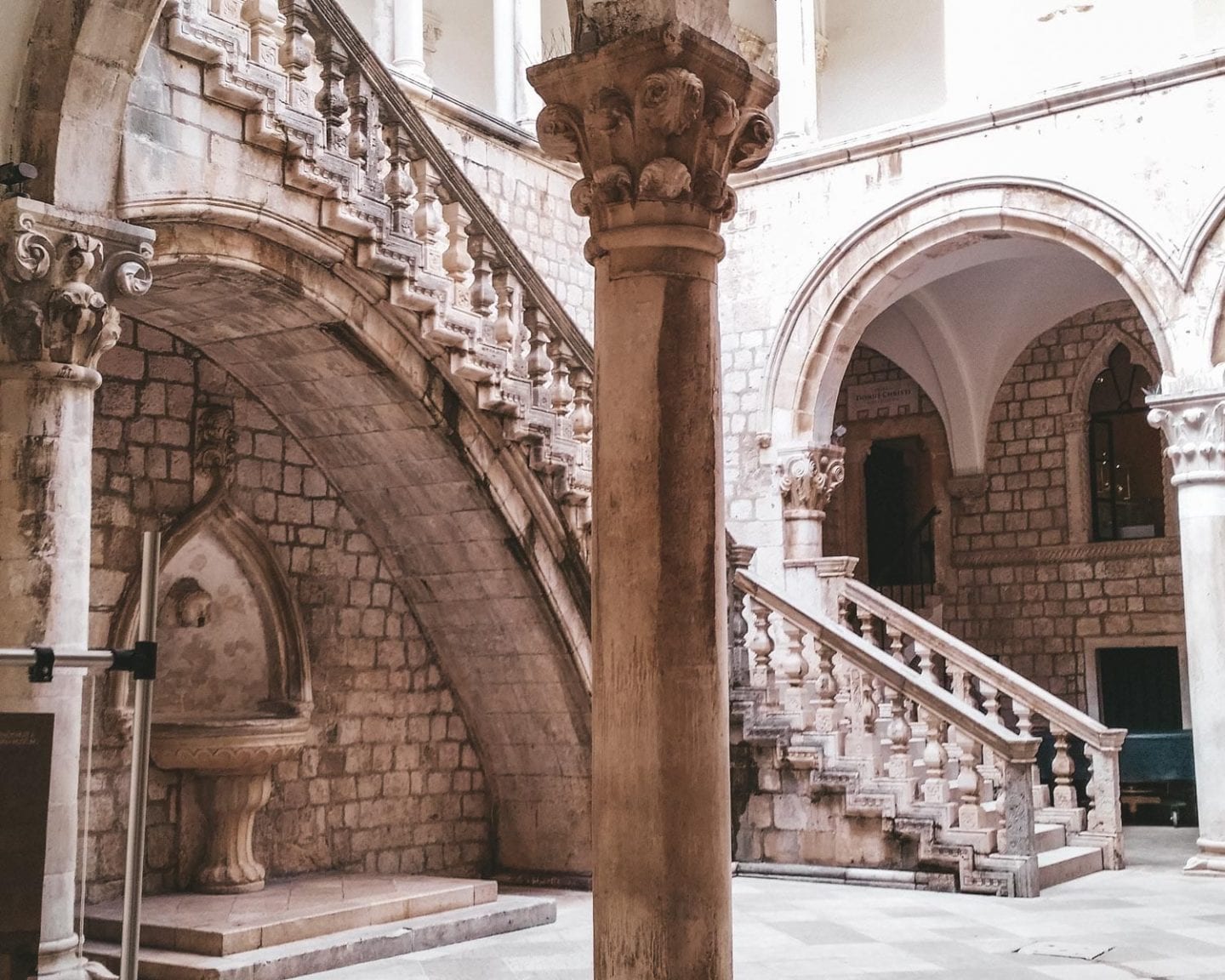 Rector's Palace is one of the Game of Thrones filming locations that I only got to see from the outside. The palace is only open from 9 AM to 6 PM every day and you'll have to pay to get in.
Entrance to Rector's Palace is 80 HRK (R174.00 / $12.00).
You can also buy a ticket that will give you entrance to Rector's Palace as well as the Maritime Museum, Ethnographic Museum, Revelin Fort, Natural History Museum, Contemporary Art Museum and the Home of Martin Držić.
If you don't want to pay to go into the palace, you can admire it from the outside for free.
Rector's Palace is featured in Season 2, Episode 6 "The Old God's and the New". Daenery's visit's the Spice King in Qarth at his mansion to request ships to help her army get across the Narrow Sea.
The Stradun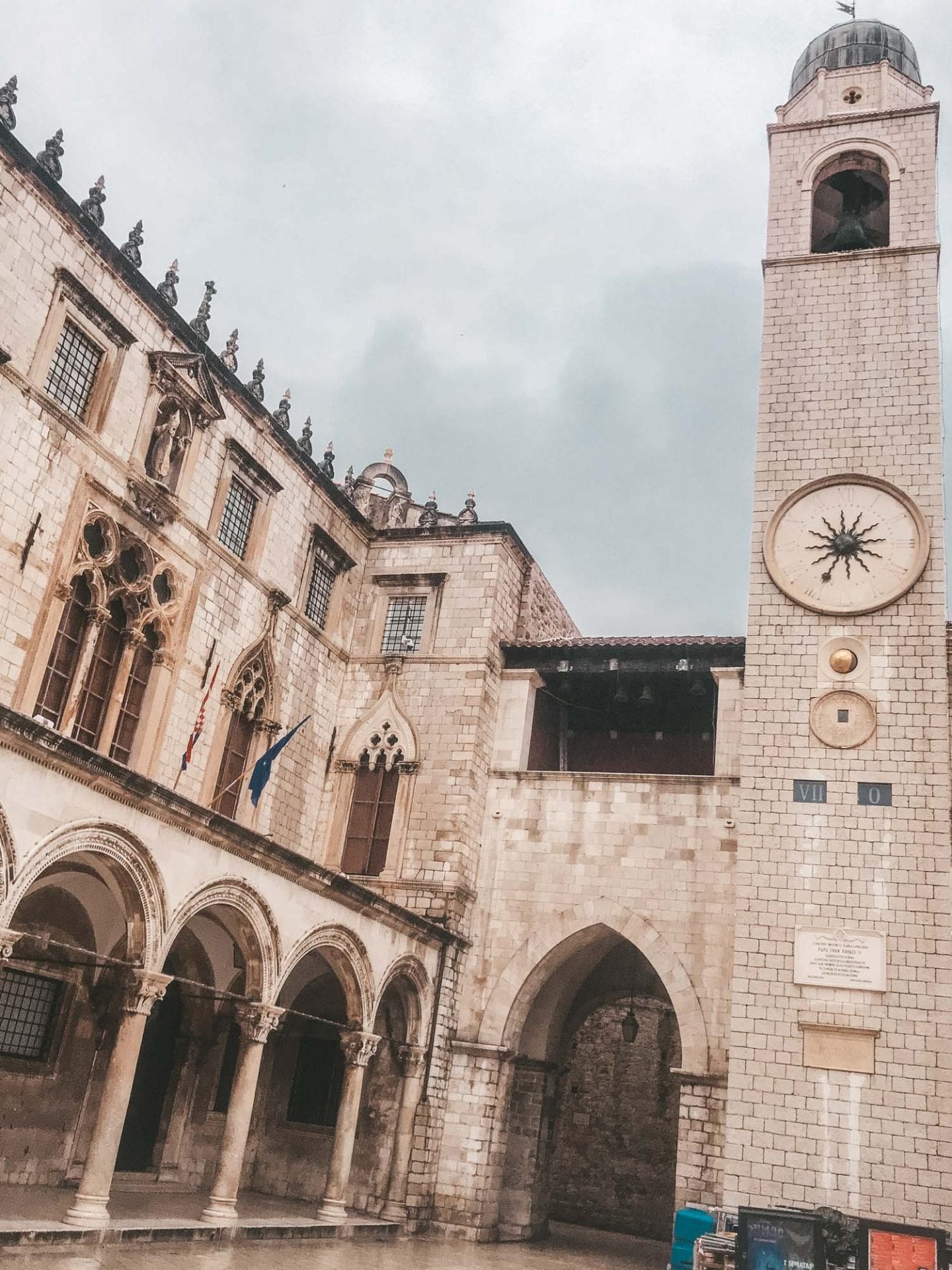 The Stradun is located on the main street of Dubrovnik and is only a few steps away from the Rector's Palace. It was used in Season 5, Episode 10 "Mother's Mercy" as part of Cersei's Walk of Shame.
St Dominic Street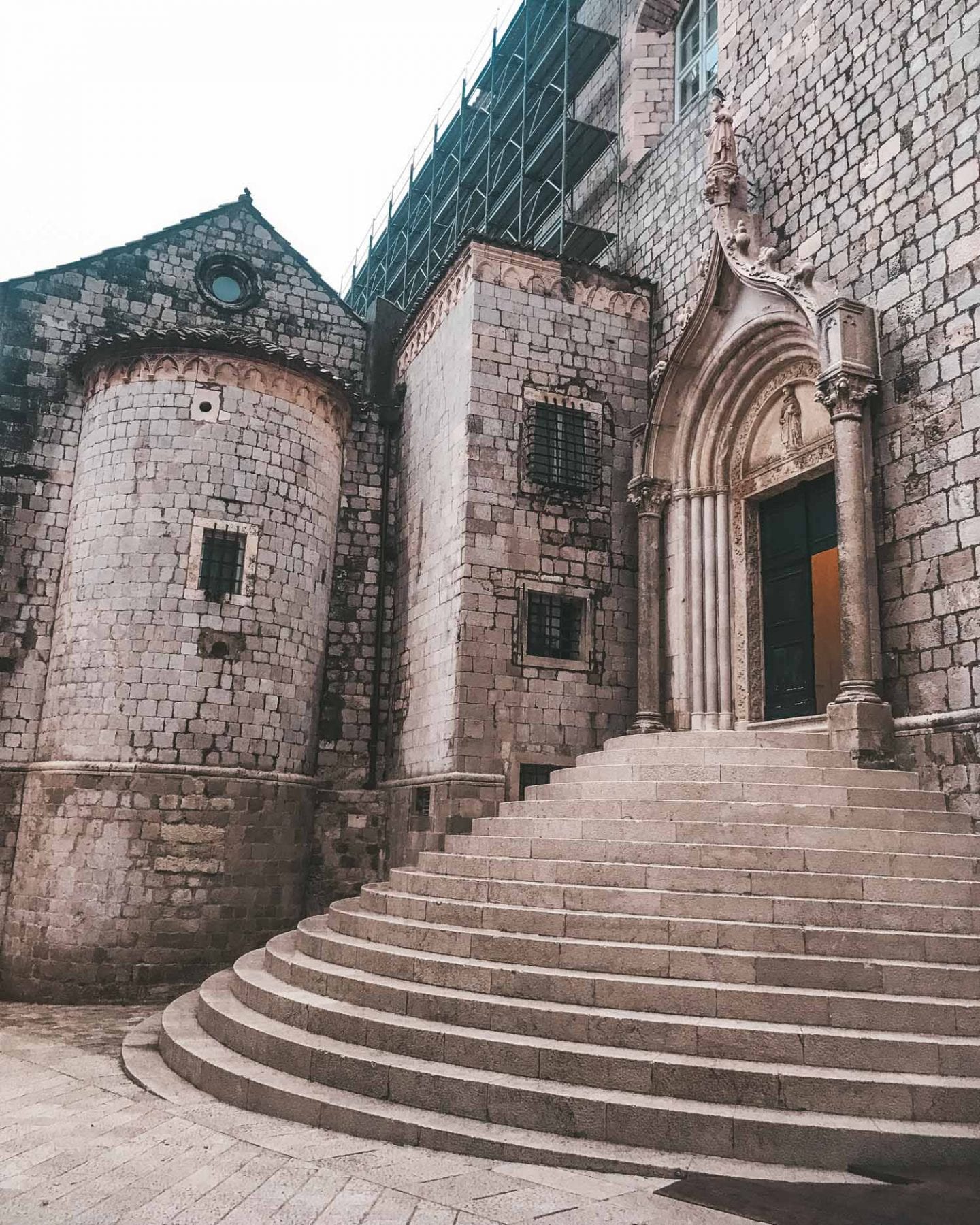 St Dominic Street is another Game of Thrones filming location for Cersei's Walk of Shame from Season 5, Episode 10, but the street was also used much earlier on in the series.
In Season 2, Episode 5 "The Ghost of Harrenhal", Tyrion and Bronn are walking through King's Landing and come across a protect speech about King Joffrey. A man is standing on top of a staircase in St. Dominic Street calling the king "fruit of incest".
Ploče Gate
Ploče Gate is the final Walk of Shame filming location in Game of Thrones. It's used as the entrance to the Red Keep when Cersei completes her penance in Season 5, Episode 10 "Mother's Mercy" and is greeted by Qyburn.
Next, head back the way you came and make your way to Pile Harbour.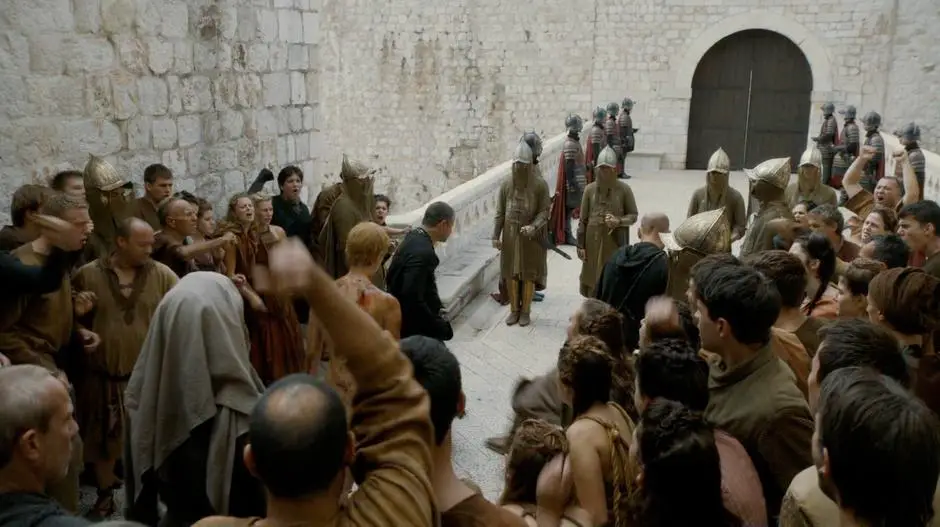 Pile Harbour
Pile Harbour is used as the setting for King's Landing Harbour. It's most notable scene is in Season 2, Episode 6 "The Old Gods and the New" when the Lannisters say goodbye to Princess Myrcella and ship her off to Dorne.
The location is used again in Season 6, Episode 1 "The Red Woman" where Cersei awaits Myrcella's return.
Dubrovnik West Pier
Pile Harbour's nearby pier is the Game of Thrones filming location for Blackwater Bay. In Season 3, Episode 1 "Valar Dohaeris", the stone dock is where Sansa and Shae are watching the ships when Litterfinger arrives to talk to Sansa.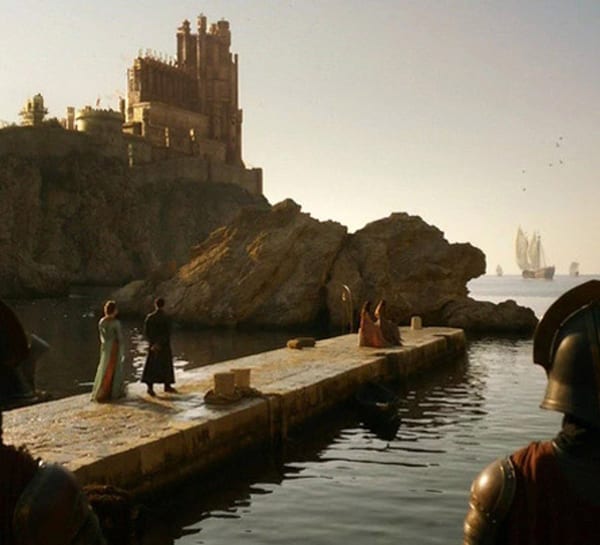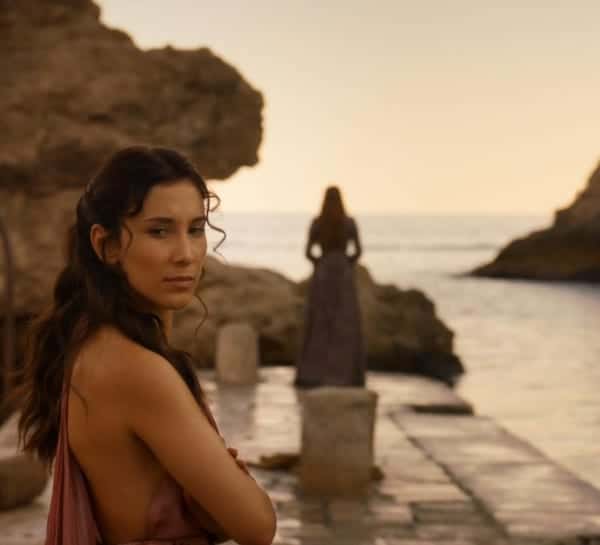 Dubrovnik West Harbour
The West Harbour is next to the West Pier and is where one of Game of Thrones most infamous scenes from the second season was filmed. After finding out about his father's infidelity, King Joffrey orders all of his bastard children to be killed so that they don't threaten his claim to the throne.
The West Harbour features in the scene where you see the gold cloaks raiding homes.
Fort Lovrijenac
Walk up the steps and you'll reach the final destination of your self-guided Game of Thrones walking tour – Fort Lovrijenac. The fort is used as the filming location of The Red Keep.
The interior of the building was used in Season 2, Episode 1 "The North Remembers" when Cersei and Littlefinger talk about Ayra and he lets on that he knows about Cersei and Jamie's relationship. He utters the famous quote "knowledge is power" while Cersei quips "power is power" and threatens his life.
Fort Lovrijenac is also the Game of Thrones filming location for King Joffery's naming ceremony in Season 2, Episode 1 "The North Remembers" and in Season 3 Episode 5 "Kissed By Fire" when Cersei asks Littlefinger to help her get rid of the Tyrells.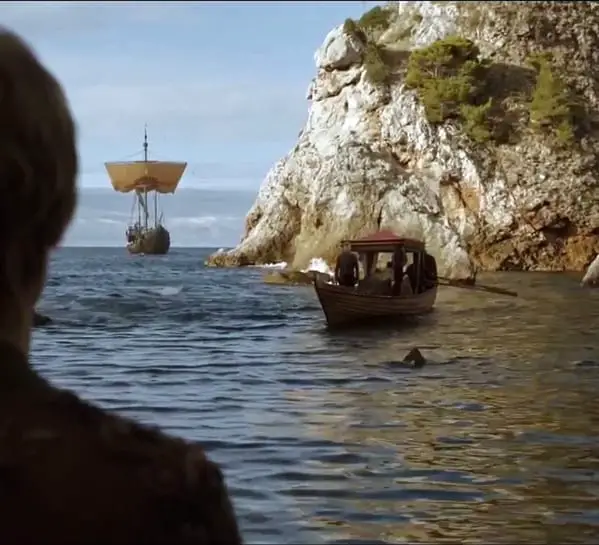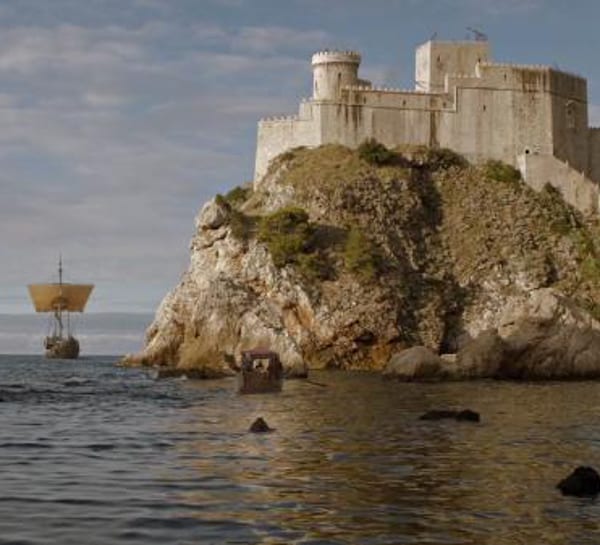 ---
Other Game of Thrones Filming Locations Near Dubrovnik
If you're smart, you'll spend more than 24 hours in Dubrovnik so you can soak up as much Game of Thrones goodness as possible.
Lokrum Island
One of the filming locations that I'm super bummed about missing is Lokrum Island. It's the closest island to Dubrovnik and is only a short 15-minute boat ride.
Tickets cost 40 HRK (R86 / $6 USD)
Once you arrive, you'll have entered Game of Thrones heaven. The visitor's center has a special GoT exhibit that includes the infamous Iron Throne!
If you end up going, let me know in the comments how comfortable you found it?!
The island was also used as one of the filming locations for Qarth. In Season 2, Episode 5 "The Ghost of Harrenhal", Daenery's attends a party held at the island's former Benedictine monastery and meets the warlocks.
---
Tips for a Self-Guided Game of Thrones Walking Tour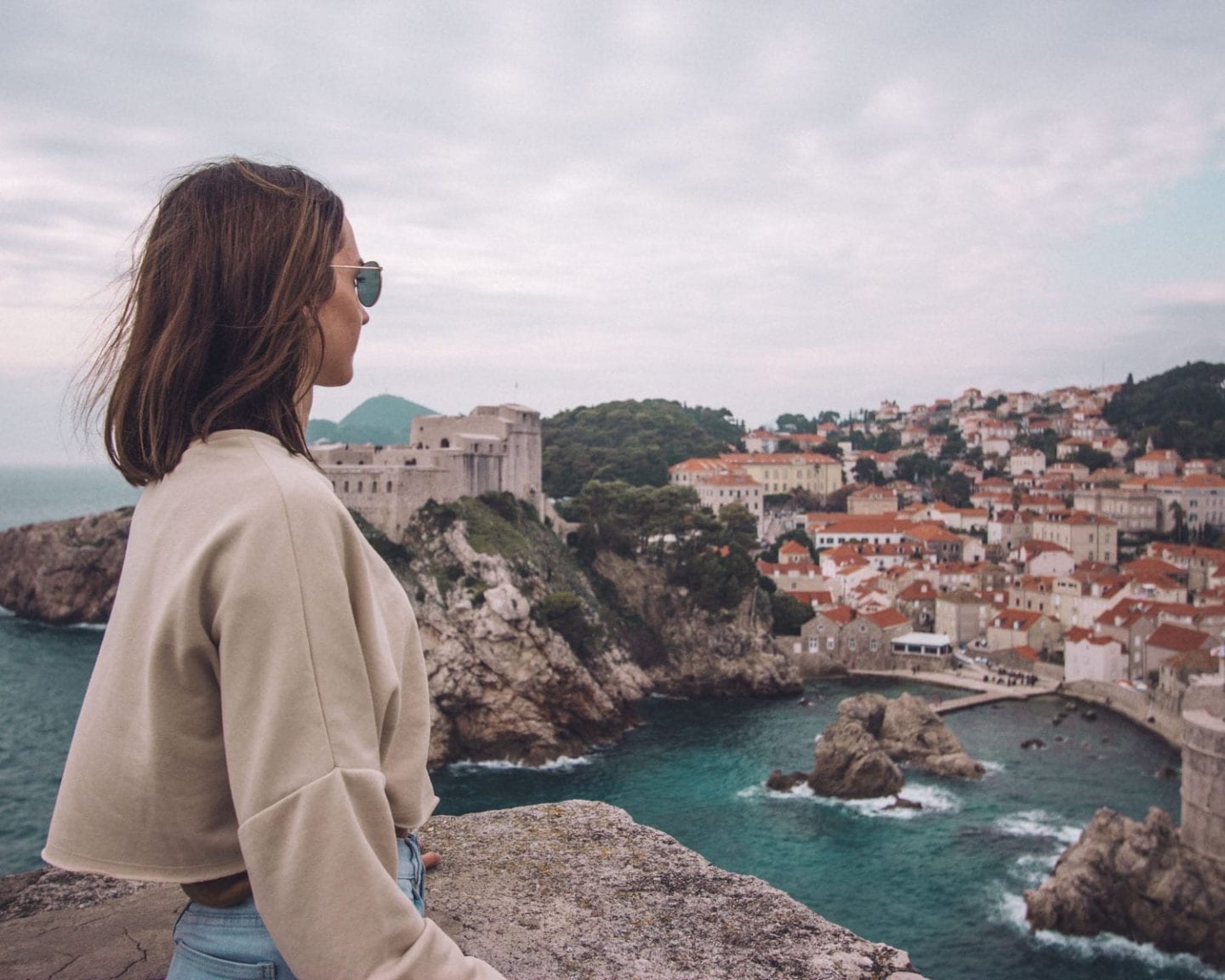 Buy the Dubrovnik Card:
As you've probably deduced, all the entrance fees start to add up. You can save money by purchasing the Dubvronik Card. It will give you access to the City Walls, Fort Lovrijenac, Rector's Palace and the Ethnographic Museum – all the sites you need access to for your self-guided Game of Thrones Tour! A one day pass costs 190 HRK (R411.00 / $27 USD).
Start Early: I'd recommend starting the tour at 8 AM so you're one of the first people up on City Walls. By the time you get down, the other sites that only open after 9 AM will be open.
Don't Visit in April: If you visit Dubrovnik in April like me, keep in mind that it's one of the wettest months of the year. While the crowds will be thinner, it's best to wait until May when things dry up and you'll have better weather for photos.
Save the Google Map: To save yourself time and hassle during your self-guided Game of Thrones tour, it's a good idea to bookmark this page (even better save it for offline use) and save the Google Map of all the Game of Thrones filming locations. You'll have a much easier time finding all the locations and you won't have to keep an eye out for street signs that might be hard to find.
---
Where to Stay in Dubrovnik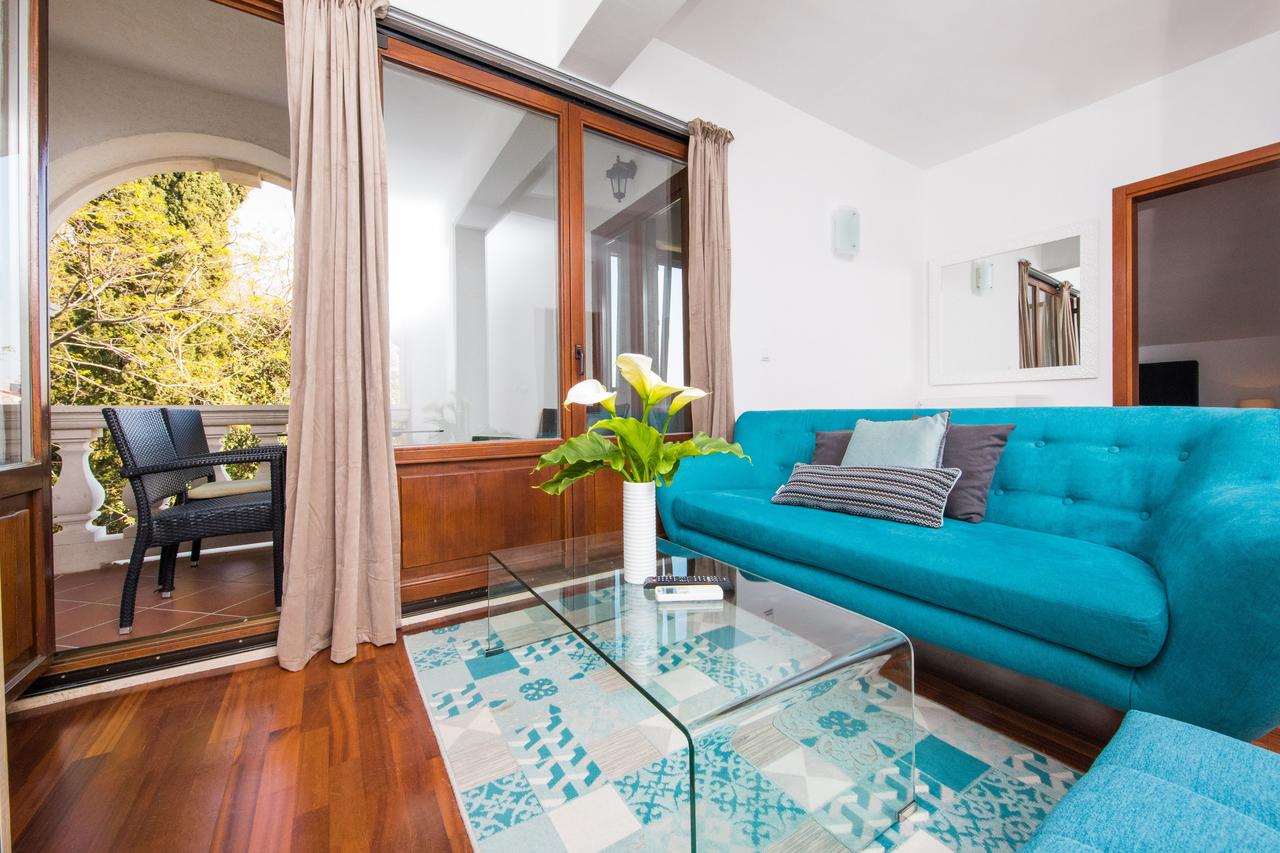 Mid-Range to Luxury: Villa Dard & Peppino Apartments
Villa Dard is a 5-minute walk to Pile Gate and Old Town. The rooms have incredible views over the city and are a great option if you're travelling to Dubrovnik as a group.
The city's cable car is only 800 meters away and a bus stop is 100 meters from the property. We stayed in the two-bedroom suite with a balcony and sea views and paid R 2,700 for one night.
That is way more than I would usually spend on accommodation, but there was 3 of us and we were on holiday so we decided to splurge! The quality of the room and the staff did live up to that price point and there was free parking for guests which was a major selling point.
If you're travelling with your family, partner or friends and want a more affordable apartment option, check out Apartments Peppino in Old Town. It's a 5-minute walk from the beach and costs R1197 to rent the entire apartment.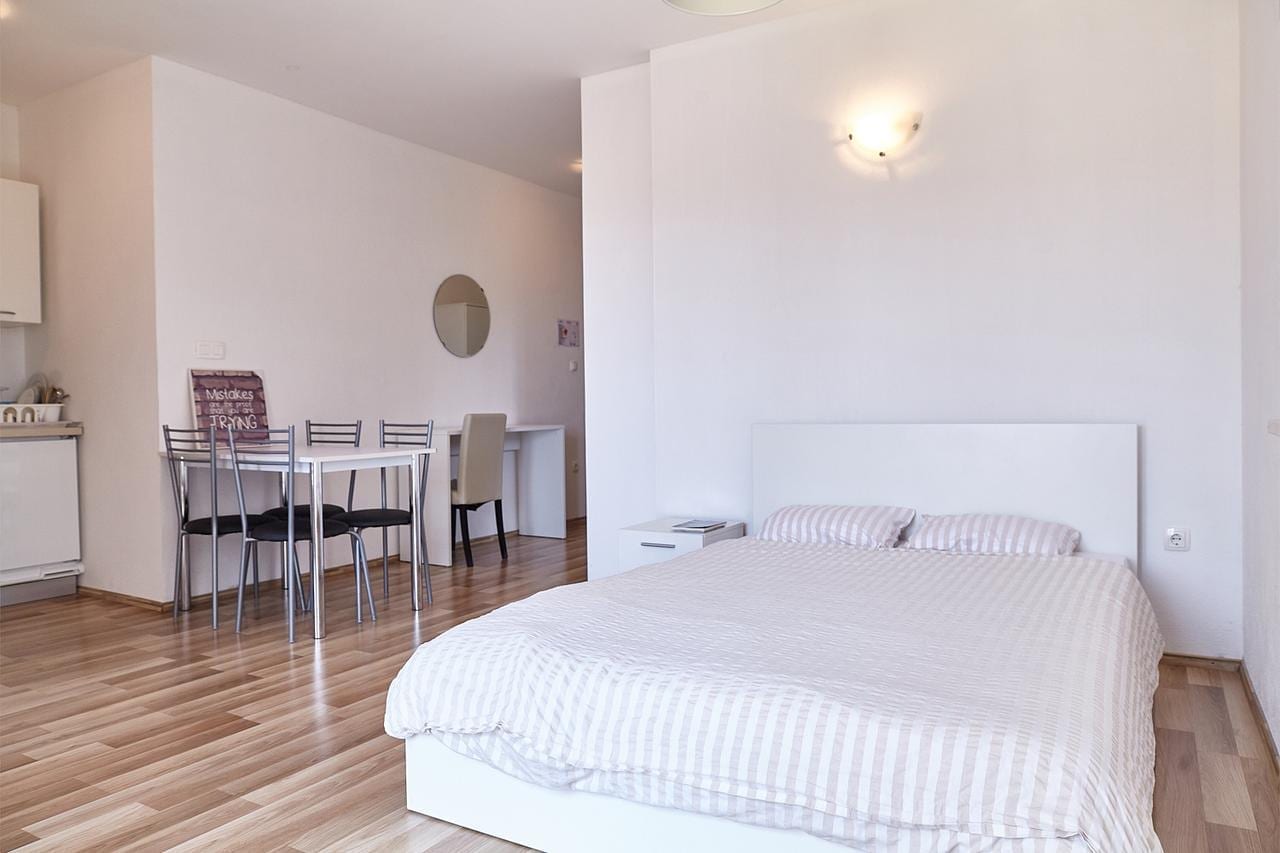 Budget: Free Bird & Love Dubrovnik Hostel
Hostel Free Bird is one of the top-rated hostels in Dubrovnik. It's 2km away from Old Town and is within walking distance of shops and restaurants. There are a bunch of dormitory room options ranging from a 10-bed mixed form to a 4-bed mixed dorm. Prices start at R270 per night.
If you're looking for a hostel vibe, but you prefer having your own room, stay at Love Dubrovnik Hostel. You can book a double room for R 700 a night or a family room that can fit four people for R 2900 per night.
For accommodation options that are even cheaper, look at properties that are further away from Old Town. You may need to walk more and use a bus to get around, but you'll save heaps of cash.
---
Do you have any tips for where to find Game of Thrones filming locations in Dubrovnik? Did I miss any that deserve a mention? Let it be known in the comments!
Psst…Want more Europe travel inspiration? Check out my other blog posts:
?If you like it, then you should put a pin on it ?data-imagelightbox="g">