Last Updated on August 15, 2020 by lauren
This October, I got to tick off country number 12 and see one of my biggest bucket list items – Angkor Wat.
Ever since my dad introduced me to the Tomb Raider PC games way back in the 90's, I've been a little obsessed with Lara Croft. From kicking it old school to the movies and obsessing over the PS3 reboots, the Lara Croft franchise has instilled a deep love for ruins and ancient temples inside me.
So it was a no-brainer when school holidays rolled around to use my time off to visit Cambodia! It was time to explore a little piece of the Lara Croft franchise and the largest religious monument in the world with my own eyes.
Here's how to explore Angkor Wat in one day!
What is Angkor Wat?
If you aren't a history geek like me you might be wondering what all the fuss is about.
The Angkor Wat temple complex was first built by Khmer King Suryavarman II and dates back to the early 12th century. The UNESCO World Heritage site stretches over more than 162.6 hectares with new temples and ruins being discovered almost every year.
It started as a Hindu religious temple before gradually being transformed into a Buddhist temple. Fast forward today and it is one of the most visited religious sites in the world and ranked #3 on Trip Advisor's as one of the Top 25 Landmarks in the world.
How to Get to Siem Reap From Thailand
While most travellers choose to go overland from Bangkok to the Cambodian border via bus or train, I decided to fly in. The main reason being that I didn't want to deal with the bullshit and scams at the overland border.
Instead, I decided to splurge and use Wego to find a Air Asia flight from Suri Thani to Siem Reap for 2 000 baht. Getting my visa on arrival for $30 was quick and painless and had me out the airport in under 20 minutes. To save money and avoid bartering at the airport for a taxi into Siem Reap, I used Booking.com to find the cheapest hostel that offered free airport transfers.
How To Get To Angkor Wat
There are many different ways to explore the ancient ruins depending on your budget. Your hotel or hostel can arrange a tuk-tuk driver to take you to the ruins for $16 a day, or you can join a more expensive private bus tour.
If you aren't into having someone drive you around, you can rent a bicycle for $1 per day or a motorbike for $10.
Warning: If you do plan on taking a bicycle arrive as early as possible in the morning to see as much as possible before the afternoon heat kicks in. It's also wise to plan your route a bit beforehand as the temples aren't close to each other.
As I am gravity challenged, I decided to hire a tuk-tuk driver and knock out all the temples I wanted to see in one day. Why? Because I don't believe temple fatigue exists.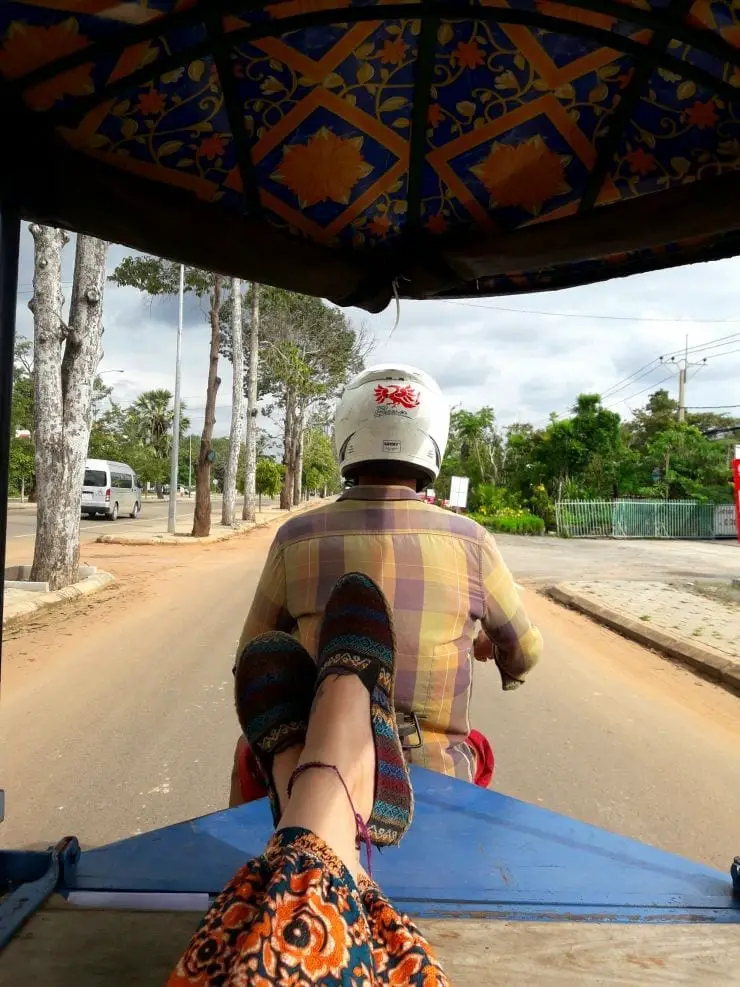 How much is entrance into Angor Wat?
The prices for entrance into Angkor Wat depend on how slow you want to explore the ruins and how much of an archaeological nerd you are deep down inside.
A single day pass: $20
A three-day pass: $40
A seven-day pass: $60
The three-day pass is by far the most popular choice among travellers. I just couldn't see myself doing the most touristy thing in Siem Reap for three days straight.
The seven-day pass doesn't have to be used consecutively and is valid for a whole month. So if you want to discover the numerous ruins and take your time getting to the harder to reach places this ticket will be well worth it.
What is the Angkor Wat Dress Code?
As the temples are a religious site you will need to dress appropriately. Keep your shoulders covered by wearing a t-shirt with sleeves or bring along a scarf to cover your shoulders. Cover your knees with a long skirt or breezy elephant pants instead.
I would also recommend wearing closed shoes like sneakers to make climbing the temples that much easier.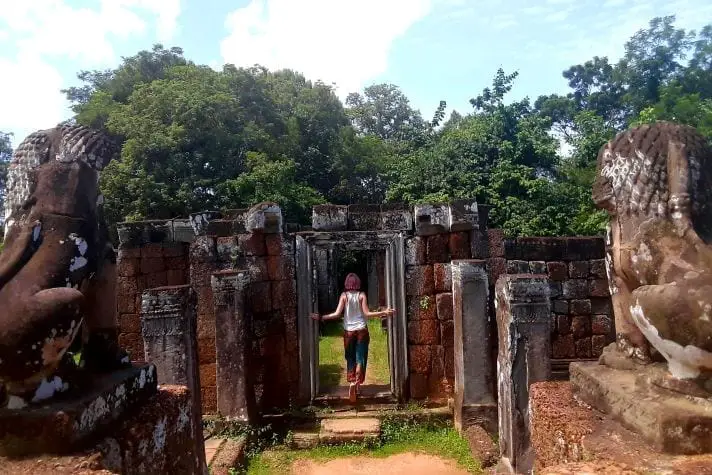 How to Visit Angkor Wat At Sunrise
Watching the sunrise at Angkor Wat was 100% worth the 4:00 am wake up call. After getting my ticket and being dropped off the darkness at Angkor Wat temple I made my way to the famous temple-in-the-pond spot.
What Time Does The Sunrise At Angkor Wat?
Sunrise starts around 5:30 and ends just after 6:00 am.
The gates to Angkor Wat open at 5 am and you want to be there with your ticket ready to go as they open. Getting there early will help you beat the crowds and help you secure your spot for sunrise.
As the ticket office is before you reach the actual entrance of Angkor Wat, aim to leave your accommodation just after 4:00 am to give yourself enough time to line up at the ticket office and to factor in travelling time.
What Is The Best Spot For Sunrise At Angkor Wat?
To get those drool-worthy Instagram pics, get as close to the edge of the reflection pond as possible.  I nudged my way in and knelt down right at the waters edge for the entire sunset without obstructing anyone else's view and preventing anyone from moving in front of my shot.
What to Avoid
If you see stones in the water, avoid setting up camp at these spots. People have begun using them as stepping stones so they can jump in front of everyone else.
A spot with too many lily pads will ruin your shot. As beautiful as the plants can be, it will ruin your chances in getting that picturesque reflection in the water.
Is Sunset At Angkor Worth It?
In my opinion, yes. I stayed there for just over an hour and as corny as it sounds, it was a magnificent experience and one of the highlights of my trip to Cambodia.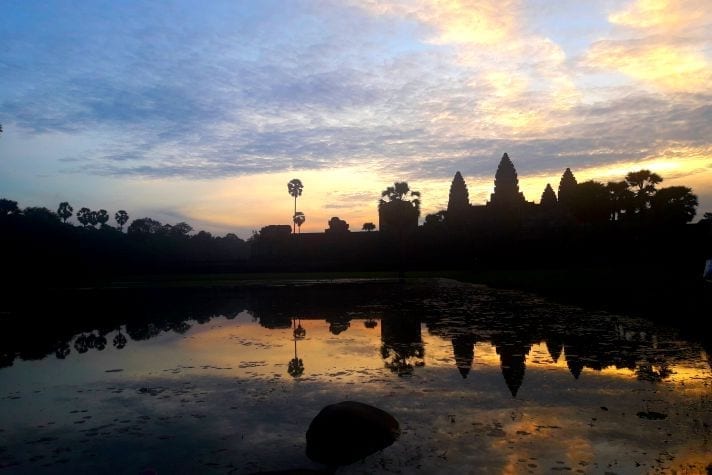 The Various Temples of Angkor Wat
In just under 10 hours I explored about 8 different temples inside the temple complex. Was I exhausted? Yes. Was it worth it? Hell yeah!
Instead of going in depth for every single temple, I've narrowed it down to a few of my favourites that captivated me the most during my exploration.
Angkor Wat
It's no surprise that this temple is the most visited and most photographed. After sunrise, take your time exploring the massive complex and its 2 600 feet bas-reliefs depicting famous battles and scenes from battles.
Ta Prohm
This is the famous temple that was used as a set for the movie Tomb Raider. Paramount was charged $10 000 per day for seven days to film those iconic scenes. Visit this temple in the early morning, as the harsh afternoon light will ruin your photos if you are shooting with a camera phone or a standard stand and shoot.
Preah Khan
The temple was built in 1191 and the name directly translates to "The Sacred Sword". Prah Khan boasts it's own epic tree that has taken root over a temple wall and dwarves everything around it.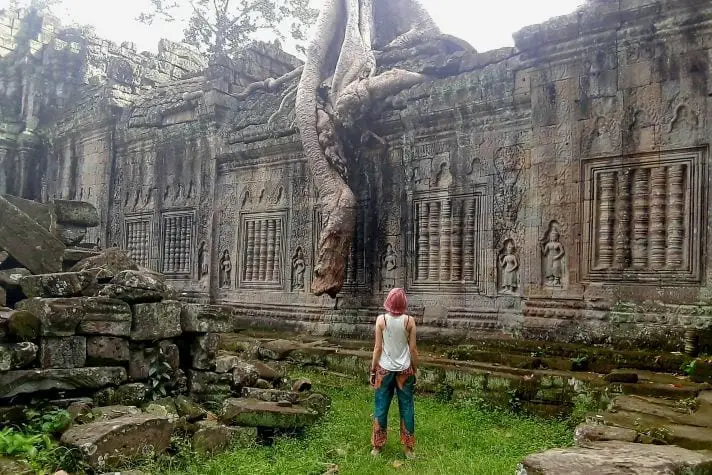 Prasat Neak Pean
Although this temple is smaller compared to the others you will find in the complex I loved the serenity. To get to Neak Pean you have to walk across a bridge over a large lake to an artificial island built during the reign of King Jayavarman VII. The pools around the temples were thought to balance the elements inside a person and cure disease.
Some of the other temples I visited were Pre Rup, East Mebon, and Ta Som.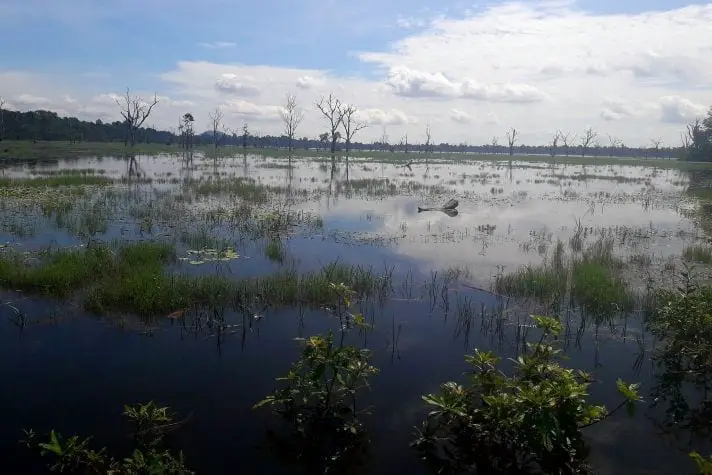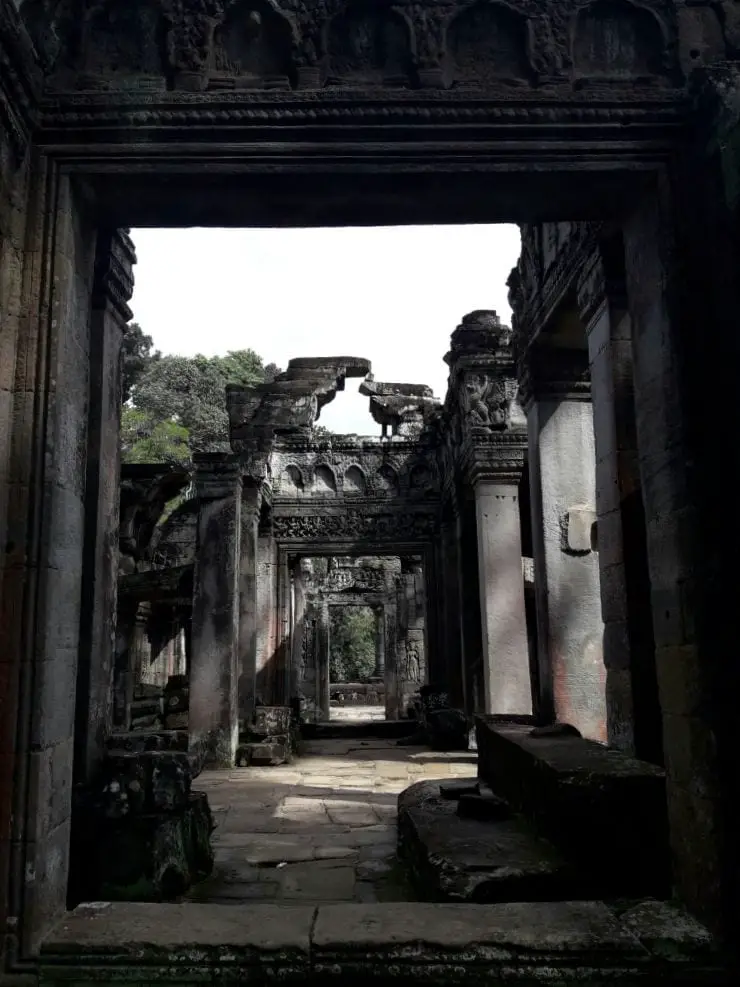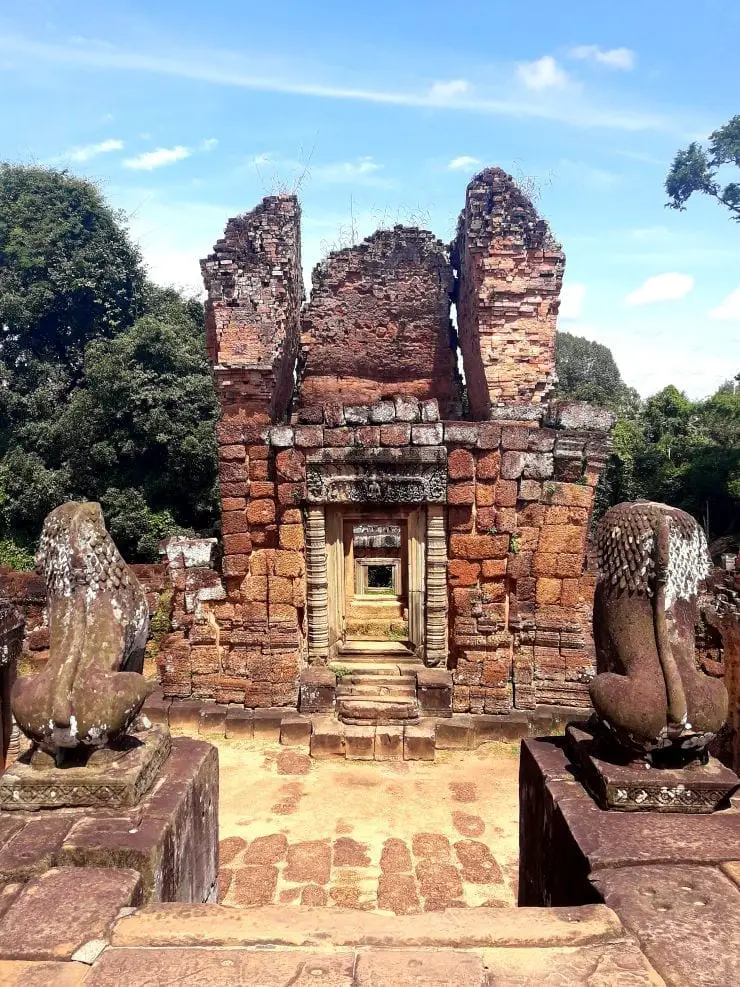 Do you have any tips for visiting Angkor Wat in one day? Sound off in the comments below!
Psst…Want more Cambodia travel inspiration? Check out my other posts below: