Last Updated on August 2, 2020 by lauren
If you haven't heard of this budget travel challenge yet – the rules are simple:
I only have R 400 to spend in 24 hours.
This must include accommodation, three meals, transport and a minimum of three activities.
After attempting the challenge in Bangkok and crushing it, I decided to try it out again in Siem Reap, Cambodia.
Here's how to explore Siem Reap on a budget!
Siem Reap on a Budget: Where to Stay
When deciding where to stay, I always start with Booking.com even though I have had some strange experiences booking accommodation through this site. The most notable one being that time in India where I ended up sleeping on a rooftop.
It's still my favourite way to find and book hostels online. And it doesn't hurt that I've unlocked their Genius level and now get to enjoy some perks like discounts on future bookings.
Sok San Hostel
Rating: 7.6 /10
Price: R 69.00 / $5 for a 10-bed dorm
While I usually look at a couple of hostels, Sok San was the first place I found, and I booked it almost immediately.
Free Wi-Fi,
Walking distance to Pub Street,
Onsite restaurant
Organised day trips
7 km to Angkor Wat
FREE airport pick up
In short, it encompassed everything I wanted out of a hostel, and it was going to cost me a measly R 69 a night.
One of the things I ended up liking about this hostel is its solitude. Despite its convenient location, the hostel was almost empty. With party hostels like Crazy Monkey booked up, I had an entire 10-bed dorm to myself for the first few nights and then one bunk mate who ended up becoming my partner in crime.
I did go hang out at Crazy Monkey quite often in the evenings (I even scored South Africa a few points on their international drinking game scoreboard), but not having the party follow me back to my room was a blessing.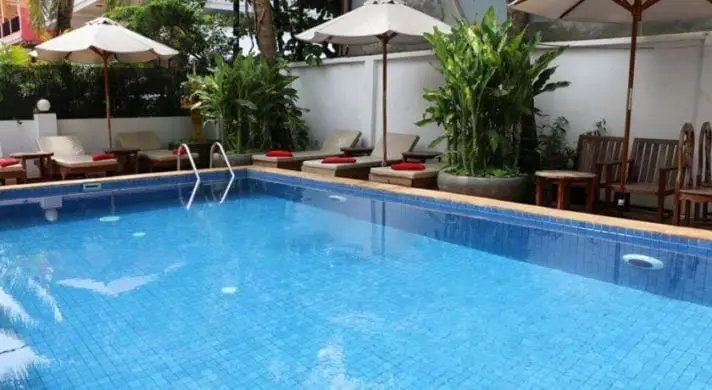 Photo: Sok San Hostel
Total for Accommodation: R 69. 00 ( $5)
Where to Eat on a Budget in Siem Reap
I didn't do much research into the food scene in Siem Reap before arriving, but I was stoked to see all the vegan options in the city!
From your more expensive Western restaurants to your smaller local restaurants, I didn't find a place that didn't offer a couple of delicious vegan meals.
Breakfast
For my first breakfast in Siem Reap, I opened up Foursquare and decided to try New Leaf Eatery.
The restaurant is a quick five-minute walk from my hostel and is a non-profit that donates its profits towards educational projects in Siem Reap. Every month, 80% of their profits are given to a chosen charity or project.
To date, the restaurant has raised an amazing US $ 30, 000!
I am a sucker for contributing towards an ethical cause, and their delicious vegan breakfast made my morning.
I had their Big Vegan Fry-up which included a mushroom & corn pancake, vegetable curry balls, potato rosti, sauteed mushrooms, spinach, grilled tomato, baked beans, toast and scrambled tofu with bell peppers and cumin.
True love in food form.
Subtotal: $5.75 (R 79. 70)
Address: Group 10, Phum Mondul 1, Svay Dungkum, 306 Street 09, Krong Siem Reap, Cambodia
Open Hours: 8:30 to 21:30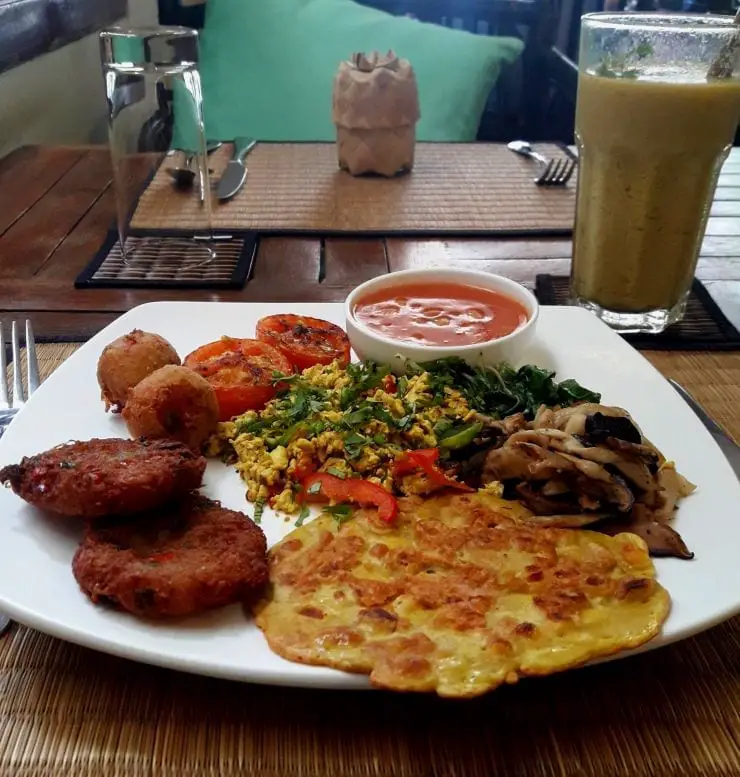 Lunch
For lunch, I decided to walk down the road where the night market begins and see what restaurants looked interesting.
I stumbled across a $2 taco cart. I had never had a taco before and trying it for the first time in Cambodia was an opportunity I could not resist.
The food truck had a vegetarian/vegan option and my god, this taco was amazing! I went back to the truck every day and kept trying to remember to take a photo of it before I stuffed it into my face, but I failed each time miserably.
Please enjoy this shit picture of the food truck instead.
Subtotal: $2 ( R27. 72)
Dinner
Before hitting Pub Street for a night of 0.50c draft beers (!) my new roomie friend and I decided to try Peace Cafe.
Peace Cafe is a vegetarian restaurant with vegan options that is also a sustainable social enterprise. The venue uses its menu to raise awareness about the benefits of a vegetarian diet while giving back to the local community.
Besides the food, the restaurant also has daily cooking classes, yoga, and an introduction to Buddhism hosted by the local monks.
My friend had the vegetarian Amok which is Cambodia's traditional Khmer curry cooked in turmeric. I went with another local dish, the pineapple chickpea stir-fry. It was the first time I had seen a chickpea in six months. My heart swelled, and my stomach swooned.
To drink, I tried one of Peace Cafe's vegetable juices. I woke up with a scratchy throat that morning, so I opted for the Sweet Lemongrass which included apple, ginger, honey and lemongrass. 
Subtotal: $5.50 (R76.23)
Address: River Road Next To Ann Kau Saa Pagoda, Krong Siem Reap, Cambodia
Open Hours: 07:30 – 20:00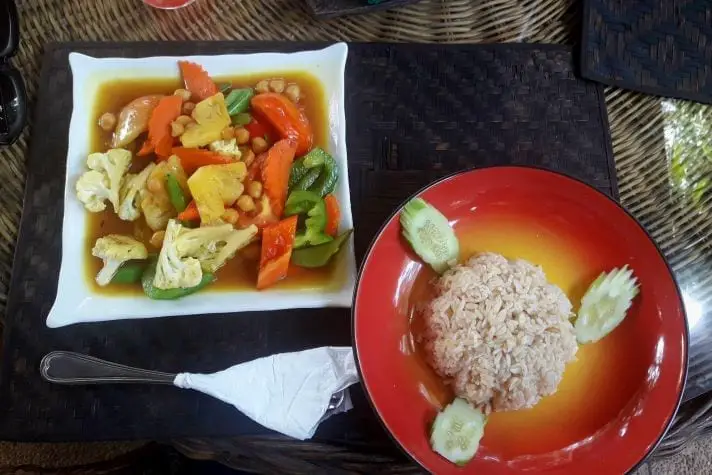 Total for Food: R 183.65 ( $13.25)
What to do in Siem Reap on a Budget
Siem Reap Bar Crawl
While completing my Open Water qualification in Koh Tao, I met one of the guys that started the Siem Reap Pub Crawl.
I have never done a pub crawl before which is shocking considering how many hours I spent in bars during college.
After checking out the photos on Facebook, it seemed like a great way to meet other travellers. I was staying in a hostel with low foot traffic, so my introverted ass was going to have to put effort into being sociable. Plus – a draft of beer was 0.50c! Who can say no to that?
The pub crawl starts at the end of Pub Street by a little place called YOLO Bar. Upon arrival, you get a free tank top and a voucher for a free beer.
Once everyone has arrived, the group starts migrating to a number of bars on Pub Street. Along the way, we competed in challenges, won prizes, failed at beer pong and had plenty more free drink and shooter vouchers to keep the tipsy train moving full steam ahead.
If you are a solo traveller like myself, it really is a great way to meet people and discover the bustling Siem Reap nightlife.
Cost: $10 (R 138.25)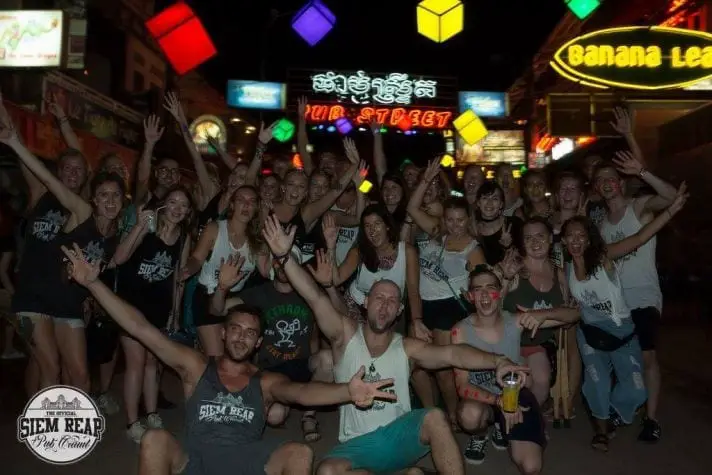 Photo: Siem Reap Pub Crawl
The Angkor Night Market
From massages to jewellery and beautiful sand art – the Angkor Wat Night Market is a beast you should make time for at least once. It has something for everyone at mind-boggling prices and it one of the best places to pick up souvenirs or to treat yourself to a new pair of elephant pants.
Entrance is free, and even if you don't buy anything, window shopping is always fun. I don't care what anyone else says. It is fun.
Cost: $0.00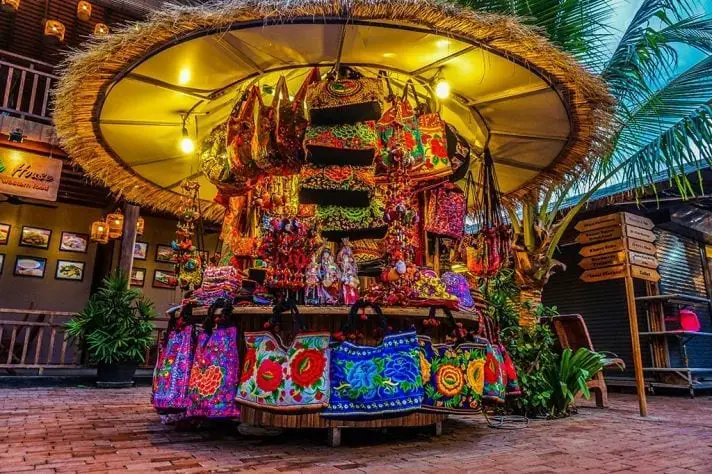 Photo: Angkor Wat Night Market
Apsara Dancing
Apsara Dancing is a traditional Khmer classical dance created by the Royal Ballet of Cambodia in honour of Queen Sisowath Kossamak. The graceful gestures of the dancers are used to narrate classical Cambodian myths or religious stories.
It can be quite expensive to see a traditional Apsara dance in Siem Reap. But luckily, for budget travellers like myself, Temple Bar on Pub Street offers free Apsara shows every evening.
Get there early to grab a seat, order some dinner and experience some of the local artistic culture.
Time: 19:30 – 21:30
Cost: $0.00
Total for activities: $10 (R 138.25)
Want more ideas for your itinerary? Check out this list of the best things to do in Siem Reap!
How to Get Around Siem Reap on a Budget
Siem Reap is a walkable city, and despite its grungy feel, I felt safe walking around during the day and night.
The location of my hostel was key to me not spending any money on transport. While there are always tuk-tuk drivers willing to drive you around for a minimum of $1, all the places I went to were in walking distance.
Score!
Total for transport: $0.00
At the end of my first 24 hours in Siem Reap, my frugal ways came in at just under R 400 or $25. It is possible to do this even cheaper by not going to the above restaurants and eating street food. During the rest of my time in Siem Reap, I did discover a number of smaller local restaurants with vegetarian dishes for $2 or less.
I'm impressed that for my measly R 400 I still managed to eat two meals at rather decent restaurants, find bed-bug free accommodation and explore the city. With destinations like Thailand becoming more and more saturated, hopping over to less bombastic destinations like Cambodia is an easy way for South Africans and other international travellers stretch their travel budget even further.
This country did a number on my heart, and I can't wait to go back and explore more of it in the future!
Grand Total Spent: R 391.25
Do you have any budget tips for Siem Reap? Sound off in the comments below!
Want more Cambodia travel inspiration? Check out my other posts below: