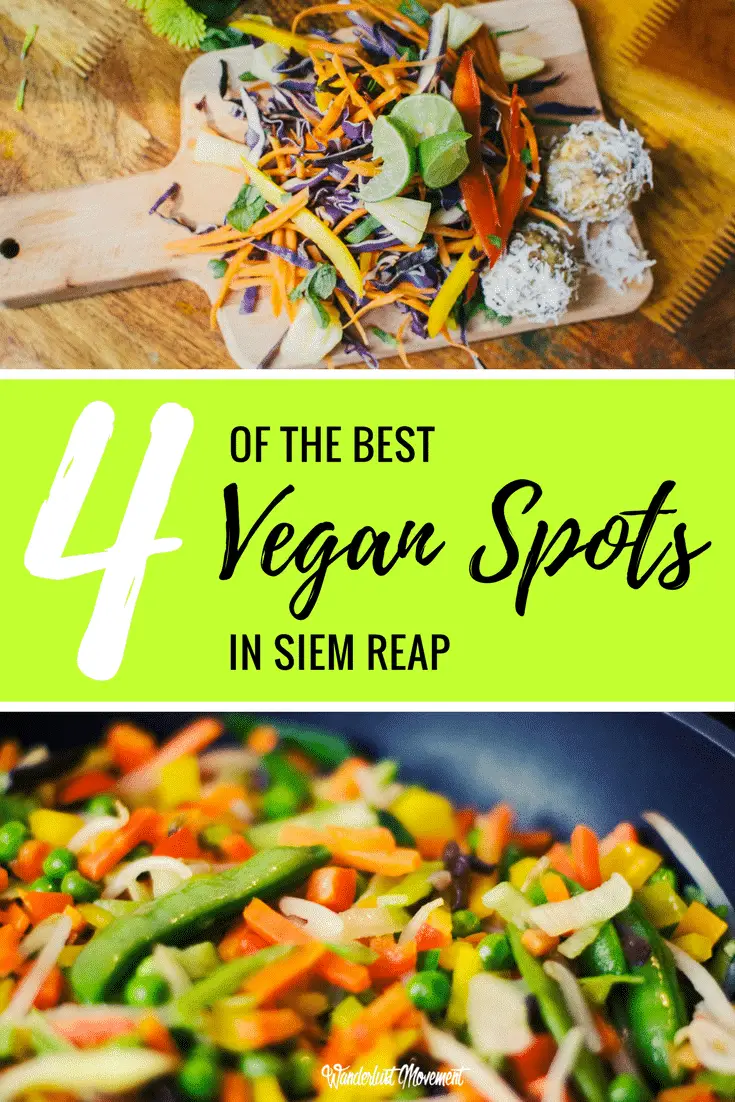 Warning: You might experience intense hunger pains after reading this post.
Cambodia is surprisingly a vegan-friendly destination. Who knew? During the few days, I stayed in Siem Reap; I didn't struggle once to find a vegan option at any of the restaurants I visited. Whether it was local Khmer specialities or Western dishes, the sheer variety blew me away.
If you're a vegan traveller and sick of Thailand as the "go to vegan destination" – head on over to Cambodia! While the country is not as developed, it does see fewer tourists and has a fantastic selection of ethical eats.
Here are the four best vegan restaurants to visit in Siem Reap!
    1. New Leaf Eatery
New Leaf Eatery was my first vegan restaurant stop in Siem Reap. It caught my eye on Foursquare when I read that it donates 80% of its profits to a chosen charity every month. Since opening their doors in 2013, New Leaf has given over $25,000 USD to those in need and 1,500 books to local children.
The restaurant also sources its coffee locally and responsibly from farmers who can trace their lineage back to before the Angkor Era of Cambodia's history.
While the restaurant does serve meat and dairy products on their menu, they have numerous options that are perfect for vegans and don't require any tweaking. My personal favourite is their Big Vegan Fry-up breakfast. It was the first proper meal I had in twenty-four hours, and it was delicious.
What To Try
Big Vegan Fry-up ($5.75)
Spicy Green Mango Salad ($4.00)
Khmer Vegetable Curry ($4.75)
Khmer Fried Rice with Vegetables ($3.25)
Pumpkin & Coconut Soup ($3.50)
Sticky Mango Rice ($3.50)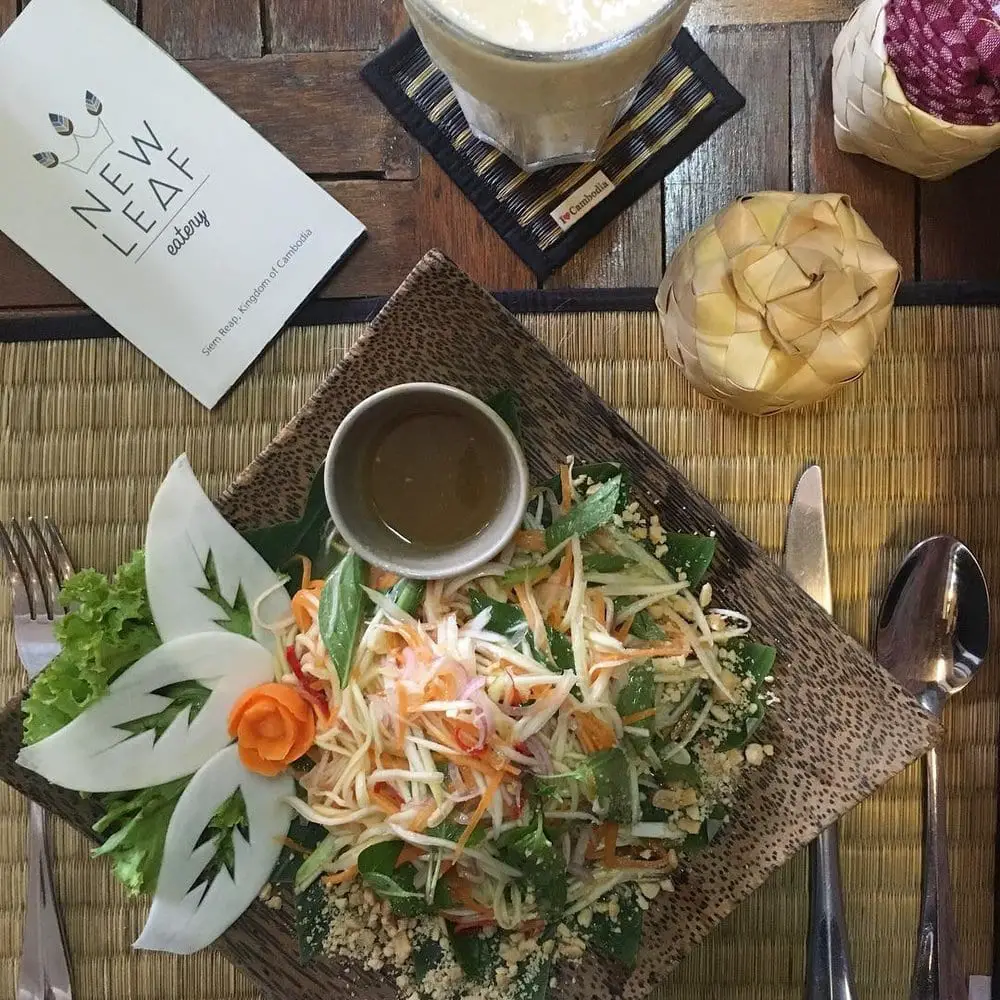 Address: Group 10, Phum Mondul 1, Svay Dungkum, 306 Street 09, Krong Siem Reap, Cambodia
Opening Hours: Monday to Sunday from 08:00 til 21:30
---
    2. Peace Cafe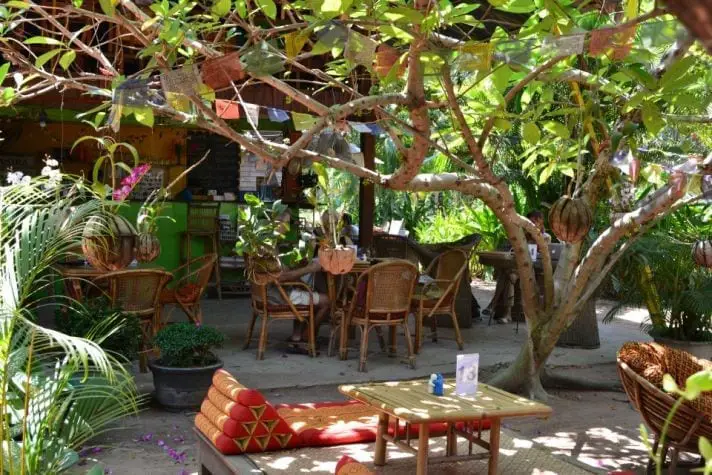 Photo by: All About Vegan Food
If you make one stop in Siem Reap as a vegan traveller, make sure it's Peace Cafe. This vegetarian cafe is just five minutes from Siem Reap's Old Market and offers customers a huge variety of healthy meals. Peace Cafe aims to raise awareness about the benefits of a vegetarian diet as well as giving back to the local community by supporting a program called Living Values Education and providing eco training to the local Khmer people.
Peace Cafe also runs daily community programs such as meditation, yoga, Khmer language lessons, cooking classes and a daily monk chat.
I loved the tranquil outdoor seating and beautiful decor. My friend and I tried the Vegetarian Amok and Pineapple Chickpea Stir-fry. Both dishes were perfection and I loved the variety of dishes on their menu.
What To Try
Vegetarian Amok ($4.00)
Pineapple Chickpea Stir-fry ($3.50)
Vegetarian Shish Kabab ($4.00)
Stir Fried Sweet Peas with Shitake Mushroom ($3.00)
Lemongrass and Mushroom Soup Khmer Style ($3.50)
Tofu Noodles ($3.00)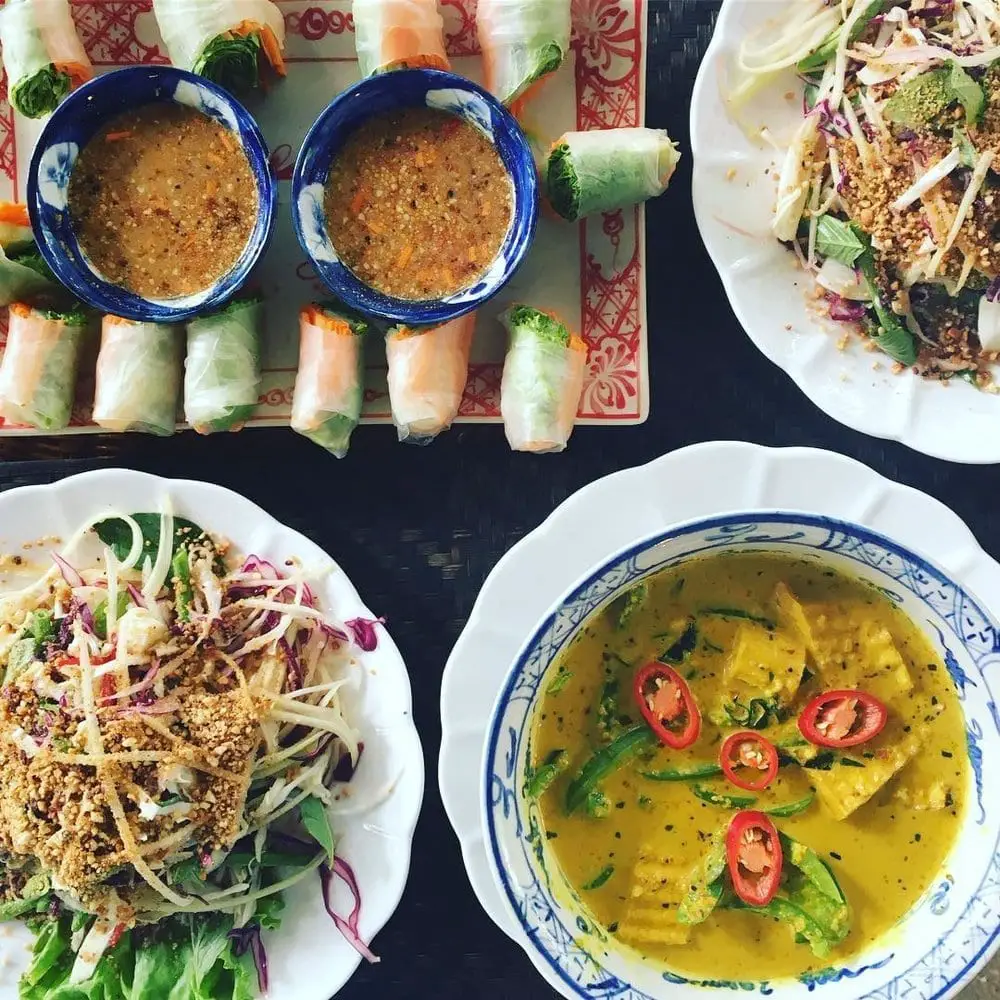 Address: River Road Next To Ann Kau Saa Pagoda, Krong Siem Reap, Cambodia
Opening Hours: Monday to Sunday from 7:30 – 21:00
---
 3. Chamkar Vegetarian Restaurant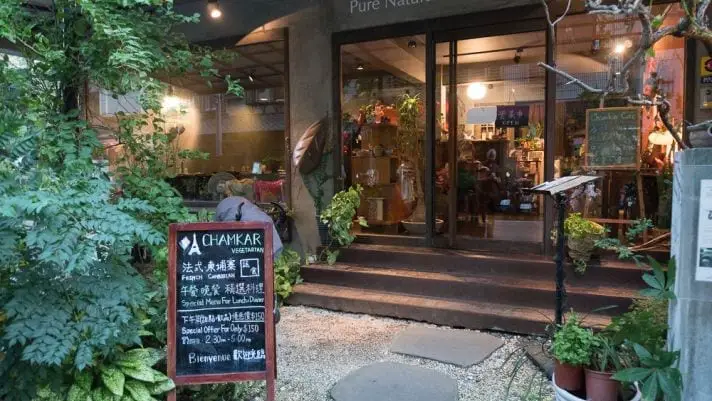 Photo by: The Caffinated Vegan
Chamkar is one of the most famous vegan-friendly restaurants in Siem Reap. It was high up on my list to visit, but with only a few days in Siem Reap, I, unfortunately, ran out of time.
Chamkar can be found in the heart of Pub Street or town centre. Its menu contains traditional Khmer food with plenty of vegan options.
What To Try
Wedding day dip ($3.50)
Rediscovering tofu ($6.75)
Amok puff  ($4.50)
Monsoon Salad ($4.00)
Spicy Garden ($4.50)
Special Chamkar Vegan Pasta ($5.50)
Address: No. 7, Lane 50, Section 2, Zhongcheng Rd, Shilin District, Taipei City, Taiwan 111
---
4. Sister Srey Cafe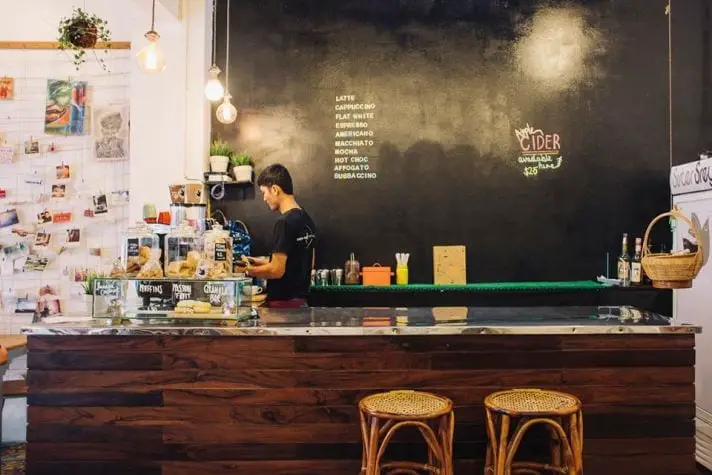 Photo by: Sister Srey Cafe
Sister Srey Cafe is another social enterprise in Siem Reap. This small cafe supports Khmer students by donating 20% of its profits to Hearts to Harmony Foundation.
If you're looking for a great vegan dessert place as well as a hearty meal, this is the place to go in Siem Reap. Sister Srey has delicious raw vegan cake options and a range of healthy vegan Western options.
What To Try
Sweet Chilli Cashew Stir Fry ($4.00)
Bowl of Goodness ($4.50)
Sister Srey Lentil Burger ($5.50)
Roasted Pumpkin and Walnut Salad ($6.00)
Tavocado ($4.50)
Vegetable Club Sandwich ($5.00)
Address: 200 Pokambor Avenue, Krong Siem Reap, Cambodia
Opening Hours: Tuesday to Sunday from 07:00 til 18:00