Last Updated on November 9, 2018 by lauren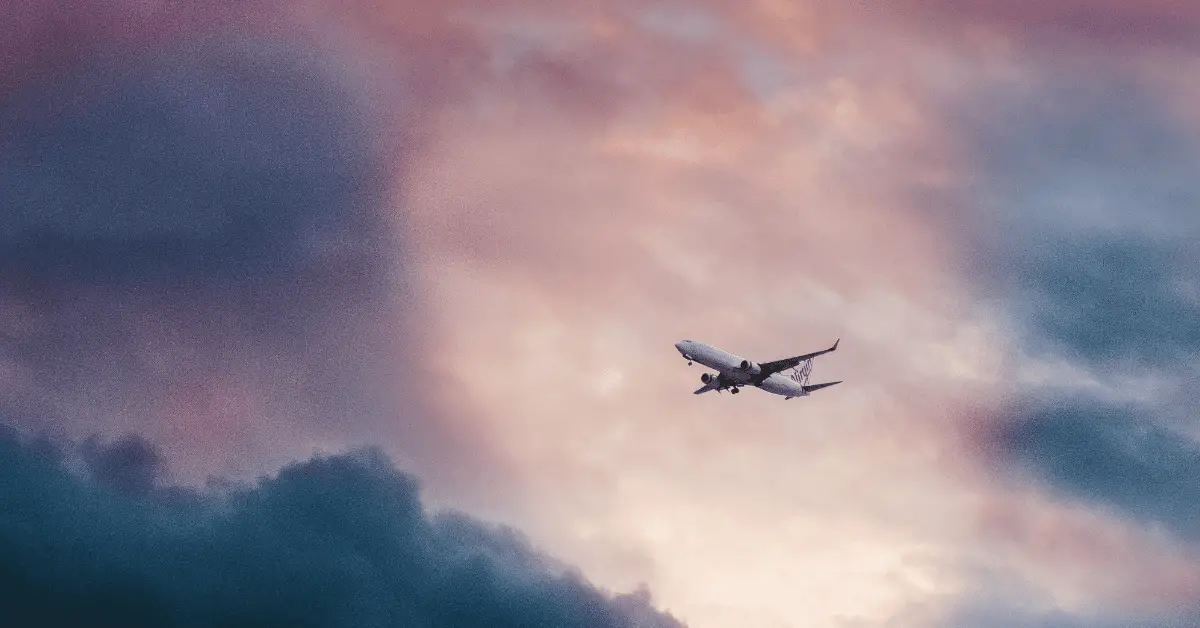 Haven't booked your end of year holiday yet?
You're not alone!
I've been eagerly awaiting the Black Friday and Cyber Monday deals with Skyscanner to scoop up airfare sales with some of the world's leading airlines.
If you're a South African, like me, you know that the Rand isn't doing that well of late. But our weak currency shouldn't discourage you from travelling – it should do the complete opposite.
It forces you to get a bit creative, choose visa-free destinations and stay on top of airfare deals.
Whether you want to travel halfway around the world for New York City's NYC bash or you want to ring in the New Year on a beach in Bali – Skyscanner's Black Friday deals can make that happen for almost half the price.
Here's how you can find the best Black Friday airfare deals!
The Best Time to Book Black Friday Travel Deals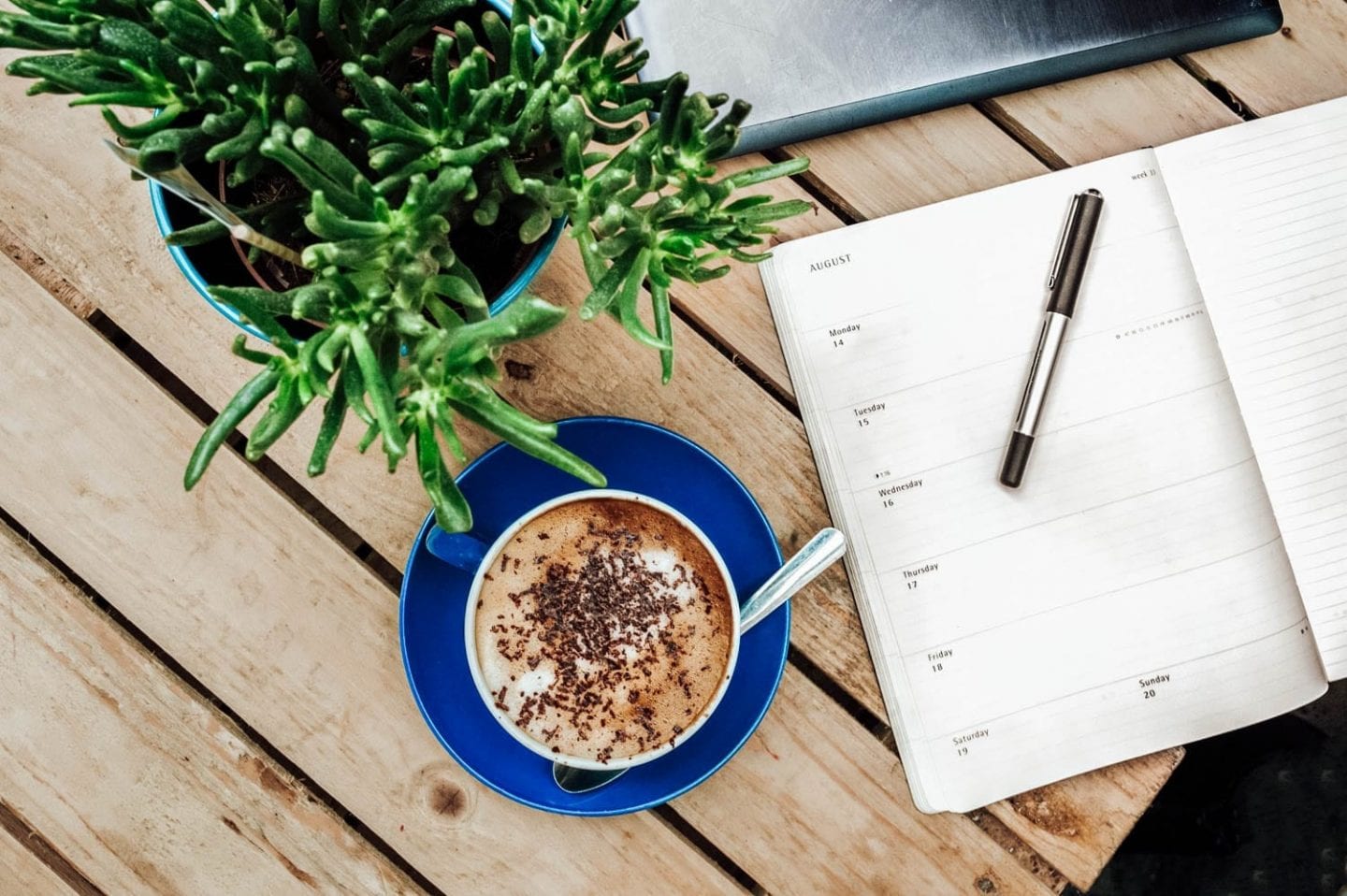 Based on Skyscanner's data from 2017, flight prices fell to an all-time low around 7 pm PST on 23rd of November. South Africans – that means you're going to have to set your alarm clocks for 5:00 am!
Or if you're not much of an early riser, the second cheapest time to book flights last year was 3 am PST / 1 pm CAT.
How to Find Black Friday Flight Deals on Skyscanner
Okay, so now that you have a game plan for when you need to whip out your credit card, it's time to make sure you know how to find these hot fire deals. If you follow me on Instagram (shameless plug), you'll know that I regularly post jaw-dropping airfare deals I find with Skyscanner's "everywhere" tool.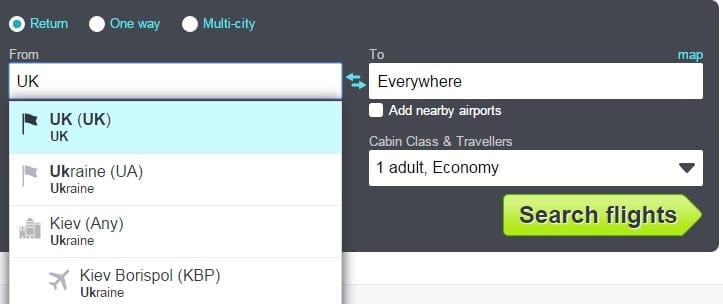 All you need to do is type in your nearest airport and enter "everywhere" in the destination field. Skyscanner's powerful search engine will then show you a list the cheapest destinations departing from that airport.
If you're flexible with your dates, you can also choose to search "cheapest month." Skyscanner will then tell you which month is the most affordable time of year to travel to any destination.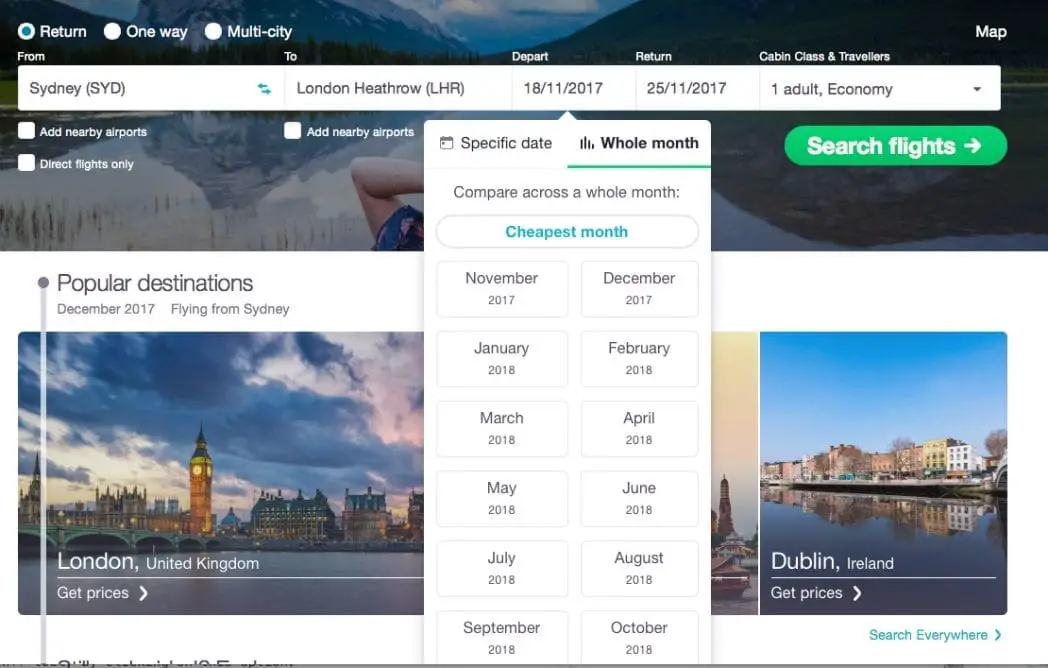 It's how I usually end up planning my yearly travels. I open up Skyscanner and search cheapest flights departing from Johannesburg and decide where to go from there.
So far, I've found return flights to Kenya for R 3,000. Return flights to Thailand for R 4,000 and return flights to Istanbul for R 5,000.
If you're only looking for Black Friday deals for December or another month, you can select the "Whole Month" search feature. Skyscanner will then show you a calendar that lists the cheapest deals for departing and return flights from your destination.
That tool has saved my wallet so many times by just adjusting my dates by a day or two!
Why You Should Set a Price Alert
Skyscanner's desktop site and mobile app allow you to set up price alerts for specific destinations and days of travel. If you've got your heart set on travelling to Rome for the holidays and know what dates you want to fly, set one up.
On Black Friday and Cyber Monday, you'll get a push notification to your phone or email address as soon as prices start to drop.
It will save you time sitting in front of your laptop and mindlessly hitting that refresh button.
Top Tips for Finding The Best Black Friday Travel Deals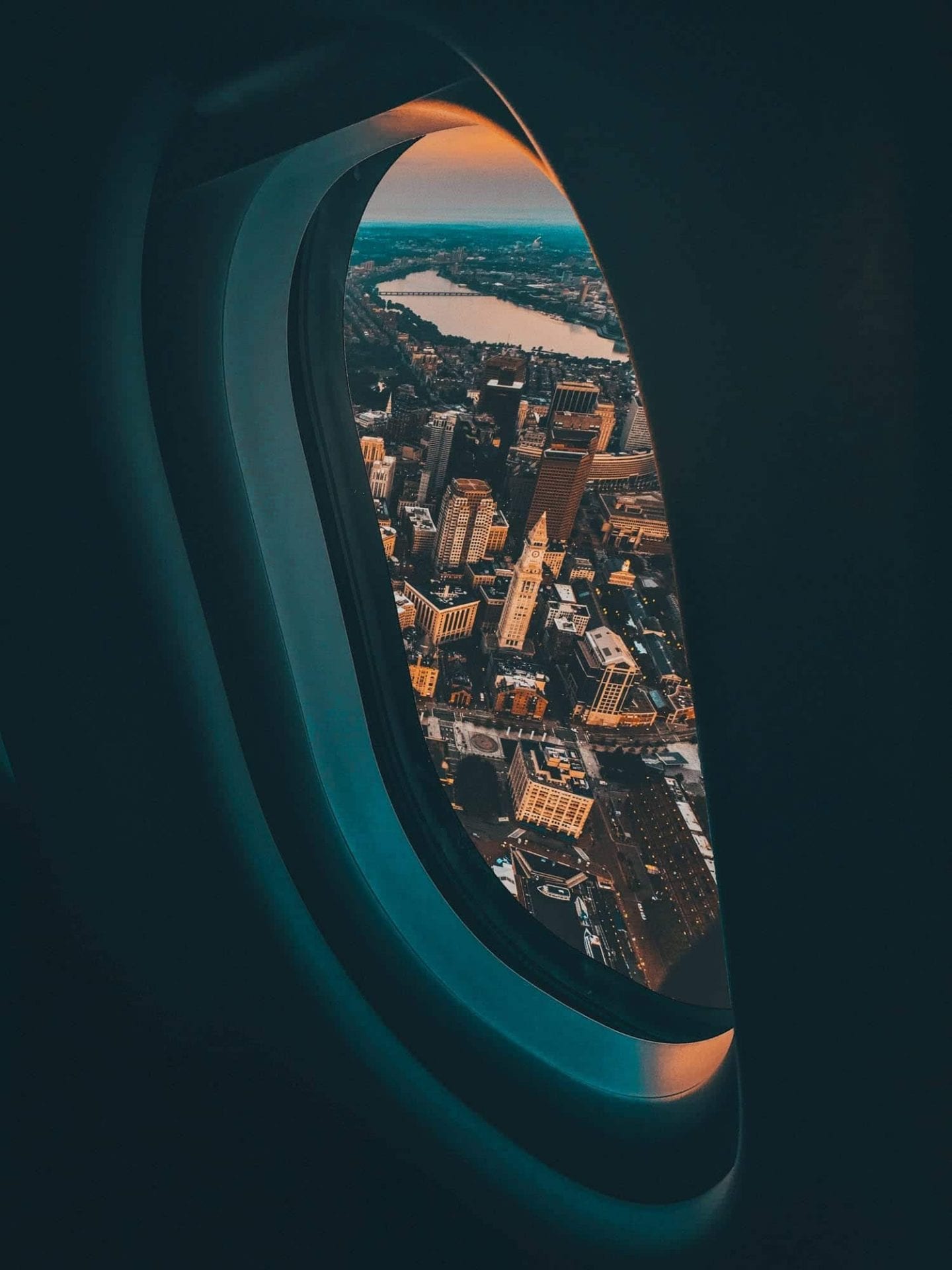 Here are some tips to keep in mind as you hunt for the best flight deals this month.
Keep Your Travel Plans Flexible
You may go into Black Friday with your heart set on a trip to Vietnam, but as you start looking to flights you might come across a deal to Sri Lanka for half the price. If you're on a tight budget and looking for the lowest prices possible, be open to switching up your travel plans.
Get Creative with Your Flight Searches
Found a cheap flight to India but not loving spending your December holidays in New Delhi?
Search other nearby destinations that you can fly to from India. You might find cheap flights to Nepal, Sri Lanka or the Maldives and they'll be on sale as well!
I usually do this for Thailand. It's the cheapest entry point for South Africans travelling to South East Asia. Once you're there, flights to nearby countries like Cambodia and Malaysia are a steal.
Stalk your Preferred Airlines
Are you loyal to a fault when it comes to choosing an airline? Skyscanner has released a list of all the airlines dropping major discounts on Black Friday and Cyber Monday.
But that's not a definitive list.
If you're looking for domestic flights to Cape Town, sign up for Kulua, Flysafair and Mango's email lists. You'll get emailed as soon as they start dropping deals. It's also a good idea to do this with any other international airlines.
I highly recommend signing up for Ethiopia Airlines mail list if you're looking for a good deal. The airline flies to a range of destinations in Africa and Europe and is starting routes to Indonesia next year.
They are also a much cheaper option for South Africans than Emirates and Etihad. Plus, your flight time is greatly reduced because you're not flying all the way to the UAE.
Search Black Friday Hotel Deals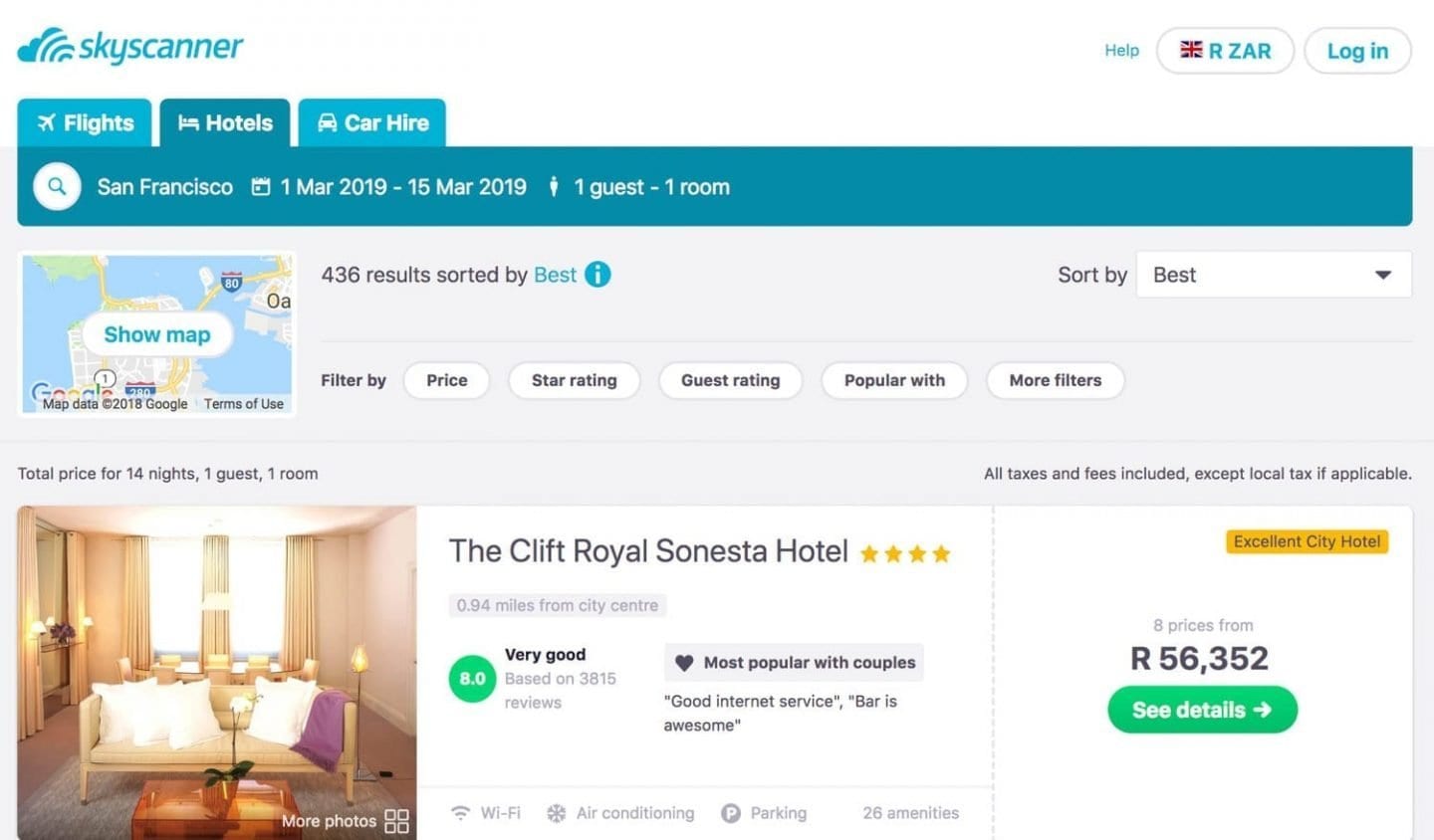 Once you've got your flights, it's time to score some incredible hotel deals. Skyscanner has partnered with another of my favourite travel brands, Booking.com.
To find Black Friday and Cyber Monday deals, you need to select the "hotel" tab on the top of the search box.
After entering your destination and travel dates, hit that search button and choose a hotel. You'll then see a green "see details" button for that selected hotel. Click on it, and you'll be taken to a new page where you can filter rates by lowest price.
Scroll down and select Booking.com (or one of the other options if they are cheaper). You'll be redirected to their site where you can book your hotel room at a discounted rate.
Happy cheap flight hunting everybody!
Have you used Skyscanner to uncover Black Friday airfare deals before? Let me know what deals you find in the comments below!
?If you like it then you should put a pin on it ?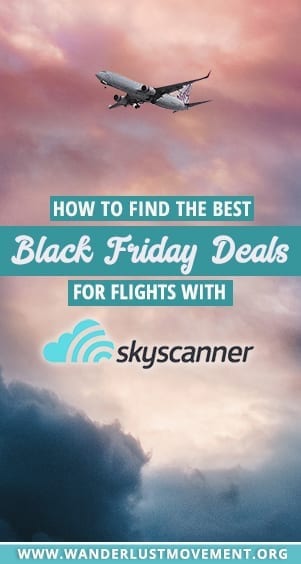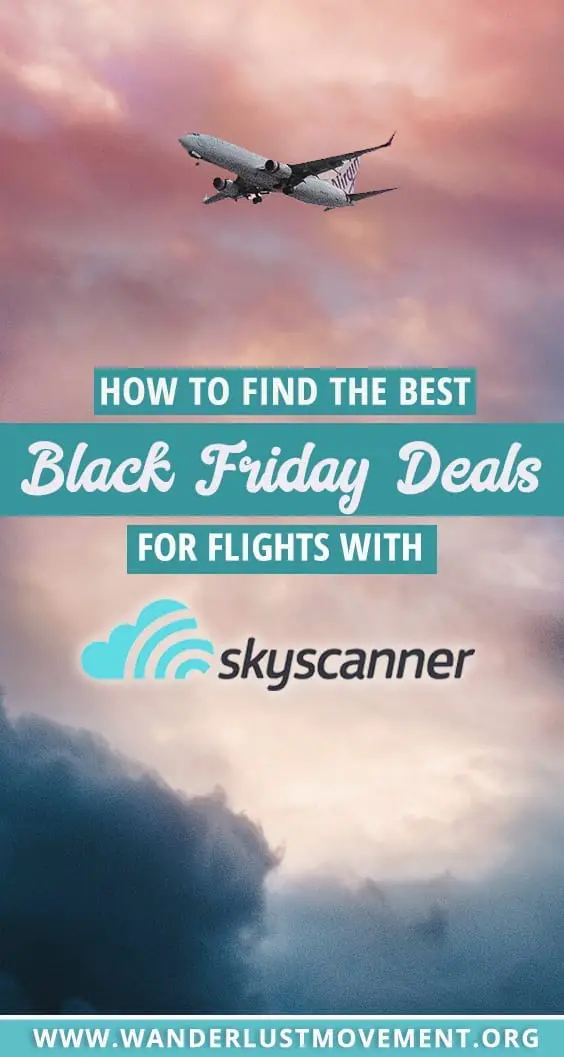 Black Friday and Cyber Monday are just around the corner! Here's how to find the best deals for any destination around the world.