Last Updated on July 20, 2023 by Lauren Melnick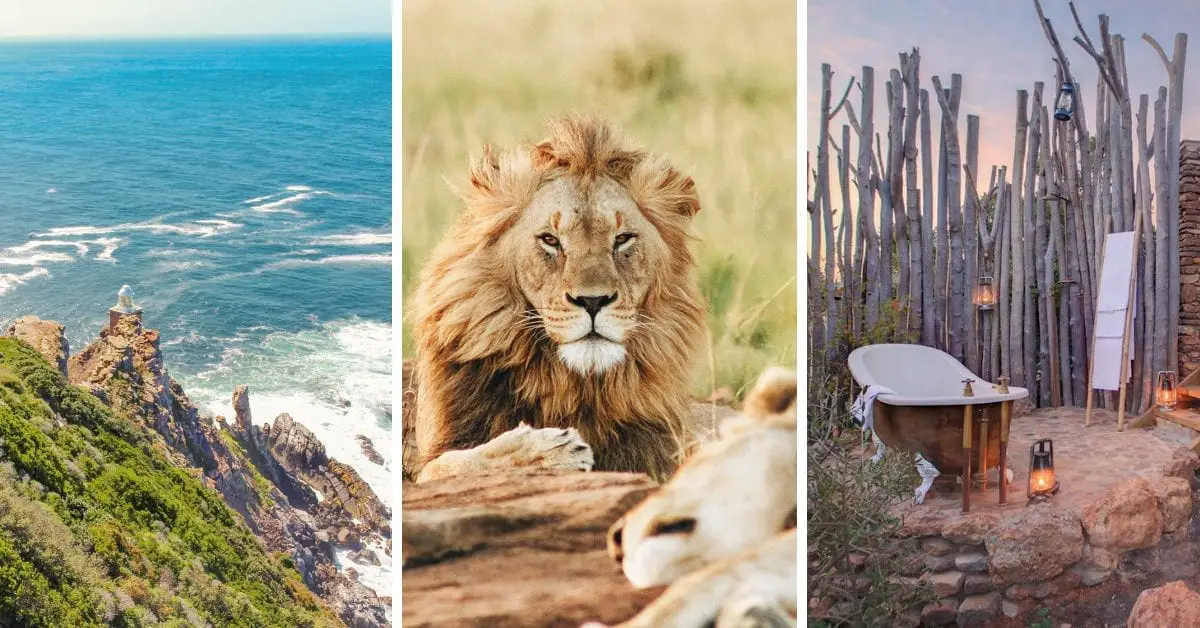 Cape Town is a city full of a never-ending list of things to do. At the tip of Africa, you can find one of the seven world wonders, vineyards, sandy white beaches, a kaleidoscope of cuisines, giant sand dunes, whales, great white sharks, and world-class music festivals.
Pretty impressive, amirite?
But even when you live in the best city in the world, you sometimes need to get away from it all. Luckily, there are some incredible weekend getaways from Cape Town, and I've explored a whole bunch!
From road trippin' along the Garden Route in search of adventure to drinking my way through Stellenbosch, I've discovered a few gems in between my sips of wine.
Here are 6 of my favourite weekend getaways from Cape Town!
Stellenbosch: A University Town Getaway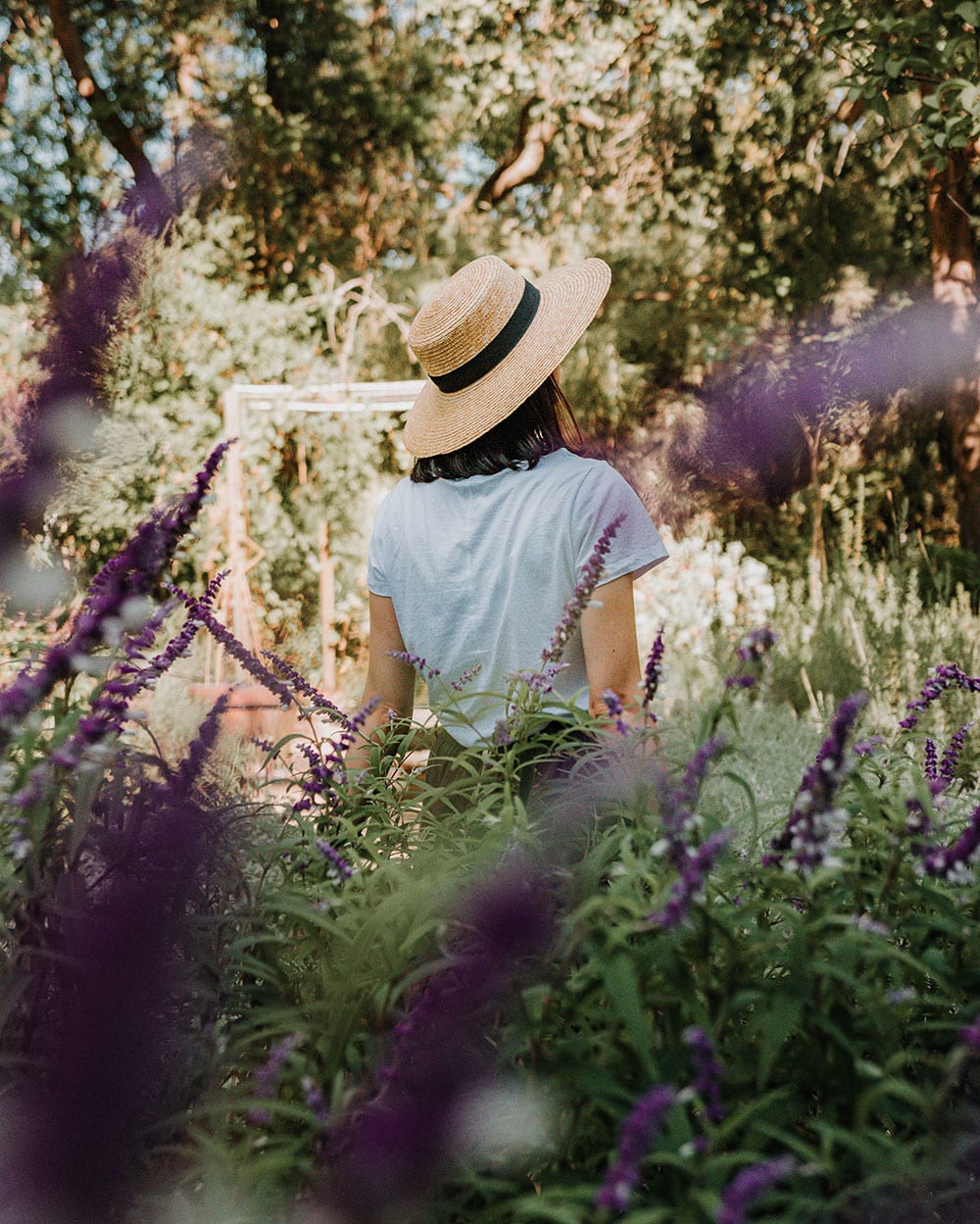 Ah, Stellies. It's the perfect weekend trip quickie.
Located only an hour from Cape Town's CBD, you'll be exploring South Africa's oldest university town before anyone can ask, "Are we there yet?"
But there's more to this quaint little town than its bars full of students. It's home to a world-class wine route, beautiful hiking trails, live music venues, and incredible colonial architecture.
What To Do in Stellenbosch
Once you've checked into your hotel, make a bee-line for Neetherlingshof Wine Estate. I'm a white wino 99.9% of the time – unless I've got a bottle of red from Netherlingshof around.
Sign up for a tasting of six wines of your choice and try to resist the urge to turn your car into a mobile cellar.
Get some culture in you and hit up the town's many art galleries. But for a unique artsy weekend in Stellies, visit the Dylan Lewis sculpture garden and wander past the wild cats and shamanistic figures.
Head for the hills and conquer one of Stellenbosch's hiking trails. Spend the day at Jonkershoek Nature Reserve chasing waterfalls or hike up the Delvera Farm trail to watch the sunset over Table Mountain in the distance.
Where to Eat in Stellenbosch
It's no secret that Stellenbosch is home to some incredible restaurants and culinary experiences! Take a stroll down Dorp Street, and you'll find cuisines from all over the world and charming cafes.
In the mood for a casual vibe, good food, and beer? Pull up a chair at The Trumpet Tree and order a round of wood-fired pizzas.
Hungry vegetarians will LOVE The Blue Crane and Butterfly. It's an excellent weekend brunch spot, but the menu is short and sweet.
If you want a culinary experience that's different from your usual sit-down restaurant, go to Warwick Wine Estate. You can have a picnic next to a picturesque lake while you relax on scatter cushions as a personal butler serves you.
Bougie AF.
Read More: 10 Delicious Things to Do in Stellenbosch for Hungry Foodies
Where to Stay in Stellenbosch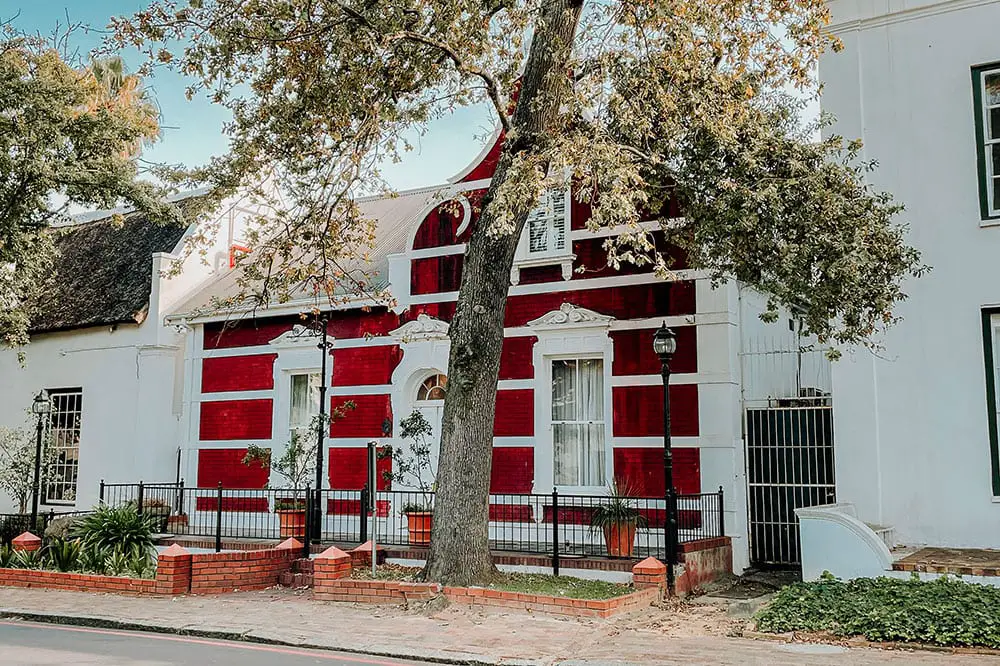 The Den in Stellenbosch is perfect for travellers on a budget who want to stay within walking distance of Stellenbosch's many cafes and restaurants.
Run by Cape Summer Villas, each apartment has access to a spectacular rooftop pool overlooking the city. Bring a bottle of South African wine with you and watch the sun go down in style.
Cape Point: A Hiking Getaway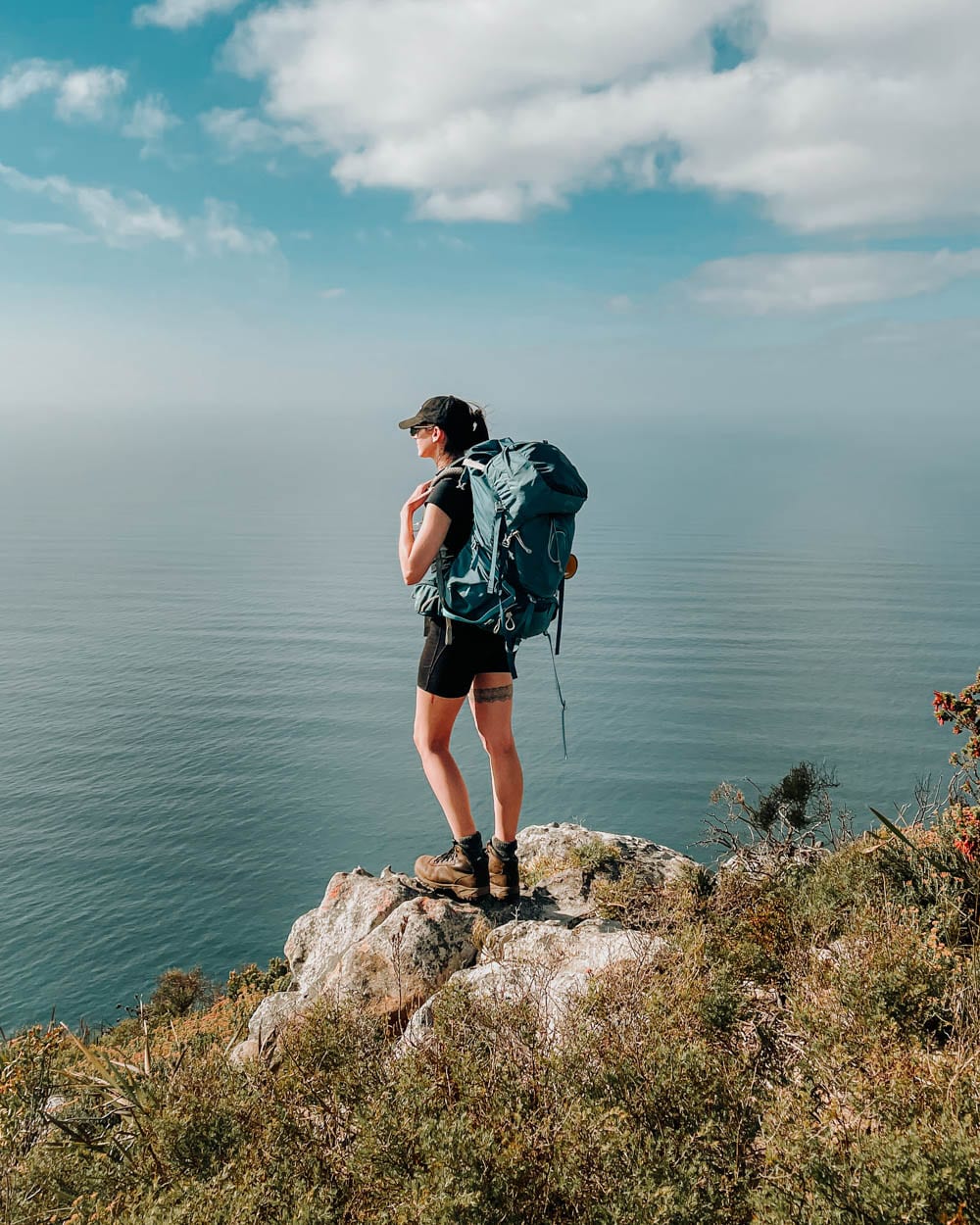 Cape Point is the most beautiful stretch of coastline in South Africa. You can fight me on this if you want, but I stand by that sentence.
Its rocky shoreline features skeletons of shipwrecks (there's probably buried pirate treasure, let's be honest), pristine natural beauty and zero light pollution.
It's the best weekend getaway from Cape Town if you want to get away from other humans and hike into the peaceful wilderness.
What To Do in Cape Point
The peninsula features scenic day hikes that lead to beautiful beaches, Dias View Point, the Cape of Good Hope and the top of the lighthouse.
But if you want to avoid the crowds of day-trippers, book a spot on the Cape of Good Hope hiking trail.
It's a two-day one night trail (perfect for weekend trips) that follows a circular route around the reserve. You'll trek past isolated beaches, vast plains of fynbos and wildlife such as bontebok, ostriches, and baboons.
Read More: The Ultimate Cape of Good Hope Hiking Guide
What to Eat in Cape Point
At the base of the Cape Point lighthouse, there is an on-site restaurant and a cafe. You can stop here before or after your hiking trip, but you'll need to pack your own food.
At the entrance gate, you can pre-order wood for the braai sites along the route, and there is a gas stove inside the overnight cottages.
Where to Stay in Cape Point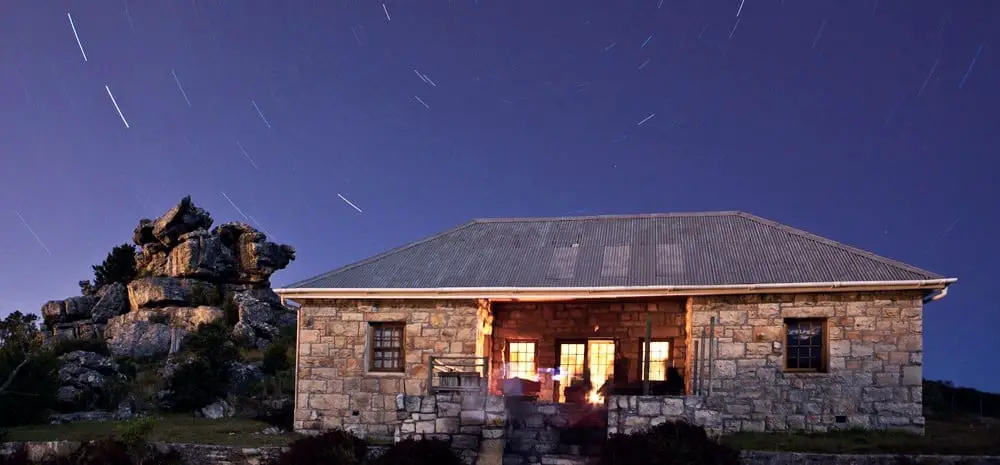 When you sign up for the Cape of Good Hope Trail, you'll stay in one of the rustic Rooikrans cottages. The Olifantbas Guest House is located deep in the southern part of the reserve right on the beach.
It comes with a fully equipped kitchen, one master bedroom, an open-plan lounge, hot water, and a cozy fireplace. There is also a patio area where you can set up a braai that connects to a boardwalk leading to the beach.
If you're into photography, make sure you pack your tripod to capture some incredible astrophotography shots!
Nature's Valley: An Adventurous Getaway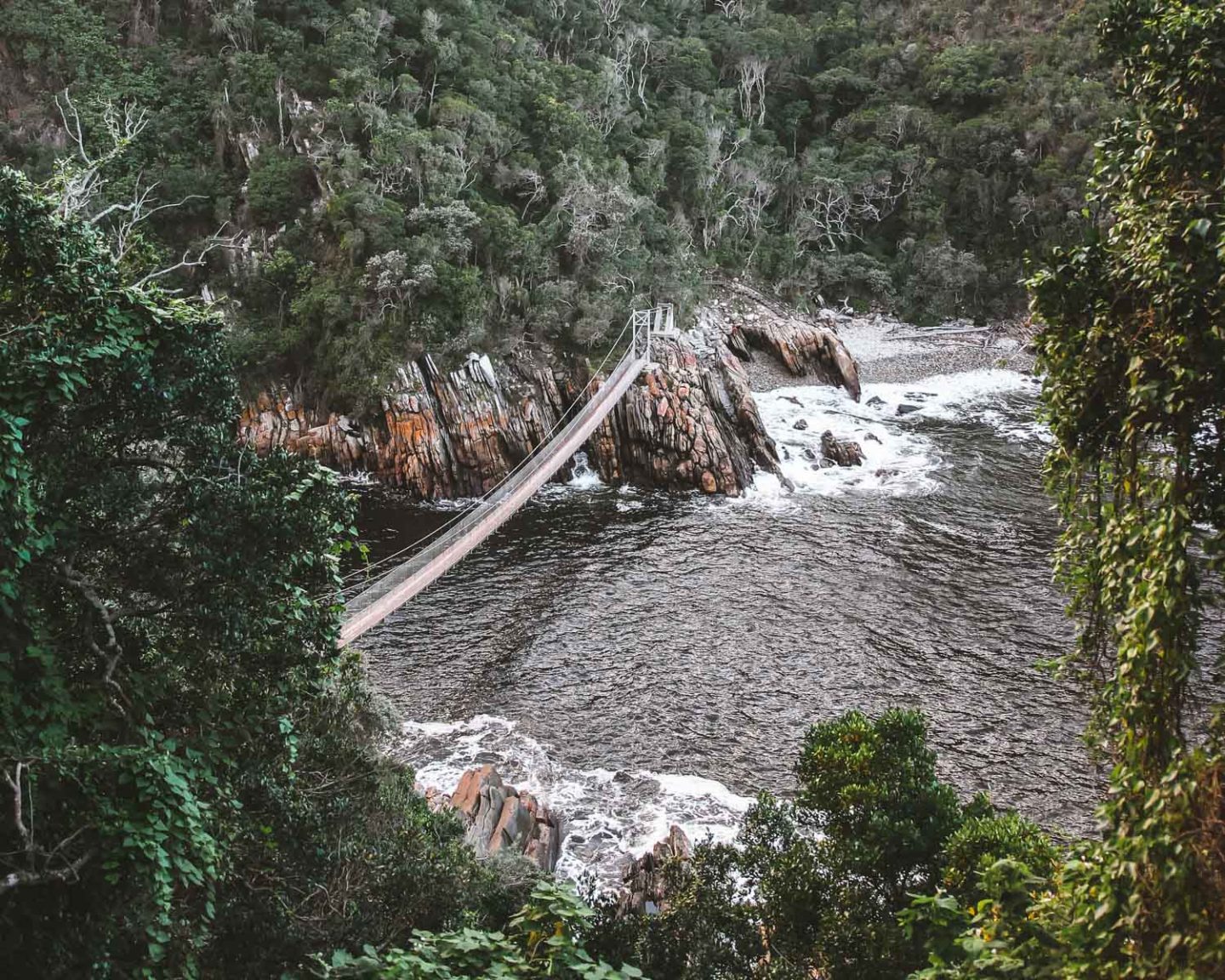 Nature's Valley is only a six-hour drive from Cape Town. It's the perfect weekend road trip for adventurous and outdoor travellers.
Just don't forget to pack your courage. You'll need it for your Nature's Valley weekend getaway.
Located near Tsitsikamma National Park, you won't have to drive far to get your adrenaline fix. The Bloukrans Bungy is right around the corner as well as the blackwater tubing in Storms River.
What To Do in Nature's Valley
Don't have the time to trek South Africa's famous Otter Trail? Visit Tsitsikamma National Park and hike the first 3km of the trail.
You'll end up at a beautiful waterfall where you can cool off before heading back along the rugged coastline.
If you're not afraid to get wet, grab a paddle and head for Storm River Gorge. A kayak tour take will take you past the dramatic cliffs, deep caves and South Africa's ancient forests.
The brave can attempt the Bloukrans Bungy. It's the highest commercial bungee bridge in the world, and it is TERRIFYING.
What to Eat in Nature's Valley
Nature's Valley isn't a weekend getaway for foodies. There are limited restaurants around, and if you're vegan like me, you will struggle to find options catered to your diet.
I'd recommend staying at self-catering accommodation where you can whip up your own tasty meals. Or if you're not in the mood to cook on weekends, stay somewhere with an on-site restaurant.
Where to Stay in Nature's Valley
There isn't a lot of affordable accommodation in Nature's Valley. If you're looking for a budget weekend getaway from Cape Town stay in The Crags.
It's a short six-kilometer drive away and features incredible hotels, lodges, and B&Bs.
Book a weekend at the Treehouse Cottages. Your apartment is nestled away inside the indigenous forest on stilts with views of the mountains in the distance.
Franschhoek: A Foodie Getaway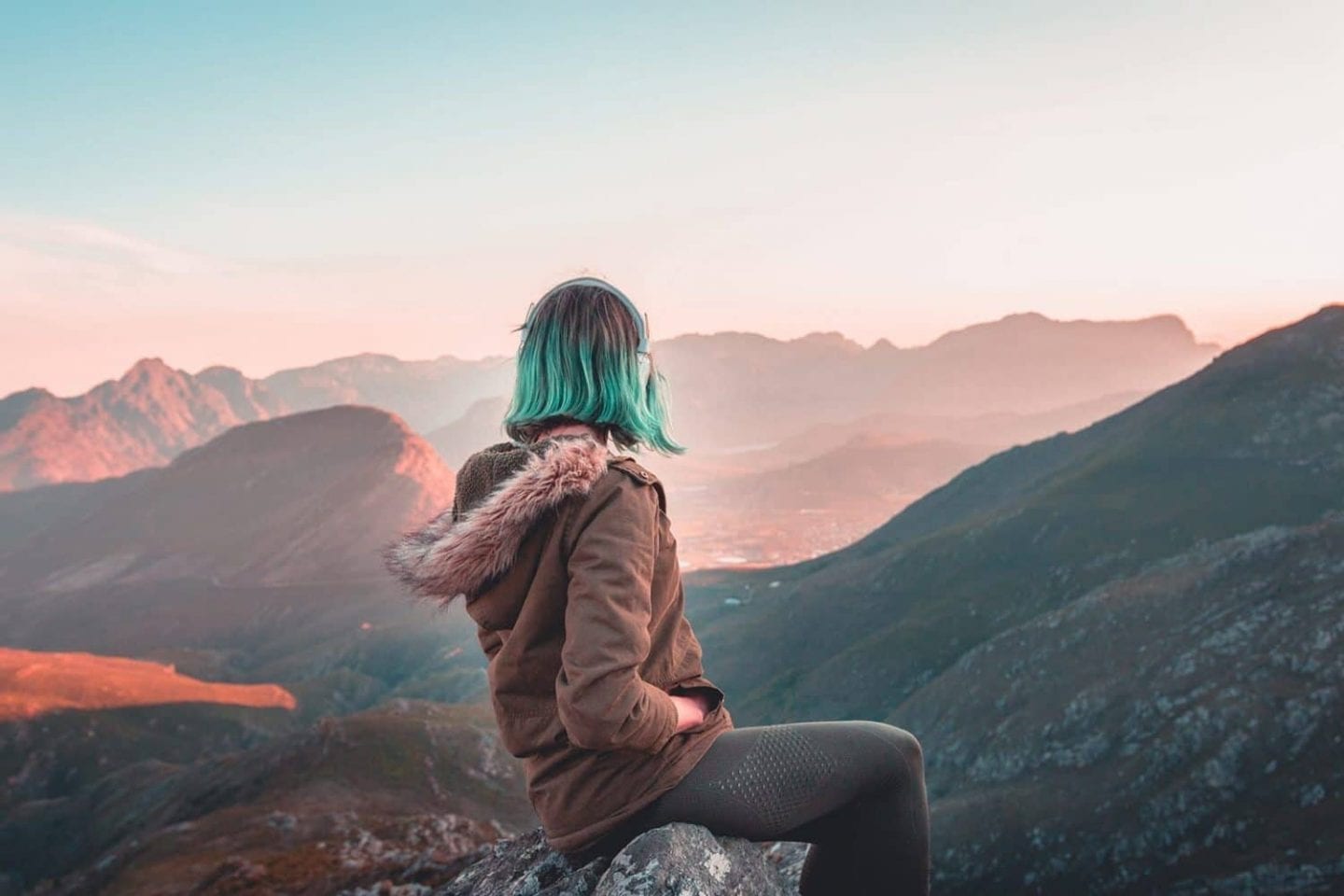 Franschhoek is South Africa's gourmet food capital. It's home to the best restaurant in Africa, incredible wine farms and is one of the best weekend trips in Cape Town.
If you're searching for a weekend of gastronomy indulgence, Franshoek is the place to go!
Things To Do in Franschhoek
Forgo a designated driver and get tickets for the Franschhoek wine tram. Choose your route and spend the day sipping on Chardonnay as you hop between the different farms.
Want to burn off some of those extra calories? Head up to the Mont Rochelle Nature Reserve. The trails start at the top of the breathtaking Franschhoek Pass, and there are short two hour routes or full-day hikes.
What To Eat in Franschhoek
Franschhoek's food is reason enough to visit. If you plan on indulging you need to remember to pack a pair of elastic pants – trust me you'll need it.
Le Petit Colombe replaced the award-winning Tasting Room in 2017. It's considered one of the top restaurants in the world and won awards with Eat Out and Conde Nast.
With menus starting at R 1,000.00 it's a food experience you'll want to save up for.
Babylonstoren is another Franschhoek foodie favourite. The wine farm is famous for its beautiful gardens and delicious homegrown food.
Start with a wine tasting and then head out to the Greenhouse restaurant for a picnic-style meal. All the dishes are served in wooden crates, salads are packed into wreck jars, and fresh bread from the wood-fired oven is wrapped in blue and white paper.
Anyone else feeling super hungry right now?
Where to Stay in Franschhoek
No weekend getaway in Franschhoek is complete without a visit to Boschendal. With charming farm cottages and a delicious on-site restaurant, it's the ultimate combo for travelling foodies.
There's also a farm spa, mountain bike trails and lots and lots of wine tasting.
Kagga Kamma Nature Reserve: A Romantic Getaway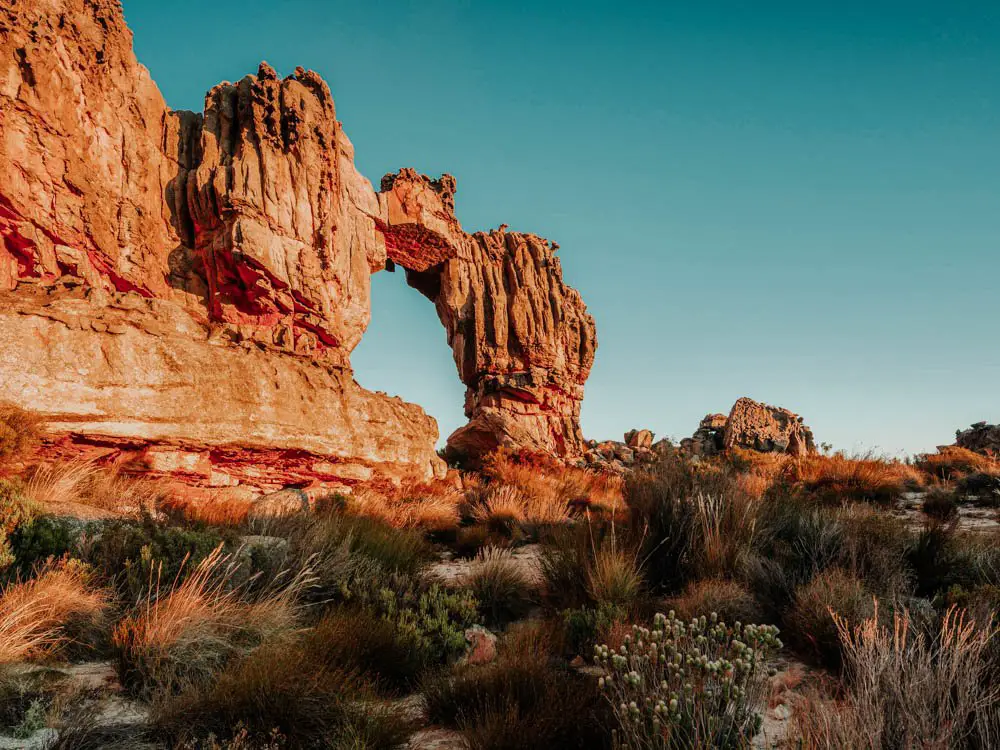 Nestled in the south-eastern region of the Cederberg, is one of the Western Cape's most romantic destinations.  Once the home of the Khoi San for centuries, the weathered sandstone formations feature ancient rock art paintings, and the Fynbos stretches as far the eye can see.
But what sets this arid landscape apart is the Kagga Kagga Nature Reserve. It boasts spectacular scenery, unique accommodation options and incredible stargazing conditions.
Things To Do in Kagga Kamma
Does a romantic getaway for you involve climbing up rock faces and pushing your body to its limits? Then we would be great friends!
Kagga Kamma is the perfect place to unleash your inner Spiderman. The reserve features magnificent rock formations and boasts routes for single pitch sport climbing as well as bouldering.
If you're not ready to hang off cliffs by your fingers, you can explore the beauty of the Cederberg on foot. Three self-guided hiking trails meander past the unique flora and rock formations of the area.
But the adventures don't stop once the sun goes down, Kagga Kamma's romantic allure is it's stargazing power.
There's an on-site Mini Observatory that features an eight-inch Celestron Nexstar 8SE Telescope. You'll get to see billions of stars and planets as you've never seen before.
What to Eat in Kagga Kamma
Feast on delicious South African cuisine from Kagga Kamma's a la carte menu. There's also an excellent wine selection from the Cape Winelands and a dessert menu that's hard to resist.
If you're after a unique dining experience, you can also have your dinner underneath the stars between the rock formations.
For budget travellers, you can skip the restaurant meal and make your own at one of the campsites. You're never too old for roasting marshmallows underneath the stars!
Where to Stay in Kagga Kamma
The Star Suite
Immerse yourself into the sights and smells of nature by staying in the Star Suite – an open-air room. You'll have the glittering Milky Way as your ceiling and an unforgettable view of sunset and sunrise.
The Cave Suites
If staying out in the open is too wild for you, book one of the cave suites for your weekend getaway from Cape Town. Each room is designed to blend into the natural environment seamlessly and comes with all the creature comforts you'll need.
The Campsites
Kagga Kamma features two off the grid camping sites. You won't have access to electricity, and your phone will struggle to pick up a signal.
The Swartug campsite features communal warm water facilities and a swimming pool. But if you really want to get away from life as we know it, stay at the Bobbejaanskraans camp. There are no designated camping sites, no power, no water and no ablution facilities.
So make sure you pack that toilet paper.
Read More: The Ultimate Cape Town Travel Guide
Garden Route Game Lodge: A Big 5 Safari Getaway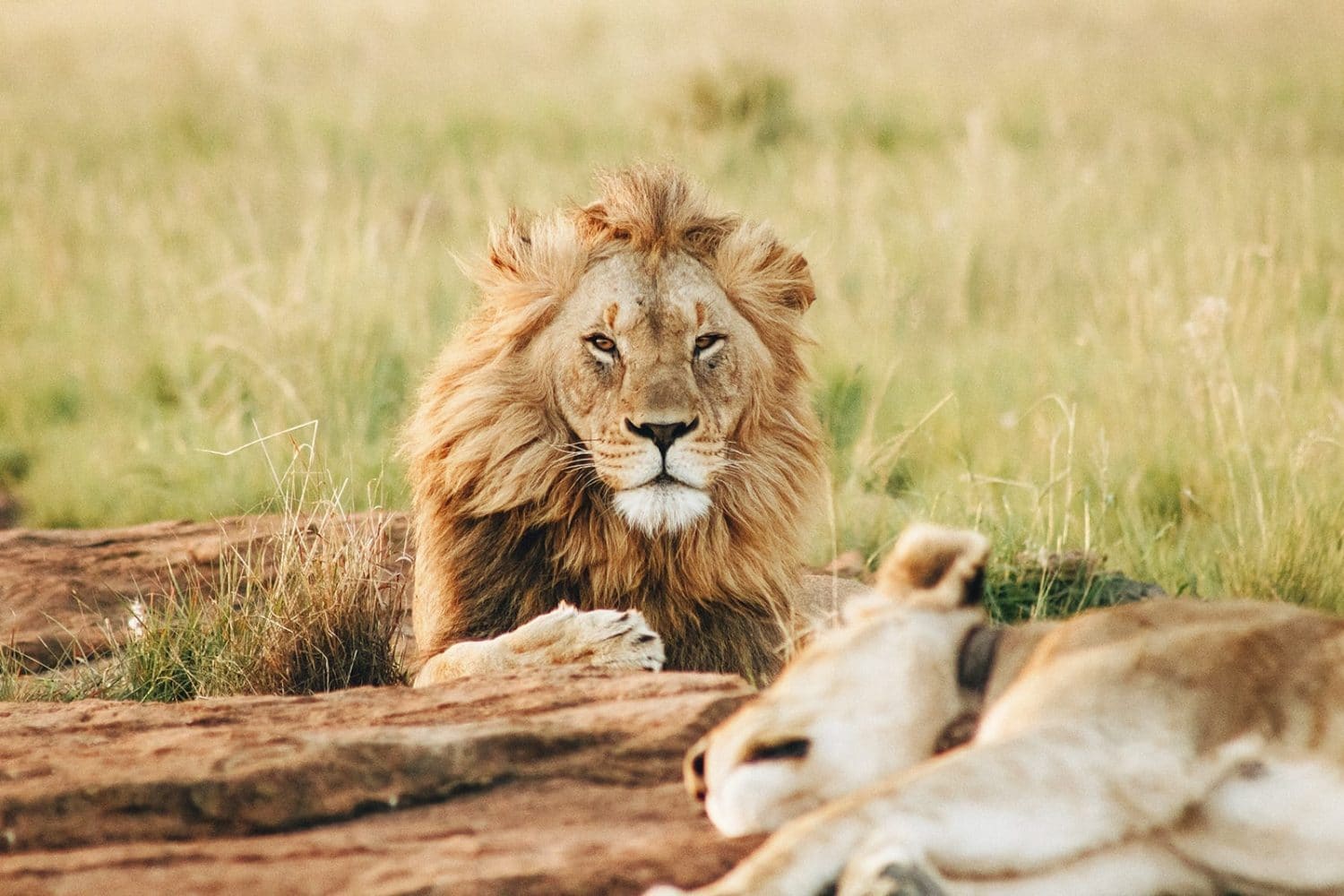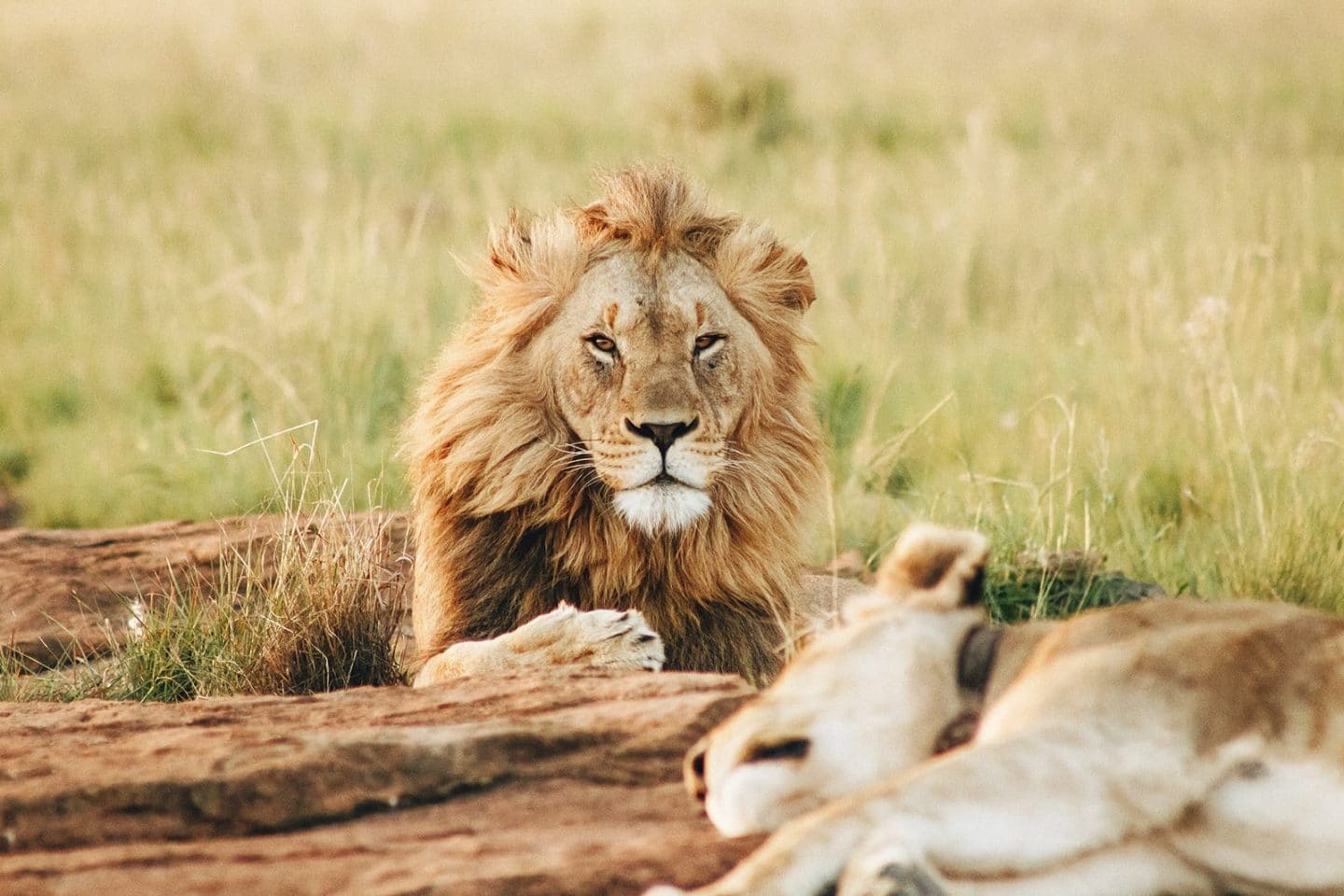 Surrounded by stunning landscapes and captivating wildlife, few experiences are on par with an African safari.
Located on South Africa's famous coastline, the Garden Route Game Lodge is an ideal safari weekend getaway from Cape Town. Home to the Big 5 – lions, elephants, leopards, buffalos and rhinos – you'll have the chance to see tons of wildlife.
Things To Do at Garden Route Game Lodge
The best part about staying at the Garden Route Game Lodge for the weekend is that two safaris are included per night spent at the reserve.
Wake up early and watch the sunrise as the bush slowly comes to life. In the late afternoons, the big cats start to stir from their slumber, and you might get lucky and catch a glimpse of a hunt.
If you want to get out of the game drive vehicle, you can go on a guided walk through apart of the reserve that's free from predators. You'll hike past lush vegetation and spot animal species like the rare Cape Mountain zebra and some of the 186 bird species.
End of your safari weekend with a full body massage at the on-site spa. There's even a private plunge pool to cool off from the heat of the day!
Where to Eat at Garden Route Game Lodge
When you book a package with Garden Route Game Lodge, it will usually include breakfast and dinner at the on-site Serengeti Restaurant.
Its located on a wooden deck overlooking the valley below and there's a traditional African boma to keep you warm in the evenings. Eating here is an interactive experience, where the African cuisine is prepared to your liking and dietary preferences.
Where to Stay at Garden Route Game Lodge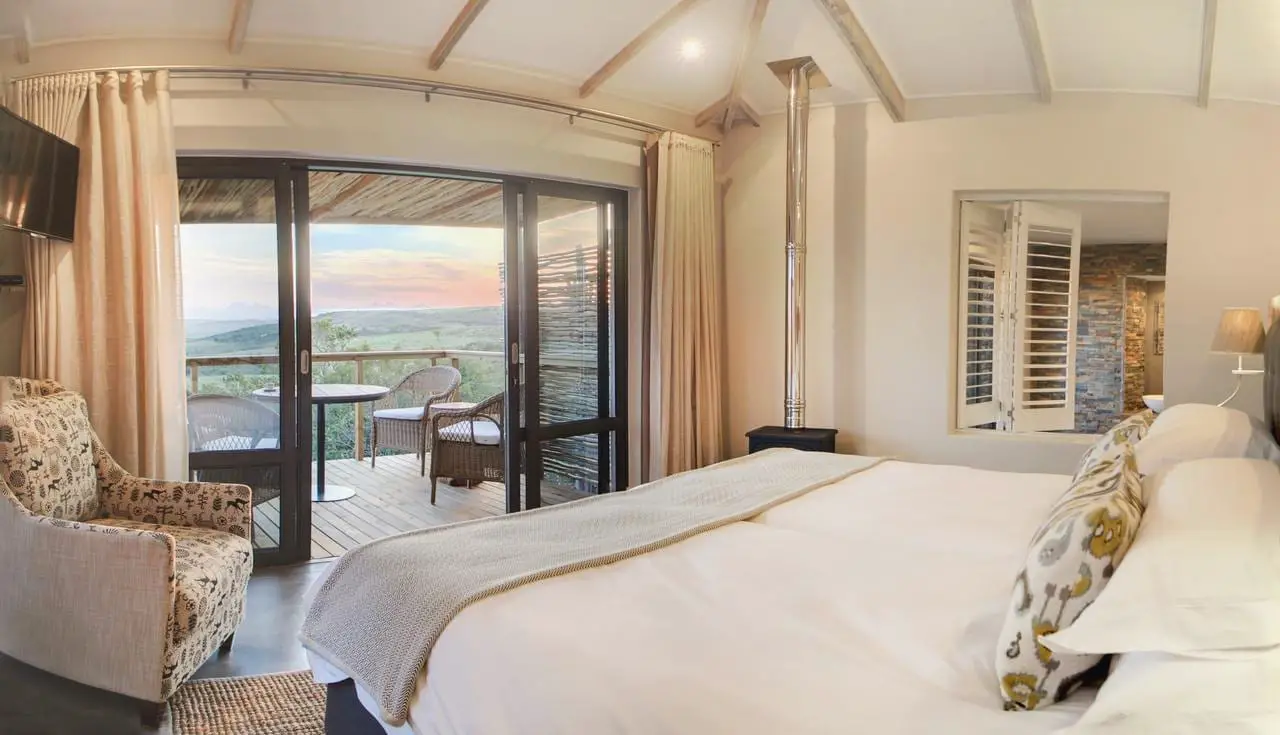 Garden Route Game Lodge offers a range of chalets and suites for all kinds of budgets. Whether you're looking for something mid-range or you want to spoil yourself with all the luxurious things.
The lodge also offers a variety of different packages for each room type. You can pick up deals that include spa treatments, or that help you celebrate events like the honeymoon safari option.
Read More: An Epic One Week Garden Route Itinerary (Detailed)
Which of these weekend getaways from Cape Town are you dying to visit? Drop me a comment below!
Psst…Want more South Africa travel inspiration? Check out my other posts:
?If you like it then you should put a pin on it ?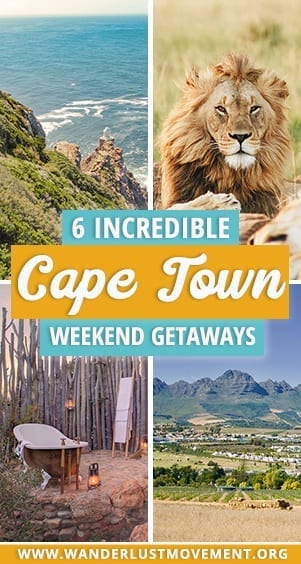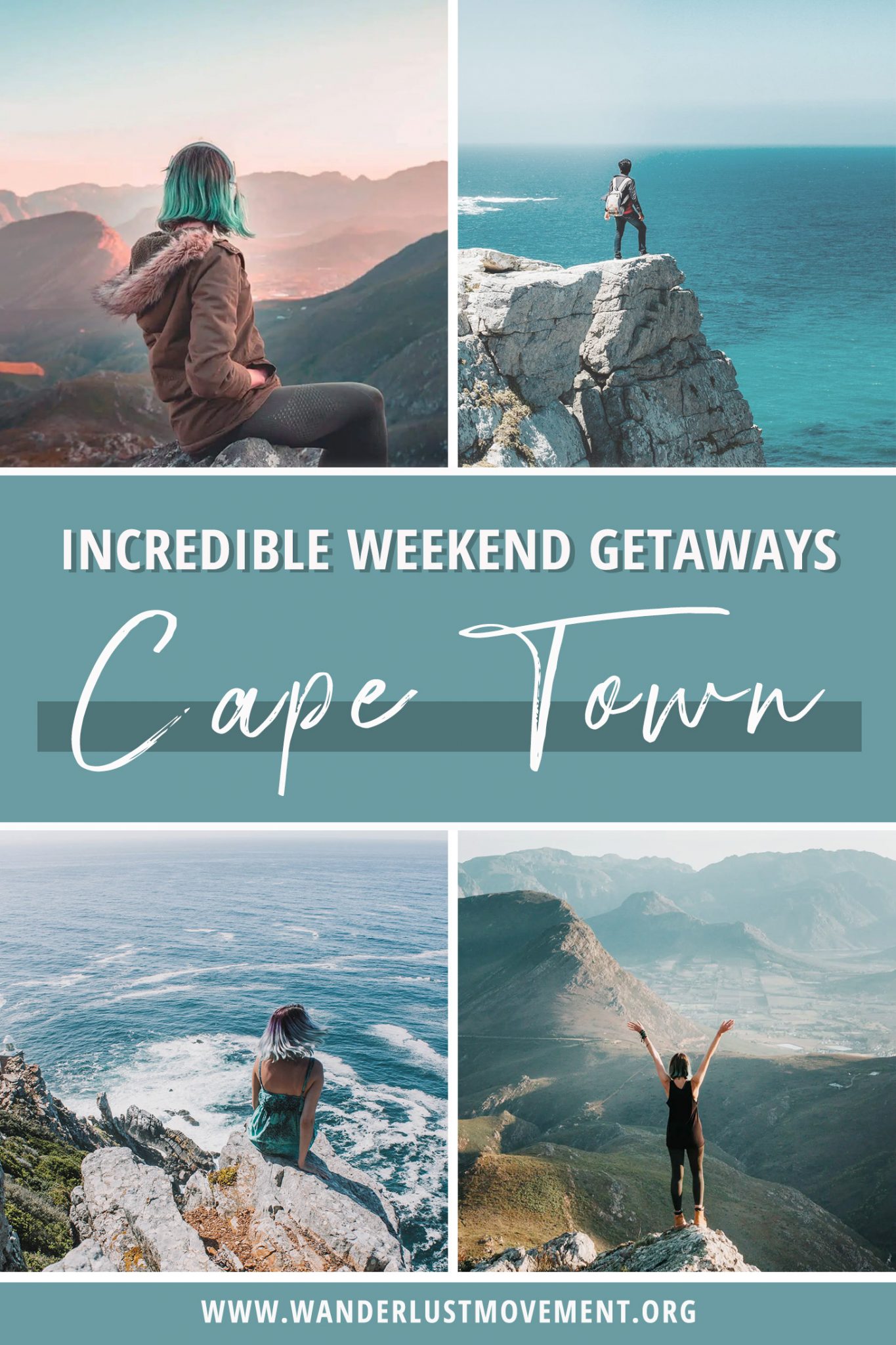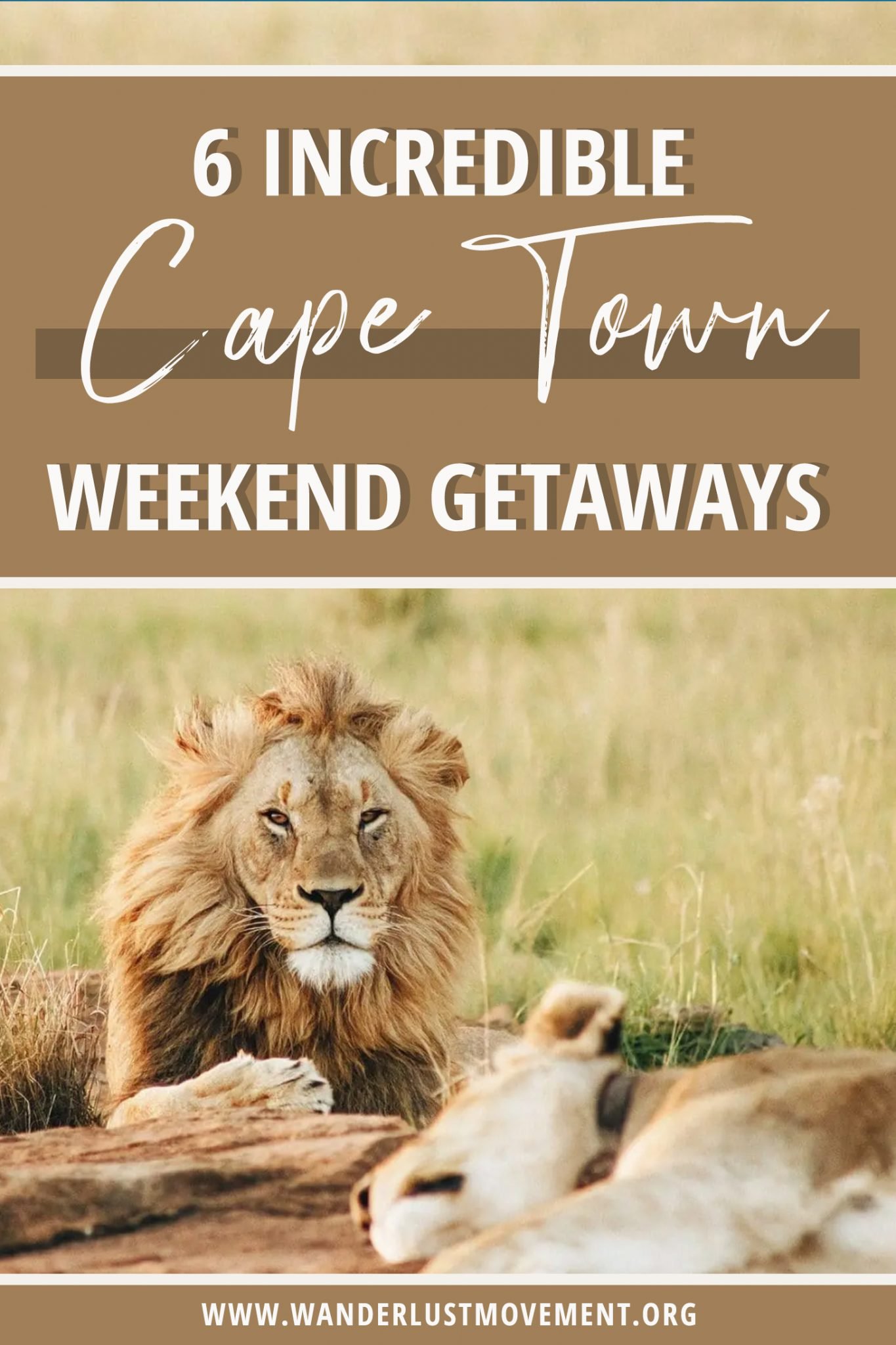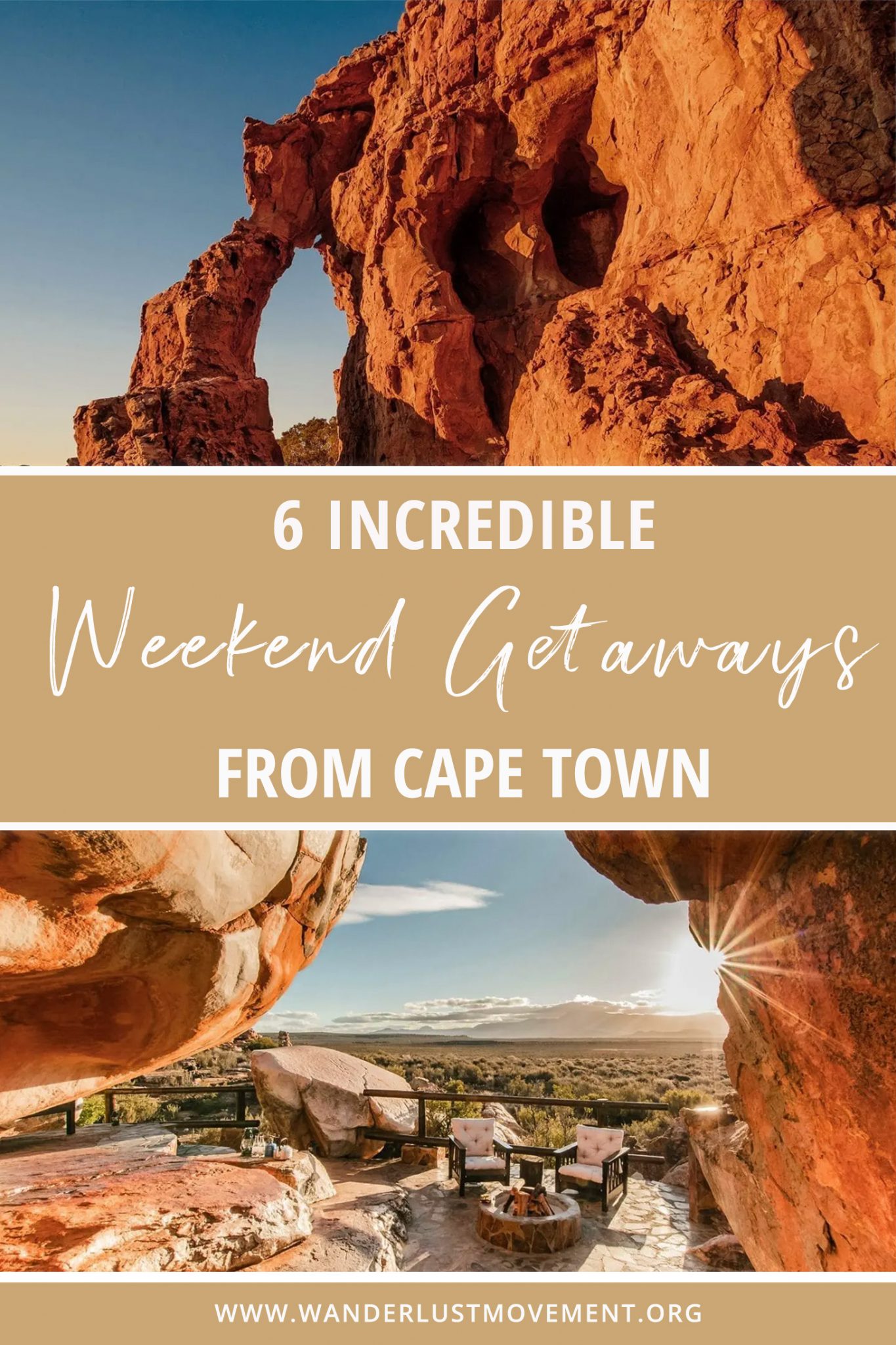 Sometimes you just need to get away from it all. Luckily, there are incredible weekend getaways from Cape Town that won't break the bank!