Bali is a budget travellers dream.
When was the last time you went to a restaurant, and the entire meal cost you R 20?
Before coming to Bali, such prices were myths I heard from my parent's "back in my day" speeches.
I've been in Bali for almost a month now with Find Your Pack, and I'm happy to report that such things aren't piped dreams on this side of the world. I've been surprised just how rand-friendly Indonesia is as a destination for South Africans.
Even with Bali being a popular tourist destination, you can still find incredible deals on accommodation, food and activities – without sacrificing comfort.
Don't let your wallet hold you back from that dreamy tropical island getaway.
Here's how to travel Bali on a budget!
How to Find Cheap Flights to Bali from South Africa
When travelling from South Africa to Bali, flights will be your biggest expense. I booked mine with Skyscanner 2 weeks before I left and managed to find a return ticket for just over R 7000.
But if you book further in advance, it's possible to scoop up much better deals. I'll also recommend checking return flights from Thailand.
It's the cheapest South East Asian country to fly into from South Africa and depending on when you book, it might be less expensive than direct flights.
The Best Time to Travel to Bali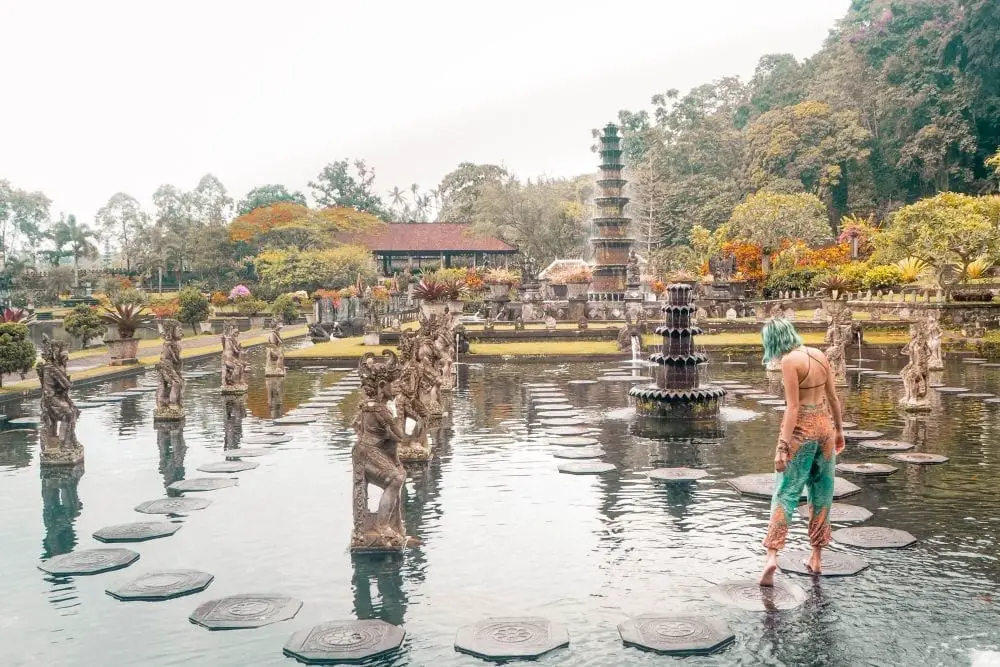 The cheapest time to visit Bali is during the rainy season
(November to March). The rains keep most travellers away, meaning you won't have a hard time finding excellent deals on accommodation or flights.
While the weather won't be perfect, the tropical downpours are short and won't ruin your entire day. If you're staying around Kuta Beach or Seminyak, you'll have far less rain than the central mountain areas like Ubud.
The dry season in Bali lasts from April to October. It's the busiest period for the island, and you'll need to plan your trip to Bali well in advance to save money on flights and hotel bookings.
But if you don't mind the price hike or the influx of other travellers, the weather is perfect for outdoor activities and the visibility for scuba diving is at its best!
Where to Stay in Bali on a Budget
The best thing about travelling to Bali? What you usually spend on hostels in other countries can get you a room in a 3-star hotel or even a private villa!
During my trips to Armenia, Georgia and Istanbul this year, I spent on average R 150 to R 250 on dorm rooms.
In Bali, you can stay in a beautiful guest house with a private room for only R 220! Plus, most Bali hotels throw in a free breakfast and an airport pick-up.
If you're travelling in a large group, booking out a villa is one of the best ways to get a taste of luxury without breaking the bank. Don't believe me? There are three bedroom Bali villas that you rent for as little as R 600 a night! That's either R 200 per person or R 100 if there are three couples.
And if you're determined to travel to Bali on the lowest budget possible, you can grab a dorm room for as little as R 90 per night.
Food in Bali on a Budget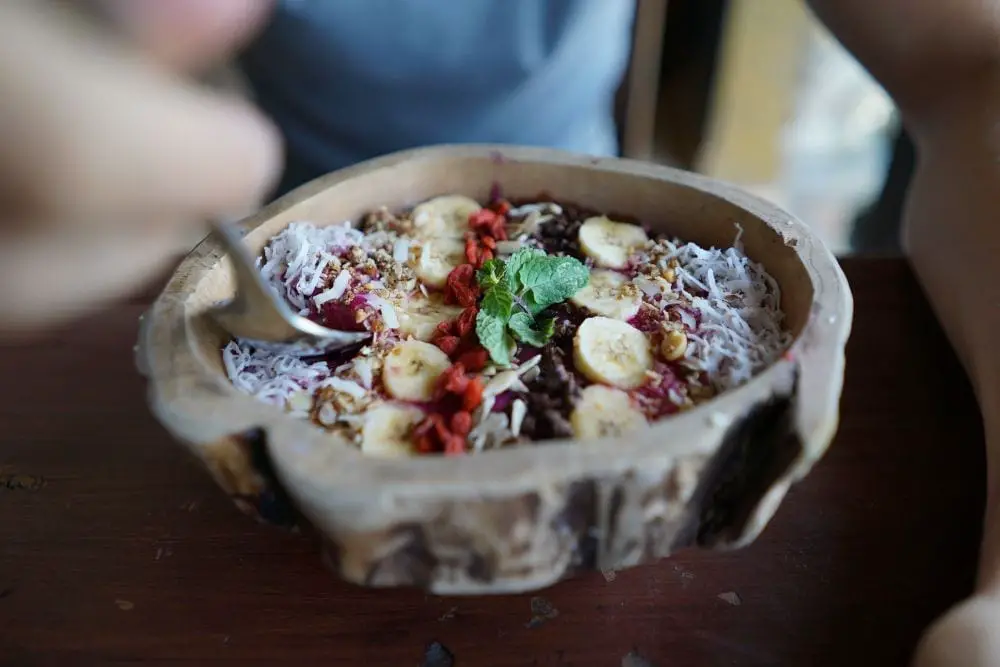 My biggest expense when I travel is food. Since becoming vegan, I've found myself becoming more of a foodie and always on the hunt for delicious and affordable meals.
Well, I've hit the mecca in Bali. This place is a vegan/vegetarian heaven. Never in my life has it been so easy for me to find plant-based food and not have to pay out my ass for it (I'm looking at you Cape Town).
So just how expensive is it to eat out in Bali? It all depends on where you go.
There are local restaurants called warungs. These are the best places to frequent if you want to eat cheaply in Bali.
A massive plate of food will only cost you R 15 to R 25, and there are plenty of vegetarian and vegan options to choose from.
If you have room in your budget to splurge on some Instagram-worthy looking food, you won't be disappointed. Prices for meals in restaurants are on par with South Africa, and it will cost on overage R 100 to R 200 for a meal with a non-alcoholic drink.
Which brings me to my next point, alcohol is fucking EXPENSIVE in Bali. If you need to have a drink, stick to the local beer. Otherwise, you're going to wake up the next day with a hangover, crying as you stare into your empty wallet.
To give you an example, cocktails or a glass of wine are over R 100.
Alcohol detox anyone?
Here are some of my favourite vegan-friendly spots in Bali:
Transportation in Bali on a Budget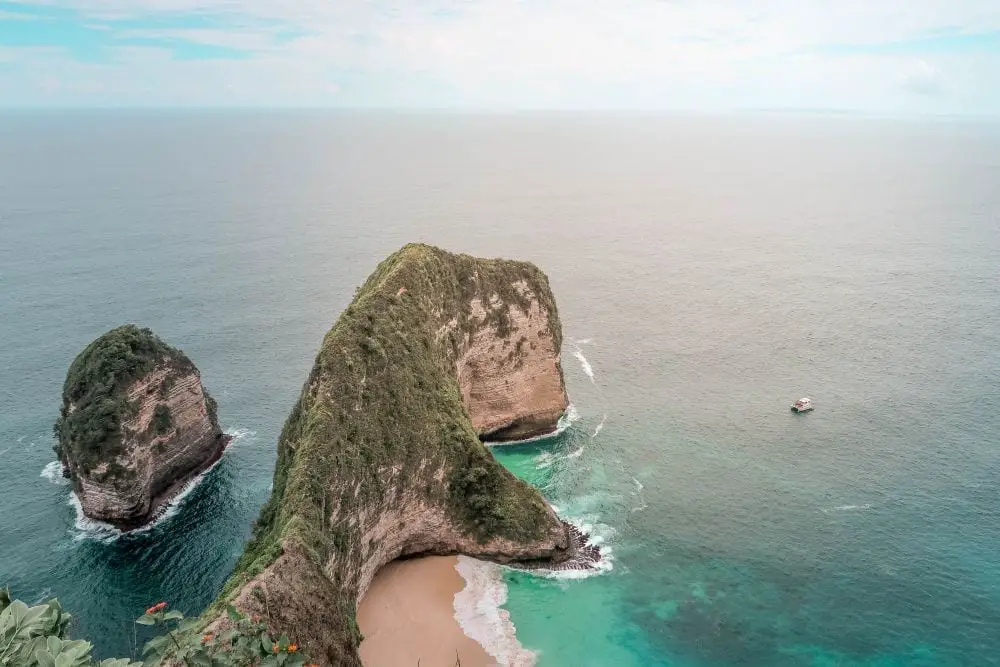 Transportation has been the biggest thorn in my sight while travelling in Bali.
You see, I have no sense of balance and as a result, can't use the main mode of transportation – scooters. This has meant I've had to rely on my friends for trips to town and hiring a driver for activities around Bali.
But if you aren't as hopeless like me, hiring a scooter will only cost you R 30 to R 50 a day. Maybe this is why I keep falling off bikes; it's just too good of a deal for me to stay upright.
If you aren't comfortable riding a bike, getting around by taxi isn't that expensive. You can hire out a six-seater vehicle with a driver for as little as R 400 to R 700 for a day trip around the island.
So if you're travelling in a group or you make some friends in Bali, you can basically create a private tour for as little as R120 per person.
#Shutupandtakemymoney
If you want a reliable driver who speaks excellent English who knows all the best places to go, I highly recommend Yuda. I used him for most of my trip around Bali and cannot recommend him enough. Drop him a message on Facebook if you want to use him and be assured he won't try to rip you off.
What to Do in Bali on a Budget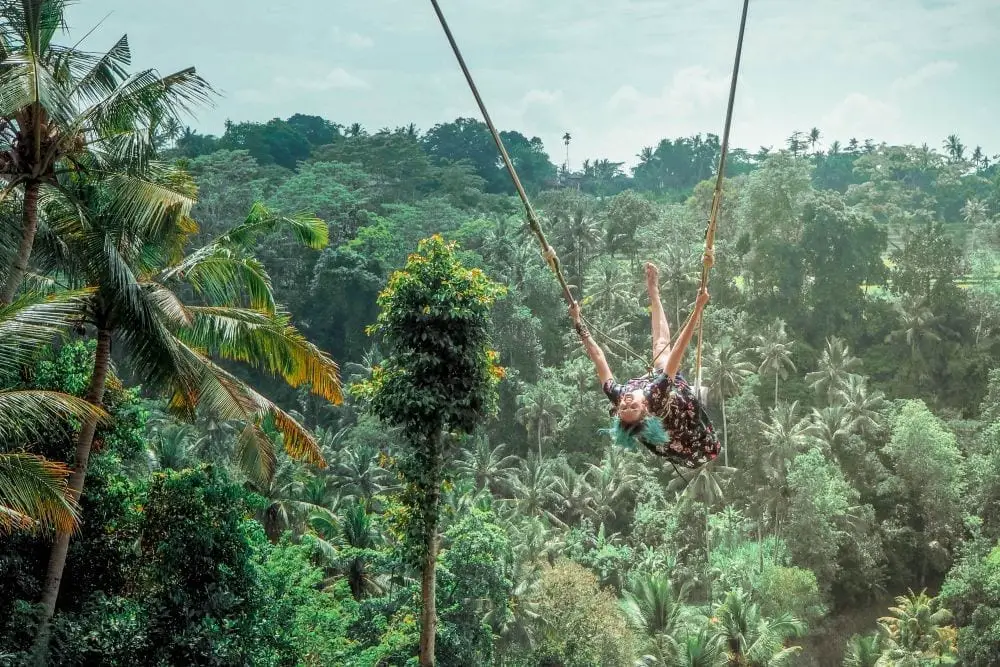 There are so many things to do in Bali that won't break the bank! No matter your interests or travelling style, there will be something to keep you busy.
While there are tons of free things to do, here's a list of prices for some of the most popular activities that you can add to your Bali itinerary:
Get a one hour massage for R 80.00
Visit the Ubud rice paddies (go first thing in the morning to avoid any entrance fees)
Go on an all-inclusive day tour of Nusa Penida Island (including hotel pick, ferry transfer and lunch) for R 450.00 per person.
Take a Balinese cooking class for R 140.00
Shop for clothes and pick up dresses for as little as R 50.00
Go paragliding for only R 150.00
Go scuba diving in Nusa Penida (two dives per person) for 1 390 000 IDR (R1,400.00)
Plan a Gili Islands day trip for 790 000 (R800.00)
Don't forget to take out a comprehensive travel insurance policy that will cover you for all the activities on your itinerary as well as less exciting things like stolen bags, flight cancellations and unexpected trips to the hospital.
If you're short on time, get a quote from World Nomads now, my favourite travel insurance provider!
So How Much Does a Trip to Bali Cost?
Figuring out how much a trip to Bali will cost you comes down to your travelling style and how long you want to visit the island.
Here's how much you'll need to budget for Bali for a one week trip:
Accommodation
Dorm room for 7 nights: R 630.00
Hotel room for 7 nights: R 1, 540.00
Private villa for 7 nights: R 4, 200 ( R 1, 400 if split between three people)
Food
Breakfast: Free at most places in Bali
Local warang restaurants for lunch and dinner: R 50 per day / R 350 a week
International restaurants for lunch and dinner: R 300 per day / R 2, 100 a week
Transport
Hiring a scooter for a week: R 350.00
Total cost for one week in Bali excluding any paid activities you want to do:
R 1330.00 – R 3990.00
So pick yourself off the floor, start browsing for those cheap flights and get ready to put in your leave. You can visit Bali on a shoestring by following my budget tips (even on a weak ass currency like South African Rands.)
---
Do you have any Bali budget travel tips? Hit ya gurl up in the comments and let's discuss!
---
Want more Bali travel tips? Check out my other posts:
Did you find this post useful? Save it for later on Pinterest!