Last Updated on October 20, 2017 by lauren
I started off the new year by visiting my 13th country – Lesotho. This landlocked gem has been high up on my Africa bucket list ever since I started hearing stories of its legendary natural beauty.
After spending New Years at a backpackers lodge in the Drakensberg, I decided to join a day trip to see Lesotho's untouched landscapes for myself. I originally wanted to go on a Tugela Falls hiking trip (the second highest waterfall in the world), but that trip was on the 2nd of January, and I still felt far too tired from the weekends escapes to hike up a mountain. Instead, I went with their second option – a cultural immersion tour of sorts.
Why I Don't Like Cultural Immersion Tourism
Disclaimer: I am not one for this type of tourism. This "cultural immersion" trend feels empty to me.  It is a designed experience. You aren't interacting with the local culture; rather you are viewing it behind a glass screen.
I also feel very uncomfortable the minute hordes of relatively wealthy white people descend on places where poor black people live, but I decided to give this tour a chance.
The group leader explained to me that the tour would encompass walking through a village, up into the mountains on a short 5km walk where we would stop for lunch before meeting a local sangoma and trying some traditional food harvested by the Basotho people.
A portion of my trip fees also would go to funding the local primary school the backpackers has been supporting for the last eight years. So I decided to swallow my criticism and see for myself if I had just paid R 700 for a glorified township tour.
---
Lesotho Cultural Village Tour: Getting to the Border
The day started at 8:30 am as our tour group set out for the northeastern Lesotho border, Monansto Pass. The weather was slightly overcast which was a godsend after four days of ridiculous heat.
Once we got through the South African border, the road immediately went from paved to a bumpy dirt road. The landscape became more hilly, and it wasn't long before we saw the Lesotho border post. I had expected a building, but it was more a makeshift tin house on the side of the road. There was no long line of people waiting to get in and right across from this arrivals office, were rondavels belonging to the Basotho people.
We drove a bit further until we reached the small village of Mafika Lisiu. It is here where the tour officially started, and where things got a little odd for me.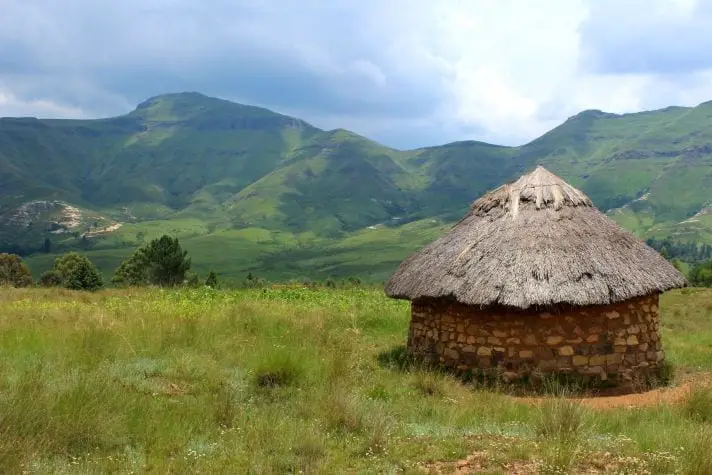 ---
Cultural Immersion or a Sales Pitch?
My group was taken into one of the primary school's classrooms, and we were given a brief history lesson by one of the local teachers. He told us about the history of the school, how it was founded by a South African man, the Irish donors that helped to build the current school buildings and how the school supports HIV positive students by travelling to the far away clinic to bring back the antiretroviral drugs.
This was all cool up until this point. I enjoyed learning about how the education system worked and how the school was supporting the children up until the teacher went on to explain that the school manages to provide two meals a day to the children through the sale of crafts.
My group was then ushered into another room where we could view the various jewellery pieces and of course, buy some. Now if I was told about this beforehand, I would have made sure to bring money. It is my thing purchase a bracelet from countries I visit anyway.
But I wasn't, and as a result, it felt like a giant sales pitch. Reel in a bunch of tourists by pulling on their heart strings and offer them a solution to their guilt by getting them to open their wallets and buy shit.
Now I don't think supporting disadvantaged schools this way is bad. It just doesn't sit well with me, that spending money wasn't even mentioned in their list of things to bring.
Let me know in the comments if you think this is a tad bit dramatic or not.
---
Exploring Lesotho's Mountains and San Rock Paintings
After that awkward moment, we started out on our 5 km hike into the mountains. It was at this point were three cows decided it chase me. Clearly, they were upset that I'm vegan and eating all their food. After escaping the demon cows, we reached a cliff face known for its small collection of Khoi-San rock paintings.
After lunch, we continued our hike to a cave where the Basotho people used to store their harvest. Today, the locals use it as a place of shelter for their cattle during the snows in the winter months.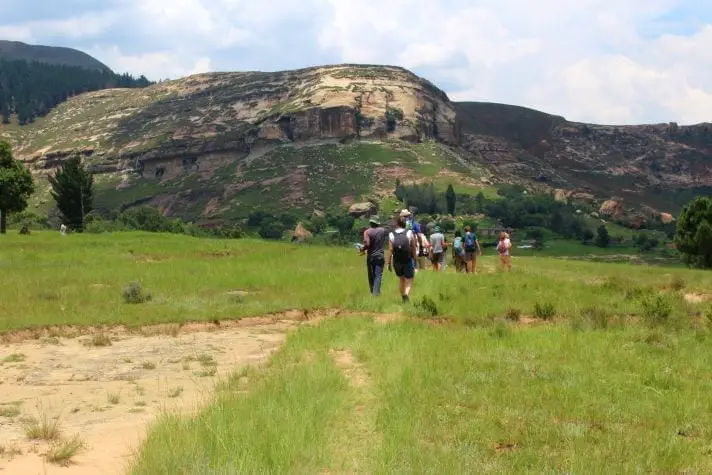 ---
 A Lack of Transparency Once Again
The tour ended with meeting a local sangoma and hearing about how he received the calling from ancestors and became a healer. We then tried some traditional Basotho pap and spinach. This is another part of the tour that I found just a little bit off.
So we have all paid R 700, and we get one plate of pap and some spinach to share between all ten of us. There was also Lesotho beer available for R 25.00 a can, but once again, no one told us such a thing would be on a sale. In fact, some people were under the impression it was included in the price.
---
Cultural Immersion Tours Are Still Not For Me
In conclusion, I don't think "cultural immersion" tours are for me.  I enjoyed the hike, and I am 100% sure I would have enjoyed the Tugela Falls trip more.
There is a lack of clear communication in this tour. The itinerary is vague with sentences like "things change daily" even though it clearly has parts where they want you to fork out more money.
I can only really recommend this if this is how you like to travel and experience new countries. I prefer exploring a country's natural beauty, meeting locals outside of a tour group and finding out about their day-to-day life in everyday conversation.