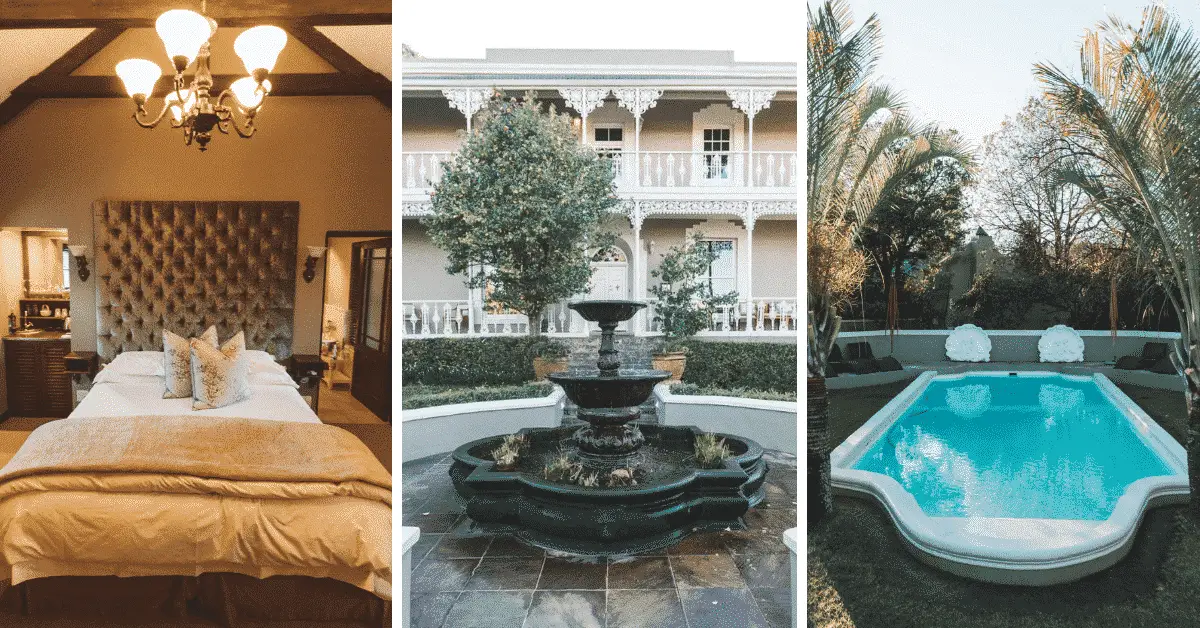 Want to live your best life in a Victorian Era dream? Book a night or two at the beautiful Schoone Oordt Country House in Swellendam, South Africa!
It's one of my favourite luxury stays in the country (plus it caters to vegans!) and I spent a night year while driving back to Cape Town from the Garden Route.
My friends that run Elgin Africa (a boutique travel agency) told me about the property and put me in touch with the owners. Having only ever driven through Swellendam or stopped at the Wimpy for breakfast, I had no idea what to expect.
Schoone Oordt blew my hair back and knocked my socks off. There were so many little things that made my stay special and set the property apart from others I've stayed at over the years.
How to Get to Schoone Oordt Country House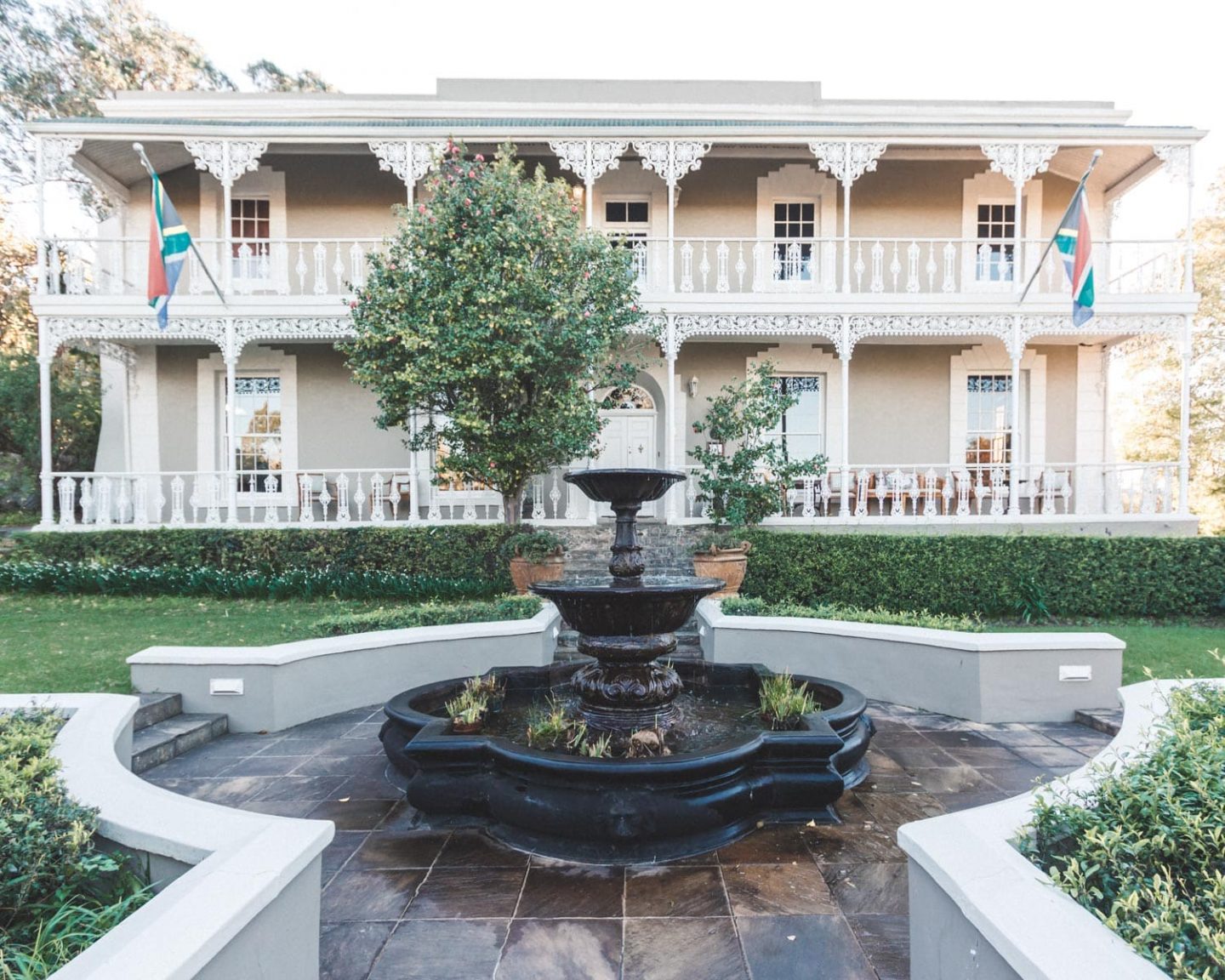 Schoone Oordt Country House is located 2h 25 minutes from Cape Town. If you're coming from the Western Cape, you can hop onto the N2 or take a slightly longer route via the N1 and pass through Franschhoek and Worcester.
If you're travelling from Johannesburg, Durban or Port Elizabeth, you can fly into George Airport or Cape Town International Airport and hire a car.
The drive from George is only 2 hours, and you can easily include Schoone Oordt as a Garden Route detour.
To get the best deals on local flights in South Africa (and to a few international destinations), I highly recommend using TravelStart. It has exclusive deals from domestic carriers and prices you won't find anywhere else.
---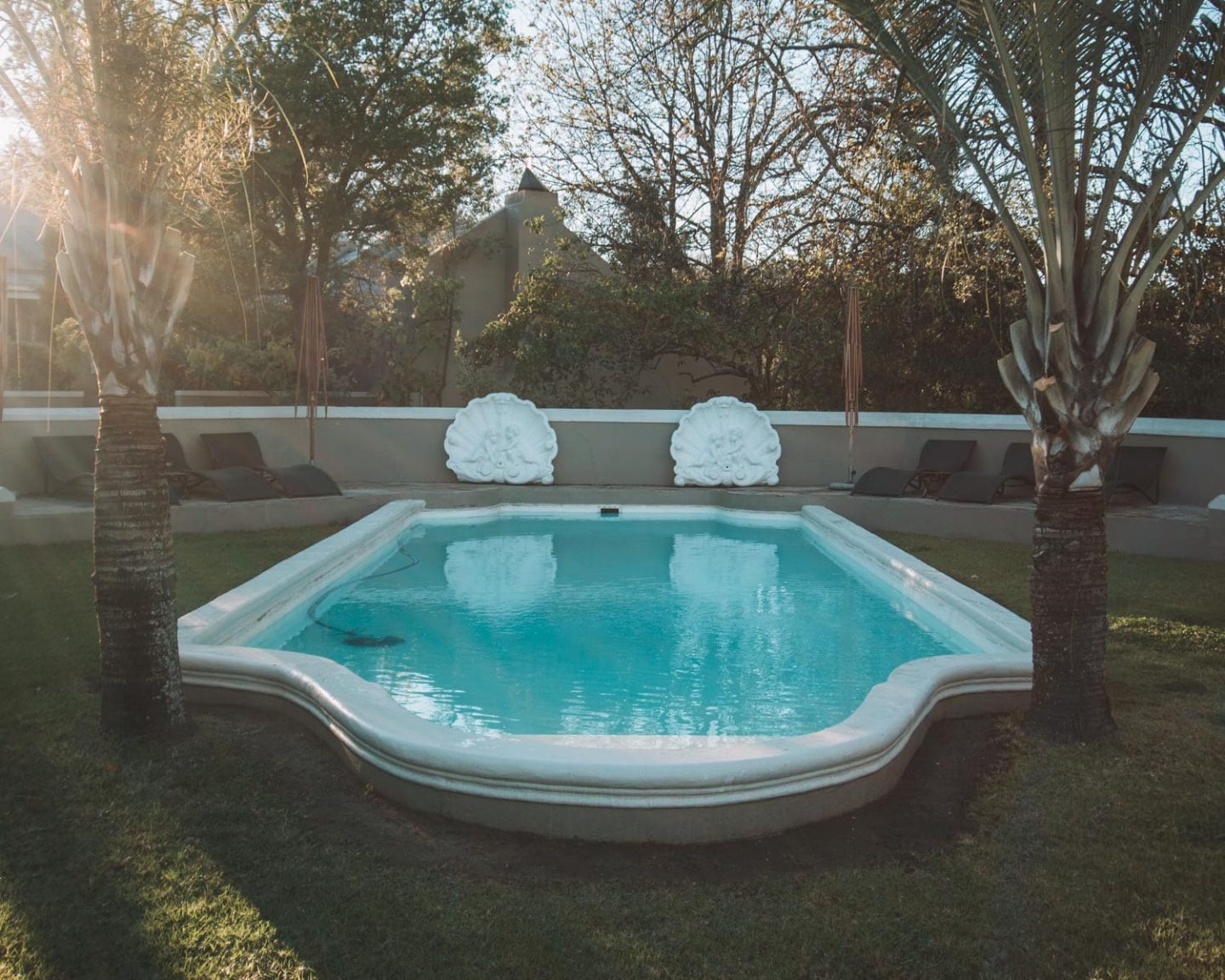 About The Property
Schoone Oordt Country House is run by a couple, Alison and Richard, from Cape Town. After a family holiday in Arniston, the two stumbled across the manor house and decided to buy it, revamp it and turn it into gorgeous luxury accommodation.
Throughout the lengthy renovations, the manor house has retained its Victorian Era charm. It really feels like you're stepping into a bygone time here.
From the service you receive at reception to the elegant dining area, it's a little slice of old-world allure that you wouldn't expect to find in Swellendam.
---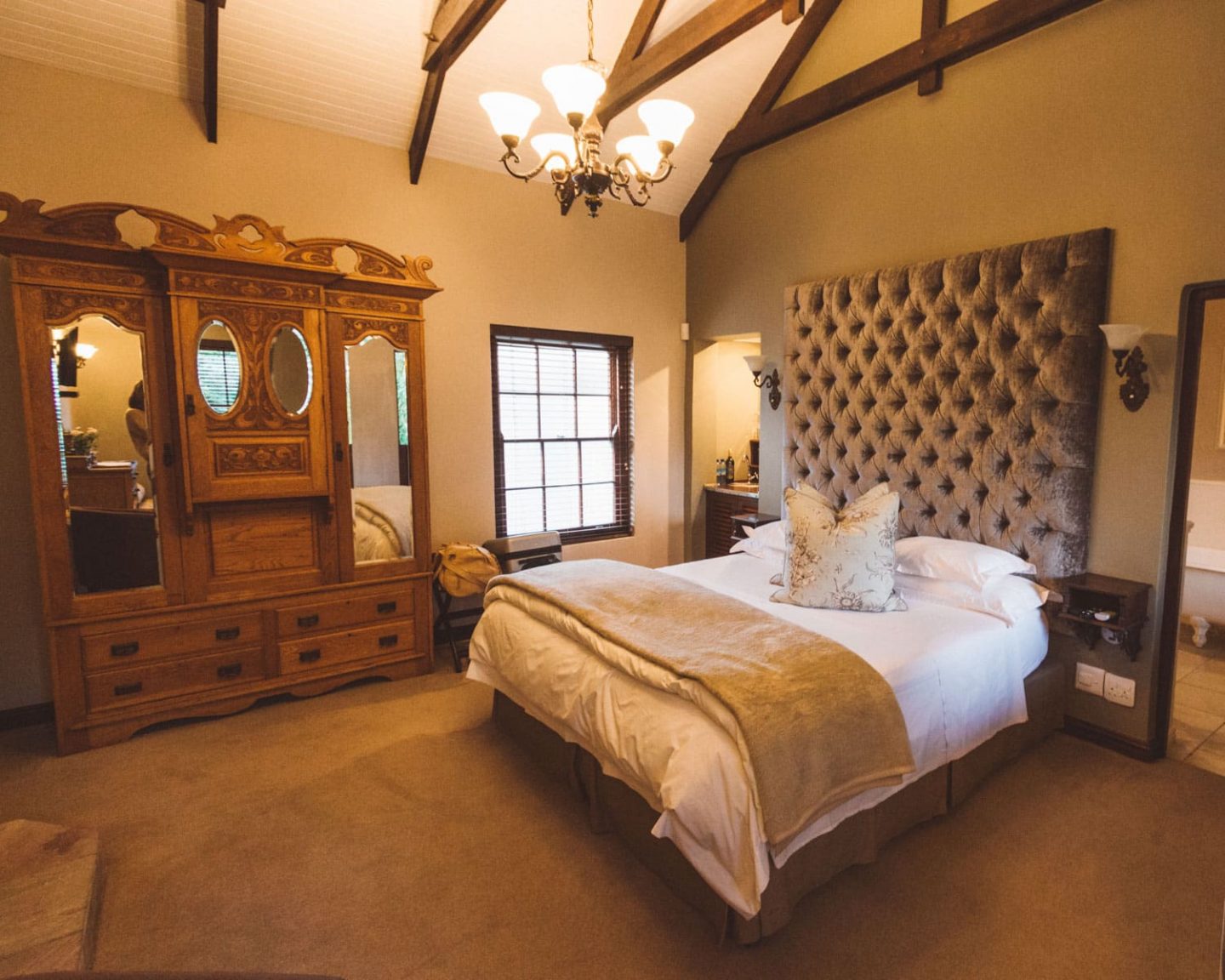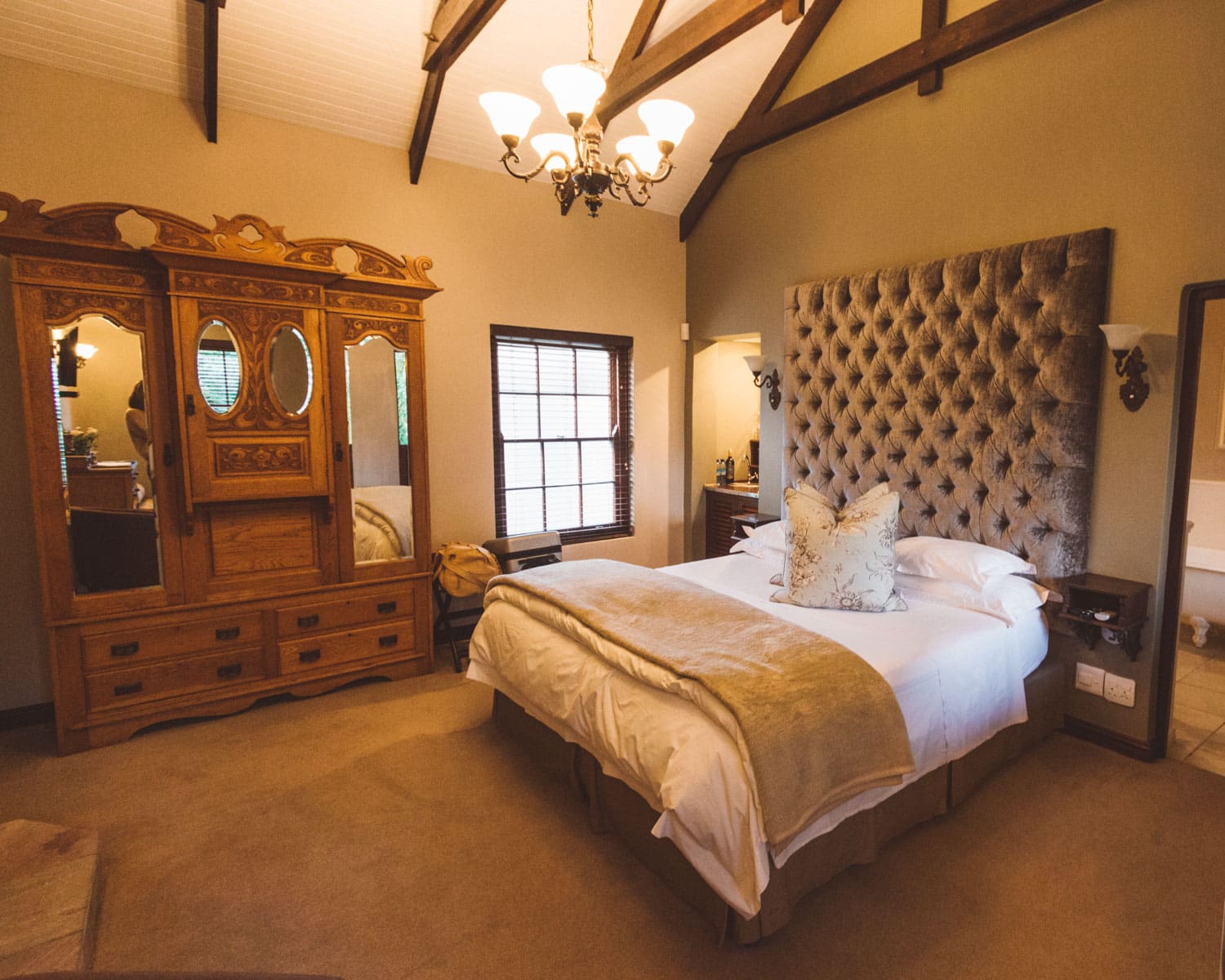 The Rooms at Schoone Oordt Country House
I spent one night living my best luxe life dreams at Schoone Oordt. Alison checked me into one of the gorgeous luxury rooms situated near a rose garden and the stately pool.
Each of the eight luxury rooms come with the following amenities:
• Minibar & tea / coffee station
• Private patio
• Turn down service with chocolates
• A fireplace and airconditioning
• Underfloor heating and heated towel rails
• Handmade linen, goose-down duvets and wool carpets
• Free WiFi
• Extra length King beds
• Complimentary toiletries
• Private ensuite bathroom with a shower and a bathtub
• Hairdryers, gowns and slippers
My room also had an "in case you forgot" box. It came with mosquito repellent, shoe polish, headache tablets and a sewing kit!
It's thoughtful touches like these that differentiate hotels and adds to that pampered feeling.
If you're travelling to Swellendam as a group, you can opt to stay in one of the family suites or cottages. There is also a honeymoon suite for those that are celebrating a special occasion and want to go all out.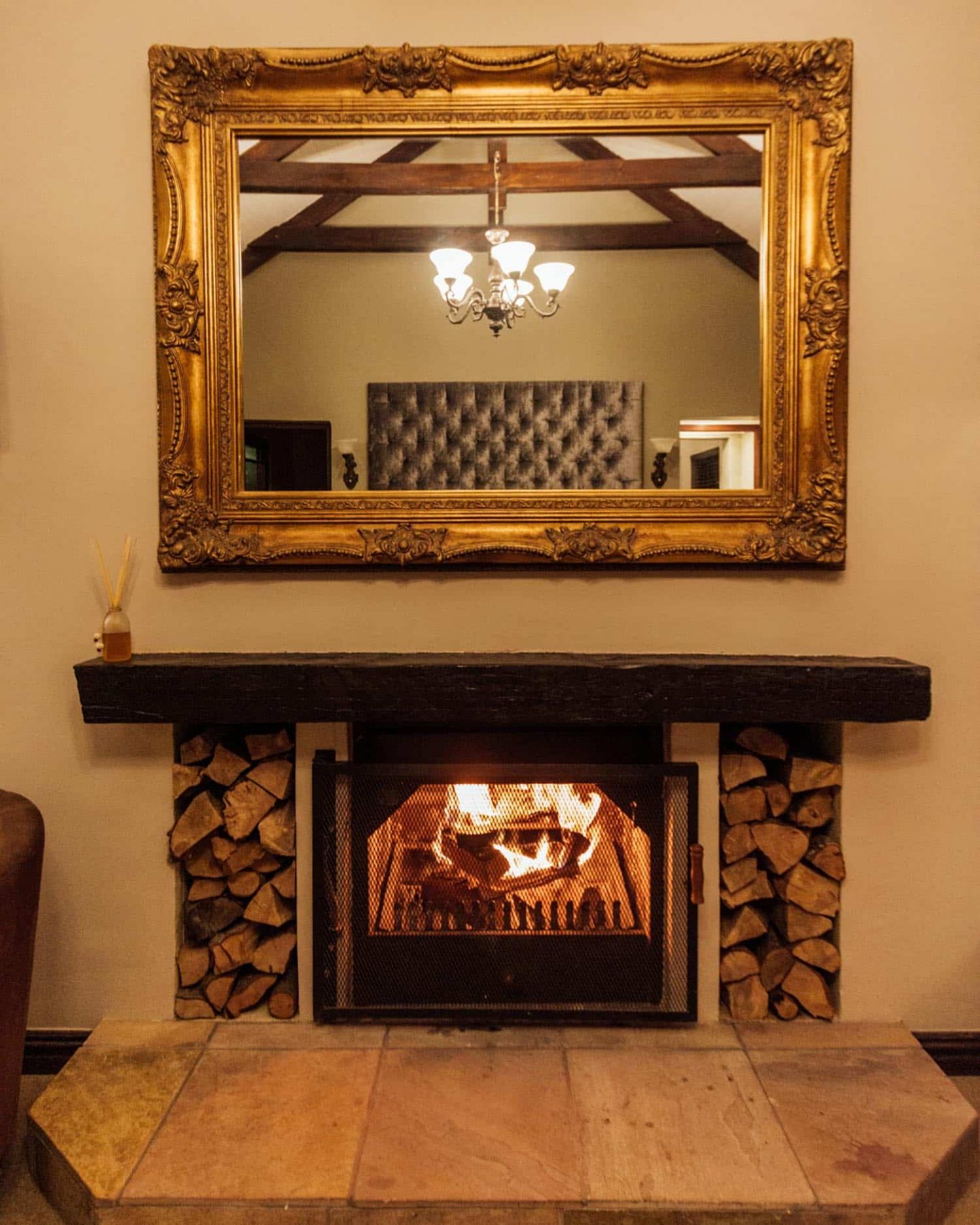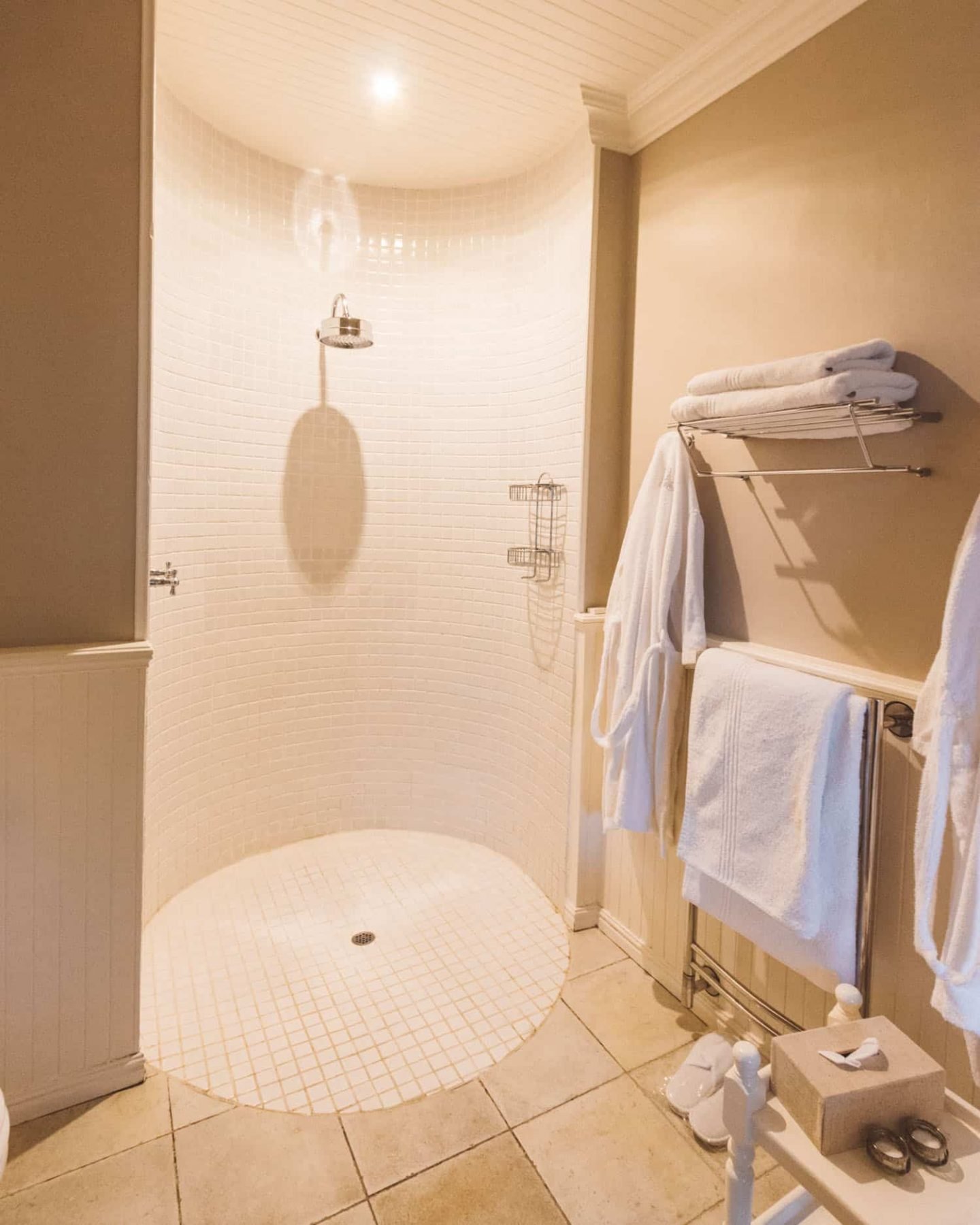 ---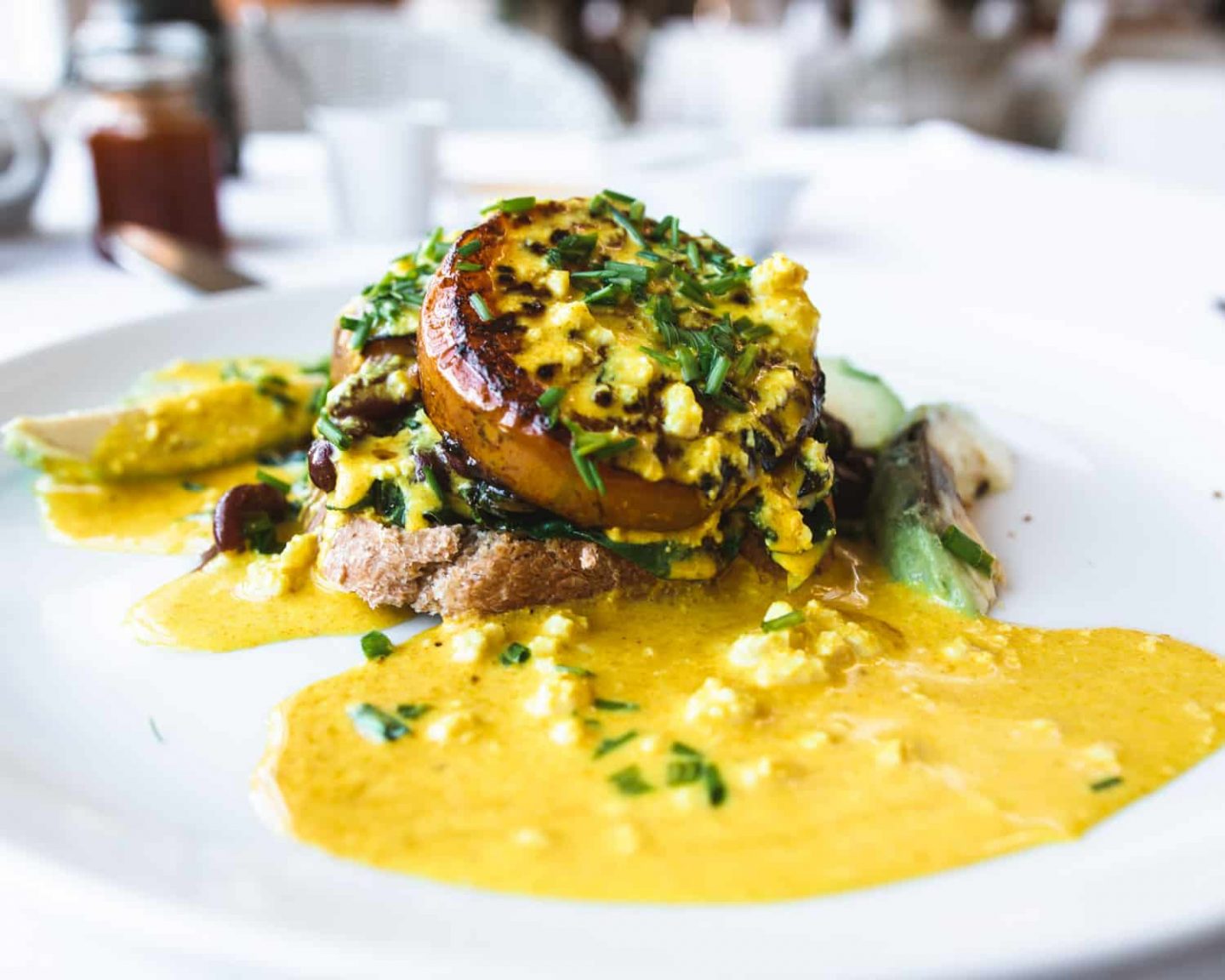 Food + Drink
The food at Schoone Oordt was one of my biggest highlights. If you're a foodie, you're going to love the food options at Schoone Oordt!
The breakfast I had (a vegan take on the classic egg benedict) is one of the best things I've ever tasted! The hotel catered to my dietary preferences without any problems, and I left breakfast with the top button of my jeans undone.
Here's what you can expect from the daily breakfast service:
• Set three-course menu (it changes daily)
• Fresh fruit, loaves of bread and muffins
• Homemade granola and yoghurt
• A variety of cereals, cheeses and artisanal meats
• Fresh orange juice and tea or coffee
Afternoon Tea
Schoone Oordt also has a complimentary afternoon tea for all guests. It includes home-baked sweet and savoury goodies served at the regal lounge area or outside on the verandah in the summer afternoons.
In the winter, there are snack platters, and drinks set around a toasty fire.
Dinner
For dinner, there is an on-site restaurant called The Conservatory. It boasts a sophisticated South African menu with paired wines with every course.
However, the restaurant is closed over the winter months, and I didn't get a chance to experience it. Despite that, the staff at Schoone Oordt still went out of their way to make such I enjoyed my dinner.
They warmed up the soup I bought from Woolworths and delivered it to my room on a little tray with some of their homemade bread!
If you don't cart around bags of Woolworth's soups like me, there are a few restaurants in Swellendam. Some of the most recommended options are Ikigai, Tredici and Field & Fork.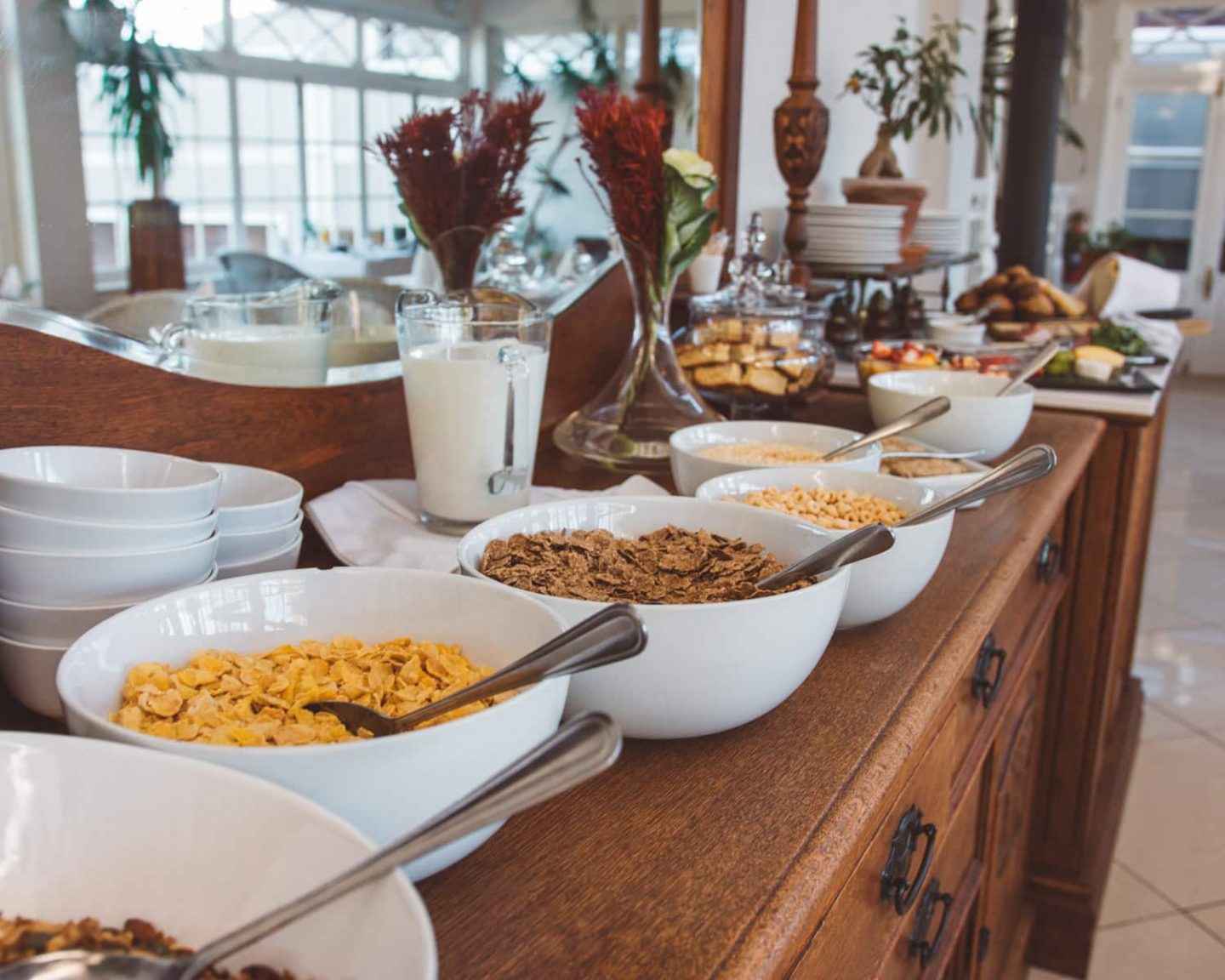 ---
What to Do in Swellendam
Most people stop over in Swellendam en route to the Garden Route or Eastern Cape. However, there are quite a few things to do if you want to spend a little longer in the area:
Wine Tasting: Schoone Oordt is on the doorstep of the Robertson and Karoo Wine Routes. There are also a few nearby estates that you can visit, such as Jan Harmsgat and Sijnn Wine Estate.
Take in the History: Swellendam is the third oldest town in South Africa. Some of the best examples of Dutch architecture in the town are the Swellendam Moederkerk and the Drostdy Museum.
Day Trips: Swellendam is within easy reach of De Hoop Nature Reserve and Cape Agulhas. De Hoop is an excellent spot for whale watching in the winter months and Agulhas is home to the Southernmost Tip of Africa.
---
What I Think of Schoone Oordt Country House
Schoone Oordt Country House is a luxury getaway from Cape Town. It's perfect for couples that want to get away for the weekend or who are planning a road trip through the area to the Garden Route.
The level of attention to detail and the level of service at the property is insane.
Some of the things that impressed me the most were:
• The FREE car wash (that I didn't even have to ask for)
• The delicious food
• The wine that came with the mini bar in my room
• The turndown service with vegan chocolates
I also love that room service was a thing and how the staff turned a rather dull soup from Woolworths into a luxe dining experience.
Thank you for Schoone Oordt Country House and Elgin Africa for inviting me! As always, all opinions are my own.
---
Psst…Want more South Africa travel and accommodation inspiration? Check out my other posts:
Did you find this post useful? Save it for later on Pinterest!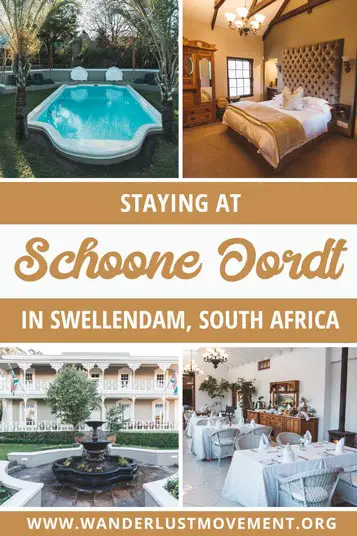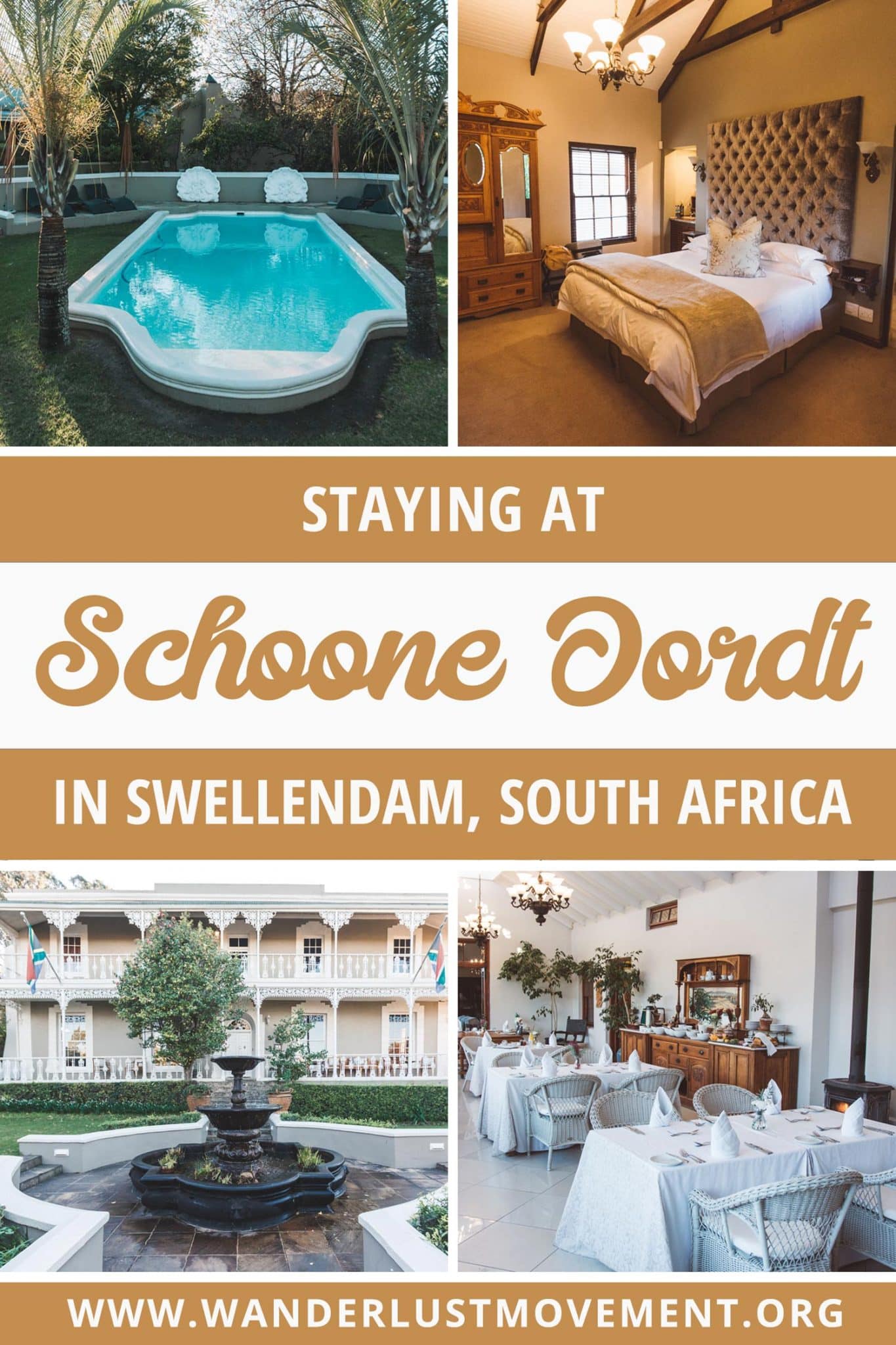 Schoone Oordt is a gorgeous Victorian Era manor house in Swellendam. Here's my review on one of my favourite luxe stays in South Africa.