Last Updated on August 22, 2020 by lauren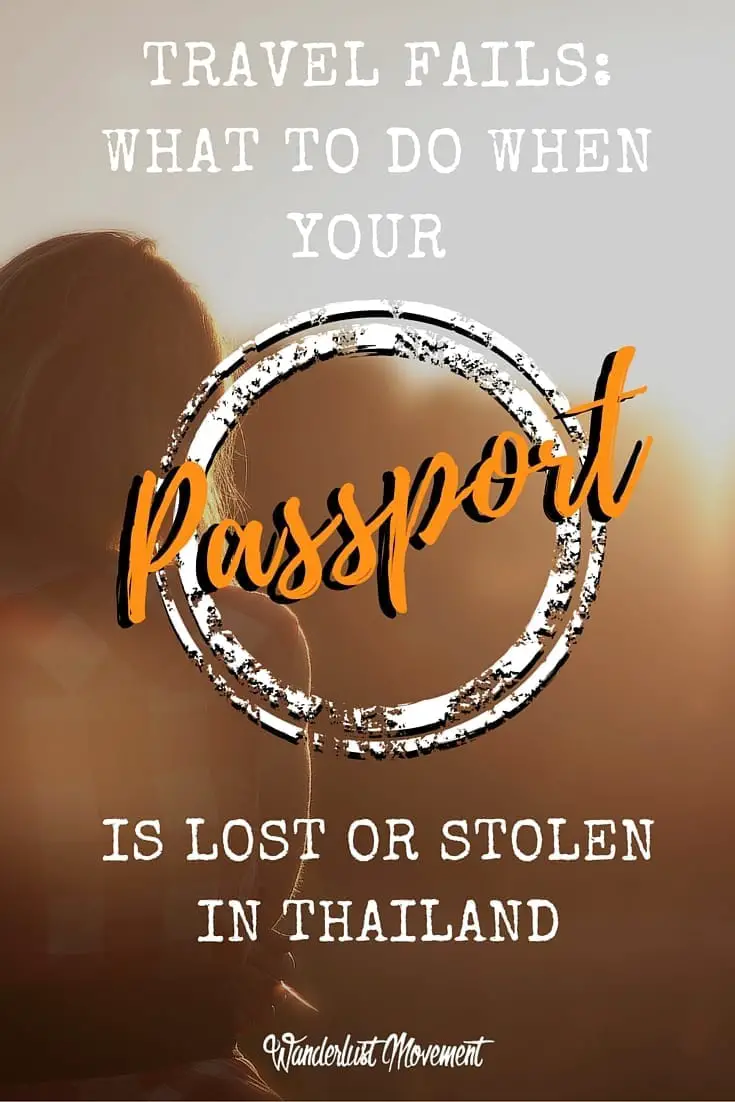 Yip. 3 months into living abroad for the first time and my passport gets stolen. Two weeks after my phone decides to stop working and I land up with the worst hangover in my life on Phi Phi Island.
July you have been a cruel master. I can't say that I am sad to see you go but I'm a bit wary about how well August is going to as a result of your fuckery.
I woke up after my first night in Chiang Mai to discover my passport was not in my bag which was in the locker where I had left it. I remember not taking it out to the bar with me because I had a copy.  So clearly two things could have happened:
1: I am slowly losing my mind thanks to the humidity and I did indeed take it out.
2: The hostel staff opened my locker and took it.
Both things make very little sense as nothing else was taken. Why take just a passport and none of the money or electronics I had in my bag or my locker?
After the crushing reality of this fuck up started to weigh on me, I started scouring the internet for help. While I found loads of posts for losing your passport in Thailand if you were a UK citizen, I found nothing that would be remotely helpful to a South African passport holder.
So while I hope you never find yourself in a similar position as me, here is everything you need to know and do if you lose your passport in Chiang Mai or elsewhere in Thailand as a South African.
1. Get Out Your Copy of Your Passport
This is why you need to have a copy of your passport on you at all times. You need it to prove your identity when the shit hits the fan like this.
I would even take it one step further and have photocopies of every single page in your passport. This proved to be useful when I went to the South African embassy and needed to prove my date of entry and visa expiration dates.
Side note: You don't need to carry the copies of the pages on you at all times, but just have it in case.
---
2. Go Straight To The Police Station
Or go to the tourist police. But you will end up at the police station as the tourist police will only act as translators.
You will need the copy of your passport to report the missing document in order to get a case number that you will need to submit with your lost passport application.
I just wanted to get the paperwork out the way and opted not to try to get the police to go investigate my case. If my hostel did take my passport, there is no proof and it is my word against theirs. I didn't want to open that can of worms.
---
3. Get Your Police Report Translated
After you have your police report, you need to go get a certified translation from Thai to English. The South African consulate will need this when you submit for your new passport.
I went to a place in Chiang Mai called Centa Care that does legal translations of official documents. The translation took 30-minutes and cost me 250 baht.
The thing that I liked the most about this place is that they were contactable over Whatsapp and helped me without an appointment on a public holiday.
---
4. Go Get Your Passport Photos Retaken
If you don't have more than 4 recent passport photos, it's time for a quick photo shoot. I had my photos taken over the weekend in Bangkok and it cost me 150 baht.
They ended up only needing two, but it says 4 on the website so I don't know.
//giphy.com/embed/KURsJwDgfXboI
---
5. Book Your Plane / Bus / Train Tickets To Bangkok
If you passport has been stolen, you are going to need to head to the South African embassy in Bangkok ASAP.
Unfortunately, when mine was stolen it was over a long weekend and I could do nothing until the following Monday. All this means is that I lost time on getting my application to South Africa – which becomes very important later on.
The consulate is easy to get to using public transport. It is in walking distance from the BTS Pholen Chit station. It cost me about 40 baht to get from my hotel on Suthisan road and took 40 minutes.
---
6. Brace Yourself: Paperwork is Coming
If you visit the South African embassy's website, you will be able to print out some of the forms you will need to fill in.
When I arrived to hand in all my documentation, I was given more forms and even had to re-fill one out because they didn't like how the one I printed looked.
I would suggest printing them out beforehand anyway so that you have time to get all the information. You will need your parents' ID numbers, place of birth, date of marriage and place of marriage.
And if they were not born in South Africa, there is a whole section you are going to have to fill out about their life as well.
//giphy.com/embed/3o6gaXzgetyFV1g05q
---
7. How Much A Lost Aouth African Passport Will Cost You
The price tag on getting a new passport is a lot less than I thought it was going to be. It only costs 1,086 baht. But if you have lost your passport you are going to be paying double.
I paid 2,172 baht in total. (R 870.00 +/-)
If you want a new maxi passport you will have to pay a couple hundred more baht.
---
8. Processing Times for a New South African Passport in Thailand
This is the most shocking part of this whole debacle. Apparently, it takes 6 months (!) to get a new passport from South Africa.
Not sure how this is possible, as it takes a week or so to get a new one in-country and I'm pretty sure the consulate and home affairs aren't using snails to send and receive documentation.
ANYWAY
This presented a problem as I only have 7-weeks left on my 3-month visa.
To try to help my case, I opted for spending an extra 1,000 baht ( R 400.00) to courier my documents myself to home affairs with DHL instead of waiting for the consulate to do this.
My documents were picked up the same day I made my application and I'm currently waiting for it to arrive in South Africa. I will try courier it back to myself as soon as it is done so that I don't have to fly back just to fetch it in person.
Which leads me to the next hurdle…
**UPDATE** I managed to get my new passport sent back to Bangkok in just over 2 months!
---
9. Applying For An Emergency Passport To Get Home
If you are on a tourist visa and lose your passport, you are going to have to fly home. There is no way around that. South Africans only have a one month visa on arrival in Thailand.
To do this without a passport, you are going to need to apply for an emergency passport.
Requirements for an Emergency Travel Certificate:
Complete a DHA-73 application and a BI-335E declaration.
Produce written evidence of your South African citizenship (birth certificate, ID book etc).
Copy of the police report translated into English.
2 passport photographs.
Flight booking from BKK to JHB (some airlines don't accept ETC's).
This takes about a week to process and I am not sure about costs as the embassy kept not answering that question.
This will be the next step that I will have to take as a last resort. So send good vibes my way and let's pray that South Africa's service delivery is en pointe for a change and I don't have to drop 21 000 baht (R 8,400.00) on a plane ticket.