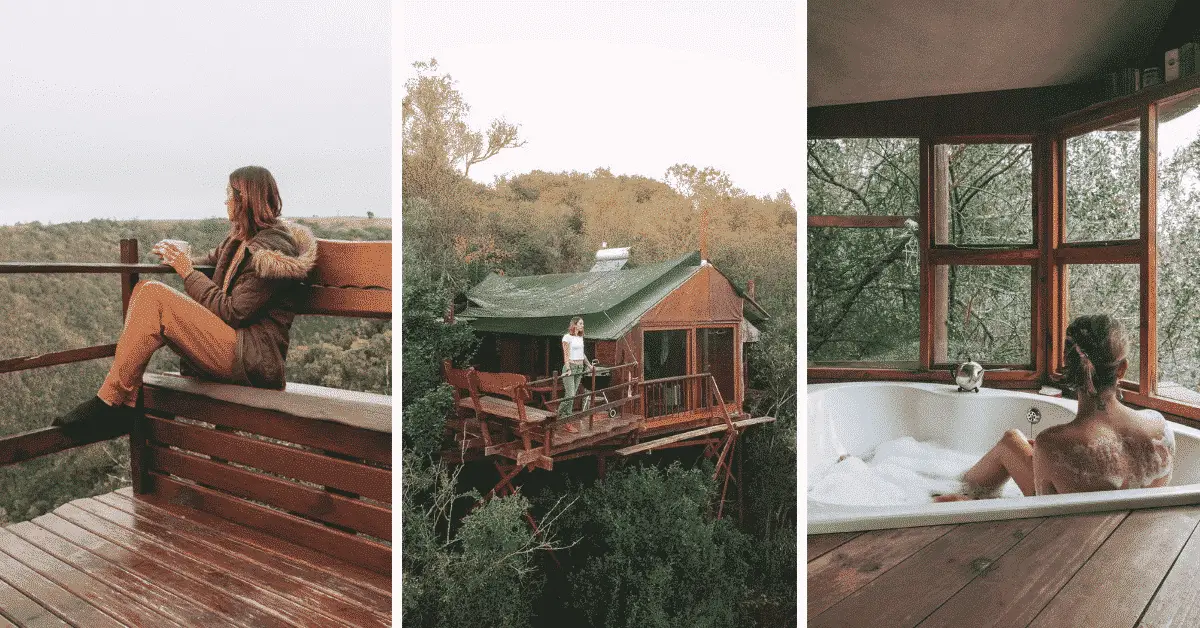 It doesn't take a lot of convincing to get me to stay inside a treehouse in the middle of a forest.
One of the things on the top of my childhood wishlist was a tree with a clubhouse. Unfortunately, we didn't have any big trees in my backyard and my parents aren't talented architects or builders.
(Or maybe they are but didn't want to put me in a tree in case I fell out of it ?).
So when I saw Teniqua Treetops pop up on my Instagram feed, I knew I had to go there and I wasn't disappointed. It's one of the most romantic places in South Africa and you'll have the best seat in the house for sunsets in Knysna!
If you're planning a road trip to the Garden Route and you were also deprived of a treehouse as a child (or you just love nature), book a night, or three, at Teniqua.
Here's what it's like staying at Teniqua Treetops!
How to Get to Teniqua Treetops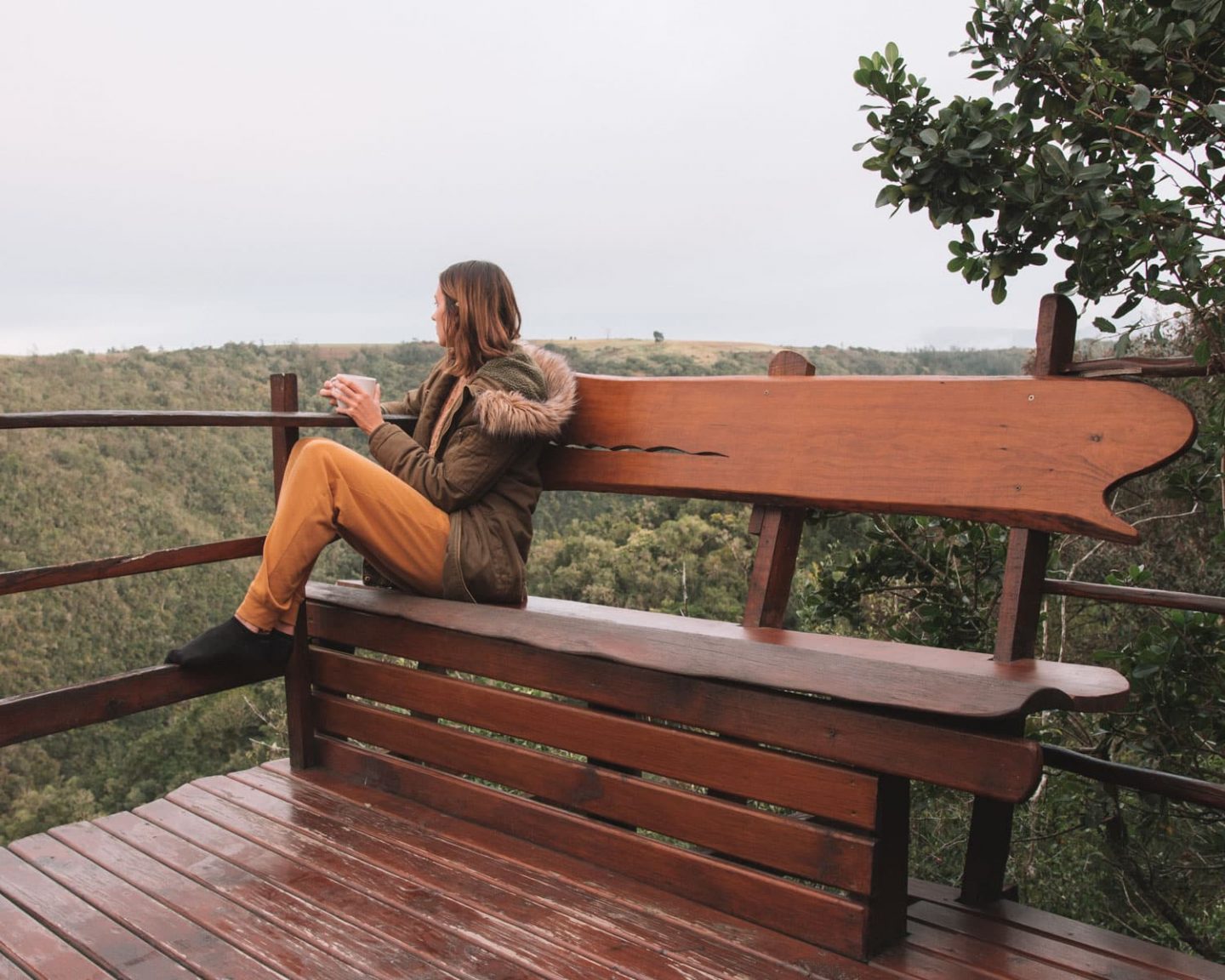 Teniqua Treetops is a 5h 30-minute drive from Cape Town along the N2. If you're travelling from Johannesburg or Durban, you can fly into George Airport, hire a car and drive for 48-minutes to the property.
For local flights in South Africa, I recommend using TravelStart. It compares multiple South African airlines to help you find the best deal for your travel dates.
---
About The Property
Teniqua Treetops is an eco-friendly lodge that's situated in the heart of the Knysna indigenous forest. The property actively tries to minimise its energy usage and works hard to keep the human footprint on the forest as small as possible.
Teniqua harvests their own rainwater and uses dry compost toilet systems to avoid damaging the Karatara catchment area. The lodge has also taken care to only install septic tanks in places that won't damage the forest floor or on top of a watercourse.
For animal lovers, you'll be happy to hear that Teniqua rescues horses! ?
The lodge uses the animals to keep the grass under control and to let them live out their natural lives in peace.
---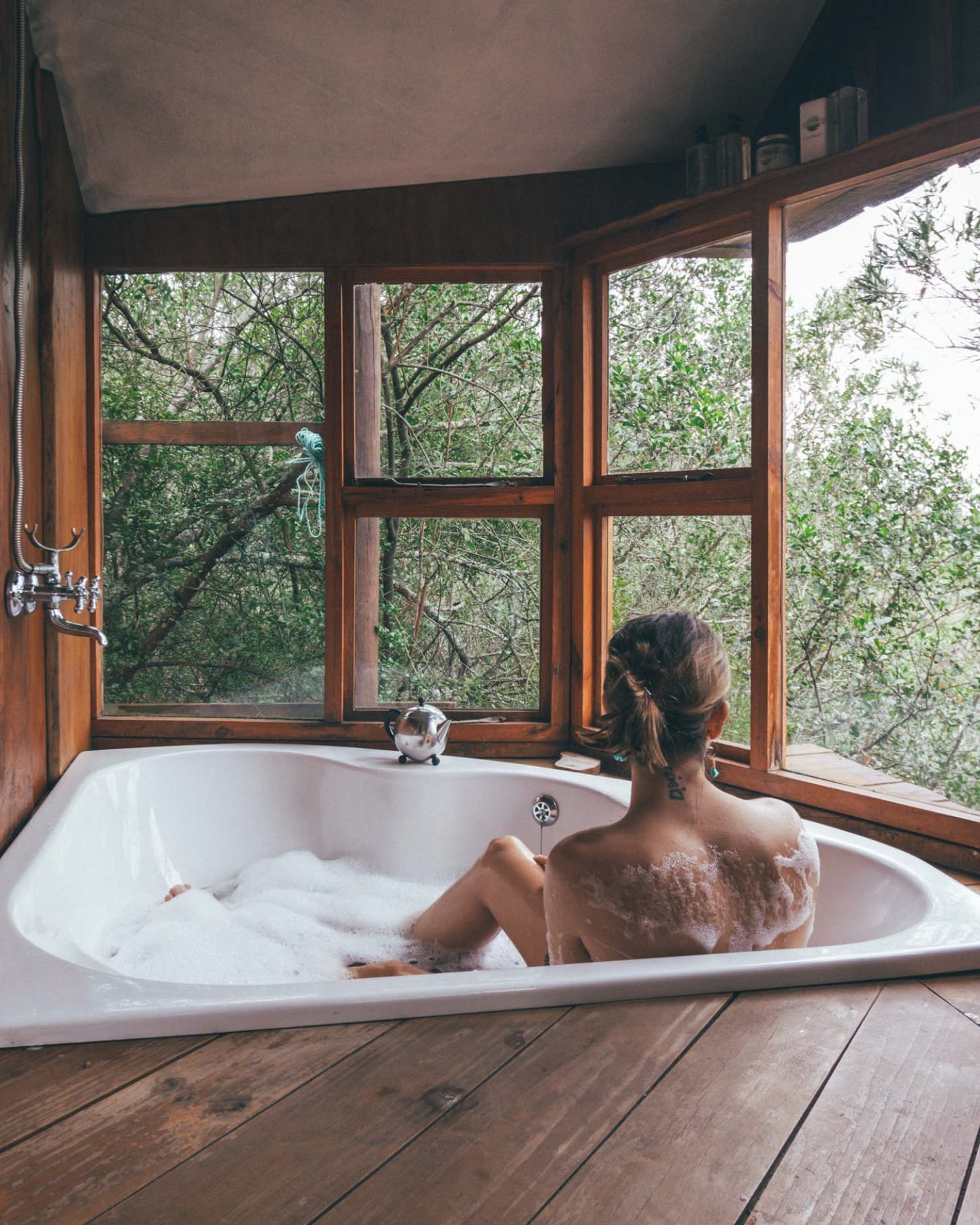 The Treetops
The self-catering lodge is home to three types of treetop suites. If you're a solo traveller or a couple, you can book a night or two in one of the four Couples Suites.
Travelling families or groups of friends can stay in one of the two the Family Suites (that sleep 4) or the Double Family Treetop Suite (perfect for those that want separate bedrooms).
I stayed in the Gorge View Couple Suite and had an incredible view of the Knysna forest!
I didn't see or hear another human being the entire time I was there and luckily no rain spiders decided to come say hi.
If you can't deal with spiders, Teniqua Treetops is not the place for you. The spiders do sometimes get inside, but the staff will give you a spider catcher to help you safely remove the critters.
Each suite comes with a gorgeous bath that overlooks the gorge (!), a private deck with braai facilities and a fully equipped kitchen to help you whip up tasty meals.
Here's what you can expect to find in each Couple Suite:
• Private compost toilet
• Complimentary coffee and tea
• A heater
• Mosquito net
• Complimentary toiletries
• Electric blankets
One thing to remember is that there is no Wi-Fi available at the suites. You'll need to go to reception to send that email!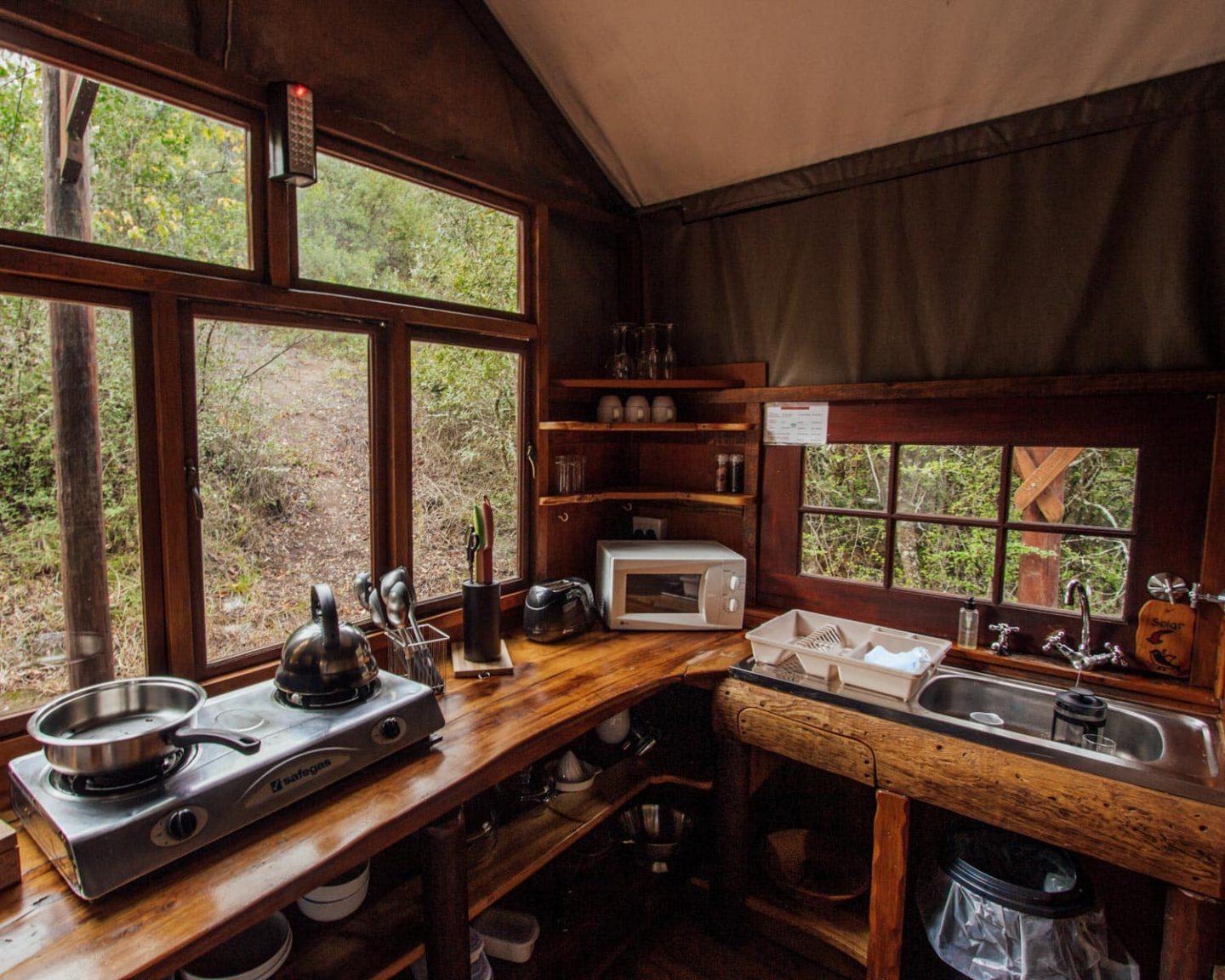 ---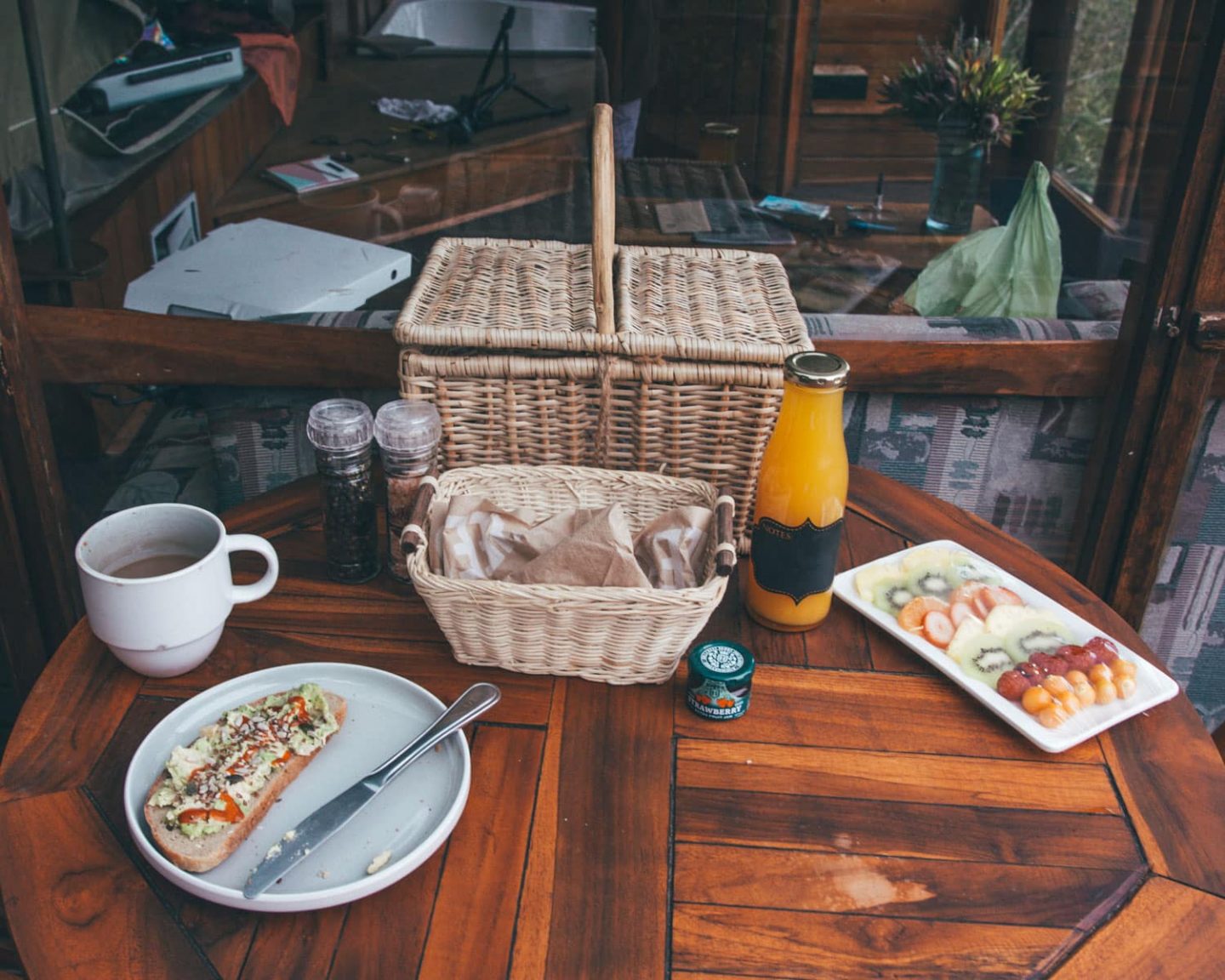 Food + Drink
There is no on-site restaurant at Tenquia Treetops. However, you'll find a menu from a pizza shop in Sedgefield that you can order at reception.
The staff will phone on your behalf, arrange the pick-up and deliver the pizza to your door!
For breakfast, you're also in for a treat! At around 8 AM, the staff will come to your Suite with a continental breakfast in a picnic basket.
Inside you'll find everything from freshly baked chocolate croissants, fruit salad, toast, and orange juice. Non-vegans will also have other items like cheese and ham.
Set it all up on your private deck and start your morning off with the sounds of nature and a delicious, healthy breakfast!
---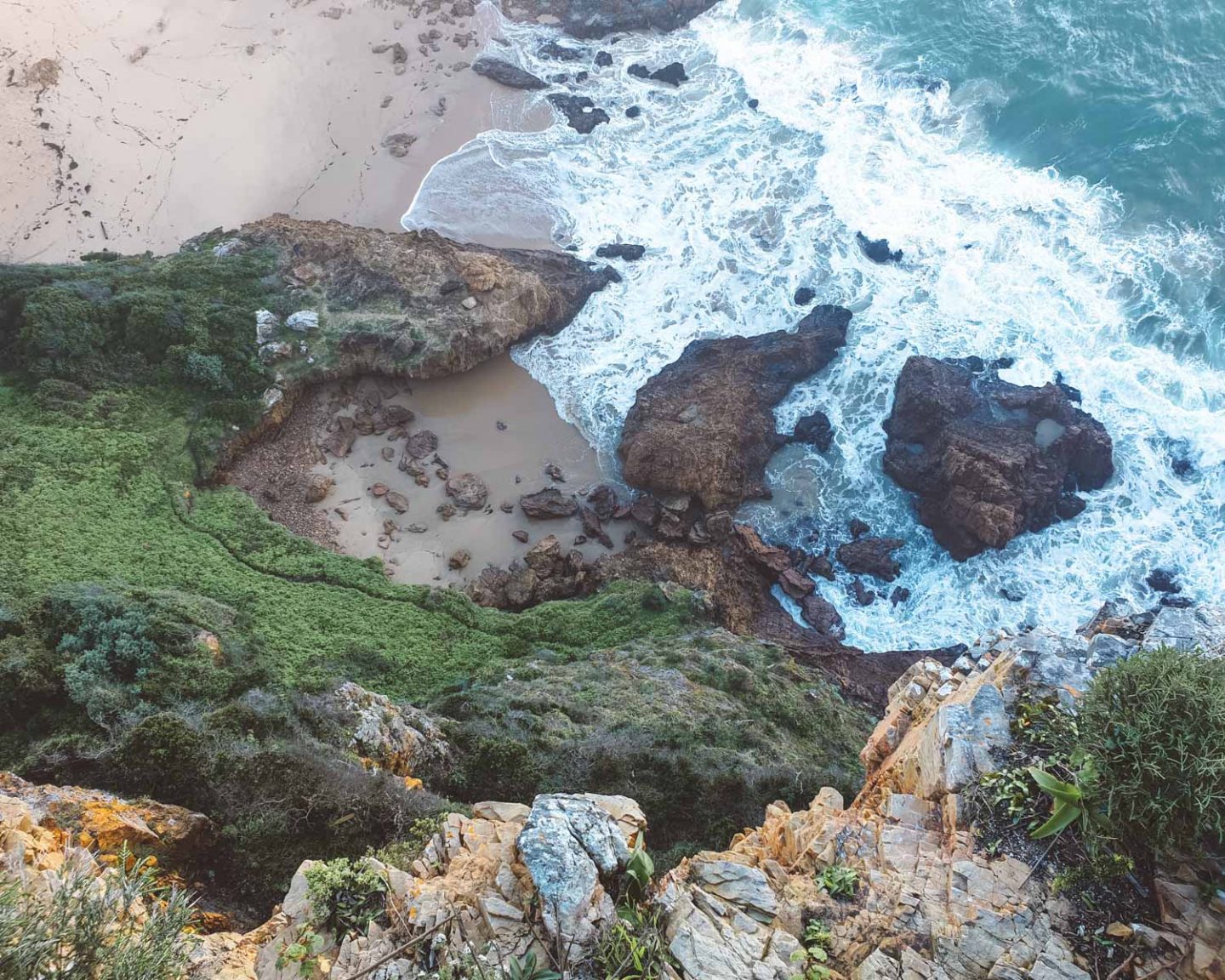 What to Do in Knysna
Knysna Heads: The Knysna Heads are massive sandstone cliffs that separate the Knysna Lagoon from the ocean. Park your car at the entrance of the Eastern Head (there is a security guard) and walk to the various lookout points. If you're visiting Knysna in the winter months, you might even see some whales! You can also drive down to another parking lot and follow a footpath that will take you down to the rock pools and the beach.
Go Scuba Diving in the Knysna Lagoon: The Knysna Lagoon is home to incredible marine biodiversity. The town's most famous underwater resident is the endemic and endangered Knysna seahorse. If you love wreck dives, don't miss exploring the Paquita, a German ship that sunk in 1903.
Hike in Goukamma Nature Reserve: Goukamma Nature Reserve has six trails ranging between 4-15km. You'll walk past pristine beaches, forests and bird lovers can see keep an out for the 220 species that call the reserve home.
Drive the Seven Passes Road: The Seven Passes is a 75km stretch of road between Knysna and George. It winds past lush forests and gorges and was declared a national monument in 1970.
---
What I Think of Teniqua Treetops
Staying at Teniqua Treetops is a dream and is perfect for couples or groups celebrating a special occasion or solo travellers that want to get away from it all. The prices are affordable especially considering what you get and the sustainability that went into building the property.
That being said, Teniqua is one of those lodges that is not for everyone. I highly recommend reading through this list on their website to make sure it's the property is the right fit your holiday / romantic rendezvous in Knysna.
Thank you for Teniqua Treetops for inviting me to their property! As always, all opinions are my own.
---
Psst…Want more South Africa travel inspiration? Check out my other posts:
Did you find this post useful? Save it for later on Pinterest!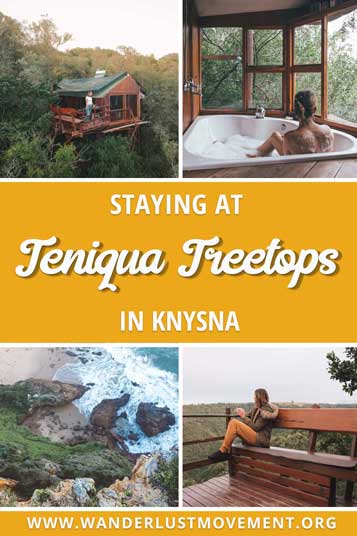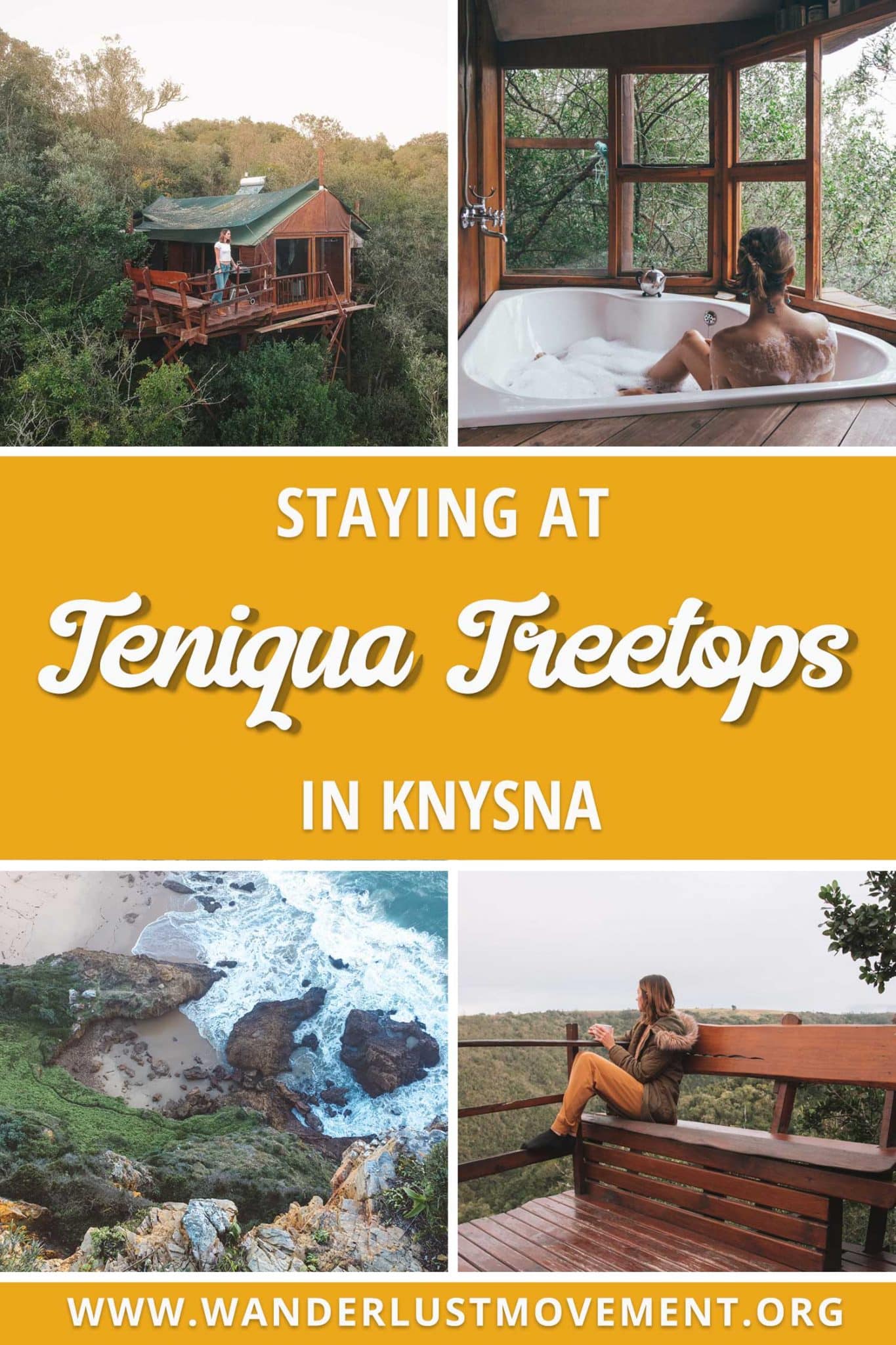 You don't have to ask me twice to stay in a freaking treehouse in the middle of a forest! Here's my review on Teniqua Treetops in Knysna!