Last Updated on July 28, 2021 by lauren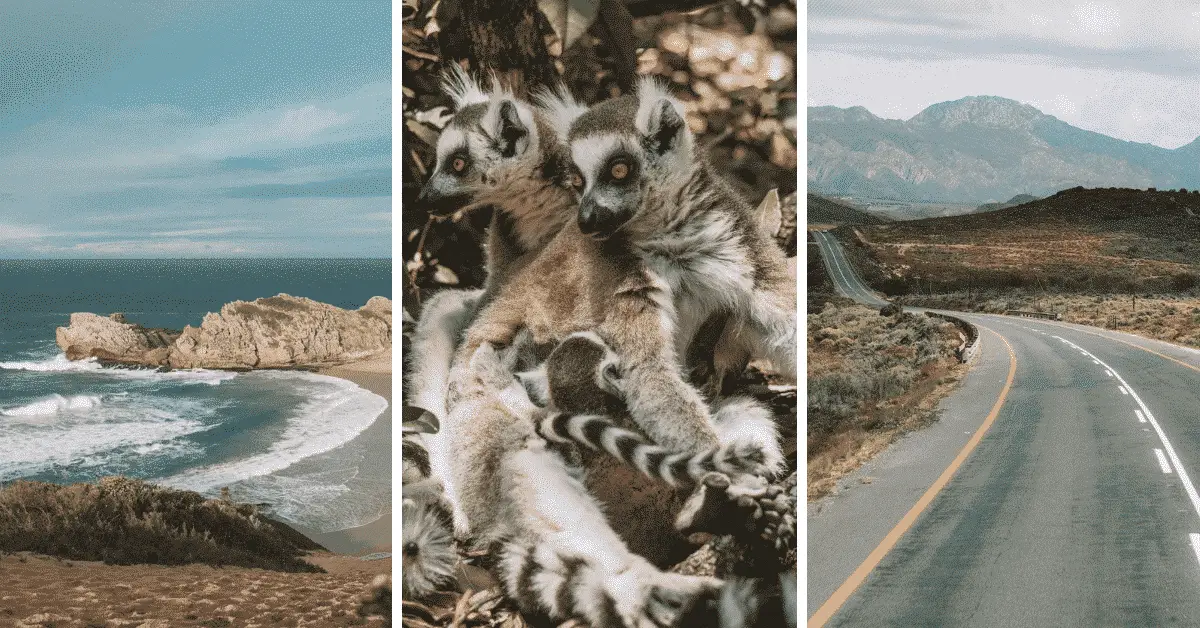 Let's cut to the chase: The Garden Route is out to ruin your life.
I mean, it covers 300 kilometres of breathtaking natural beauty. It's physically impossible to see everything in a single trip.
Believe me. I've tried.
I've completed three Garden Route road trips (this year!), and my bucket list hasn't gotten any shorter.
If it's your first (or 10th) time tackling one of South Africa's most beautiful attractions, you need to come to terms with not being able to see everything.
Whether you have three days or two weeks – sacrifices must be made.
But hey, that means you need to plan another trip as soon as you get back home.
So without further ado, here's my ultimate Garden Route itinerary from Cape Town complete with tips to help you plan a near-perfect trip up to South Africa's east coast!
What is the Garden Route?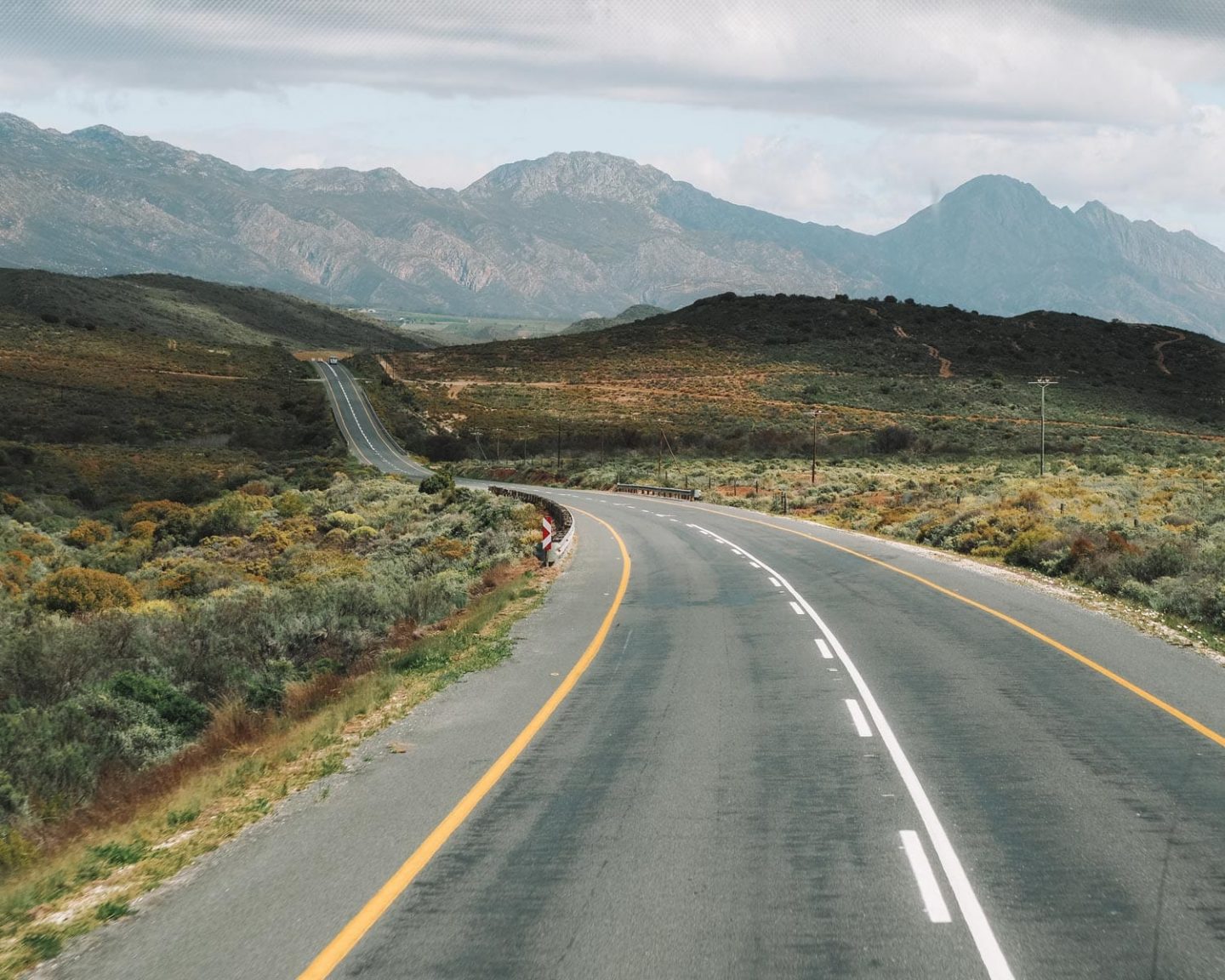 So what exactly is the Garden Route? Is it a town? A stretch of land? A place with a ton of well-manicured lawns and rose bushes?
The Garden Route is a show-stopping road trip that starts in Mossel Bay and ends at Stormsriver.
It meanders past the towering Outeniqua and Tsitsikamma mountain ranges, the Indian Ocean and the best multi-day hike in South Africa – The Otter Trail.
The main Garden Route towns are:
• Mossel Bay
• Wilderness
• Sedgefield
• George
• Knysna
• Plettenberg Bay
• Nature's Valley
• Stormsriver
How long does it take to drive the Garden Route?
It's totally up to you!
You can plan out a self-drive itinerary as short as three days or spend two weeks exploring the area. It all depends on how much time you have and what you want to see.
---
Garden Route Map
Here's a handy-dandy map of the Garden Route towns and what your Garden Route itinerary will look like if you follow mine below.
You can easily reverse it to start in Port Elizabeth instead of Cape Town.
---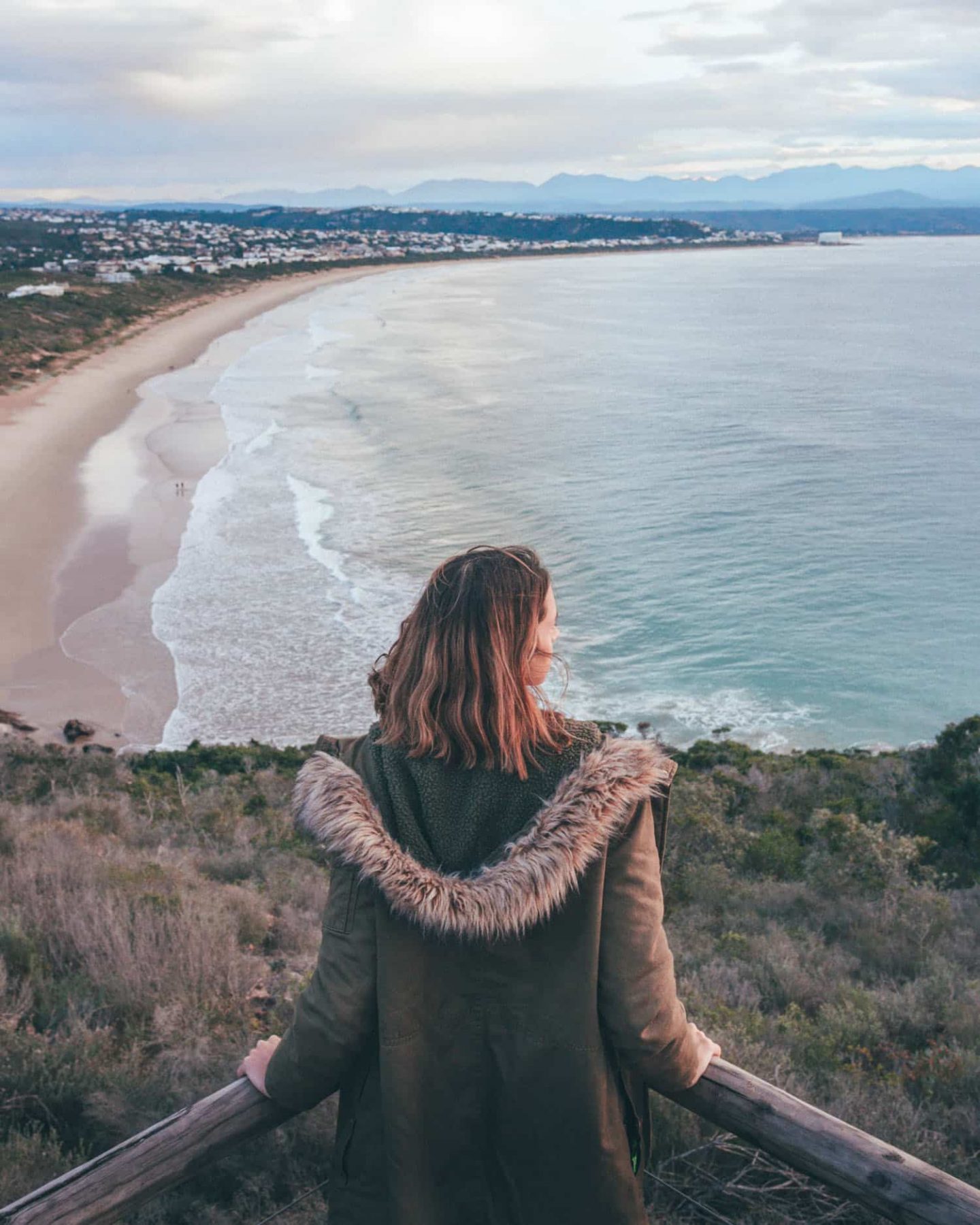 How to Get to the Garden Route
Drive From Cape Town
The beginning of the Garden Route (Mossel Bay) is an easy 4-hour drive from Cape Town.
You don't need to worry about hiring a 4WD for the trip. A standard hatchback will do the trick, and there's usually a petrol station along the N2 every couple of hours.
Fly into PE or George
Want to get to the Garden Route as quickly as possible? Fly into George from Johannesburg or Cape Town.
But if you have more time on your itinerary, book flights to Port Elizabeth. You can start your Garden Route itinerary from there and see a few more places like Addo National Park and Jeffrey's Bay.
Read More: Tips For Making The Most Out of Your Summer Road Trip
---
The Best Time to Visit the Garden Route
Spring (September to October): The Western Cape in spring is one of my favourite seasons! The Fynbos flowers are blooming, and it's the perfect time to frolic in fields of lavender and canola. It's also a shoulder season in South Africa (if you avoid the October school holidays), meaning you can pick up excellent deals on accommodation. Plus, the migrating humpback tales are still in town!
Summer (November to February): November to February is summer and temperatures and prices are sky-high. The schools are out, Plett hosts one of the biggest parties of the year (Matric Rage), and South Africans head to the coast in droves. Expect crowds at the popular Garden Route attractions, hotels to raise their rates and incredible weather.
Autumn (March to May): As temperatures cool down, the weather is perfect for hikes in the area. You'll find better hotel deals (try to avoid the madness that is the Easter holidays), and pack some warm layers for the evenings.
Winter (June to September): Calling all budget travellers! June to September is the best time to snag a deal along the Garden Route. Discounts are aplenty, the hiking is excellent, and the annual whale migration starts in July. The downside? It's cold. Do not leave your house without a jacket.
---
What to Pack for a Garden Route Road Trip
Hiking Boots: There are dozens of incredible hiking trails, but your Converse won't handle the terrain.
Rain Gear: It doesn't matter when you go to the Garden Route, rain is always a possibility. Come prepared!
Swimsuit: From the ocean to lagoons and hidden waterfalls. You'll find plenty of excuses to strip. I've obsessed with Gabrielle Swimwear. It's a South African designer who uses recycled plastic to create her designs.
Warm Jacket: The weather in the Garden Route changes super quickly. I spent a week there and spent three days freezing my ass off and the rest living in a pool of sweat.
Flip Flops: After the end of a hike, few things compare to the heaven of taking your boots off and sliding into a pair of flip floppies.
Dry Bag: Trust me. If a rainstorm blows in, you'll want one of these to stuff all your valuables inside. You can level up by tossing in a rain cover for your backpack as well.
Reusable Water Bottle: Save the turtles! Reduce your plastic waste and unleash your inner VSCO girl at the same time.
Car Mount: An absolute must for road trips! An easy way to avoid panicking when Google suddenly tells you to turn left.
Day Bag: Sometimes, a handbag isn't going to cut it. Bring along a backpack you can use for adventures where you need both your hands and more space for snacks.
Camera: While smartphones can take incredible photos, I'm all about investing in a DSLR or a mirrorless if you want to take your skills to the next level. For photos of the Garden Route, you can get away with an everyday lens like the Sigma Art 18-35mm. But if you're planning to go on a Garden Route safari or visit the wildlife sanctuaries, bring along a zoom lens.
Drone: There are some stunning places which are drone-friendly! I use the DJI Spark, and it's the perfect travel-friendly size.
GoPro: If you're planning Garden Route activities like kayaking, snorkelling, diving or black water rafting – a GoPro is always a good option. Don't want to buy one? You can rent a GoPro for your entire trip.
Tripod: A tripod with a remote shutter are photography essentials if you're exploring the Garden Route solo. I have my Masters when it comes to running into frame.
Travel Insurance: You never know what might happen. You could slip and fall off a mountain. You might get sick or leave your wallet at a restaurant. Get insurance and don't spend your holiday money on hospital fees.
Wild Card: Don't have a Wild Card? Get one! You'll save so much money on entrance fees to national parks and nature reserves along the Garden Route and everywhere else in South Africa. There are options for internationals, but unless you're living in SA, it's probably cheaper to not get it as the card is valid for an entire year.
Read More: The Ultimate Road Trip Essentials Packing List (+ Free Checklist!)
---
What to Budget for the Garden Route
Accommodation: The great thing about the Garden Route is that there are options for every budget. You can splurge on four to five-star hotels costing R6000 per night, spring for private rooms around R300- R500 or stay in a dorm from R150.
Food: Eating out at restaurants? You should budget between R120-R200 per meal with a drink. If you're staying at a guesthouse with a fully equipped kitchen, a week's worth of groceries for one to two people should cost around R500-R800.
Petrol: I used my Toyota Etios Cross for my last trip up the Garden Route and spent R600 for the 300-kilometre stretch. You also need to budget R50 for the Tsitsikamma Toll Gate Plaza on the N2.
Activities: Save as much as possible on accommodation and food if you're travelling to the Garden Route on a limited budget. The things to do in the Garden Route are incredible and are worth every penny! Go hiking in Tsitsikamma National Park or Robberg Nature Reserve for R50 or gather your courage and jump off the Bloukrans Bridge (the highest commercial bungee in the world) for R1,400!
---
7-Day Garden Route Itinerary
Day 1: Cape Town to George
Distance: 428km
Time: 4 hours 28 minutes
Set your alarms for an early morning wake up call and get ready for the long drive from Cape Town to the Garden Route.
You want to arrive in George by the afternoon to give yourself enough time to check-in and enjoy the town before sunset.
I think George is one of the best towns to base yourself if you don't want to keep changing hotels every day or so. You're within short driving distance of some of the best Garden Route attractions, plenty of restaurants, and a mall if you're having Woolworth's withdrawals.
Check-in to Whispering Oaks
Channel your inner hopeless romantic and stay at Whispering Oaks. It's a beautiful guesthouse and one of my favourite Garden Route accommodation options.
You'll have a cosy room with a giant bed, heated floors, an industrial-chic bathroom and a delicious breakfast to start your day.
The rooms do come with a microwave, plates and cutlery. If you want to keep your costs low, pack a ready-to-go meal and eat in.
Read More: Staying at Whispering Oaks in George, South Africa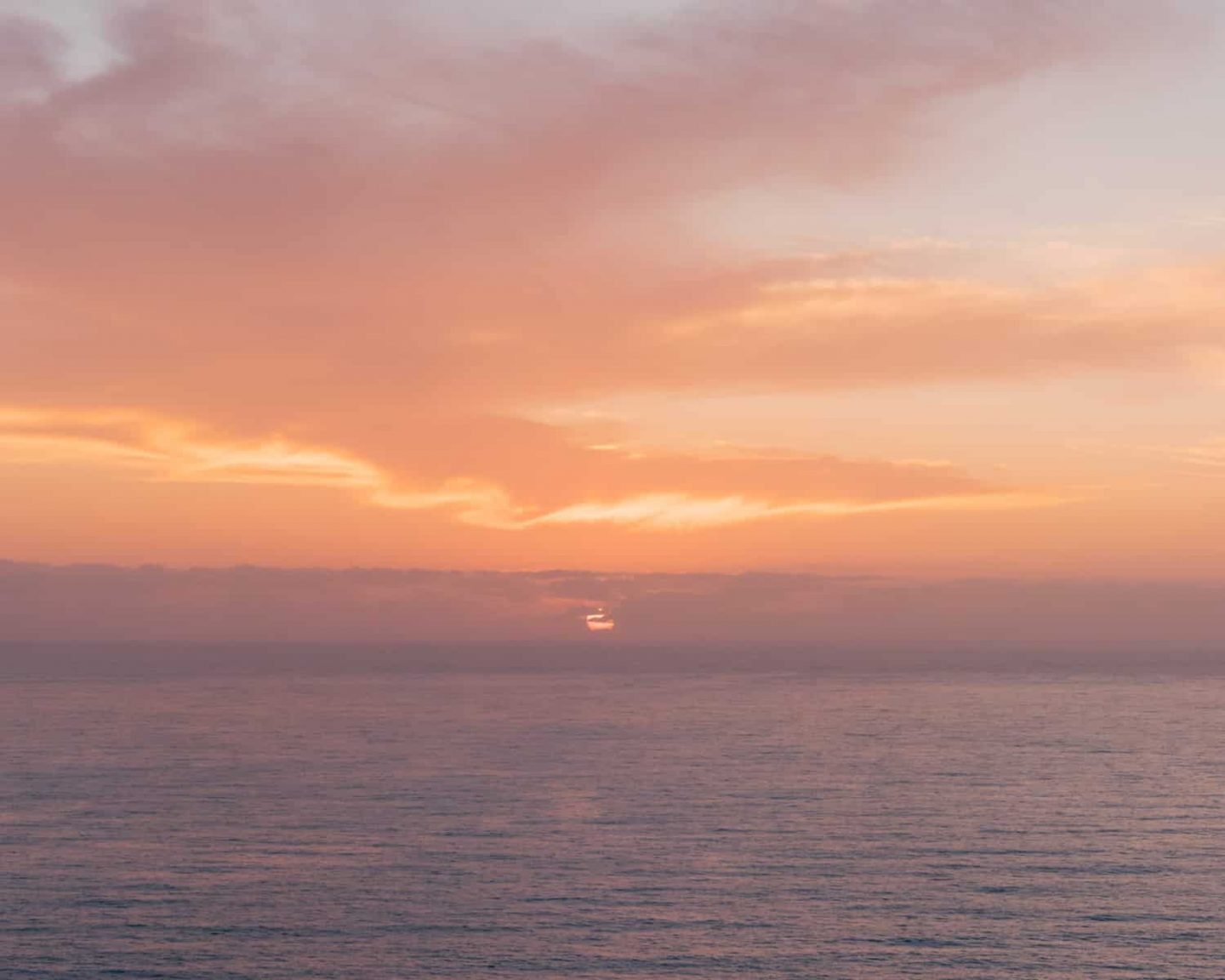 Spend the Day at Victoria Bay Beach
Once you've unpacked your bags and had some lunch, make your way down to Victoria Bay Beach. It's a small glossy gold beach, nested in a cove between George and Wilderness.
If you're a surfer – you're in luck!
Victoria Bay Beach is famous for its right point break and is one of the best surfing spots in the Garden Route.
---
Day 2: George to Knysna
Distance: 62.6km
Time: 51 minutes
Explore the Seven Passes Drive
Check out and make your way to Knysna – the scenic way!
Instead of hopping back onto the N2, turn up Hoekwil Road and explore South Africa's iconic Seven Passes Drive.
It's a 75km stretch of road which winds past lush forests and breathtaking gorges and is one of the best things to do in Knysna!
Check-in to Teniqua Treetops
Why stay in a run-of-the-mill hotel when you can spend a night in an eco-friendly treehouse overlooking the Knysna indigenous forest?
Teniqua Treetops is one of the most romantic Garden Route accommodation options and offers an experience you won't find anywhere else.
Your bath looks over the gorge below, and breakfast is delivered to your door in a basket!
BUT if you're squeamish when it comes to bugs, Teniqua might not be the best option. The local rain spider population likes to pay a visit from time-to-time.
Read More: Staying at Teniqua Treetops in Knysna
Drive to The Heads for Sunset
I don't know about you, but finding a beautiful spot to have a sundowner is one of my favourite road trip traditions.
And The Heads in Knysna do not disappoint.
The giant pair of sandstone cliffs separate the Knysna Lagoon from the sea, and there are a bevvy of spectacular viewpoints.
---
Day 3: Knysna to Plettenberg Bay
Distance: 32.4km
Time: 29 minutes
Go on an Early Morning Hike
I'm not sure what's happened in the last three years, but I've blossomed into a morning person. I don't think twice about waking up for sunrises or hiking in the dark to conquer a mountain in time for sunrise.
If you're an early riser or you want to avoid hiking during the heat of the day, check-out of Teniqua as soon as you can and drive down to Goukamma Nature Reserve.
It's a 23-minute drive, and the reserve has six trails ranging from 4-15km. You'll get to wander past remote beaches, and pristine through indigenous forests.
Stay at Urban Plett
If it's a cosy and adorable chalet you're after, Urban Plett checks all the boxes.
It's one of the most charming (and quirky) places to stay in Plettenberg Bay, and it's within walking distance of bars, cafes and restaurants.
Relax in a claw-toothed tub with a glass of wine, unwind with a good book in front of a roaring fireplace or cook up a storm in the fully-equipped kitchen.
Watch the Sunset and Have Dinner at Emily Moon River Lodge
Emily Moon River Lodge oozes luxury with a distinct African flair. Set on the banks of the Bitou River, you can expect uninterrupted views of the wetlands and mountains as you sip on your G&T.
The exclusive boutique hotel has a gorgeous restaurant and bar. Both are decked out with quirky collectors' items in every nook and cranny – it's a photographer's dream!
You can dine by the pool or retreat into the exquisite dining hall. If you're visiting the Garden Route in high season (December to February), I'd recommend reserving a table as it's one of the most popular spots in Plett.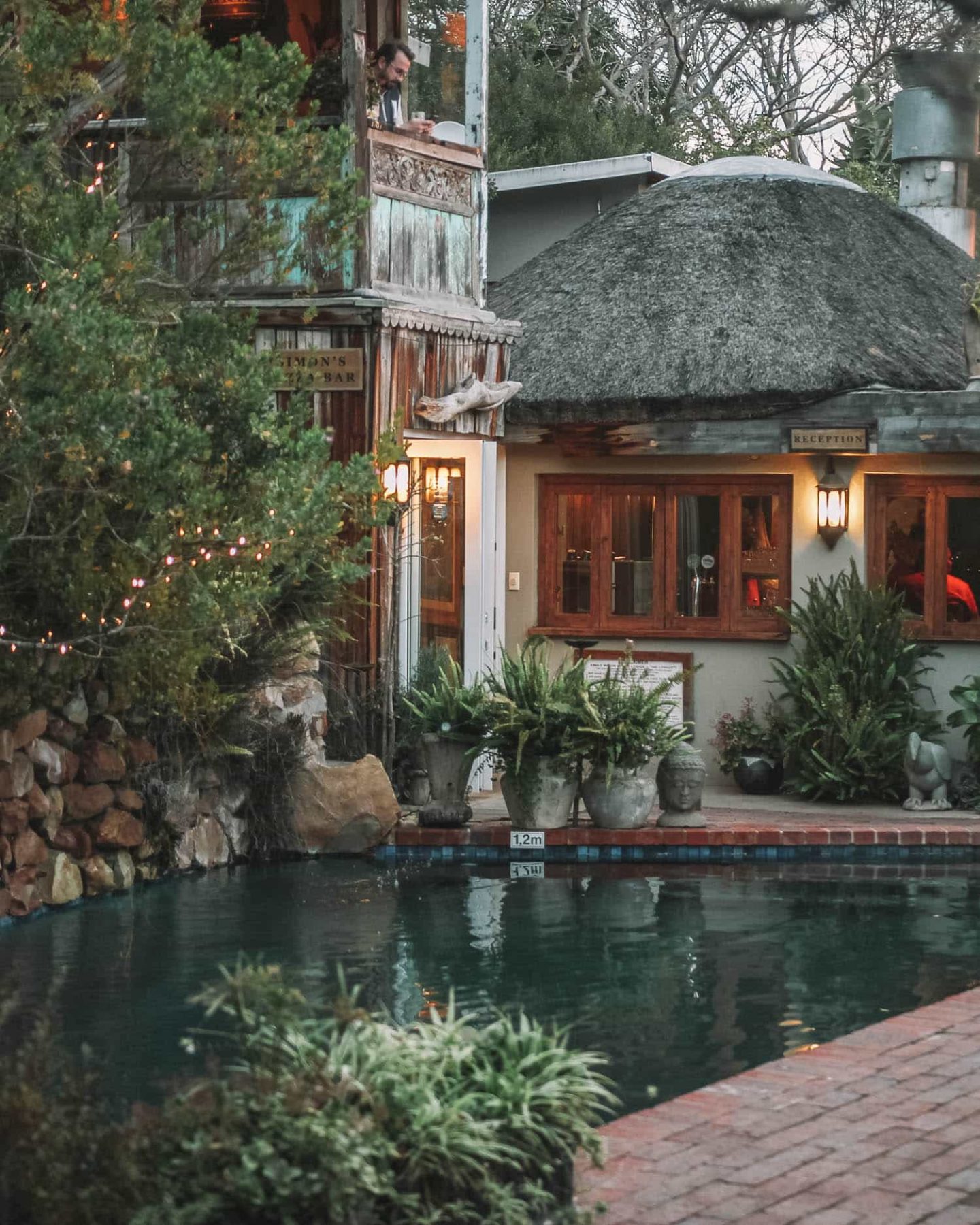 ---
Day 4: Plettenberg Bay to Nature's Valley
Distance: 34.1 km
Time: 32 minutes
Go on a Hike in Robberg Nature Reserve
Ah, Robberg!
One of my favourite places to visit along the Garden Route. It's a World Heritage Site and a region of South Africa with rocks that date back to the break-up of Gondwanaland.
Don't want to strain your muscles too much? Tackle the quick 30-minute hike. You'll get gorgeous views of the coastline, and there's plenty of spots to stop and take photos.
If you want something more challenging, hike the 4km trail. It will take you past sand dunes and the beach before looping back to the car park.
If you're lucky, you might even spot a Great White Shark stalking some seals!
Read More: Hiking Robberg Nature Reserve: Everything You Need to Know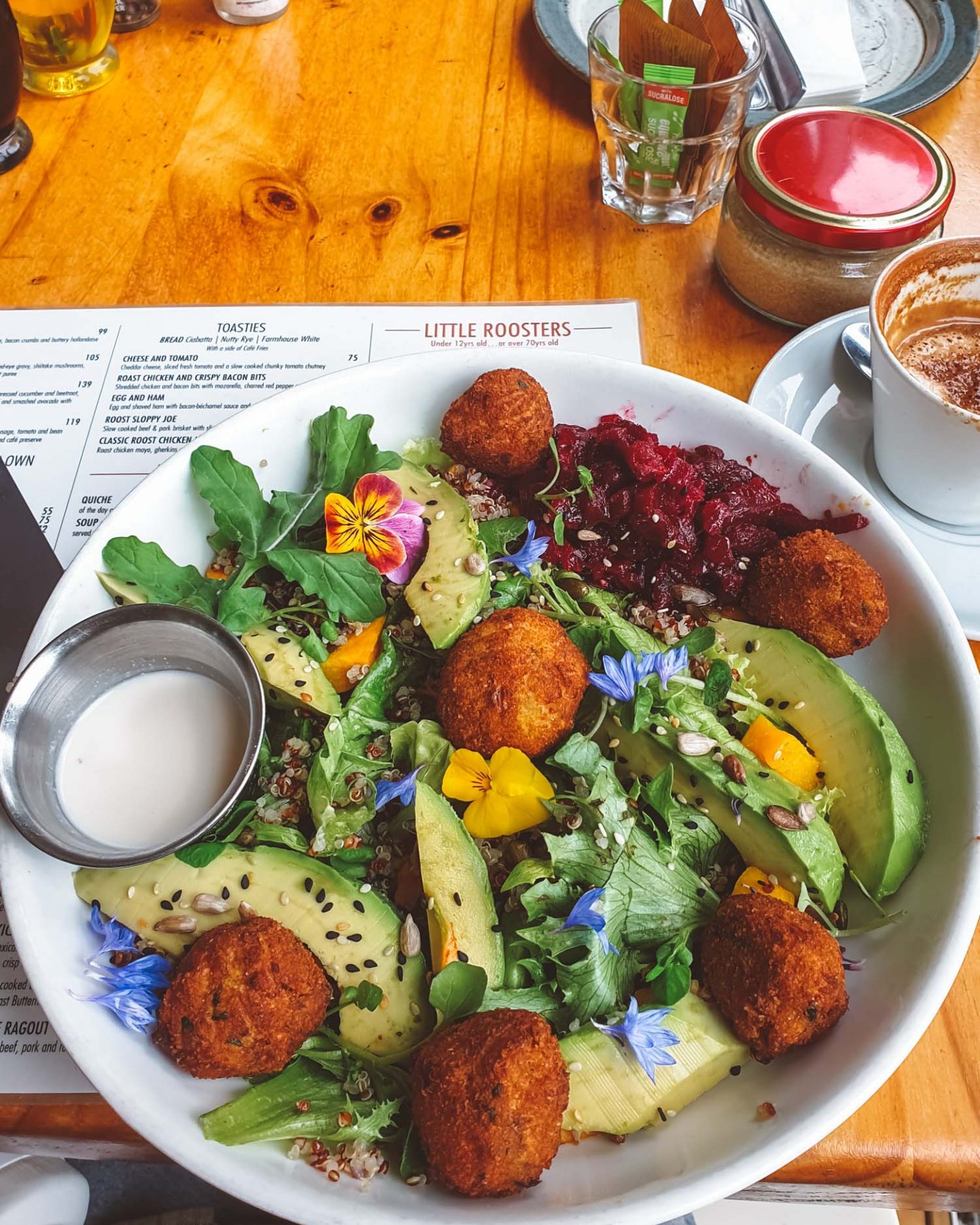 Have Brunch at Roost Cafe in Old Nick Village
My tastebuds are obsessed with Roost Cafe.
I don't think it's possible for me to drive into Plett and not come here for a meal.
There are delicious and wholesome meals for vegans, vegetarians and every other dietary preference in between. The coffee is incredible, and the Wi-Fi is strong.
Once you've had your fill, you can wander around Old Nick Village. There are dozens of little shops selling all kinds of trinkets.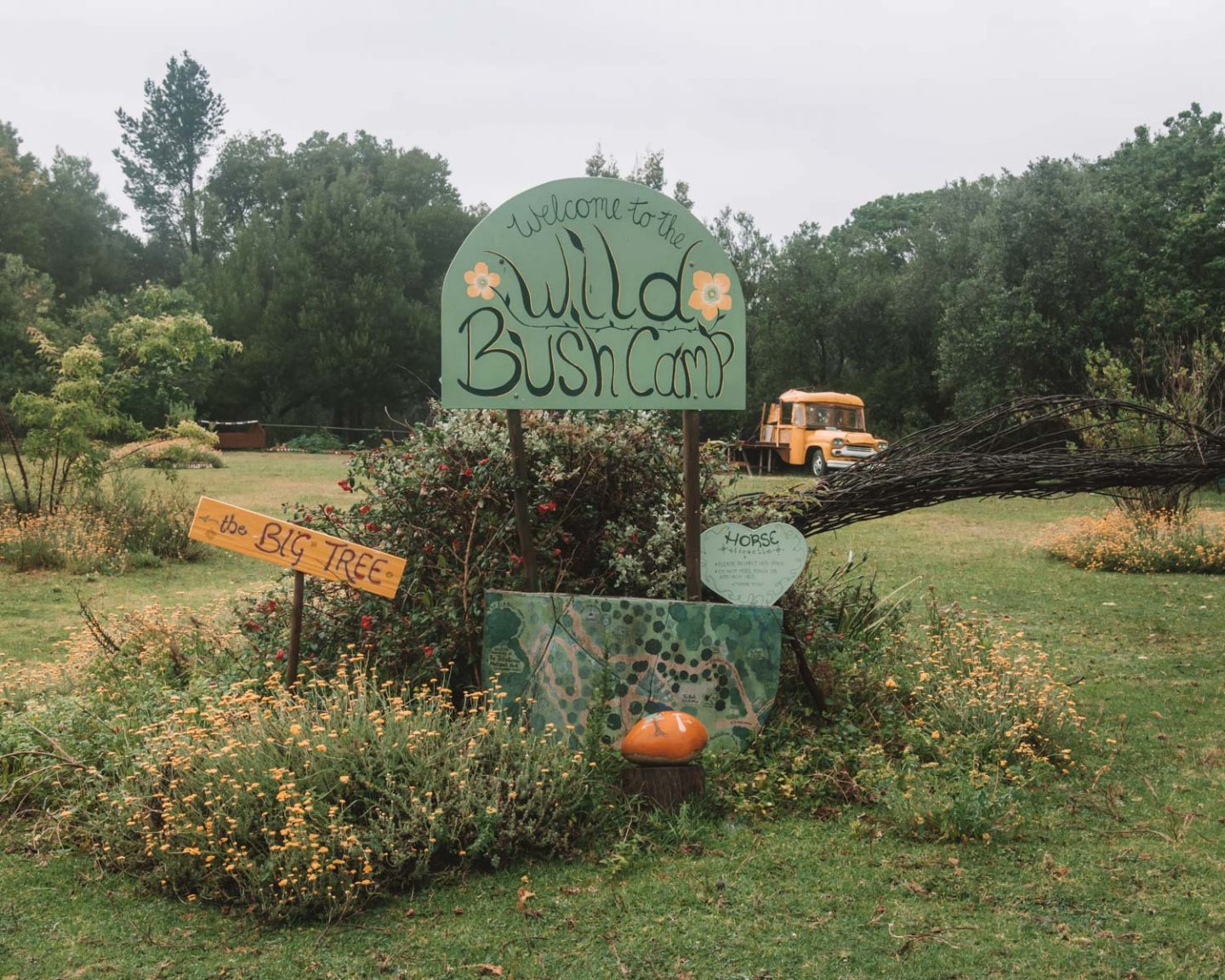 Stay at Wild Spirit Backpackers
I know what you're thinking:
"Ewwww! A backpackers. I'm waaaay too old for that bull crap in a wine glass."
I feel you.
I'm on your level when it comes to people snoring like avalanches and having sex in the same room as me.
But hear me out.
Wild Spirit Backpackers is a special place in the Garden Route, AND private rooms are available.
I spent an entire week here, and while it rained the ENTIRE time, I still loved every second.
Surrounded by the indigenous forests of Tsitsikamma National Park, Wild Spirit is all about reconnecting with nature, eating well and Green Living.
Visit Jukani Wildlife Sanctuary
Out of the three wildlife sanctuaries I visited along the Garden Route – I didn't know what to expect from Jukani.
I wasn't 100% sure if it was ethical.
But after spending over an hour here, I'm stoked to say that Jukani is an incredible place.
It's home to:
• Bengal tigers (including a white one!)
• Lions
• Jaguars
• Pumas
• Caracoles
• Cheetahs
• and more!
All of their big cats are rescues from canned hunting farms, zoos or circuses. There are one to two cats per enclosure (only if they get along) and there's more than space for them to roam, hide and enjoy the sun.
Jukani doesn't breed their cats (all the females are on contraceptives). No one is allowed to use their former names (to stop them from responding to humans), and the local vet frequently visits to make sure they're all in tip-top shape.
While it makes my heart sore none of these big cats ever got to experience life in the wild because of humans, I'm glad they ended up in Jukani.
Want to see as many big cats as possible? Come first thing in the morning! It's cooler, and the cats won't be seeking shelter from the sun.
---
Day 5-6: Nature's Valley to Stormsriver
Distance: 40.4 km
Time: 35 minutes
Go to Birds of Eden and Monkeyland
For your last day in Nature's Valley, aim to leave Wild Spirit Backpackers by 7:30 am. I know it's early, but trust me it's worth it!
You want to get to Birds of Eden at 8:00 am sharp. It's the world's largest free-flight aviary, and the staff are putting out food, making it much easier to spot some of the 3,500 birds.
Plus, the morning light through the aviary is gorgeous for photos!
Once you're done exploring the sanctuary (it's massive!) walk across the road to Monkeyland.
Monkeyland is the worlds first free-roaming multi-species primate sanctuary. It's home to lemurs, gibbons, howler monkeys, the Bolivian Squirrel Monkey and more!
If you wear glasses, put them away or use contacts. The vervet monkeys can and will steal them right off your face.
This may or may not have happened to me.
How to Save Money: If you want to visit all three sanctuaries (Jukani, Birds of Eden and Monkeyland), you can buy a multi-site ticket. It's R560.00 for all three, R450.00 for any two and R280 for a single visit.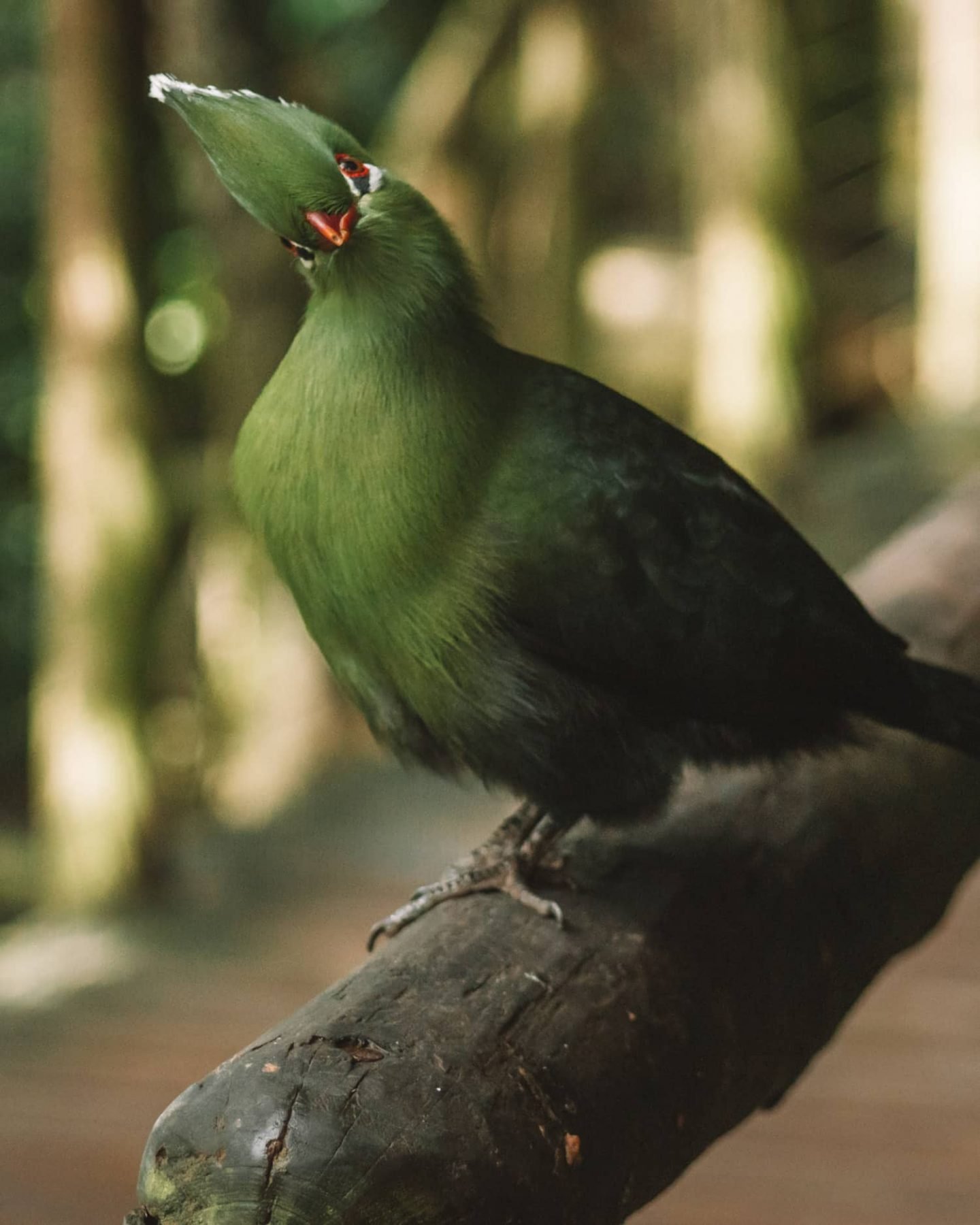 ---
Stay at Axe 'n Tubes Boutique Lodge & Backpackers
Axe 'n Tube is one of my favourite budget-friendly Garden Route accommodation options. It boasts deluxe dormitories, eco-friendly luxury safari tents and private rooms
Greg and I stayed in the tents during our road trip up to the Smoking Dragon New Years Eve Festival and loved it!
We had complete privacy, and the lodge is within walking distance of Storms River restaurants and shops.
BUT it's on our bucket list to stay inside Tsitsikamma National Park at one of the chalets! Imagine waking up to these views every morning!
*swoon*
Explore Tsitsikamma National Park
Ever since I stumbled across Tsitsikamma's Suspension Bridges on Instagram, I knew I had to go there.
I couldn't believe such an incredible place existed in South Africa, and I became hell-bent on seeing it IRL.
And boy, have I kept that promise.
In 2019 alone, I explored Tsitsikamma THREE times, and each time I feel like it's not enough.
Here are some of the things you can do in Tsitsikamma:
• Hike the first 6km of the Otter Trail
• Scuba diving
• Blackwater tubing
• Bloukrans bungee jump (the highest commercial jump in the world!)
• Tsitsikamma Canopy Tour
• Suspension bridges
Read More: Hiking The Otter Trail in South Africa: Absolutely Everything You Need to Know
---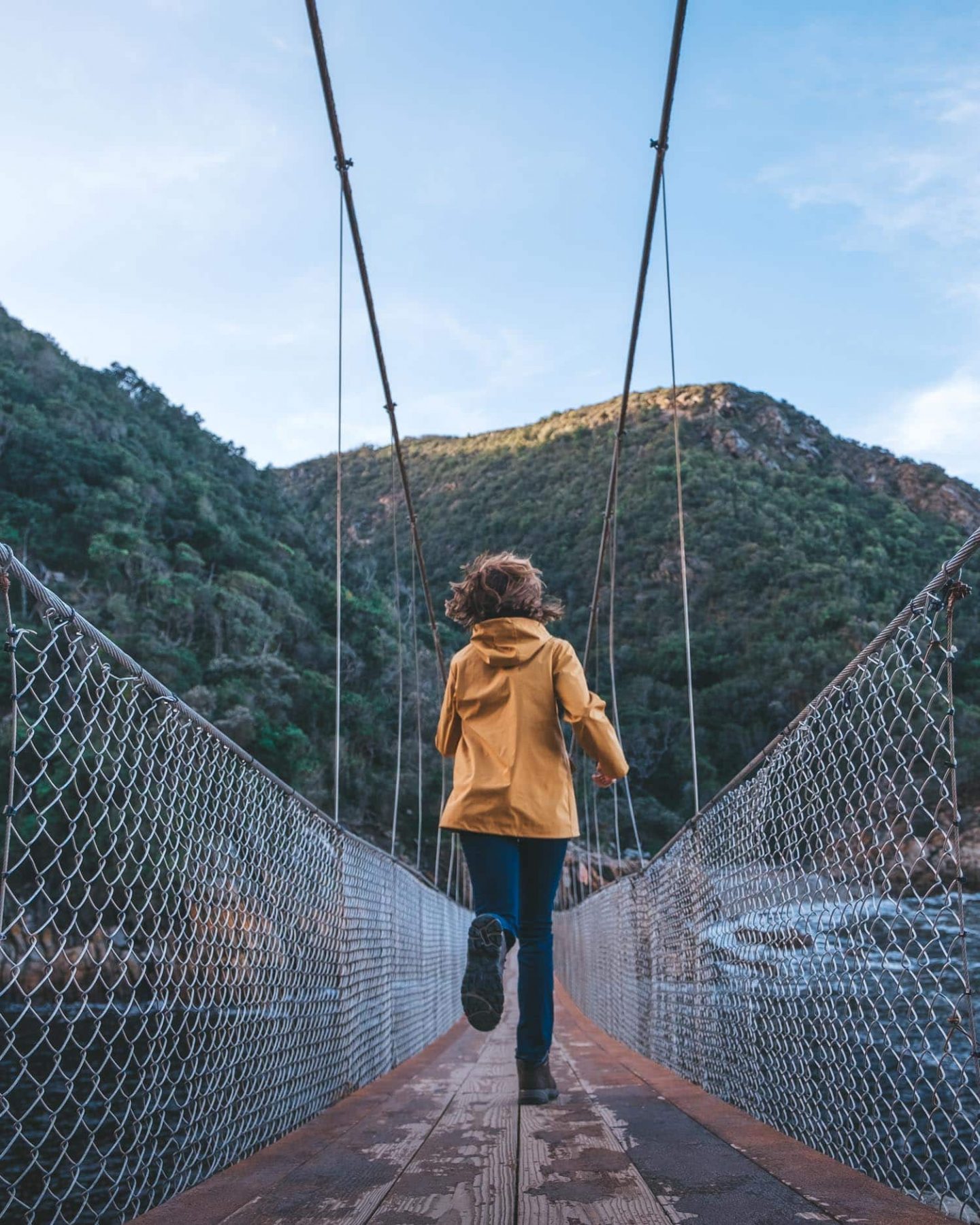 Day 7: Stormsriver to Cape Town
Distance: 583km
Time: 6 hours 32 minutes
I know what you're thinking.
Lauren, I can't still for six HOURS. Are you kidding me?!
If you're not built for long hours on the road, and you have the time to add another day onto your Garden Route itinerary.
Here are some options to make the trip back to Cape Town more bearable:
Optional Garden Route De-Tours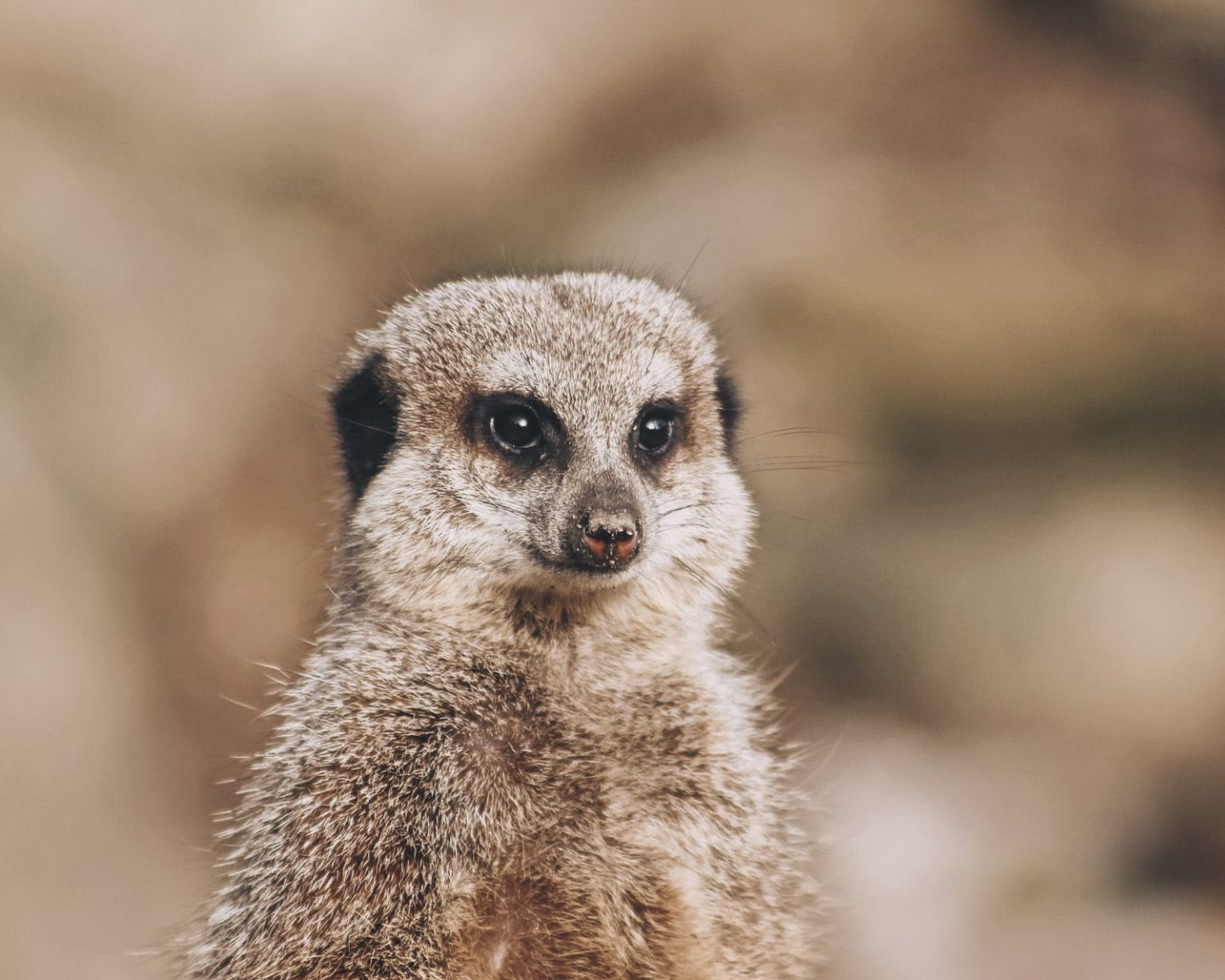 Oudtshoorn
Distance from Stormsriver: 3 hours / 214 km
Distance from Cape Town: 4 hours 44 minutes / 420 km
Want to live out your wildest Lion King fantasies? You can visit a mob of meerkats in Oudtshoorn!
You need to spend the night here as the tours only take place at sunrise. The tour costs R660.00, and no touching or feeding of the animals is allowed.
Swellendam
Distance from Stormsriver: 4 hours 10 minutes
Distance from Cape Town: 2 hours 30 minutes
Swellendam is often overlooked by travellers heading to the Garden Route, but the sleepy Western Cape is the perfect pit stop for history buffs and oenophiles.
The town is home to impressive Dutch colonial architecture, a wine route and it's a day trip away from the Southernmost Tip of Africa.
Read More: Staying At Schoone Oordt Country House in Swellendam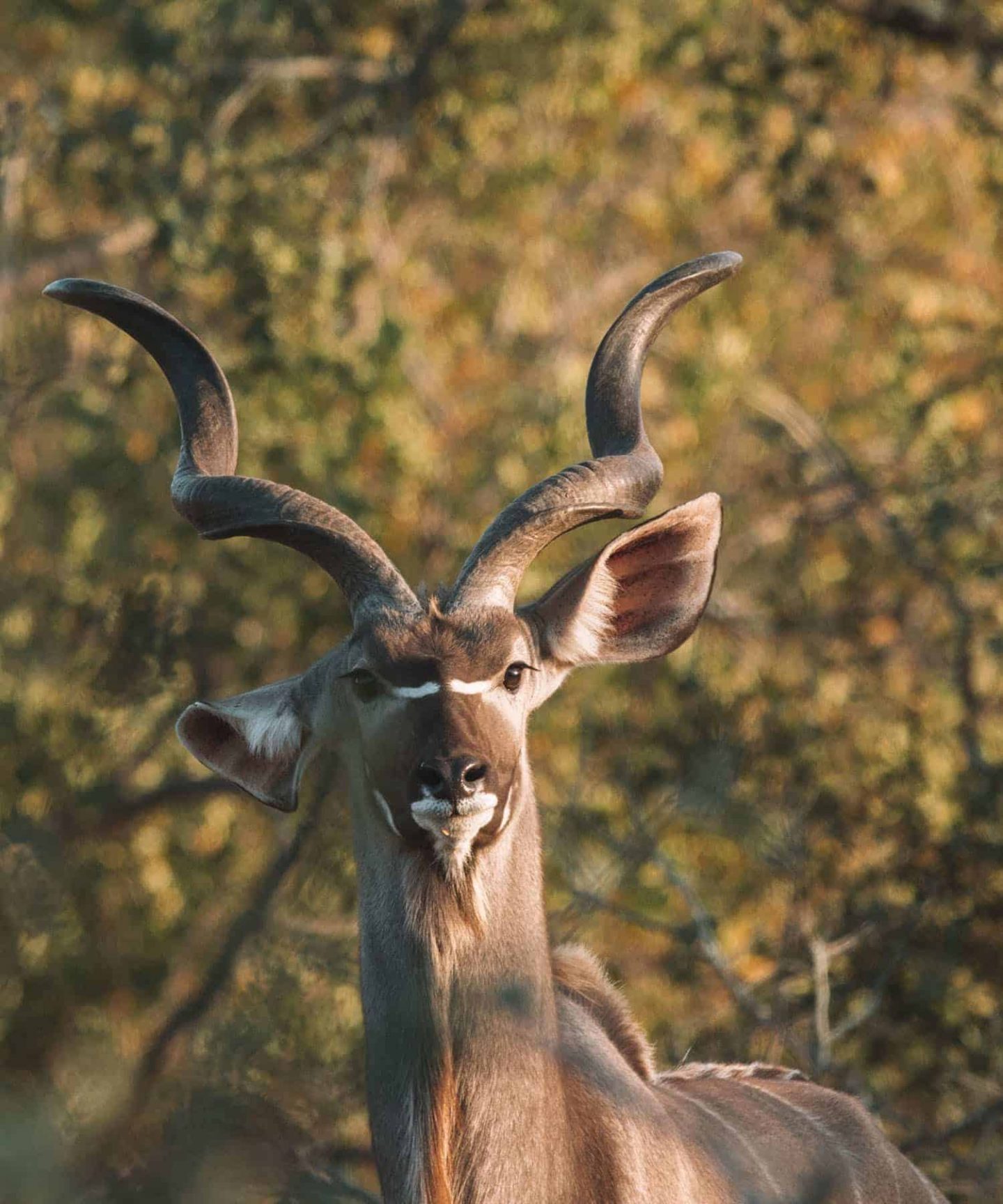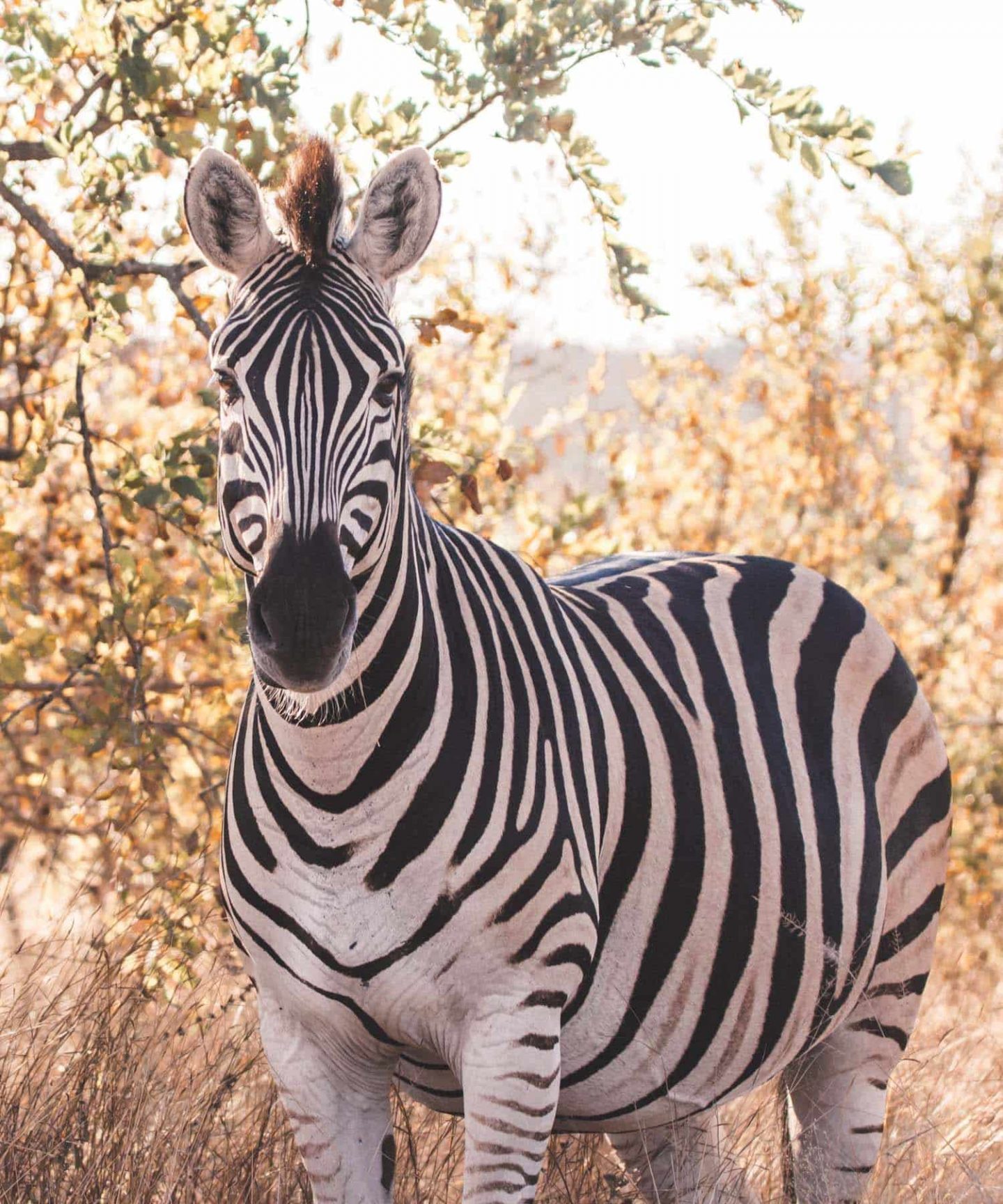 Gondwana Game Reserve
Distance from Stormsriver: 2 hours 43 minutes
Distance from Cape Town: 4 hours 15 minutes
Get your Garden Route safari fix with a trip to Gondwana Game Reserve. It's the only free-ranging Big 5 private game reserve in the Southern Cape and is one of the best places to see wild lions, rhino, elephants, leopard, buffalo, zebra, giraffe and more!
But you need to stay on the property and book a safari package. Give it a skip if splurging R7k -R10k per night makes you cry salty tears on the inside.
Hermanus
Distance from Cape Town: 1 hour 34 minutes
Distance from Stormsriver: 5 hours 36 minutes
Hermanus is a gorgeous sea-side town less than two hours away from Cape Town. If you're planning your Garden Route itinerary around whale season (July to October), spend one night here.
You can wander along the cliff path, spotting the gentle giants from the shore or join a tour for an up-close experience.
Read More: Staying at One Marine Drive Boutique Hotel in Hermanus
Addo National Park
Distance from Stormsriver: 2 hours 18 minutes
Are you level 9000 obsessed with elephants?
Don't miss out on a self-drive through Addo National Park. It's one of my favourite places in South Africa and home to over 500 elephants.
It's also the only place in South Africa where you can see the Big 7 (lion, leopard, elephant, buffalo, rhino, great white shark and the southern right whale)!
Read More: How to Visit Addo National Park: A Complete Self-Drive Safari Guide
---
10 points to you, Glen Coco! You made it the end of my ULTIMATE Garden Route itinerary!
Do you have any questions? Did I miss out some Garden Route highlights you love? Hit ya gurl up in the comments and let's discuss!
---
Want more South Africa travel inspiration? Check out my other posts:
?If you like it, then you should put a pin on it ?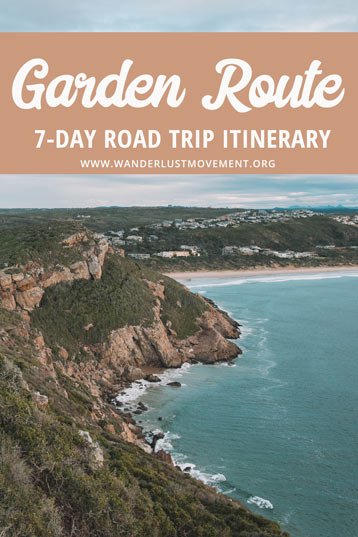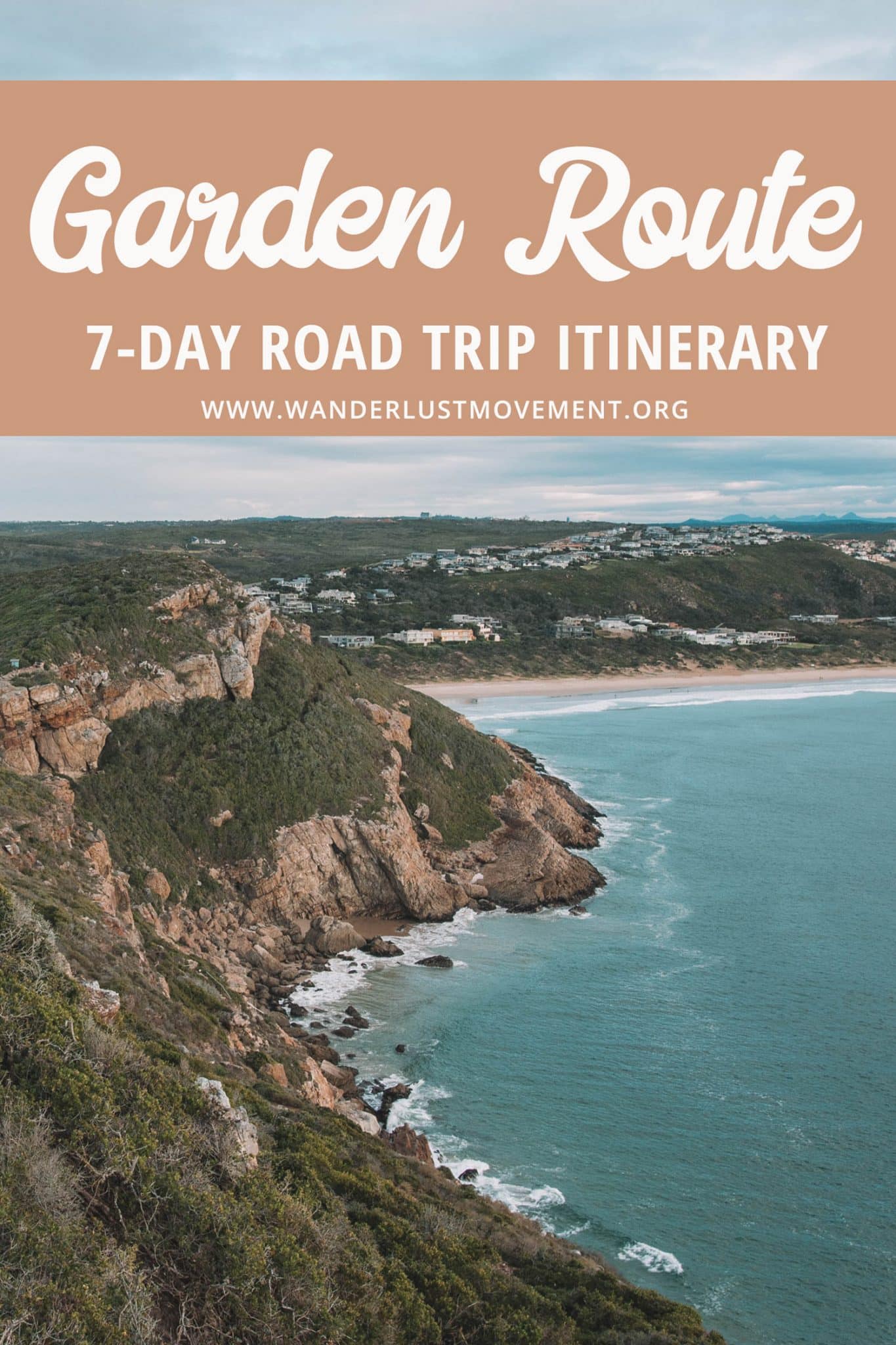 Tackle one of the best road trips in South Africa! Here's an epic 7-day Garden Route itinerary with all the top highlights.