Last Updated on September 21, 2020 by lauren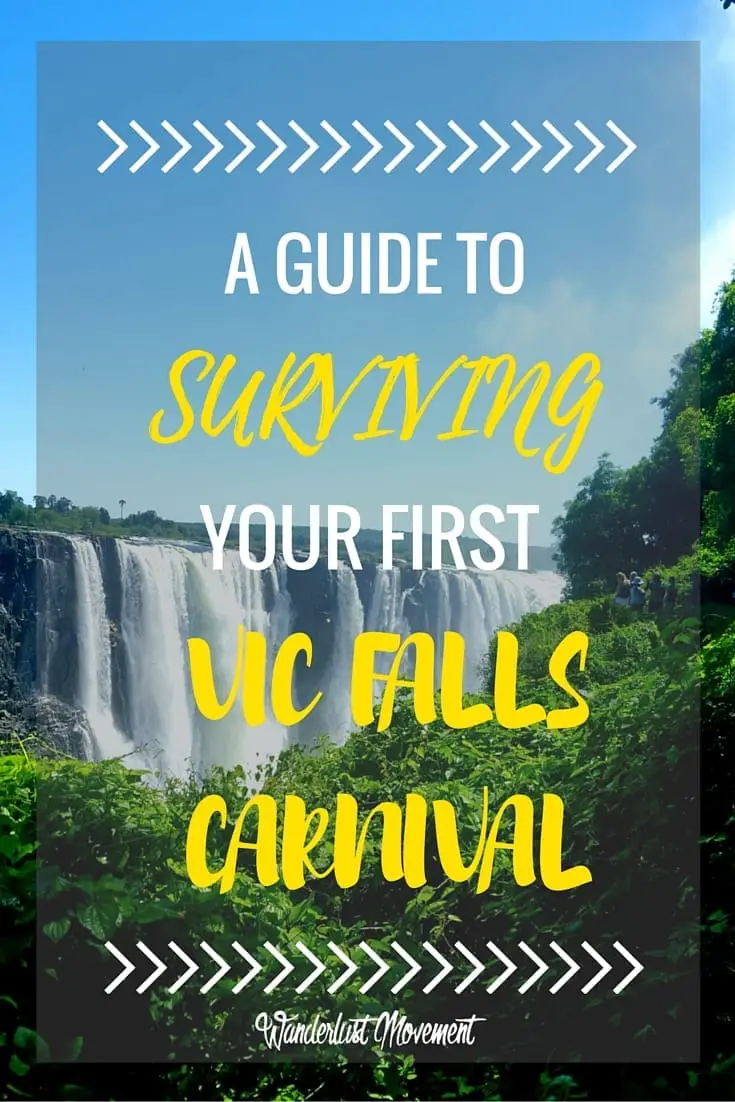 The Vic Falls Carnival is no ordinary new years ever party. It is a three-day action-packed event filled with party trains, booze and lots of adrenaline pumping activities. Hold on to your hats people, you are about to go on one wild ride.
Here's a guide to booking tickets, getting there and making the most out of the next 72 hours.
Buying Tickets
The first step to getting yourself to Africa's most exciting New Year's festival is buying the tickets. If you just want to buy the ticket it can be broken down into various combos:
Day 1 – A train party at a secret location.
Day 2 – Various community parties.
Day 3 – General admission to the New Year's Eve party.
Or a combo ticket of all three.
But, if you are looking to inject some adventure or luxury into your new year's plans, I highly recommend looking at the travel packages. Depending which country you are travelling from, there are a whole bunch of options to choose from.  You can view the list on the official Vic Falls Carnival website.
The packages typically include your accommodation, most meals and in some cases, transport to Victoria Falls. You can:
Splurge and ring in the new year in style at the luxurious Elephant Hills.
Camp at Adventure Lodge.
or go on a 7-day overland trip extravaganza!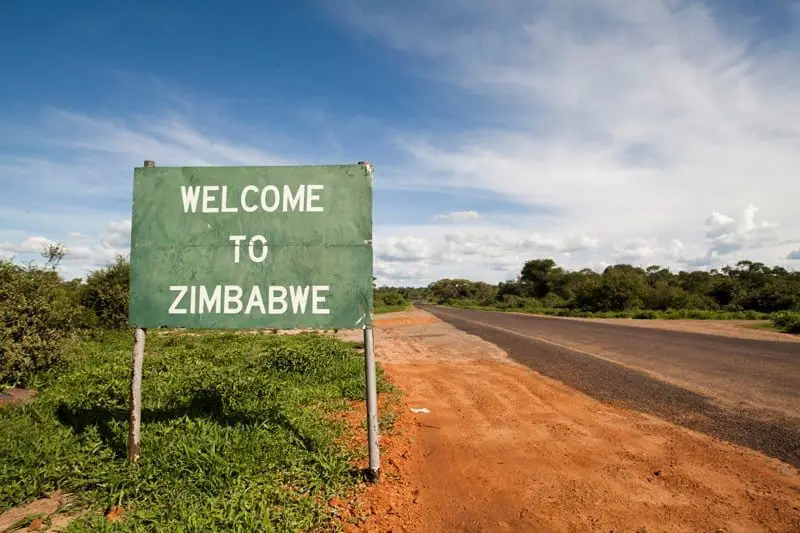 Photo by: Sydelle Willow Smith
---
Getting to The Vic Falls Carnival
Yip. I went for the 7-day overland trip. Why? Because I love road trips! Plus the drive there goes through a game reserve. Hello, free safari!
If you aren't into to rough it out in a truck with 20 other awesome people and spend two nights camping in Palapye, Botswana, you can fly straight from Johannesburg to Victoria Falls in just a couple of hours.
But, you will be missing out on free wildlife, incredible sunsets, and the pre-party buzz.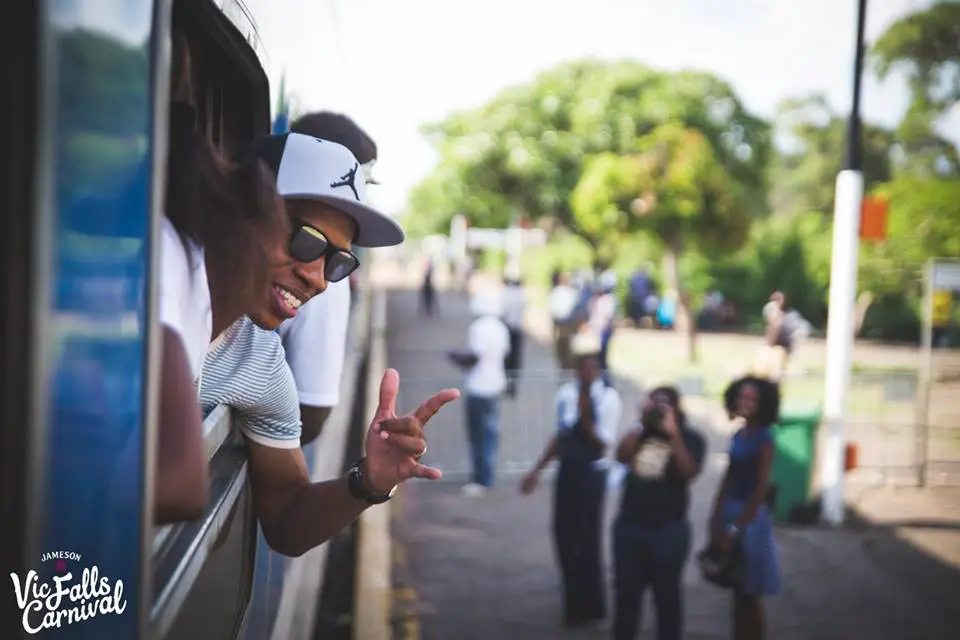 Photo by: Kurt Sassenberg
---
What to Bring
Victoria Falls is hot during December. I am a South African and I didn't end up water river rafting because the heat made me it's bitch.
This a fair warning to those of you travelling from colder climates – drink at least 2 litres of water a day. And if you are going to be drinking, I'd suggest keeping a bottle on you to stay hydrated and keep the party going.
The tap water in Botswana and Zimbabwe is not drinkable. Make sure you only drink from sealed water bottles.
A debatable thing to bring is Malaria medication. This caused some debate on my bus as well as a few others. I decided not to take any malaria tablets and just bought a ton of mosquito cream, coils and candles to keep the bloodsuckers at bay. This is a personal choice at the end of the day and is really up to you and your GP.
For non-US, EU and AUS travellers like myself, your pocket will be a lot happier if you decide to pre-game. Pack some beers, coolers and spirits to take with you and the sting of $3 for a beer won't hurt as much.
A few things to add to your Vic Falls festival checklist:
✓  2 or more 5-litre water bottles
✓  Sleeping bag
✓  Blow-up mattress
✓  A torch
✓  Pillow(s)
✓  iPod
✓  Phone Charger
✓  Camera
✓  Sunblock
✓  Clothes
✓  A towel
✓  Toiletries
[mc4wp_form id="3814″]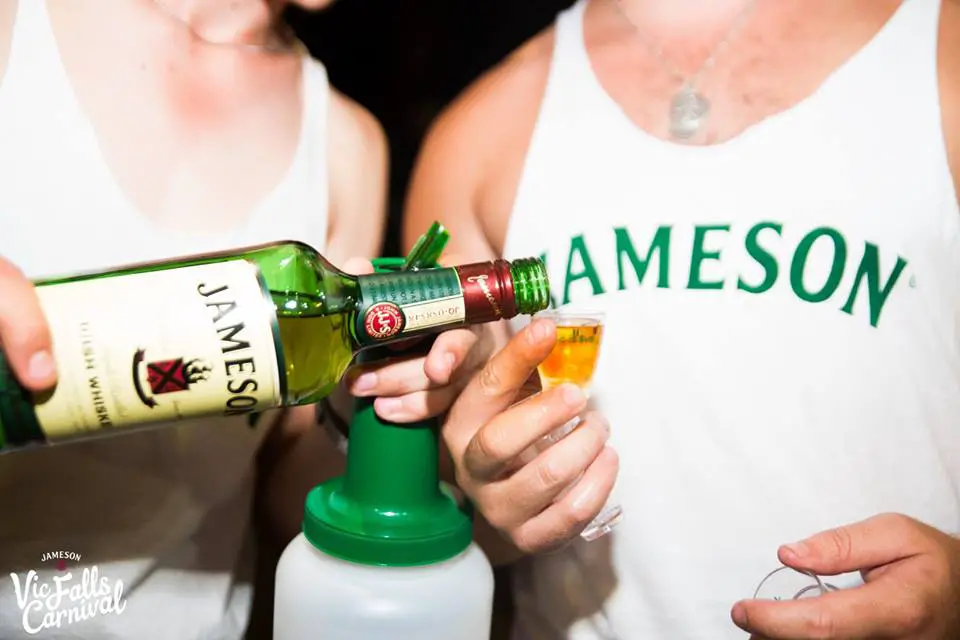 Photo by: Kurt Sassenberg
---
What to Eat
If you are looking to save money at the Vic Falls Carnival I recommend packing food. Treat it like a normal camping trip and stick to non-perishables and nothing that needs to be kept refrigerated.
For my trip I packed the following snackables:
Fruit
Rolls
Packets of chips
Carrots
Peanut butter
Long life milk
Cereal
Cooked quinoa
Nuts
Gummy bears
South Africans really like to braai (BBQ) so I am pleased to report that there are braaing facilities at the campsite! My bus got together on the final night and put in money to go buy a ton of meat, pap, chakalaka, rolls and salad.
Besides DIYing your own meal, there are many shops, fast food outlets, and restaurants to choose from. Crocodile meat is a staple in Zimbabwean restaurants so if you aren't an adventurous eater double check you ordered chicken.
Photo by: Tim Fisher
---
What to Wear
Anything that will keep you cool. Temperatures reached close to 40 degrees while I was there so lightweight breathable fabrics are a must.
Here a few essentials to remember to bring:
A good pair of closed walking shoes.
Sandals or flip-flops that you don't mind getting dusty.
A light jacket for the evenings.
A swimming costume.
Sunglasses and a hat.
Something a bit fancier for New Years Eve if you like dressing up.
During the day, I pretty much lived in harlem pants and tank tops and covered up with some light knitwear in the evenings.
As a rule of thumb, don't pack anything that is expensive and would make you said if it got damaged or stolen. This is not Rocking The Daises people. The festival fashion elite won't be there to judge your outfit choices.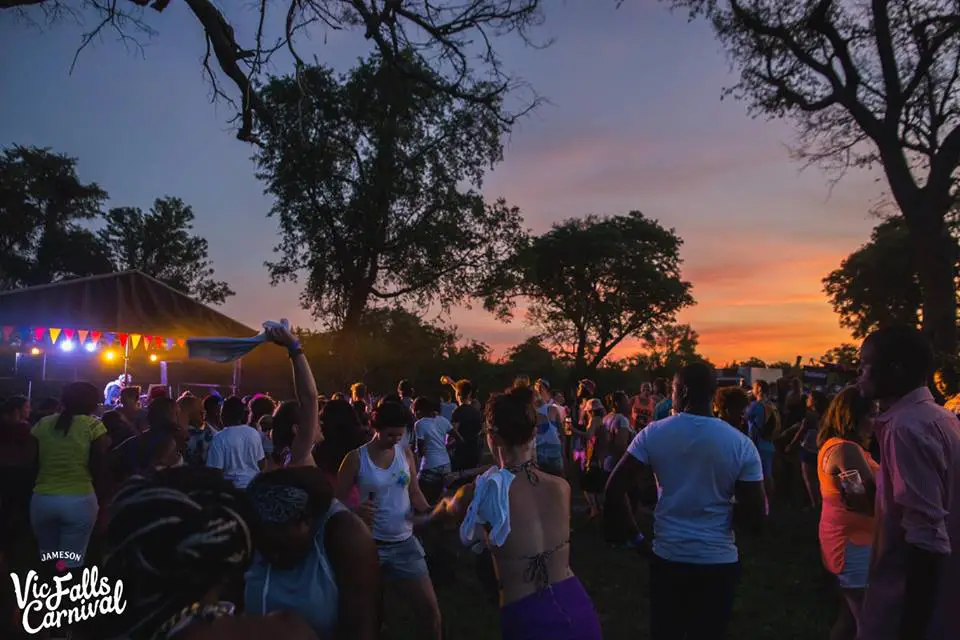 Photo by: Kurt Sassenberg
---
What To Do During The Day
The Victoria Falls Carnival is a three long day party but it is not a 24/7 one. This means that in between nursing your hangovers you get to explore a UNESCO World Heritage site in walking distance from your accommodation! How incredible is that?!
The best way to see the falls is by doing one of the many adventure activities. Choose from white river rafting, bungee jumping, gorge swinging, helicopter flights and much more.
If you want to do the famous devil pool experience, book well in advanced. That was the only trip that was sold out before I arrived in Victoria Falls.
Other less adrenaline pumping activities include:
A sunset cruise down the mighty Zambezi.
A day trip safari to Chobe National Park.
High tea at the Livingstone hotel.
Read Next: 8 of the Best Victoria Falls Adventure Activities
I went to see the falls on both sides of the border and recommend going to the Zimbabwean side if you have to choose. It is cheaper for SADC passport holders, you get a lot closer to the falls (seriously, bring protection for your cameras) and the river on the Zambian side is not pumping at that time of year.
---
Let Go!
Photo by: Kurt Sassenberg
There is ample opportunity for this at the Vic Falls Carnival so you have no choice! It's time to get your dancing shoes on.
Before the New Year's Eve soak up the party atmosphere as much as possible!
Get on the party train and stomp the night away, go to the after parties at the backpackers, check out the local outdoor club next door to Adventure Lodge and go have fun.
Because nothing is going to prepare you for how amazing the main Vic Falls Carnival will be on the night. Do yourself a favour and go a bit early to watch the smaller African bands. Take in the culture and prepare yourself for one hell of a night as the venue starts to fill up and the main headliners welcome in the new year.
Be sure to check out the Vic Falls Carnival website for more information on tickets to this year's event.
Do you have any tips for surviving the Vic Falls Carnival?