Last Updated on August 22, 2020 by lauren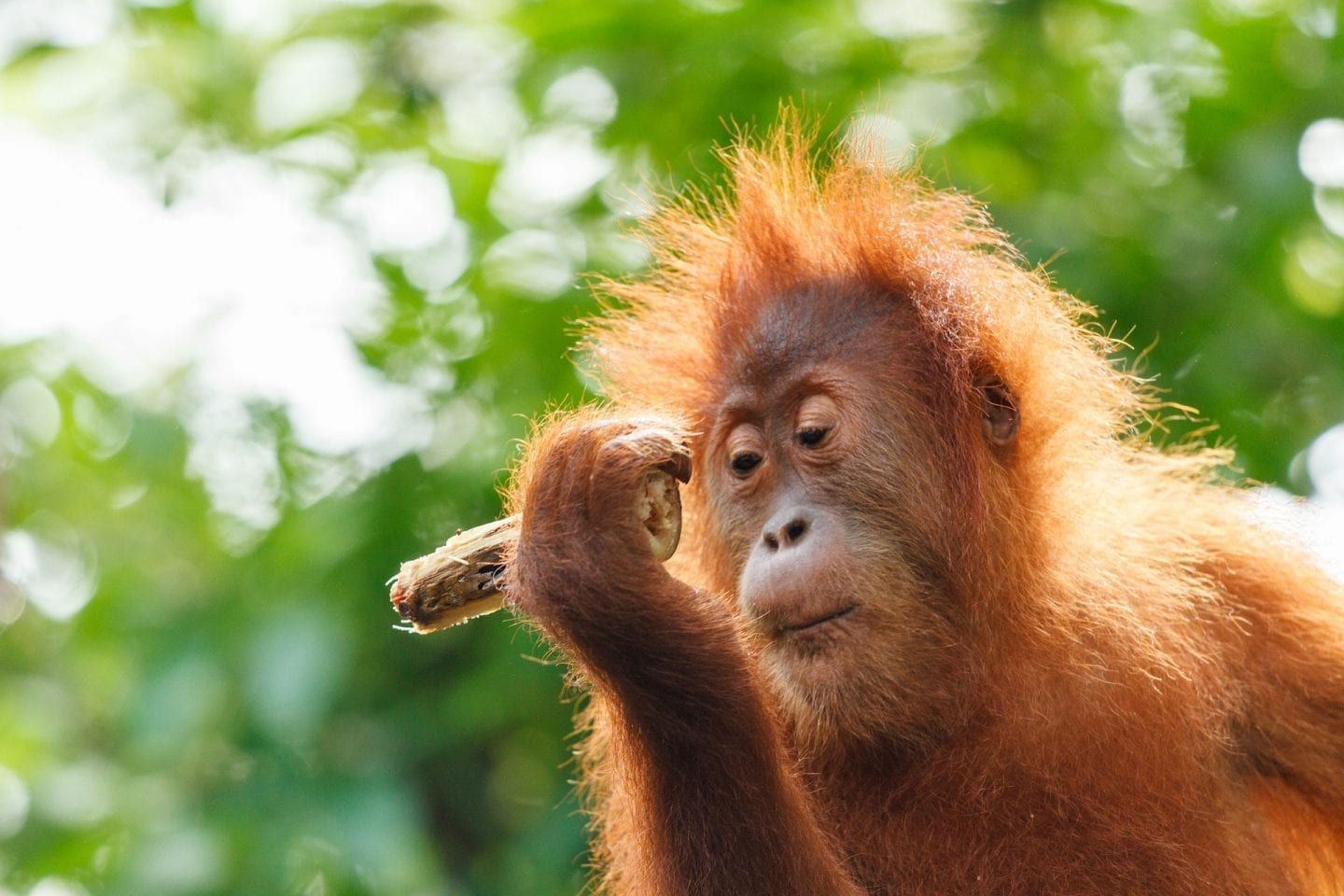 Borneo is one of the top destinations in the world for wildlife and nature lovers.
(Side note: I am obsessed with the island and can't wait to go back).
It's home to endangered orangutans, pygmy elephants and the proboscis monkeys – and that's just on land. If you venture into the ocean, you'll find sea turtles laying their eggs on the nearby Lankayan Island (!) and whale sharks are easily spotted with visibility reaching up to 40 metres.
(The beautiful coral reefs and marine life are enough to tempt me to try scuba diving again.)
But when you decide to go to Borneo will impact on what you can expect to see as well as how much you'll be paying for accommodation.
With the island lying on the equator, Borneo doesn't experience the typical four seasons in a year. Instead, you'll find a dry and wet season that will dictate the type of weather and how much wildlife you encounter on your trip.
Here's what you need to know about the best time to visit Borneo, Malaysia!
Dry Season in Borneo: March to October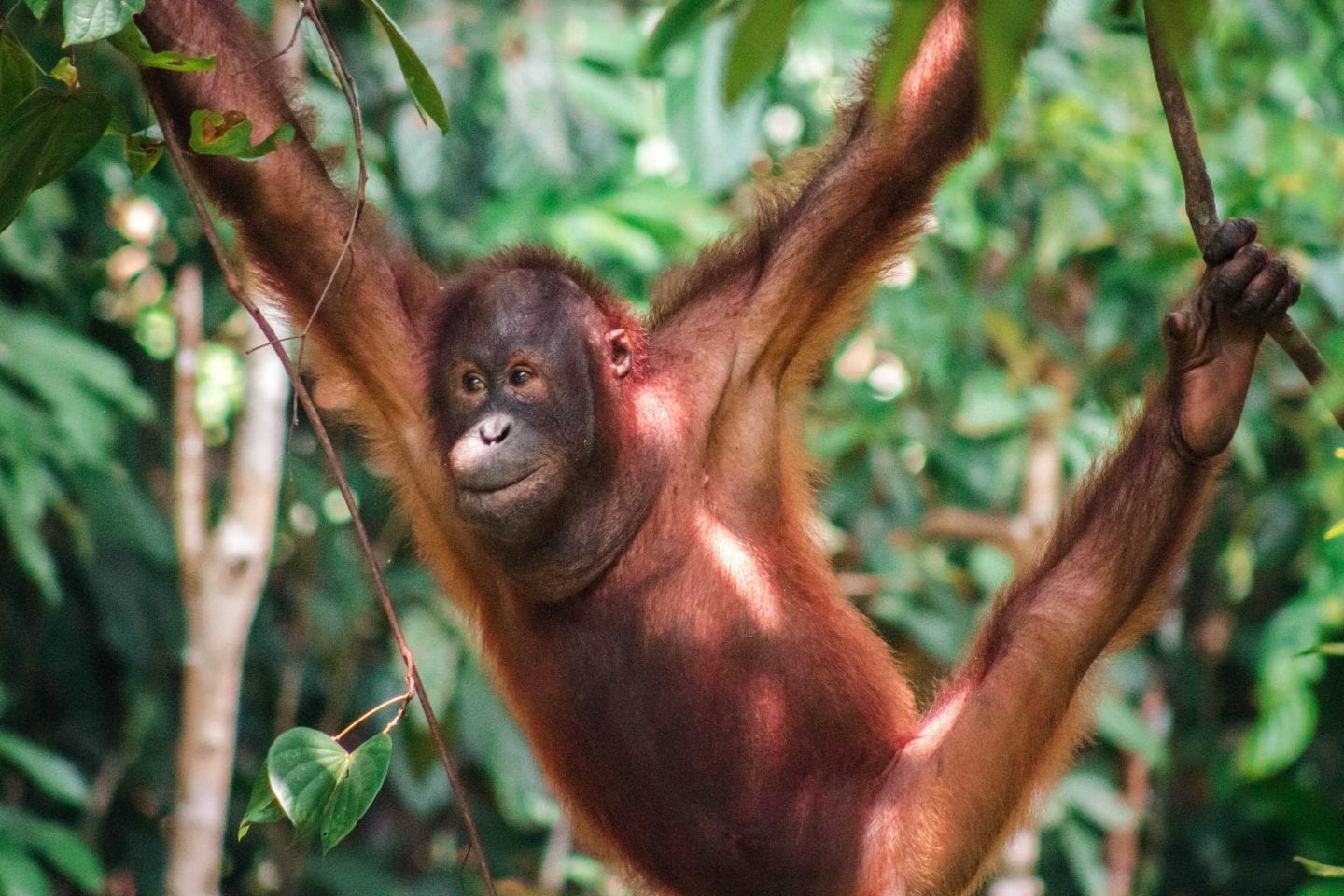 While other Southeast Asian destinations like Thailand and Vietnam are at their wettest, Borneo is dry.
March
The best time to visit Borneo for budget travellers is in March.
There is little chance of rain, fewer crowds and it's the start of whale shark season. With fewer people visiting the island during this month, you'll have a wide choice of accommodation and be able to stay in some of the best lodges at a fraction of the price.
Read Next: How to Backpack Sepilok, Borneo on a Budget
April
Borneo in April is excellent for trekking.
There is less chance of rainstorms, and you'll have a good chance of seeing wild orangutans while exploring the trails. The lack of rain means conditions are perfect for summiting Mt Kinabalu, the highest mountain in Borneo.
And with temperatures reaching 29°C, the pristine beaches of Kota Kinabalu, Gaya Island and Lankayan Island are beckoning you to cool off in their turquoise waters.
Bring on the coconut drinks!
May
May marks the beginning of high season in Borneo.
Prices for accommodation will start to increase as more visitors arrive. But if you don't mind making more room in your budget, jungle trekking is at it's best with the orangutans and other wildlife out in full force.
If you're a music lover, don't miss the Miri Jazz Festival. Held in Sarawak every year in May, the 2-day event invites well-known artists from all over the world.
June
Borneo in June is the best time to visit Borneo to see wild orangutans.
The island's fruiting season is at its peak, and the promise of food lures the notoriously shy creatures out of the depths of the forests.
June also marks the start of turtle season at Lankayan Island. Travellers can book a stay at the island's resort for a chance to watch the adult Green and Hawksbill turtles make their way to the shore to lay their eggs.
If that's not enough turtle action for you, the island also has a hatchery that you can volunteer at and help with conservation efforts.
RIGHTEOUS!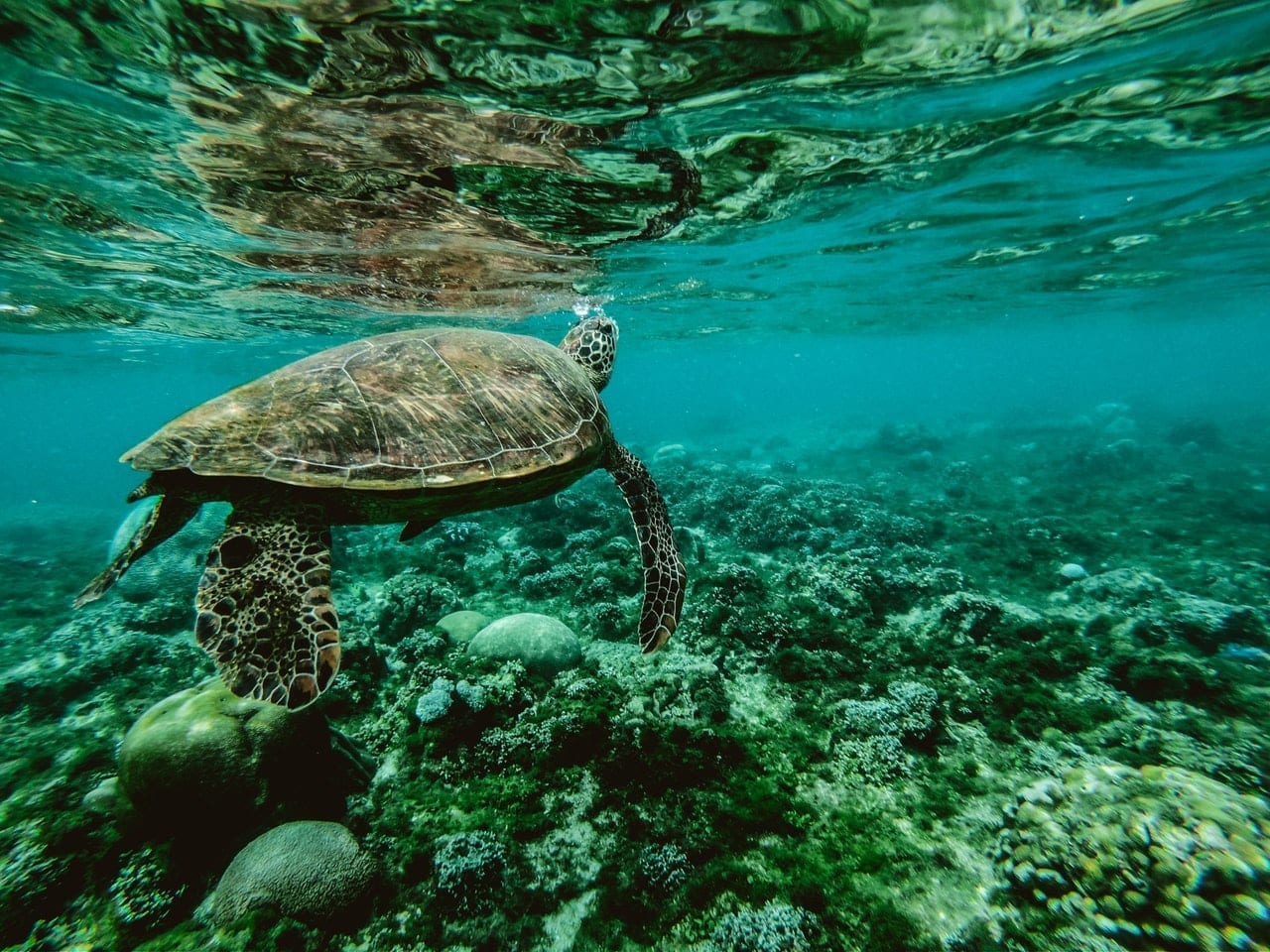 July
July is the most popular time to visit Borneo.
Schools in Australia and Europe are on holiday, and the island boasts near-perfect weather conditions. It's also the height of turtle nesting season and the trees are still fruiting, increasing the chances of spotting a wild orangutan or two.
The only downside to visiting Borneo in July is that prices are high. You'll need to book your trip in advance to lock in lower rates and secure a spot at your first choice hotel or lodge.
Borneo's internationally acclaimed Rainforest World Music Festival takes place in July. It's one of the largest events in Southeast Asia and attracts thousands of people from around the world for 3-days of dancing in the mud, attending traditional instrument workshops, film screenings and so much more.
August
August is the best time to visit Borneo for animal lovers.
The baby turtles start to hatch from the shores of Lankayan Island, and there is plenty of fruit in the forests keeping the orangutans around. But just like July, you'll need to book your trip as early as possible.
The Borneo Arts Festivals takes place for 7-days in August. Held on the island of Labuan, it showcases the best of traditional and progressive music, dance performance, tattoo shows and original artwork.
September
Borneo in September is a good time of year to visit the beaches of Sabah, the nearby islands and the Danum Valley Conservation Area.
As turtle season starts to wind down, prices begin to drop in Borneo. The days in September are still sunny, and it's still a great time of year to head to the Kinabatangan River for wildlife watching.
You might even catch a glimpse of the elusive pygmy elephants!
October
October in Borneo is the last month of the island's dry season. While the rain showers are becoming more frequent, the weather is still good and it's an excellent time of year for diving in Sipadan.
Borneo's visitor numbers also start to wind down. You'll have fewer people booking safaris and an easier time finding deals at the lodges and resorts.
Wet Season in Borneo: November to February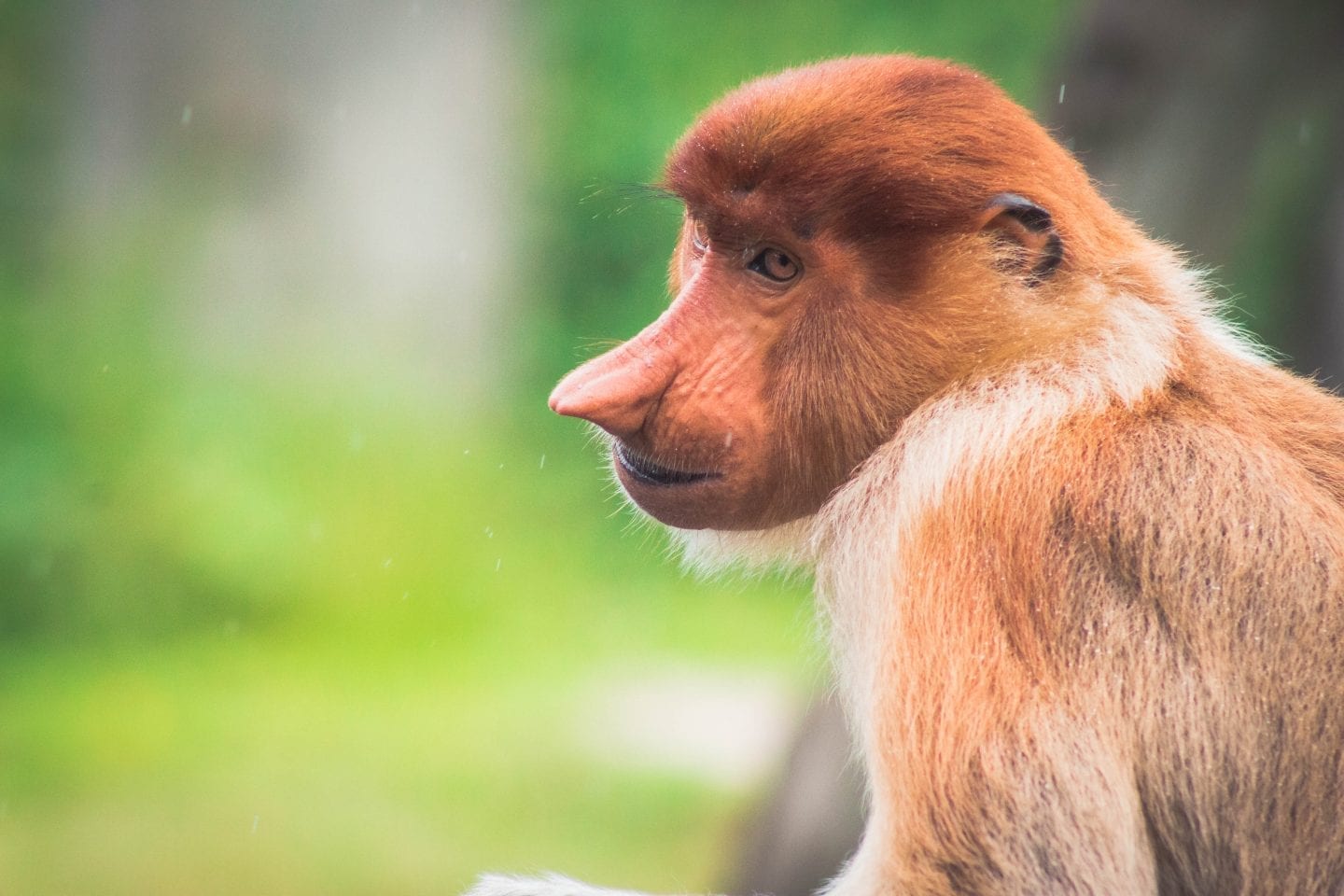 The wet season isn't the best time to go to Borneo if you're looking for good weather and tons of animal sightings.
November
November is another excellent time to visit Borneo, Malaysia for budget travellers. The frequent rainstorms keep most visitors away, driving down prices for hotels, tours and flights.
If you can handle the higher humidity levels and don't mind getting wet, you'll find fewer people at the national parks, dive areas and sanctuaries.
And while the weather isn't ideal, animal sightings are still possible in November.
December
December is not the best time to visit Borneo for wildlife tourism. The heavy thunderstorms make it harder to access some parts of the island such as Sarawak.
But there are some dry spells in the Danum Valley and the Kinabatangan River if you want to go trekking.
January
January is Borneo's wettest time of year. It's difficult to reach the island's more rural areas, and the poor weather makes it hard to spot wildlife in the dense jungle.
If you can't avoid travelling to Borneo in January, stick to Sabah. It's drier compared to other parts of the island, more accessible and accommodation will be cheap and easy to find.
February
The weather starts to improve in February, making it a good time to visit Borneo for its wildlife and the northern beaches.
There are plenty of low season deals in the drier areas of Sabah, Kota Kinabalu and Gaya Island and hardly any crowds.
The southern parts of Borneo such as Danum Valley, Sarawak and the Sipadan Islands still receive heavy amounts of rainfall and should be avoided if you're looking for a sunny holiday.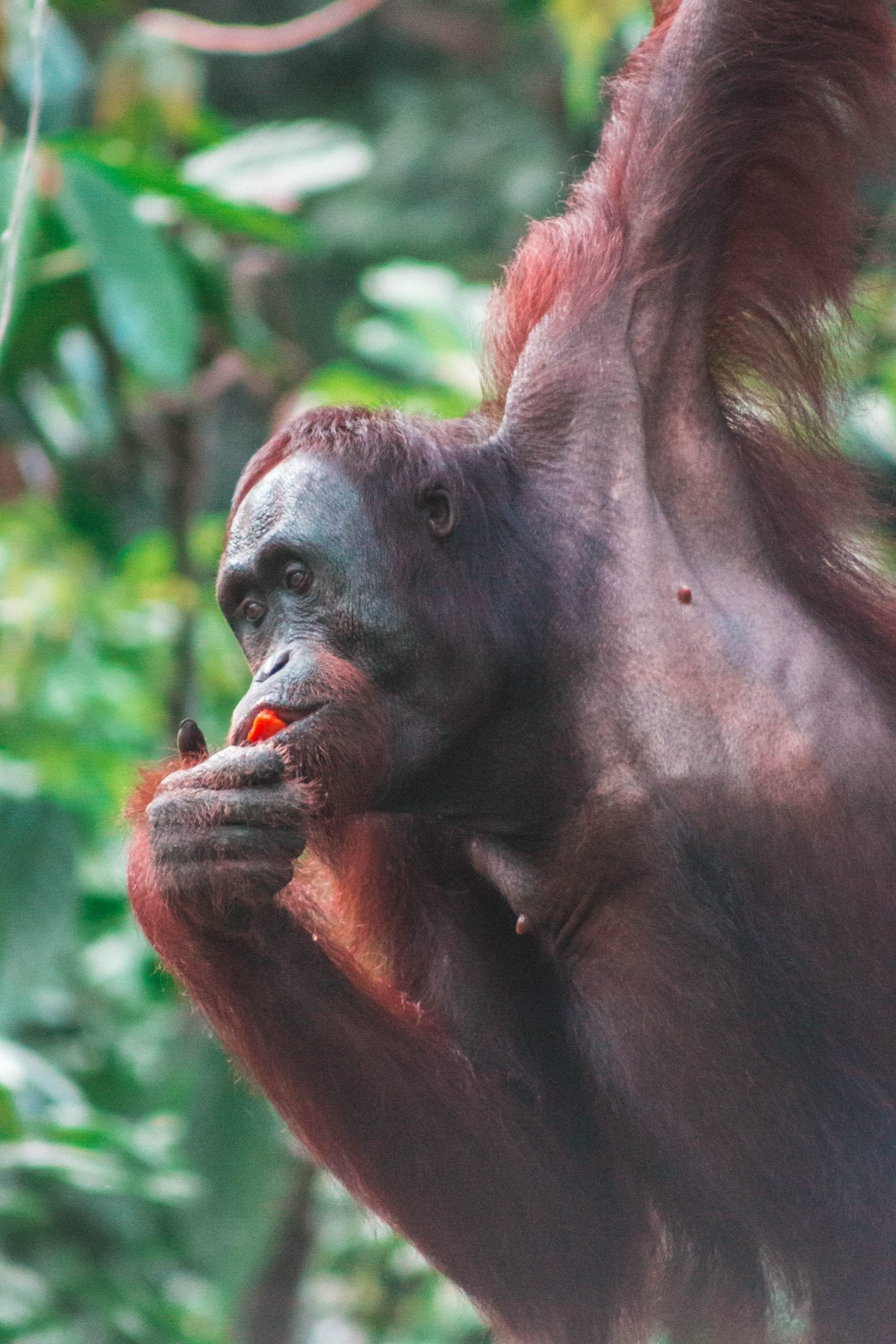 Planning a trip to Borneo? Here's how to see the island on a budget!
Comment below if you have questions or tips about the best time to visit Borneo, Malaysia!
Psst…Do you want more South East Asia travel inspiration? Check out my other posts:
Hey, did you find this post informative? Save it to refer to later on Pinterest!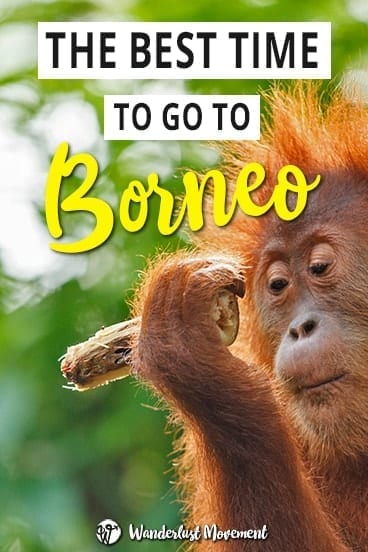 Whether you want to see the orangutans, dive with whale sharks or summit Mt Kinabalu, here is the best time to visit Borneo, Malaysia!