Last Updated on November 19, 2020 by lauren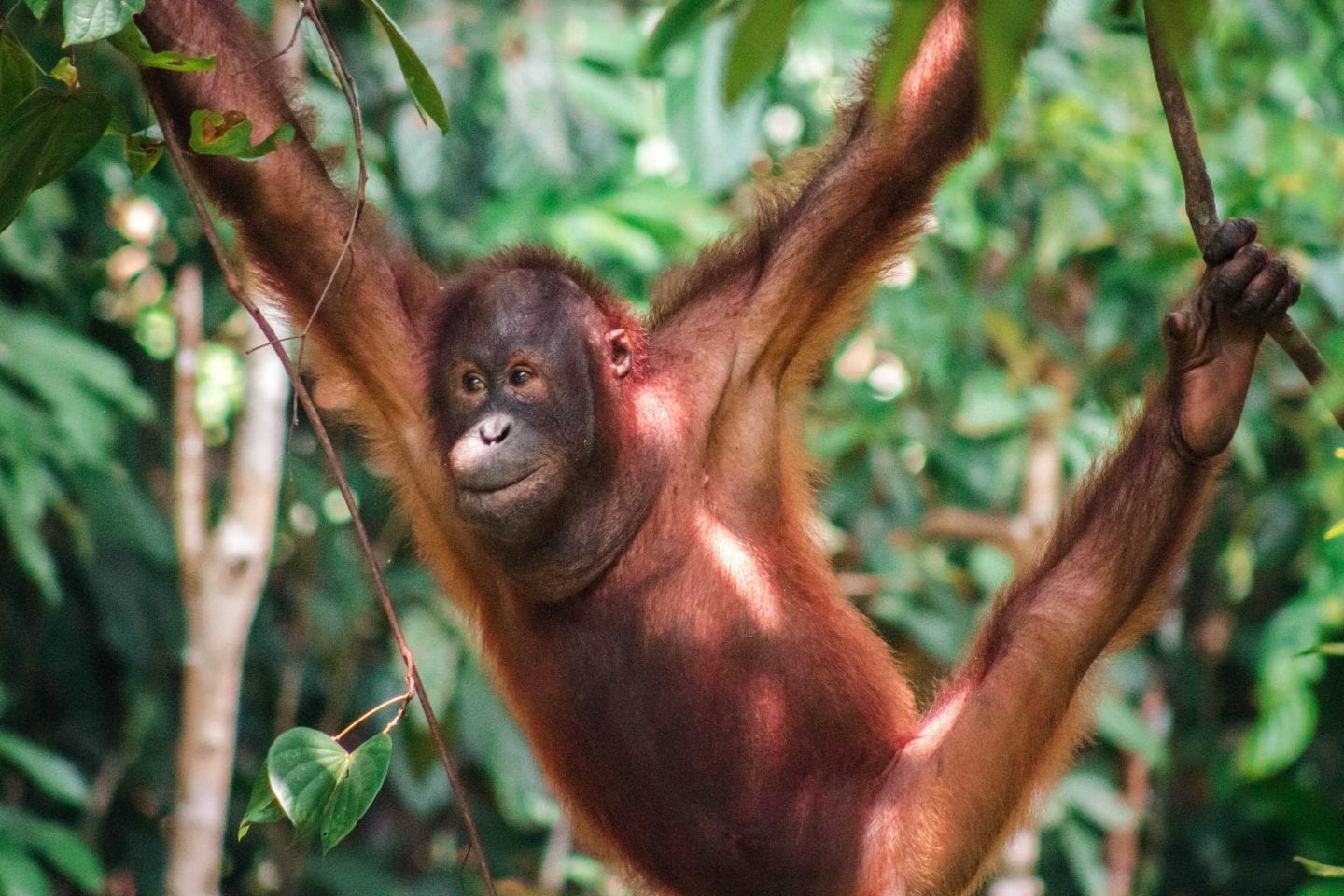 Borneo is one of those destinations that just happened to me.
Going into 2018, it wasn't on my radar at all.
But as soon as I stumbled across it as part of my research for my 2-month Southeast Asia trip, I became obsessed.
I wanted to see orangutans, proboscis monkeys and pygmy elephants. I wanted to go trekking in the rainforest and explore a side of Malaysia that wasn't towering skyscrapers and pristine beaches.
While I only had 4-days in Borneo, my Sabah backpacking trip ticked all my boxes. It was super affordable; I saw loads of wildlife and the locals are some of the friendliest I've met in my travels.
If you're thinking about exploring the island, here is how you can backpack Sepilok, Borneo on a budget!
How to Find Cheap Flights from South Africa to Borneo, Malaysia
A roundtrip from South Africa to Kuala Lumpur can cost anywhere between R 7 900 to R 10 000. Once you arrive in Malaysia's capital city, you'll still need to book flights to Borneo's Sandakan Airport.
Those two domestic flights will end up setting you back anywhere between R 860 to R 2,100 depending on travel dates.
So, how do you avoid paying almost R 10 000 on flights?
Find the cheapest entry point in Southeast Asia.
For South Africans, this is usually Thailand. I paid R 5, 200.00 for a return trip between Phuket and South Africa. My flights from Krabi to Sandakan cost me R 1,000.00 bringing in my total at R 6, 200.00.
But always to check to see if it is cheaper to book your flights altogether. If you're short on time and don't want to spend a few days in Thailand before moving onto Borneo the savings might not be worth it.
Flight prices are also always changing. If Thailand doesn't have any cheap return flights (maybe it's high season, or you're booking soon to your departure date) a trip straight to Malaysia might work out cheaper.
Read More: 50+ Genius Ways To Save Money for Travel
How Long Should You Spend Backpacking in Borneo?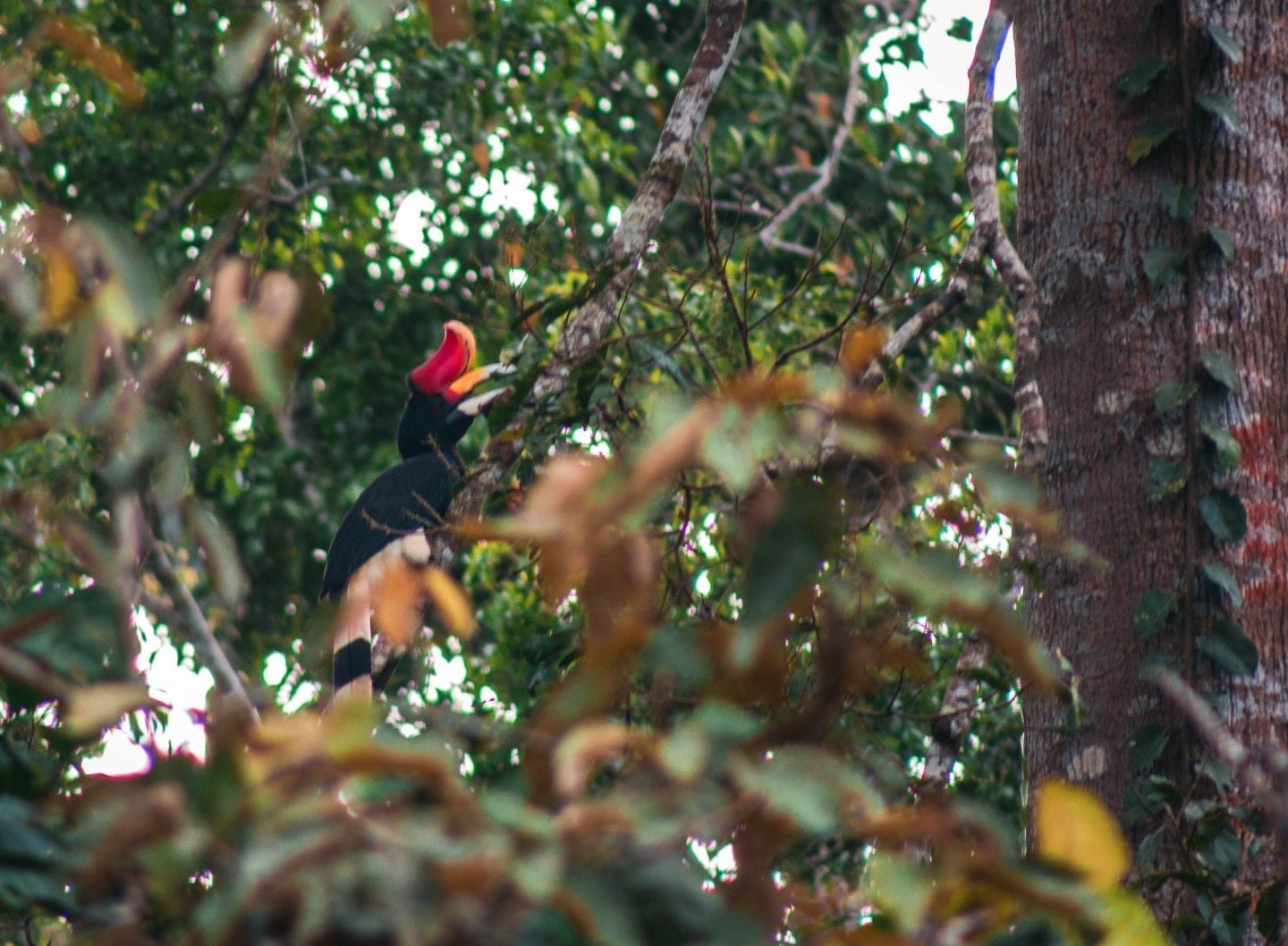 How long you spend in Borneo depends on what you want to see.
If you aren't on a time crunch, it's easy to spend 2 to 3 weeks backpacking the entire island with stops in Brunei and the Indonesian side.
With only a few days in Borneo, I didn't want to waste time getting to places. I decided to base myself in Sepilok and only explore the nearby area.
Read Next: The Best Time To Visit Borneo
Accommodation Costs in Sepilok
Nature Lodge Sepilok
Nature Lodge Sepilok is one of the best choices for Sabah backpackers. It's within walking distance of the Rainforest Discovery Centre, has an on-site restaurant, tour desk and there is free WiFi.
Opening its doors in 2016, the lodge is in excellent condition. The dorm rooms are clean, the beds are comfortable, and there is an aircon in each room to help combat the heat. The bathrooms have hot showers, and all guests receive a complimentary towel on arrival.
One thing to keep in mind is that the restaurant is only open at set hours. If you're going to be away during those times, you can make arrangements with the kitchen to prepare your meal in advance.
The WiFi is also only available in the common area. If you need reliable WiFi, the Nature Lodge might not be the best option. Instead, spend a bit extra and stay at one of the other accommodation options that have a faster and more consistent connection.
Price for one night in a dorm room: MYR 31 / R104.00
Sepilok Forest Edge Resort
Sepilok Forest Edge Resort offers guests excellent value for money, but it more expensive than Nature Lodge Sepilok.
While dorm rooms will cost you a little bit more, it's worth it. The resort has a more robust free breakfast, the on-site restaurant has a better selection of food, the customer service is at a higher level, and there is a swimming pool.
Forest Edge is a 15-minute walk from the Sepilok Orangutan Rehabilitation Centre and the Bornean Sun Bear Conservation Centre.
Nature lovers will appreciate the resort's design a lot more. It has been built with minimal impact to the surrounding rainforest, and the chalets are made from recycled woods.
The only thing I disliked is the lodgings for the dorms. I found the bathrooms and the rooms to not be clean and a bit too rustic for my liking.
Price for one night in a dorm room: MYR 48 / R 160.00
Borneo on a Budget: Cost of Food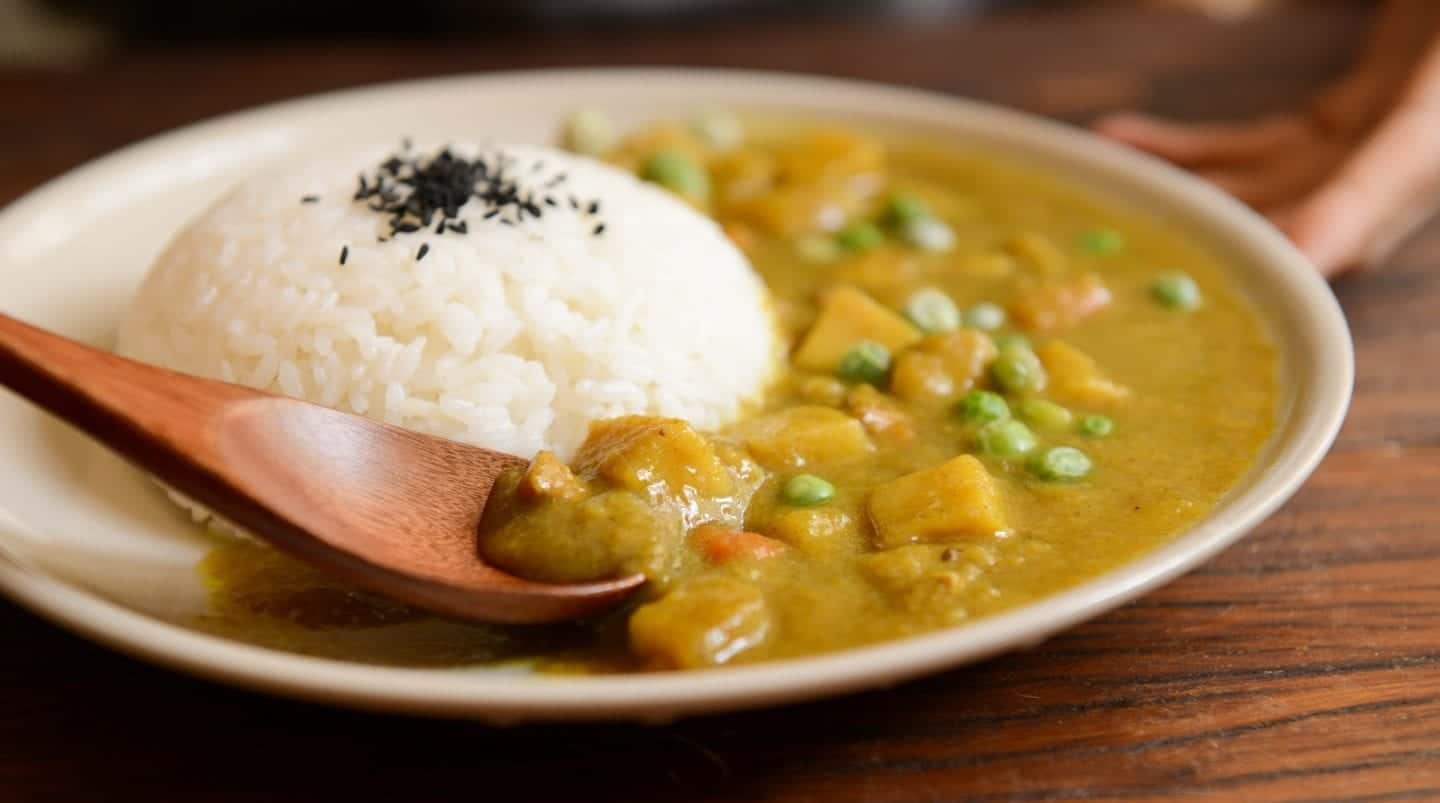 There weren't any communal kitchens at the backpackers I stayed at in Sepilok. If you're planning to visit Borneo on a budget, make a bigger allowance for food in case it's not possible for you to make your own meals.
Luckily, breakfast is included, and I only had to pay for two meals each day.
Here is how much you can expect to pay at the hotel's on-site restaurants:
Vegetable spring rolls: MYR 10 / R 33.00
Fried rice: MYR 7 / R 23.00
Vegetable Malay curry: MYR 15.40 / R 50.00
French fries: MYR 6.60 / R 22.00
Pak Choy: MYR 12.10 / R 40.00
Malay salad: MYR 16.80 / R 55.00
As eating out prices go, this is pretty cheap, and the food is delicious.
Borneo on a Budget: Transportation
How to Get from Sandakan Airport to Sepilok
The easiest way to get from Sandakan Airport to Sepilok is to take an Uber. You can use the airport's free WiFi to request a ride and meet your driver outside the arrivals hall.
You can take a metered taxi, but it will be more expensive.
There is also a bus you can take, but you'll still need to walk from the bus stop to your hotel. So it's not ideal if you're travelling with heavy bags or luggage with wheels.
An Uber ride from Sandakan Airport to Sepilok cost me MYR 18.03 / R 60.00.
Getting Around Sepilok
One of the reasons I decided to base myself in Sepilok is that the main attractions are all within walking distance from the hotels.
If you do want to venture out further, you can sign up for a tour and transport will be included. I travelled to Sepilok during the low season (March) and had an entire bus to myself when I visited the Probiscus Monkey Sanctuary.
Uber does offer the best rates if you need to get into Sandakan town. I asked my driver for his number and just booked him via Whatsapp when I needed to get my passport photos taken for my Vietnam visa.
For trips further afield to places such as Kota Kinabalu or Kinabatangan, you can take the local bus. It's an affordable option for travellers visiting Borneo on a budget. Here is a full breakdown of prices for various destinations around Sabah.
Activities to do in Sepilok, Borneo on a Budget
Sepilok Orang Utan Rehabilitation Centre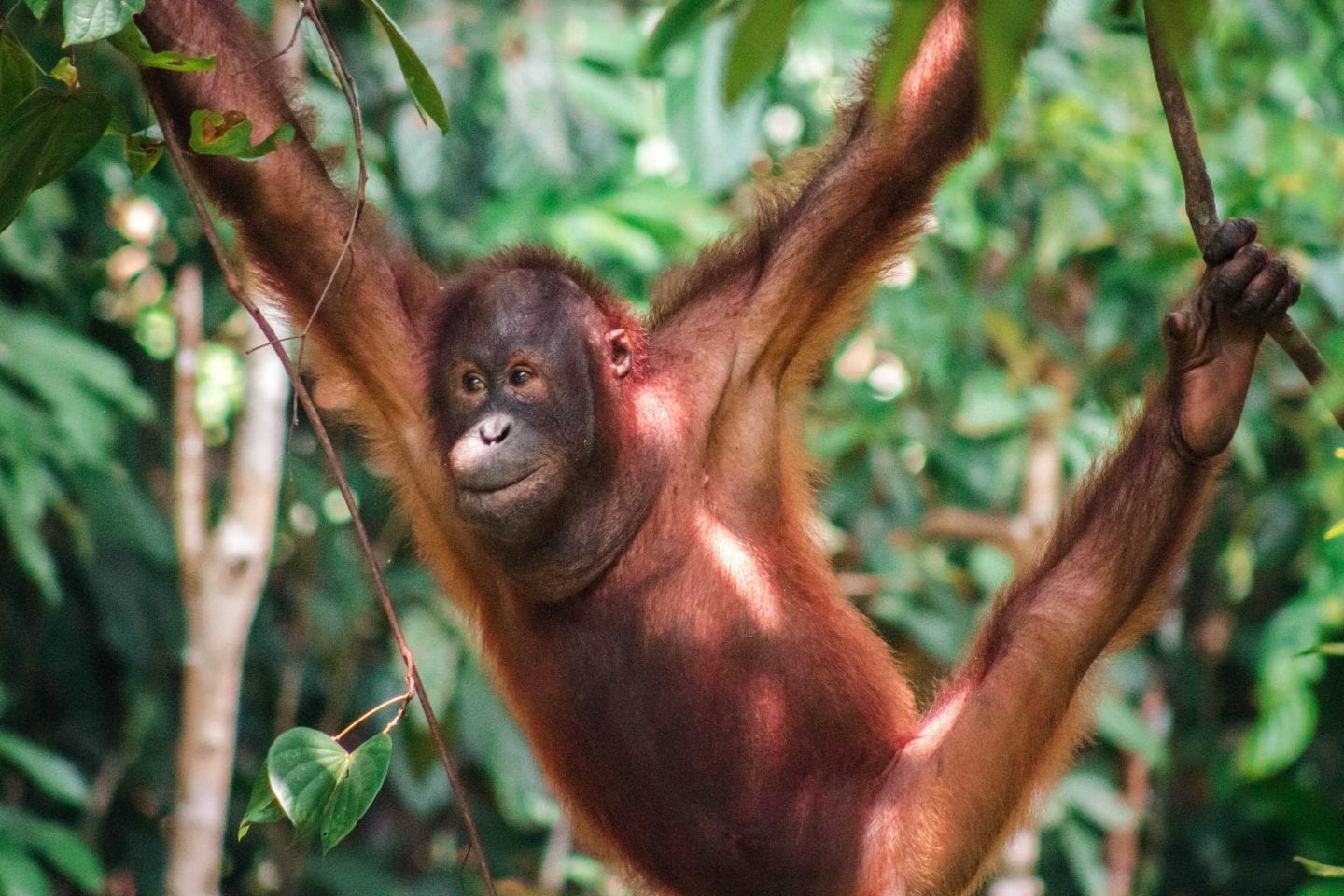 The Sepilok Orangutan Rehabilitation Centre is the best place to catch a glimpse of these endangered animals if you're travelling Borneo on a budget.
While the orangutans live in a reserve, they are free to explore the forest, and the goal of the centre is to give them back their independence.
You can visit during the two feeding times at 9:00 a.m. and 3:00 p.m and the ticket is valid all day.
To maximise your chances of seeing an orangutan, stay at the viewing area until the crowds have left. The orangutans are shy creatures and don't usually make an appearance if people are making a noise. Unfortunately, most tourists ignore the "be quiet" signs and continue to whisper or talk.
During my visit, one orangutan came to grab some fruit right at the end of the feeding time. Most people had left, and it was only the die-hard animal fans with our zoom cameras that got to enjoy the special moment.
Entrance Fee: MYR 30 / R98.00
Bornean Sun Bear Conservation Centre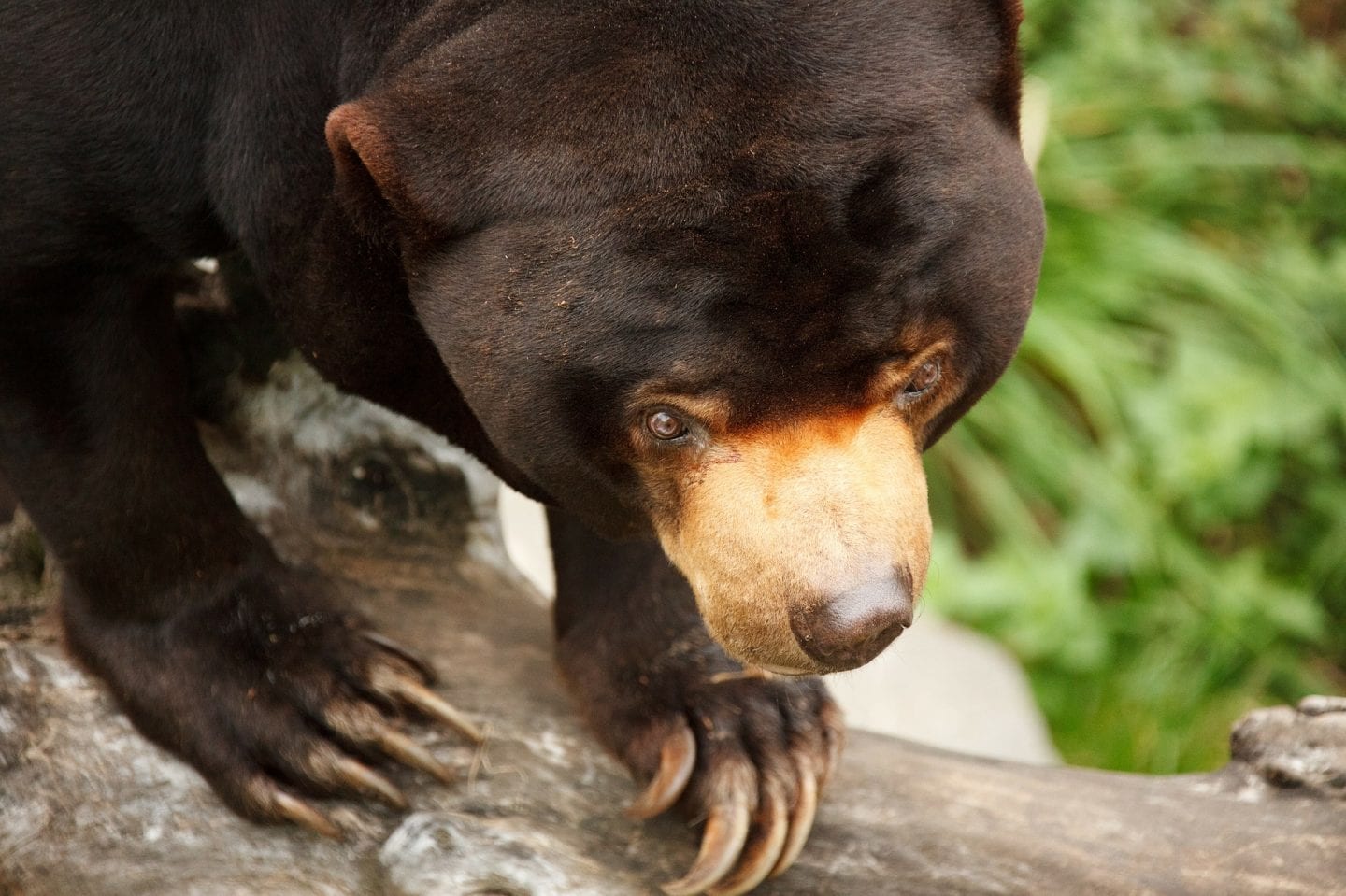 Right across from the Orangutan centre is the Sun Bear Conservation Centre.
The sun bears are the world's smallest bear and get their name from the golden bracelet of fur around their necks.
The centre is open from 9:00 a.m. to 3:30 p.m. every day. You don't need to worry about planning your trip around their feeding times as the bears are easy to spot any time of the day.
Entrance Fee: MYR 30 / R 98.00
Labuk Bay Proboscis Monkey Sanctuary
The Labuk Bay Proboscis Monkey Sanctuary is located inside the mangrove forest of Semawang.
The Proboscis monkey is endemic to Borneo and is known for its giant nose. The animals have lost a lot of their habitat to the palm oil industry which has resulted in a few wildlife-human skirmishes.
The sanctuary is a 30-minute drive from Sepilok and hotels in the area can arrange transport to and from the sanctuary. I'd recommend going in the morning for the 09:00 a.m. feeding at platform A and having something to eat at the nearby restaurant until the 11:30 a.m. feeding at platform B.
The only downside to the sanctuary is that the monkeys are comfortable with humans due to the feeding times. The animals have no problem climbing onto the viewings platforms.
While this does make it an exciting experience and a chance to get some beautiful photos, that part left me concerned about their independence.
But at the same time, I don't know how healthy the ecosystem is in the forest and if there is enough food without human intervention.
Entrance Fee: MYR 60 / R 197.00
Kinabatangan River Cruise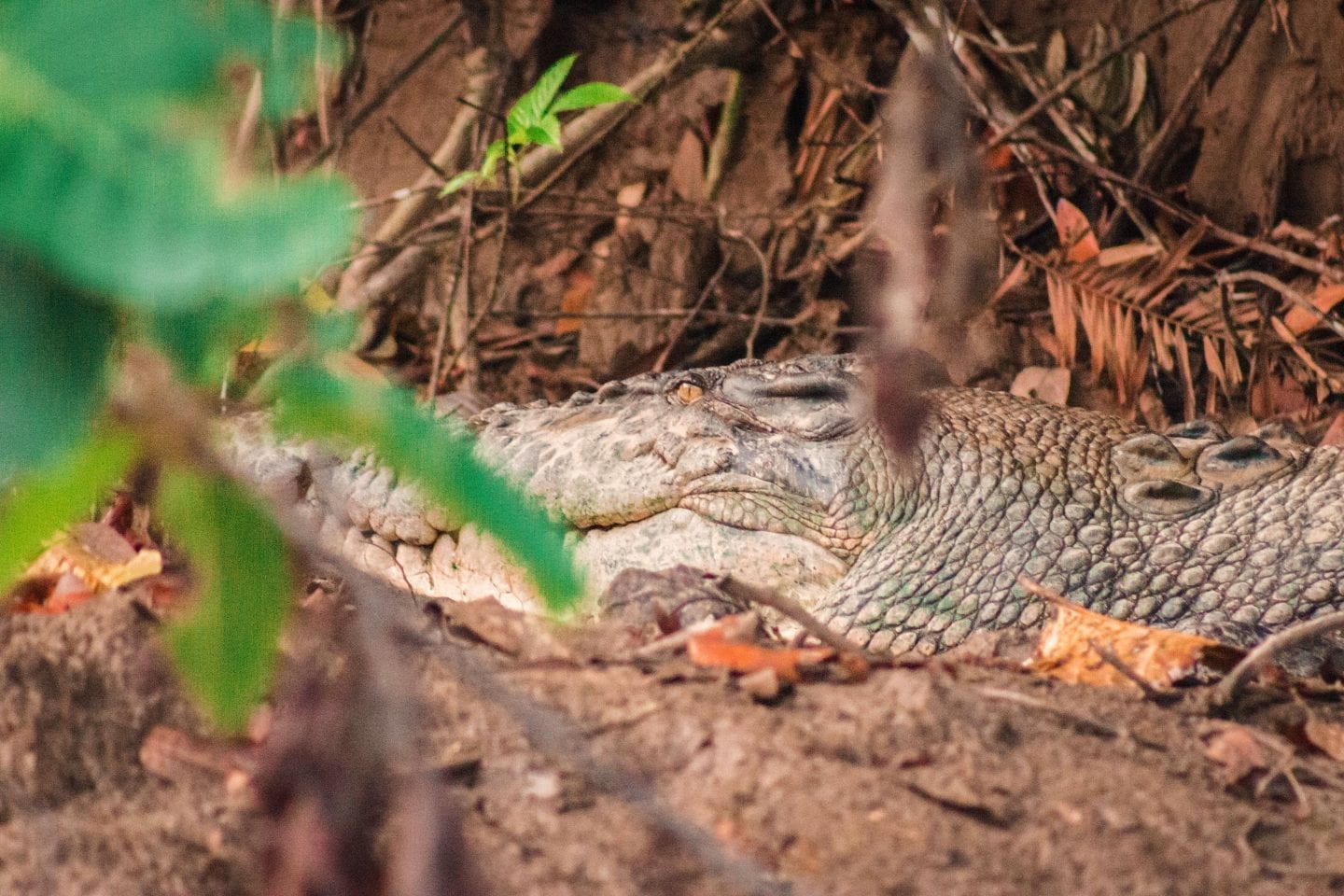 If you want a chance to see the wildlife outside of the sanctuaries while backpacking Borneo on a budget, sign up for a Kinabatangan River Cruise.
You can choose from three different packages:
Day Trip
Pick-up and drop-off at your hotel in Sandakan or Sepilok.
One afternoon cruise with a local guide.
One dinner as well as a tea break before the cruise.
Total Price: MYR 245 / R 804.00
2 Day 1 Night River Adventure
Pick-up and drop-off at your hotel in Sandakan or Sepilok.
One afternoon cruise.
One morning cruise.
One night walk.
One dinner and breakfast
You can then choose from three different accommodation options that will affect your final price:
Dorm room: MYR 329 / R 1,079.00
Cottage chalet: MYR 399 / R1,309.00
Deluxe chalet: MYR 450 / R1,476.00
3 Day 2 Night River Safari
Pick-up and drop-off at your hotel in Sandakan or Sepilok
Two afternoon cruises.
Two morning cruises.
One jungle trekking.
Two night walks.
Two dinners, One lunch, Two breakfasts.
Final price:
Dorm room: MYR 385 / R 1,263.00
Cottage chalet: MYR 477 / R 1,565.00
Deluxe chalet: MYR 530 / R 1,739.00
There are quite a few accommodation options in Kinabatangan to suit any budget. I stayed with Borneo Natural Sakau Bilet Resort, and 10/10 would recommend.
While I didn't see any wild orangutans on the cruise, we saw loads of proboscis monkeys, macaques, hornbills and even a crocodile. A few days before we arrived, a group managed to see a herd of elusive Pygmy elephants.
Rainforest Discovery Centre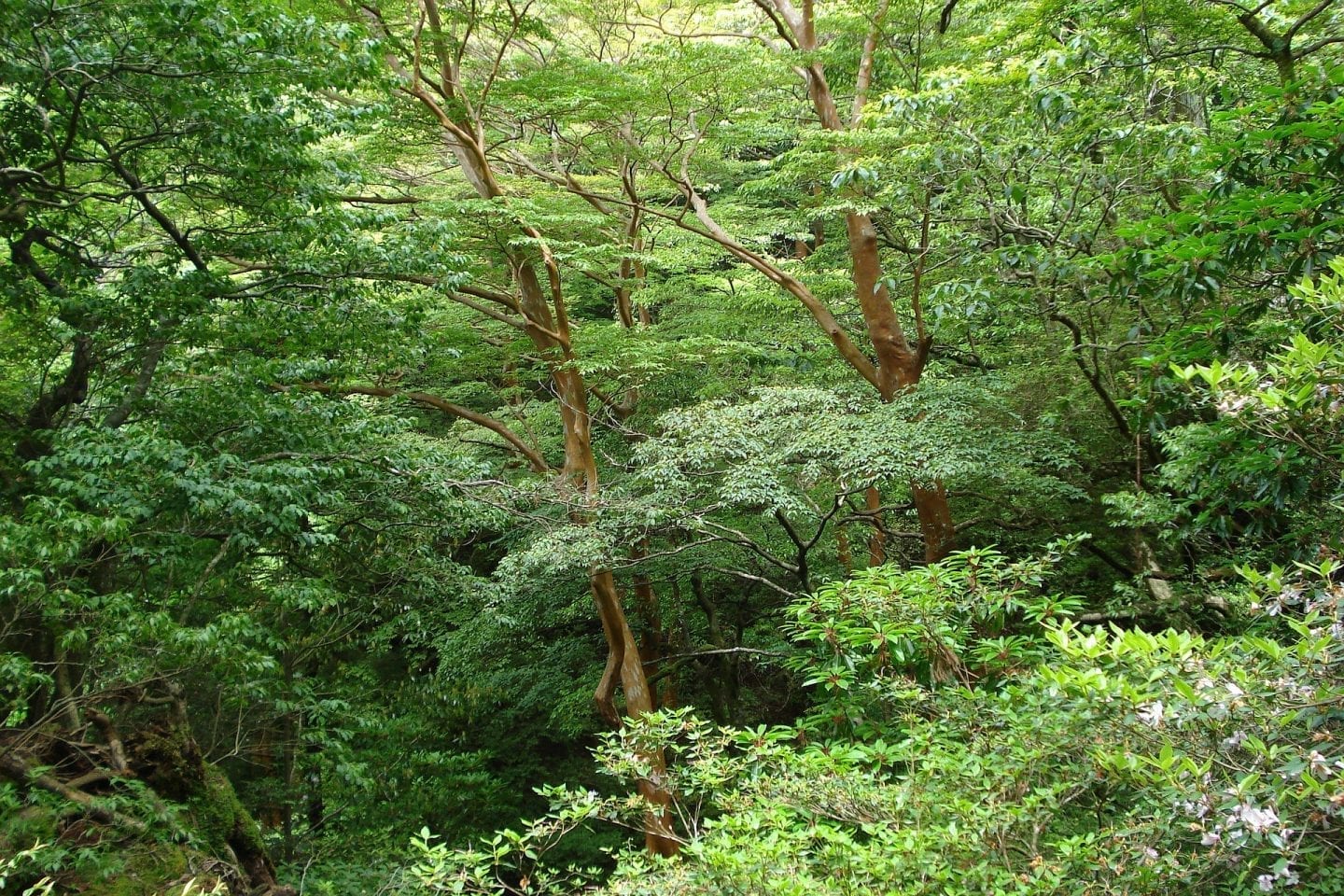 The Rainforest Discovery Center is the most accessible natural rainforest in the area. It's home to a range of wildlife including orangutans, tarantulas and tons of plant life.
You can explore one of the many trails or make your way up to the canopy walkway.
The centre also has night walks available on Mondays, Wednesdays and Fridays. If you want to see more of Borneo's nocturnal wildlife, it's well worth the price as the guides are kitted out with night goggles to help you find the rainforests most elusive creatures.
Entrance Fees: MYR 15 / R 49.00
Night Walk Fee: MYR 30 / R 98.00 (minimum of two people required)
Have more time to explore this incredible island? Here's a two-week Borneo itinerary that will take you all the way from Kuala Lumpur to Kinabatangan!
What Does it Cost to Visit Sepilok, Borneo on a Budget?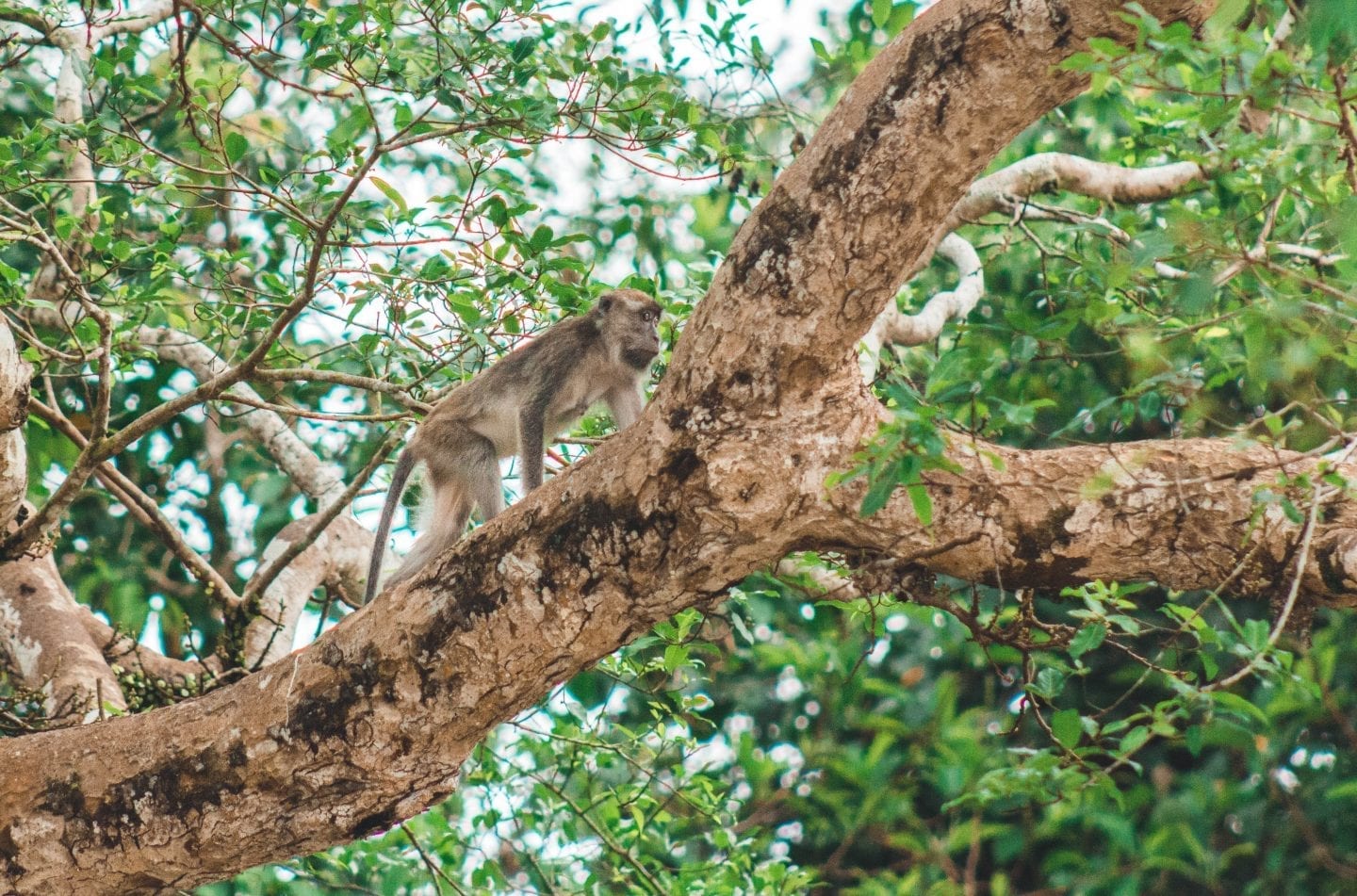 Here is a breakdown of how much 4-days / 3 nights in Sepilok, Borneo cost me:
Accommodation
Dorm room for 2-nights in Sepilok: R 264.00
The last night is included in the Kinabatangan tour price.
Subtotal: R264.00
Food
Breakfast: Free at all accommodation options.
Lunch: R 200.00 for four days.
Dinner: R 100.00 for two meals at the on-site restaurants.
The last dinner is included in the Kinabatangan tour price.
Subtotal: R 300.00
Transport
Round trip from the airport to Sepilok: R 120.00
Round trip from Sepilok to Proboscis Monkey Sanctuary: MYR 40 / R 131.00
Kinabatangan transport included in tour price.
Subtotal: R 251.00
Activities
Sepilok Orang Utan Rehabilitation Centre entrance fee: MYR 30 / R 98.00
Probiscus Monkey Sanctuary entrance fee: MYR 60 / R 197.00
Rainforest Discovery Centre entrance fee: MYR 15 / R 49.00
Kinabatangan 2-days 1-night tour: MYR 329 / R 1,079.00
Subtotal: R 1,423.00
Total cost for 4-days in Sepilok, Borneo: R 2, 238.00
If you're planning to visit other parts of the island like Kota Kinabalu, I would recommend setting a Borneo backpacking budget of R 280.00 per day for food and accommodation excluding any activities you want to do.
Is Borneo Worth Visiting?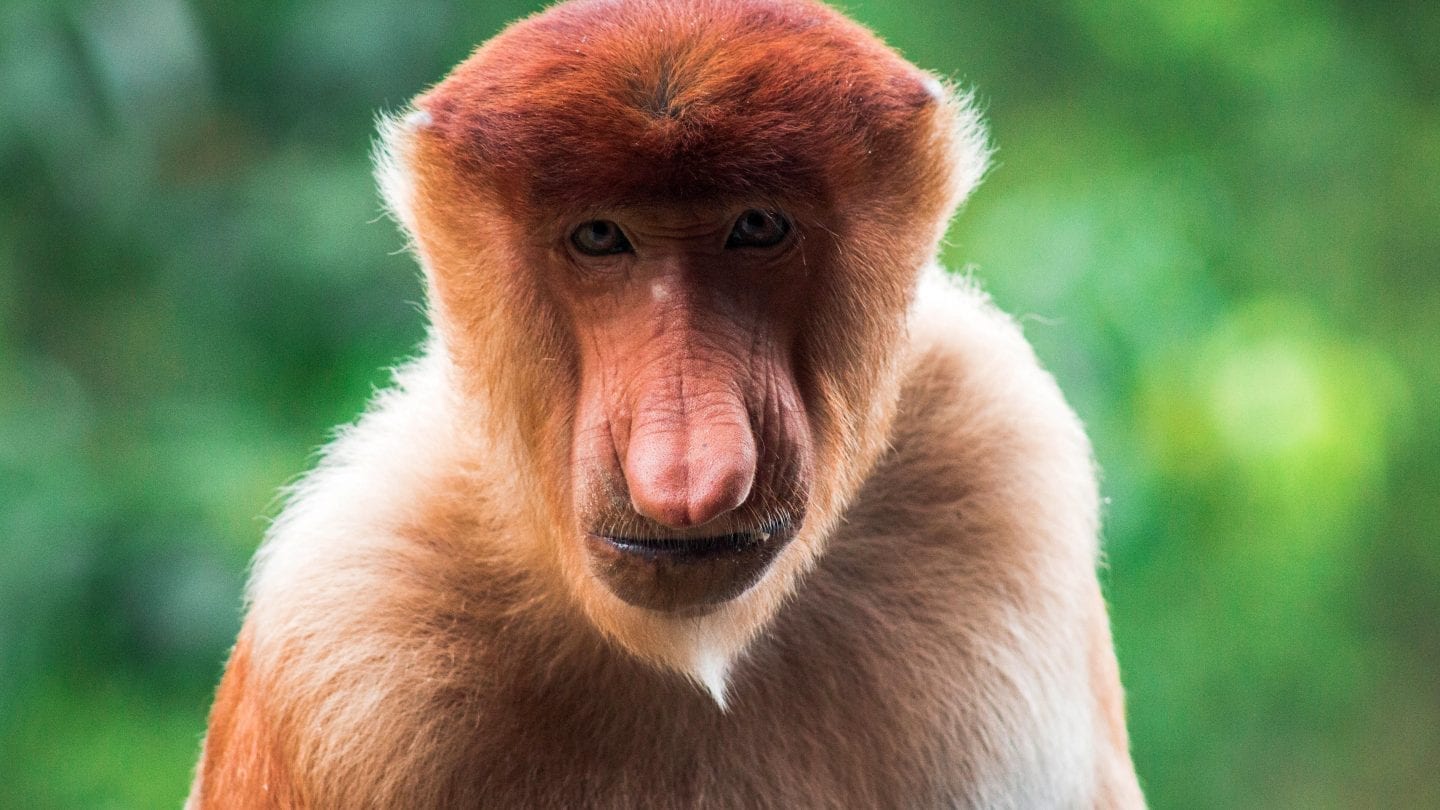 Hell yeah!
Borneo is an animal lovers dream, but also a sobering look at the destructive nature of humans. Much of the island's low-level rainforest has been destroyed and replaced by kilometres of palm plantations.
It's wildlife need responsible tourism to survive.
The island is also home to incredible beaches, dive spots, hiking trails and endemic species.
It's also an incredibly affordable destination for South Africans and seeing Borneo on a budget doesn't mean you have to stay in shitty hostels and exist on 2-minute noodles for a week.
Have you been to Sepilok before? Do you have any tips for travelling to Borneo on a budget?
Psst…Want more South East Asia travel inspiration? Check out my other posts:
Did you find this post useful? Save it for later on Pinterest!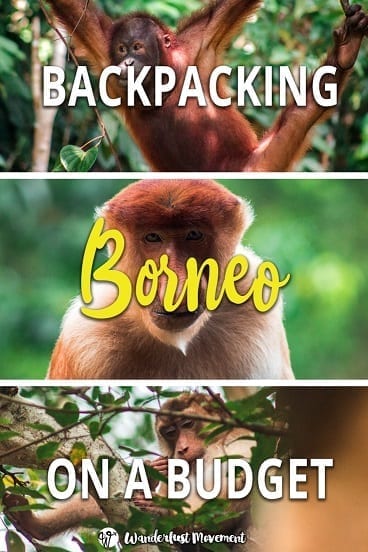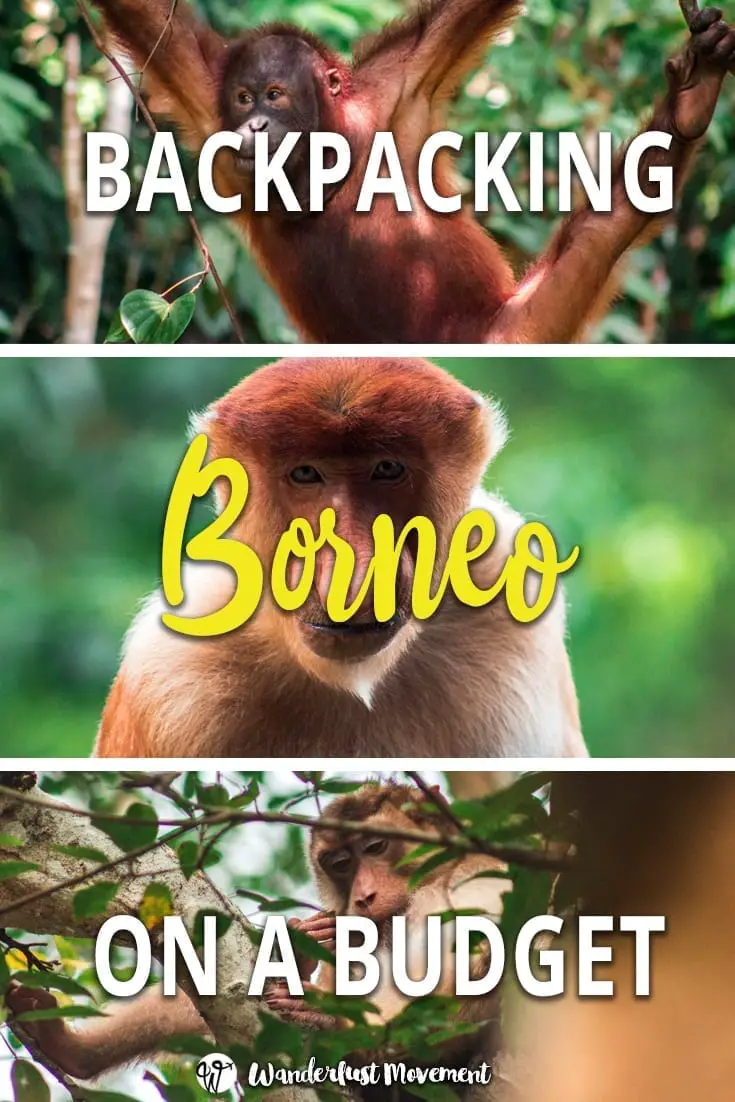 Sepilok, Borneo is a super affordable destination for South Africans. Find out how to eat, sleep and see Borneo on a budget for only R 2, 238.00.