The South African Rand is not the strongest of currencies. Saffas who travel all collectively die inside when we hop on over to Europe and watch our imagined wealth turn into a couple of hundred Pounds or Euros. But just how far can the Rand stretch if you put it to the frugal test?
This is the beginning of a new series that I am starting on my blog after becoming inspired by the 24 hours $24 dollar format I saw on a food blog. Unfortunately, R 24 can't get me much even in South Africa, so I decided to use the current USD to ZAR exchange rate and round up to the nearest hundred.
And thus the 24 hours with R 400 challenge was born!
The rules are simple:
I only have R 400 to spend in 24 hours.
This must include accommodation, three meals, transport and a minimum of three activities.
The first city I decided to try this frugal challenge on was Bangkok. I recently spent a day in the city picking up my new passport and thought this would be the perfect opportunity to see just how hard I could make the Rand work for me.
Here is my budget guide on where to stay, what to eat and what to do in Bangkok with only R 400!
Budget Hostel Accommodation in Bangkok
The first step in my cheapskate campaign was finding accommodation that was decent and wouldn't break my very small bank.
Luckily, with Bangkok being a backpackers haven, I was able to find quite a few suitable and quality hostels that weren't murder holes.
1989 Hostel and Café
Rating on Booking.com: 9 /10
Price: R 105.90 for a shared dorm
Out of the three, I shortlisted, I decided to stay at 1989 Hostel and Café.
The hostel is only 0.5 km from the Asok BTS station and just 400 metres from Emporium Shopping Mall. For those more interested in Bangkok's nightlight than souvenir shopping, the hostel is also 0.9km away from Soi Cowboy, the carnival-like red light district and bar hopping paradise.
For just 260 baht, I got a spot in a 6-bed dormitory, with a shared bathroom, air conditioning and a FREE breakfast! The hostel also boasts an on-site café that has a variety of reasonably priced drinks and eats for the frugal traveller.

Photo: 1989 Hostel
The other two options I considered were:
 Tiny Hostel
Rating on Booking.com: 9.2/10
Price: R 82.00 for a bed in a shared dorm
This little budget gem is perfect for travellers who want to stay close to cultural sites like Wat Arun and the Grand Palace. Tiny Hostel also arranges a couple of cultural city activities which include a guided walk through a 300-year old street. Breakfast is not included.

Photo: Booking.com
Glur Watergate
Booking.com rating: 8/10
Price: R 102.00 for a bed in a shared dorm
Located in downtown Bangkok, this hostel is a great in-between spot for travellers interested in shopping and the local culture. Just a 1 km walk from the hostel you will find the Erawan Shrine, Central World Plaza and Platinum Shopping Mall.
Glur Watergate also boasts a coffee shop that turns into a bar at night, a perfect way to meet up with other travellers exploring this city. Breakfast is also included.

Photo: Booking.com
Total for Accommodation: R 106.00
Budget Vegetarian / Vegan Food in Bangkok
If you have been reading my blog for a while, you will know that I am a vegetarian struggling to go vegan in Thailand. While it is pretty easy for me to maintain a vegan diet at home, there are a lot of outside factors that make it hard for me to maintain it when at work.
But I do try my best and I am always on the lookout for great vegan food every time I hit up Bangkok.
Breakfast
With my hostel offering a free breakfast, I didn't have to worry about this expense at all.
Subtotal: R 0.00
Lunch
For lunch, I decided to make my way to one of the greatest places in Bangkok to eat vegetarian / vegan food: Chamlong Asoke.
It is an entire vegetarian food court that is run by Santi Asoke Buddhists. Promoting vegetarianism is one of the most important practices in the movement, so much so that they run non-profit restaurants staffed by volunteers as a way of making merit.
The food court offers everything from rice to curry, spicy papaya salad, delicious fresh spring rolls and much more.
To be able to buy food here you have to exchange your baht for coupons. 100 baht here can easily feed two people – that's how insanely cheap this place is! And the great thing is if your eyes are too big for your stomach and you don't use your entire coupon, you can get your change back in baht when you leave.
I decided to get a plate of rice, a bunch of different vegetable curries and some spring rolls. I also forgot to take photos because the hunger was too real and I am a terrible food blogger.
Subtotal: R 25. 00
Address: 586 26 586/26 Kamphaeng Phet 1, Chatuchak, Bangkok 10900
Open hours: Tuesday – Friday from 6 am – 2 pm, and Saturday to Sunday from 6 am – 3 pm
Dinner
For dinner, I decided to splurge a little and take my taste buds to May Veggie's Home. On Foursquare it is rated the third-best vegan restaurant in the city and consistently finds a spot on any vegan Bangkok travel guide.
The menu here is just ridiculous. It took me 10 minutes to decide what to eat because there was just so much to choose from! Dishes range from 70 baht right up to 250 baht.
I decided to try May's Veggie burger. Their signature patty is made from beans and 15 different kinds of spices on a whole wheat English muffin and a side of French Fries. I washed it down with one of my favourite drinks at the moment – Green Ice Tea.
Subtotal: R 89.83
Address: Soi 16 Ratchadapisek Road Khlong Toei, Bangkok 10110
Open hours: Monday to Sunday from 10 am to 11 pm
Total for Food: R 114.83
---
Budget Activities & Sightseeing in Bangkok
In between fetching my passport and swinging past immigration, I managed to fit in a few dirt cheap/free activities around Bangkok.
Voice Maps: Road to Democracy Walk Tour
I started off my morning by trying out Voice Maps for the first time. VoiceMaps is an application that takes you on guided audio street tours around the world. Being a massive history buff, I decided to choose one about Thailand's road to democracy.
The walk started at Pin Klao bridge and took me through the city, stopping at important landmarks marking some of Thailand's bloodiest student protests before finishing up at the Democracy Monument.
Cost: R 29.00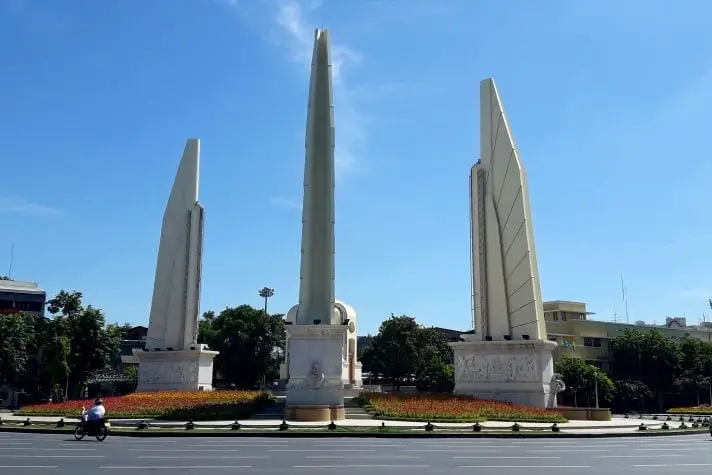 Democracy Monument in Bangkok
The Golden Mount
With the tour finishing only 1 km away from The Golden Mount – I couldn't miss this opportunity to explore more of Thailand's beautiful architecture. Plus, I skipped leg day and I needed the workout.
The Golden Mount can be found on top of a man-made hill after an EASY climb of around 300 steps. It is a much cheaper alternative than the Grand Palace, which has a 500 baht entrance fee and is always packed with tourists.
Wat Saket is generally free from hordes of people and offers amazing views over Bangkok all for the low price of 20 baht.
Apart from the mount itself, the grounds also boast an ordination hall, a cemetery and a chapel with parts dating back to Thailand's ancient kingdom of Ayutthaya.
Cost: R 8.20
Cheap Charlies
Having already experienced the demon that is Khao San road last time I was in Bangkok, I decided to check out the nightlife hub of Sukhumvit Soi 11. I have been a long-time fan of fellow travel blogger Nomadic Matt, and one of his favourite bars in Bangkok can be found here – Cheap Charlie's.
It has been called the smallest, cheapest and strangest bar on this stretch of road. It sounded just like my kind of place. This eclectic dive bar did not disappoint – it doesn't even have a roof!
Beers start at around 60 baht ( R 25.00) and it's an excellent starting point for a Soi 11 bar crawl! I had 2 beers here before calling it a night and heading back to my hostel.
I know. I am such a party animal. Bangkok just can't contain me.
Cost: R 50.00
Total for Activities: R 87.20
---
Budget Transport Around Bangkok
After accommodation, food and activities I was left with R 91.97 to cover my transport costs for the day. As someone who loves walking, I took every opportunity to use my feet to get me places and picked up a BTS day pass for 140 baht.
Total for Transportation: R 56.97
At the end of my 24 hours in Bangkok, my frugal adventure came just under R 400! I'm impressed with the quality accommodation and food I was able to get at this price point. And with so many great budget activities in the city itself, it's easy to see why Thailand is a backpackers paradise – even for South Africans.
Grand Total Spent: R 365.00