Last Updated on August 22, 2020 by lauren
In the wise words by John Walters: "The only thing I like better than talking about food its eating."
I love food. It is hands down one of my favourite things to do – followed closely by stalking penguins. And if you ever want to see my bad side, just keep me from the love of my life long enough and watch the hangry bitch from hell go full hulk mode.
It's because of this deep appreciation for sustenance that when I first started travelling more regularly (thanks to a job with an international volunteering organisation), I decided to go on a cooking class for the first time in Laos. I had a week in Luang Prabang and couldn't think of a better way to spend those precious free moments I had to myself.
After countless recommendations from my colleagues and volunteers, I decided to book a cooking class with Tamarind Restaurant. I did zero research beforehand and didn't know a thing about Laos food or what to expect. A part of me was concerned about giving myself food poisoning – but other than that I was pretty darn excited to eat for a whole day.
Here's what your taste buds can expect if you find yourself hungry in Luang Prabang and itching for some kitchen action.
How much does Tamarind's Cooking Class cost?
Tamarind offers a full day class that includes a trip to the market to pick out your ingredients or a half-day afternoon session sans the outing and one dish.
The half-day class costs 215, 000 kip and the full-day option is 285, 000 kip.
With not a huge price difference between the two, I decided to take the full-day class. I know 285, 000 LOOKS like a lot of money, but that only works out to just under R 500.00 or $36.00 – it's a steal. Especially if you start comparing it to what you would pay in South Africa for a similar cooking class.
---
The Venue
Arriving at Tamarind, I was pleasantly surprised to find out that the restaurant was not the venue for the class. Instead, they whisked us away to a picturesque lakeside pavilion. The venue is called "Tamarind Gardens" and it is a welcome tranquil escape into the countryside.
Our cooking stations were set up on an outside wooden deck overlooking a pond filled with beautiful Lilly pads in various states of bloom. The building itself is surrounded by lush green vegetation and inviting benches at the water's edge.
The gardens also boast a fully stocked bar. So if you are craving that Lao beer in during the heat of the day and the ice cold water is not hitting the spot you can freely order from the bar from any of the wait staff.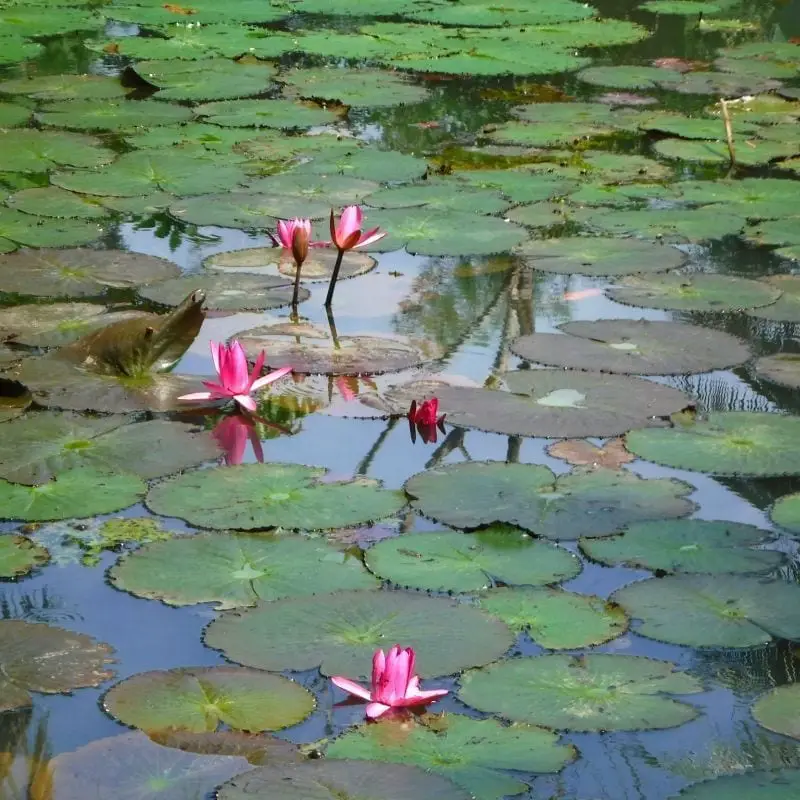 ---
The Cooking Class
As we all took our seats and put on our chef aprons for the day, we were introduced to the star of the show – our Laos cuisine chef extraordinaire! With all the ingredients carefully laid out and our stations fitted with our cooking utensils for the day, he took us through each one explaining the different types and which ones would be used for certain dishes.
The one thing that really impressed me during this part of the class is what an invaluable source of information the chef turned out to be. He gave numerous students alternative ingredients that they could use in their home countries for replicating the recipes. I found this incredibly helpful when I attempted a few back in South Africa
While I wasn't vegetarian at the time of taking this class, Tamarind does cater to your dietary requirements. There were a couple of veggies when I did my class and they did not get stuck with just a salad and sticky rice.
---
The Food
Before the cooking kicked off, our instructor taught us the art of making perfect sticky rice and its eating etiquette. We prepared quite a bit and had it all steaming away inside woven baskets in no time.
Why is sticky rice so expensive in South Africa?! This stuff is so much better than Tastic.
The menu for the day consisted of a couple of main meals and a dessert. The first thing we learned was the fundamental art of jeow: a spicy dipping sauce that goes great with sticky rice. I really tested my spicy threshold with this one. What is it about loving the burn even though you are dying inside?
The first main dish was Mok Pa, a popular Laotian dish that consists of herbed fish in steamed banana leaves. I loved preparation for this meal and decorating it with chilies before it went onto the fire to cook. Cooking this dish also opened my eyes to how versatile banana leaves can be and how creative the Laotians and Thai's are with a simple leaf.
The second dish was Tamarind's specialty dish (and my favourite) lemongrass stuffed with chicken and herbs. This dish was a bit tricky to get right at first. You need to create slits going around the lemongrass with a knife and then stuff the chicken/herb mixture inside. Once that is done, you take it over to a big pot to get it deep fried.
The flavour the chicken absorbs from this is just amazing. I want to try this with tofu one day and see if I can get a result that is just as delectable.
The last main dish was a minced meat salad with herbs. This was my least favourite dish. There were a couple of weird ingredients that went beyond my comfort zone and palette. It was the only thing I didn't finish or enjoy preparing.
The last dish of the day was dessert! For the class that day we made a traditional Laotian coconut sticky rice pudding. Khao Sung Ga Ya is still my all-time favourite dessert in South East Asia. I spent a great deal of time trying to hunt down it down during my visa run to Savannakhet. If you get a chance to ever try this dish – don't pass it up.
---
The Eating
After a few hours, we finally got to savour the fruits of our labour. Everyone's stomachs were rumbling at this points thanks to the entire area smelling insanely delicious. When we finally sat down and started tucking in there were smiles all around and zero complaints.
While eating our lunch, the staff came around to give us our copy of Tamarind's Cooking School Cookbook. It had all the recipes we learned that day to take back home with us. It's a great keepsake to remind you of your time in Laos and is a wonderfully bound A5 paperback booklet.
I wish I still had my copy but I lost it during my last move. Minus ten points from Slytherin.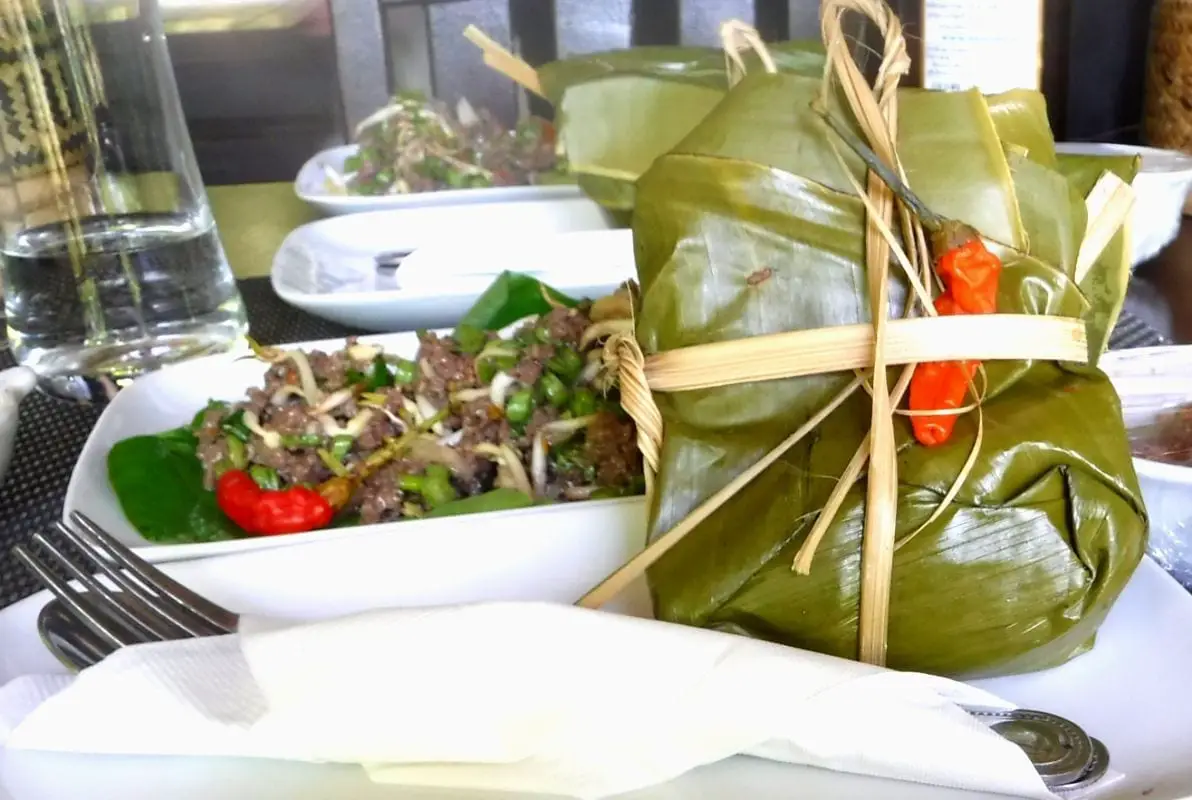 ---
My Rating
I'm happy to report that I surprised myself and all my dishes were edible and delicious (except the aforementioned mince meat salad). My only complaint would be the lack of stuffed lemon grasses. Two was hardly enough to satisfy my greed for those delicious things.
But all in all, it was a great full-day activity to do in Luang Prabang and set the bar high for future cooking classes. I can't recommend it enough.
To the point that I will spend an entire 10-minute tuk-tuk ride talking off your ear about it if you tell me you're heading out that way.