Last Updated on July 26, 2020 by lauren
Paperwork – especially visa paperwork always stresses me out. South Africans will know the pain I'm talking about when it comes to us wanting to visit most first world countries around the world. Small forests have to die each time we want to see the Eiffel Tower or to geek out at the Harry Potter Studios in London.
In June this year, I had my first taste of a Thai visa run in Laos.  I had just started my first-semester teaching and the school had finally prepared all the necessary documents a few days before my visa on arrival expired.
And I'm happy to report that this visa trip was nowhere near as stressful as I hyped it up to be. It was quick, simple and the worst part was just the obnoxious tuk-tuk drivers – as usual.
If you are planning to work in Thailand as an English teacher like me or in another profession, here is everything you need to know about getting your Thai Non-Immigrant B visa in Savannakhet, Laos!
What Documentation Will I Need For My Thai Non-immigrant B Visa?
Before you go anywhere, you will need to cull a few trees to make sure you have everything to get your Thai Non-immigrant B Visa approved:
Completed Thai Visa application form.
Copies of all the used pages in your passport and each page signed with your signature. (I decided to copy all the pages in my passport just to be safe.)
Copies of all your certifications with each page signed. (I handed in my Business Management 3-year Diploma and 140 TEFL certification.)
Supporting documents prepared by your school or employer.
Thailand Departure Card (NB!)
4 passport sized photos against a clear background and in a collared shirt.
3, 500 baht for Laos and Thailand Visa Fees.
Your passport.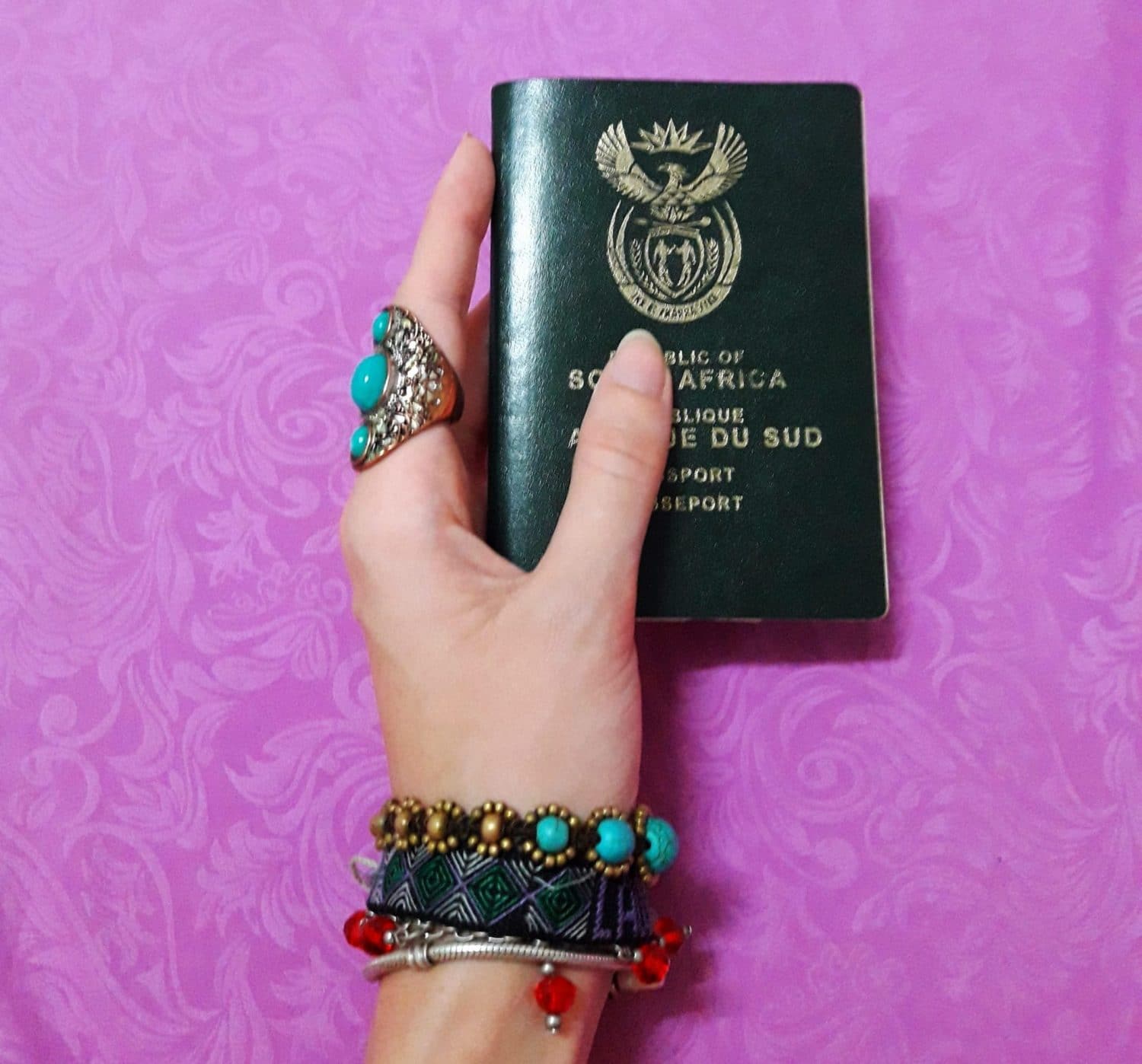 ---
Where To Go in Laos To Get Your Thai Non-immigrant B Visa
As I am based in the North-East of Thailand, the nearest Thai border to me is Savannakhet, Laos.
The rest of this blog post is dedicated to travellers who will be going along the same route as me. But if you are based elsewhere in Thailand, here are some other good resources to check out for other Thai consulate visa runs:
For teachers or other professionals based around Chiang Mai, going to Vientiane is a closer option. Travel Fish has a great article on what you can expect when going there for a visa run.
If you are based in the South of Thailand, heading down to Penang in Malaysia will be the quickest and closest option for you. Live Less Ordinary discusses that visa run on their blog.
---
How To Get To The Laos Border
There are many ways to get to the Thai consulates in the neighbouring countries of Laos, Cambodia and Malaysia. If sticking to a strict budget is important to you, the cheapest way is to hop on one of the daily buses. Or if you have money to burn and not a lot of time, flying in is by far the quickest option.
For my Thai visa run, I decided to take the bus as the Laos border is only 4 hours from my home base. After catching the local songtaew into Ubon, I took a taxi to the bus station and bought my ticket to Mukdahan for about 100 baht. I paid a bit more to go in a minivan as there are fewer people and better air con.
HOWEVER, my plans for catching up a few hours of sleep went out the window when one of the passengers decided to bring to roosters on board. The birds were not happy about being a box and in a moving car so they did not shut up about their predicament for the entire 3 hours to Mukdahan.
We finally arrived around 4:00 pm which gave me more than enough time to catch the third last international bus to the Laos border. The ticket should cost you no more than 50 baht and the station has English in all the important areas so you should have no trouble finding the correct ticket booth or bus terminal.
What To Expect At The Laos and Thailand Border
The international bus will take about 30 minutes to get to the Thai border. It is important to remember to take all your bags with you each time you leave the bus – don't leave them unattended. Obviously, because theft may occur but also the bus doesn't seem to wait for foreigners to go through immigration at the Laos border. (Or the bus driver just had a vendetta against me – I don't know.)
As you go through Thai immigration you will need to present your passport and border card to pass through without any problems. If you don't have your border card, you will EVENTUALLY be let through but it will be a big performance and cause a major delay.
Staple that shit into your passport and don't be that dick that holds up the bus.
After you have been officially stamped out of Thailand, you will get back on the same bus and head to the Laos border. After a short bus ride, you will be directed to a visa on arrival window. If no one is inside the office, there is a number to call on the door and someone will be along shortly.
At this window, you will need to do the following:
Complete a Laos visa on arrival form.
Complete an arrival card.
Pay 1, 500 baht or +/- 43 USD for the visa.
Hand over a passport sized photo.
The immigration officials will ask you questions about your stay, such as how long you will in the country for, what you are doing there and where you plan to stay. If you haven't booked a hotel in advance, make sure you have a name to write on the forms and tell the officials. I used Avalon Hotel (I ended staying there anyhow) and I encountered no problems.
Depending on the time you arrive in Laos, once you have your visa you can either go straight to the Thai embassy or catch a taxi to your hotel.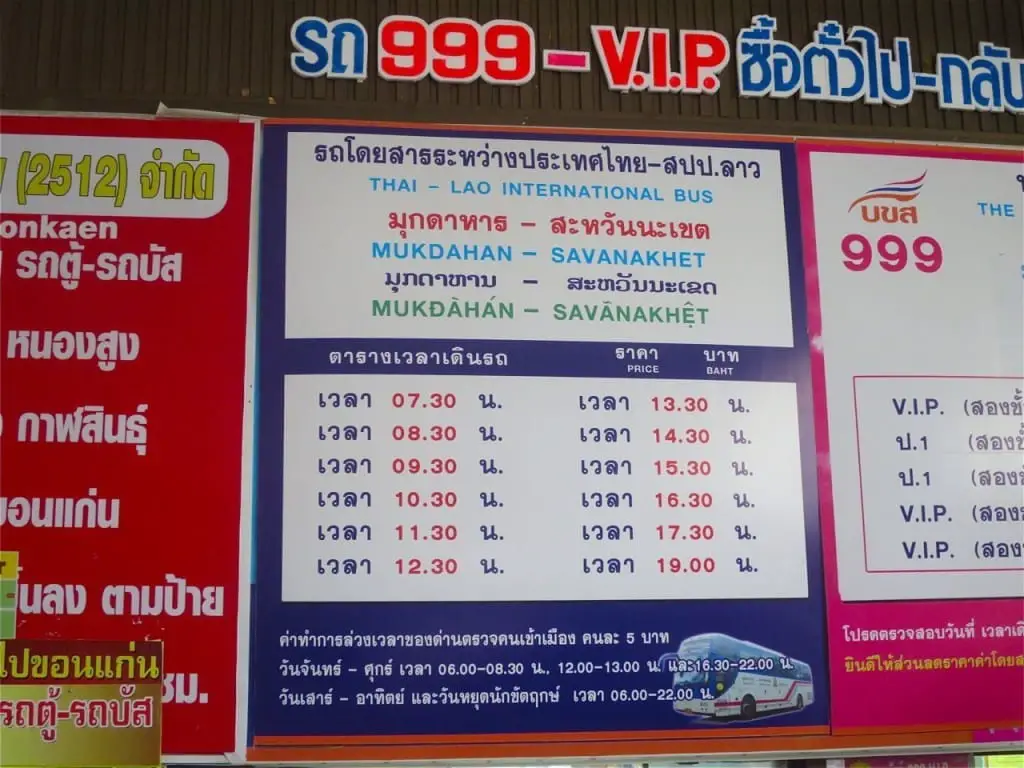 Mukdahan to Savannakhet bus schedule
---
Handing In Your Thai Non-immigrant B Visa Documentation At The Thai Consulate In Laos
The Thai consulate in Savannakhet, Laos is only open from 9:00 to 11:00 to receive visa application forms. I recommend arriving just before 8:30 am to make sure you are right in the front of the long line that will start forming from 8:30 and onwards. Or you can come later, I just hate lining up for stuff and I'm a wee bit impatient when it comes to life admin.
Once the gates are open, you will head towards a window where you will need to hand in the following to get your Thai Non-immigrant B Visa:
Completed visa application form.
2 passport sized photos.
Supporting documentation from your school or employer.
Signed copies of your passport pages.
Signed copies of your certificates.
Visa fee in Thai Baht ONLY.
Your passport.
The cost of your Thai Non-immigrant B Visa will set you back 2, 000 baht. If you are lucky, your employer might cover this cost for you. Applying for this visa will give you three months in Thailand with a single entry. If you need a multiple entry option, you can pay 5, 000 baht per application.
Top Tip: If you have lost your passport photos, forgotten to bring them or need photocopies, there is a shop across from the consulate that will do them for you.
---
Getting Around in Savannakhet, Laos
If you choose to stay at the Avalon Hotel (which I highly recommend), the Thai Consulate is a 10-minute walk away. It is also opposite the Savannakhet bus station and in walking distance to a decent amount of restaurants, cafes and street food options.
There are tuk-tuk and taxi drivers available in abundance, but they will overcharge you quite a bit like anywhere else in the world. If you want to practice your haggling skills, the locals pay 50 baht to go from the Avalon Hotel to the Thai Consulate.
The Avalon Hotel can also call a tuk-tuk driver to come pick you up if you are having a hard time catching one yourself.
But if you are on a budget and want to save money instead of bleeding it away, get out your walking shoes and let your feet get you to where you need to go.
---
Collecting Your Passport The Next Day
Collection times at the Thai consulate in Savannakhet are between 2:00-4:00 pm. Once again, I suggest arriving a bit earlier to beat the line and get in and out as quickly as possible. This will also make sure you are at the bus station for the 3 pm international bus back to Mukdahan.
If there was nothing wrong with your application, it will take 30 seconds to hand in your receipt and collect your passport.
Once that is done and dusted, celebrate with a dance, a song or even a SnapChat post and head on over to the bus station to make your journey back home.
---
Exchanging Your Thai Baht For Laos Kip – Is It Necessary?
No. There is no reason to exchange your Thai baht for Laos kip during your visa run. All the shops, hotels and restaurants accept Thai Baht.
But if you do need to exchange your money for whatever reason, make sure you convert it back to Thai baht before crossing the border back into Thailand. This is because you will be hard-pressed to find somewhere that will exchange it.
Banks won't do it and you'll have a tough time finding any money exchange shops that will do so as well.
---
How Much Does A Thai Non-immigrant B Visa Run To Laos Coast In Total?

After adding up all the transportation, accommodation, food and visa fees, my 3-day visa run cost me just under 6,000 baht.

This visa run can be done cheaper. I did decide to stay in one of the nicer hotels out of convenience and spent a lot of time in restaurants trying out the local vegetarian options. But if you stretch your budget by staying in a budget hostel and live off street food, you can easily spend well under 5, 000 baht.

Hopefully, this guide helps make your Thai visa run in Laos less stressful and you will get you on your way getting your Thai Non-immigrant B Visa in no time!

Planning on teaching abroad? You'll need to get your Thai Non-immigrant B Visa before you can apply for your work visa. Here's my step-by-step guide on how to get it approved.