Last Updated on August 22, 2020 by lauren
Since the 19th century, Thailand's Chinese population has been celebrating Tesegan Gin Je Festival (Vegetarian Festival). For nine days during the ninth month of the Chinese lunar calendar, the community follows a strict vegan diet abstaining from eating fish, poultry, meat and dairy. By doing so, they believe it will help bring them good health and peace of mind.
This makes the 1-9th of October the best time to visit Thailand as a vegan or vegetarian! Stores and restaurants across the country start selling delicious vegan snacks, meals, and desserts in line with the Vegetarian Festival's guidelines. Yellow and red flags with a 17 "Gin Je" symbol can be seen blowing in the wind outside restaurants and 7 Eleven's letting everyone know they are selling delicious vegan food.
While Phuket is the heart of the Vegetarian festival with over 30% of the population claiming Chinese ancestry, it is celebrated in other pockets of Thailand like Bangkok and Ubon Ratchathani.
For Thailand's 2016 Vegetarian Festival, I decided to round up the other vegetarian / vegan English teachers in Ubon and go on an epic food mission!
For an entire weekend, we made it our goal to explore some of the best restaurants catering to vegans as well as hitting up 7 Eleven to see what delicious vegan food they had stocked up on in honor of the festival.
– Thani Road Vegetarian –
Our first stop in our 48-hour food binge was Thani Road Vegetarian for some breakfast. This lesser known vegan Thai restaurant can be hard to find as it doesn't have any official signage and is in a vacant lot next to a Volvo dealership.
The restaurant does not work off a set menu. Instead, the women who run the place start cooking various dishes from the morning into the early afternoon. Customers can then choose what they would like from a buffet style display.
Thani Road Vegetarian is a popular spot among the locals, so it's best to get there early before all the food sells out.
For breakfast, I grabbed some rice and a spicy vegetable curry as well as a steamed bun stuffed with protein. I am not usually a fan of fake meat, but this tasted so good. The sauce had a light sweet taste to it which complimented the general blandness of the white bun surrounding it.
Sarah treated herself to a portion of fried mushrooms, rice and a side of vegetable curry. This is my favourite way to eat mushrooms in Thailand now. I don't care if it isn't healthy, but the mushrooms tasted a billion times better compared to their steamed and stir-fried counterparts.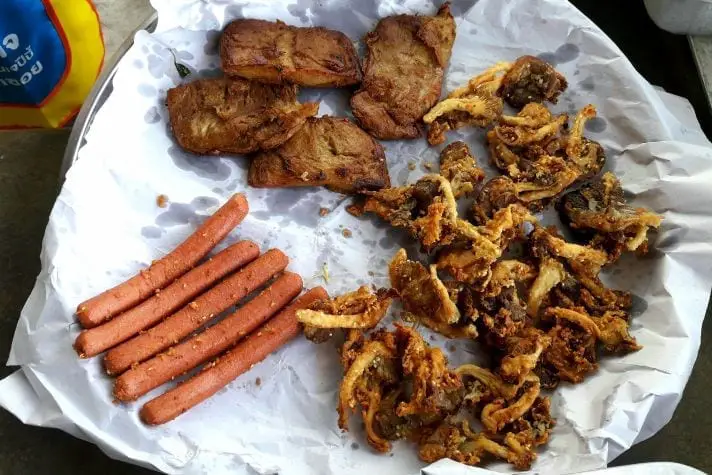 Vidhya decided to order herself a bowl of hot spicy soup. It came with noodles, vegetables and an assortment of protein. It was quite a huge portion for so early in the morning, so she didn't end up finishing it and took the leftovers home instead.
Opening hours: Monday to Saturday 8:30 – 15:00
Average price for one plate of food: 35 baht
Address: Ratcha Thani Road, about 100 meters from junction with Chayang Kun and opposite Ubon Ratchathani Rajabhat University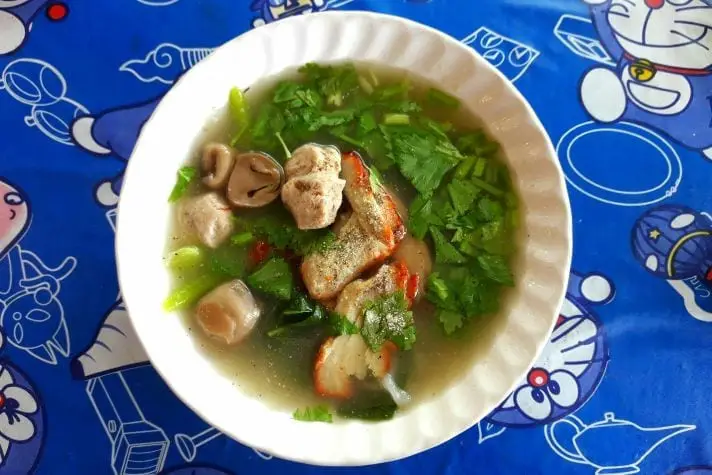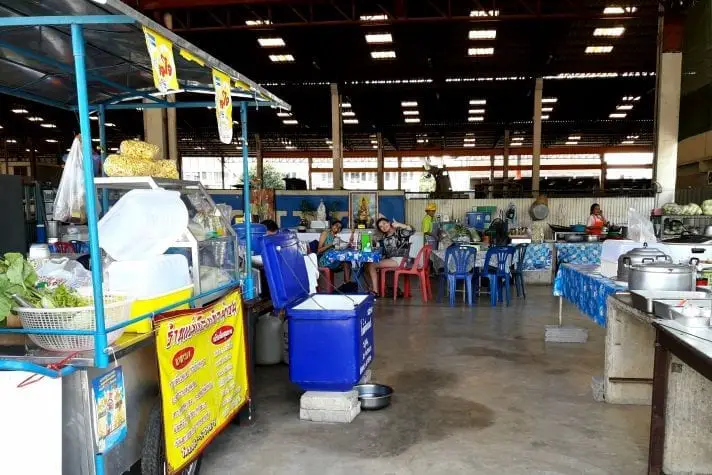 ---
– Utthayan Bunniyom Vegetarian Restaurant –
Bunniyom was the first vegan restaurant I discovered when I moved to Ubon. It works on the same principal as Thani. There is no set menu, food preparation happens for a certain period and once all the food has been sold, you are out of luck.
All the food served at Bunni is grown on an organic farm by a sect of Chinese Buddhist monks and offers some of the cheapest but nutritious food in the city.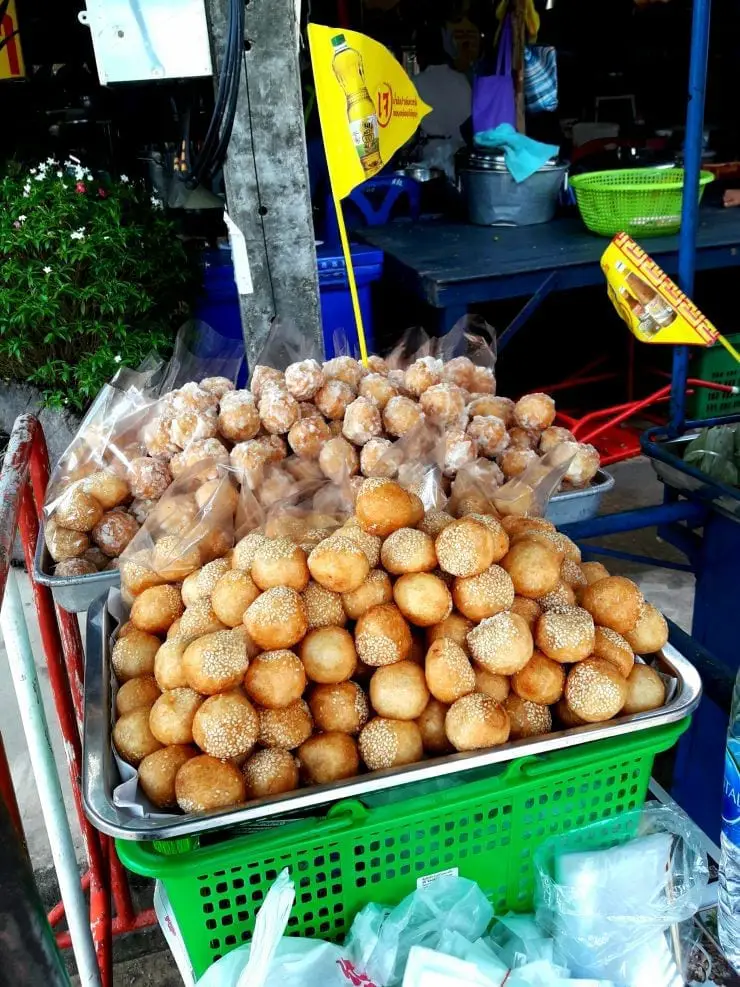 For Vegetarian Festival this year, the restaurant went all out. Instead of it's usual much smaller layout, it expanded to hold even more stalls selling a massive variety of snacks, dishes, and sweets.
As we were still quite full from our first stop, we weren't looking to sit down for a full meal, but instead went in search of delicious snacks to take back home. I have a huge soft spot for spring rolls and grabbed a bag from the first vendor I saw. It cost me 25 baht for two and came with a sweet spicy sauce and some crushed peanuts.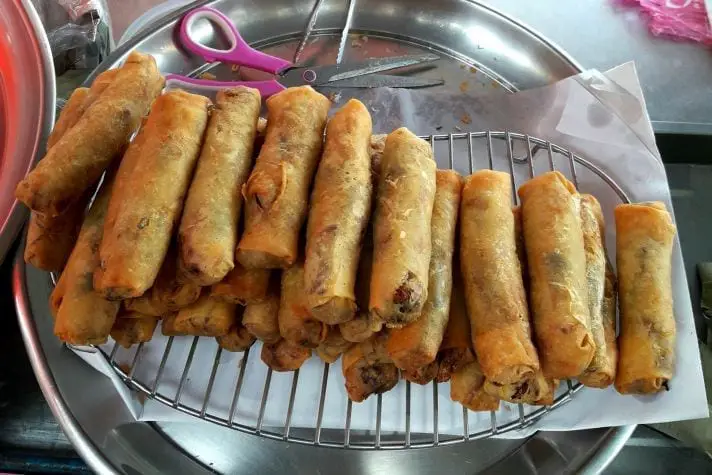 Outside Bunni, there was a vendor selling Fried Sesame Balls (Ka Noom Huer Lo), Sarah and I couldn't resist and bought a bag each for 20 baht. I decided to try the ones that had icing on top, but it turned out to be a mistake. The inside was not sweet like the normal sesame balls and instead had a rather strange savoury paste. I think they were trying to play off the sweet and savoury palate but it did not agree with any of our taste buds.
Before leaving, we stopped to buy some fresh pressed fruit juice for 10 baht, a couple of mini rotti's at 10 baht each and a fried vegetable pancake for 15 baht each.
All of the food here it just SO DAMN GOOD.
Opening Hours: 8:00 – early afternoon
Average price for one plate of food: 10 – 30 baht
Address: Thepyothi at Srinarong Road ( Walking along Srinarong Road from Thung Si Muanag for around 500 meters and then turn right into Thepothi. The restaurant will be on your right).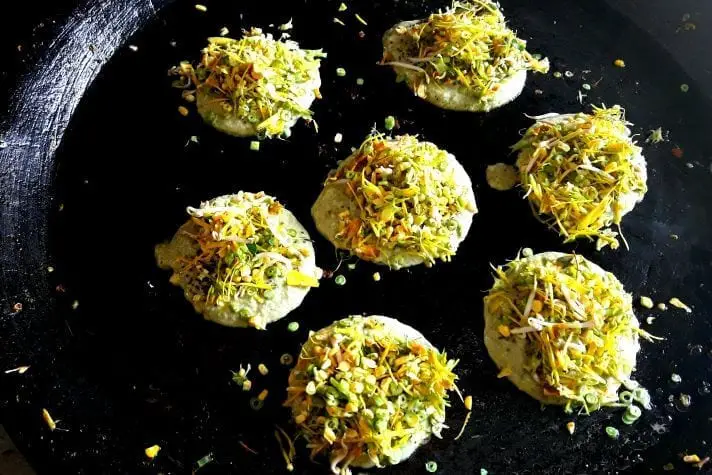 ---
– Outside Inn –
If you are travelling through Ubon and want to meet up with other foreigners, The Outside Inn is a great place to start. It boasts wonderful boutique rooms and a robust menu offering anything from traditional Thai food to Western delights.
While Outside Inn does serve meat, it is pretty easy to adapt most of the meals to vegetarian or vegan by simply asking. Most recently, the restaurant added a vegetarian burger to the menu.
The patty is made from chickpeas, mixed beans and corn, topped with lettuce, tomato, and cheese. As the cheese is real, you can opt for them to not add it onto your burger to make the dish 100% vegan. The bun is not wheat-free and there aren't gluten options available. Each burger comes with a side of potato wedge fries.
As much as I love my Thai food, it was so great to finally have a vegetarian burger in Ubon and getting my Western fix so close to home. To wash it all down, we ordered a round of The Outside Inn's delicious fruit smoothies, which comes with a no milk option.
Opening Hours: Lunch hours: 11:00 – 14:30 | Dinner: 17:00 – 21:00
Average price for one plate of food: 150 baht
Address: 11 Suriyat Rd, Ubon Ratchathani 34000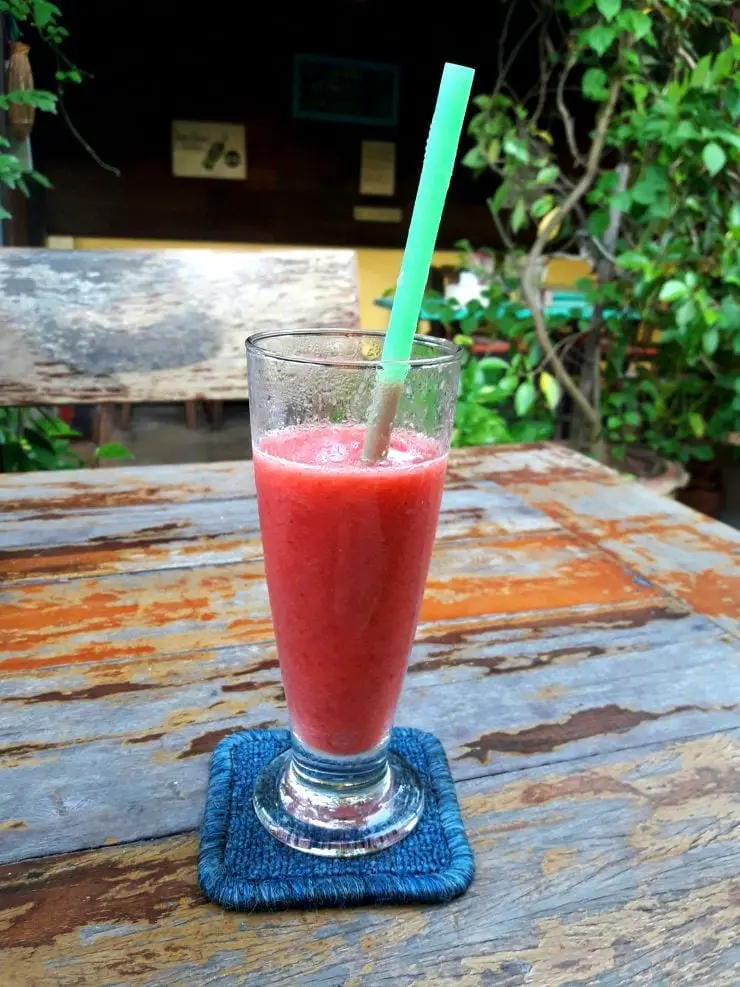 ---
– Peppers Bakery –
Another popular spot for Westerners in Ubon is Pepper's Bakery. Owned by an American/German and his Thai wife they serve delicious Western dishes ranging from Mexican to Italian and traditional Thai meals.
While they do serve meat with most of their dishes, there are a handful that come with vegetarian options. My personal favourites are the Pad Thai, veggie pizza, rice paper wraps, and quesadillas. The restaurant also boasts a small bakery selling everything from freshly baked cakes, pies, croissants,  and other baked goods.
For Gin Je Festival this year, Peppers decided to introduce two new vegan pies to their menu!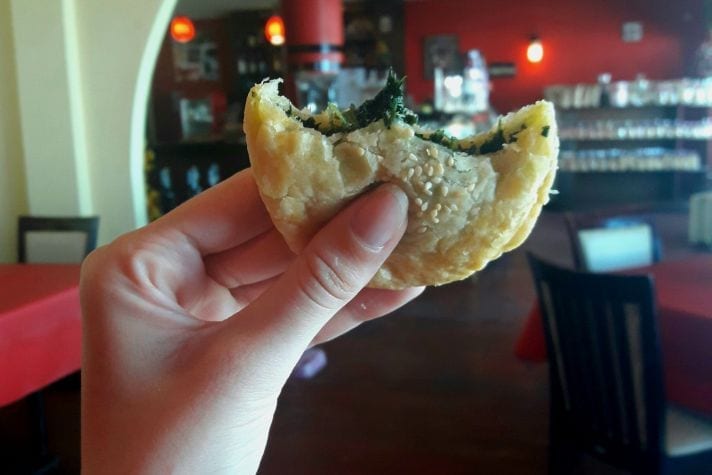 At only 25 baht each, I decided to try both! The first one was a scrumptious, flaky spinach pie and the second was filled with mushroom and mixed vegetables. Both were so good, that I couldn't decide which one I liked more.
I regret not buying a few more to take back home.Here's hoping these two pies become regular additions to the menu after the festival is over!
Opening Hours: 8:00 – 21:00
Average price for one plate of food: 200 baht
Address: Uppalisan Rd, Tambon Nai Mueang, Mueang Ubon Ratchathani District, Ubon Ratchathani 34000
---
– Street Food Desserts –
To satisfy our dessert cravings we decided to make our way to one of the food stalls for some sticky rice and mango! Since my fellow South African travel blogger Anje from Going Somewhere Slowly recommend this to me, I have become obsessed.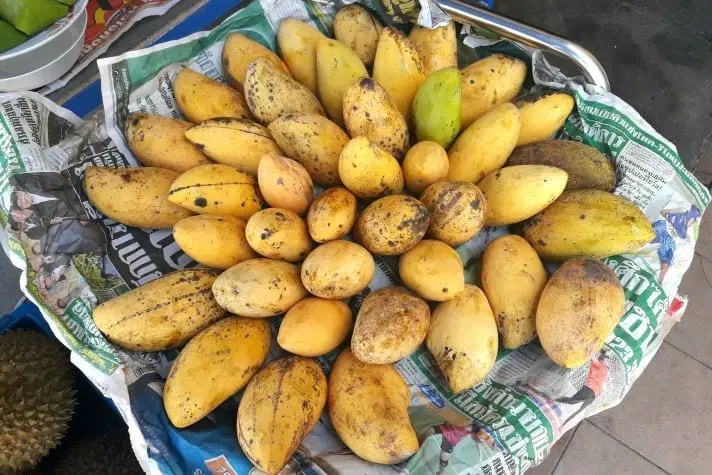 We walked from Peppers to a street vendor on Chayangkun Road, who has a stall just before the 7 Eleven. It cost us 60 baht per person as mango is out of season and prices are higher than usual.
The milk goodness you can see  milk making this a great cheap vegan dessert for when the sweet tooth demands attention.
---
– 7 Eleven Food Haul –
Our last stop on this epic vegan / vegetarian food haul was 7 Eleven. After grabbing our mango and sticky rice we walked into the 7 Eleven to see what new Vegetarian Festival products we could find. It was also an excuse for us to stock up on these products as 7 Eleven doesn't usually carry a wide range catering to vegans.
We found a range of soups, frozen meals and baked goods all for well under 50 baht each!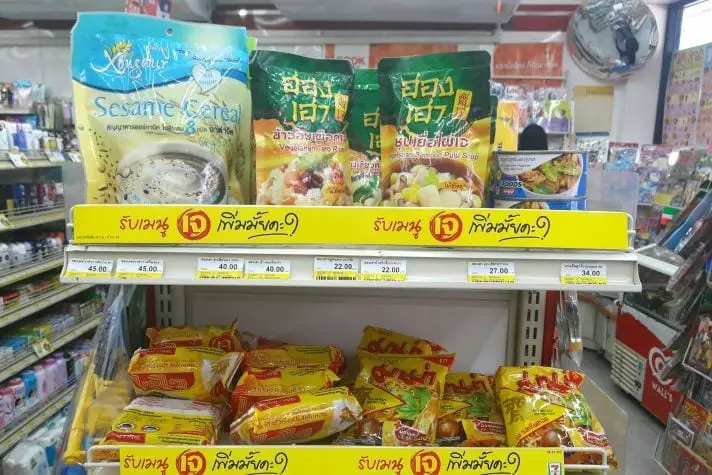 There were even Shitake flavoured Lays chips for sale! The one thing I searched high and low for was the shitake mushroom pie, but unfortunately it was sold out. I'm holding thumbs that the 7 Eleven in my town will come through for me and add it to their shelves this week.
Instead, I left with a pumpkin filled whole wheat bun for the bus ride back home and every single frozen vegan meal I could find.
I'm going to have to set up my squat game over the next few days to counter all these extra calories. But it is all so WORTH IT.