Last Updated on March 18, 2021 by Taylor
Ever wanted to hike an active volcano?
Hiking Mt Batur was at the top of my Bali bucket list when I went to the island for an entire month with Find Your Pack in November 2017.
I saw lava rock for the first time, witnessed actual steam coming out of the mountainside and in the distance saw Mt Agung puffing a few tendrils of smoke that would eventually lead to its eruption only two days later.
Here's everything you need to know about hiking Mt Batur – one of the best hikes in Bali!
Climbing Mount Batur Without a Guide
Can you hike Mt Batur without a guide?
Yes! You can do it without a guide or an organised tour.
You'll save a ton of money by doing so, but it's not the easiest option.
The touts are notorious for harassing solo climbers by saying it's not possible or giving the wrong directions to the summit.
Don't let them bully you. The pathway to the summit is not marked, but the trail is obvious, and you won't be the only one climbing Mt Batur if you do need some help.
Getting to Mount Batur
If you're not hiking Mt Batur with a group, you'll need to organise transport to get to the start of the trail.
The volcano is located in the Kintamani region of northeast Bali, and there are regular public transport options to the area.
The fastest way to get there is with a bus from Ubud to Kintamani. The journey takes one hour, and you can get tickets from one of the travel agencies in the city.
The cheapest way to get to Mt Batur is with a minibus. Head to the Batubulan minibus terminal in Denpasar to start your journey. A one-way trip costs around $3 and can take up to two hours depending on how many stops are made.
If you choose one of these options, you'll need to arrive in Kintamani the day before your Mount Batur hike, as nothing will be running before sunrise.
Another option would be to hire a bike. You can find scooter rentals for about $5 per day in Ubud. It is an hour or so drive, so I'd only recommend this option if you're comfortable riding for long distances in the dark.
Where to Stay in Kintamani
Black Lava Hostel is only minutes away from the start of the Mount Batur climb.
You can pick up a bed in a four-person dorm for R 260.00 per night. There is also a cheaper six-person dorm option for R 130.00.
If you prefer having your own space, the hostel has private rooms with a view of Lake Batur for R 480.00.
Hiking Mount Batur With a Guide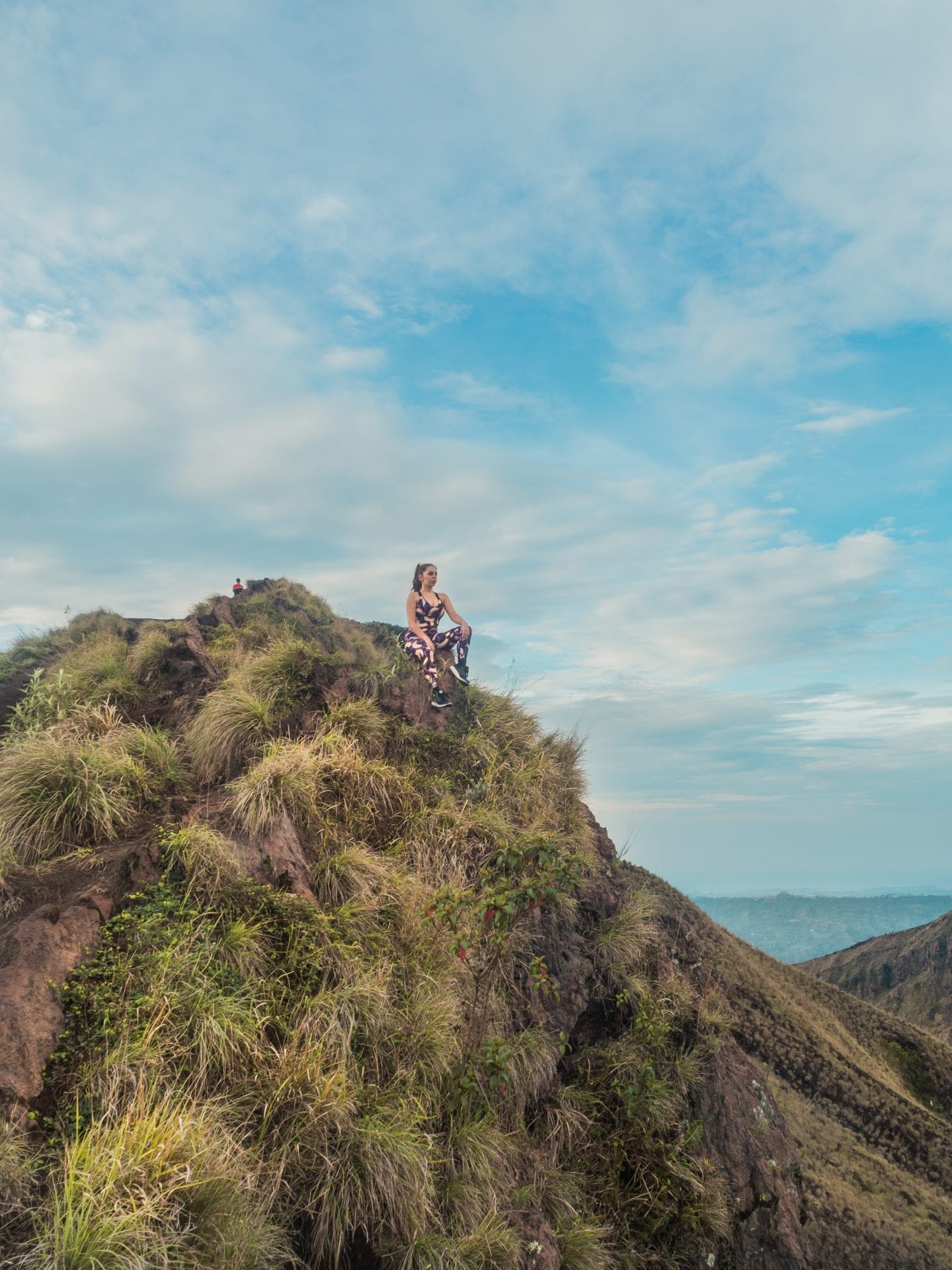 I hiked Mt Batur with a guide as part of an organised tour. The activity was included in the price of the digital nomad retreat I signed up for in Bali.
The Mt Batur trekking tour cost us $45 per person, and we used Kadek Bali Trekking.
Here's a break down of what was included:
2:00 a.m. pick up from our villa in Ubud in air-conditioned minivans.
Mount Batur entrance fee which is $20.
One English speaking guide and two porters.
Bottled drinking water.
Flashlights for each person.
Breakfast and coffee/tea at the summit.
Transport and entrance to the Mt Batur Hot Springs.
Drop off at our villa.
While it's not the cheapest activity, if you don't want to deal with any admin it's worth the price.
I found the guide to be knowledgeable and he answered all my questions about the history of the volcano, it's significance in Balinese culture and the surrounding flora. He also proved to be really helpful in two situations:
The one girl in my group was struggling with the incline towards the end of the hike. He stayed behind, helped her calm down and promised her that he'd help her get to the summit, which he did.
My lens cap wasn't secured and went flying off down the mountainside. Somehow he managed to find it.
#Winning
How Difficult is the Mt Batur Hike?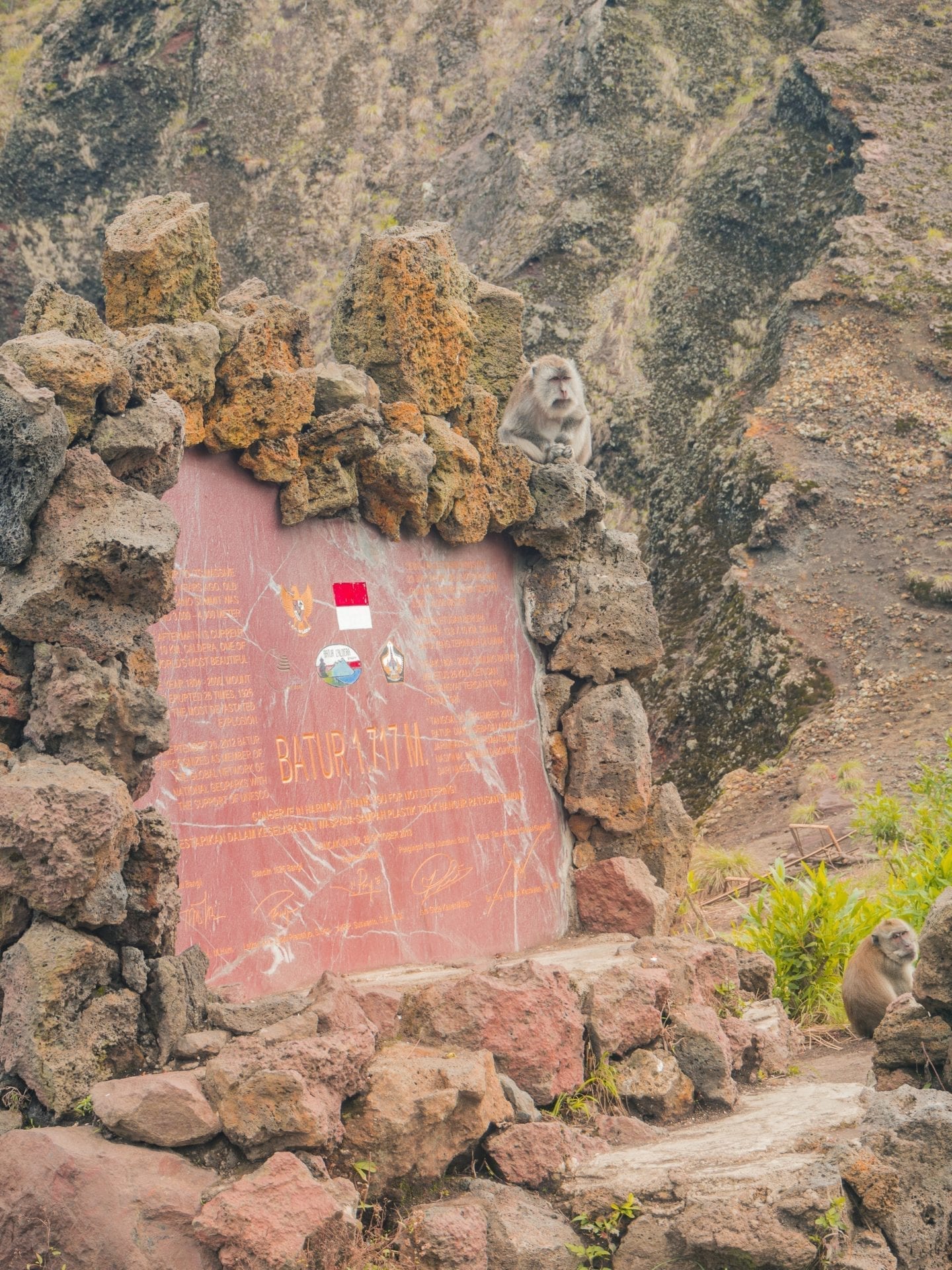 The difficulty of Mount Batur all depends on your fitness levels, but it's not technical. The hike distance is 11km and our accent took us two hours up and three hours down.
The summit is 1,717 meters high, and I think felt a bit of altitude sickness. I'm not sure if it was in my head, but I was trying my hardest to stay at the front of the group, because of FOMO.
I started getting dizzy, and after I took a break and stayed at the back, I didn't feel that way again.
There are also two different routes you can take to reach the summit:
The easiest one takes the longest and winds its way around the mountain.
The hardest route is a steep incline straight up to the summit and is the fastest way to get there.
If you haven't arrived at the start of the hike on time, I'd recommend taking the harder route, so you don't miss the sunrise. But it's not recommended if you are worried about your fitness levels.
We took the easiest route down the mountain. We got to see a lot more of the surrounding area, and while it does take longer, the scenery is incredible.
Is Mount Batur Safe to Climb?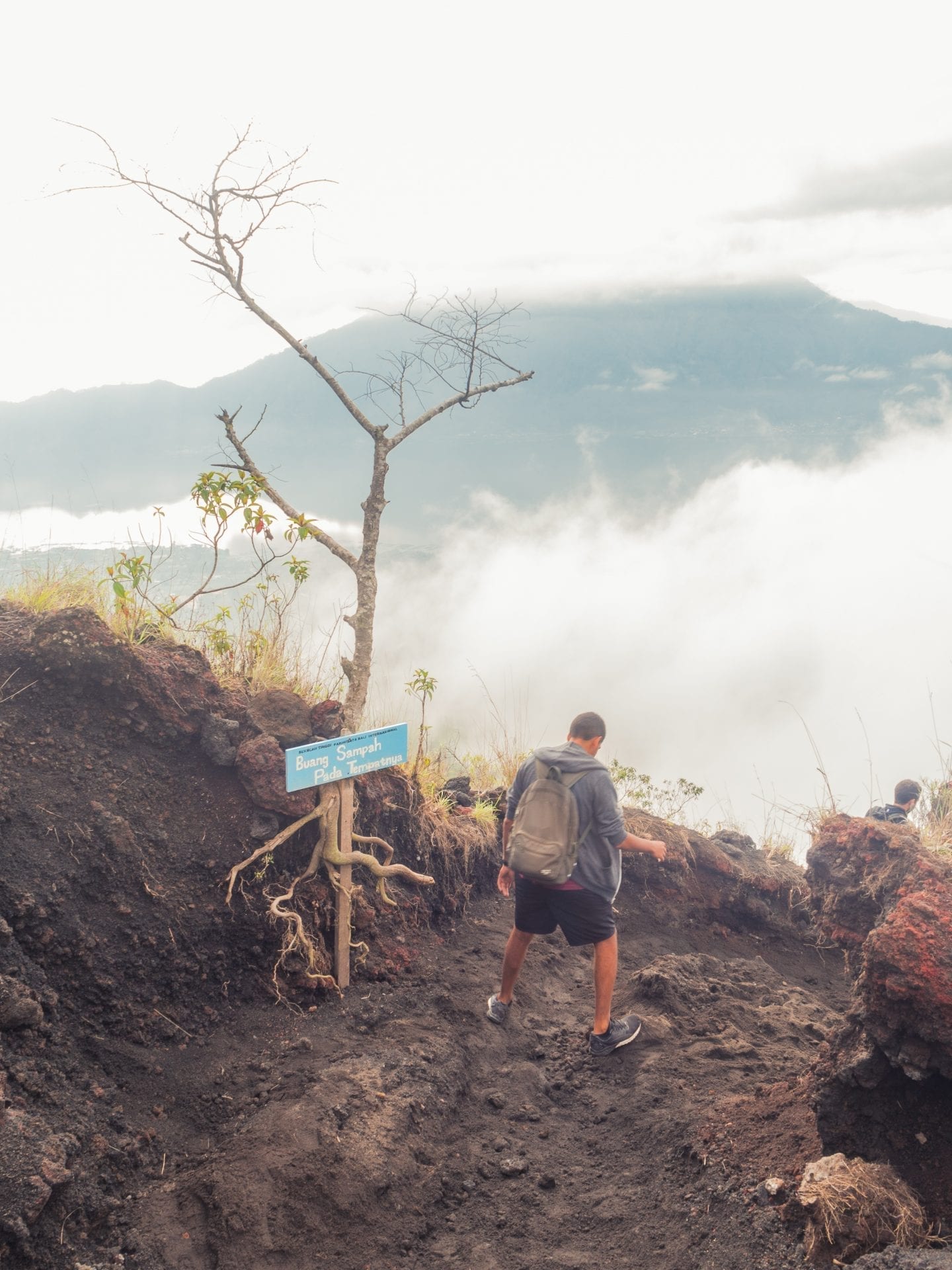 Yes, hiking Mount Batur is safe. It is the most popular Bali volcano hike and about 200 people climb the volcano every day. Its last recorded major eruption was in 1963.
But there are a few things to keep in mind before you decide to tackle this hike:
Check The Weather
If you are visiting Bali from December to March, the rain becomes a risk factor. I went in November, and we had to cancel our hike and move it to the following week.
If there has been a lot of rain, the mud makes it slippery to climb, and there is a lot of gravel on the ground that can cause you to lose your footing. You'll also not get the best pictures as the cloud cover will obscure views of Mt Agung in the distance.
Check The Volcanic Activity
Before you go trekking in Bali, check the temperament of the volcano. Hikers in the past have been surprised by eruptions. If there is any chance of activity, rather postpone your hike and avoid putting yourself in any danger.
Take Out Travel Insurance
If something does happen on the volcano, you want to make sure you're covered. Whether it's twisting your ankle, breaking your camera or any other freak accident, take out a comprehensive travel insurance plan.
I use World Nomads when I travel because the company creates policies specifically designed for long-term travellers and adventurous activities.
If you're short on time, you can use the widget below to get an instant travel insurance quote:
---
Visiting The Mt Batur Hot Springs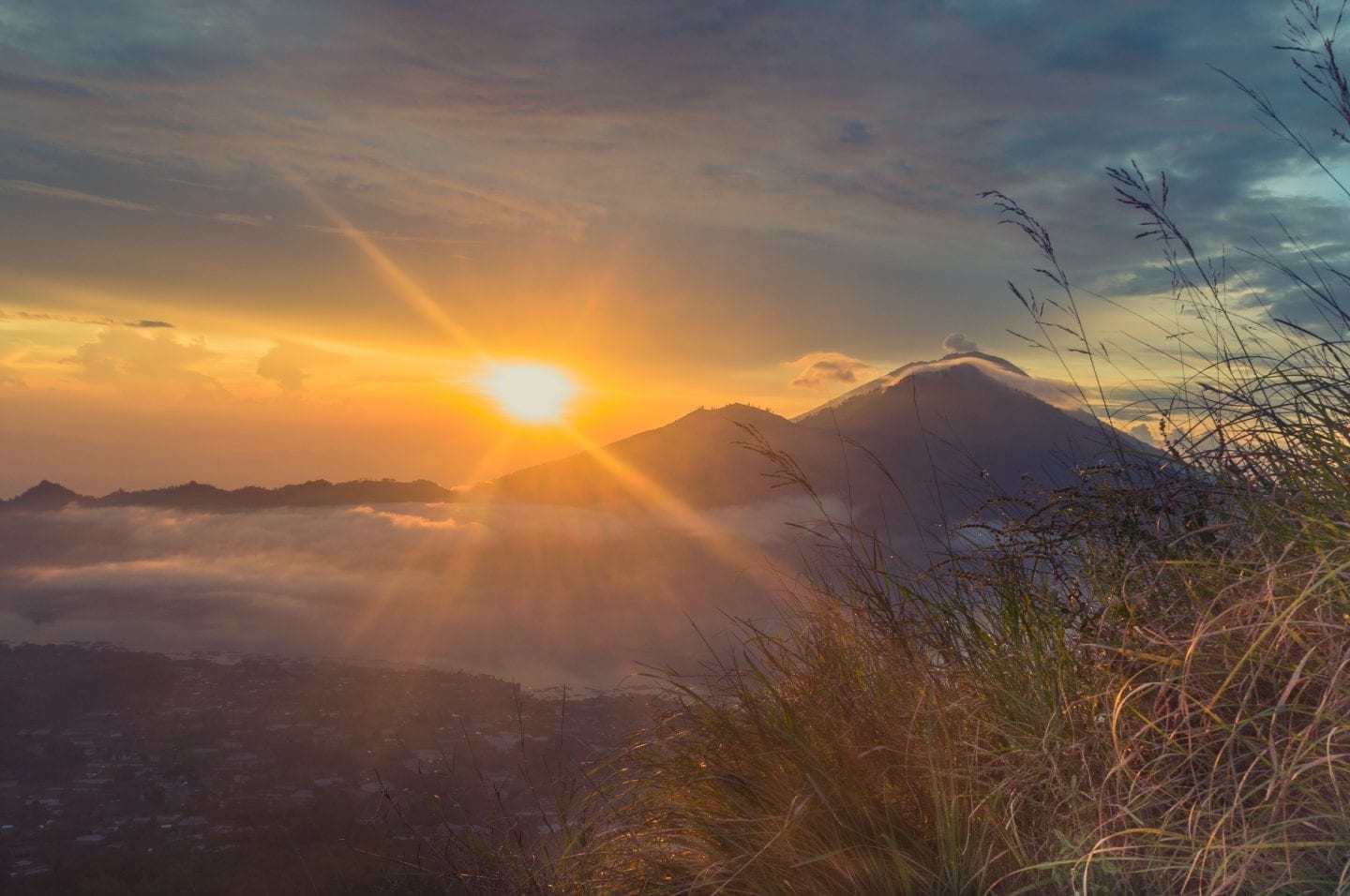 Most tour companies include a combo package to visit the Mt Batur Hot Springs.
It's one of the top places to visit near Mt Batur and it's the perfect way to relax after four or five hours of trekking in Bali.
I choose to skip this part of the tour as I just wanted to go back to the villa and sleep. But most of the people in my digital nomad retreat group stayed behind and raved about the experience.
What To Wear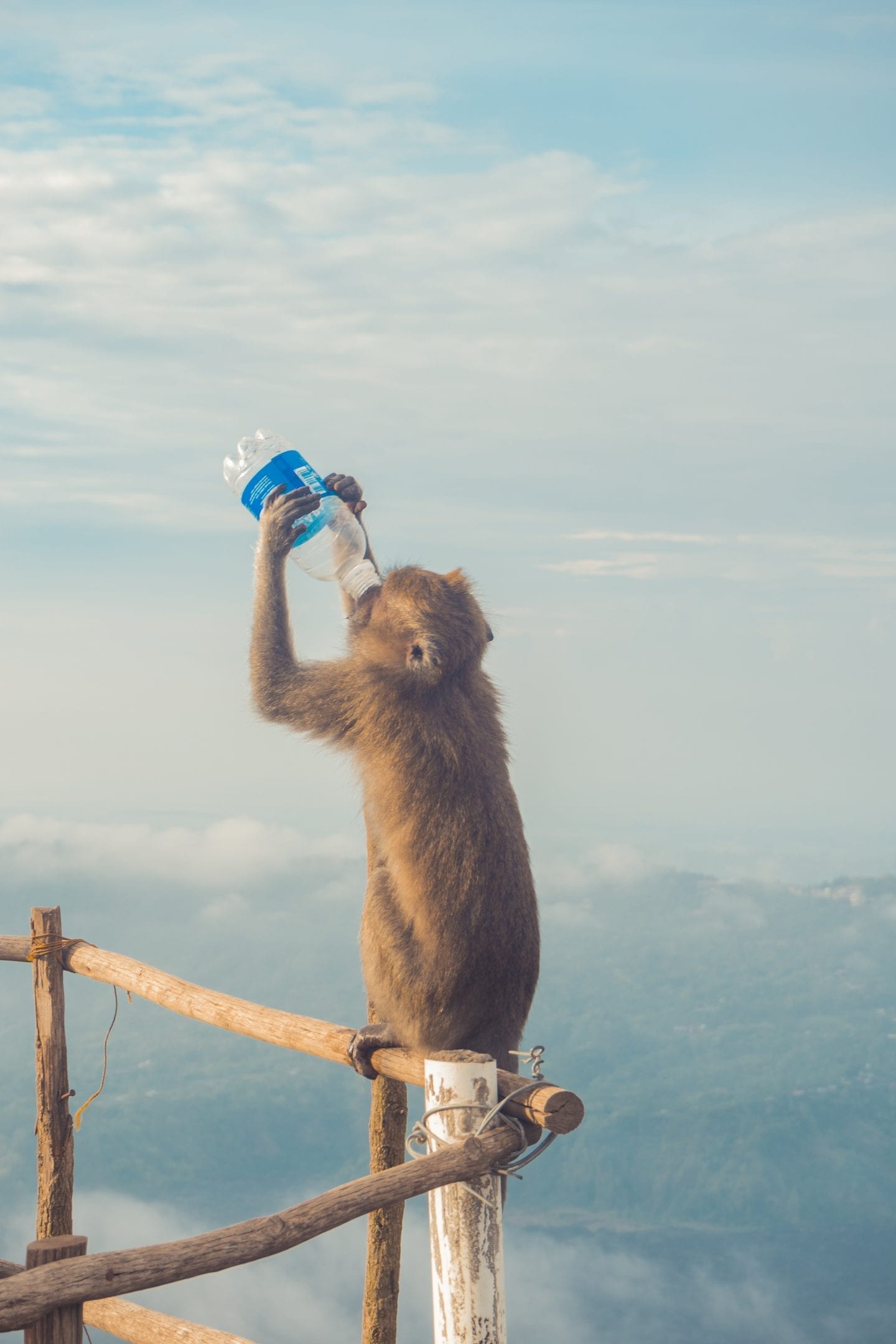 Layers, layers and more layers are key to hiking Mt Batur.
With the hike starting in the early hours of 3:00 a.m. you'll need enough warm clothes to help you beat the chill. But once the sun comes out a few hours later, you'll be pealing of your jackets as the weather warms up.
The temperature at the top of the mountain can be below 14C if it's cloudy and has been raining. If you've arrived in Bali with zero winter clothes to your name, you can rent a thick jacket from one of the locals at the base of the volcano hike.
You'll also need to pack proper trekking shoes. Sandals won't cut it as there are sharp volcanic rocks and will quickly ruin your shoes and hurt your feet.
What to Bring
If you are trekking Mt Batur without a guide, you'll need the following:
A flashlight or a headlamp.
Snacks for during the hike and at the summit.
Drinking water.
Essentials for guided and unguided hikes:
Rain jacket.
Dry bag
Money
Swimming costume for the hot springs
Sunscreen
Sunglasses
Hat
Camera Equipment
Bringing cameras to your Mount Batur trek is essential! I currently use a Canon D80 and a Sigma Art Lens 18-35mm, but any quality DSLR will work to capture the scenery.
Sunrise at the peak of Mount Batur is absolutely stunning and will make all the sweat and burning limbs worth it. Bring along your cameras, Gopros or your smartphone – whatever you prefer to use to document your adventures,
Unless you're a professional landscape photographer, there is no need to lug a tripod up the volcano. But if you're travelling solo or you want to control your shots, bring a small light-weight tripod like a gorilla pod or something from the Manfrotto Traveller range.
---
What to Expect at the Summit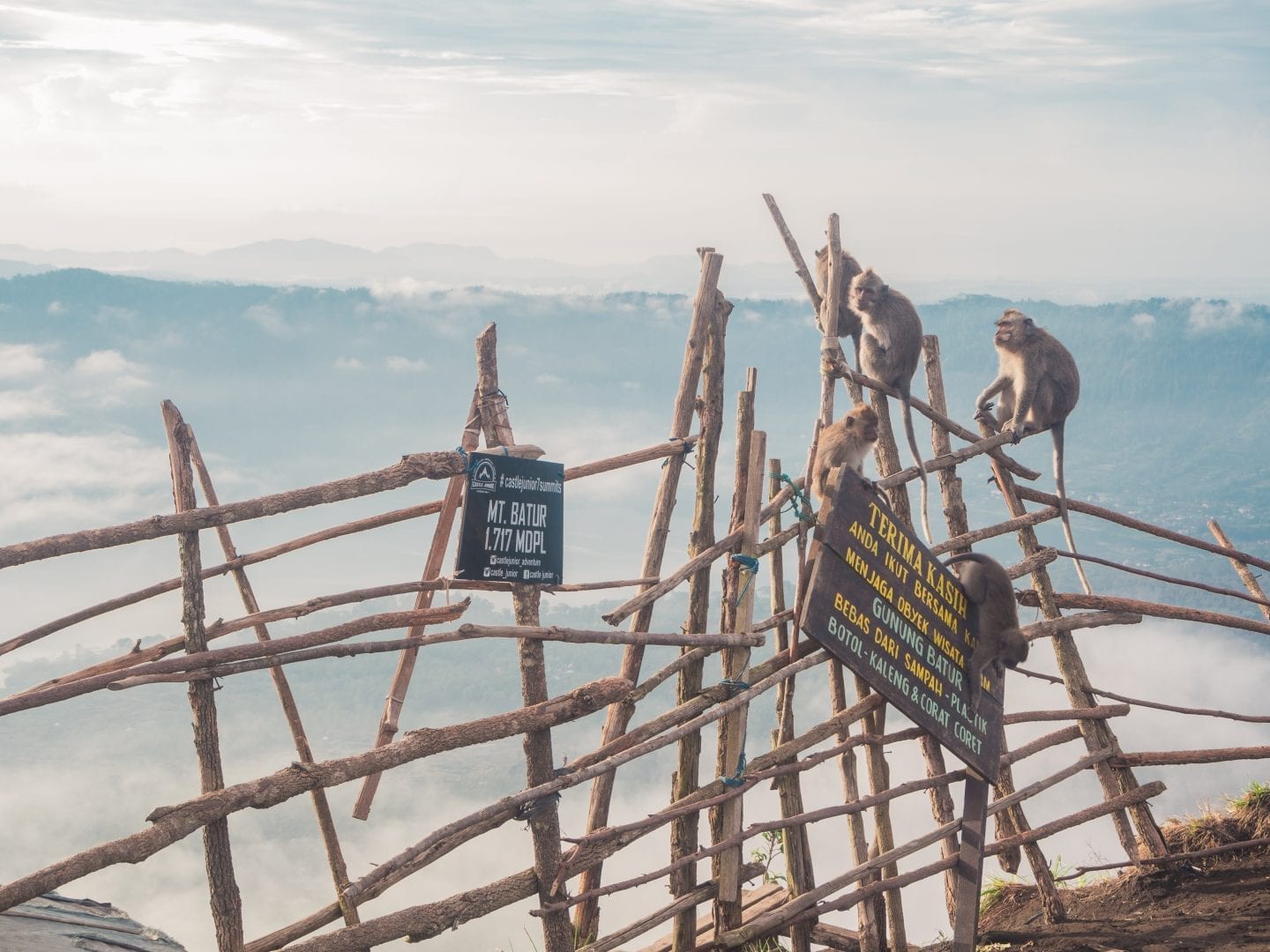 Once you've made it to the top (Mt Batur's height is 1,717 meters above sea level!), it's time to find a spot to sit back and watch the sky come alive with colours.
Your guide will bring you coffee or tea and a light breakfast. Ours included banana sandwiches and boiled eggs.
If you're doing the Bali volcano hiking solo, you can pay the owners of the shop for something to eat or drink. The porters also bring up soft drinks in cooler bags and small snacks like chocolates.
Once the sun is up, you'll be able to see steam coming out of the mountainside, and you'll be greeted by the monkey king and his troop.
If you want, you can feed the monkeys, but I think that's just terrifying. I had mini panic attack any time one of them locked eye contact with me, and I was constantly hopping from one spot to the next to avoid getting a monkey on my back.
Yes, I know I have issues.
But I have been chased by baboons in Victoria Falls and cows in Lesotho. I trust no wild animal.
Once your group is ready to leave, you'll make your way back down the mountain with beautiful views of Lake Batur in the distance.
How Much Should You Tip Your Guide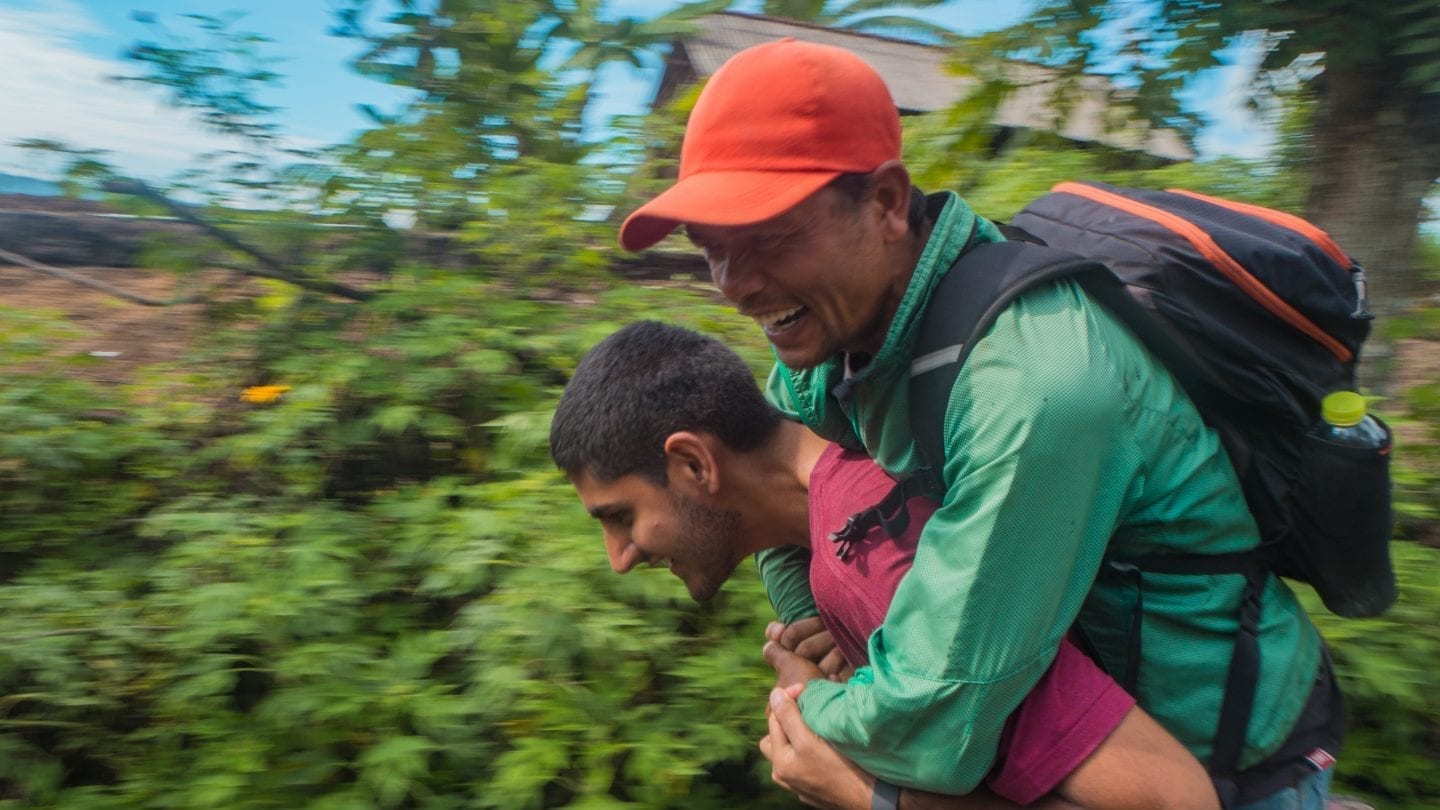 We pooled money together and tipped our guide and porters. It's not expected, and it's up to you how much you want to contribute.
Did I leave anything out? Is there anything you'd like to know about hiking Mt Batur? Let me know in the comments below!
Want more Bali travel inspiration? Check out my other posts:
Did you find this post useful? Save it for later on Pinterest!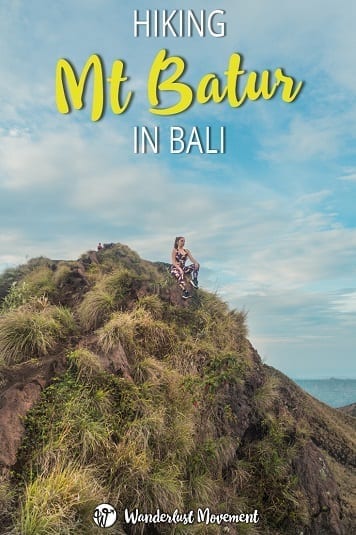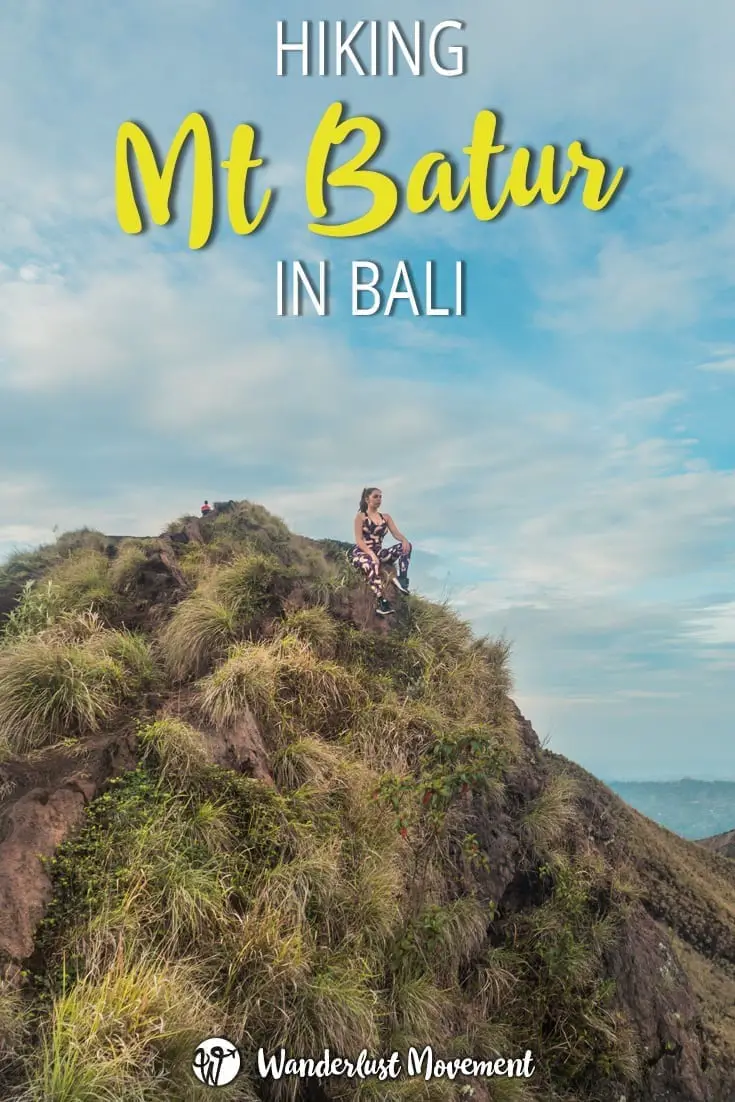 From hiking Mt Batur solo to signing up for a group tour, here's what you need to know about successfully summiting one of Bali's active volcanos!