Last Updated on August 2, 2020 by lauren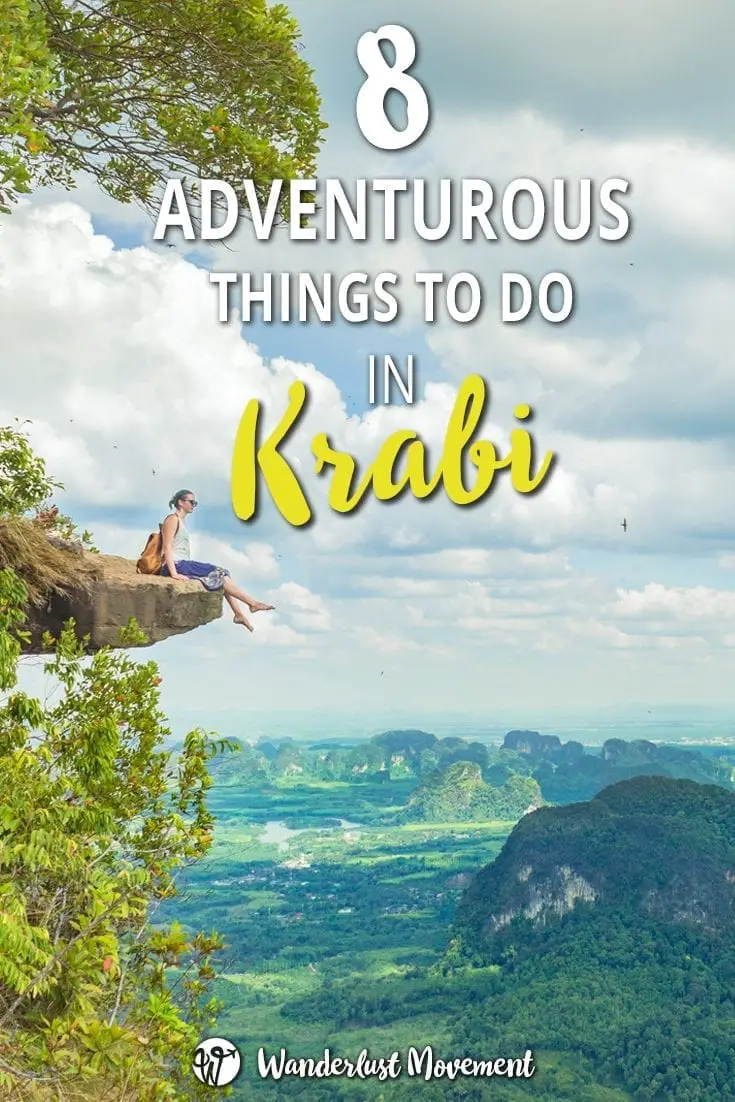 I 'm not a fan of the south of Thailand.
At least that's what I used to tell people before this trip.
After living in Thailand for six months while teaching abroad, and spending a disastrous few times in Phuket and Phi Phi, I disliked the region with a passion. I painted it all with the same brush of a drunk Australian hangout that only caters to those looking to party hard.
But this trip to the south of Thailand changed my mind.
While I still detest Phuket (tourist trap) and Phi Phi (expensive and overcrowded tourist trap), I realised those two places are just bad eggs.
Krabi is the perfect island getaway for my vibe. There's a party scene, but it's not obnoxious. The locals are genuinely friendly, the prices (while still higher than the mainland) aren't ridiculous, and there are tons of epic outdoor activities to do that don't revolve around just sitting on a beach all day.
So if you're heading that way and your itinerary is still open, here are eight adventurous things to do in Krabi that can't miss!
1. Hike the Ngorn Nak Mountain Trail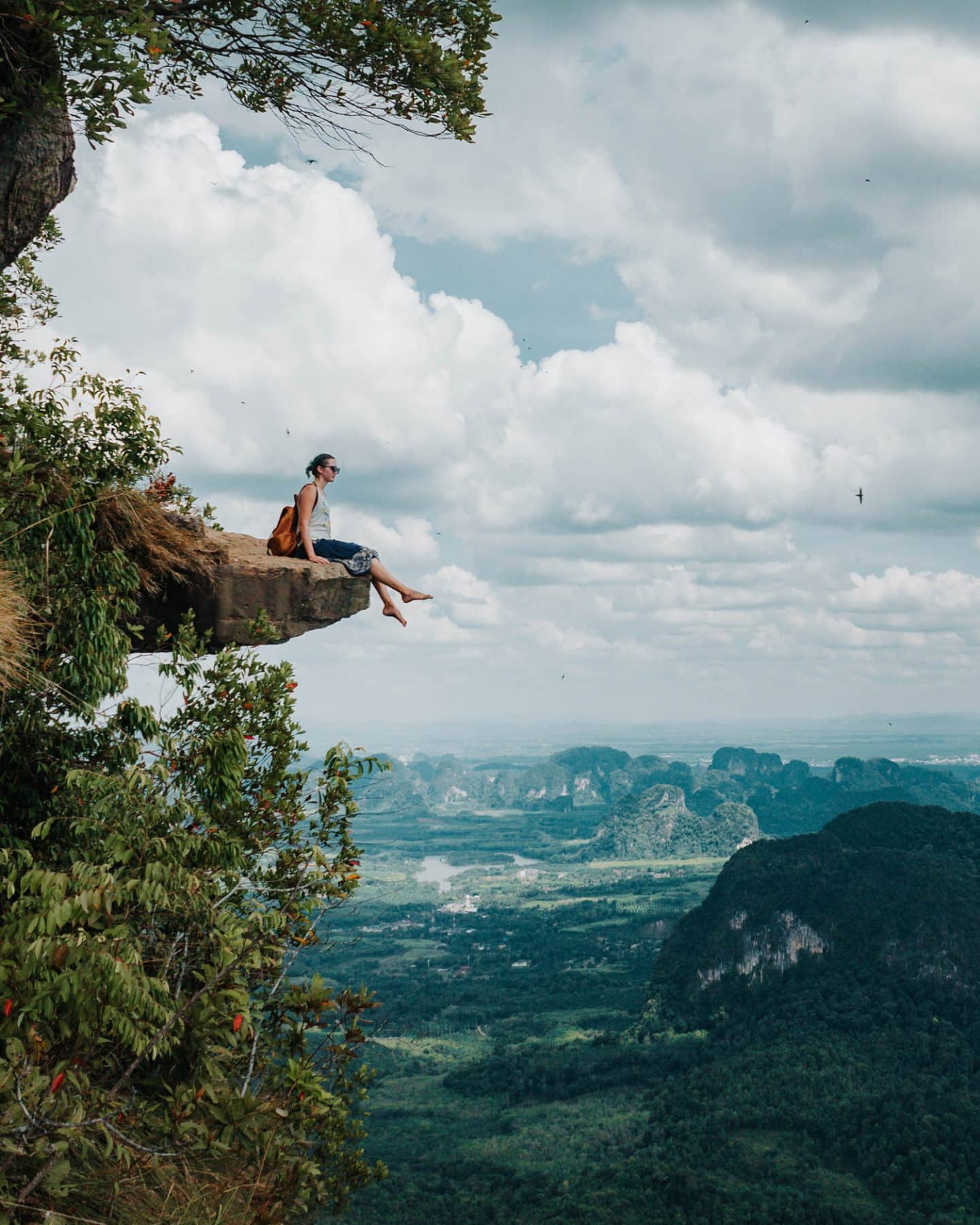 If you're doing it for the 'gram, Ngorn Nak in Krabi is the place to go.
But be warned, the hike is not for the faint of heart.
It's a gruelling 4 km trek that will see you sweating, downing bottles of water and tackling steep inclines.
If you can handle all that and the thick humidity in the forest, your butt will thank you, and you'll have Krabi's best viewpoint all to yourself.
Ngorn Nak Mountain Trail isn't one of the most popular things to do in Krabi. When I went up, I'd pass people now and then, but I also had quite a bit of the trail and the forest all to myself.
How to get to Hang Nak National Park:
If you're staying in Ao Nang, Pop In Hostel runs daily tours to the trailhead for THB 300 per person.
But if you go further up the coast and stay at Reset Hostel in Klong Mueang, you can get their shuttle to Hang Nak National Park for only THB 100.
If you want the most freedom getting around, hire a bike. It's a quick 10-minute ride away from Klong Mueang or 30 minutes from Ao Nang.
Read Next: Staying at Reset Hostel in Krabi, Thailand
2. Go on a Sunset SUP Tour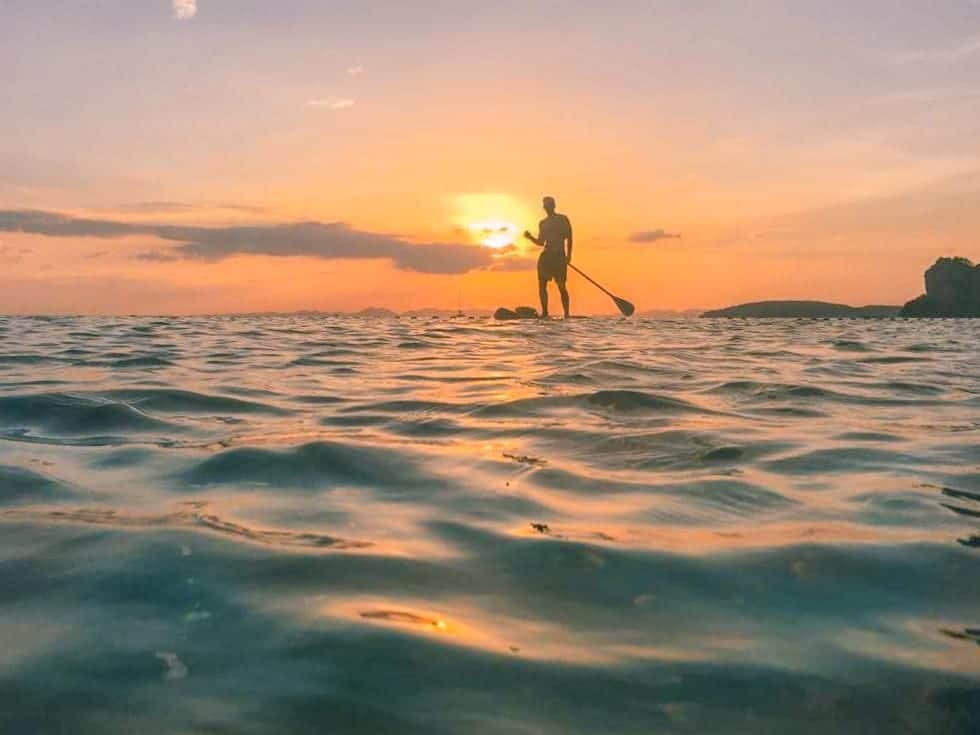 If you've never tried stand up paddling before, Krabi is a great place to start!
Located on Railay beach, you'll be able to rent a board by the hour and visit the other nearby less crowded beaches, or you can sign up for a tour.
I decided to go for a 30-minute lesson + sunset tour with Go Free Bird. It's one of the most unique and adventurous things to do in Krabi and is worth every cent.
The waves by Railey beach are small and gentle, making it easy to get a handle of paddling and standing up.
But what sold me on this experience (besides the god smackingly beautiful sunset) was the bioluminescence!
The paddle boards are also fitted with LED lights. For some reason, fish love this shit, and there were tons of small fishes swimming beneath us. A few even decided to leap out of the water and onto the paddle boards.
All of them made it back into the ocean except the one I accidentally sat on and killed.
#ForeverAshamed
3. Learn How to Rock Climb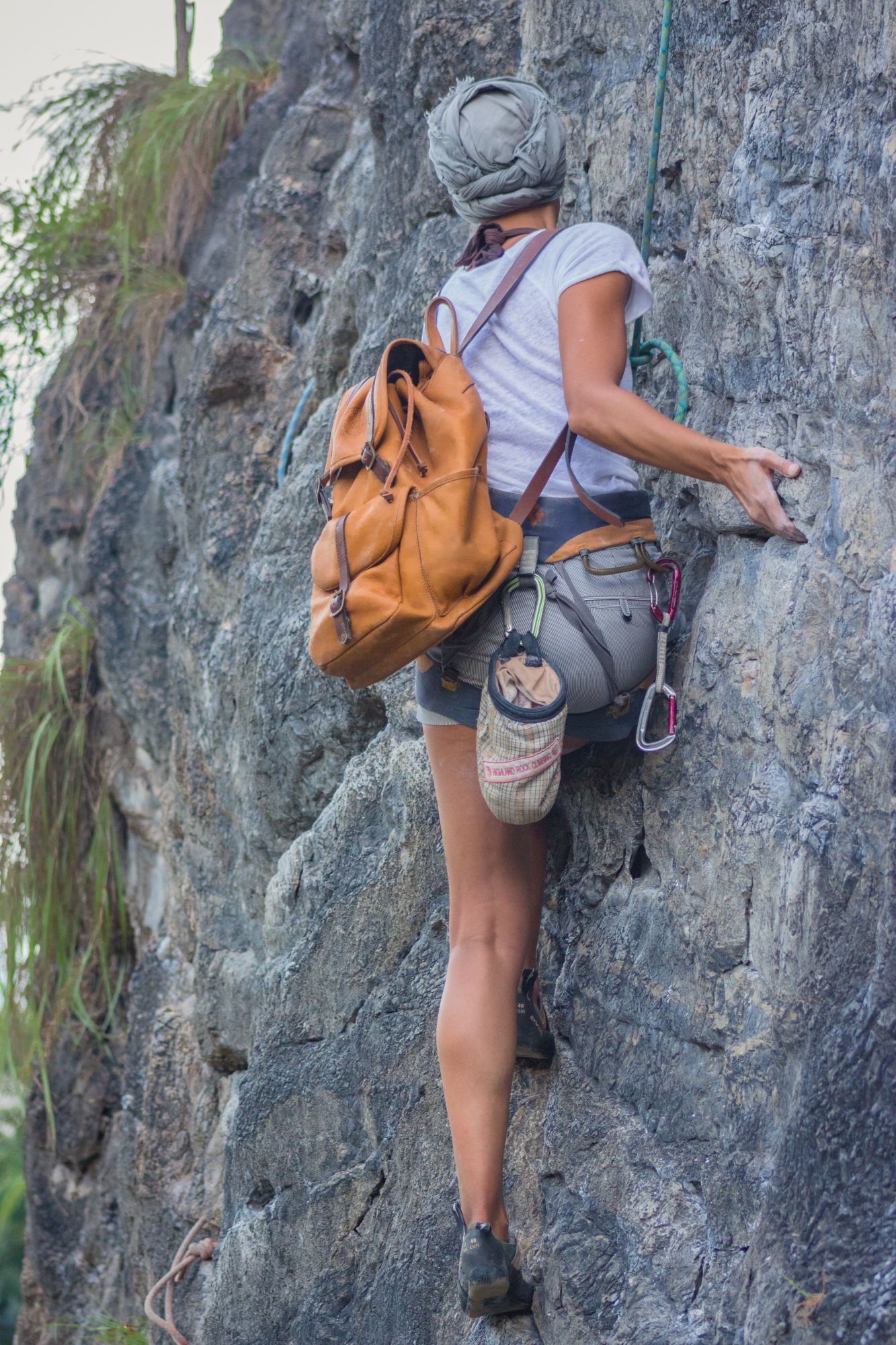 A few years ago, I met a guy in Chiang Mai who couldn't stop raving about the rock climbing in Railay. I made a mental note that the next time I'm in the south of Thailand, I'm trying it out even though I'm not the greatest fan of heights.
Flash forward two years later, and I can finally cross that off my list.
I really didn't think I was going to make it up those routes, let alone complete all 10.
My guide from Krabi Rock Climbing was super patient, motivational and had me in a constant state of what the fuck am I doing.
10/10 would recommend.
4. Make Your Way to Railay Viewpoint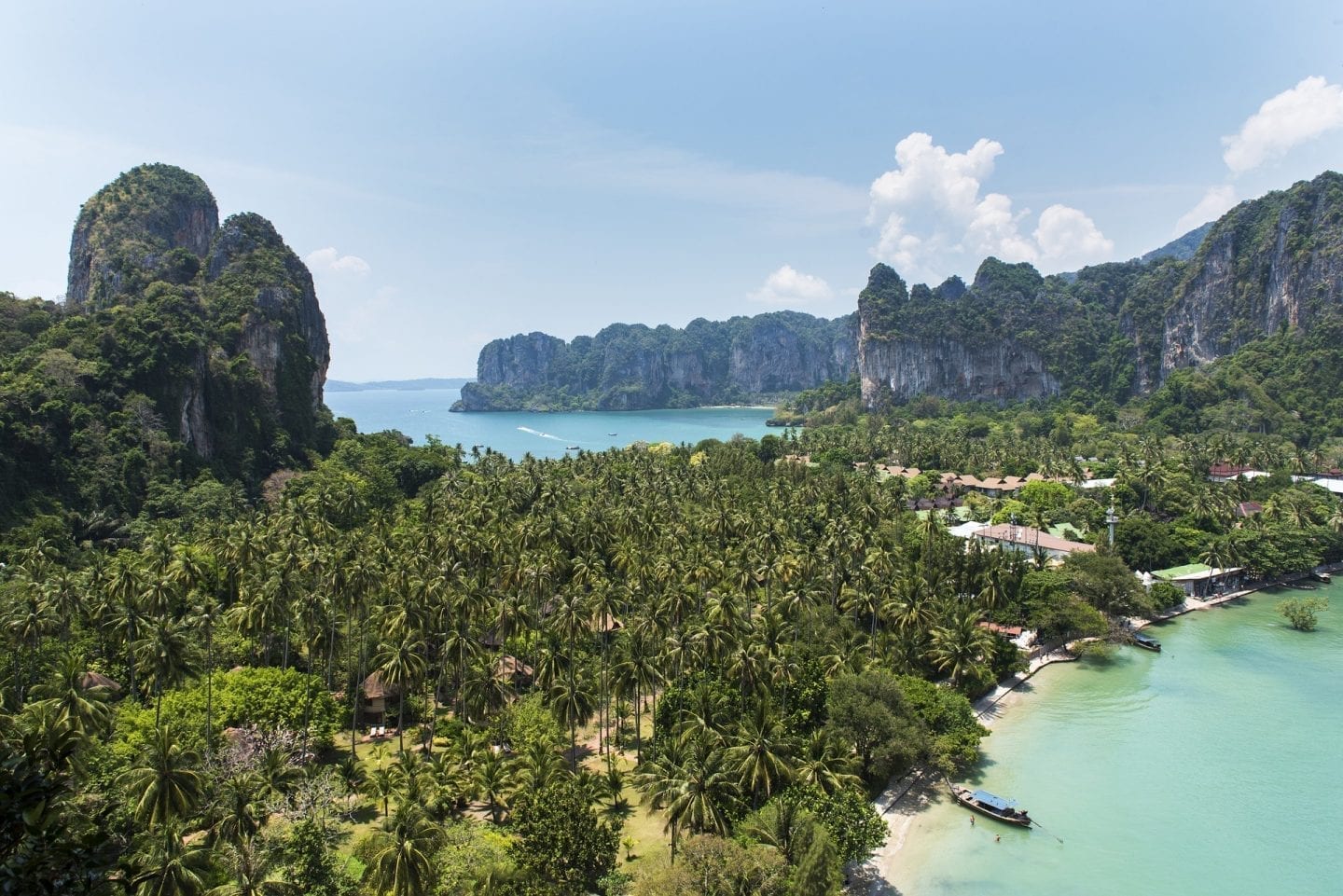 Do not attempt this hike in flip-flops. You'll want to wear decent shoes with grip.
It's an intense route that will see you pulling yourself up by ropes to make it all the way to the top. But once you're there, you'll be rewarded with a birds eyes view of East and West Railey.
Try hike to the viewpoint in the morning before the heat of the day sets in as it is one of the most challenging things to do in Krabi.
5. Go on an Island Hopping Tour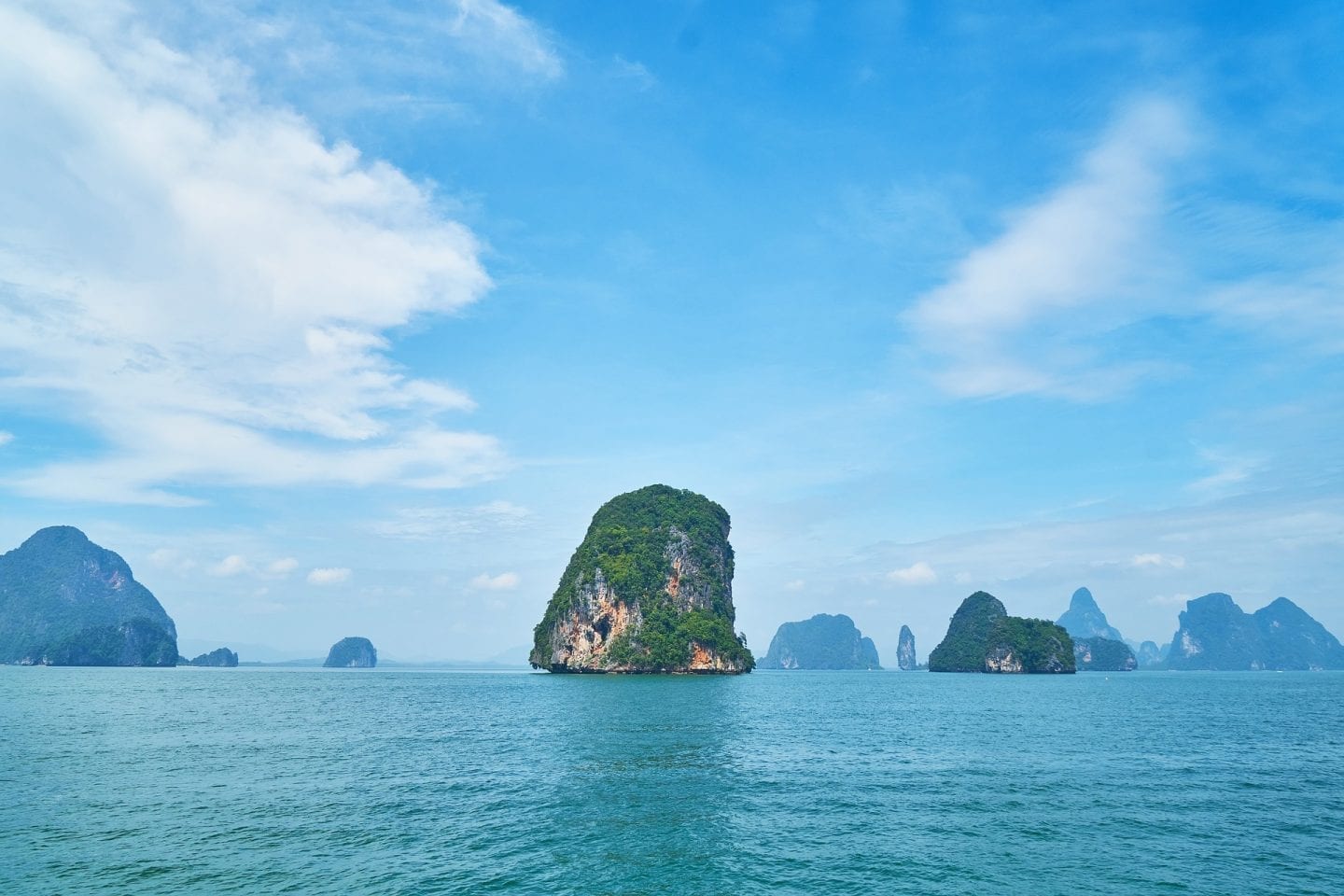 The fastest way to suck the fun out of an island hopping tour is to go with a group tour.
If you want to get a chance to enjoy Thailand's natural beauty without having to be a slave to a schedule – hire your own long tail boat. At Klong Mueang beach, you can rent one out with a driver for only THB 2,000 for the entire day.
Most island tours start at THB 1,000, so if you can find two other people to join you, it starts working out cheaper. Plus you'll get to pick the islands and decide how long you want to spend at each one.
Just make sure you bring some cash with you. You'll need to pay a national park fee to get access to some of the areas, like Hong Island.
Other Adventurous Things To Do in Krabi
I didn't get a chance to try out these, but they'll be on my itinerary for my next trip to Krabi:
6. Visit Sra Morakot (The Emerald Pools)
Located inside Thung Teao Natural Park is one of Krabi's unique natural wonders. Besides the beautiful emerald pool that you swim in, you might be able to spot the Pitta Gurney, a rare bird that was once thought to be extinct. There's also a 2.7 km nature trail and a waterfall to explore.
7. Go Kayaking at Ao Thalane
Ao Thalane is a beautiful mangrove forest located 20 km from Krabi Town. It's covered in dense foliage that wraps itself around Thailand's famous limestone karsts. A kayaking tour will take you to some of the areas caves, hidden lagoons and if you're lucky you'll spot the crab-eating macaques.
8. Go Caving in Than Bok Khorani National Park

Than Bok's biggest drawcard is it's 3000-year-old cave paintings. If you're a history nerd like me or just fascinated by ancient cultures, you'll want to organise a day trip to this national park. It's one of Krabi's most unique things to do and can be explored as a half day or full day trip. You can either hire a longtail boat or kayak between the caves. Prices are a bit expensive, but if you've got haggling down to a fine art, you should be able to get a good deal.

Which of these adventurous things to do in Krabi is at the top of your bucket list?

Psst…Want more Thailand travel inspiration? Check out my other posts:

Hike to breathtaking viewpoints, kayak through mangroves and go caving to see ancient rock paintings. These are just some of the adventurous things to do in Krabi that deserve a spot on your Thailand itinerary!