Last Updated on January 11, 2021 by lauren
Want to disconnect from the world and spend a weekend hidden way in nature?
Surrounded by the Knysna forest, Forest Edge – Nature Lover's Retreat is perfect for travellers making their way across South Africa's famous Garden Route.
The area has a rich history, with the self-catering cottages built as replicas of the original gold-mining houses of the Millwood Gold Rush.
If you're lucky, you may see one of the few elephants that call this region home or even the elusive leopards that sometimes visit the neighbouring farms.
Here's my experience staying at Nature Lover's Retreat in Knysna, South Africa!
How to Get to Forest Edge – Nature Lover's Retreat
The best way to get to Nature Lover's Retreat is to drive. It's only a 30-minute drive from Knysna.
We took the N2 from Cape Town (it took us five hours), but you can also go on Route 62 if you have the time and want something more scenic.
If you're coming from Johannesburg, or elsewhere in South Africa you can fly into George and hire a car at the airport. Forest Edge is 68km away and should take you one hour to arrive.
What to Do at Forest Edge – Nature Lover's Retreat
If you need to get your nature fix, Forest Edge has it all. From scenic forest walks to challenging mountain biking trails, there's more than enough to keep you busy right on their doorstep.
Here are some of my top picks:
Drupkelders Hike: If you're looking to ease your way into a weekend of hiking, take this trail. It's only 3.5km and goes past the beautiful rock pools in Homtini River. The only catch? You will need to get a permit from the nearby SANParks office as only 12 people are allowed on the trail each day. Bring your pool floaties!
Homtini Cycling Trail: For those looking to challenge themselves, tackle the 19 km Homtini Cycling Trail. It starts at Krisjan-se-Nek picnic area and will take you past the Knysna River Gorge, Lilyvlei Forest, and the Millwood Goldfields.
The Drift: Located only 15 minutes away from Forest Edge is this beautiful spot on the Knysna River. There are tons of activities to do on the water from swimming to canoeing or just relaxing on the sandy river bank.
Buffalo Bay Beach: One of the Garden Route's most beautiful beaches is only a 25-minutes away. Don't miss this spot if you're in town during the annual whale migration. You'll be able to spot these magnificent creatures from the shore.
Back at the cottages, you can get your zen on at the yoga and meditation deck, relax in your private hammock or cook up a storm with one of Forest Edge's pre-order braai packs.
Here's a full list of on-site and nearby activities.
The Cottages at Forest Edge – Nature Lover's Retreat
There are five self-catering cottages at Forest Edge. You can choose between the two standard options or upgrade to one of three luxury cottages.
Each cottage is fully equipped with everything you could need. All units have a gorgeous Victorian bath which I would have loved to try out if the Western Cape wasn't experiencing a drought.
The main bedroom has a double bed and the second room has two singles. Both have heaters, electric blankets and all linen provided.
One thing that stood out for me was the eco-friendliness. Forest Edge is mindful of using dish-washing liquid, loo paper, soap, shampoo and rubbish bags that aren't harmful to the environment.
The units do tend to get quite warm during the day. There is no aircon, but electrical fans are provided to help you cool down.
You won't be able to keep the doors and windows open if you aren't there. If you do, the local troop of baboons will visit you and go full drunk rock star in a hotel.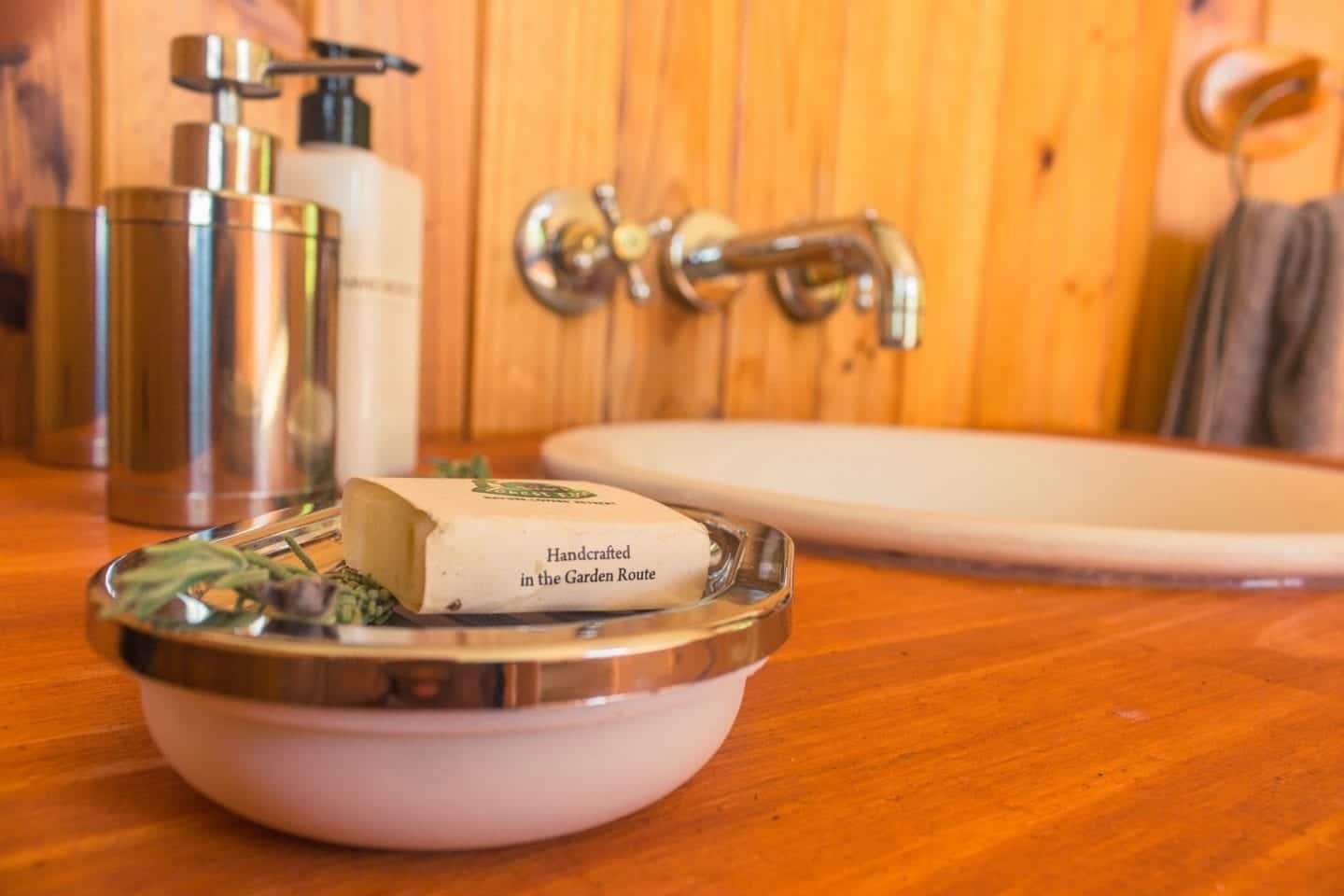 The Food at Forest Edge – Nature Lover's Retreat
Forest Edge is self-catering, but there are a few options if you aren't in the mood to cook.
Pre-book a breakfast buffet or traditional braai dinner on the Lily Pond Deck. It includes a complimentary glass of wine or juice.
I'm vegan, and while I forgot to mention this when we booked, Danie and his team were still able to whip me up something delicious.
Another option is to pre-book an uncooked braai pack or drive to one of the restaurants in Knysna.
My Experience at Forest Edge – Nature Lover's Retreat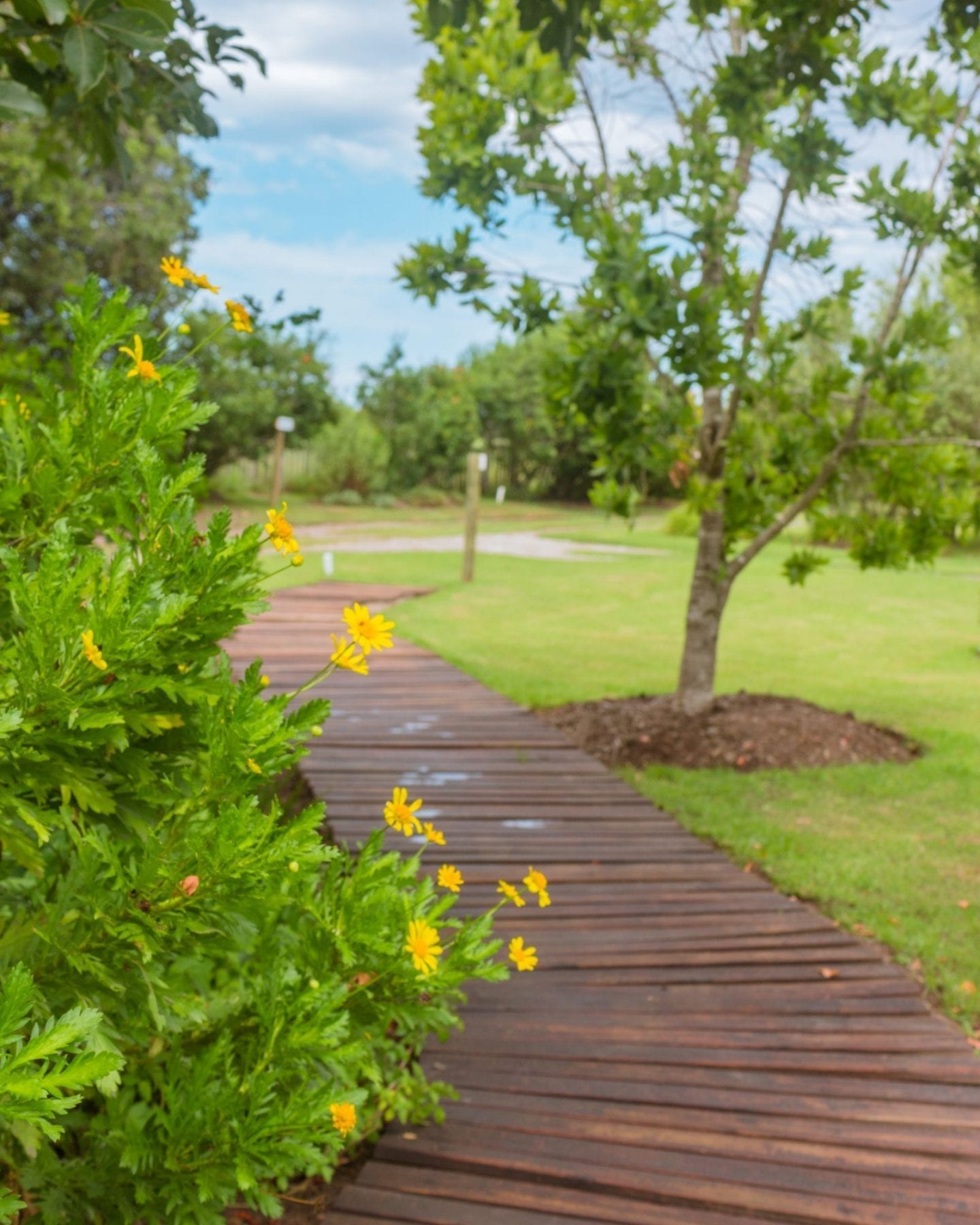 The staff at Forest Edge were amazing throughout our stay. Danie, the owner, is super knowledgeable about the area and answered all of our questions with ease.
I also loved the tranquillity of the area. You hear nothing but the sounds of birds, frogs and other critters in the distance.
The only thing I did struggle with is the WiFi. The signal didn't reach our unit, but I still had two bar cell phone reception.
Bottom line: If you're a nature lover and you're travelling with your family or as a couple, these units are great value for money. You're close to a ton of outdoor activities, and there really is no need to go into town. It's a wonderfully immersive nature experience and an excellent spot for a digital detox.
Watch the video

With a tranquil location right next to the Knysna forest, Nature Lover's Retreat is the perfect place to disconnect. Here's my experience staying at Forest Edge - Nature Lover's Retreat in Knysna, South Africa.