Last Updated on September 20, 2020 by lauren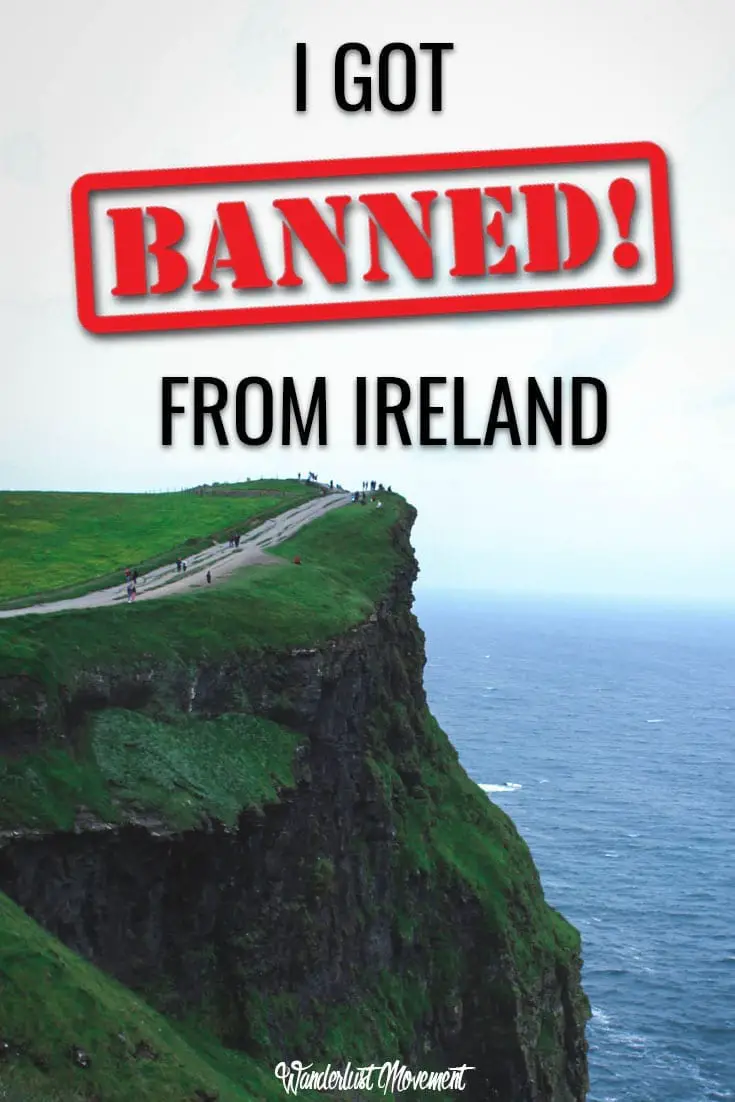 Fuck me. I never thought such a click bait title would ever grace my blog – let alone be 100% true.
In the last three weeks, I've managed to visit five countries and accumulate my fair share of travel fails. From losing my shoes in Egypt, forgetting my toothbrush in South Africa and it all coming together to form the grand finale of me being denied entry into Ireland.
So how did I manage to fuck up this badly?  It all comes down to a dash of bad luck and a sprinkle of Leeds music festival.
Read on or watch my story time below:
Don't Try Enter Ireland If Your Nationality is Dodge
South African visa requirements for Ireland is free entry on arrival as long as you have an outbound flight and proof of accommodation. I made sure I had all this upon arrival, but unfortunately, the universe was out to fuck me over.
The first nail in my coffin happened to be my nationality. Despite having a few local friends currently in Ireland right now, I was told there was a lot of "negative immigration" from South Africa and the immigration officer was not happy. He thought my route into Ireland was weird (I flew in from Izmir) and he didn't like my outbound flight was back to Turkey.
Oh, and I happened to fly in a few hours after the terrorist attacks in London. This lead to a lecture about how it's unwise for me to be travelling alone to such countries.
Nice.
Islamophobe and trying to tell a stranger how to live their life. I come from Africa mate; I'm pretty capable of looking after myself.
https://giphy.com/embed/3o7aTCELo6SzOHSP72
---
Don't Have Friends – EVER
The second nail happened to be knowing a UK national. When asked what I would be doing in Ireland, I mentioned a friend from London was meeting me, and we would be travelling around together.
The worst thing I could have possibly said.
In the past, it's always been a pro to say you know someone. It shows you have connections. This time, it led to my Whatsapp messages being scrutinised, and that's when things started to go downhill.
See, I had been discussing Leeds music festival in the UK with this friend. The Pretty Reckless, Korn, Eminem, Major Lazor and Pvris are on the lineup, and I was lamenting how much I wanted to go, asking for ticket prices and how to get there.
Keep in mind this festival is also at the end of August.
He then accused me of illegally trying to sneak into the UK from Ireland because of this and promptly cancelled the visa he had just issued. He then phoned my friend and asked him how much I had paid him and whether this was his first time trying to smuggle someone into the country.
Nevermind the fact that if this were really my intention, I wouldn't have just handed over my phone filled with "evidence". Or that the UK has shit weather and I'm not a refugee trying to escape a war zone.
I was then informed that I would be spending the next few days inside a women's prison until my flight back to Turkey. I don't know if this was a tactic just used to scare me because a few minutes later I was allowed to leave the airport.
Immigration would keep my passport, and I would be able to spend two days in Dublin, until my return flight. Again, if I'm such a risk for fleeing into the UK, why let me into the country and cause such a stinkfest??
And that was not the end of my drama. But there were no Australians around, so this story proceeded steadily downhill.
*Australians are my good luck charm because they are EVERYWHERE. So if they are not somewhere, something is not right.
https://giphy.com/embed/j1Lb0pDlYmSuQ
---
Don't Try to Defend Yourself
Returning to Dublin airport, I was met by what I thought was a nice middle aged man. Instead, like all my interactions with men in this country so far, he also had a something up his arse.
I was told to wait by some red chairs until it was time for my flight. Why I couldn't wait at my boarding gate, will remain another mystery. I didn't have my passport back at this point, and I've complied with everything they have asked with no problem. What was I going to do? Leave the airport and disappear when I had 48 hours to do that already?
About 20 minutes later, my name is called on the intercom asking me to report to the boarding gates immediately. I pick up my stuff and run, completely puzzled as I haven't moved from where he left me.
I was then chastised by two men for "not being where I was left" and for "lying" when I tried to defend myself. Nice.
Again, exactly what would I have to gain by "disappearing" at this point?
Upon boarding the plane, the insanity continued. The captain would be keeping my passport until the flight landed. You know, in case I try  to open the aircraft's door and jump out just as we fly over the promised land that is the UK.
https://giphy.com/embed/MZjBNgLeDk3O8
---
When In Doubt: Turkey
The final chapter of this ridiculous story ends with the Turkish police. Who just confirmed their status as my favourite people and why I have fallen so hard for this country.
For the better part of an hour, I explained my story to my translator and a couple of police officers. They were equally baffled by Ireland's behaviour and simply said: "They do this all the time."
However, they had to make sure I was who I said I was and proceeded to go through my social media and computer. Throughout this time, they made jokes about my smelly socks that I pulled out my bag, laughed at my selfies they found on my phone and became really invested in my relationship.
Of course, they were professional and never made me feel uncomfortable, and I appreciated their laidback vibe and not being treated like a criminal.
So it looks like I'm banned from Ireland for 10 years. Can't say I'm too heartsore about this. While I enjoyed visiting Cliffs of Moher, the bland food and constant drizzle of rain was already getting on my nerves after 48 hours.
But at the end of the day, I learnt a number of valuable lessons.
Have return flights back to South Africa when flying to Ireland, even if the consulate says any outbound flight will do.
Never mention that you know anyone in Ireland or the UK.
Delete any texts that can be used in any way against you.
Blue hair doesn't make you that visible in a crowd, pack a flag hat so you can be easily found.
Fuck Bureaucracy: I am a citizen of the world