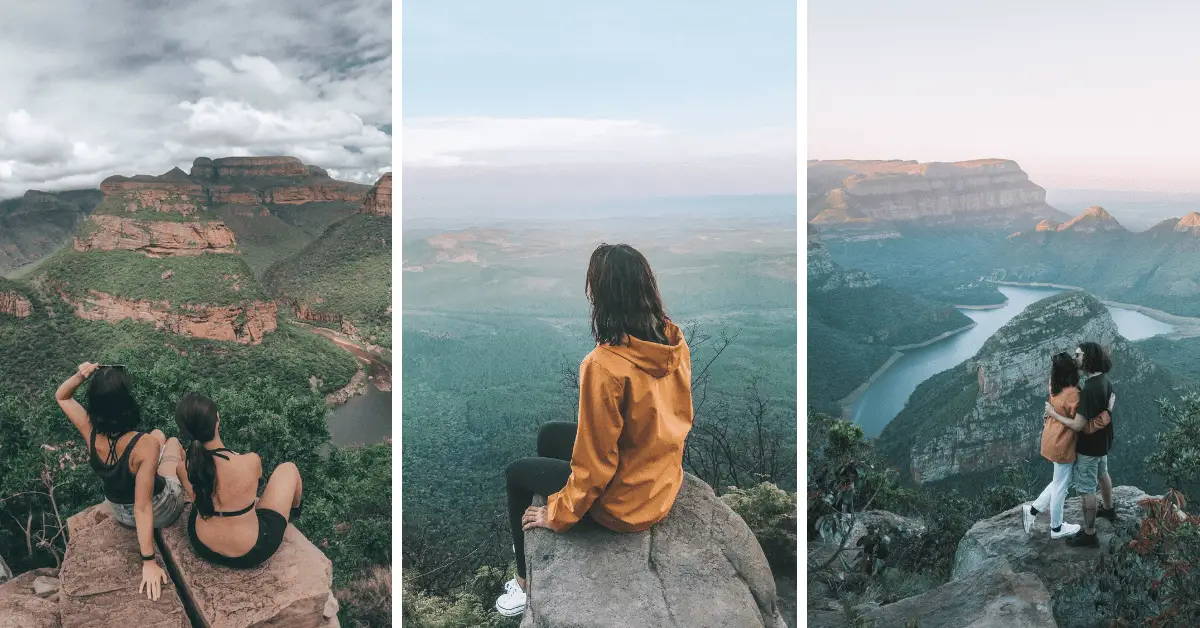 I've always loved road trips.
There's something so incredibly magical about waking up at the crack of dawn, cruising down an endlessly straight road, jamming to Spotify's Top Cheesy Hits playlist and getting to experience a destination at a much slower pace.
The Panorama Route has been at the top of my South Africa bucket list for years. Ever since I first saw pictures of the Blyde River Canyon popping up on my Instagram feed, my feet got that undeniable wanderlust itch.
The only problem?
I lived in Cape Town and life got in the way. In between teaching in Thailand, country-hopping around Europe and attempting to eat Bali out of smoothie bowls, my plans to road trip through the Panorama Route never materialised.
That is until September last year when Greg and I moved back up to Johannesburg. We decided on a whim to pack out bags the night before and drive down to Mpumalanga for the weekend.
But we made the rookie mistake of not checking the weather, and we pretty much drove past mist and buses of other disappointed tourists.
Luckily, in January, my friend Jina invited us on a spontaneous road trip to the Panorama Route, and the weather was on our side! We got to see for ourselves why the Panorama Route is dubbed South Africa's most scenic road trip and why it's considered one of Africa's greatest natural wonders.
Here's my complete 2-day itinerary for the Panorama Route, South Africa as well as everything else you need to know!
How to Get to the Panorama Route in South Africa
The easiest way to get to the Panorama Route is to drive down from Johannesburg. The distance from Johannesburg to Blyde River Canyon is 6 hours 26 minutes (486 km), and the road is in good condition for the most part.
If you don't want to drive down, you can also fly into Nelspruit or Hoedspruit and rent a car from there. It's what most travellers do that want to visit the Kruger National Park as well.
Nelspruit is a 2h 45 drive from the Blyde River Canyon, and Hoedspruit Airport is only one hour away.
---
Driving in South Africa Tips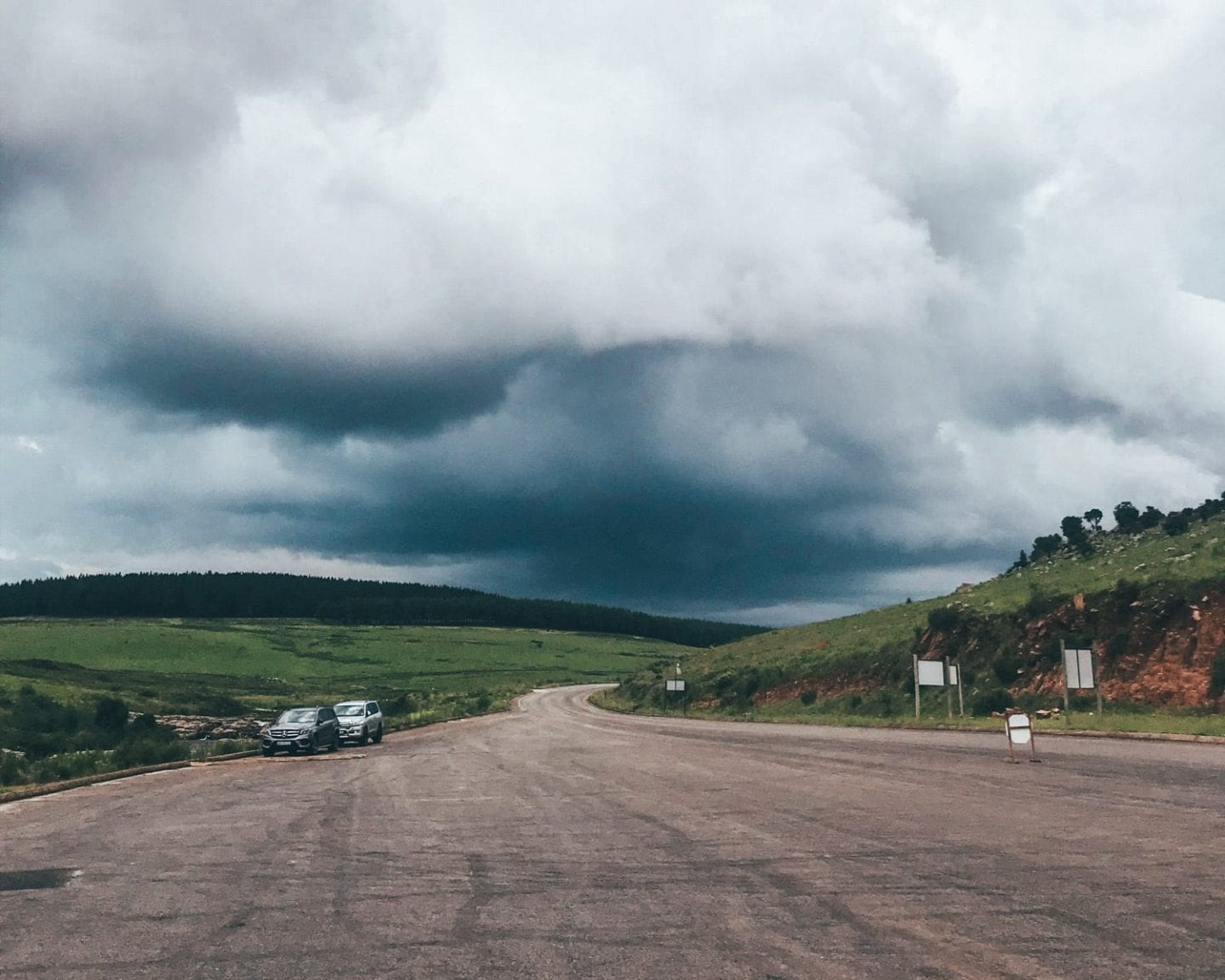 Hiring a Car
If you want to hire a car in South Africa, make sure you have a credit card with enough money on it for the security deposit. Most of the car rental companies will deduct that amount from your account as soon as you take the car and will refund it at the end of your trip.
It can take a couple of weeks for the deposit money to come through, so make sure you budget for it.
When it comes to choosing a car rental company, I've used Thrifty for other road trips around South Africa. You can also use a website like RentalCars that will compare prices from all of the leading car rental companies in the country.
Car Insurance
The Panorama Route is notorious for having low visibility driving conditions, especially in the summer months. I highly recommend buying the additional car insurance offered by a car rental company if your travel insurance policy doesn't cover you for damages.
World Nomads Travel Insurance lets you combine a standard travel insurance policy with car rental insurance. It covers any damages to the car and will probably work out cheaper than buying two separate policies from different companies.
Rules of the Road
South Africans drive on the left-hand side of the road. You'll also need to request an automatic car if you're unfamiliar with driving a stick shift as most cars in South Africa are manual.
E-Tolls and Toll Gates
While driving from Johannesburg to the Panorama Route, you'll pass through a couple of toll gates.
These gates only accept cash or credit cards.
If your card is a debit or cheque, you will not be able to use it. Before you start your trip, make sure you have enough cash on you, or you have the right card.
I've brought along the wrong card in the past, and I couldn't turn around because of the line of cars behind me. In the end, I had to ask other drivers for money, so I could go through the toll gate.
I died a thousand deaths on the inside.
E-Tolls are an electronic toll that you'll pay for the roads you use in Johannesburg. However, you'll only pay for it at the end of your trip once Sanral sends their invoice to your car rental company.
The credit card that you used to hire the vehicle will then be charged for the amount about a month later.
Read More: The Ultimate Road Trip Essentials Packing List (+ Free Checklist!)
---
Where to Stay on the Panorama Route
Graskop
Graskop is one of the closest towns to attractions along the Panorama Route. It's only a quick 9-minute drive to God's Window and 30-minutes from the Three Rondavels lookout point.
If you're staying in self-catering accommodation, it's a great little town to stock up on supplies at the local Spar. There are also a few restaurants with Harrie's Pancakes being the most famous.
It's been around since 1986 and is known for serving the best sweet and savoury pancakes in town.
Wild Forest Inn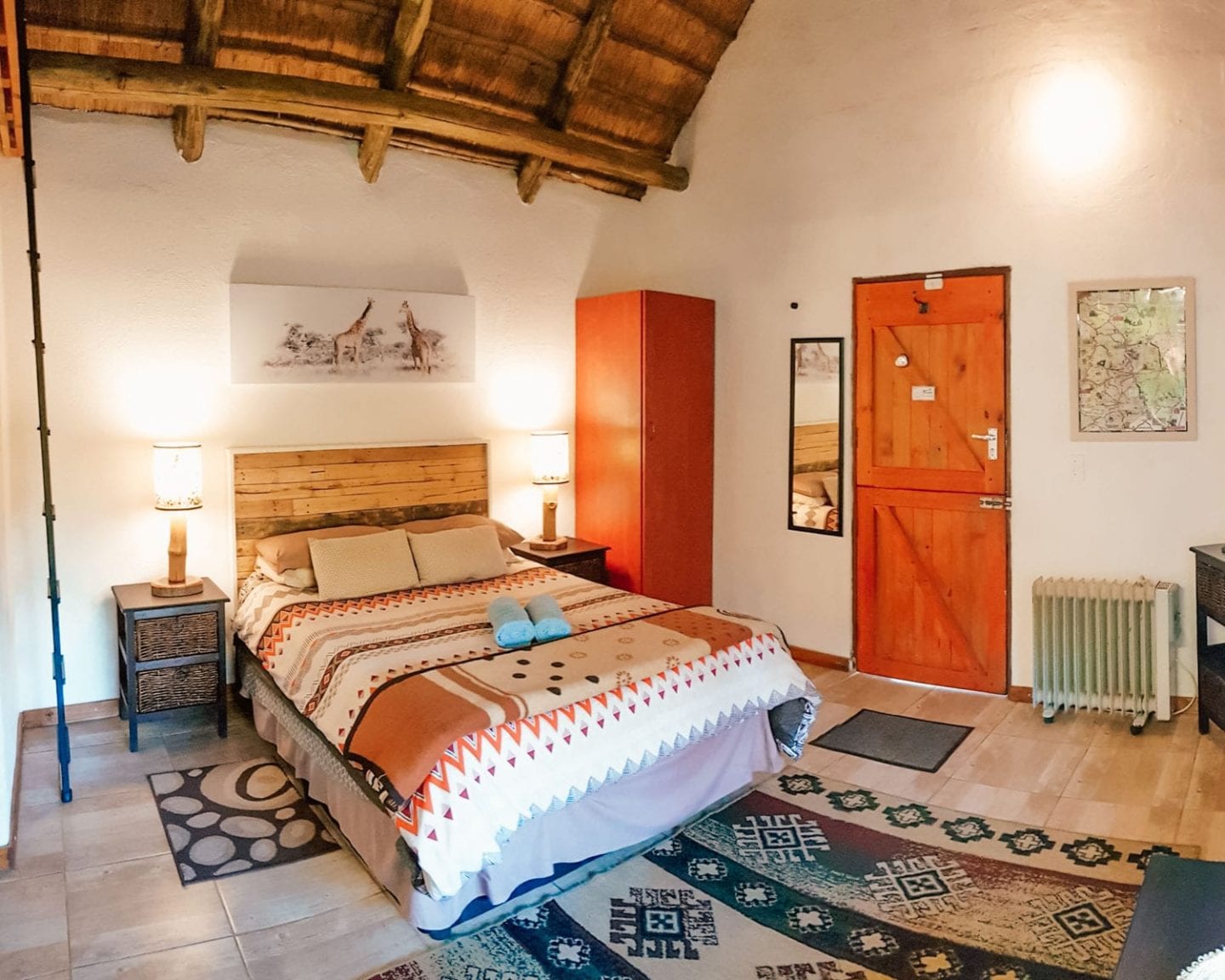 During my first trip to the Panorama Route with Greg, we stayed at the Wild Forest Inn. It's about 3km from Graskop and is an excellent location if you prefer secluded vibes.
It's the only chalet on the property and comes with a double bed downstairs and two single mattresses in the loft. There's also a bathroom, small kitchenette and braai facilities.
Wild Forest is a great budget-friendly choice for couples or travelling families.
Rustique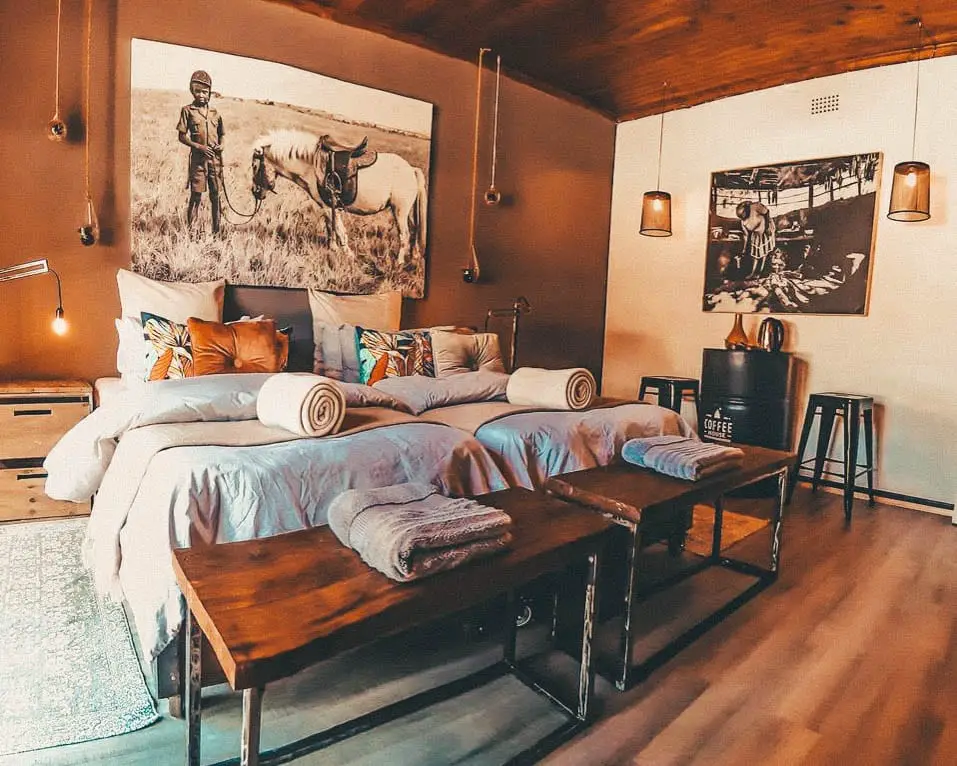 If you want to stay as close to Graskop as possible, book a night at Rustique. It's a beautiful guest house within walking distance of the shops and restaurants.
The decor of each room lives up to the hotel's name, and you can choose from five different themes: sand, wood, stone, afrique or chique.
There's also a communal kitchen area, and breakfast can be organised on request.
Lush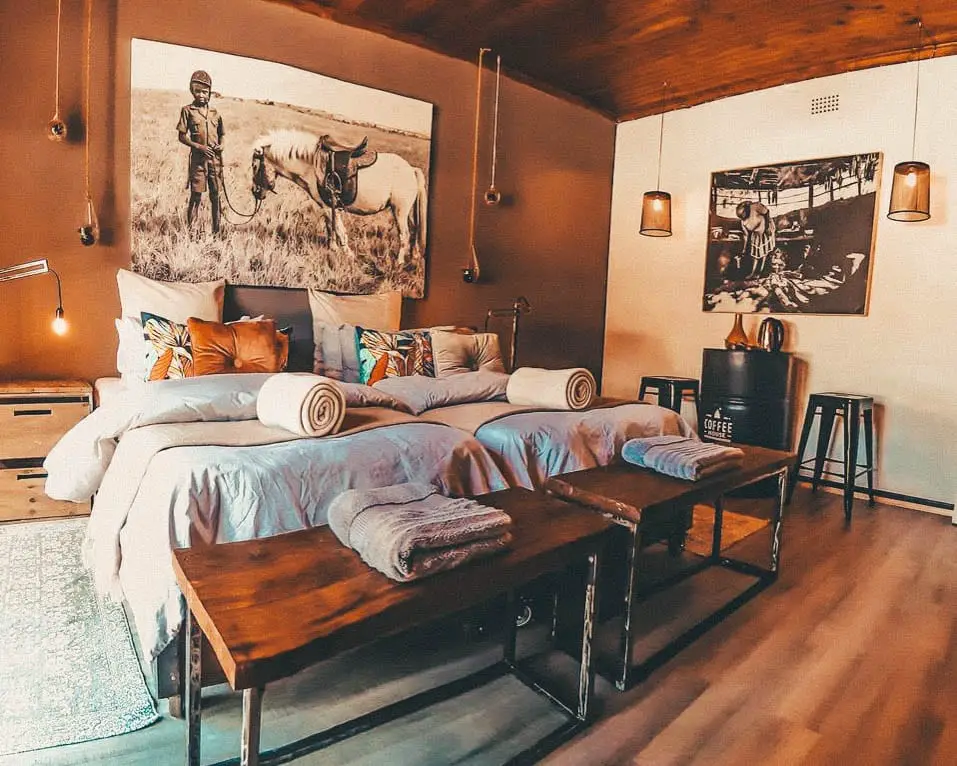 Lush is one of the top budget hotels in Graskop. It's perfect for travellers who are looking for affordable, but beautiful Panorama Route accommodation options. The decor is modern with rustic African touches, and you can throw in an exceptional breakfast for only R 100.00!
The rooms are also completely soundproof!
Blyde River Canyon, A Forever Resort
Blyde River Canyon, A Forever Resort is situated about 50 km from Graskop in Ohrigstad. It's on the doorstep of one of South Africa's most beautiful natural wonders and is worth its price tag.
While chalets tend to go for around R1,500 to R2,200 per night, the resort does offer camping and caravan facilities. You'll also have access to the resorts many hiking trails that weave through the canyon which makes staying here worth it if you want to explore beyond the area beyond the typical Panorama Route stops.
Other areas that you can stay in that are close to the Panorama Route attractions include Sabie, Hazyview, and Pilgrim's Rest.
---
Best Time to Visit the Panorama Route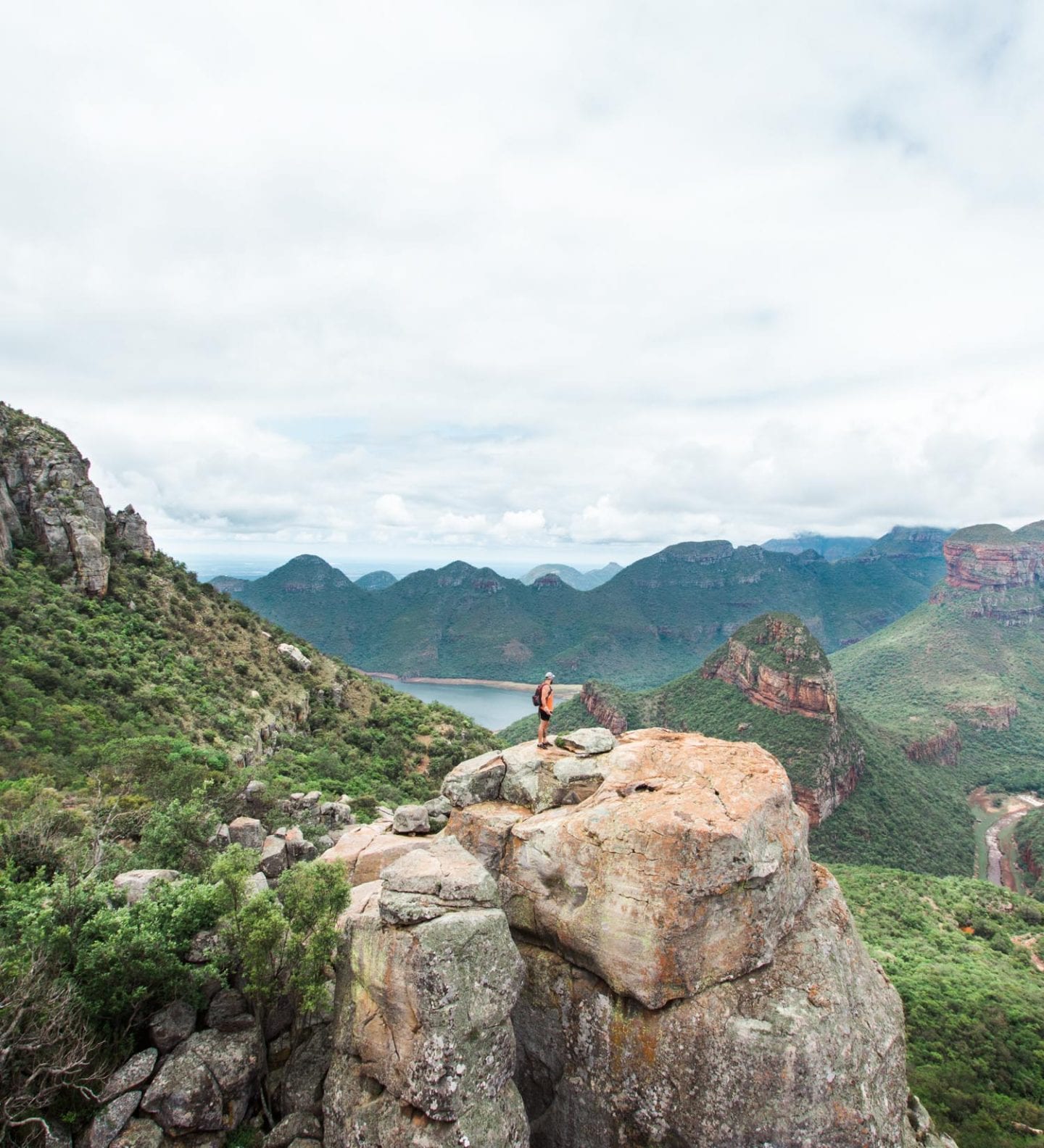 High Season
The best time to visit the Panorama Route is in the winter months. From June to August, the weather is drier, and you'll have a better chance of getting clear views at God's Window and the Three Rondavels.
The only downside is that it's super busy. With school holidays and perfect conditions for wildlife viewings at Kruger National Park, you can expect large crowds along the Panorama Route attractions.
I'd also include September as part of the high season rush. When I went, there was little last-minute accommodation available, and we turned around as soon as we arrived at God's Window because of the number of cars and tour buses in the parking lot.
Low Season
If you want to escape the crowds, plan your road trip to the Panorama Route in South Africa around the summer months. From November to February, the heavy mist and rainfall keeps most travellers away.
Except during the December end of year holidays when Kruger National Park is at it's busiest once again.
While it does mean that you'll have less chance of clear views, accommodation prices are lower. I went in January, and we managed to find a weekend when the mist lifted for a few days. We had the top attractions along the Panorama Route all to ourselves and perfect, warm weather.
However, when we left Graskop, we had hardly any visibility on the road due to a heavy mist that rolled in over the night.
If you're driving the Panorama Route over the summer months, please be careful and check the weather app on your phone to plan your trip around the rain as much as possible.
Read More: Visiting Kruger National Park: Everything You Need to Know
---
Self-Drive Panorama Route South Africa Itinerary
Pinnacle Rock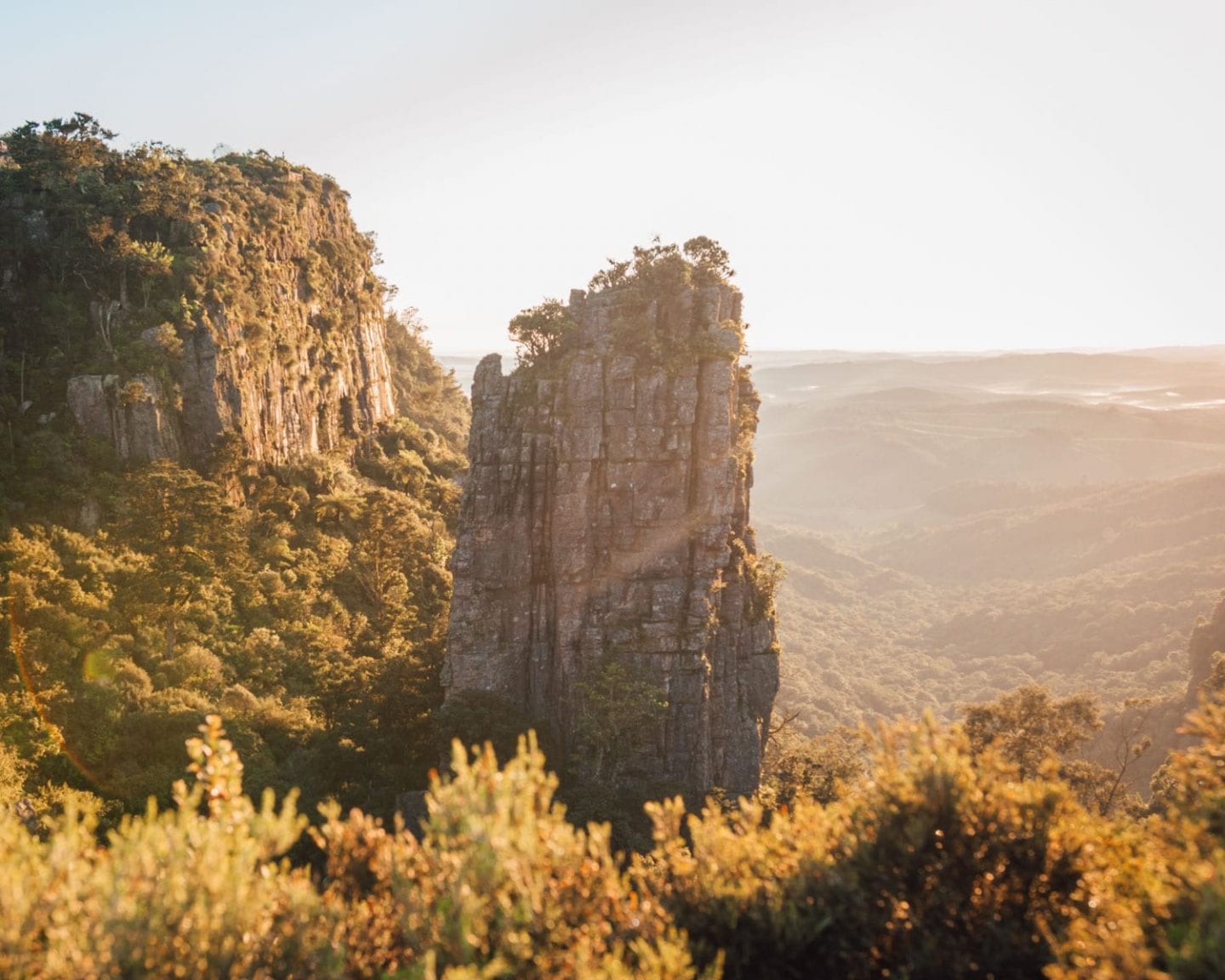 Start your Panorama Route itinerary with an early morning adventure to Pinnacle Rock. It's a massive quartzite rock that towers over the dense indigenous forest at 30 meters high!
While there are two viewing platforms, I recommend walking over the stream that becomes a waterfall to the other side of the gorge.
You'll get a viewpoint of Driekop Gorge and the Pinnacle that most people skip!
Best Time to Visit Pinnacle Rock
The sun rises directly behind the Pinnacle Rock and turns the entire landscape into beautiful hues of gold. Plus, if you're arriving at the crack of dawn, you won't have to pay the entrance fee! But if you're not a morning person, sunset here is also incredible.
Entrance Fee to Pinnacle Rock: R 20.00 per person
Mac Mac Pools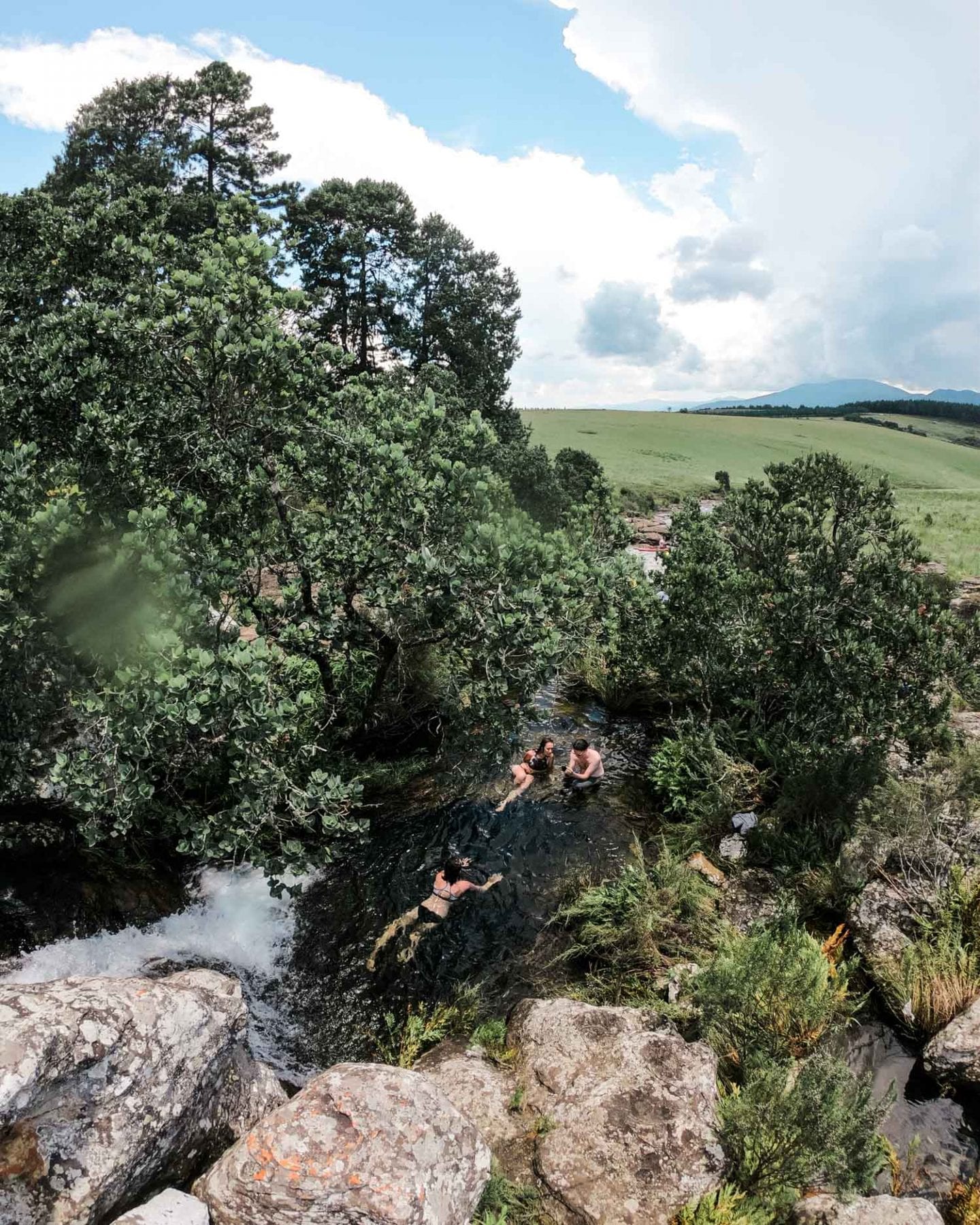 If you're visiting the Panorama Route in the summer, there is no better way to cool off from the afternoon heat than at Mac Mac Pools.
Top Tip: Walk further downstream to find a quieter rock pool. Most of the families stay near the top where the picnic areas are, and it's usually quite crowded and loud.
Entrance Fee for Mac Mac Pools: R 20.00 per person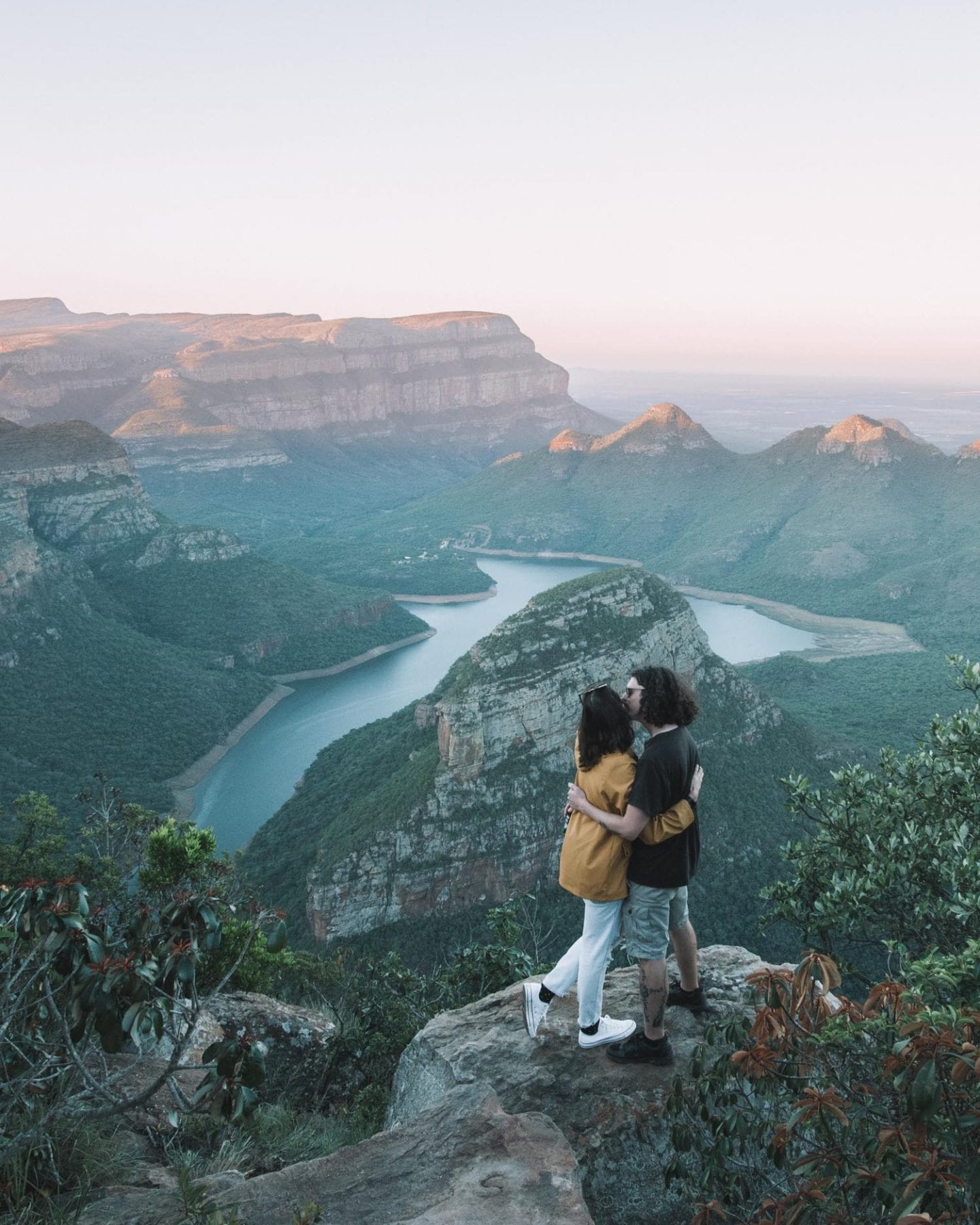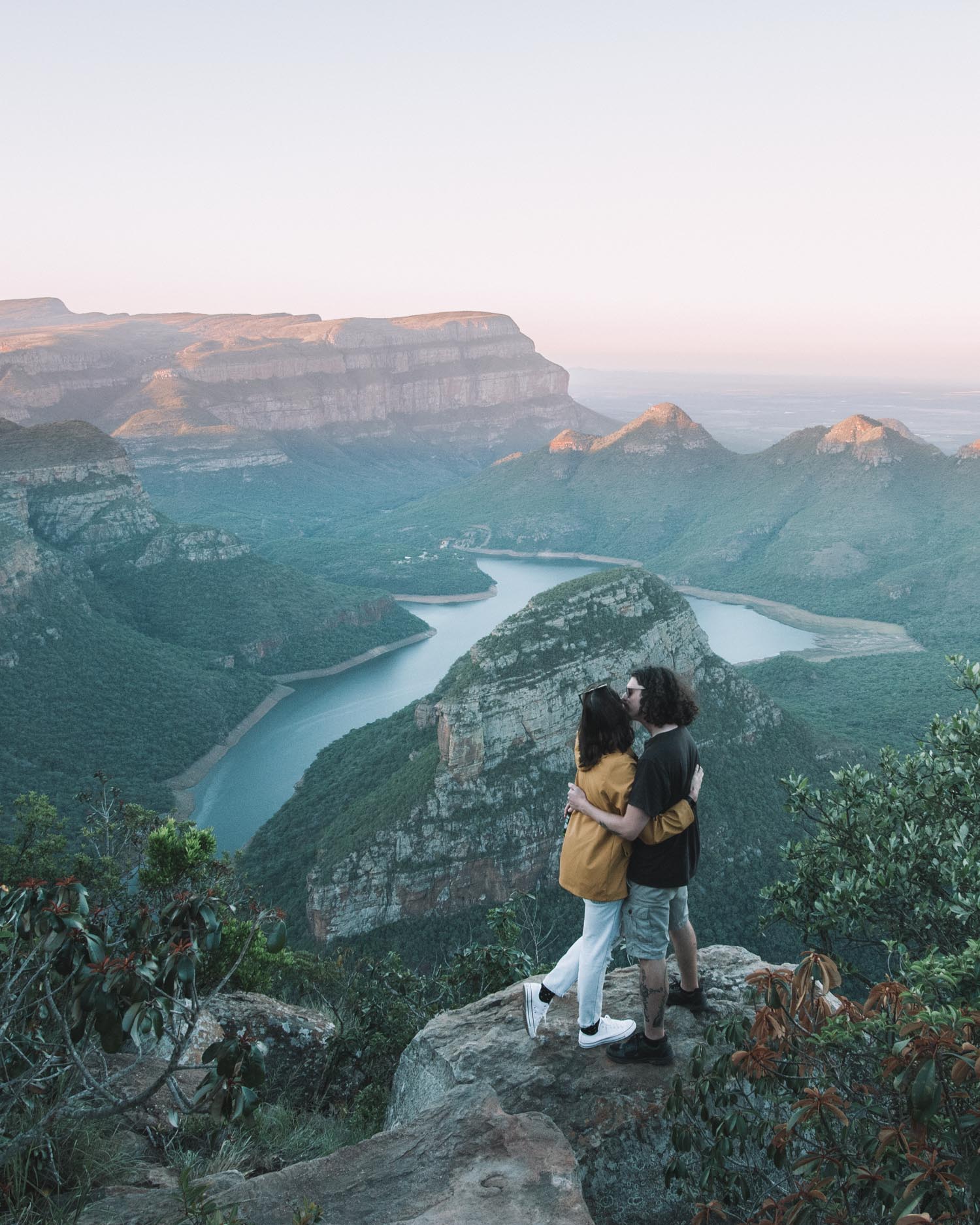 Three Rondavels
End off your first day exploring the Panorama Route by visiting the Three Rondavels lookout point inside the Blyde River Canyon Reserve.
Pack a few drinks and snacks, choose a spot on one of the rocks and watch the sunset across the incredible vista!
Best Time to Visit the Three Rondavels Viewpoint
The best time for photographers to visit the Three Rondavels and the Blyde River Canyon is during golden hour (the hour before sunset). The light is at it's best and the afternoon haze will start to melt away.
If you want to avoid the crowds, get here early in the morning or late afternoon. The area is a major attraction, and it can get super busy especially with all the tour groups.
Blyde River Canyon Entrance Fee: R 30 per person.
Lone Creek Falls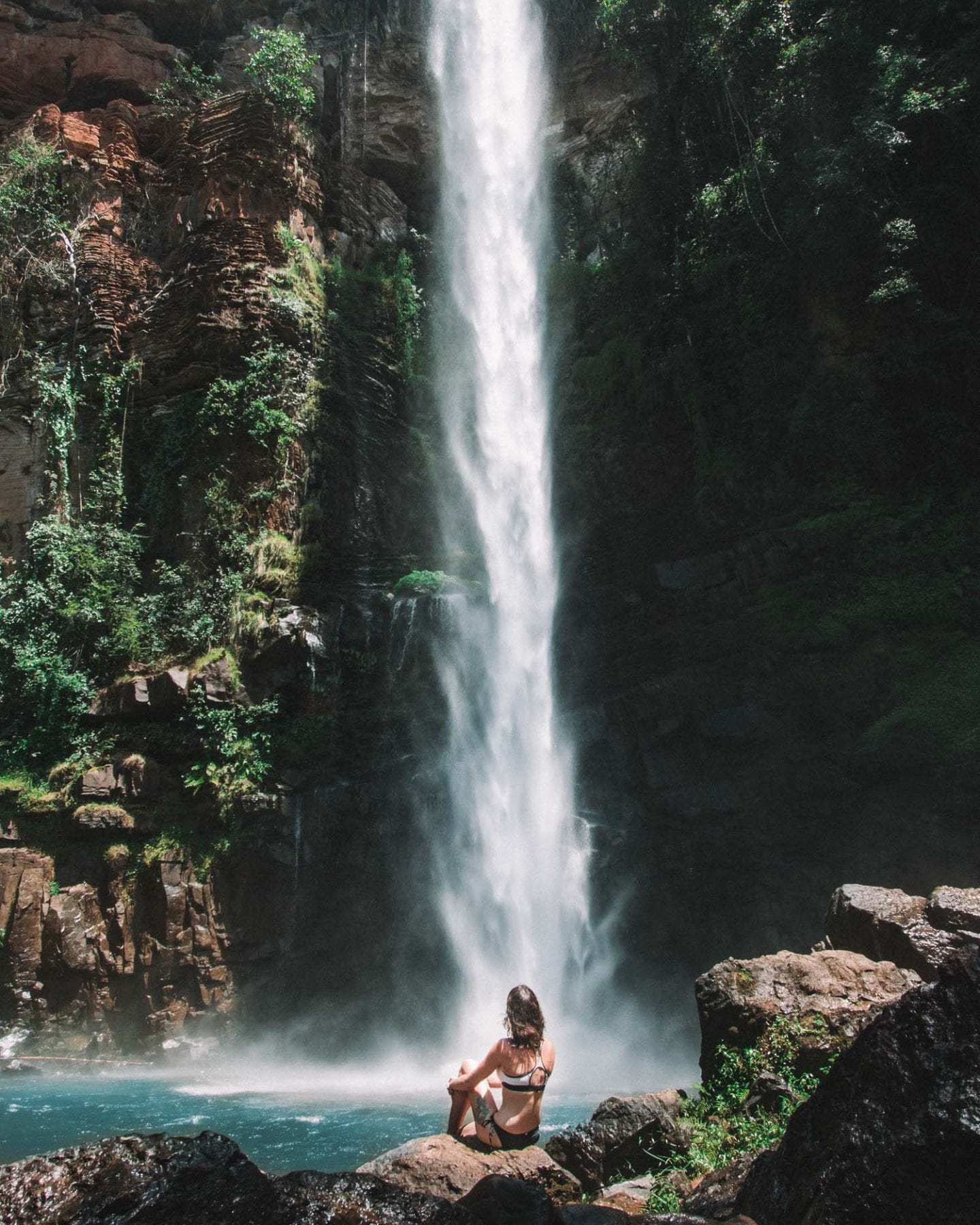 For your second day along the Panorama Route, grab some breakfast at Harrie's Pancakes and make your way to Lone Creek Falls. It's a 68m high waterfall and one of the most beautiful natural wonders in the area.
There's a viewpoint that goes up the one side of the falls, and while there is a picnic area, no swimming is allowed. If you're bringing your camera equipment, bring along a waterproof bag, the spray from the waterfall is no joke!
Entrance Fee for Lone Creek Falls: R 20.00 per person
Lisbon Falls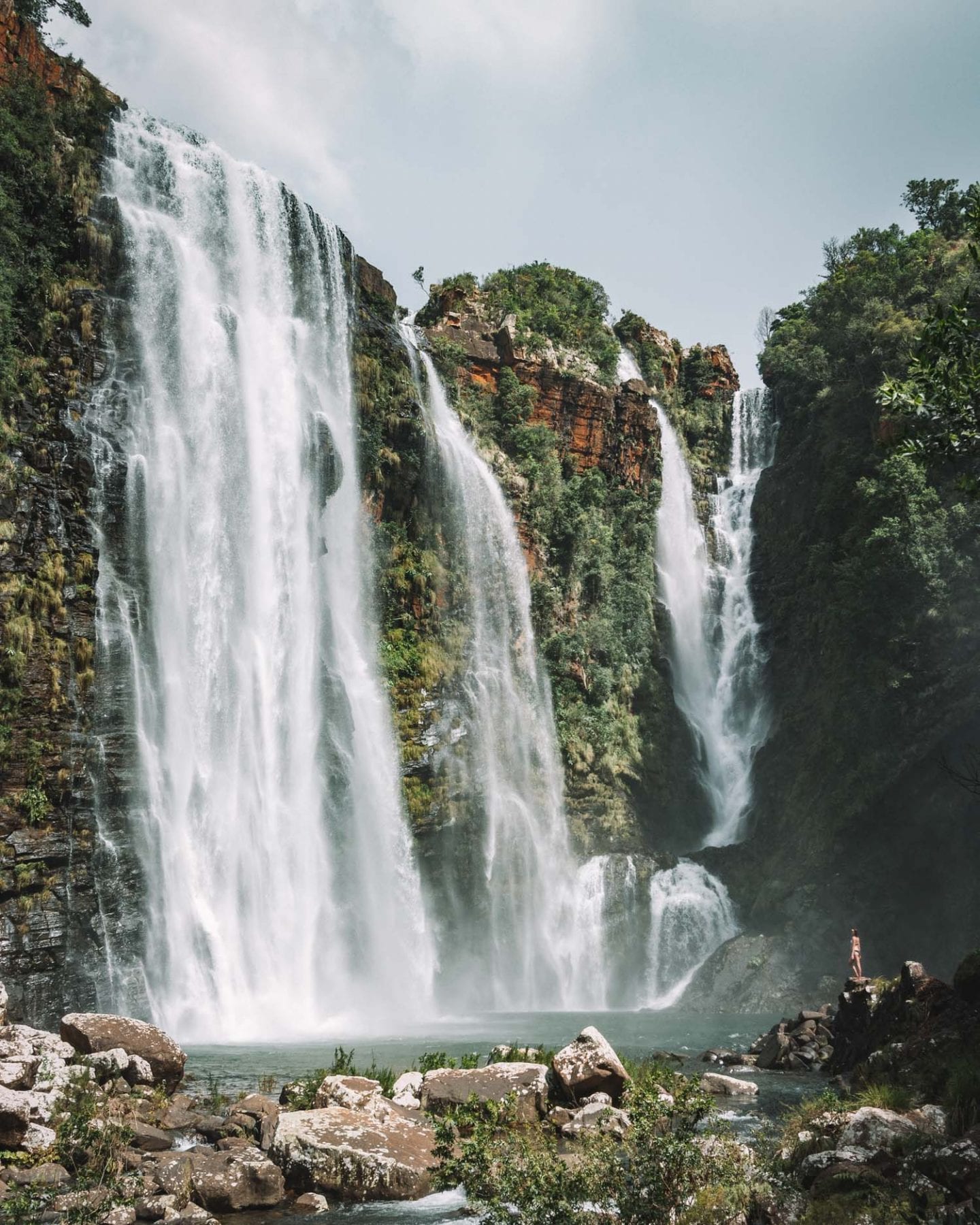 Lisbon Falls is one of my favourite waterfalls in South Africa! It's an impressive 90m drop, making it the highest waterfall in Mpumalanga!
But don't just take in the view from the top of the falls at the parking lot. There is a hiking trail that winds all the way down to the base of the falls.
You will need hiking shoes or closed shoes that have good grip to get up and down safely. There are angry ants that will bite your toes and if it's been raining the terrain is slippery.
Once you make it to the bottom, you can relax in the small rock pools, set up a picnic and really take in the force of nature that is Lisbon Falls!
Entrance Fee for Lisbon Falls: R 10.00 per person
Read More: 15+ Wonderous Waterfalls in South Africa That Will Make Your Jaw Drop
God's Window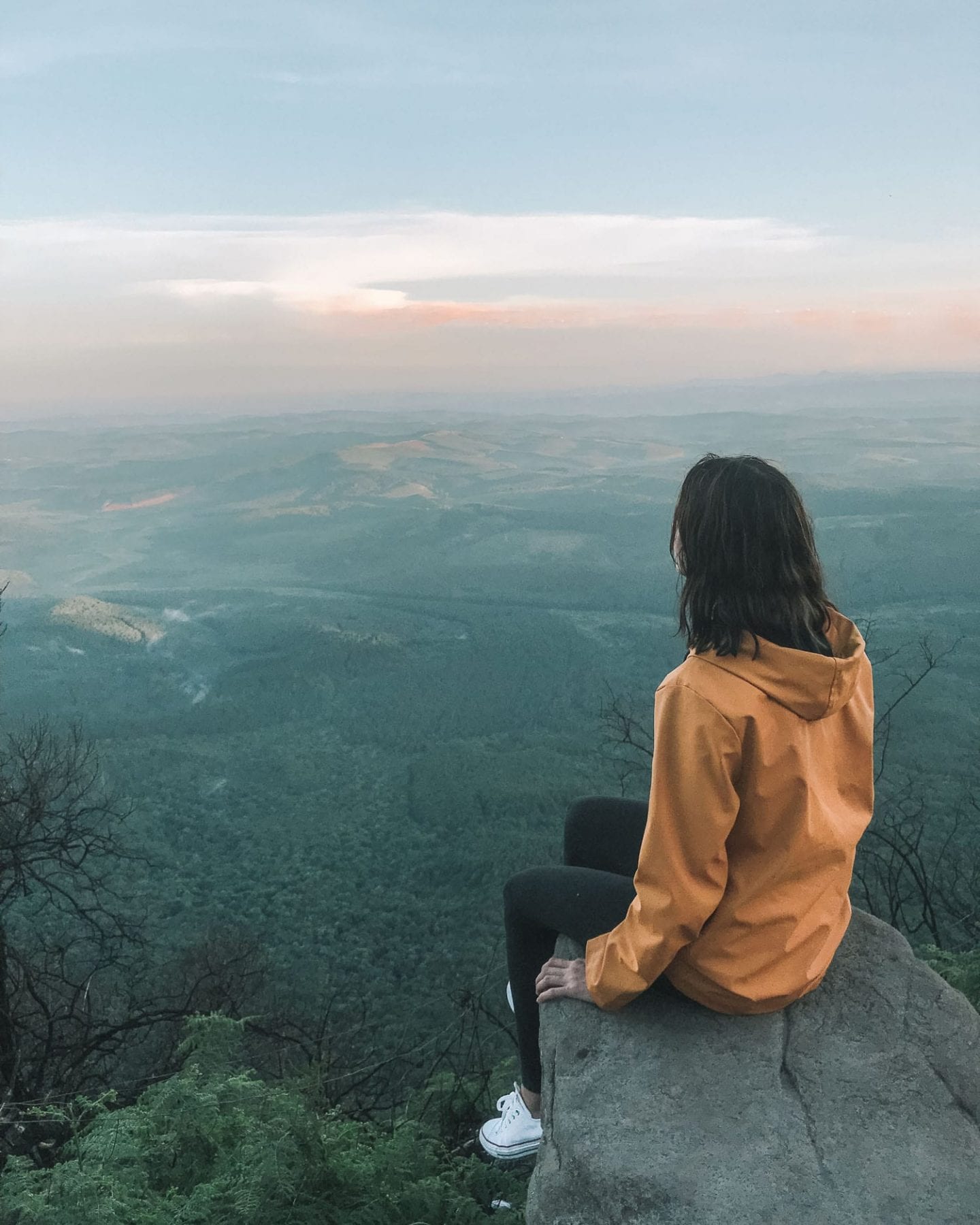 During my second trip to the Panorama Route, we went to God's Window twice: once in the morning (around 7 am) and again for sunset. If you want to do the same, you only have to pay the entrance fee once for that day.
God's Window is a 900 m high viewpoint where you can see the entire Mpumalanga Lowveld and all the way to Mozambique on a clear day!
There's quite a few viewpoints and walkways here, so take your time exploring the area.
Best Time to Visit God's Window
The best time to visit God's Window is during golden hour and sunset. You're high enough to watch the sun turn the sky and landscape turn to beautiful shades of blue, purple, orange and red.
God's Window Entrance Fee: R 20 per person
---
Other Panorama Route Attractions
Here are a few other attractions that you can add to your Panorama Route itinerary:
Bourke's Luck Potholes
Bourke's Luck Potholes is the most expensive attraction to visit along the Panorama Route in South Africa. It's R 55 per person, and I think it's a complete tourist trap.
While the canyon is impressive to see and explore, it's nowhere near on the same level as the Blyde River Canyon Reserve. If you're short on time or you're on a budget, I think you can give it a miss and use the money to see two to four other attractions for the same price.
Entrance Fee for Bourke's Luck Potholes: R 55 per person
Berlin Falls
The weather took a turn for the worst on our last day in Graskop, and I didn't get a chance to make it to Berlin Falls. It's one of the most popular stops along the Panorama Route, and the 45 m waterfall drops down into a beautiful sapphire pool.
Entrance Fee for Berlin Falls: R 10.00 per person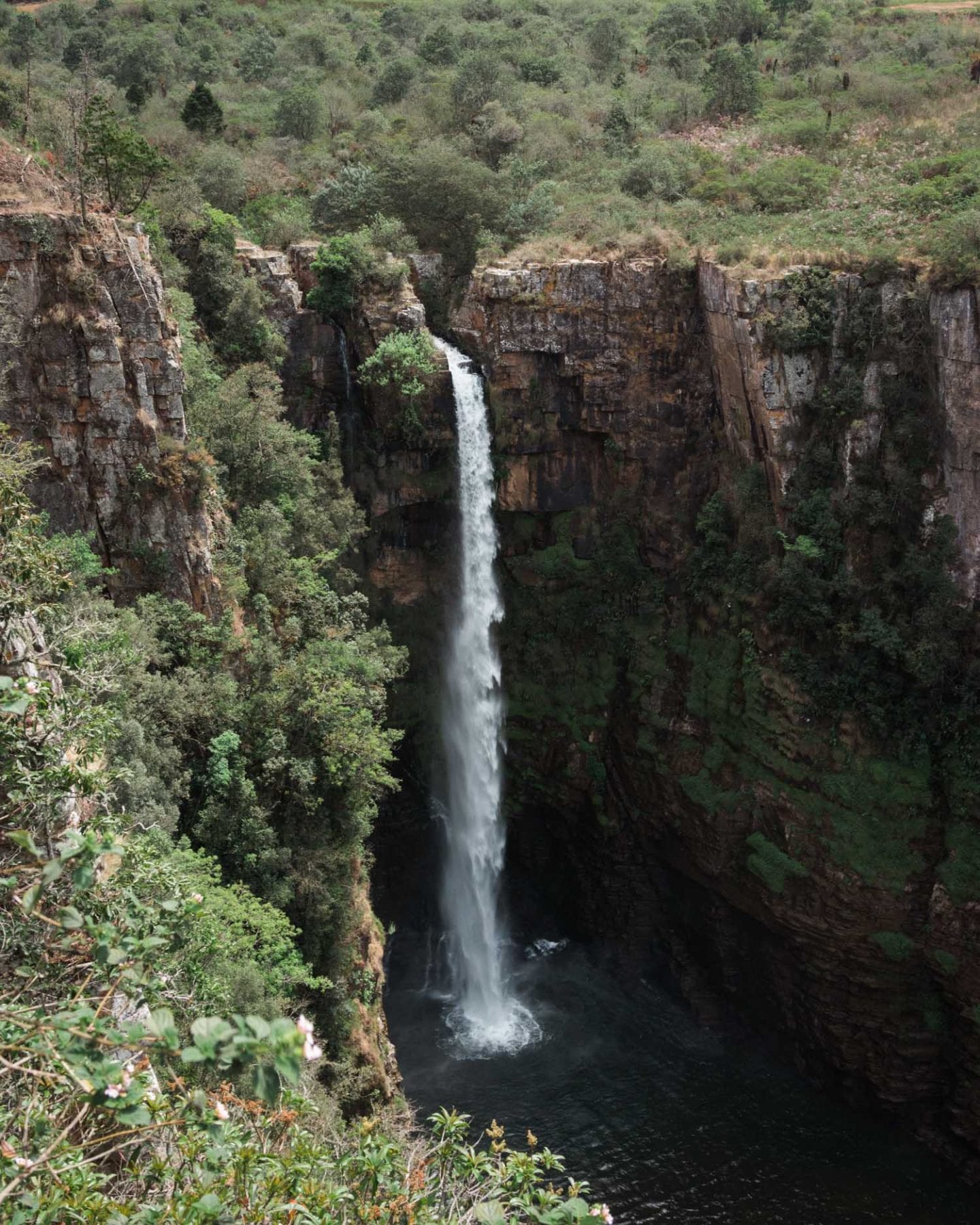 Mac Mac Falls
Mac Mac Falls is another attraction that I think is a tourist trap. While the entrance fee is only R 10.00, I don't think it's worth it, especially when you have the more impressive Lisbon Falls in the area.
At Mac Mac, you can only view the falls from behind a tall metal fence. The viewpoint is quite far from the falls, and you can't walk down the gorge to get closer.
Mac Mac Falls Entrance Fee: R10.00 per person
---
Panorama Route Map
Here's a Panorama Route, South Africa map of all the attractions that you can see during your road trip:
---
Panorama Route Travel Tips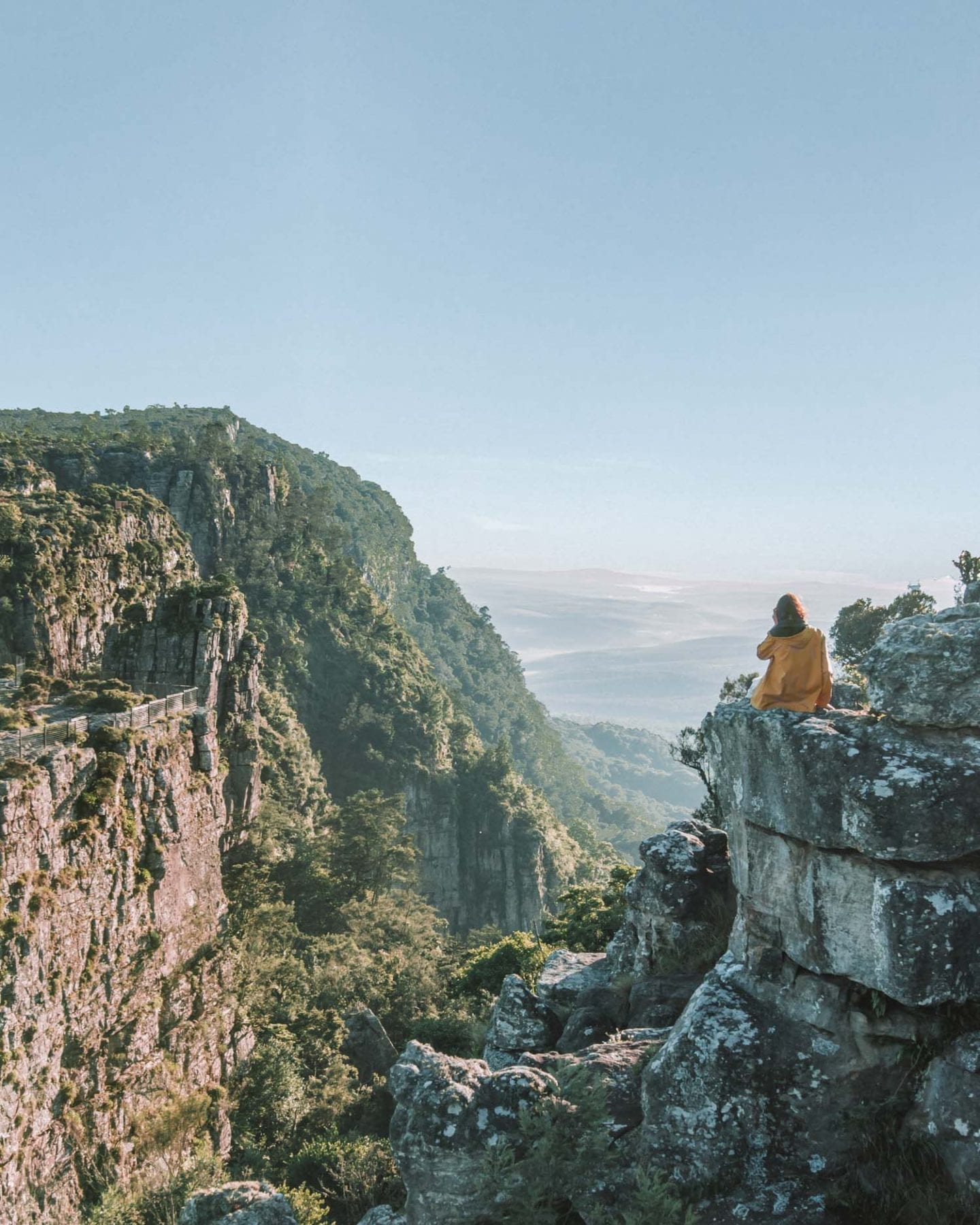 You Need to Withdraw Money
To pay for all the Panorama Route entrance fees at the waterfalls and attractions like God's Window and the Three Rondavels, you'll need cash. You won't be able to pay with your card, and it's a good idea to have a stash of small notes (R10-50.00) to make it easier to get change.
Keep Your Car Filled Up
If you're driving from Graskop to the Blyde River Canyon Reserve, fill up at the petrol station in town. It's a 30-40 minute drive, and you won't find another station along the way. Avoid any problems by making sure you have more than enough in your tank for a day of adventures.
Use an Offline Google Map of the Panorama Route
While there is cellphone signal in towns like Graskop and Sabie, your phone will dip in and out of signal along the Panorama Route. If you're using your phone as a GPS, download an offline Google Map of the area.
Panorama Route Safety
The Panorama Route is safe, and you shouldn't have any problems, besides dodging the odd pothole or two.
The locals and South Africans, in general, do tend to drive fast along the route but don't feel pressured to do the same. Only drive as fast as your comfortable with, especially if the driving conditions aren't clear.
If there is another driver sitting on your tail, pull to the left and let them overtake you so you can enjoy the route at your own pace and arrive at your next destination alive.
Remember to always stick to the speed limit!
I'd also avoid driving at night as much as possible. The main reason is that some areas have a lot of potholes and if it's been raining the holes fill up and are almost impossible to spot.
---
You made it to the end! Woo-hoo! Hopefully, you've found my guide to the Panorama Route, South Africa super useful and it's given you all the information you need to plan an epic road trip!
Still got a few burning questions on the tip of your tongue? Hit that comment button below and let me know all your thoughts, concerns and which part of the Panorama Route you're dying to see!
Psst…Want more travel tips for South Africa? Check out my other posts:
?If you like it, then you should put a pin on it ?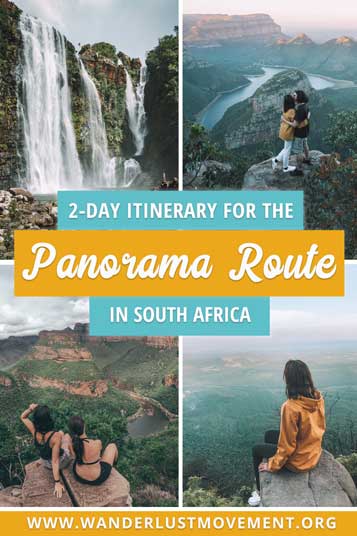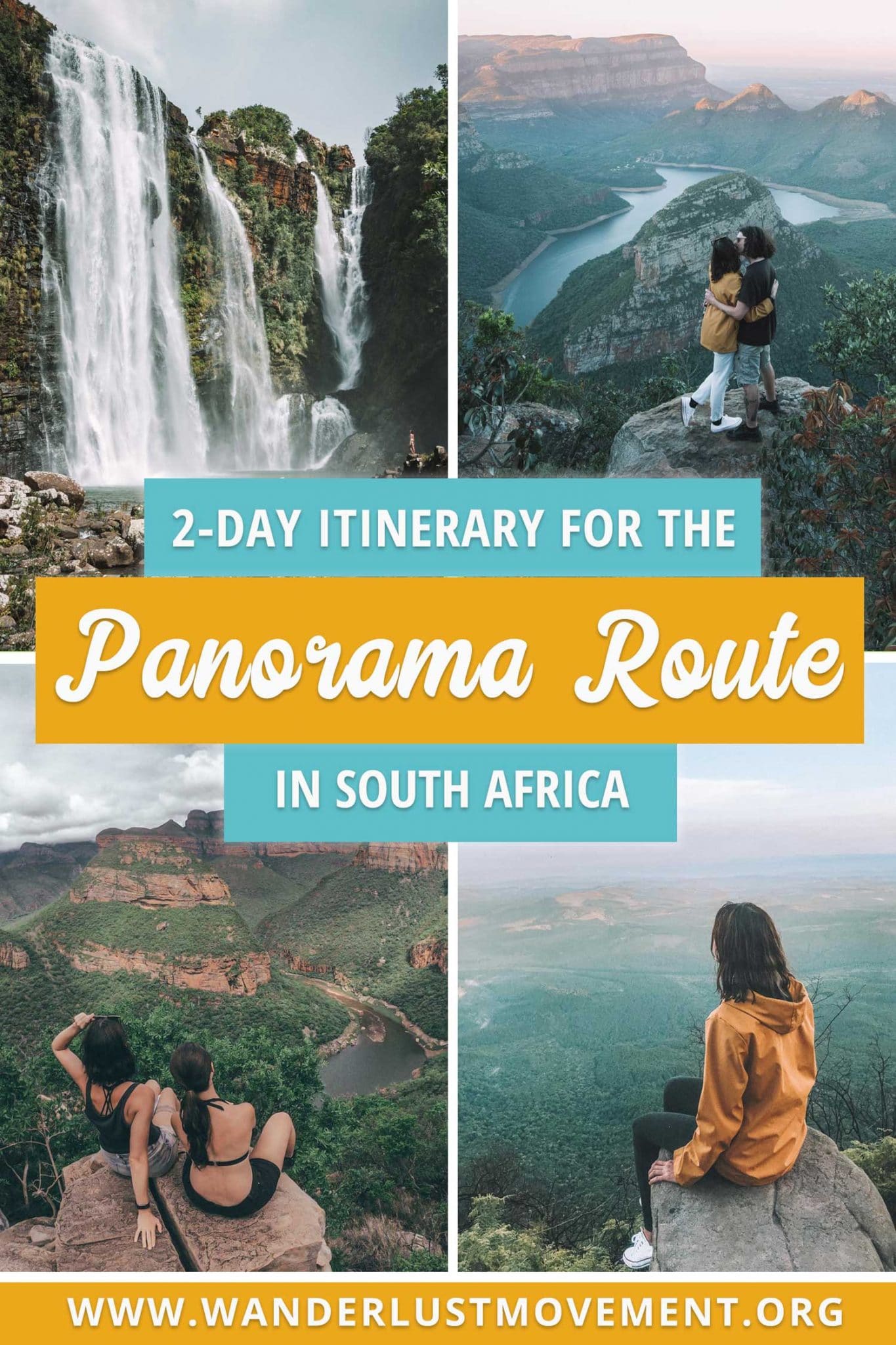 The Panorama Route in South Africa is the most scenic road trip in the country. Here's my 2-day itinerary & everything else you need to know!