Last Updated on July 28, 2021 by lauren
The Otter Trail is one of the most iconic and famous multi-day hikes in South Africa. Located along the Garden Route, it's not a technical trek, but it will kick your butt if you've made yourself scarce at the gym.
It's also ridiculously hard to secure a permit.
Tickets are released a FULL year in advance, and if you have your heart set on a particular month or date, you need rapid clicking skills and a dash of luck.
Last year in April, I found myself on the SAN Parks website casually checking availability when low and behold I came across six spots for January 2020!
In a matter of minutes, I had booked three tickets, convinced a friend to buy her ticket while on the phone to me and found two other people to scoop up the remainder.
None of us had hiked the Otter Trail before, and our quads, glutes, knees and feet had no idea what to expect.
Before you attempt to hike the Otter Trail, here's everything you need to know. From overcoming the mighty Bloukrans River to what to pack and whether you need to train for it at all.
What is The Otter Trail?
The Otter Trail is a beautiful five-day hike along South Africa's rugged eastern coastline.
Running from Stormsriver to Nature's Valley in the Garden Route, it's named after the Cape Clawless Otter. A shy, nocturnal creature that only a handful of hikers have seen.
Opening to the public in January 1968, the Otter Trail became the first multi-day hike in the country.
Flash forward 52 years later, and its scenery has become so legendary that permits sell out a year in advance.
It's one hell of a bucket-list-worthy hike, and it's worth the blisters, aching feet and daunting uphills.
---
Practical Information
Otter Trail Distance
45km
Otter Trail Difficulty
For some reason, people seem to leave out exactly how hard the Otter Trail is to complete. If you aren't a frequent member of the gym and your quads are more jello than muscle, it won't be an easy hike.
It's doable, but you'll struggle on the steep inclines, and you'll form a deep, meaningful relationship with Deep Heat after six hours of hiking.
Another thing no one told me about is the rock climbing/scrambling.
If you're not used to gripping on rock and have weak fingers, some parts of the trail are daunting, especially when you throw in a heavy pack.
To make sure you're prepared for the trail, I highly recommend adding weighted squats and lunges to your workout split, dedicating a day to abs to improve your balance and going to a rock climbing gym for a few sessions.
For the over-achievers out there, you can get 10 points for Gryffindor by taking your weighted pack with you on training hikes.
Technical Rating
The only technical part of the Otter Trail is the Bloukrans River crossing. You'll need to waddle or swim across the river and climb up steep terrain with ropes.
Age Restrictions
There is a minimum age of 12-years old and a maximum of 65 years old.
Checking-in For The Hike
When you arrive at Tsitsikamma National Park, you'll need to show your tickets at the gate to avoid paying the entrance fee. When you go to reception, you'll sign your indemnity forms and then watch a 20-minute Otter Trail video at the Otter Room.
Check Out
All hikers are required to check out at De Vasselot Rest Camp on Day 5.
---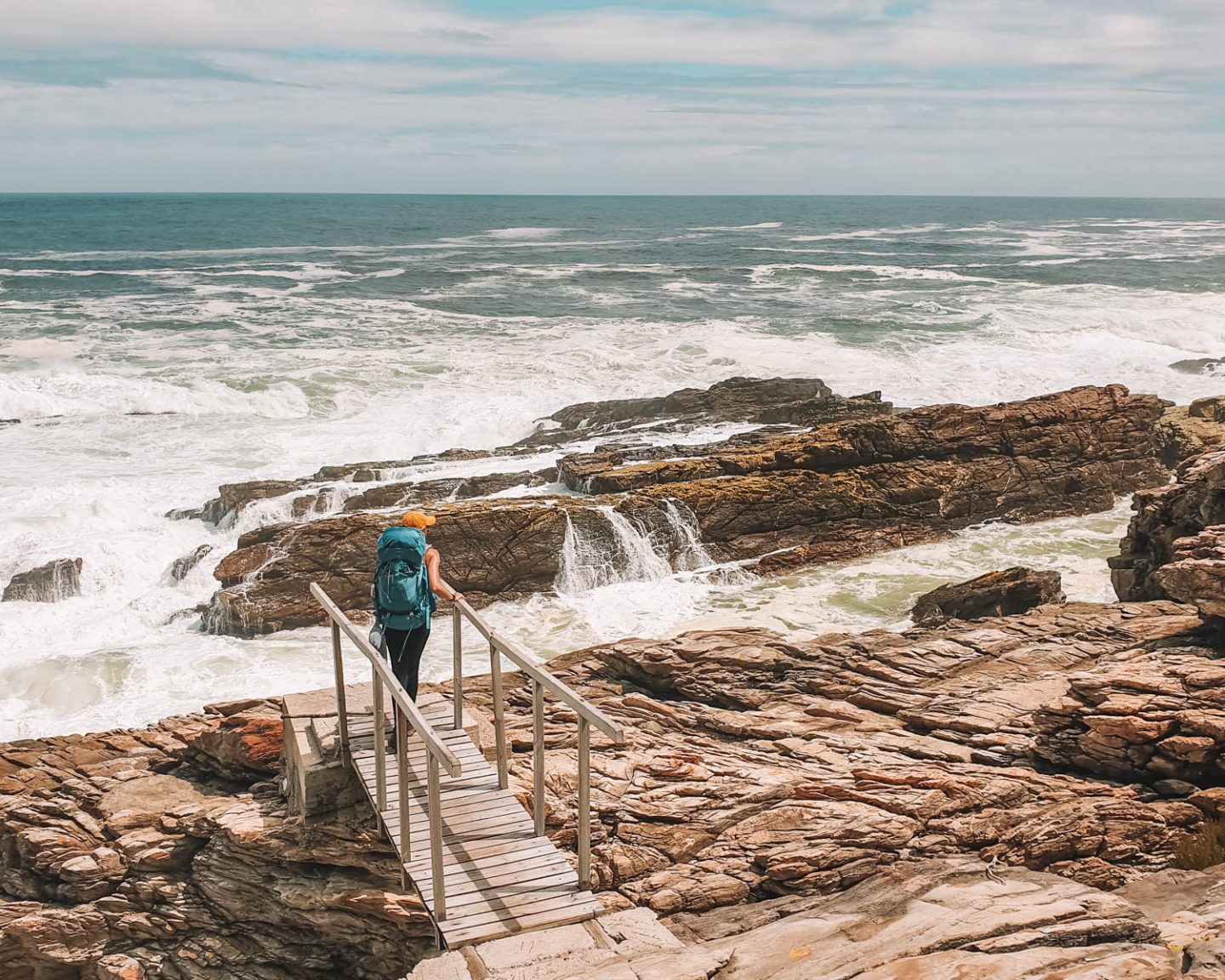 Booking the Otter Trail Hike
The Otter Trail is not one of those hikes you can't decide to do the night before.
As one of the most popular trails in South Africa and only 12 people allowed on the trail per day, permits sell out a full year in advance.
If you don't like planning your life in 12-month chunks, you can check throughout the year for cancellations.
Keep in mind: It's a lot easier to find last minute Otter Trail reservations for two or four people than a big group of six or twelve.
2020 Otter Trail Cost for South Africans:
• Four nights R1,375.00
• Conservation fee R248.00 (Wild Card Holders don't pay)
• Community fund R13.75
2020 Otter Trail Prices for SADC Nationals and Internationals:
• Four nights R1,375.00
• Conservation fee R124.00 (SADC) and R248.00 (Internationals) per day
• Community fund 1% of booking total
Tip: Buy your permits for the Otter Trail in bulk and then find friends to do the hike with you. If you all try to book separately, someone else might come along and scoop up the rest of the tickets for that date.
Check Otter Trail availability online or phone the booking office on (012) 428-9111.
---
The Best Time of Year to Hike the Otter Trail
The best time to hike the Otter Trail all depends on you.
December to February are the hottest months: You can expect high humidity, and temperatures ranging from 25° to 30° C. Permits for this period are super popular as it falls over the end of year school holidays. However, rain is a possibility.
May to September are the coolest months: It's winter in South Africa, and it's the driest time of year for the country. If you buy permits over this period, you need to invest in light-weight hiking clothes that will keep you cool in the day and warm at night.
August, October, November are the wettest months in the Garden Route: You'll need to pack high-quality waterproof gear, and you might hike through heavy rains and mist.
Read More: An Epic One Week Garden Route Itinerary (Detailed)
---
How to Get to the Otter Trail
Fly: The quickest way to get to Tsitsikamma National Park (the start of the Otter Trail) is to book a flight from Johannesburg, Cape Town or Durban to George or Port Elizabeth Airport. From there, you'll need to hire a car to drive to the park. George and PE are both a 2-hour drive from Tsitsikamma.
Drive: Stormsriver is a 6-hour drive from Cape Town along the N2. You'll need to have cash or a credit card to pay the road toll before reaching the national park.
Read More: How To Book Cheap Flights From South Africa To Your Dream Destination
---
What to Pack For The Otter Trail Hike
Water Bladder: I have a 2l First Ascent Water Bladder. A standard water bottle will not last each day, and you'll need to keep taking your bag off or ask someone else to pass your bottle. A bladder is worth the investment and makes it super easy to stay hydrated.
Trekking Poles: I wanted to use trekking poles but didn't want to make the monetary investment. If you're in the same boat, you can use Scuttle. And if nothing suits your budget, look for a trusty stick on the ground when you start the hike. A stick or trekking poles will help you keep your balance on the uneven terrain.
Multi-Day Hiking Backpack: A quality backpack will go along way in making the Otter Trail more bearable. I splurged on the Osprey Aura 65 L. It's one of the best backpacks for multi-day hikes and is designed for women's bodies. Scuttle also has a few Osprey's you can rent out for R120.00 per day. If you want to buy an Osprey, I recommend going through City Rock's gear shop.
Survival Bag: You'll need a survival bag for the Bloukrans River Crossing and some cable ties to close it.
Rain Gear: Pack an ultralight rain jacket, a waterproof cover for your backpack (my Osprey came with one) and a dry bag for your valuables.
Hiking Shoes: I wore my Hi-Tec Altitude V Ultra hiking shoes. I was super impressed by their grip and comfort! The only downside is that these shoes are heavy. Pair them with hiking socks, wear them in before the trail and you're good to go.
Sun Protection: The Otter Trail hike is pretty exposed when you aren't walking through the coastal forest. Pack a pair of UV sunglasses, SPF 50+ sunscreen and a hat.
Camera: The Otter Trail is stunning, so don't forget to pack a camera! I mainly used my smartphone and Canon 80D with my Sigma Art 18-35mm lens. For something more light-weight, you can bring a GoPro for wide panoramic pictures and action shots. If you're a photographer and you want to shoot long exposures of the landscape or the Milky Way, bring an extra battery.
Read More: Otter Trail Packing List: 40+ Must-Have Items to Survive The Wilderness
---
Tips for Hiking The Otter Trail
Food & Water
• You'll need to pack four breakfasts, four dinners and snacks for in between.
• There is clean drinking water available at all the camps. You won't be able to drink from the streams for days 1 to 3. The water at camp 5 tastes weird (but it's clean!) and adding flavour to it will disguise the taste.
• If you run out of water on day 4 or 5 before you reach the camp, I'd recommend using water purification tablets for the river water.
• Pack light-weight food. Leave the potatoes and box wine at home.
• Make sure your daily meal plan includes protein, carbohydrates, salt and sugar. Protein helps with muscle repair, carbs and sugar will give you energy and salt helps your body replace what it sweats out.
Read More: Otter Trail Packing List: 40+ Must-Have Items to Survive The Wilderness
Cooking
• At each hut, there is firewood. If it hasn't been raining, you should be able to have a braai each night. But you should pack a device like a Jet Boil in case you can't light a fire.
• There is no electricity. Pack a headlamp to make it easier to go to the bathroom at night.
• Both huts at the campsites have private fireplaces. But there is also a covered boma area to prepare food and wash dishes.
Checking Tides
Use a tide calendar to check the low tide time for your Bloukrans River crossing.
Safety
• Make sure at least one person in your group as a first aid kit. You'll need things like plasters, deep heat, bandages and disinfectant for minor injuries.
• Do not attempt to cross Bloukrans River at high tide. It's extremely dangerous, and you can get washed out to sea.
• Do not touch any wildlife you come across. It's a stressful experience for the animal, and you might get stung, bitten etc.
If you see anyone harassing the wildlife, take a video/picture and report them to the office at the end of the hike.
Otter Trail Accommodation
Arrive in the Garden Route the day before your hike and stay at Tube 'n Axe Backpackers. It's a short distance from the entrance of Tsitsikamma National Park, and you can choose from dorm rooms, private chalets or luxury tents.
Once you've completed your 45 km, recover in Nature's Valley or Plettenberg Bay. I'd recommend Wild Spirit Backpackers if you want more nature vibes and feel up to tackling another short hike before you head back home.
If you're craving civilisation and want a Woolworths and Steers stat, stay at Urban Plett. It's close to all the shops and restaurants in Plettenberg Bay, and you can take a drive up to Robberg Nature Reserve for sunset.
You can also stay inside Tsitsikamma National Park at the campsite or the chalets. It will give you the chance to explore more of the area and see the iconic suspension bridges!
Read More: An Epic One Week Garden Route Itinerary (Detailed)
Otter Trail Transfers
You can organise a transfer to take you to the start of the trail and/or pick you up at the end. I was quoted R900.00 for six people from Nature's Valley to Tsitsikamma.
If you have a car, you can park it at the Otter House. I left mine there and didn't have any safety issues.
Some of the companies offering Otter Trail transfers are:
Bag Weight
A loaded backpack should not weigh more than 20% of your body weight. If you weigh 60kg like me, you should try to get your bag down to 12kg.
Mine ended up weighing 15kg, but that's because my camera gear is HEAVY. For hikers bringing a smartphone and a compact camera, you shouldn't have a problem reaching that goal weight.
Read More: The Best Gifts for Hikers: The Ultimate List for Every Budget
---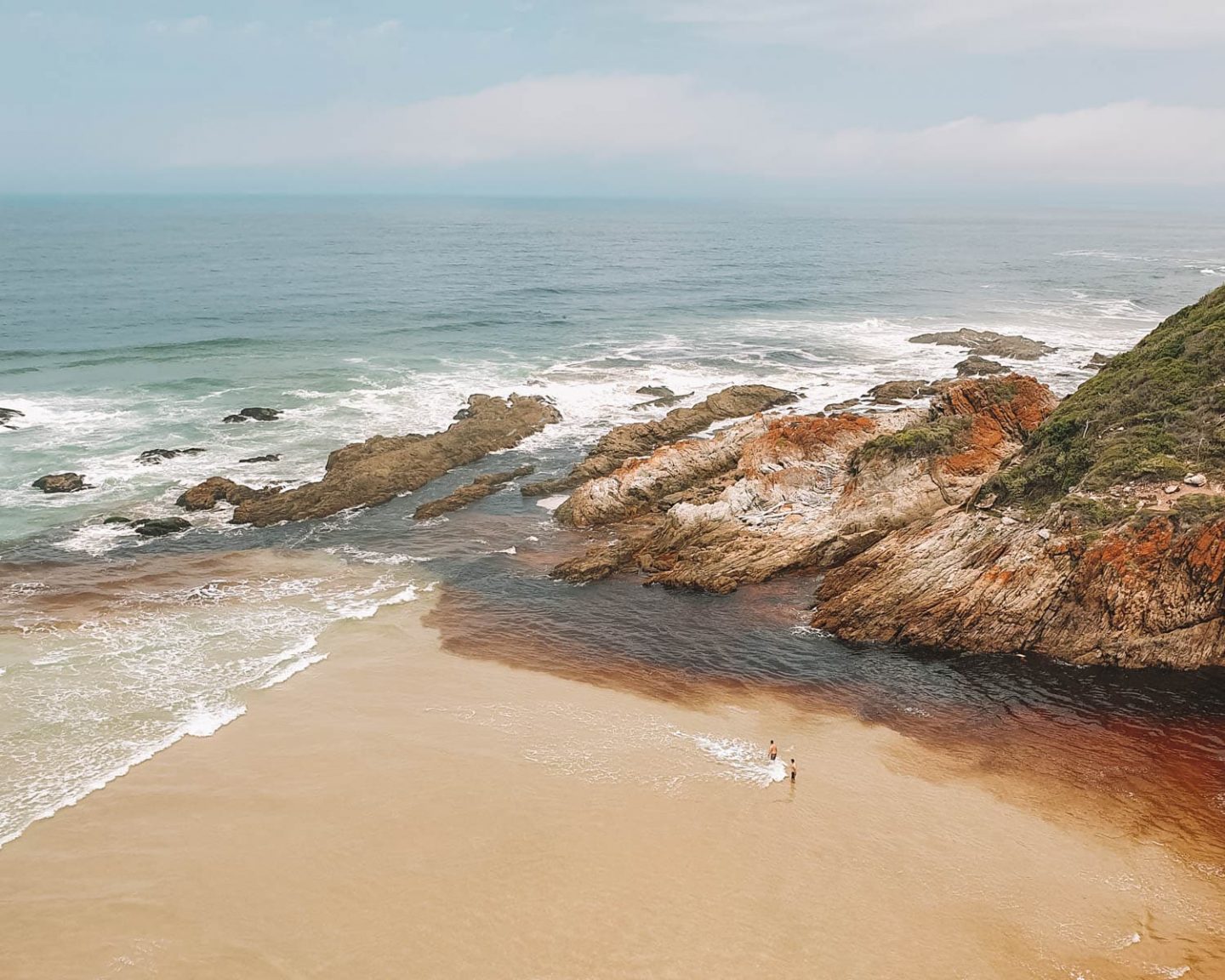 How to Survive the Otter Trail Bloukrans Crossing
Step 1: Plan to arrive an hour before or an hour after low tide the latest. If you arrive later and the water is higher than your waist, you'll need to turn back and take the E6 escape route.
Step 2: Put all your valuables in a dry bag, cover your pack with its waterproof bag and put it in a survival bag. Use cable ties to secure it, and you can float it down the river as you walk/swim across. Take off your shoes and be careful of sand sharks when walking across. They are not dangerous, but you might accidentally stand on one.
Step 3: Once you're on the other side, and you've got your shoes back on, you'll need to use bolted ropes to pull yourself up onto the cliff face. Two hands are required so put your trekking poles away until you reach the top.
Step 4: Continue following the path for 2km until you reach the Andre Hut!
When we crossed Bloukrans at low tide, we didn't need to use our survival bags. The water was low enough to walk across with our backpacks on.
---
Otter Trail Day 1: Otter House to Ngubu Hut
Distance: 4.8 km
Estimated time: 2-hours
Our time: 3-hours
The first day of Otter is an easy hike through coastal forests and past dramatic coastlines. We checked in around 11 AM at the reservations office and reached Ngubu Hut by 3 PM.
(There are a lot of epic photo spots along the way!)
Break for lunch at the waterfall. It's about 1km from Ngubu Hut.
The brave (i.e. those who don't feel the cold) can take a dip in the pool. Shout out to all the peeps who can only handle tropical water temperatures.
With such a short hike, you should be able to manage a heavier pack and go all out for dinner.
Bring that bottle of wine, pack those fresh vegetables and other luxury perishables you're going to miss over the next four days.
If you're the first group to arrive, claim hut #2. It sits higher than #1 and has a gorgeous view of the coastline and easy access to the beach.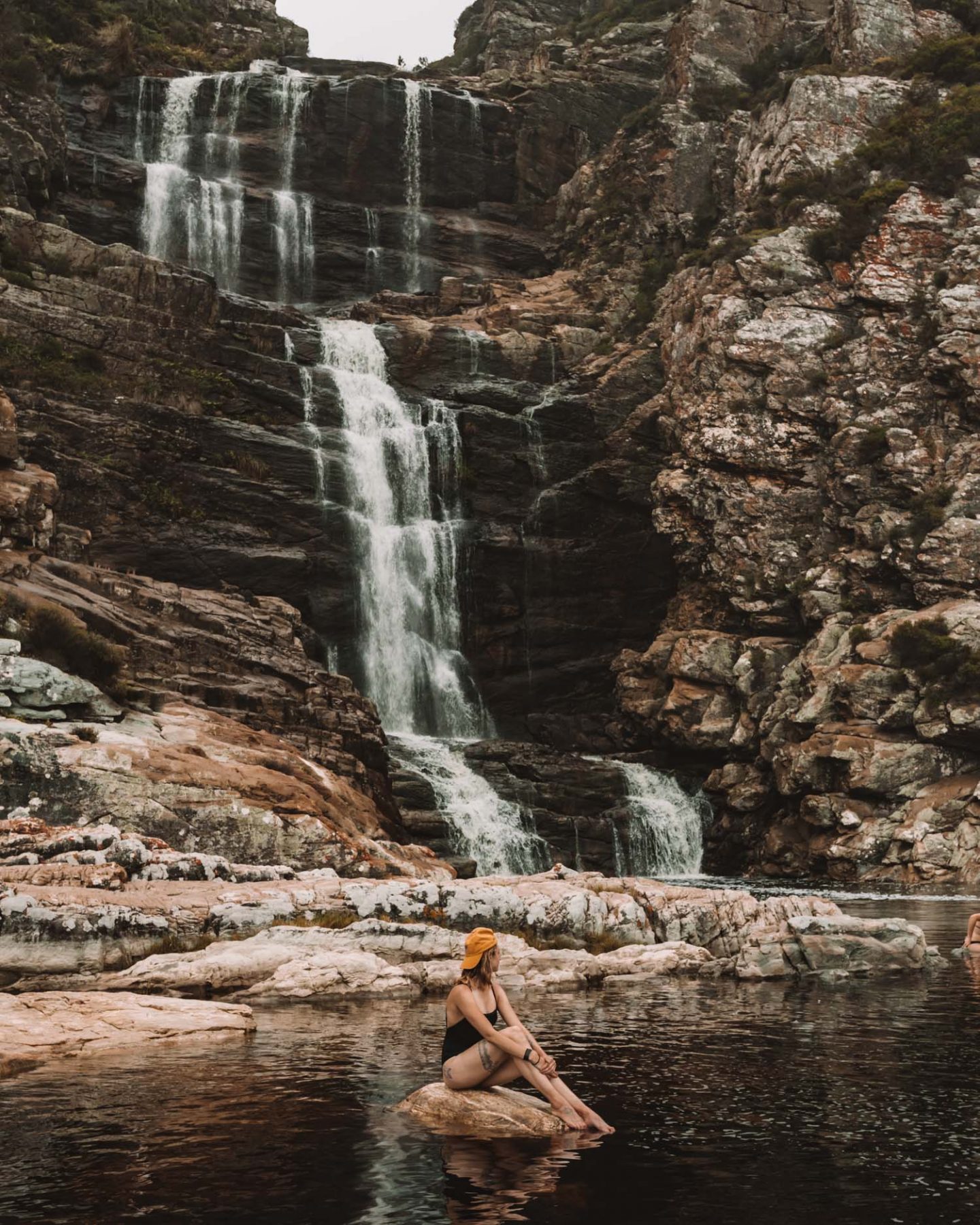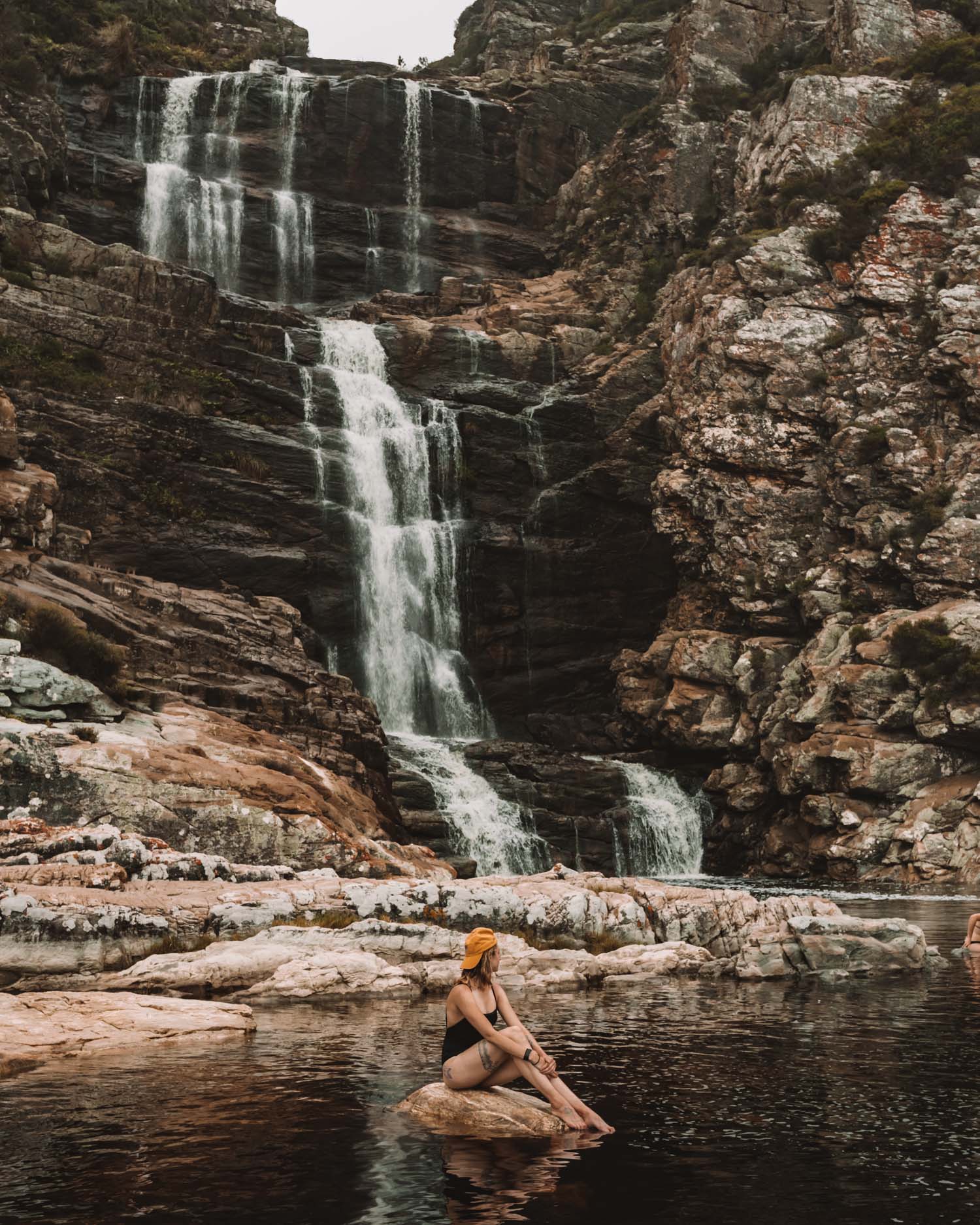 ---
Otter Trail Day 2: Ngubu to Scott Hut
Distance: 7.9 km
Estimated time: 4 hours
Our time: 6 hours
Wake up early and watch the sunrise on the beach. You might get lucky and spot an Otter or two!
Once you've had breakfast, and everyone's finished repacking their bags, it's time to tackle the many uphills of Day 2.
For a scenic pit stop, stop at Skilderklip at the 1.9 km mark. It's a short detour with sweeping views over the coastline.
From there, you'll need to cross Kleinbosh River. If you can, time your visit for low-tide as the water can go as high as waist-deep.
Afterwards, the trail has gentle inclines and descent until you reach the crossroad of doom.
To your left is the path to Blue Bay, a 6km detour down to the beach.
To your right is the path to Scott Hut where your quads go to die.
It's a hectic incline which will see you climbing to an elevation of 150 meters! But once you make it to the top, you're rewarded with a deck overlooking Blue Bay.
100% worth the sweaty clothes and burning thighs.
Remember: You can't drink from any of the rivers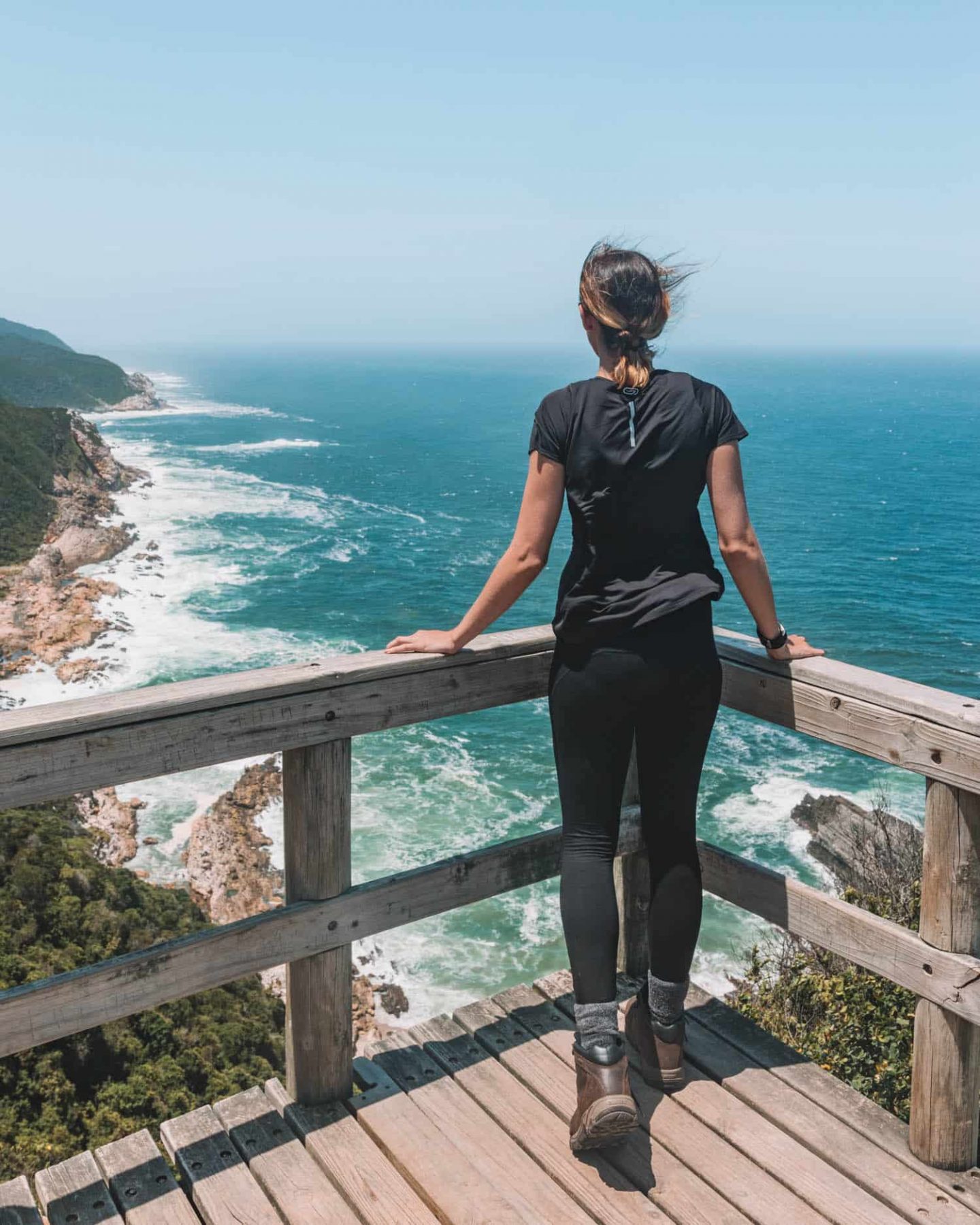 ---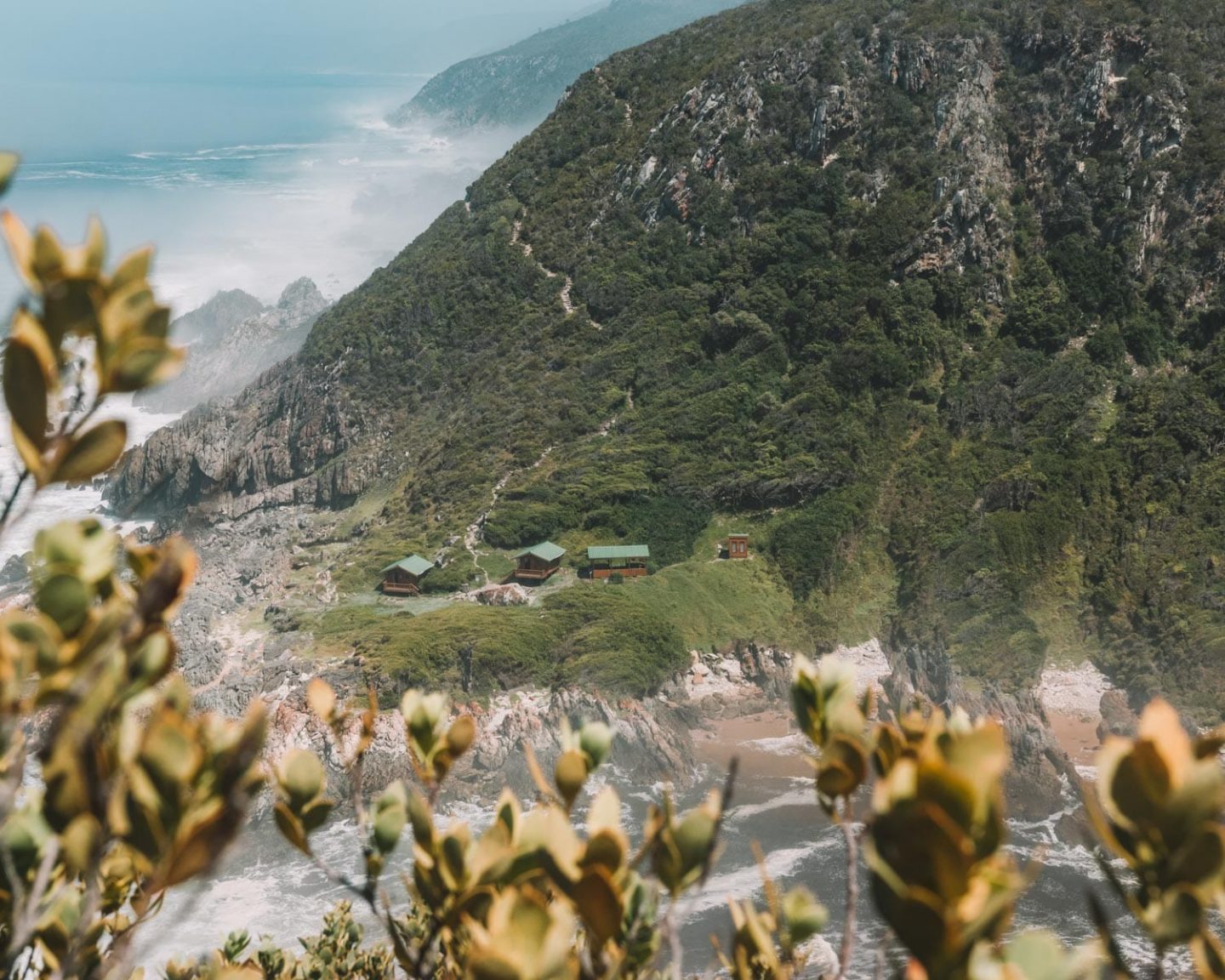 Otter Trail Day 3: Scott to Oakhurst Hut
Distance: 7.7 km
Estimated time: 4 hours
Our time: 5 hours
Day 3 is my favourite! The scenery is incredible, and you leave the humid coastal forests for the rugged coastline before coming back inland for two river crossings.
The first river (Elandsbos) was about shin deep with slippery rocks. To avoid anyone accidentally falling, we formed a human chain and passed our packs across.
For the second river (Lottering), we arrived at low tide. The water was shallow enough to walk across, and we spent an hour swimming in it before hiking the final couple of meters to Oakhurst Hut.
Oakhurst has dramatic rock formations. It's an absolute dream for landscape photographers hunting for those leading lines.
While there is no beach, there is a rock pool home to dozens of small black starfish!
Remember: You can't drink from the rivers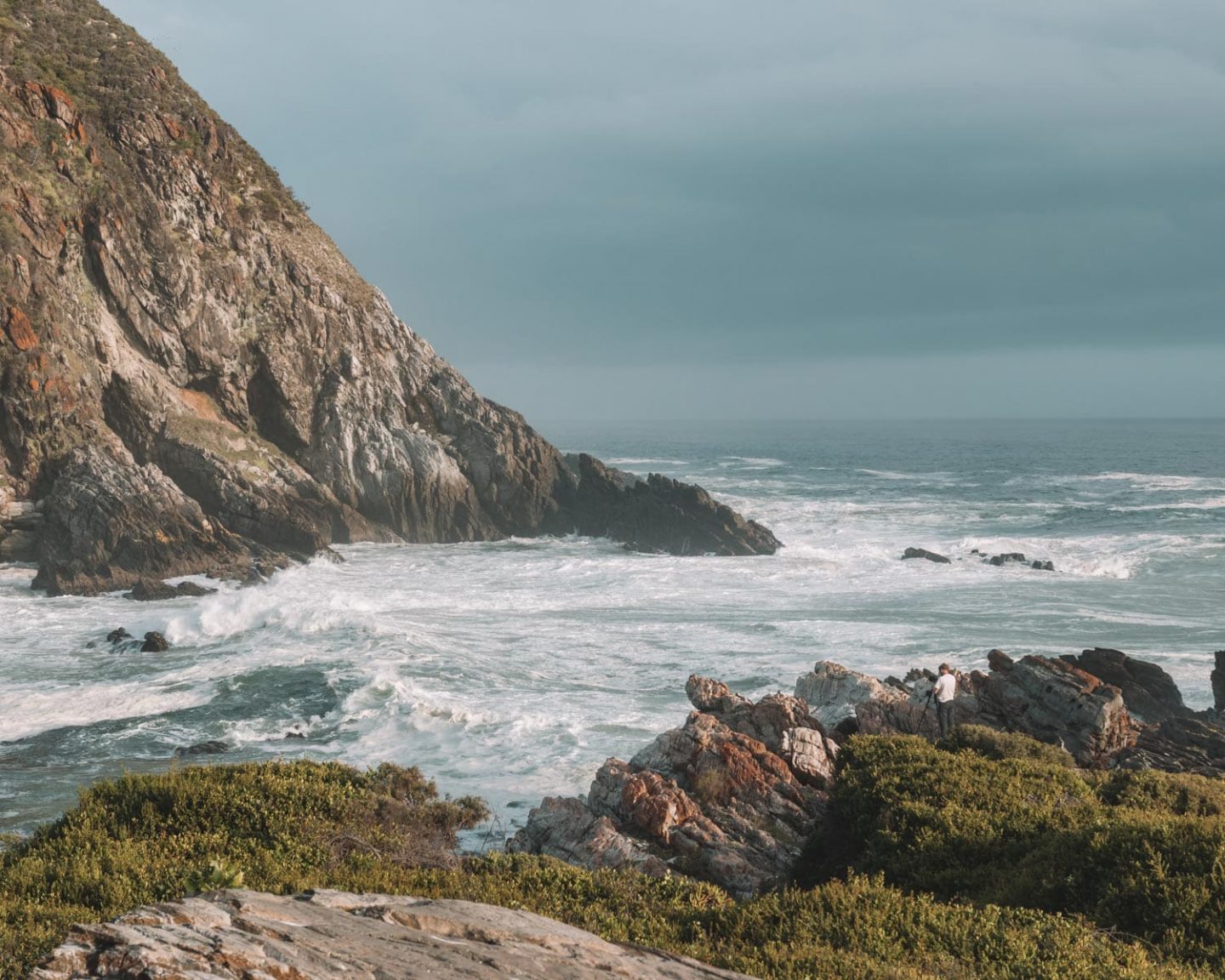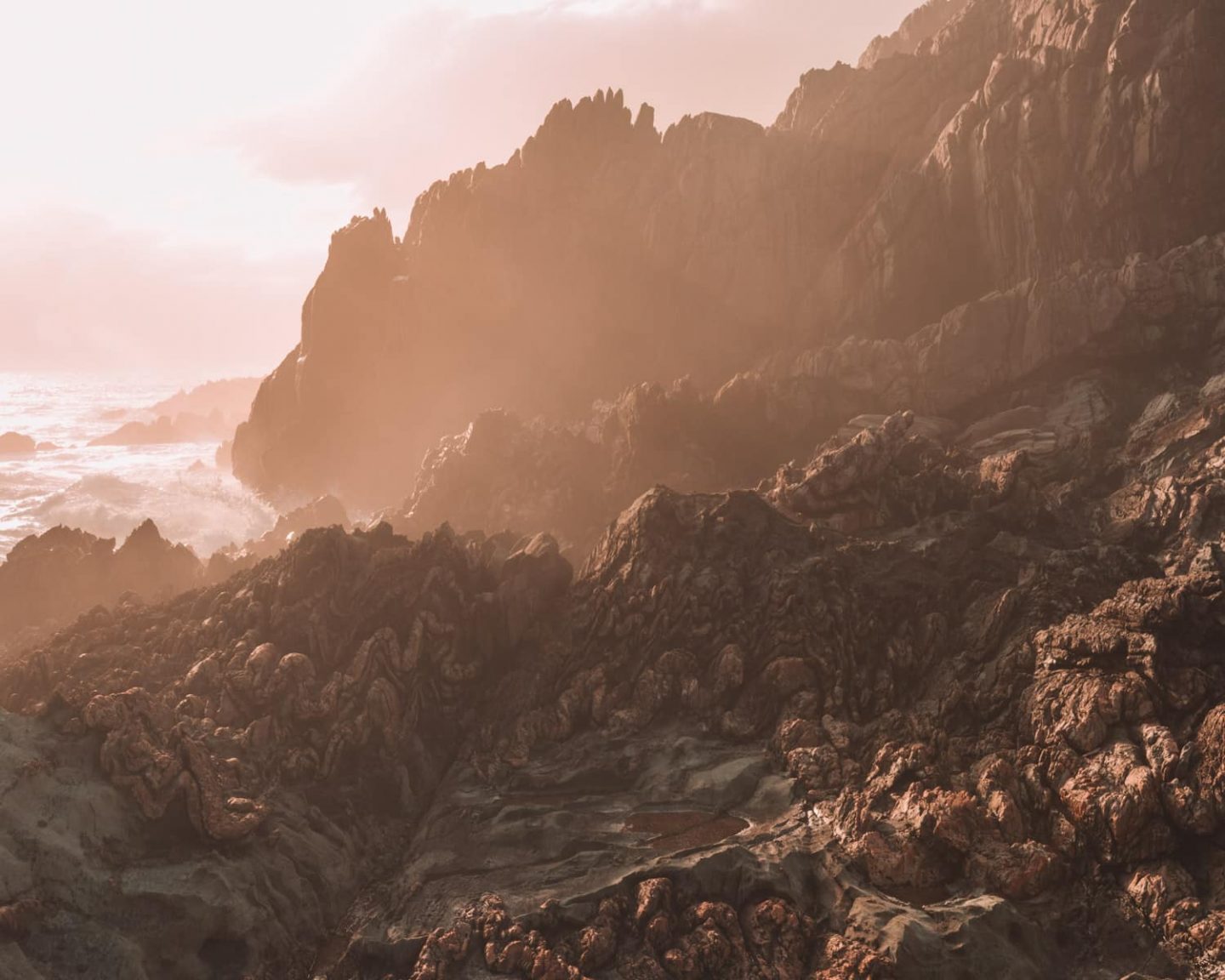 ---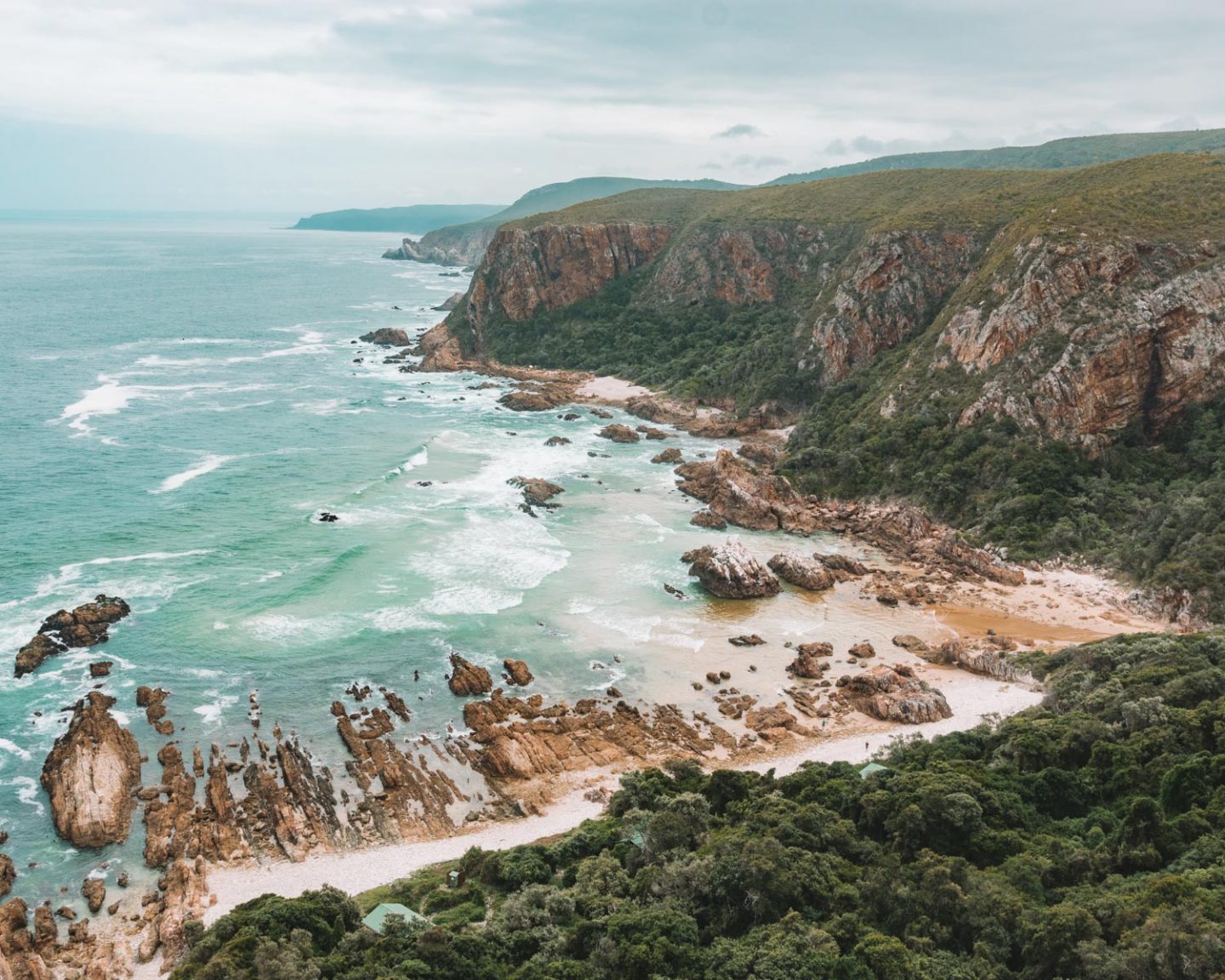 Otter Trail Day 4: Oakhurst to Andre Hut
Distance: 13.8 km
Estimated time: 6 hours
Our time: 6 hours
DUN DUN DUUUUN!!
It's D-Day.
Time to wake up early and prepare for the infamous Bloukrans River.
We made it to the crossing around 12:30 with plenty of time to kill. We had a nap, ate some lunch and explored the area before low tide at 14:30.
It was an easy walk across the river, and for the most part, the water didn't go past my knees.
Once you make it across, the next challenge is pulling yourself up onto the cliff face with ropes.
It's slightly terrifying if you've never done rock climbing before or you don't have much upper body strength – but it's doable!
From there, you'll walk along the beach and through a coastal forest until you reach the final uphill of the day (and the worst one of the entire hike).
It's a staircase that feels like it never ends and your quads, calves and glutes will be on fiiiiiire.
After you've summited the mountain, it's a scenic walk along the edge of the cliff. Before you start your descent to spectacular Andre Hut, you'll get a birds-eye view of your home for the night down below.
---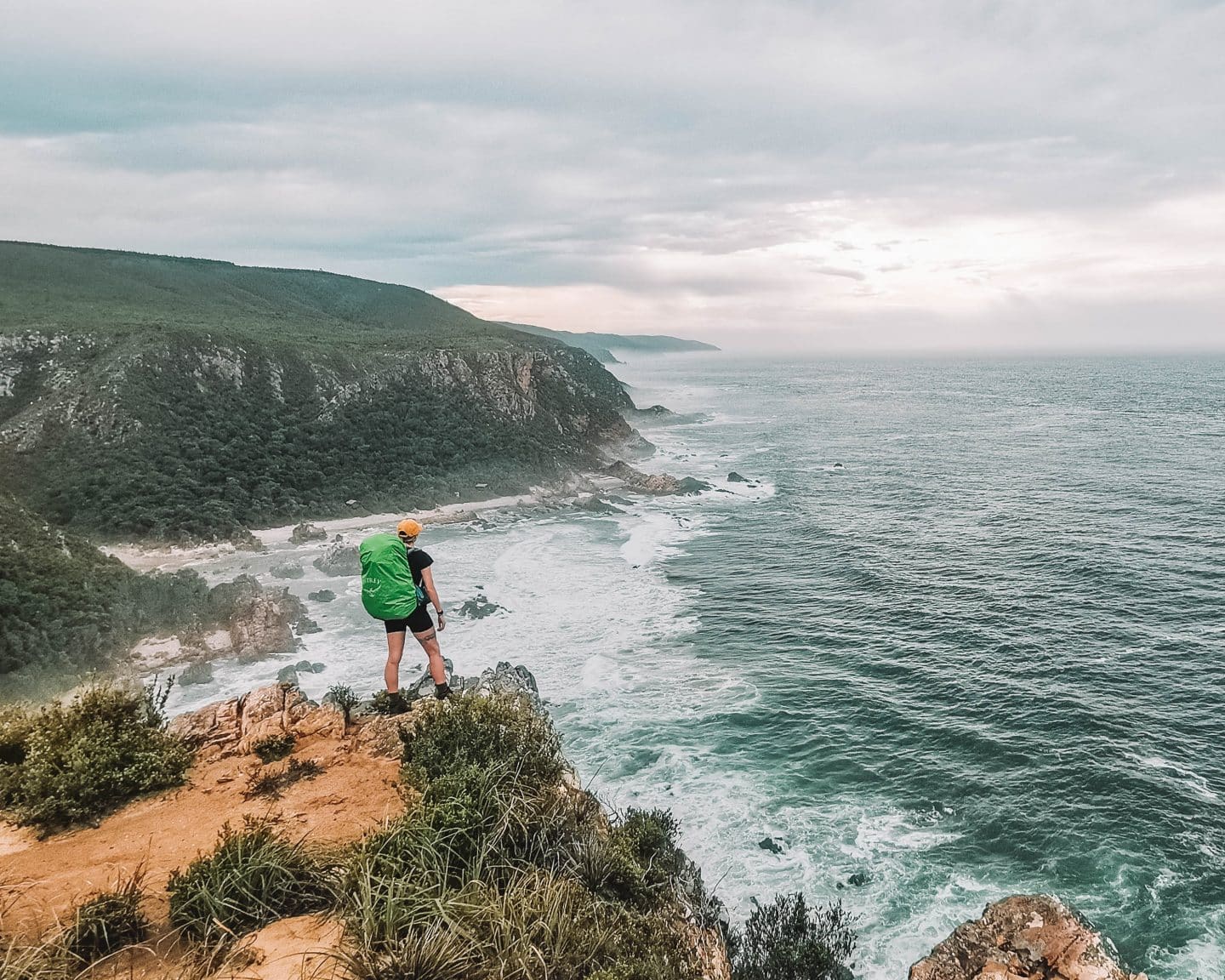 Otter Trail Day 5: Andre Hut to De Vasselot Camp
Distance: 10.8 km
Estimated time: 5 hours
Our time: 4 hours
You have one massive uphill to tackle, and it starts right at the campsite. Load up with all the carbs and prepare to feel the burn.
When you make it to the top, you'll have sweeping views of the landscape and lookout points for pictures.
The rest of the trail is moderately flat with a few small descents and inclines. While 10.8km is long, you should be able to do 2-3 kilometres an hour.
Once you pass through a small gate, there is a viewpoint a couple of metres away. I would stop here for a break and get some photos of Nature's Valley Beach below.
When you get onto the beach, keep walking until you see an Otter Trail sign on your right. From there it's a 3.8km walk through a forest until you reach De Vasselot Camp.
Whoop whoop!
For the over-achievers who want to get one more certificate, you can go to the Nature's Valley Restaurant and Pub. You can also buy trail badges and try the Otter's Asshole shooter for R14.00.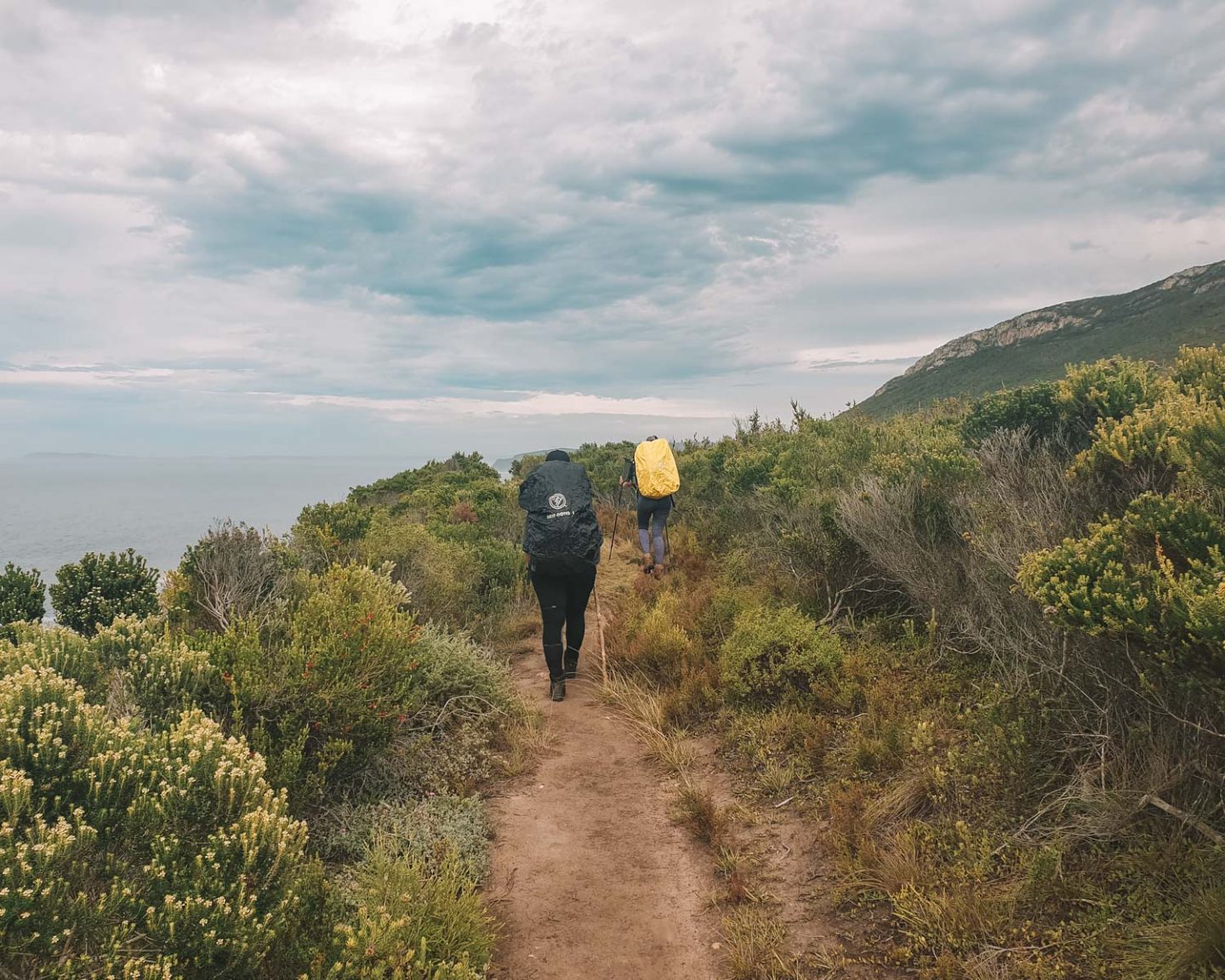 ---
Should You Hike The Otter Trail in South Africa?
So was it worth it? Absolutely!
The weight of my pack on my hips. My sweat-drenched t-shirts. The aches in my feet. The blisters on my toes. Everything was worth seeing the mind-boggling views and the sense of pride I felt each day after successfully walking so many kilometres.
If you're considering hiking the Otter Trail and your quad game is strong – you'll love it!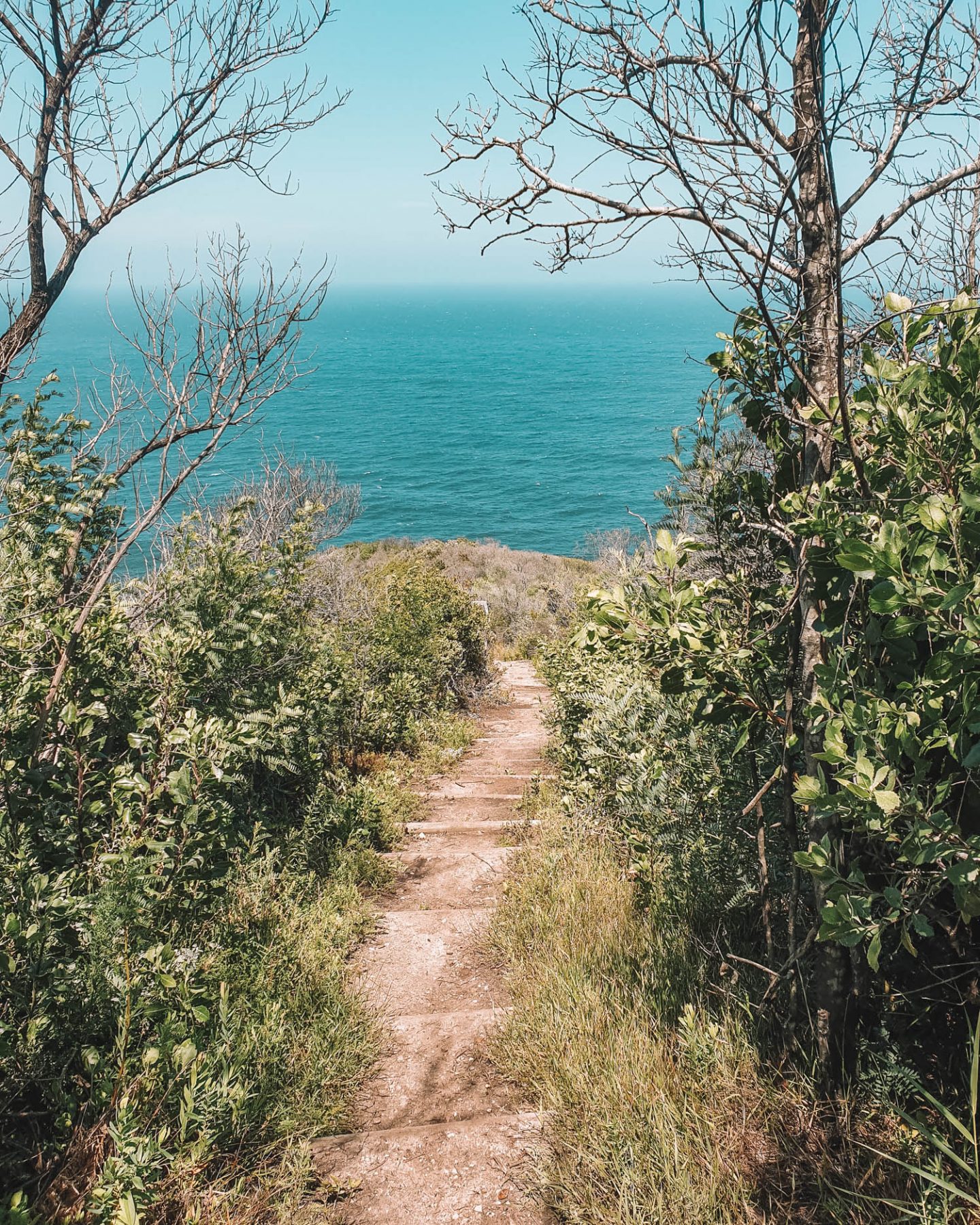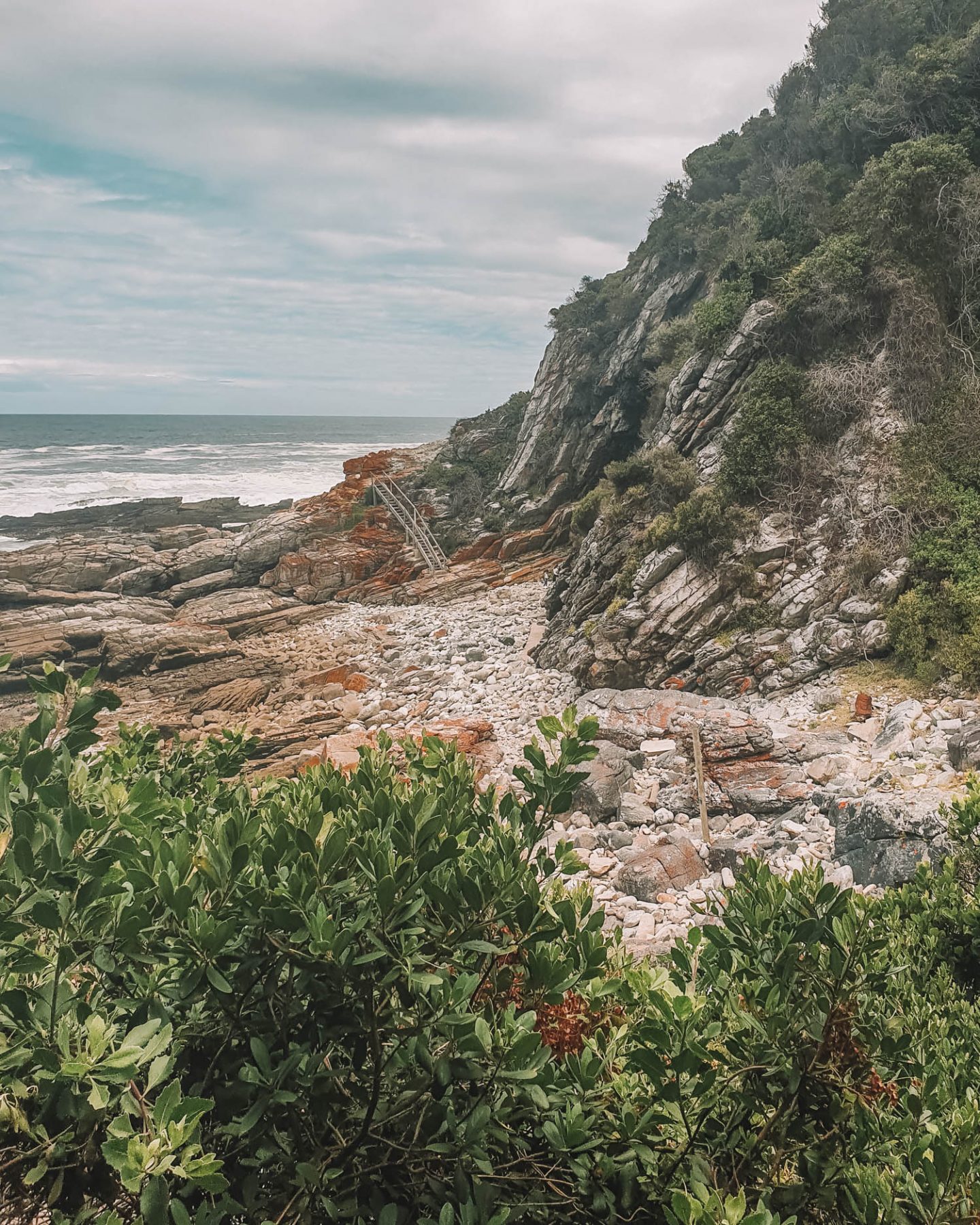 ---
Got any questions about conquering the iconic Otter Trail? Hit ya gurl up in the comments below!
---
Psst…Want more South Africa hiking and travel inspiration? Check out my other posts:
? If you like it, then you should put a pin on it! ?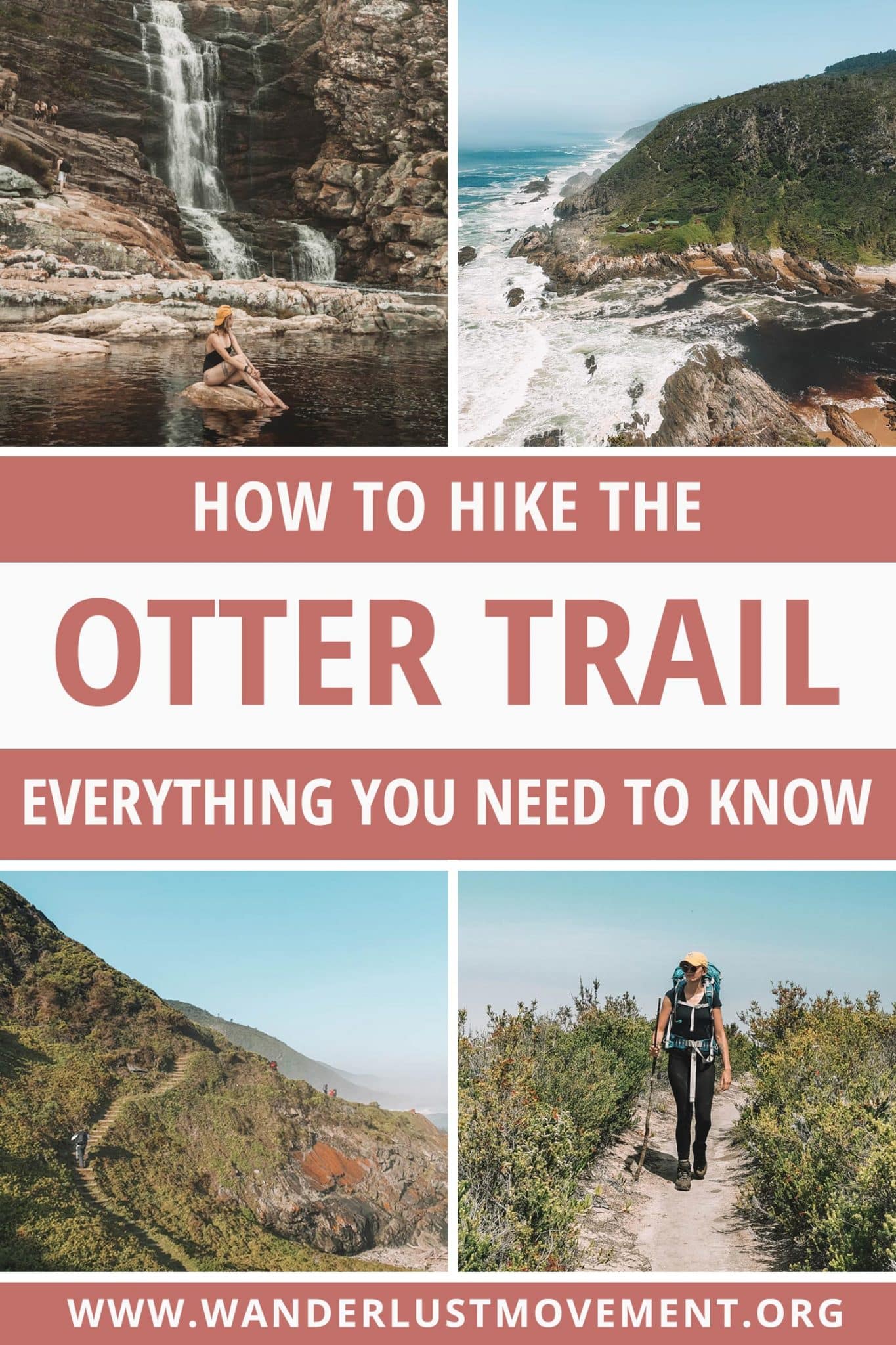 Want to tackle the oldest and most beautiful multi-day hike in South Africa? Here's what you need to know to conquer the iconic Otter Trail!