Last Updated on April 16, 2021 by Taylor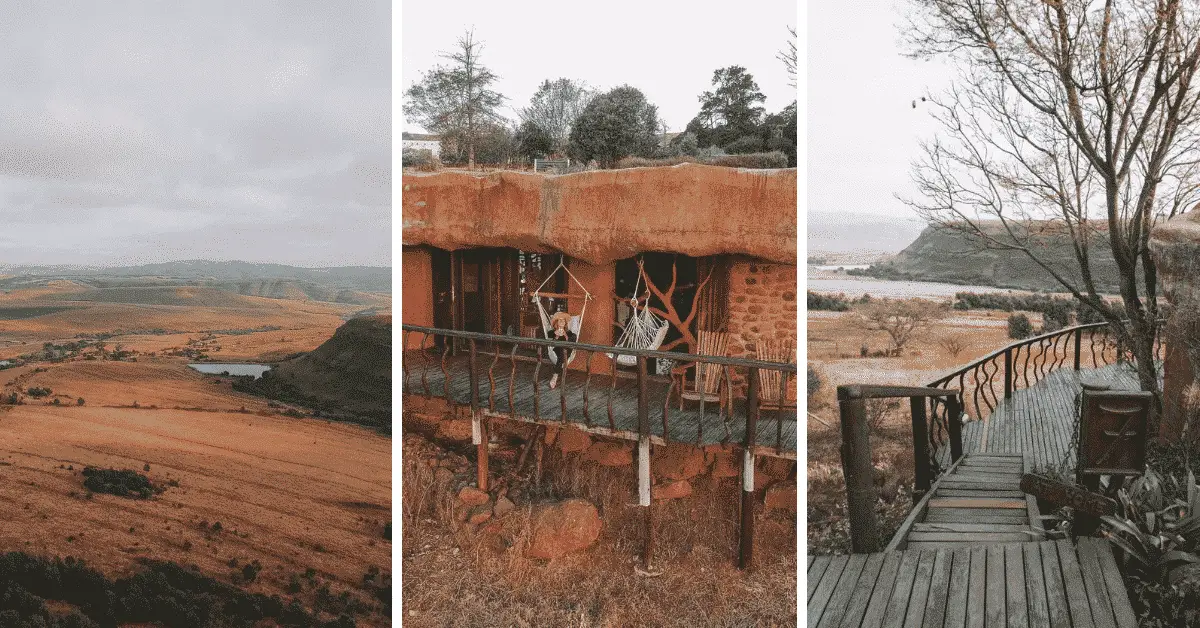 What's the most adventurous thing you've done in your life?
I'll bet a lot of money that it won't top Andrew's story of walking from South Africa to Europe in the 1980s.
Andrew is the owner of Antbear Lodge, and he is also the owner of some of the most incredible travel stories I've ever heard.
But without a doubt, his story of walking across Africa is the golden bullet in this repertoire. And he didn't even do it as a bucket list thing.
It all happened because he ran away from the South African army during Apartheid and didn't want to go to jail.
For full details, you'll need to check-in to Antbear Lodge. My brief synopsis doesn't do it justice, and I'm pretty sure I only got a whiff of his travel tales during my two-day stay.
Here's what it's like staying at Antbear Lodge in South Africa!
How to Get to Antbear Lodge
Only 2-hours away from Durban, Antbear Lodge is a unique getaway tucked away in the Drakensberg Mountains. If you're travelling from Johannesburg, it's a 4-hour 20-minute drive along the N3.
Don't leave home without enough cash or credit cards – there are a ton of tolls on the road! You won't be able to pay with a debit card or turn around to go find an ATM.
For travellers from elsewhere in South Africa, you'll need to catch a flight to King Shaka International Airport (DUR) and hire a car. I recommend using Skyscanner and Travelstart to find the best deals on cheap domestic flights in South Africa.
---
About The Property
Antbear Lodge is a quirky eco-lodge in the Drakensberg that's a short drive away from the Midlands Meander. It's the perfect getaway for couples or families that love all things eccentric and nature.
Almost all the wooden decor (and the impressive glass-stained windows) are crafted on-site by Andrew and his volunteers. The pieces create a unique vibe, and no two chalets are alike.
Besides the art, I love Antbear's ethos on sustainability. Not only is the lodge growing almost all its ovown food, but it also hires exclusively from the local community, and there's a huge focus on upskilling.
---
The Cave & Chalets
Antbear Lodge is the perfect place to go to the Berg for any occasion. Whether it's time for the annual family holiday, a romantic rendezvous away or you're taking your pet on a trip – there are room options for you.
Heck, there's even an on-site chappel if the mood is in the air!
For my trip, I stayed in the gorgeous luxury cave suit. It boasts an incredible panorama over the Drakensberg.
Here's what you can expect to find in the luxury cave suite:
• A massive king-sized bed
• Ensuite bathroom with a jacuzzi bath
• Complimentary tea, coffee and a bottle of cherry
• Complimentary toiletries
• A spa bath
• A heater
• Turn down service with water bottles
• Private deck area
• Two hammocks
---
Food & Drink
The chef at Antbear Lodge is a magician in the kitchen. If you're a travelling foodie, you're going to want to spend one night here purely for the food.
The lodge has an organic vegetable garden and where the kitchen gets most of it's produce. Andrew and his team also produce their own honey, cheese, milk and yoghurt!
Breakfast
Breakfast at Antbear starts with a continental breakfast. You can fill up on toast, cereal, yoghurt, fresh fruit, muesli and muffins. Once you're done, you can put in an order for a classic English breakfast.
Lunch
While the kitchen isn't open during the day, you can pre-order a packed lunch for any hikes. It's usually a sandwich stuffed with fresh veg, cheese and a side salad.
Dinner
Holy guacamole!
I had some incredible vegan-friendly meals here. I'm not even sure what dish is my favourite. Each one was exceptional, and my only complaint is that I couldn't take the recipes home with me.
If you don't want to have dinner at the restaurant and hear all about Andrew's stories (you're missing out BIG TIME), you can opt for a private dining option at your chalet.
The staff will set it all up, complete with candlelight and a delicious glass of South African wine.
---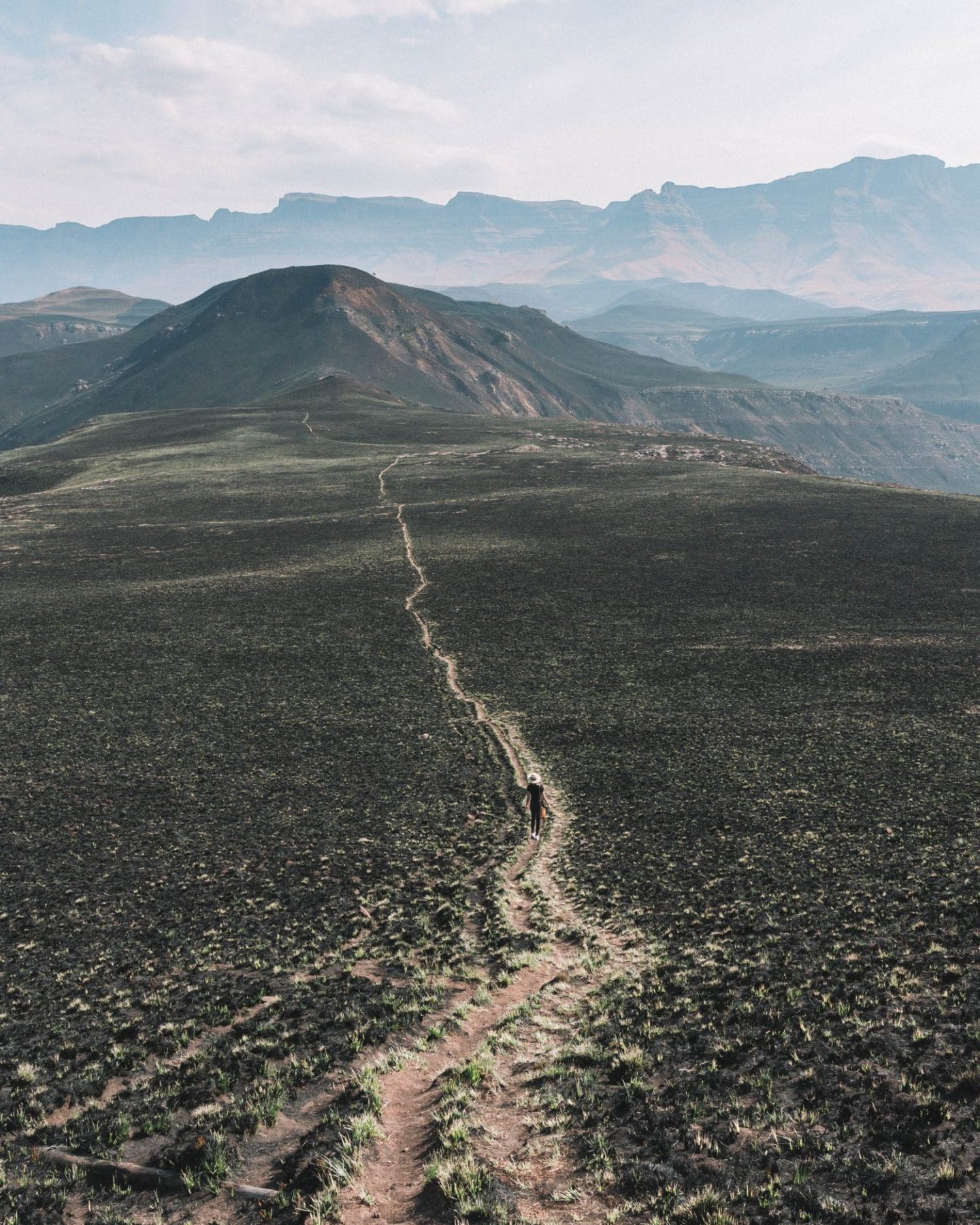 What to Do in the Drakensberg
Giant's Castle: Giant's Castle is located inside the Maloti-Drakensberg Park World Heritage Site. It's home to scenic day hikes for all fitness levels and some of the best-preserved San Rock Art in the world.
Hot Air Balloon Ride: Up the romance factor with a sunrise hot air balloon ride over the Berg! Once you land, pop that bottle of champagne and feast on a breakfast back at the lodge.
Midlands Meander: The Midlands Meander is a treasure trove of cultural sites. Visit the Nelson Mandela Capture Site, go wine tasting, and eat your way through the quaint cafes.
Microlight Flights: Want to see the Berg from a different perspective? If the weather is good, you can go for a flip with Andrew in his microlight and soar with the eagles.
---
What I Think of Antbear Lodge
Antbear Lodge is that quirky getaway that artists and hikers will love. Stay in the cave suit if you want privacy and the sweeping views of the Berg to yourself or book one of the charming chalets.
Of course, you can't stay at the lodge without one conversation with Andrew and his wife Connie (she's a real firecracker!). It will only add to your experience and reignite your desire to wander far and say yes to crazy adventures.
Thank you for Teniqua Treetops for inviting me to their property! As always, all opinions are my own.
---
Psst…Want more South Africa travel inspiration? Check out these other posts:
Did you find this post useful? Save it for later on Pinterest!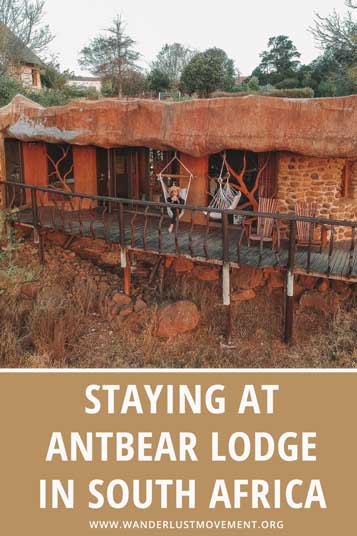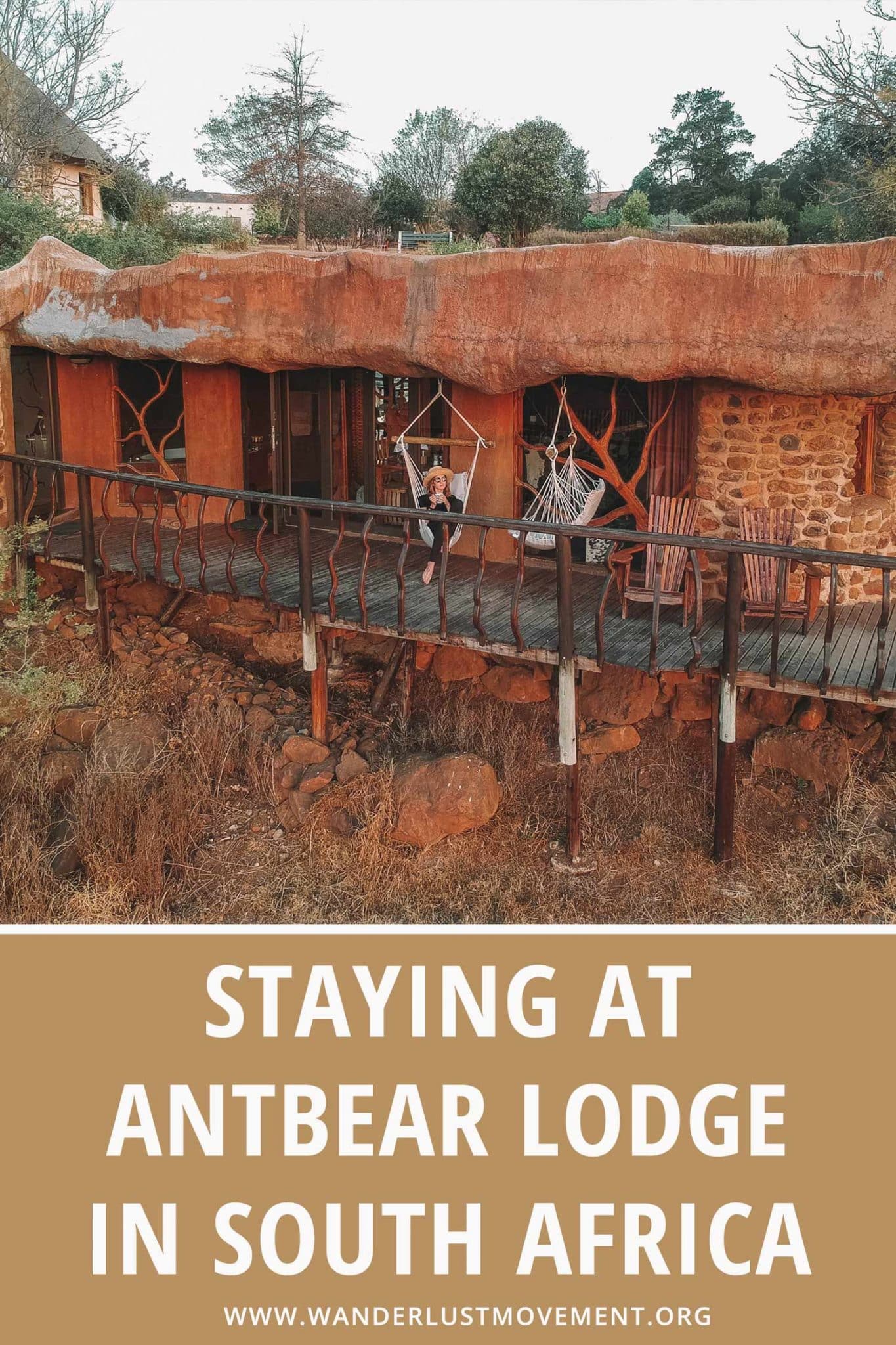 Stay somewhere unique the next time you go to the Drakensberg. Antbear Lodge is a quirky stay with an incredible luxury cave suite!