Last Updated on April 7, 2021 by Taylor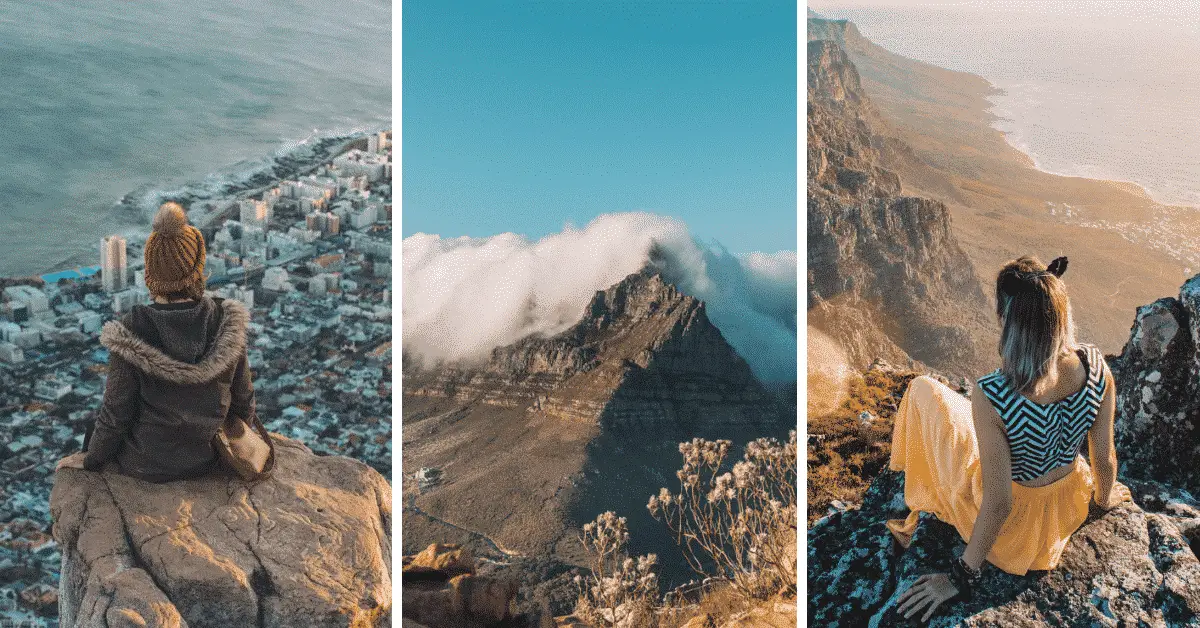 Let's be real.
Cape Town is an easy place to fall madly in love with.
The crowning jewel of South Africa, it's always topping those "most beautiful cities in the world" lists. After all, it comes with swoon-worthy hikes, a delectable food scene, penguins and gorgeous beaches with boulders that look like they belong in Seychelles.
But what really sets the Mother City apart from other cities in the world is its dynamic layers.
Lurking beneath Table Mountain's shadow is the colourful neighbourhood of the Bo-Kaap, the District 6 Museum and benches saying "whites only". All remnants of South Africa's tumultuous history.
It's this duality that makes Cape Town one of the most fascinating places to visit in South Africa, and it's what is going to keep you coming back again and again.
If you're on the hunt for the perfect Cape Town itinerary, then I'm happy to report that much of the legwork is done.
After living in Cape Town for 4 years, countless hours of detailed research and copious amounts of coffee consumed, I've created a thoroughly fantastic agenda that highlights all the best things Cape Town has to offer.
Here's my 7-day Cape Town itinerary!
How to Get to Cape Town
Whether you want to splurge on direct flights or go on an off-the-beaten-path adventure, there are a few ways to get to Cape Town.
The fastest option is to book direct flights to Cape Town International Airport (CPT). More and more destinations are offering non-stop flights to the Mother City, making it super easy to avoid that painful Johannesburg layover.
For the best prices on cheap flights to Cape Town, I recommend using Skyscanner.
If you can't avoid the pit stop at OR Tambo, or you're a local flying to Cape Town, sign up for Mango, Kuala and Fly Safair's newsletters. It's the best way to stay on top of all three domestic carriers airfare deals.
Want to cut down on your CO2 emissions or save money? Grab a long-distance bus to Cape Town or use the train.
---
Where to Stay in Cape Town
One thing that Cape Town doesn't lack is options. In fact, it can feel a bit overwhelming when you're planning your Cape Town itinerary, and you need to decide where to stay in the Mother City.
Your first mission (should you choose to accept it) is to decide on which Cape Town neighbourhood is the perfect fit for your wallet and itinerary. Once you've got that figured out, you can move onto finding a place to say.
Here are three of my favourite hotels in Cape Town that won't (and will) break the bank!
Ballin' on a budget? Book a room at [email protected] Backpackers in Green Point. The hostel is smack-dab in the middle of Green Point, and only a steps away from a MiCity bus stop.
It's the perfect place to base yourself (especially if you're a solo traveller) to explore Cape Town's attractions.
Gorgeous George
Gorgeous George is one of the newest boutique hotels in Cape Town, and I am obsessed. It's conveniently located in the city centre and is a visual feast!
Picture modern industrial rooms with quirky Victorian-era elements and an incredible rooftop restaurant and bar. It is a mid-range hotel, but 100% worth the price if you're looking for affordable luxury.
The Silo Hotel
Want to spoil yourself and make your bank balance cry? Welcome to The Silo Hotel.
It's the creme-de-la-creme of Cape Town's luxury accommodation scene. It's the ultimate 5-star hotel experience complete with sweeping views of the city and an Instagrammable rooftop pool.
Not vibing with any of these options? I've written a detailed guide on all the best hotels for every kind of budget!
Read More: The Best Hotels in Cape Town: Where to Stay for Every Budget
---
Cape Town Travel Tips
How to Get Around Cape Town
Uber: Uber is an easy, fast and reliable way to get around the city. With most of the city's top attractions only 10-15 minutes from each other, it's also a super affordable option. While there are metered taxis in Cape Town, I wouldn't recommend them. With Uber, you have a track record of who you're getting into the car with if anything happens.
MyCiti Bus: If you're staying in the city centre or surrounding suburbs, you can use the MyCiti Bus. It's a cheap option, but it's not reliable (strikes are common), and it takes a while to get around.
Car Rental: You only need to rent a car if you want to go on day trips from Cape Town to Muizenburg, Chapman's Peak, the Cape Penisula or the Cape Winelands.
Train: There are trains that run from the city centre to Muizenberg, Simon's Town and Kalk Bay.  The trains cost less than R15.00, and Getaway Magazine has some great safety tips for using trains in Cape Town.
Is Cape Town Safe?
South Africa does have a high crime rate, but it mostly affects locals more than travellers. While exploring Cape Town, you do need to take extra safety to precautions to avoid looking like a soft target for pickpocketing and muggings.
Here's how you can avoid most problems:
• Use an anti-theft backpack
• Don't flashing your valuables in public
• Don't walk around in deserted areas especially in the evening
• Always ask your Uber driver who he or she is picking up before getting in the car
• Don't carry a lot of money on you
• Leave your passport at your hotel in the safe
• Don't hike alone (especially on less popular trails)
The Best Time to Visit Cape Town
With zero tornados, tropical storms or monsoons, the best time to go to Cape Town is whenever. There is always an endless list of things to do, and the weather (for the most part) won't ruin any of your plans.
Summer: December to February is the most expensive time to visit Cape Town. Flight prices go crazy, and the best hotels book up fast. You'll be hard-pressed even to find an Airbnb. On the plus side, your social calendar will look better. Attend the famous Kirstenbosch Summer Concerts, go to trance parties, spend lazy days on the beach and soak up the phenomenal summer sunsets!
Autumn: Not a fan of crowds? Travel to Cape Town between March and May. As the winds pick up and the temperatures cool, the weather is ideal for conquering multi-day hikes in Table Mountain National Park. Your wallet will also like you better. Flight prices go back to normal, and hotels start to lower their rates.
Winter: June to August is cold, windy, and wet, but it's the best time to go to Cape Town for bargain hunters. To make up for the lull in travellers, you'll find incredible accommodation specials and mostly locals at the top attractions. It's also the best time of year to chase the Milky Way, spot whales and get day drunk at the wine farms.
Spring: Visit Cape Town between September and November and get a taste of the city's summer events. You can go frolic in the fields of blossoming lavender and canola and plan a road trip up to West Coast National Park to see the wildflowers. Prices do slowly start to increase, but you can still snag a deal before the summer madness begins.
Read More: 10 of the Best Things to do in Cape Town in Winter
Buy Travel Insurance
Travelling anywhere is a bit of a wildcard. As much as you might plan everything down to the last detail, shit can still hit the proverbial fan.
The airline could lose your bag, your bag could get stolen along with your passport (it's happened to me TWICE) or a monkey could steal your camera.
Anything is possible.
World Nomads has a comprehensive travel insurance that's made for any adventure. Whether you want to go shark cage diving, jump out of a plane or rock climb up Table Mountain, they'll cover all your crazy shenanigans.
And you'll have peace of mind IF anything happens to your luggage, passport or camera gear.
---
7-Day Cape Town Itinerary
Day 1: Bo-Kaap, District 6 Museum & Kloof Corner
Go on a Walking Tour of the Bo Kaap
Get up early, grab that complimentary breakfast from your hotel and head to the Bo-Kaap. It's Cape Town's colourful Malay Quarter and one of the most Instagrammable locations in the Mother City.
You want to get here early in the morning for two reasons:
1.) The light is perfect for taking photos, and you'll avoid the harsh afternoon sun and shadows
2.) Quieter streets mean you won't have to struggle to get a picture in front of the famous powder blue convertible!
If you want to know more about the history of the Bo-Kaap, sign up for a walking tour. You'll learn all about how the residents are descendants of slaves brought to South Africa in the 16th-century.
And you'll get to try all the delicious traditional Cape Malay food!
Visit the District Six Museum
Next up, catch an Uber to the District Six Museum. If you want to learn more about the Apartheid regime and the painful effect it had on Cape Town's black and coloured communities, a visit here is essential.
In 1966, District Six became a "whites-only" zone, and 60,000 non-whites were forcibly removed from their homes and relocated to the Cape Flatts.
For more insight, you can book in advance for a guided tour through the museum with an ex-resident.
Entrance: R45.00 per person for a self-guided visit or R60.00 with an ex-resident guide
Grab Lunch and a Coffee at Truth
Want to sip on some of the best coffee in the world? Walk across the street to Truth Coffee.
It's a steampunk heaven that serves up an award-winning cup of brew.
But besides its unforgettable coffee, the menu here is delicious. There are options for hungry vegans,  pastry lovers and everything in between. There's even a decadent tea menu if you're more into leaves than beans.
For a unique experience, sign up for Truth's High Tea. It's a Victorian-era masterpiece complete with chocolate eclairs, creme scones, smoked salmon and a bottle of bubbly.
Hike to Kloof Corner for Sunset
If Lion's Head looks a bit too daunting for you, ease into Cape Town's hikes with Kloof Corner. It's a 20-minute hike up the slopes of Table Mountain that will give you sweeping views over the city centre and Camps Bay.
A fair bit of warning though, the last part is thigh burner. On the plus side, your glutes will never look better.
Read More: 12+ Best Hiking Trails in Cape Town With Jaw-Dropping Views
Grab a Drink at the Secret Gin Bar
End off your first day in Cape Town with a drink at the Secret Gin Bar. Tucked away behind Honest Chocolate (chocolate addicts might never leave), it's where you'll find some of the best G&T's in the city.
For dinner, I recommend Lefty's. It's a hole-in-the-wall dive bar on Harrington Street that serves up some tasty dishes for meat-eaters and vegans alike.
When I ate meat, their fried chicken waffles and ribs were incredible gastronomic experiences!
---
Day 2: Old Biscuit Mill, Woodstock Street Art & Table Mountain
Have Brunch at the Old Biscuit Mill
Suffer from indecision when it comes to deciding what to eat?
The Old Biscuit Mill's Neighbourhood Goods Market in Woodstock will cure your ailment.
Held every Saturday, vendors from all over the city come here to cook up a storm. You can dine on some of the best avo toast you'll have in your life, stock up on delicious vegan chocolates and eat your weight in traditional South African cuisine.
There's also an endless array of bao buns, sushi, G&Ts (naturally), smoothies and gourmet burgers.
Tip: Download Snapscan on your phone. All the vendors accept it as a payment method, and you won't have to carry cash!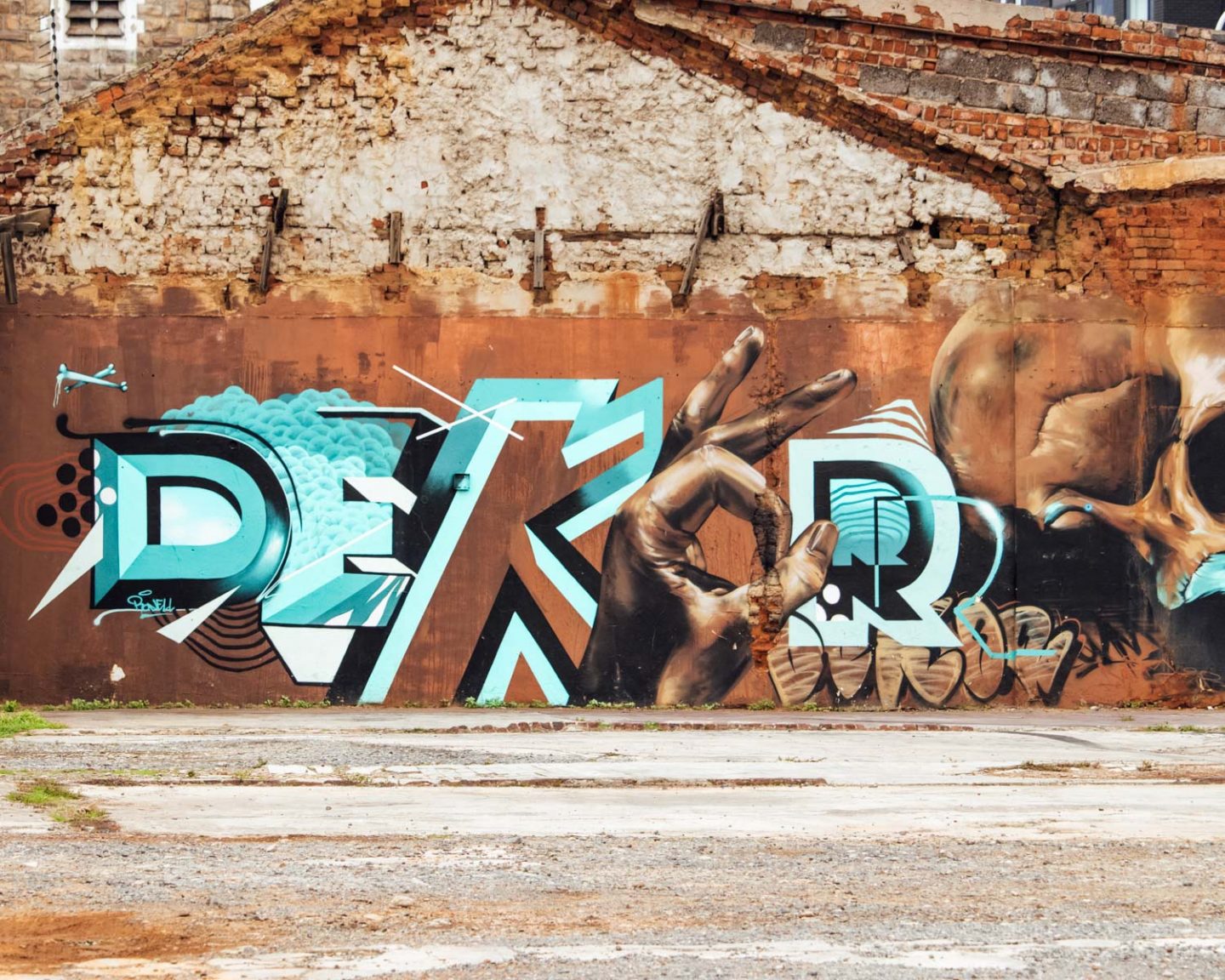 Sign Up for a Woodstock Street Art Tour
Work off all those calories with a Woodstock Street Art Tour. Awe-inspiring artworks from top international and local artworks decorate the streets of the neighbourhood.
While it's one of the best places to visit in Cape Town, it's not an activity you want to do alone.
If you're not from Woodstock, it's not safe to walk around solo. Please sign up for a guided street art tour to avoid getting mugged.
You'll also get to interact with the local community, see the best pieces and learn about the artworks.
Watch the Sunset on Top of Table Mountain
One cannot come to Cape Town and not go to the top of Table Mountain at least once. It's iconic, and the views make the steep price of the cable car worth it.
If you're a little extra like me, pack some champagne flutes in your backpack and a bottle of bubbly to pop as the sun goes down!
Buying your flights to Cape Town between November and February? If you're a local, you're in luck! There's a half-price sunset special from 6 pm.
Entrance: A cable car return ticket for the afternoon is R300.00 ($20.00 USD) or R200.00 ($13 USD) if you hike up or down.
Explore Cape Town's Nightlife
Cape Town's nightlife is legendary.
Start the evening with a visit to Orphanage Cocktail Emporium on Bree Street. Drinks are on the pricier side but are worth it if you're not into drinking an average Old Fashioned.
From there, walk two blocks down to Long Street. Here, you'll find an entire street full of bars, nightclubs and late-night snacks.
• For drunken karaoke and cheap shooters, head to Manila Bar
• For a more laidback vibe with live music, go to the Waiting Room
• For hard trance beats, Fiction is the place to be
• If you're in the mood for a bougie rock 'n roll experience walk down to Aces 'n Spaces
---
Day 3: Robben Island, V&A Waterfront, & Zeitz Museum of Contemporary Art Africa
Option 1: Go to Robben Island
I'm one of those South African's that hasn't been to Robben Island – yet.
I also feel that the price of the tour doesn't make it accessible to all South Africans. Much like District 6 doesn't have an entrance for ex-residents, I think it should be free or have a much bigger discount for locals.
With the Robben Island Tour taking 3.5 hours, you'll want to book the 9:00 AM time slot. The ferries depart from the V&A Waterfront, and the route includes a graveyard of people who died from leprosy, the Maximum Security Prison and ends with Nelson Mandela's cell.
Price: R380.00 for South Africans | R550.00 for Non-South Africans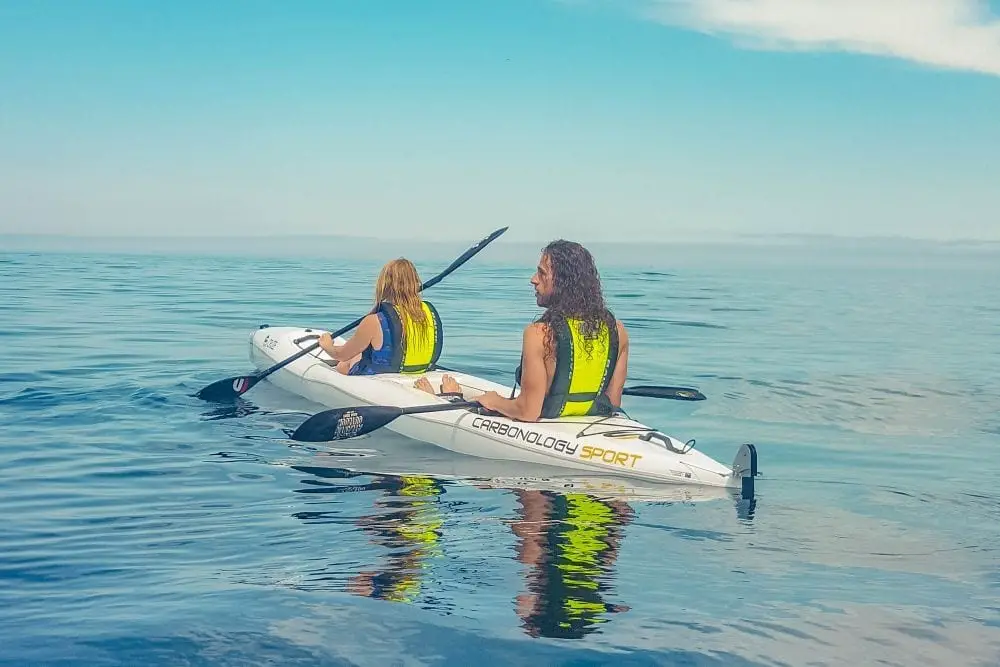 Option 2: Take a Morning Kayak Tour Around Table Bay
For those that aren't interested in visiting Robben Island (or maybe you've been before), it's time to see some dolphins people!
Atlantic Outlook offers guided kayak tours that will take you from the V&A Waterfront around Table Bay. You'll paddle past Table Mountain, Lion's Head and the suburbs of the Atlantic Seaboard.
The morning tours are one of the best times to spot dolphins, seals, whales and sunfish!
Explore the V&A Waterfront
With your feet firmly back on land, it's time to explore the V&A Waterfront.  If you're feeling a little bit peckish, go to the Food Market.
Vendors are cooking up poke bowls, pastries, Italian treats, woodfired pizza and authentic Indian curry.
When you've had your fill you wander around the shops, see Cape Town from above with the Cape Wheel, visit the and 2 Oceans Aquarium.
But the Waterfront's crown gem is the Zeitz Museum of Contemporary Art Africa.  Nine floors house the largest African contemporary art collection in the world.
Entrance to Zeitz Museum: R200.00 ($13 USD) per person
Book for Sundowners at Silo Rooftop Bar
On top of the Zeitz, Art Museum is The Silo – one of the top luxury boutique hotels in Cape Town. If you can't afford the steep rates, the rooftop bar is the next best thing.
The only catch? You need to book in advance.
That tiny bit of admin for your Cape Town itinerary is worth the view you'll have over the city!
---
Day 4: Cape Point, Boulders Beach & Muizenberg
Drive to Cape Point
For beautiful light and zero crowds, set your alarms for 6:00 AM to get to Cape Point around 8:00 AM. It's a 1h 30min drive that along a beautiful part of South Africa's coastline.
Take the Flying Duchman Funicular up to the Lighthouse, explore some of the best hiking trails in Cape Town and their shipwrecks and visit the Cape of Good Hope.
I recommend spending at least 2-3 hours here!
Entrance: R76.00 (for South Africans) | SADC Nationals: R152.00 | Internationals: R303.00 ($20.00 USD)
Swim with Penguins at Boulders Beach
Next on your Cape Town itinerary is the famous Boulders Beach in Simons Town! Home to a massive colony of African Jackass Penguins (an endangered and endemic species) and you can catch some waves with them!
There's a small private beach in the reserve, and the penguins are often swimming in the winter or lounging on the beach. As long as you don't touch or bother them, you can get some really adorable photos.
Entrance: R39.00 for South Africans | SADC Nationals: R76.00 | Internationals: R152.00 ($10.00 USD)
Read More: How to Swim With Penguins at Boulders Beach in Cape Town
---
See the Colourful Muizenberg Beach Houses
End of your East Coast tour with a trip to Muizenberg Beach. It's one of the best places to learn how to surf in Cape Town, and there are colourful beach houses that attract sun-worshippers from near and far.
Too many people at the beach? Drive further down to St James Beach. It's a quieter stretch of sand that also has the signature rainbow-coloured beach houses.
For those visiting in the winter months, if it's too cold skip the beach for a drive along Boyes Drive. Between July and October, it's one of the best vantage spots to see migrating whales and their newborn calves!
If you don't want to head back to Cape Town's CBD yet, drive to Cape 2 Cuba in Kalk Bay. It's a delicious Cuban-themed South American restaurant complete with a beach bar and some of the best cocktails on the East Coast.
BONUS: Love sunrises? Come to St. James Beach for the start of the day before Cape Point.  You won't regret it!
Read More: 14 of the Best Things To Do in Kalk Bay
---
Day 5: Lions Head, Kirstenbosch Botanical Gardens & Maiden's Cove
Hike Lion's Head for Sunrise
Watching the sunrise from on top of Lion's Head is magical! If you're lucky, you might even get some low cloud across the city that creates an ethereal atmosphere.
I also love that hiking Lion's Head is free. It costs absolutely nothing to summit one of the best views in Cape Town.
If you'd like to add some adventure to your morning hike, you can also book a paragliding flight from the mountain!
Read More: Lion's Head Hike in Cape Town: Full Hiking Guide
Have Breakfast at Gigi Rooftop
Gigi Rooftop at Gorgeous George oozes sophistication and takes it to the next level with its rooftop pool.
Yup, you read that right.
While you munch on your classic eggs benedict or pile of Belgium waffles, you can go for a dip. It's one of the most Insta-worthy spots in Cape Town, and its menu will keep you coming back for more.
Make a reservation! Walk-ins are only allowed for drinks and not meals at Gigi.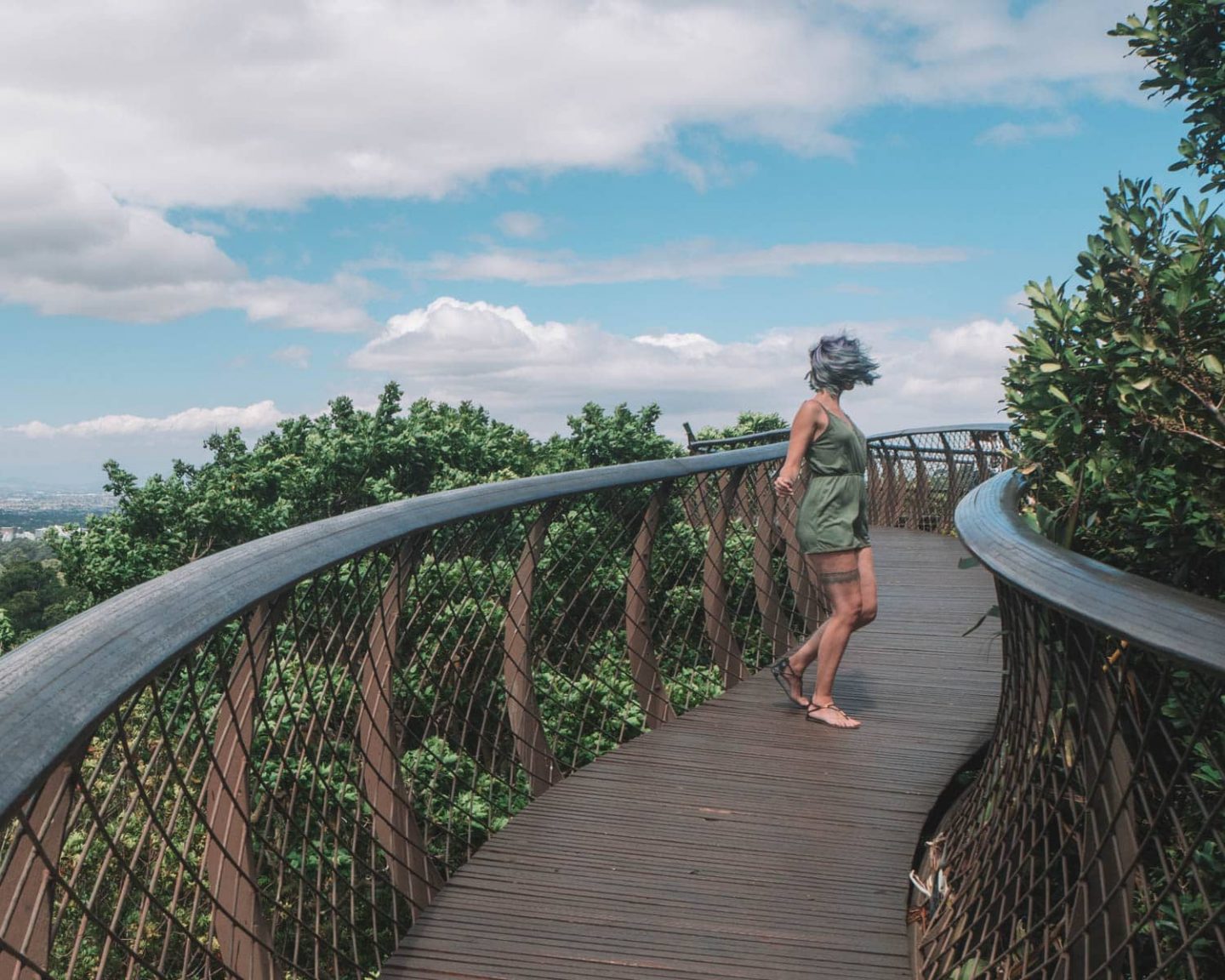 Go to Kirstenbosch Botanical Gardens
Visiting Cape Town between December and February? Book tickets to one of the iconic Kirstenbosch Summer Concerts. Set inside the botanical gardens, it's one of the best things to do in Cape Town in the summer.
Not visiting the city in summer? Kirstenbosch is still worth the visit! The gardens are beautiful all-year-around, and you can tackle one of the many hiking trails or pose for a photo on the Boomslang Walkway.
Entrance: R75.00 ($5.00 USD)
Have Dinner at Rock Thai Sushi in Newlands
One is spoiled for choice when it comes to food in Cape Town. Thee choice can be paralysing, so I'm here to make things a bit easier.
If Phad Thai, Dim Sum and Penang Curry are some of your favourite things, come with an appetite to Rock Thai Sushi. The menu is incredible, and you might have a hard time making a choice.
I may, or may not have ordered three meals are once here.
---
Day 6: Day Trip From Cape Town to the Cape Winelands
Take the Franschhoek Wine Tram
Wanna get day drunk? Book your spot on the Franschhoek Wine Tram, and no one has to stay sober.
Eight lines will take you on a boozy tour through the Cape Winelands.
If you're not familiar with your South African wines, go with the purple or orange line. Both will take you to some of the top wine estates, including Babylonstoren and Boschendal.
Cost: R240.00 ($16 USD) per person + wine tasting fees at the estates
Read More: 15+ Irresistible Day Trips from Cape Town
---
Day 7: Clifton 2nd Beach, Camp's Bay & Chapman's Peak
Have Brunch at Harvey's or the Hemelhuijs
Harvey's is famous for their Sunday brunches. Serving a hot fire buffet, you can nibble on anything from scrambled eggs to sushi. Of course, it wouldn't be a brunch in the Mother City without a glass of bubbles.
If you're not in town over a Sunday, go to Hemelhuijs in the City Bowl. The menu is full of traditional South African food like mielie pap porridge with karoo honey.
Spend the Day at Clifton 2nd Beach
After a busy week of sightseeing, it's time to wind your Cape Town itinerary down with a beach day. Your first stop is the picturesque Clifton 2nd Beach.
It's one of the most beautiful beaches in Cape Town!
Get Pizzas Delivered to Your Beach Towel
When the hunger pains start, it's time to move beaches. Head back down the road to Camps Bay Beach. It's a stunning stretch of sand and is within walking distance of eateries.
But don't go inside for lunch.
You can get a pizza from Col'Cacchio's delivered straight to your beach towel!
Drive to Chapman's Peak for Sunset
For sunset, you can either stay at Camps Bay or drive down Victoria Road towards Chapman's Peak. It's an iconic stretch of road that hugs the Cape Peninsula.
If you're driving from Hout Bay, you'll need to pay a toll fee to reach the lookout. If you want to save money, come in from Noordhoek, and you won't pay a dime.
Toll: R47.00 ($3.00 USD)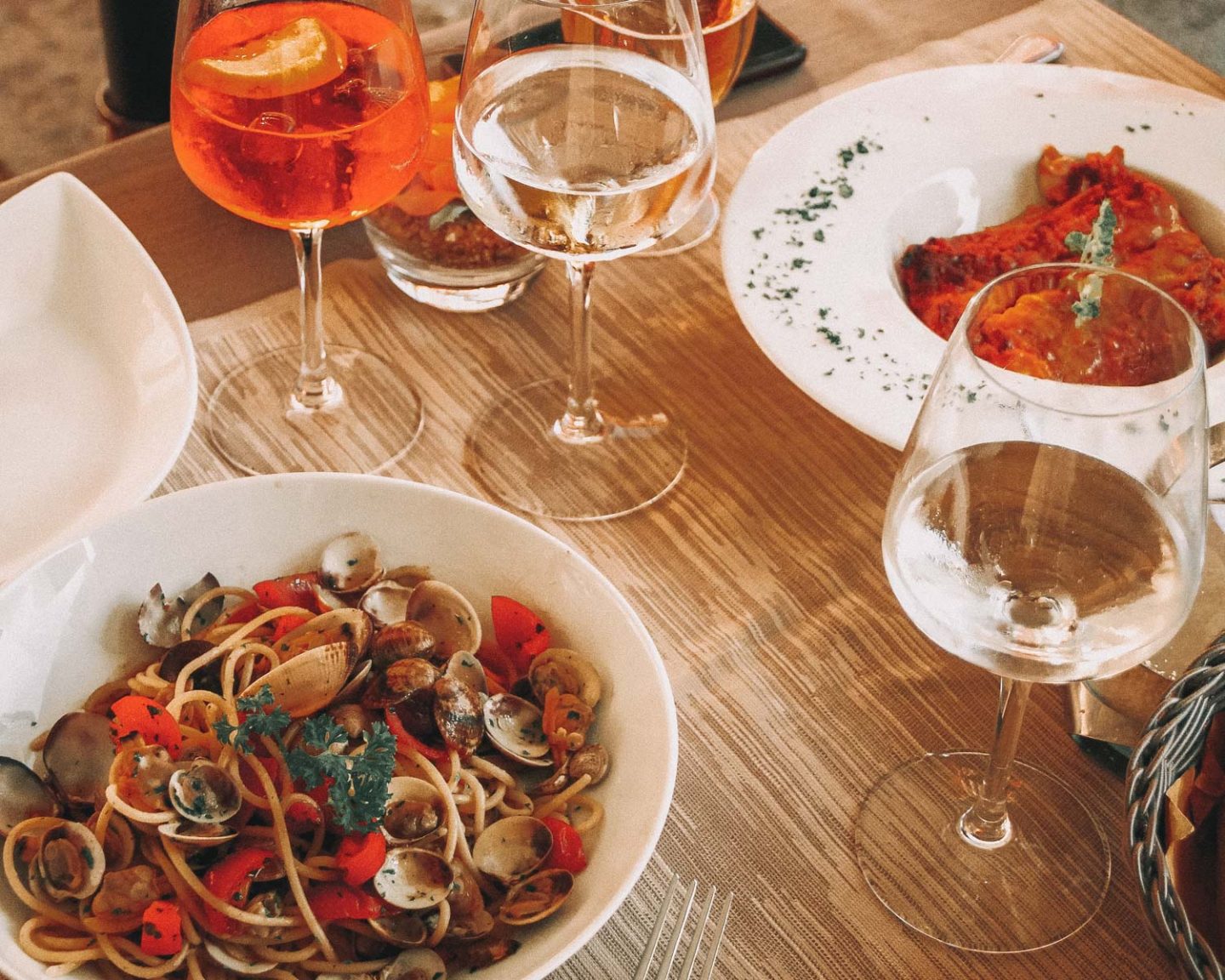 Book a Table at Bombay Bicycle Club
Before your trip to Cape Town ends,  you should get a taste for that quirky Bohemian love den that is Bombay Bicycle Club. While the food is good, it's the vibe here that makes it perfect.
Try to delectable pumpkin pie, drunken camembert or the restaurant's speciality chocolate chilli steak.
Bombay is a popular spot; bookings are essential.
Need more ideas on what to do in Cape Town? I've got a super-detailed list of all the best free, cheap, secret, and adventurous things to do in the city!
Read More: 45 Awesome Things to Do in Cape Town: A (Hella Long) Local's Guide
---
Sound like a Cape Town itinerary you'd love? Got any suggestions that you think I left out? Hit ya gurl up in the comments!
---
Psst…Want more travel inspiration for your Cape Town itinerary? Check out my other posts:
Did you find this post useful? Save it for later on Pinterest!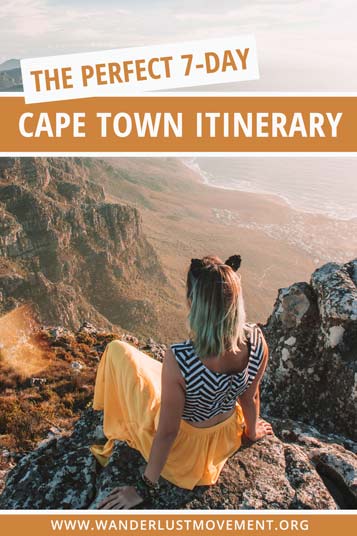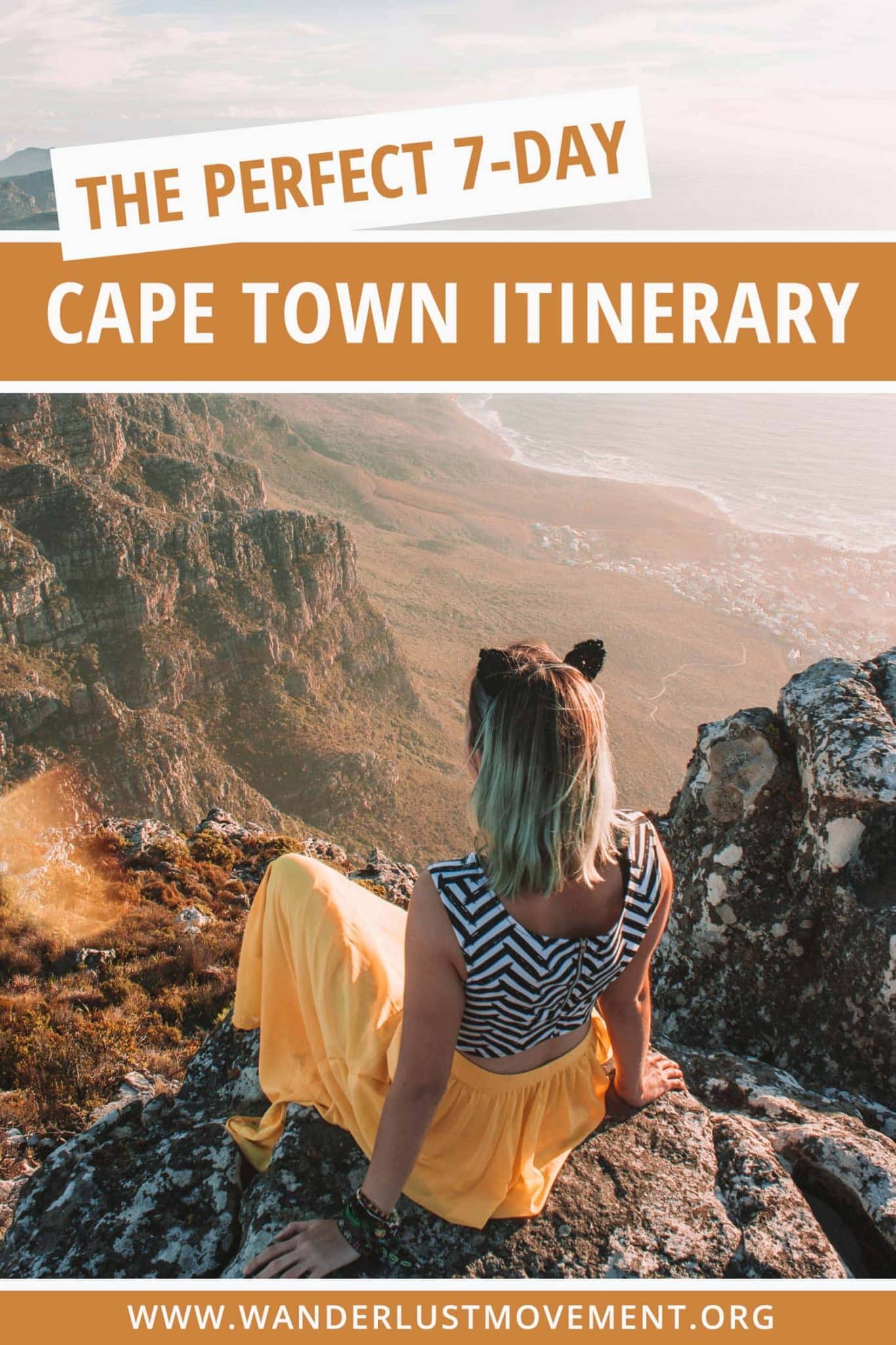 On the hunt for the perfect Cape Town itinerary? This super detailed guide will take you to the city's top spots over 7 incredible days!