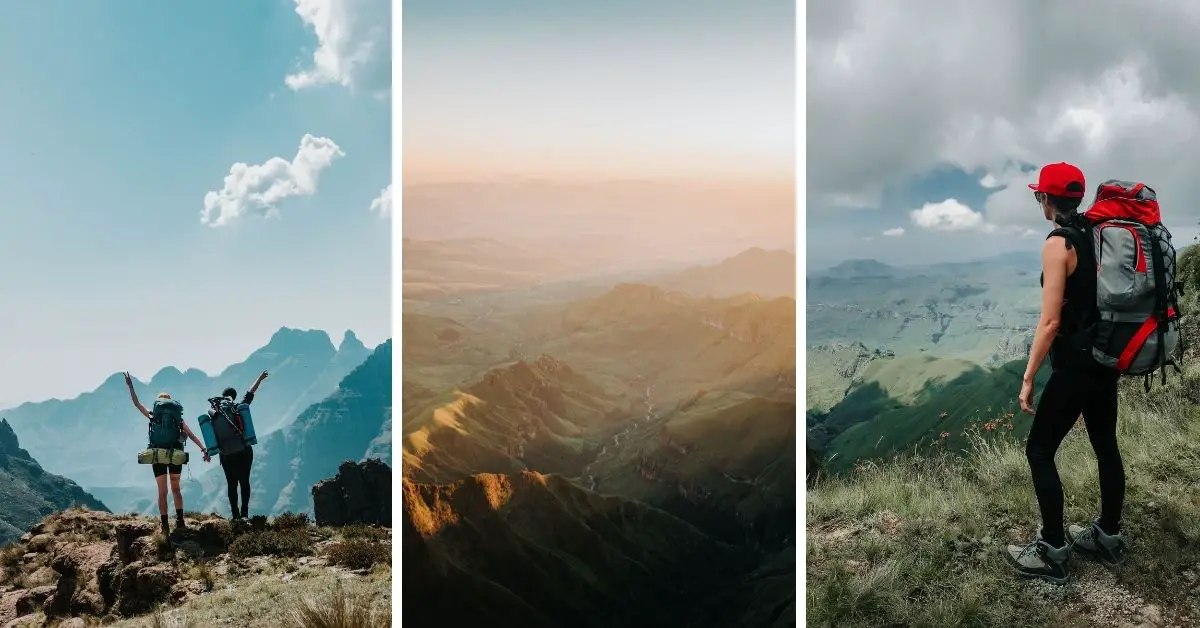 Of all the incredible hiking trails in South Africa, I think the Drakensberg hikes are my favourite.
With its towering mountains that slap you in the face with a feeling of awe and insignificance at the same time, it beckons hikers from around the world.
My love affair with the 'Berg started in 2017 when I summited the Amphitheatre hike for the first time. Since then, I've found myself breaking a sweat and bruising my toes on multiple hikes along the highest mountain range in Southern Africa – and I have no plans to stop!
If you're looking to discover this UNESCO World Heritage Site for yourself, I've compiled a list of SOME of the best day hikes and overnight hikes in the Drakensberg.
Psst…Want more Drakensberg travel inspiration? Check out these other posts:
I'm co-hosting a hike up Tugela Falls on the 6-7 March! Come hike with me and sleep on top of the highest waterfall in Africa!
The Best Drakensberg Hikes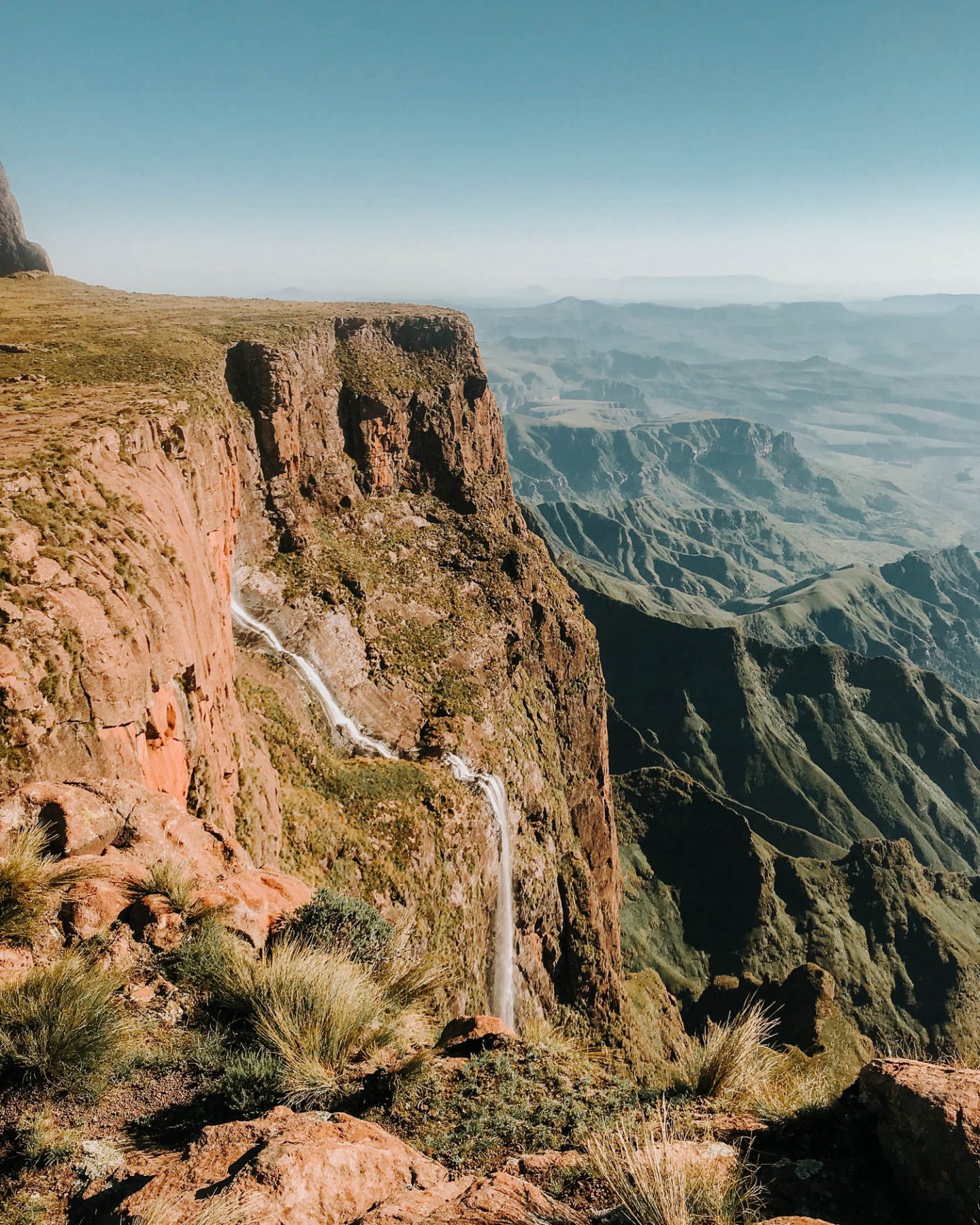 Tugela Falls / Amphitheater Hike
Tugela Falls is, without a doubt, one of the best hikes in the Drakensberg. The 4-hour hike will transport you to the top of the highest waterfall in South Africa, surrounding you with Lord of the Rings-esque landscapes.
Picture rolling green hills, towering mountains, and unspoilt natural scenery as far as the eye can see! Along the way, you'll find the Drakensberg chain ladders which will test your wits and fear of heights.
But the best part? You can camp on top of the falls! I've done it *twice* and it's an experience deserving of a spot on your South Africa bucket list.
Distance: 12km
Time: 5 hours
Elevation: 550m
Difficulty: Moderate
Read More: Hiking Tugela Falls: Africa's Highest Waterfall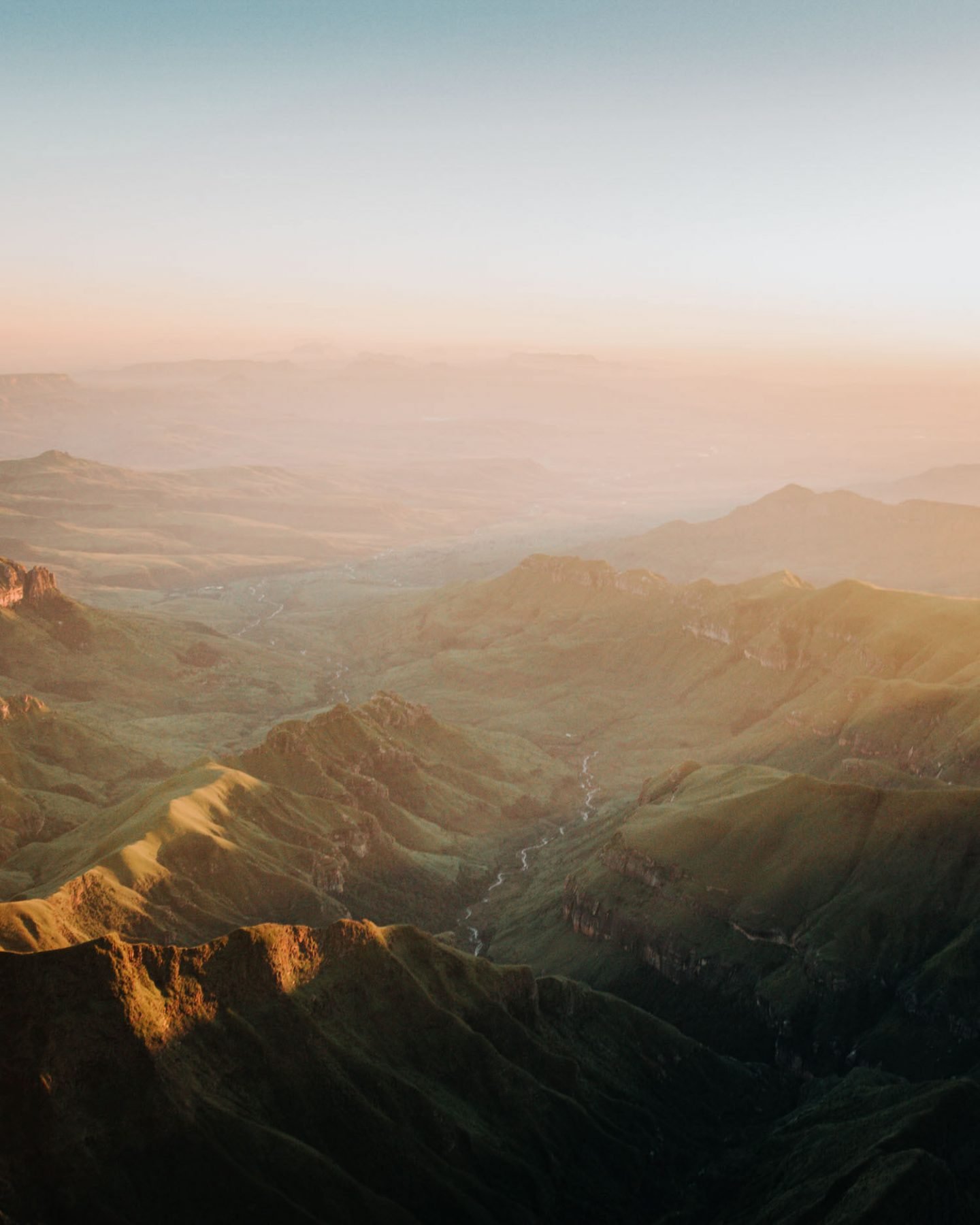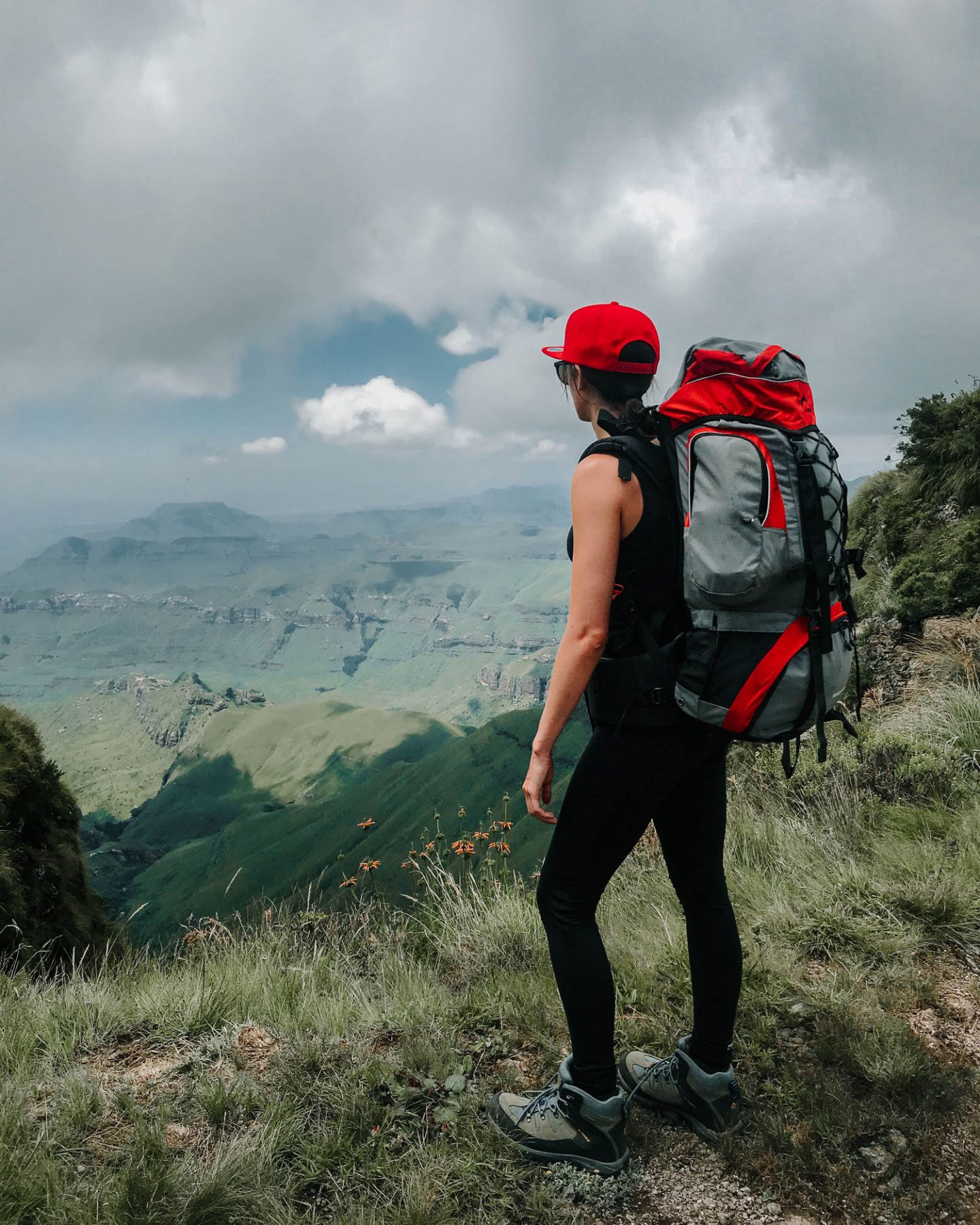 ---
Tugela Gorge Hike
After conquering the Tugela Falls hike, explore the area from a different perspective.
The Tugela Gorge Hike is located inside the Royal Natal Park (highly recommend camping here!) and is a 14km round trek which follows the might Tugela River until you reach a viewpoint to catch a glimpse of the second-highest waterfall in the world.
Along the way, you'll hike past jungle-shrouded valleys, steep gullies, crystal clear rock pools, and dramatic views.
Distance: 14km
Time: 5 hours
Elevation: 450-metre ascent and descent
Difficulty: Easy to strenuous the further up the gorge you go
---
Icidi Gorge Hike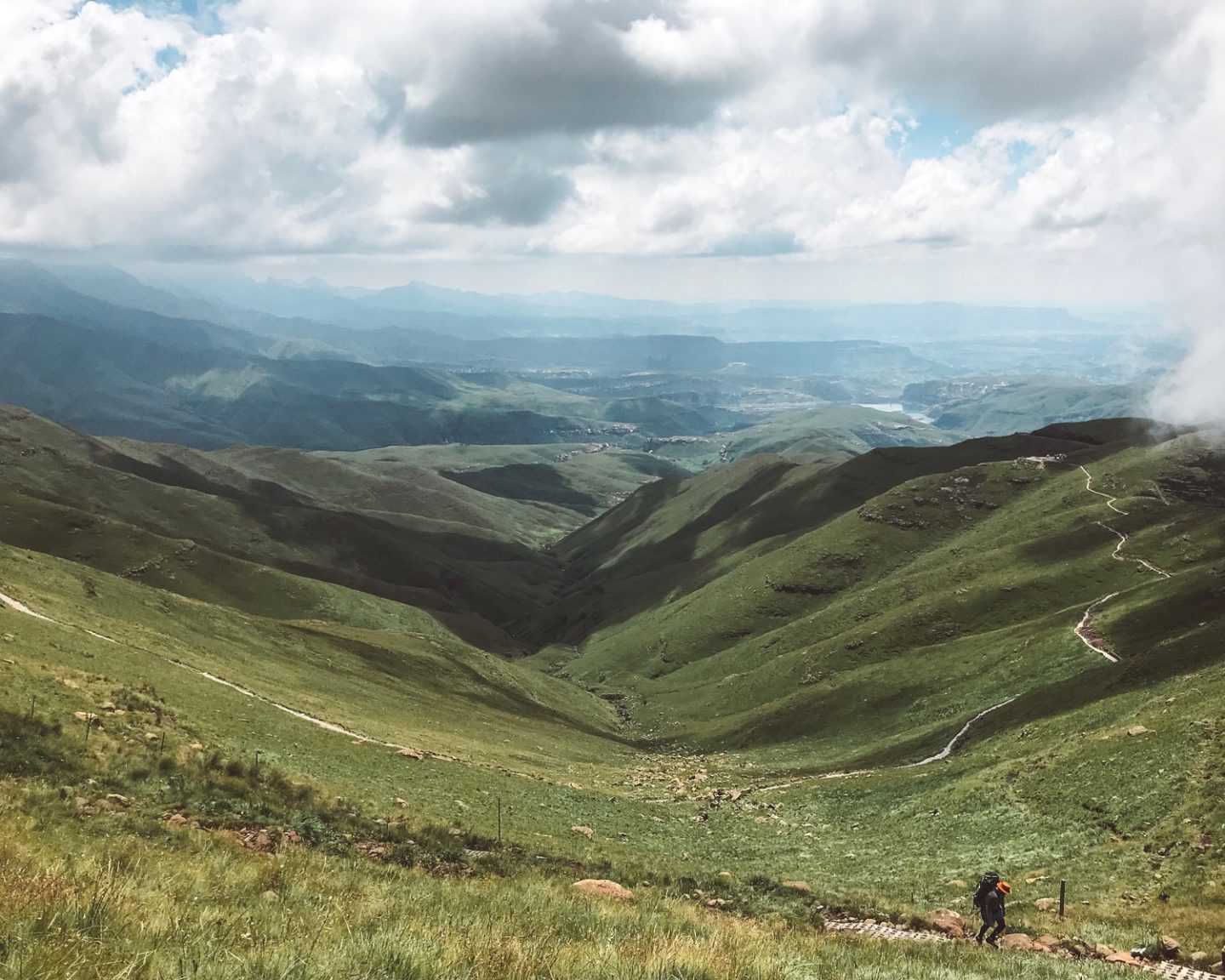 Icidi Gorge is not for the faint of the heart. It's one of the toughest Drakensberg hikes (but also the most rewarding!)
The hike starts at the Sentinel parking lot. You'll follow the Amphiteature route to the top of Tugela Falls and then head southeast to reach the gorge.
You technically enter Lesotho here which is great if you want to tick off "entering a country without a passport" from your list.
The next challenge is there isn't a path to follow. Hire a guide if you don't have decent maps, and you can't navigate to your car in a shopping centre parking lot.
Distance: 18km
Duration: 3 days
Altitude: 3000 metres
Difficulty: Extreme
---
Mnweni Circuit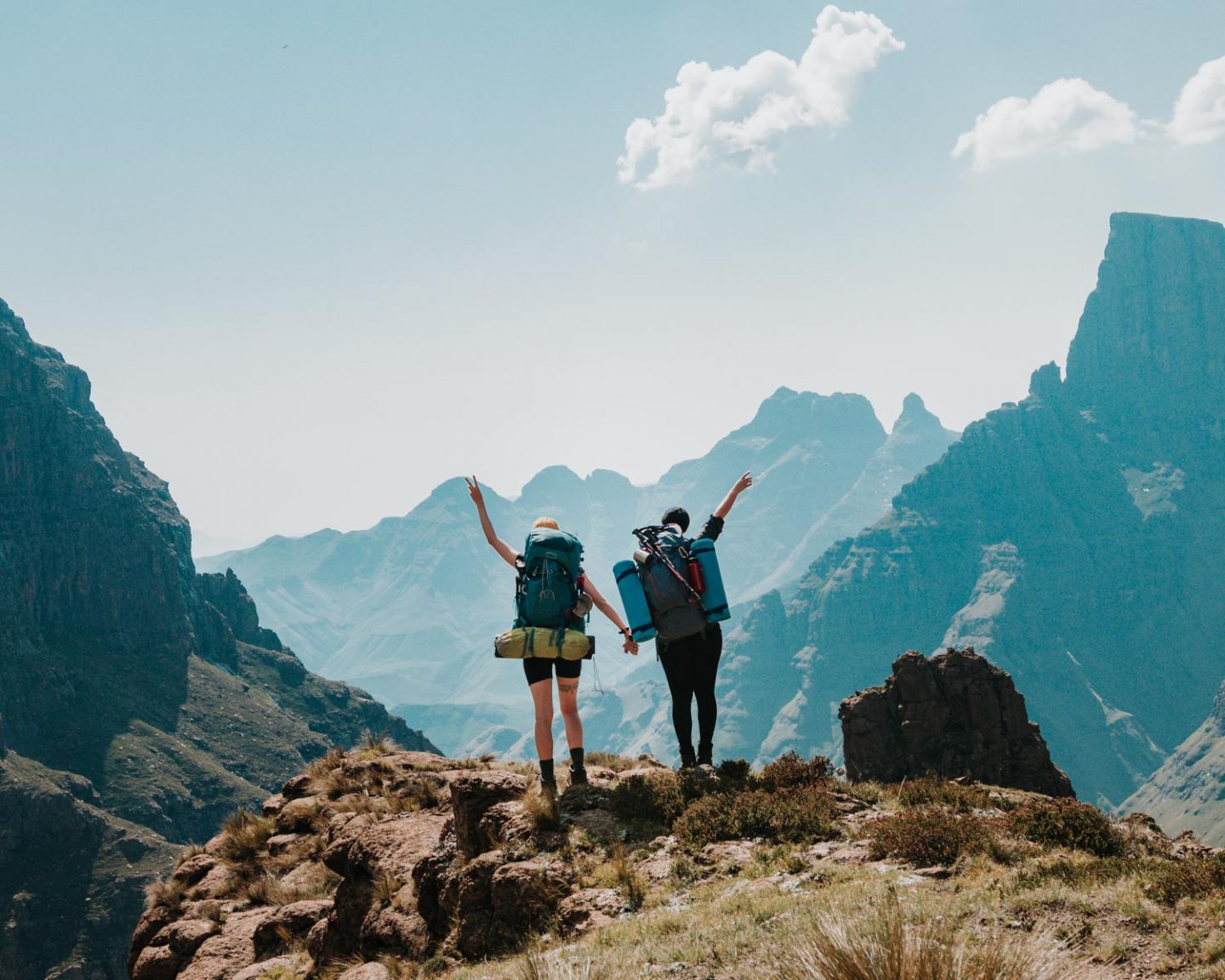 Dude. My one toe is still black from the Mnweni hike I did in November 2020.
It's an epic 3-day hike, but my butt? It was kicked hard up that mountain.
Never in my life have I seen such a steep incline and descent, but I would do it all again to see those magnificent views.
12/10 would recommend camping inside Ledgers Cave! You can't beat the sunrise and sunset here. Plus, watching a lightning storm in the distance while 2,000 metres high is one of my favourite hiking experiences.
Distance: 46km
Duration: 3 days
Altitude: 2000 metres
Difficulty: Hard
Read More: Hiking the Mnweni Circuit: A Spectacular 3-Day Drakensberg Hike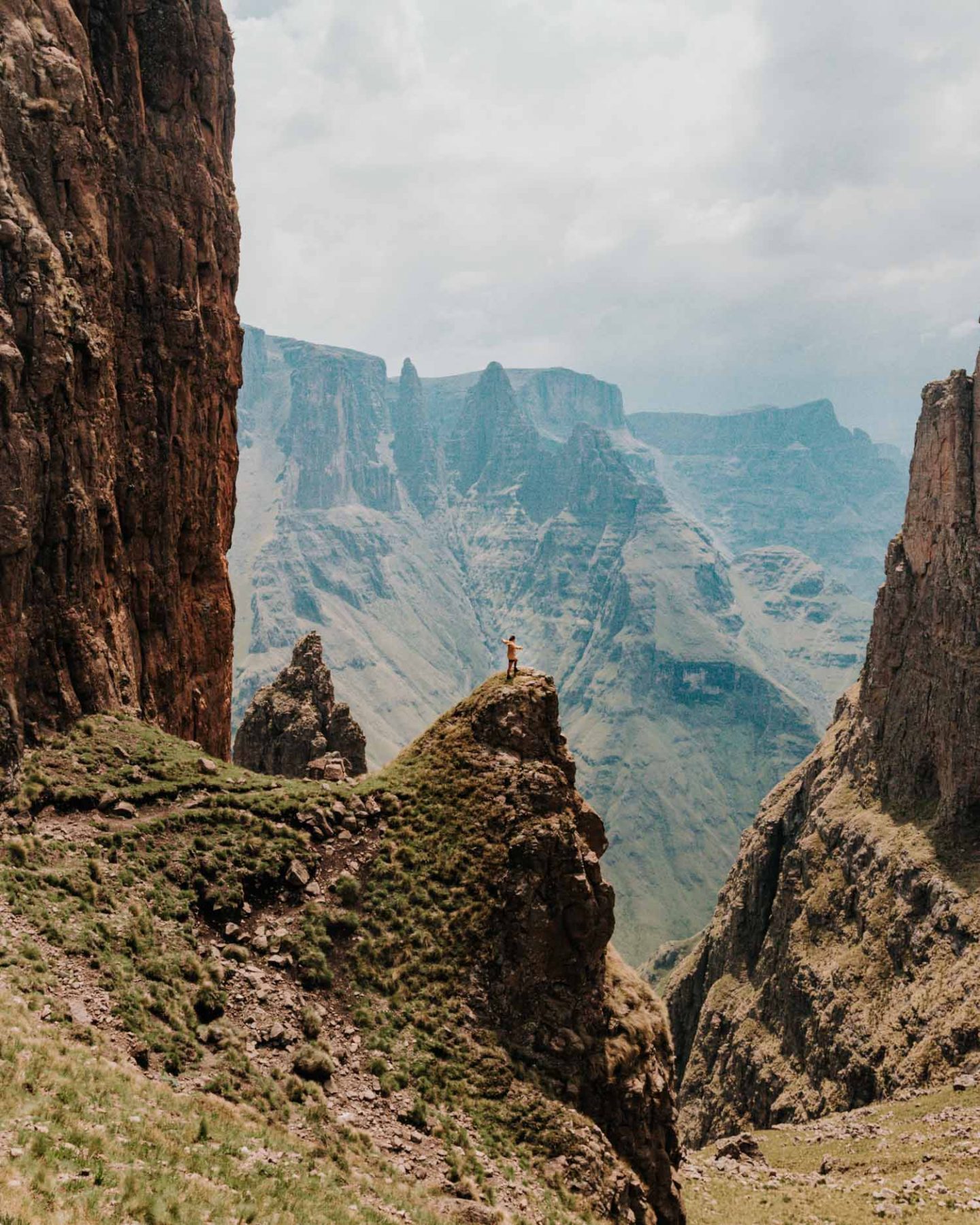 ---
Rainbow Gorge Hike
Alright, so this another short Drakensberg day hike, but it's still unbelievably beautiful.
The six-kilometre hike starts at the Cathedral Peak Hotel and meanders through lust forests, past rock pools, and gushing waterfalls.
If you're lucky and the light hits the gorge at the right angle, you'll see a mirage of rainbows! A pot of gold is not guaranteed.
If your goal is to work your way up to longer hikes in the 'Berg, Rainbow Gorge is the perfect taster and is a great trail for photographers.
Distance: 11 km round trip
Elevation: 200m
Duration: 4 hours
Difficulty: Easy
---
Cathedral Peak
Up for a challenge? Hire a guide and tackle the ascent of Cathedral Peak.
It's not a technical hike, but the final section to the summit is a treacherous scramble. You'll want to pack some rope in case you need it to get up safely.
But once make it to the top, the views are worth it!
While you can complete the 19km trail in one day (if you're part mountain goat), you can split it up and camp one night in a cave.
Distance: 19km round trip
Duration: 9-10 hours
Altitude: 1,600
Difficulty: Difficult
---
Giant's Cup Trail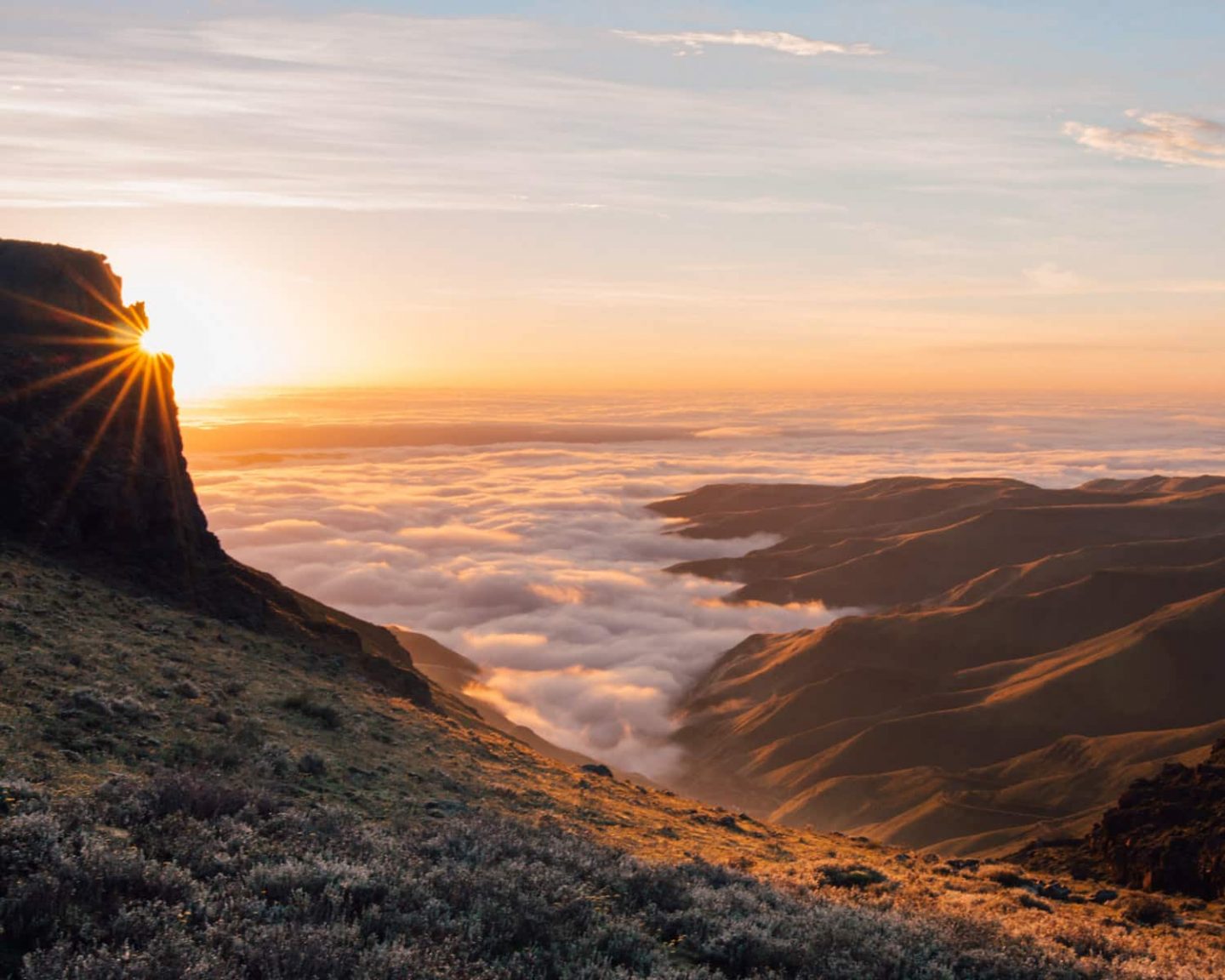 Giant's Cup is one of the most famous Drakensberg hikes in South Africa.
Why?
It's one of the most accessible multi-day hikes in the area, starting at Sani Pass and ending at Bushman's Nek. There's an official route and everything! Plus, the trail passes through the foothills which means no glute-burning-what-did-I-get-myself-into inclines into the high mountains.
You even get to stay in huts with bunk-rooms – just like the Otter Trail!
Distance: 59.3km
Duration: 3 days
Difficulty: Strenuous
---
Sani Pass to Thabana Ntlenyana Hike
Thabana Ntlenyana is the highest peak in Southern Africa, towering over Lesotho at 3482 metres above sea level.
To conquer this part of the 'Berg, you will need your passport as the trail begins at the top of Sani Pass over the South African border.
The pass is only accessible via 4×4, and I wouldn't recommend tackling it if you aren't a confident driver. It's hair raising, and a thick fog usually covers the road.
Once you're at the top, the Thabana Ntlenyanna hike is a three-day adventure with breathtaking vistas of the Lesotho Highlands and the Drakensberg.
The best part? You can celebrate your achievement by stopping at the highest pub in Africa before making your way back home!
Distance:
Duration: 2-3 days
Altitude: 3482m
Difficulty: Intermediate
---
Mafadi
Mafadi is a 4-day hike which will take you to the highest peak in South Africa.
Plus, you'll get to explore the Upper Injasuthi Cave at 3300 meters above sea level, making it the highest cave in the Drakensberg!
BUT it's not a trek for beginners.
You'll cover 52 kilometres with an altitude gain of 2,500 metres. If you want to conquer this part of the Berg, you'll need an above-average fitness level.
So if Mafadi is on your South Africa hiking bucket list, get to the gym and start lunging and squatting your heart out!
P.S. I'm tackling Mafadi and Thabana Ntlenyana back-to-back in March with Drakensberg Hiker! Wish my glutes luck and keep an eye out for my full hiking guides on both routes!
Distance: 52 km
Duration: 4 days
Altitude: 2500m
Difficulty: Challenging
---
Drakensberg Hiking Essentials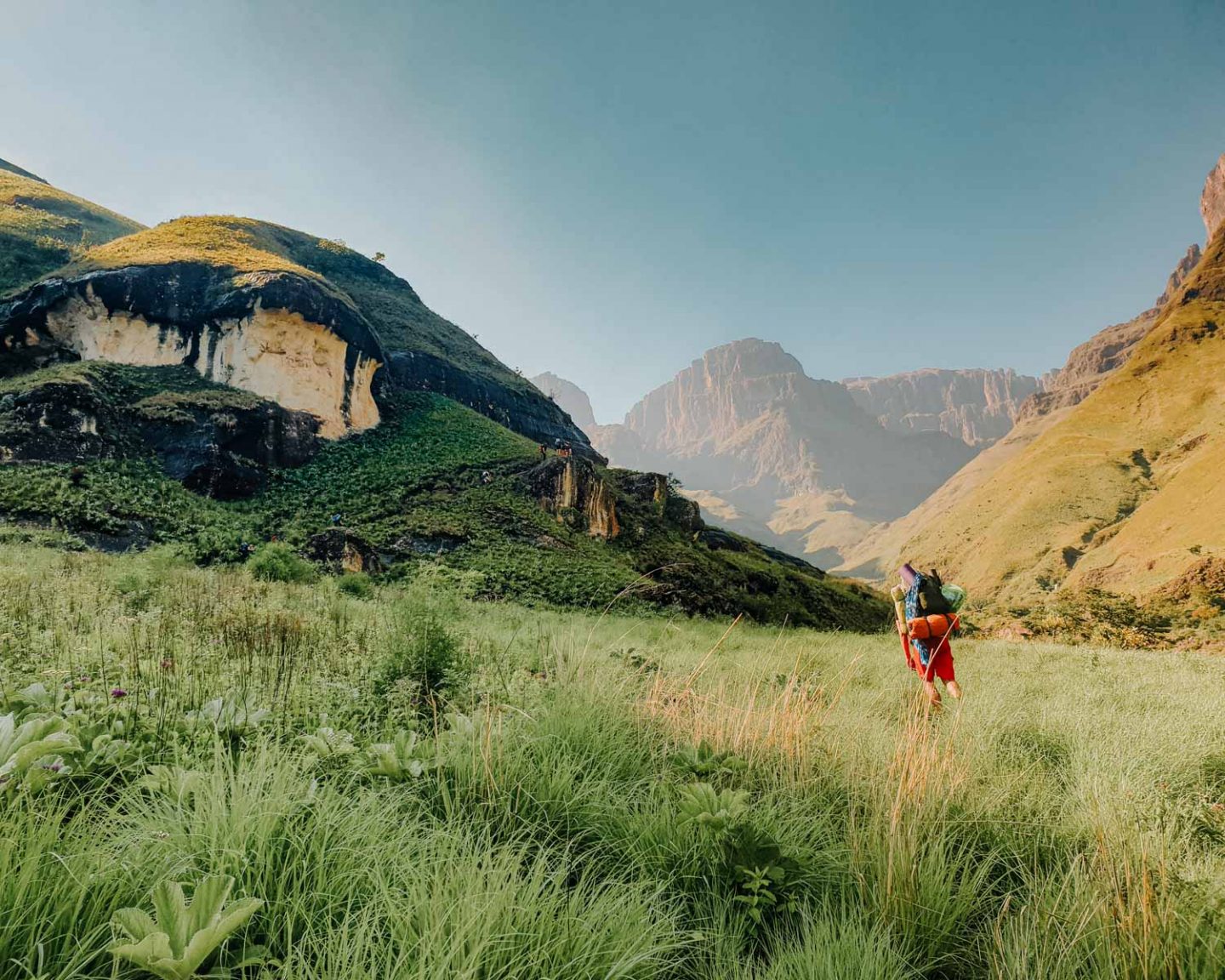 Here are some of the essentials to invest in for day and multi-day hikes in the Drakensberg:
Backpack: Your backpack is the most important piece of gear. I use the Osprey Aura 65L, which is one of the top multi-day packs designed for women.
Hiking Boots: Look for a pair that's waterproof and provides good ankle support and grip. I use Hi-Tech Altitude V Ultra's for multi-day hikes in the Drakensberg.
Sun Protection: Don't leave home without SPF 50+ sunscreen, a pair of U.V. sunglasses, and a hat.
Flip Flops: After a long day of hiking, flip flops are a luxury your feet will thank you for.
2-3 Litre Water Bladder: Nothing is more annoying than having to reach for a water bottle while hiking. Invest in a water bladder and sip and walk at the same time. No hands required.
Sleeping Bag: For multi-day Drakensberg hikes, you want a good-quality sleeping bag. Nothing is worse than freezing your butt off in your tent. Trust me. I've been there.
Tent: You want a waterproof and lightweight tent for Drakensberg hikes. I'd recommend using a 2-man even if you're by yourself, so you have extra space for your gear.
Hiking Mattress: Sleeping on a yoga matt while hiking in the Drakensberg is not a vibe. Bite the bullet and invest in a hiking mattress. A good nights sleep makes a world of difference on multi-day treks.
---
The Best Time to Hike the Drakensberg Mountains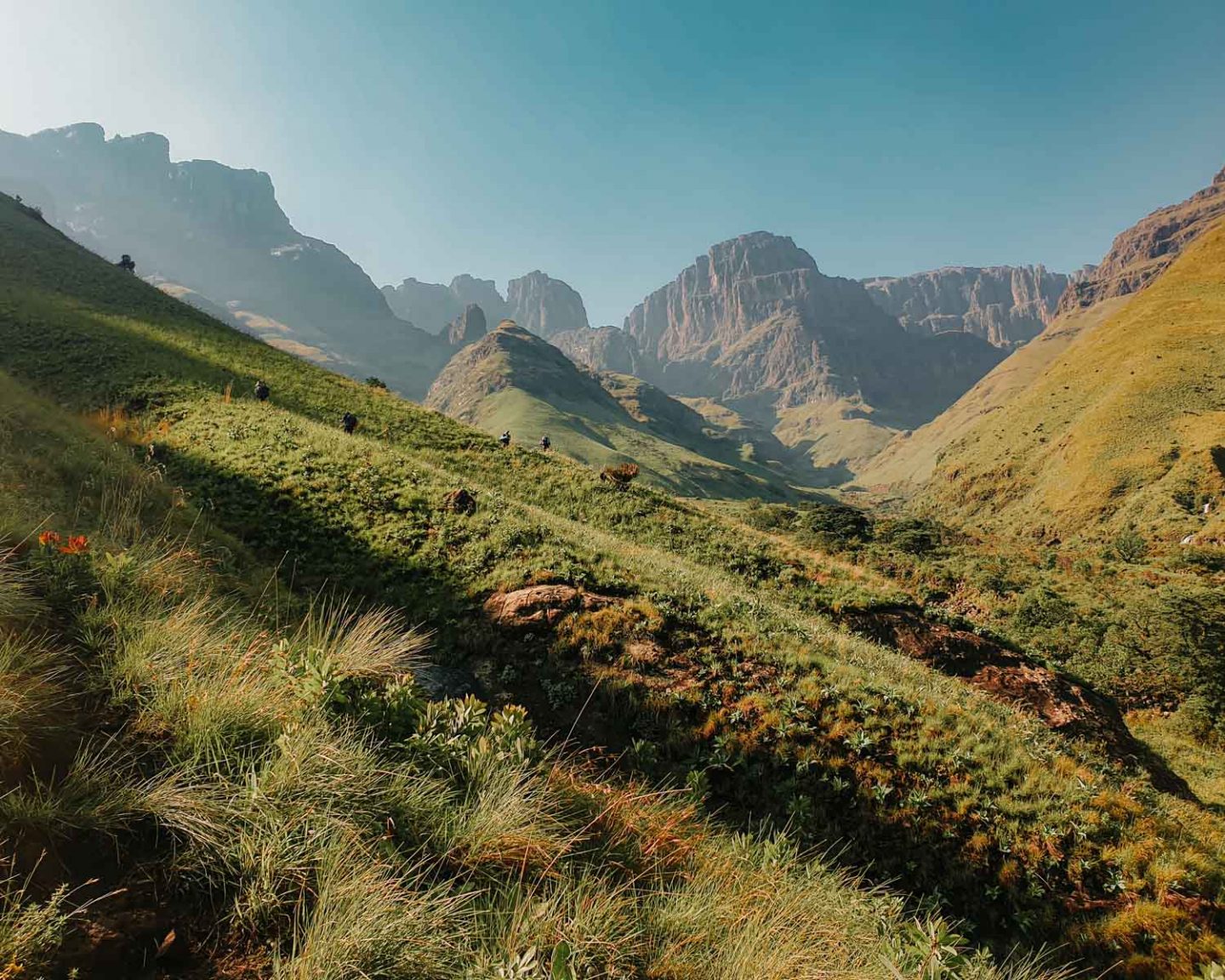 The different seasons in the 'Berg, come with different hiking experiences. Here's what you can expect:
Autumn Hiking in the Drakensberg
April to May is one of the best times to hike the Drakensberg mountains. The rainy season is over, which means the waterfalls are pumping!
On the weather side, the days are warm and nighttime temperatures are cold, but haven't dropped to zero yet.
Winter Hiking in the Drakensberg
Winter is from June to August and is the best time to experience snow in the Drakensberg! However, you'll need to prepare for freezing below zero temperatures at night. If you go, make sure you have the right gear!
Another pro for winter hikes is the Milky Way. August and July are incredible months in South Africa for astrophotography!
Summer and Spring Hiking in the Drakensberg
Spring and summer in the Drakensberg is from October to March. Temperatures are hot and humid, and the chance of rain is high.
You can expect heavy thunderstorms in the afternoons, which may chase you off the escarpment or cancel the hike altogether. On the plus side, the waterfalls look amazing, and you can get around the rain by starting your hikes as early as possible.
---
Which of these Drakensberg hikes are you itching to conquer? Did I leave any good ones out? Hit ya gurl up in the comments!
---