Llamas, breathtaking views and a killer line-up are just some of the reasons to attend one of South Africa's best boutique music festivals.
Never heard of it? Keep reading.
Since 2011 the beautiful Tolderia Resort in Lothair, Mpumalanga has been home to in my opinion the country's most beautiful festival. It is nestled amongst a thick forest, with rolling fields, gorgeous rivers and magical caves that have been turned into unique dance floors.
If you are looking to spend a weekend jamming to some of South Africa's best local music while camping in a place that looks like something straight from your Pinterest board, read on.
Mieliepop is kicking it old school
In recent years, some of South Africa's biggest music festivals have either vanished or are running on the last dregs of their legend. Attending Mieliepop is like stepping back into time when music festivals didn't need international headliners to pull large crowds or felt the need to step outside their niche to stay relevant.
With only two stages pumping music throughout the day and the dance floors opening up later in the evening, there is just the right amount of things going on at one time to be able to enjoy the festival without feeling rushed.
Plus there is none of this shit where you can't bring in your alcohol. As long as it is in a plastic bottle, you're good to go.
---
Attend a comedy show while on a boat ride
Mieliepop has a comedy boat and it is fucking hilarious!
Although I didn't get the chance to go onto one, the jokes I heard as the boat meandered past were classic. It reminded me how much I love South African humour and it is great to see other types of entertainment be incorporated into an event in such a novel way.
---
There are Llamas!
When a festival has llamas nearby, you know Emperor Kuzco has blessed this party gathering.
I am happy to report that the llamas are fenced off and located away from the festival, so there is no interaction or unnecessary stress caused to these animals. Just loads of awesome photo opportunities and infamous spitballs.
---
Beat the heat with inflatables
Photo by:Shen Scott
If you have a huge collection of inflatable doughnuts, unicorns or swans and no place to take them – go to Mieliepop. The beautiful lake serves as the ideal location to get day drunk while floating around working on your tan.
---
Dance the night away in a cave
It is not every day you can stay that you have been to an EDM party inside a cave. This is arguably one of the most unique dance floors I have seen at a music festival in South Africa.
---
Watch the sunset from on top of the koppie
A short walk from the general camping area are a couple of well-placed boulders perfect for watching the sun go down. Bring your friends, a couple of drinks and take a few moments to relax before the evening festivities kick in.
---
The line-up has something for everyone
As much as Mieliepop's line-up is diverse, it all kind of fits. Except for Boargazm, which is one of South Africa's most prolific metal bands, but as the only metal band on the list and then their pig marks, it was such a random choice, but still, a great band to watch live.
From your crowd pleasers like Fuzigush, Shortstraw and Grassy Spark to lesser known gems like Crimson House and The Lectric Monks, the line-up this year was nothing short of amazing, and I discovered a host of new local acts that have been added to my Spotify playlist.
---
Stay in a chalet for a Rock Star Experience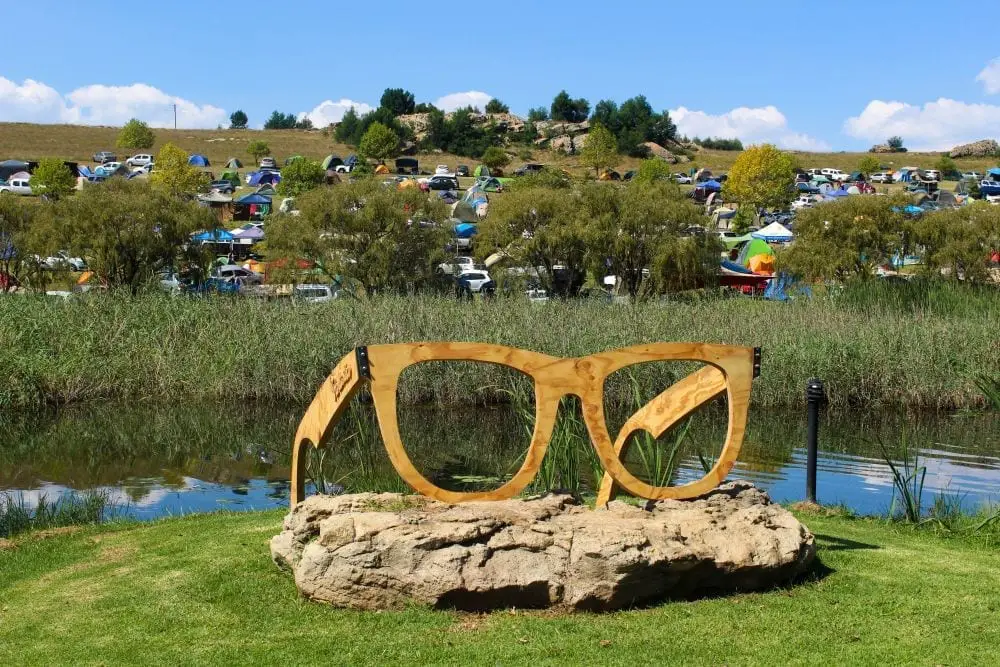 While I did camp and camp quite badly, I had the chance to charge all my electronics inside one of the chalets, and it sold me. I am not camping next year, that is for sure.
All my homies and I are staying in one of those luxury chalets that come with a pool, hot showers with no lines and coffee.
---
If I could change two things about Mieliepop…
While there isn't much I can complain about which speaks volumes to the festivals impeccable organisation, there are two things I would like to see changed at next year's Mieliepop.
More coffee!
There was only one coffee vendor, and I have never seen coffee take so long to make. I tried at 7:30 am, 9:00 am, and again at 11:00 am, and the line was still winding itself around the food court area. With the cold temperatures experienced in the mornings at Mieliepop and a caffeine addiction that needs to be satisfied, it would be great to see more stalls selling coffee or even portable coffee vendors going into the general camping areas to soften the demand.
More vegetarian and vegan options!
I was quite disappointed with the food options available for me. While there were tonnes of vendors selling meat, there was only one selling strictly vegetarian food. It cost R 70 a plate (and was delicious), but if you wanted something different, your only other options were chips or a pizza with no cheese. It would be great to see more vendors offering things like vegetarian burgers, hot dogs and wraps for a bit more culinary variety.
All in all, I had a fantastic time at Mieliepop 2017! With such incredible natural beauty, live music and llamas – what else could you want for a kick ass weekend away?
Do yourself a favour and add Mieliepop to your South African music festivals bucket list for 2018!