Last Updated on December 4, 2020 by lauren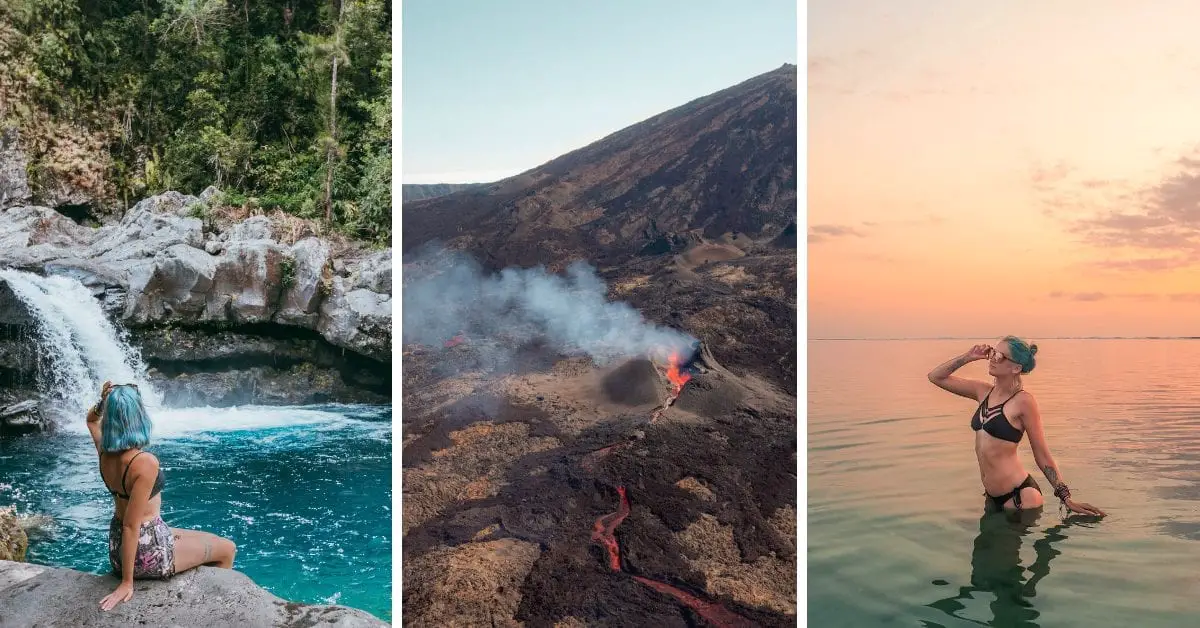 Visiting Reunion Island last month confirmed a longstanding theory I've had about myself.
Guys, I'm quite certain I'm French.
I mean, I've been obsessed with learning French since I was 10. I'm in a committed menage a trois with baguettes, coffee and wine. My Patronus is probably a packet of French fries…you get the point.
But arriving in Reunion as part of the first-ever Tails of a Mermaid Getaway, it hit me. I felt completely at home on this little island as I slowly remembered my French vocab. It was like reconnecting with an old friend.
So, if you find yourself with your mouse hovering over that button to buy a ticket to Reunion Island, here's a 4,000-word guide (YIKES) to everything you need to know. I've also included the complete one-week Reunion Island itinerary that Natalie put together and travel tips to help your trip run smoothly.
Go get yourself a snack, a cup of Joe and get ready to read this BEAST of a post.
Pssst…Want more Reunion Island and Africa travel tips? Check out these other posts:
The Best Time to Visit Reunion Island
If you're not a fan of crowds, plan your Reunion Island itinerary around the shoulder season. Temperatures in April, May, and September are still warm, and you don't have to worry about those pesky cyclones. Prices for hotels have yet to skyrocket, and you'll find fewer tourists hogging the hiking trails or all the good spots on the beach.
But if crowds aren't a deal-breaker for you, book your trip to Reunion Island between June and August. You'll escape the freezing South African winter and get to swap your parka jacket for a bikini and a tan.
Another popular time to visit the island is during the December holidays. Reunion is known for it's epic New Year's Eve party on the shores of the Hermitage lagoon. People are known to sleep on the beach to reserve their spot; floating bamboo bars become a thing and music is played well into the wee hours of the morning.
Just make sure you book your accommodation and rental car well in advance or your trip to Reunion might get turned into an impromptu camping holiday.
How to Get to Reunion Island from South Africa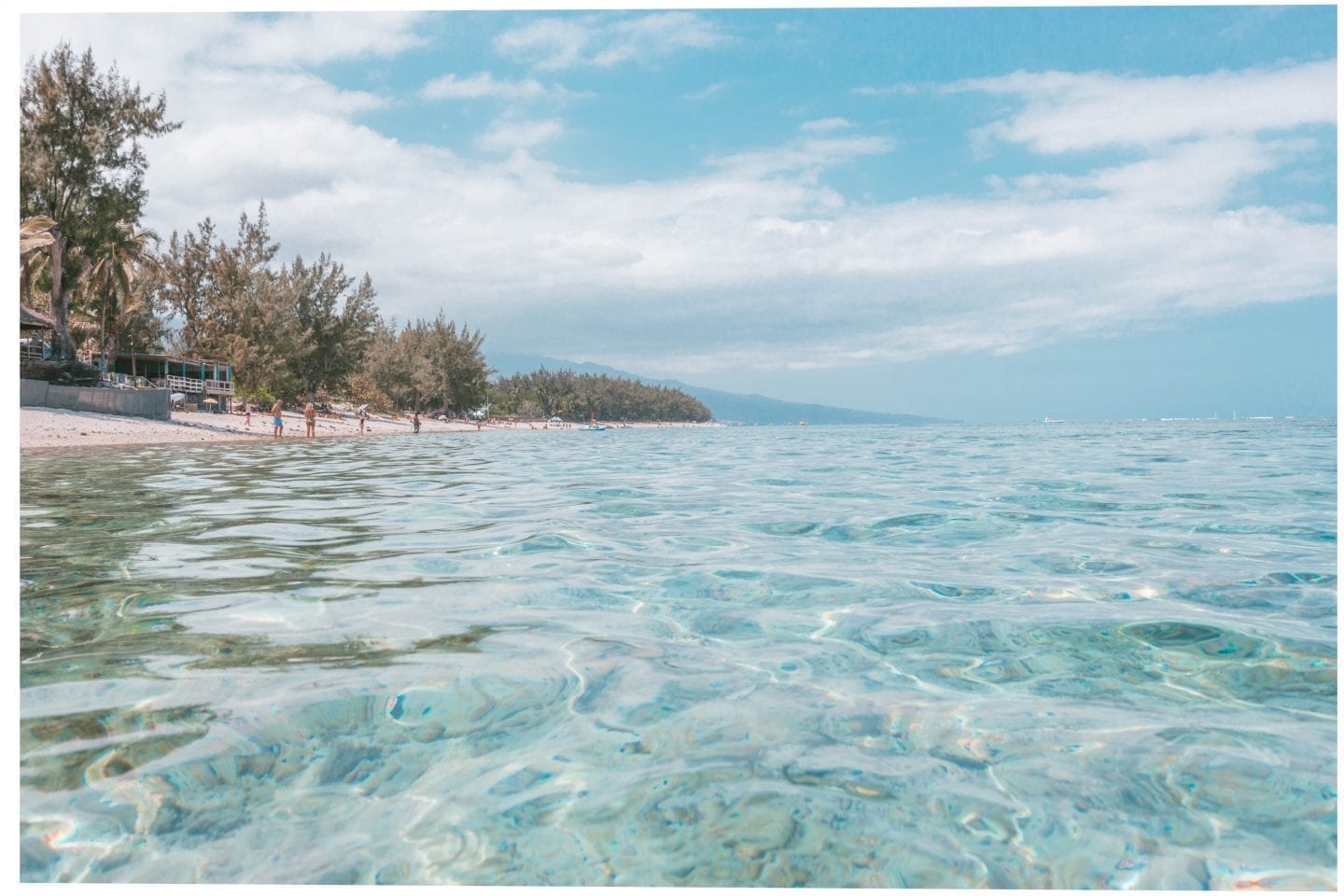 One of the top questions people asked me before my Reunion Island trip was:
"Ummm where is Reunion Island?"
Reunion Island is located in the Indian Ocean. It's a 45-minute flight from Mauritius and only a 4-hour flight from Johannesburg. It's a French territory and is part of the EU.
And no, Reunion Island wasn't colonised. The island was only inhabited by some pigs the Spanish left behind. Since then, the French, as well as people from Mozambique, India, China, Madagascar, and the Comores, have lived on the island.
How to Find Cheap Flights from South Africa to Reunion Island
I'm happy to report that flights from South Africa to Reunion are waaaay cheaper than a roundtrip to Paris.
Depending when you book, you can pick up a return flight for around R 5000.00!
There are two flights a week from Johannesburg to Roland Garros International Airport with Air Austral. The best way to find the cheapest flights is to use Skyscanner. It's an airline comparison site with powerful search features that let you filter results by the cheapest month to fly.
I've also written a complete guide on tips and tricks for finding cheap flights from South Africa. It's helped me score fares like an R 3200 return flight to Kenya!
How Expensive is Reunion Island?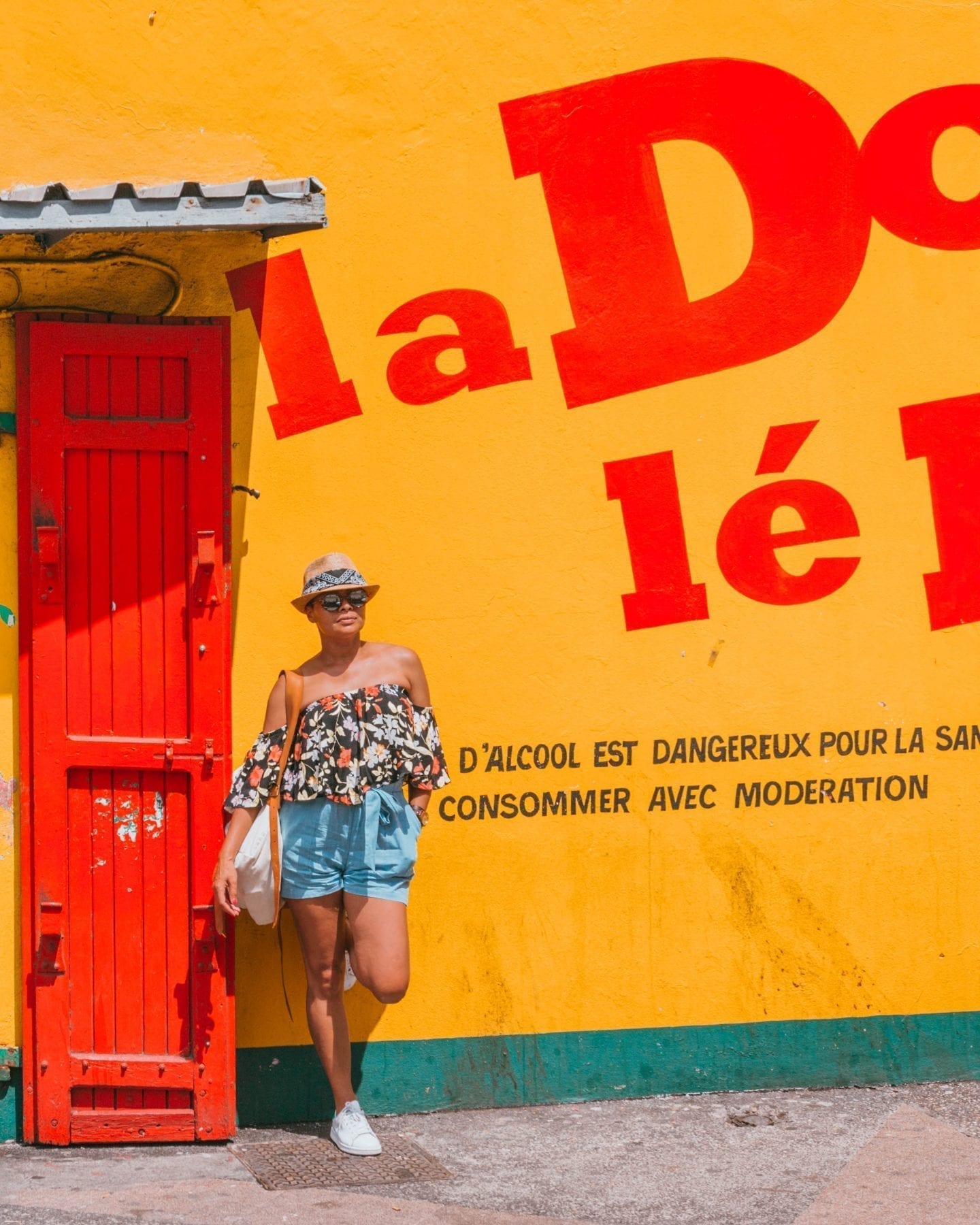 Well, that depends… how does your wallet feel about Euros?
If it's like mine, it's probably hiding in a dark corner, shivering, trying to think of happier times.
But there is light at the end of the tunnel!
Reunion Island may use the Euro, but the prices aren't as expensive as mainland Europe.
Meals at restaurants range between EUR 7 to 10 (R 117.00 to R 170.00). If you hit up the more bougie places, you're going to come back home a lot poorer.
A coffee on the beach will set you back EUR 1.50 (R 25.00) and indulging in freshly baked ba, and croissants are a super budget-friendly (albeit delicious) way to destroy your pre-holiday diet.
Scoops of vegan ice cream decorated in the shape of a melting flower will only cost EUR 5 ( R 84.00) and beers range from EUR 1,50 to EUR 3 (R 25.00 to R 50.00).
If you want to keep your food costs down, hit up grocery stores and cook your own food. You'll have more money left in the kitty for exciting things like snorkelling, canyoning and flying over one of the most active volcanoes in the world! (more on that below)
How to Get Your Visa on Arrival for Reunion Island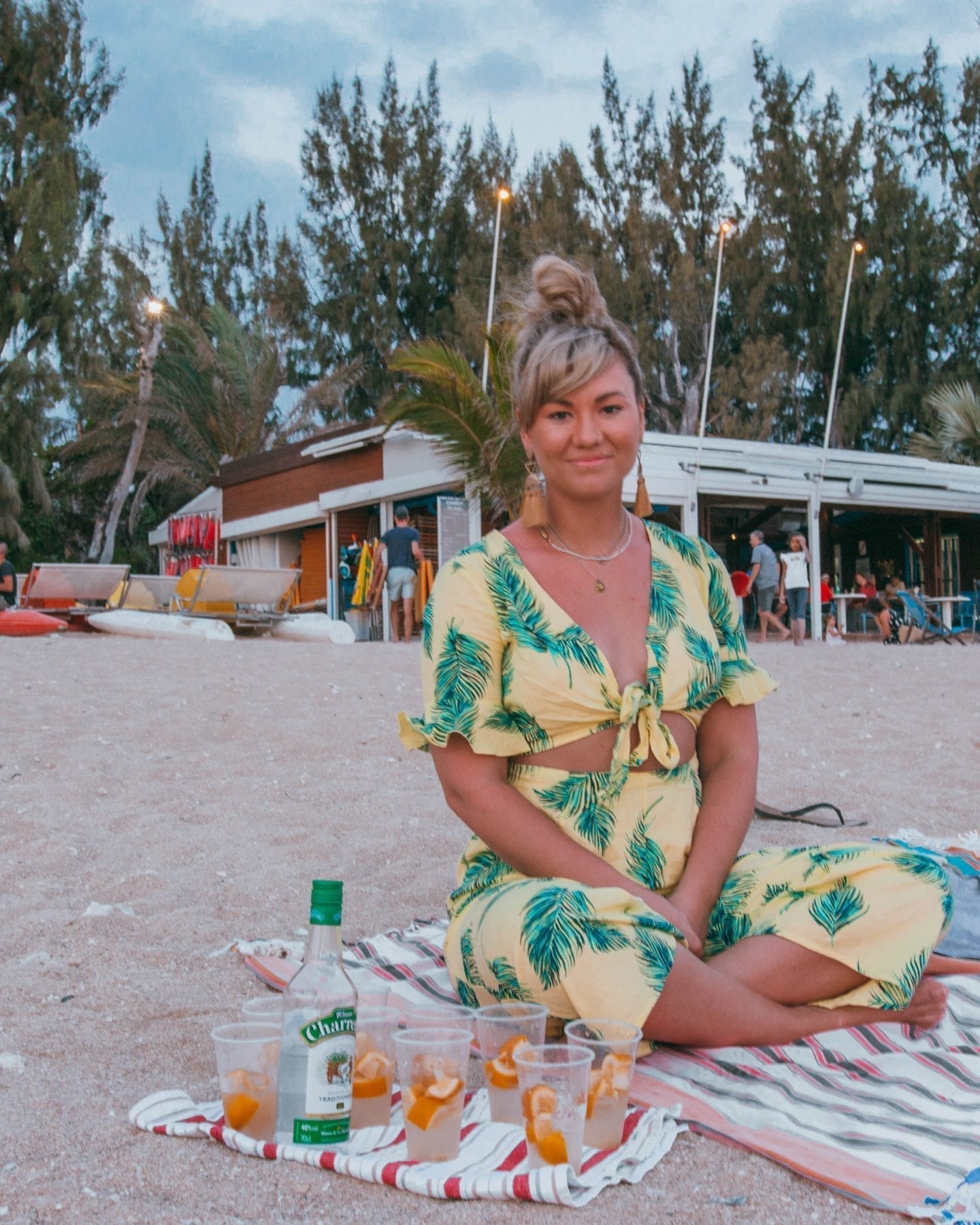 Paperwork is my vice.
I don't hate it. I LOATHE it.
Visa applications are my nemesis by default.
So I do not jump, I leap and sprint and scramble when a destination offers visa-free for South Africans as well as no visa on arrival fees.
Reunion Island is one of these holy grails.
South Africans get a 90-day visa on arrival for Reunion Island at the Roland Garros International Airport.
All you need to do is walk up to the immigration officer, say "bonjour", and in a couple of seconds, your green mamba passport will have a fancy new stamp.
It's that easy.
Read More: The Complete List of Visa-Free Destinations for South Africans
How to Get Around Reunion Island
Car Hire
If your Reunion Island itinerary is full of hiking into the mountains, driving up to the volcano and whizzing around the island, hiring a car is an excellent option. You'll have more freedom getting around and will have an easier time visiting attractions or areas where public transport is infrequent.
You can hire a car at the airport as long as you have an international drivers permit, a trusty credit card for the deposit and you can handle driving on the right-hand side of the road.
Bus
All of Reunion Island's major towns are connected by a local bus service, Car Jaune. The buses run between 6:00 a.m. to 7:00 p.m. and there is a limited service on Sunday. You can buy a single ticket for EUR 2 (R 33.00)  or a day ticket for EUR 6 (R101.00).
What is The Reunion Island Cuisine Like?
Reunion Island's food is something special.
It's a mixture of cuisines from China, India, France, Madagascar, and mainland Africa.
The result is an exotic, flavourful cuisine that will leave you piling up food for seconds, thirds and probably even fourths.
As a vegan traveller, I couldn't try too many of the traditional dishes, but I didn't go home hungry. There are options! You can get a tasty bean stew with rice, as well as sides like roasted potatoes, salads etc.
If you're staying in Saint-Denis, there is one vegan restaurant in the city, Vegan Hope as well a vegan-friendly health store, La Vie Claire.
Where to Stay in Reunion Island
The best place to stay in Reunion Island is the West Coast.
Not only does it have the best weather on the island, but it's where you'll find a natural lagoon.
It's formed by a wall of coral, keeping Reunion Island's most infamous inhabitant – the bull shark – far away from nibbling on your legs.
With a healthy (and incredibly hungry) population of sharks around the island, Reunion authorities banned swimming and surfing everywhere except for the lagoons.
La Bische de Mer in La Saline Le Bains
During my week in Reunion Island hosted by Tails of a Mermaid, we stayed in a self-catering bungalow at La Bische de Mer. The accommodation is steps away from the beach, a charming bakery and delicious restaurants. It's the perfect spot to base yourself if you're looking for that quintessential island holiday.
The studio bungalows come with two bathrooms, two bedrooms, a fully equipped kitchen, linen, towels, and an outside dining area. There is also free WiFi, a pool and secure parking.
One thing to keep in mind is that reception for La Bische is not 24 hours. If you plan on arriving after 4:00 p.m. you'll need to make arrangements in advance to ensure you can check-in.
Studio bungalow for two people: R 1,500 per night
Bungalow for four people: R 2,500 per night
Not what you had in mind? Use Hotels Combined to search all the hotel booking sites in one place. All you need is one tab to see if Booking, Hostelworld or Expedia has the best deal.
COMPARE HOTEL PRICES IN REUNION
Reunion Island Travel Tips
Language: French is the main language on Reunion Island. English is not widely spoken even in the capital city of Denis. I'd recommend learning a few basic phrases to help you get around. You should also buy a sim card and put that Google translate to work! It will make getting around and communicating SO much easier.
Currency: The currency used on Reunion Island is the Euro. You don't need to exchange your Rands at the airport. Instead, authorise your bank card for overseas withdraws. Your bank fees will often be lower as money exchangers will add a commission. It's also a good idea to check what your bank offers. For example, Capitec doesn't charge for international swipes.
Electricity: Reunion Island uses European-style two-round-pin plugs at 220c, 50Hz. South African travellers will need to buy an adaptor. You can get one from the shops in OR Tambo Airport after you clear immigration.
Drinking water: It's safe to drink the tap water in Reunion Island. I'd recommend bringing a reusable water bottle with you that you can top up each day. It's better for the environment, and you can use those extra Euros you save to buy better things – like food!
Reunion Island Sim Card: If you want to buy a SIM card while in Reunion Island you need to make sure it is unlocked. You can get a local number from either Orange or SFR. You'll also need your passport to complete the purchase.
Travel insurance: Reunion Island is full of adventurous activities like diving, paragliding, and canyoning. Make sure you choose a travel insurance provider that will cover you for extreme sports. World Nomads has an excellent policy for adventure seekers and are known for paying out with minimal hassle.
Opening Hours in Reunion Island: If you're planning a trip somewhere, always double check it's opening hours to avoid disappointment. Sundays and Mondays aren't a popular time for shops and restaurants to be open. Many establishments also prefer only opening after 12:00 p.m
Read More: Reunion Island: The Perfect Tropical Escape for LGBTQI+ Travellers
Reunion Island Itinerary Day 1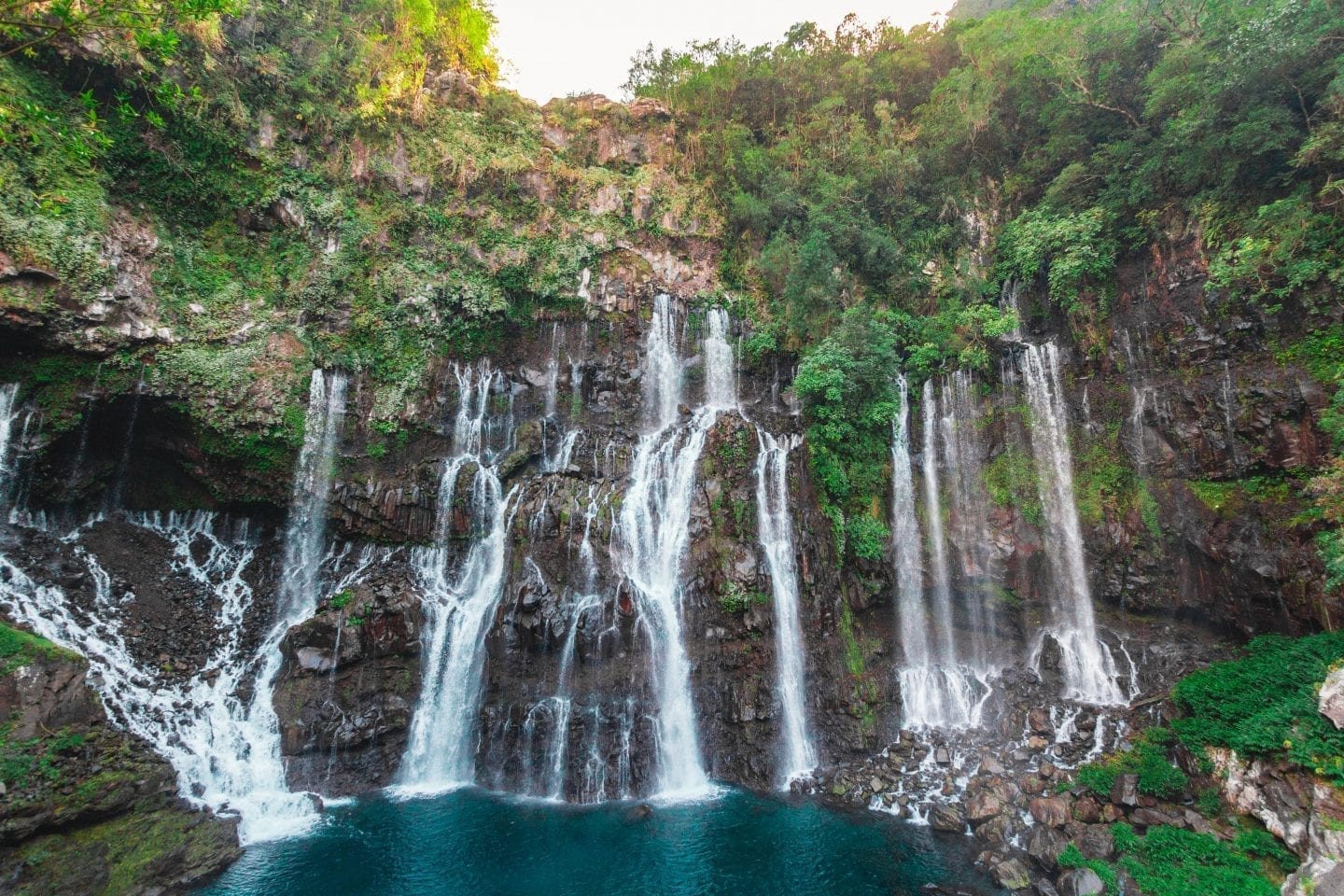 First things first: check into your hotel. When you arrive in Reunion Island from South Africa, you'll land around 20:00 p.m.
After you get through immigration, grab your bags and collect your car, it's still another 50-minute drive to La Saline Le Bains, so chances are you won't be up for doing much.
Get your room key, snag that well-deserved shower and hit the pillows.
(I'd recommend packing some snacks in your bags as most restaurants close around 9:00 p.m.)
Reunion Island Itinerary Day 2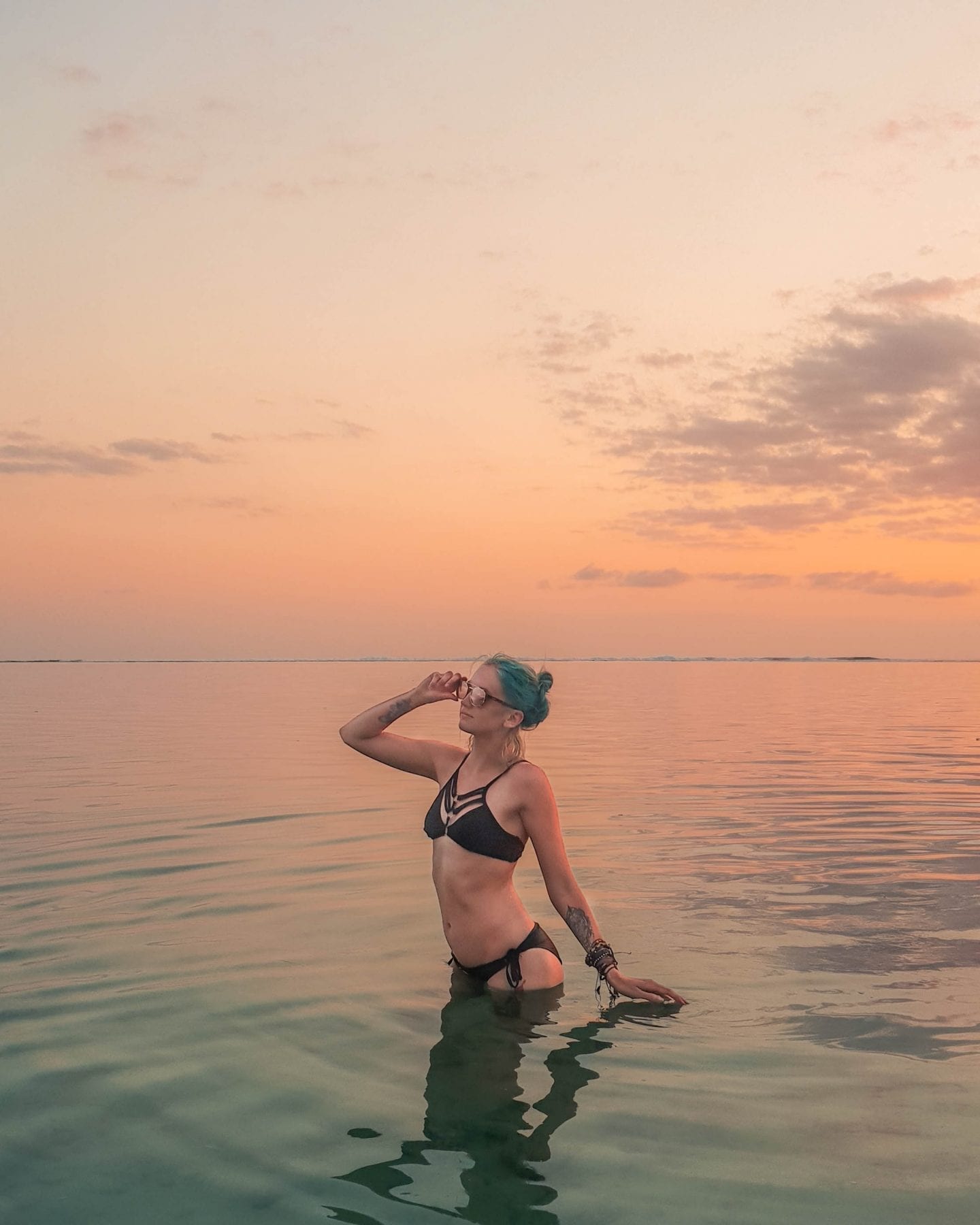 Beach Day at Le Hermitage Les Bains
Le Hermitage Les Bains is one of the most beautiful beaches on Reunion Island. It's white sandy beaches are framed by towering palm trees and the sparkling blue lagoon is full of curious fish. It's the perfect spot to ease into your holiday.
Spend the morning working on your tan, cool off in the warm waters of the Indian Ocean or hire a snorkel mask and follow the colourful fish around the lagoon.
Read More: 5 of the Most Spectacular Beaches on the West Coast of Reunion Island
Lunch at Le Manta Restaurant
When hunger inevitably strikes, there are plenty of restaurant options nearby. If you're on a budget, there are sandwich stalls selling treats for only a couple of Euros.
But if you're in the mood for something more substantial, head to Le Manta. It's right on the beach front with tasteful decor inspired by the island. The menu is 100% in French, and the staff don't know that much English. You'll need Google to translate to understand the menu.
There aren't many vegan or vegetarian options. All I could really have besides a salad was a vegetable platter for EUR 14.
Yes, that hurt.
Address: Boulevard Leconte de Lisle, L'Ermitage-Les-Bains, Réunion
Opening Hours: Monday to Sunday from 12:00 to 14:00 and 19:00 to 22:00
Watch The Volcano Erupt at Night
Piton de la Fournaise is a bubbling pit of activity.
It's one of the most active volcanoes in the world, and also easily accessible.
You can hike it, bike it or fly above it.
If the volcano is busy spitting lava during your visit, leave Saline des Bains around 3:00 p.m. and take the two-hour journey to the start of the hiking trail. You'll be in time for sunset and get to witness Mother Nature doing shit that you don't see in South Africa.
WARNING: It's hella cold up here.
I'm talking Johannesburg winter with Cape Town's howling winds. Make sure you pack warm pants, decent walking shoes, and as many jackets as you can fit on you.
If you want to take photos of the volcano at night, pack a sturdy tripod. I'd also bring something you can use as weights in case the volcano is super windy that night. I did not bring a tripod, so learn from my mistakes and appreciate my subpar photography work.
By the time you've finished freezing your ass off, restaurants nearby will be closed. Pack an easy dinner that you can enjoy before you start the long journey back to your hotel.
Reunion Island Itinerary Day 3: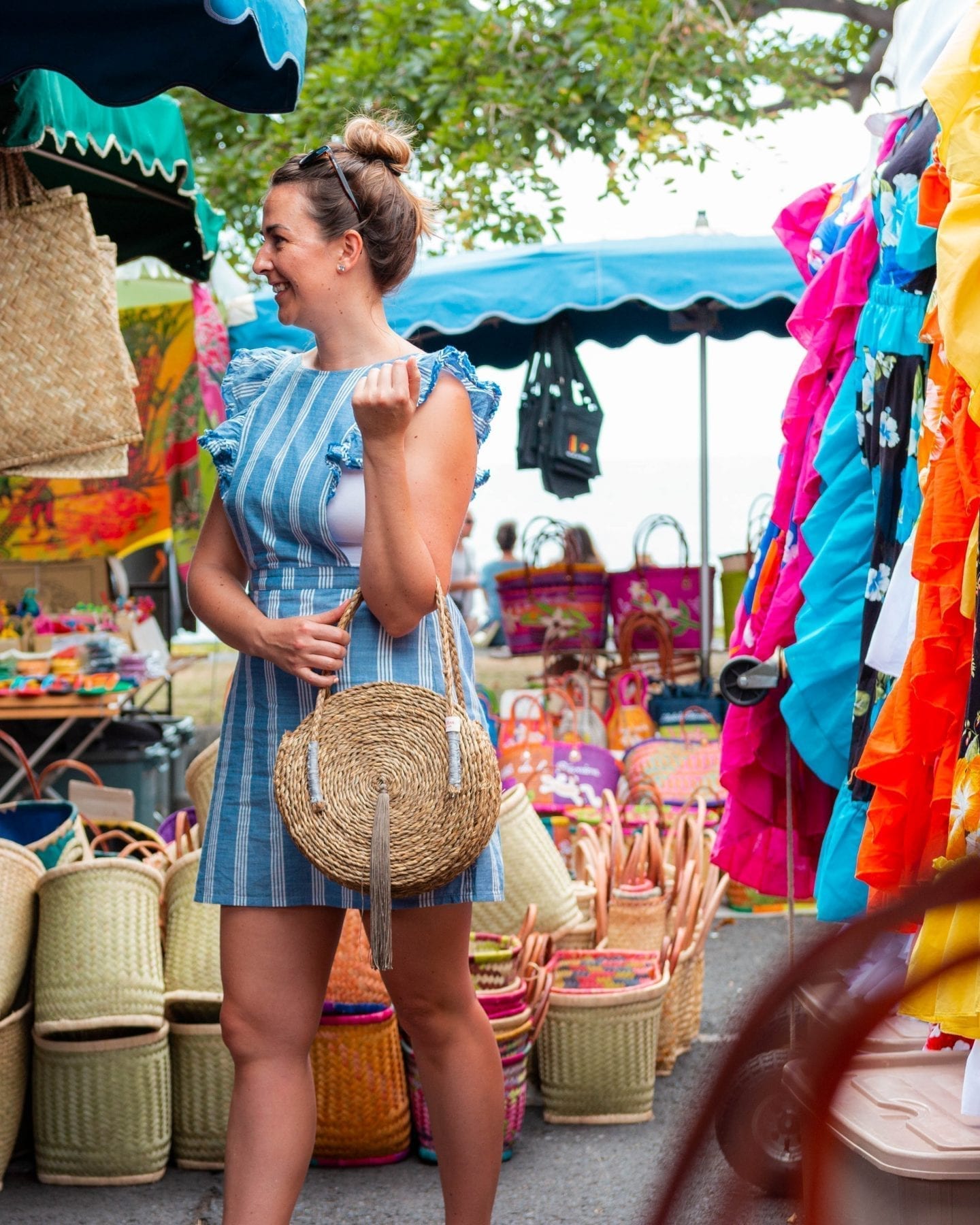 Breakfast at Saint Pauls Market
Skip a big breakfast and leave some space for the delicious Creole treats that await you at Saint Pauls Market. It's one of the best markets on the island with more than 300 vendors selling exotic fruits, fresh vegetables, local spices, and handmade clothes.
During our trip to the market, we each spent EUR 10 (R168.00) on something for a group potluck lunch. You'll be surprised how much you can get for nine people at that price.
The vendors only accept cash. If you've forgotten to draw out money or need more for another bottle of rum arrange, there are ATMs nearby. The closest one we found was about a six-minute walk away from the market.
Top tip: Parking can get a wee bit crazy. Try to get here as early as possible if you don't want to struggle to find a spot.
Address: Boulevard du Front de Mer, Saint-Paul
Opening hours: Fri 6am-5.30pm, Sat 6am-12pm
Read More: Rum As You Are: A Delicious Guide to Reunion Island's Signature Rhum Arrangé Drink
Head Home for a Potluck Lunch and Cocktails on the Beach
After you've shopped and tasted your way through Saint Pauls Market, head back home for an easy potluck lunch.
Eat your bounty at the hotel or take it to the beach for a picnic.
Spend the rest of the afternoon soaking up the sun and catching up on some much needed RnR.
Before the sun starts to dip, make your way to Planch'Alize. It's a great cocktail spot on the beach that will give you uninterrupted views of the sunset.
Address: Rue des Mouettes, La Saline-Les-Bains, Réunion
Opening Hours: Monday to Sunday from 7:30 a.m. to 10:00 p.m.
Dinner at Thai Run
I know what you're thinking.
"A Thai restaurant when there is all that delicious Creole food on the island?"
Yip, because Thai Run is no ordinary Phad Thai spot.
In fact, you're probably not going to be able to get what you want, which is why it stole a bit of my heart.
Thai Run changes its menu every day. There are set starter, main and dessert options. You can't order anything that's no offered, which forces you to get out of your usual palette routine and try something new.
The only tricky part is that vegans and vegetarians will struggle a bit here. When I went, there was no main option that didn't have meat or fish.
Instead, I got a starter of massive fresh spring rolls and papaya salad. All my food and drinks cost me EUR 20.
If you want to make sure there is something on the menu for you, I'd recommend calling ahead. The owner speaks English and will happily translate the menu of the day for you.
Thai Run can only hold about 10-15 people. Reserve your spot beforehand even if there is only two of you. But if the restaurant is full, they do offer a takeaway option.
Address: 8-10 Route du Trou d'Eau, La Saline-Les-Bains, Réunion
Opening Hours: Tuesday to Saturday from 11:30 to 14:00 and 18:00 to 22:00.
Reunion Island Itinerary Day 4: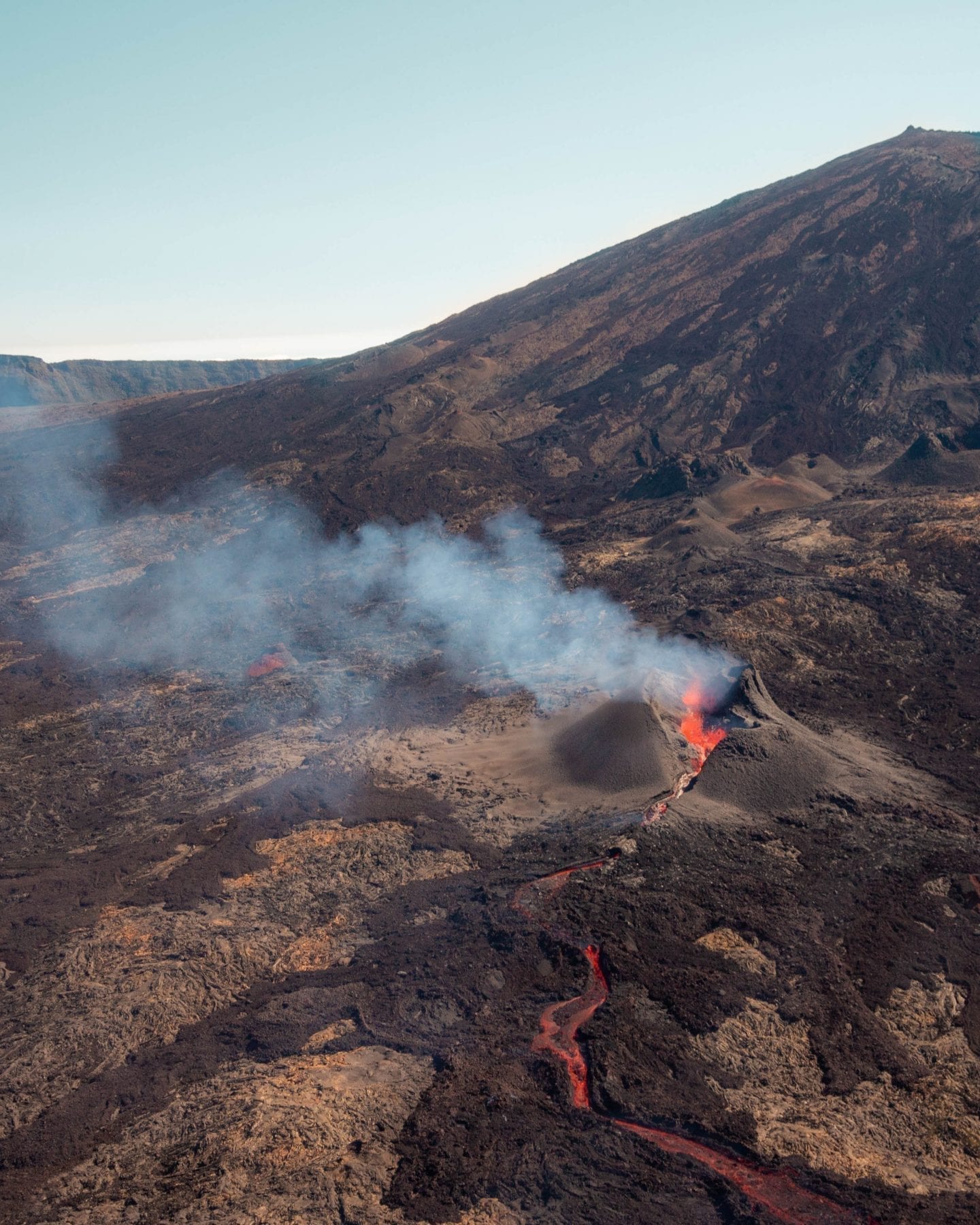 Helicopter Tour of the West Coast
Grab a coffee and a croissant from Boulangerie Au Petrin de Provence, hop into the car and drive up to the headquarters of Corail Helicopter Tours.
With the volcano on the island spewing lava, there is no better time to splurge on a flight to witness the eruption from above.
If you're on the fence, ask yourself:
"When is the next time I'm going to be able to see a 300,000-year-old volcano erupt and I don't have to run from it?"
It's a unique, once-in-a-lifetime experience that is well worth the 180 EUR.
A Traditional Creole Lunch
Chez Herbert doesn't look like much from the outside.
Located across the road from L'Ermitage Beach, it's flanked by cheap red, plastic chairs. But it boasts some of the best traditional Creole cuisines on the West Coast.
The menu is budget-friendly, and there are delicious options for vegetarian and vegan travellers. I'd also highly recommend finishing up your meal with a cold Bourbon beer.
C'est Magnifique!
Host Your Own Rhum Arrange Workshop
Ever wanted your own signature drink?
Well, now is your chance!
Head to the local supermarket and pick up some ingredients to make your own rhum arrange. It's an iconic drink on Reunion Island, and everyone has their own unique recipe.
For our workshop we used the following:
A bottle of rum
Cinnamon sticks
Vanilla pods
Dried orange
Sugar cubes
Pineapple
Ginger
You can pick and choose what ingredients you'll like in your arrange, but don't skimp on the sugar. Once you've created your masterpiece, you'll need to leave it unopened for three to six months.
Reunion Island Itinerary Day 5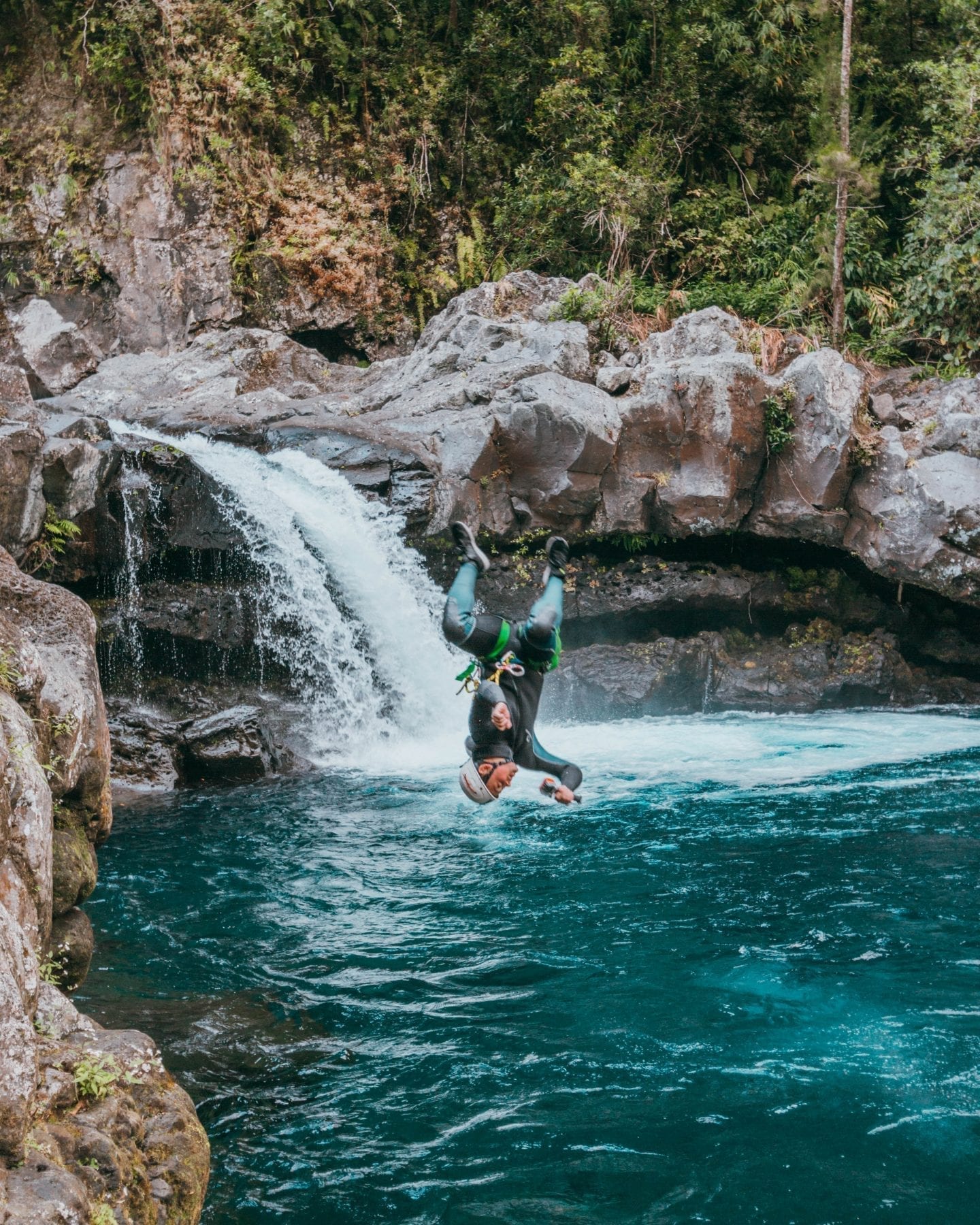 Canyoning at Grand Galet
Grand Galet is the most beautiful waterfall on the island and deserves a spot on any Reunion Island itinerary.
It's also the perfect spot for an intense adrenaline rush. The canyoning starts at the food of the massive Grand Galet waterfall. You'll zipline down to the base where you'll begin traversing over the rocks as you make your way downstream.
The jumps range from one to seven meters (never compulsory) and natural slides formed by the gushing water.
If you're a coward, like me, or you don't like cold water, like me, you can still head up to Grand Galet and relax at one of the nearby waterfalls.
Half day canyoning trip: EUR 55
Lunch at Chez Jim
After plunging yourself into ice cold water for a few hours, you're going to work up quite the appetite.
About 10-15 minutes away from the Grand Galet waterfall is a traditional Creole restaurant called Chez Jim.
English is not understood that well here, so you will need to make use of your limited French skills or Google translate to make your order.
The prices are also more expensive than the other creole restaurants on the West Coast. If you don't have room in your budget for a mini-splurge, instead pack your own lunch or wait until you get back to the hotel.
Address: 194, route de la passerelle langevin Saint Joseph RE 97480, 194 Rue De La Passerelle, Réunion
Opening Hours: Monday to Tuesday from 10:00 to 16:00 and Thursday to Sunday from 10:00 to 16:00
Dinner at Los Marinos
Taco, taco, burrito!
Los Marinos is an exceptional Mexican restaurated in Saint-Gilles les Bains.
It even has a bathroom with its own sound system blaring techno beats and a colourful disco ball to welcome you every time you open the door.
It's the definition of making your poo as LIT as possible.
The menu is an equal showstopper. Choose from delicious burritos, tacos, fajitas, enchiladas, and even salads.
Vegans and vegetarians can easily adjust menu items, but most importantly there are churros with Nutella for dessert.
HEAVEN.
Address: 14 bis, Rue De La Poste, Saint-Gilles les Bains, Réunion
Opening Hours: Monday to Sunday from 11:30 to 15:00 and 18:00 to 22:00
Reunion Island Itinerary Day 6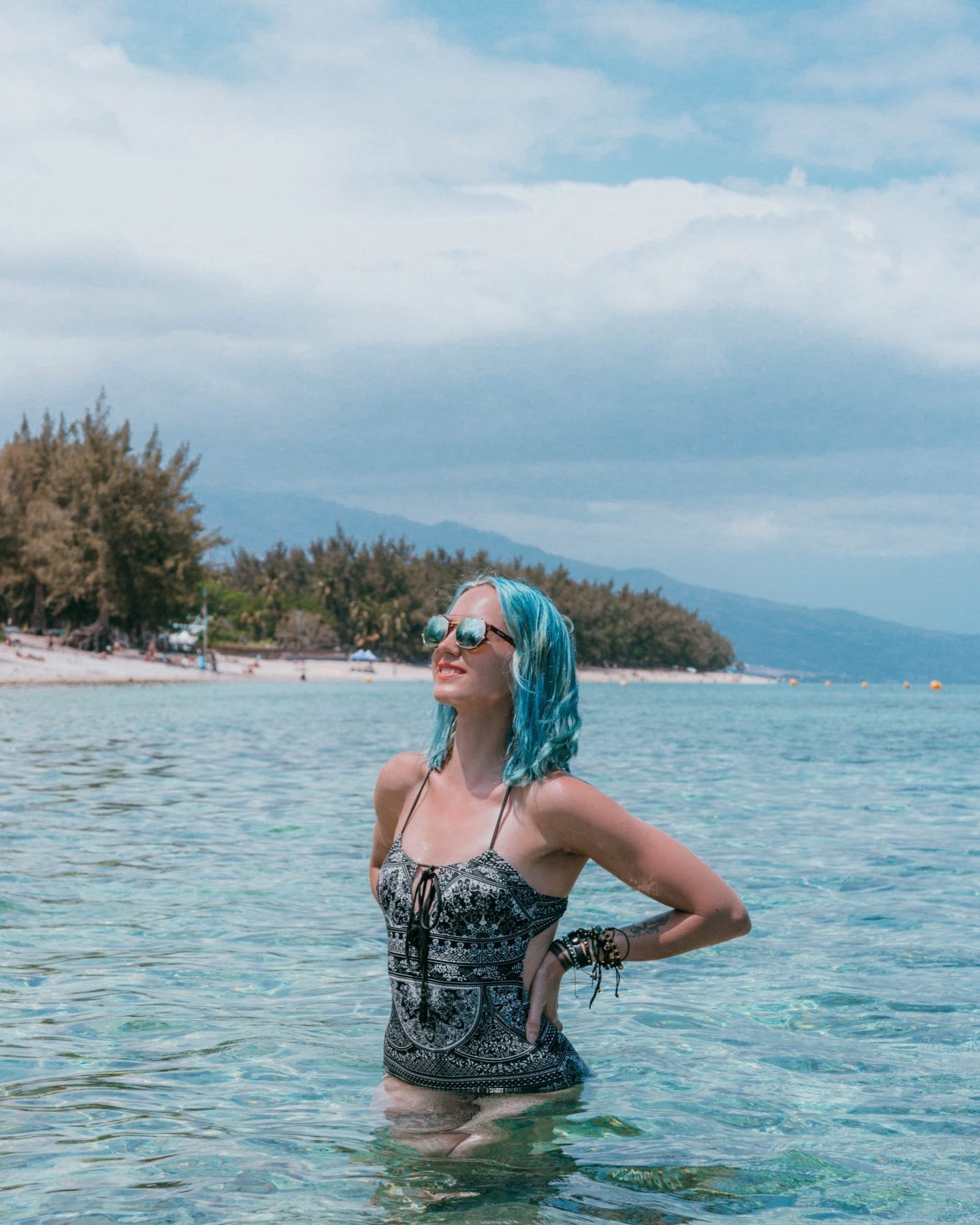 Breakfast at La Case A Pains
La Case A Pains is a picturesque French bakery full of delicious sweet and savoury treats.
They also offer a set breakfast menu that includes a cup of coffee for only a couple of Euros.
It's the perfect spot to people watch, grab a few cute Instagram pictures and slowly start your last full day on the island.
Address: 93 Avenue de Bourbon, L'Ermitage-Les-Bains 97434, Réunion
Opening Hours: Monday to Sunday from 06:00 to 19:00
Rent a Transparent Kayak or Go Snorkelling
Spend the afternoon exploring Reunion Island's lagoon from above. The transparent kayaks can fit one or two people and lets you see 75 feet below the water.
If you're not a well-coordinated human being (like me), you can rent snorkelling gear on the beach for a couple of Euros.
Keep an eye out for tropical fish species like the Moorish Idol, Emperor Angelfish, Yellow Teardrop Butterflyfish and the Giant Moray.
Dinner at La Bonne Marmite
End of your Reunion Island itinerary with an all you can eat buffet at La Bonne Marmite. Indulge in all your favourite Creole foods until you literally have no more room for another mouthful.
There are plenty of options for vegetarians and vegans (you won't have to worry about sticking to a salad). I grabbed mountains of rice, spoonfuls of the different bean stews and all the other vegetable side dishes.
The meal will set you back EUR 19, but for the amount of food you get, it is well worth it.
Address: Route du Trou d'Eau, La Saline-Les-Bains, Réunion
Opening Hours: Monday to Saturday from 19:00 to 00:00
Reunion Island Itinerary Day 7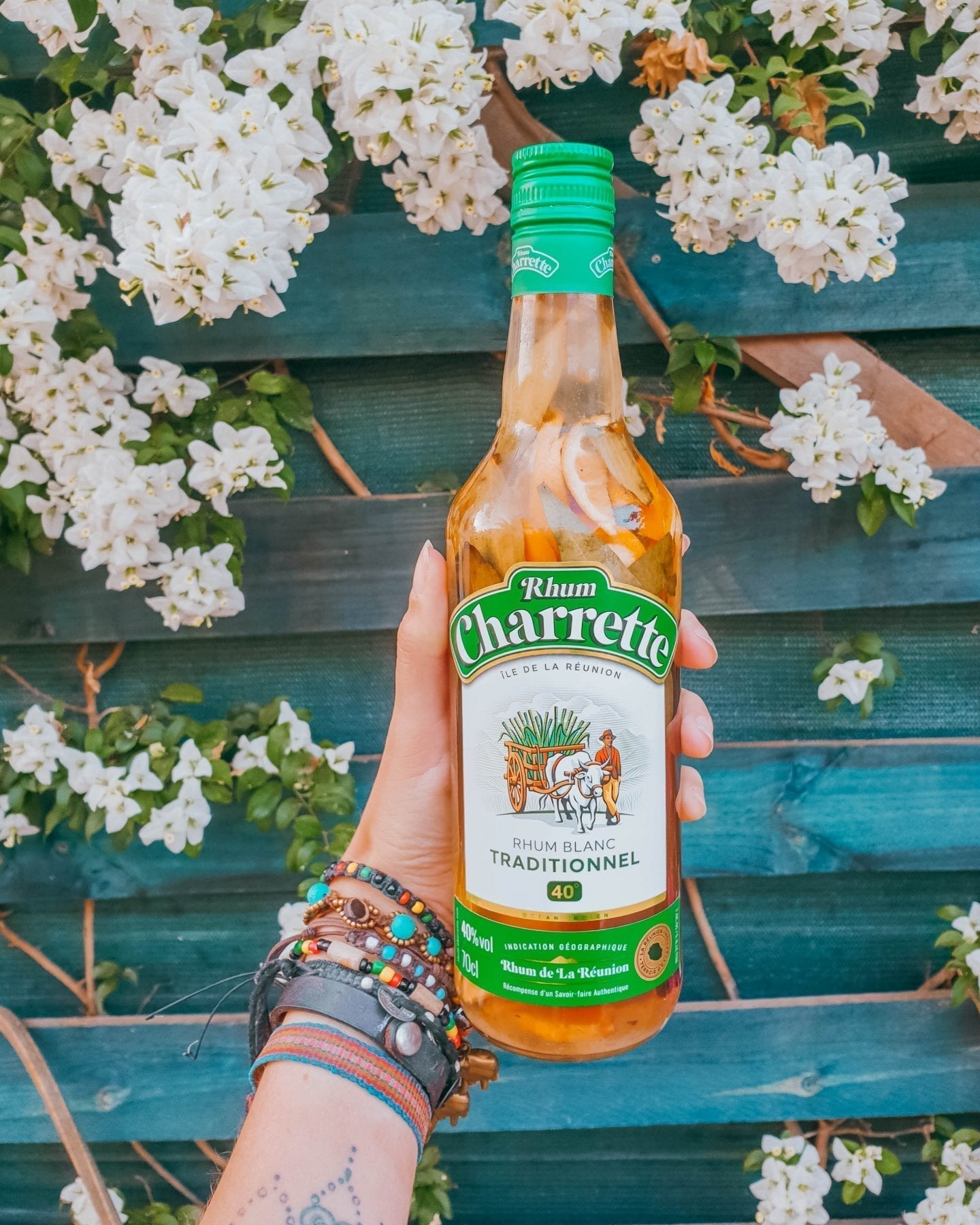 It's time to head back home.
*sniffles*
Grab the tissues and get ready to prepare all those TBT posts on Insta.
With only one flight from Reunion Island to South Africa at 10:35 on a Tuesday, you're going to need to wake up early. Aim to leave the West Coast around 7:00 so that you can make it to the airport in time for the 8:30 check-in and bag drop off.
You don't want to underestimate the traffic on the island, or you're going to unexpectedly extend your stay and take a costly indirect flight back home with Air Mauritius.
Your One Week Reunion Island Itinerary
Oh HEY!! You made it to the end!
You're such a trooper. Or maybe you just scrolled to the end because TL;DR?
Either way, thanks for making it all the way down here.
But if you want to add more things to your holiday plans, go paragliding for EUR 80 or tackle one of the island's many hiking routes.
---
Which part of this Reunion Island itinerary are you DYING to explore? Is it the delicious Creole cuisine, the crystal clear lagoon or the exploding magma from the Earth's core? Drop me a comment below.
Psst…Want more Africa travel inspiration? Check out my other posts:
?If you like it then you should put a pin on it ?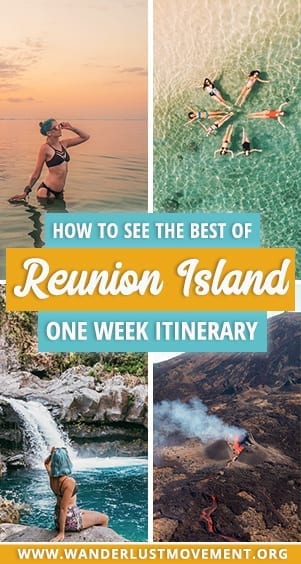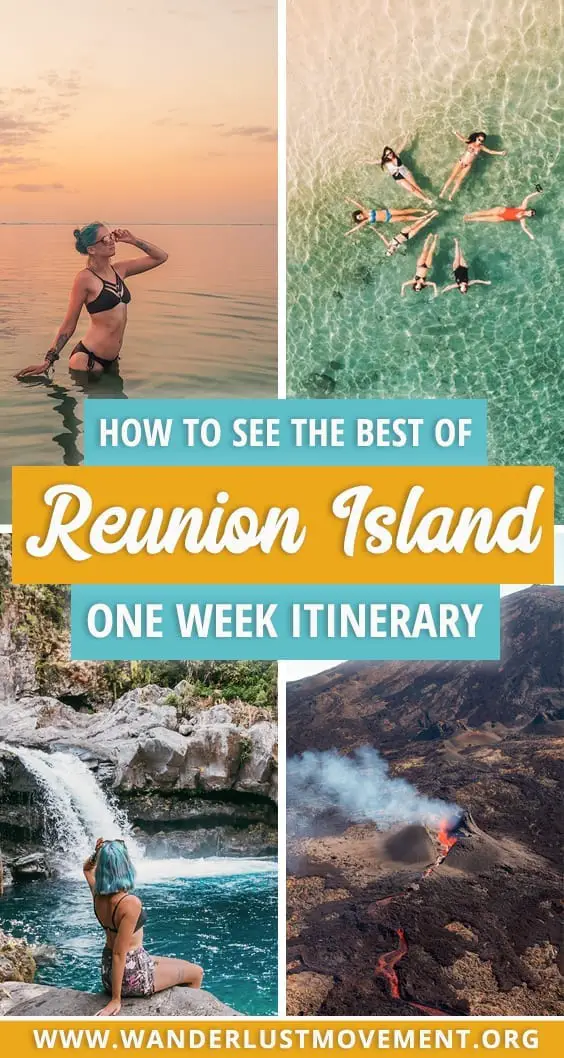 Looking for the ULTIMATE Reunion Island Itinerary? I've got you covered. Fly over a lava spewing volcano, eat your weight in Creole food and SO much more!