Last Updated on February 19, 2021 by lauren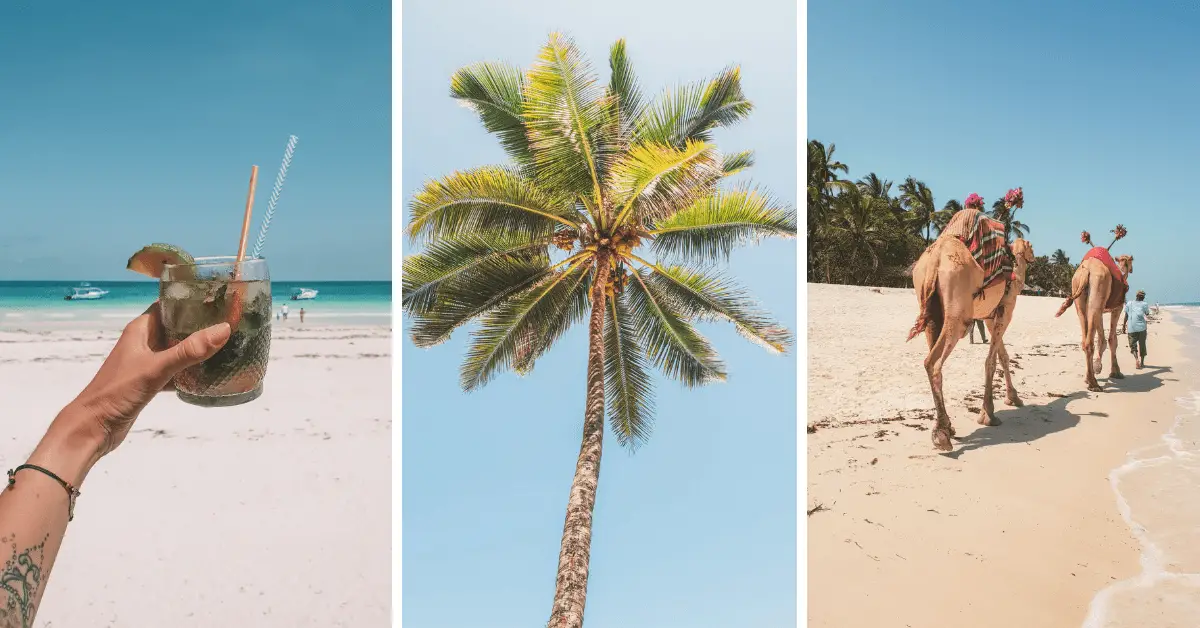 The Great Migration, Giraffe Manor and the Maasai tribe are what most people usually think of when they hear the word Kenya. But the country's best-kept secret (for now) is its incredible coastline.
Diani Beach is one of the top destinations on Kenya's southern coastline.
Palm trees frame it's sandy white beaches and crystal clear turquoise water laps at its shores. As corny as it sounds, it didn't look real at first.
The shades of blue are so vibrant, camels stroll along the beach, and the ocean temperature is perfect.
If you're after an affordable beach holiday from South Africa or anywhere else, put Diani Beach on your list! There's plenty of things to do, super affordable accommodation options and you can pick up dirt cheap flights from Kenya's capital city, Nairobi.
Here's everything you need to know to plan your Diani Beach trip, including 7 of the best things to do in Diani Beach!
How to Get to Diani Beach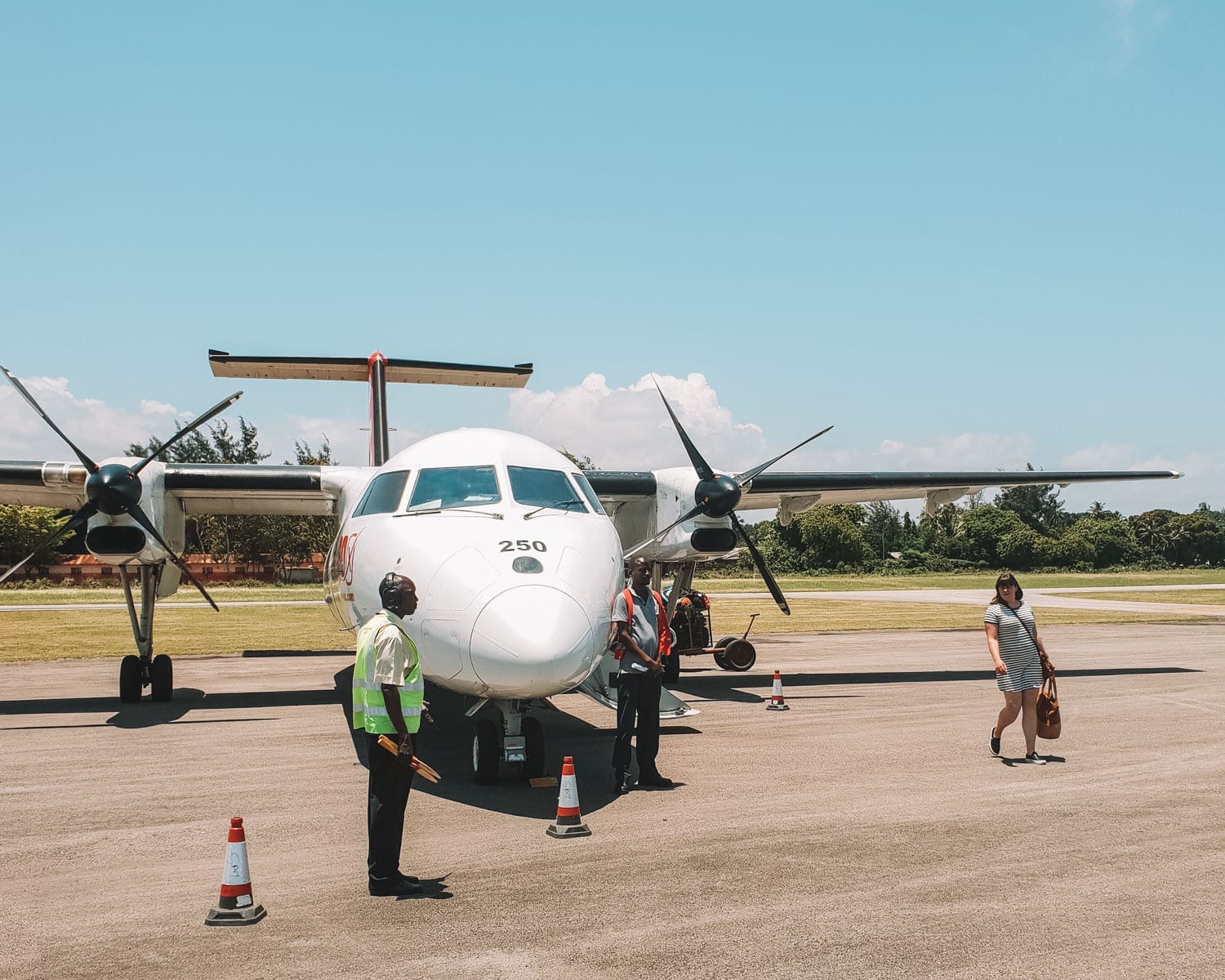 The best way to get to Diani Beach is to fly directly from Nairobi's Wilson Airport to Ukunda Airstrip. A return flight can cost as little as R 1000.00!
If there aren't any flights available from Wilson, you can fly from Nairobi's main airport to Mombasa and then take a taxi to Diani Beach. A one-way ride will cost around $50 USD.
Another option is to take the train from Nairobi to Mombasa. It's a cheaper alternative, but your travel time will be much longer.
---
How to Get Around Diani Beach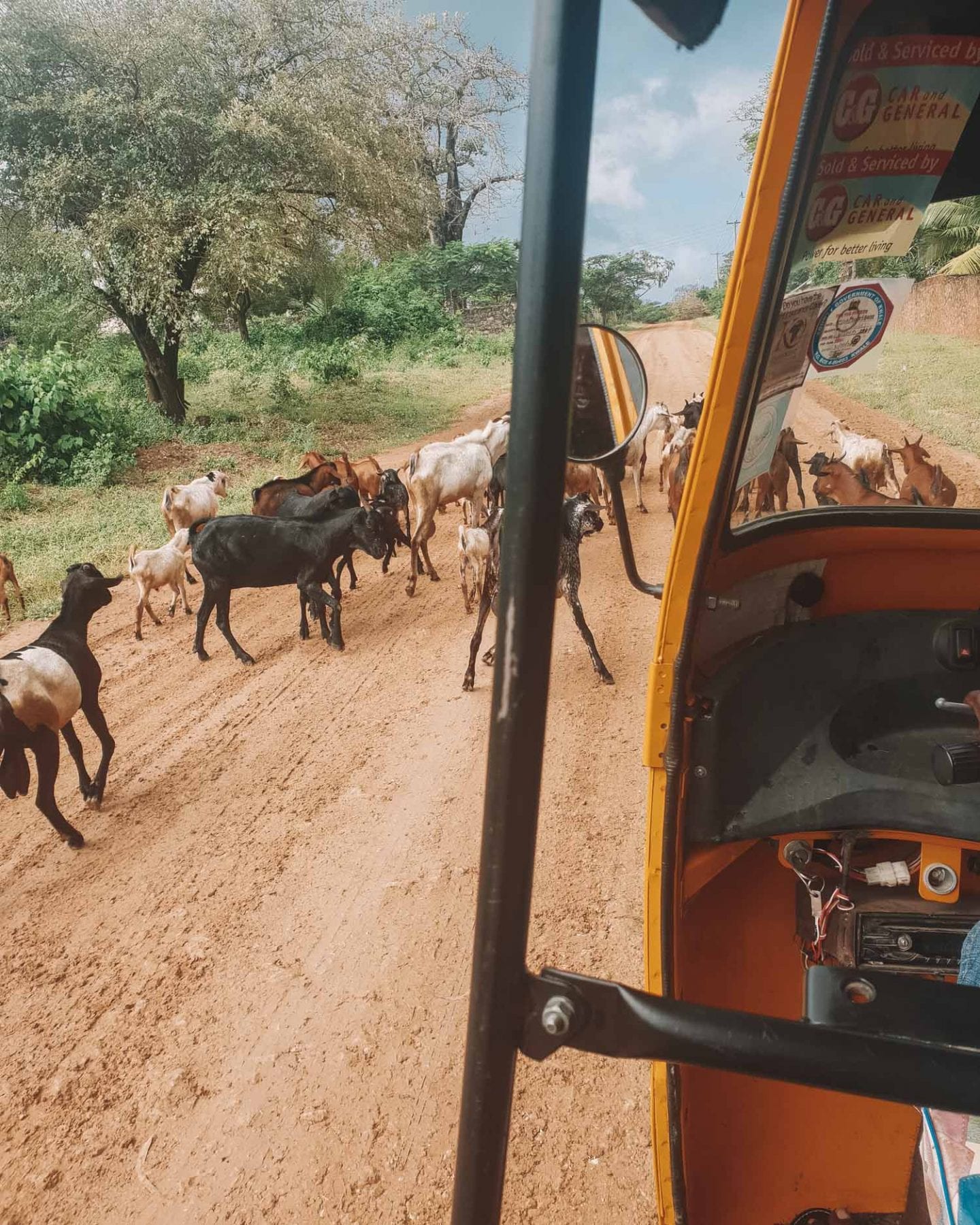 The easiest way to get around Diani Beach is with a tuk-tuk or an Uber. If you've got a local sim card, you can request a ride as soon as you land at the Ukunda Airstrip.
Otherwise, you can take a normal metered taxi to your hotel. 
For short trips around town, flagging down a tuk-tuk driver is your best bet. You will need to haggle the driver down to a fair price. I'd suggest asking the hotel staff and other travellers what's a good price so you don't get ripped off.
I paid on average 50 KES to get to most places.
---
Things to Do in Diani Beach
Feed Bush Babies
Few things are cuter than bushbabies – even if they pee on their hands.
So when I heard that Stilts Backpackers lets you attend a feeding of the little critters, I jumped in the first tuk-tuk that came down the street and made my way there for dinner.
Before the bananas are left out for the babies, the owner of the backpackers explains their history and conservation efforts in the area. The amount of food given out is also controlled so that they don't depend on the backpackers for food and the babies come out of the jungle on their own accord.
Flash photography is not allowed, and neither is touching the bushbabies.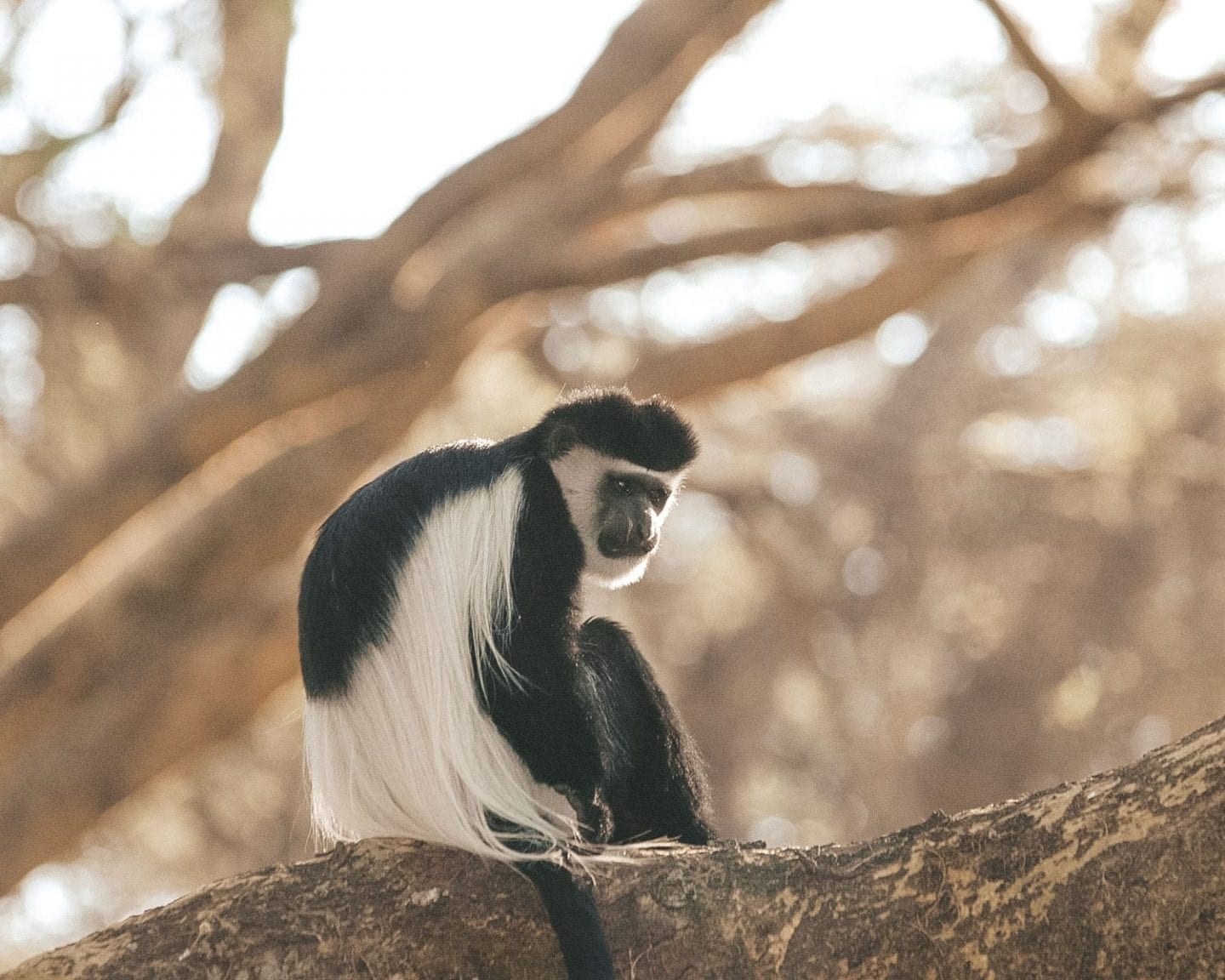 Colobus Conservation
If you really want to see the Colobus monkeys, I'd recommend phoning the conservation centre before you arrive to see if they are in the area. Otherwise, you'll have an experience like we did, when you pay to go into the area, and all you see are some trees swaying in the wind.
While I have seen other bloggers say the walk in the forest was an hour long, that's not happened when we went. It was at most 15-minutes, and it was through the grounds.
On the plus side, you'll learn a lot of interesting facts about the Colobus monkeys, the threats they face and the flora found in the area.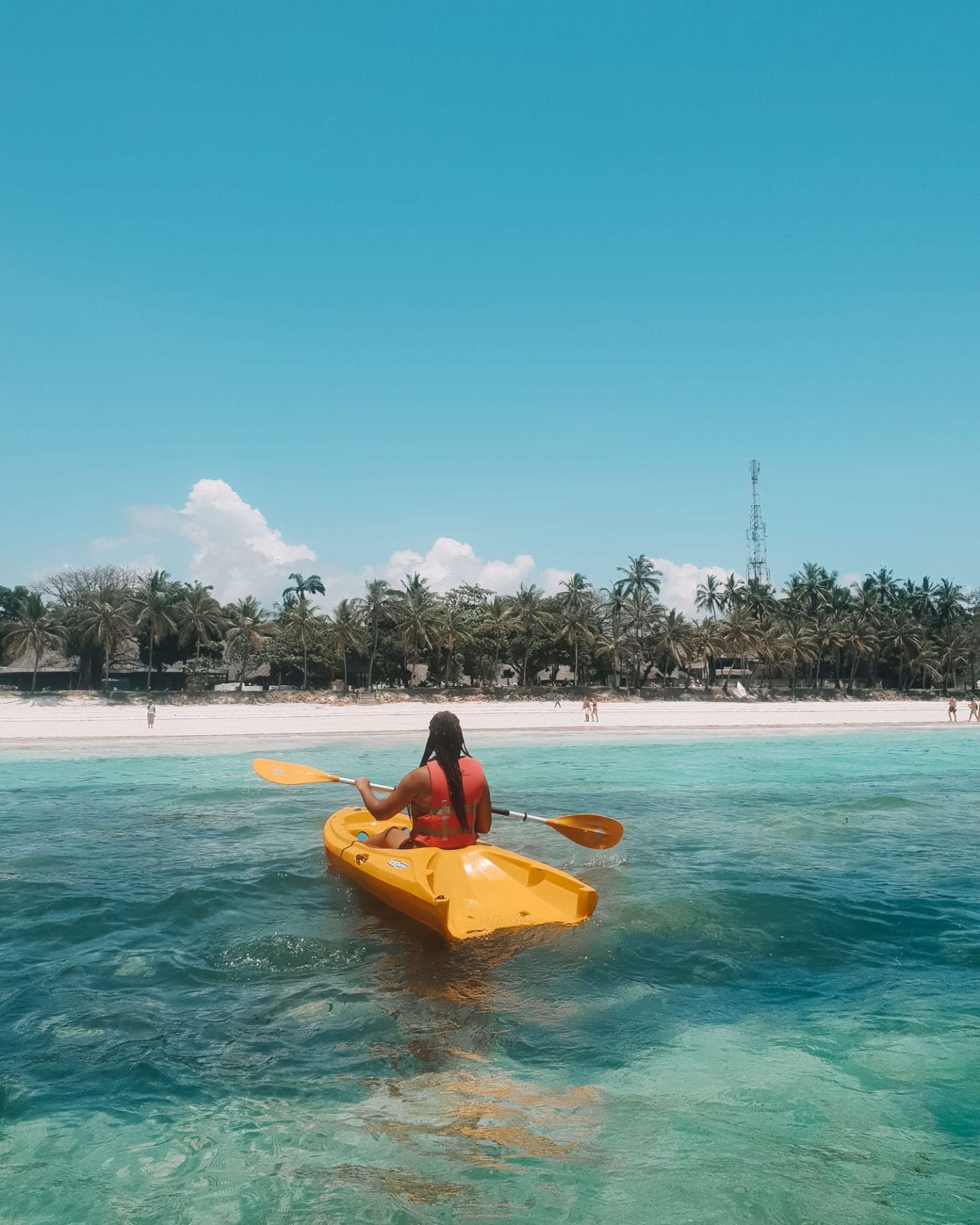 Stand-Up Paddle Boarding
Ever since I went stand-up paddleboarding in Krabi, I've been hooked and try to do it as much as possible! The conditions at Diani Beach are excellent for beginners or people like me who don't have a strong core.
The waves are gentle, the views of the coastline are incredible, and the water is clear enough to see fish swimming underneath you. Plus, it's one of the cheapest things to do in Diani Beach!
If you haven't done stand-up paddleboarding before, you can also take an hour-long lesson at H20 Extreme. The shop also rents out kayaks and jet skis and you can sign up for kitesurfing and windsurfing lessons as well.
Top Tip: Bring a waterproof pouch for your phone and locker key!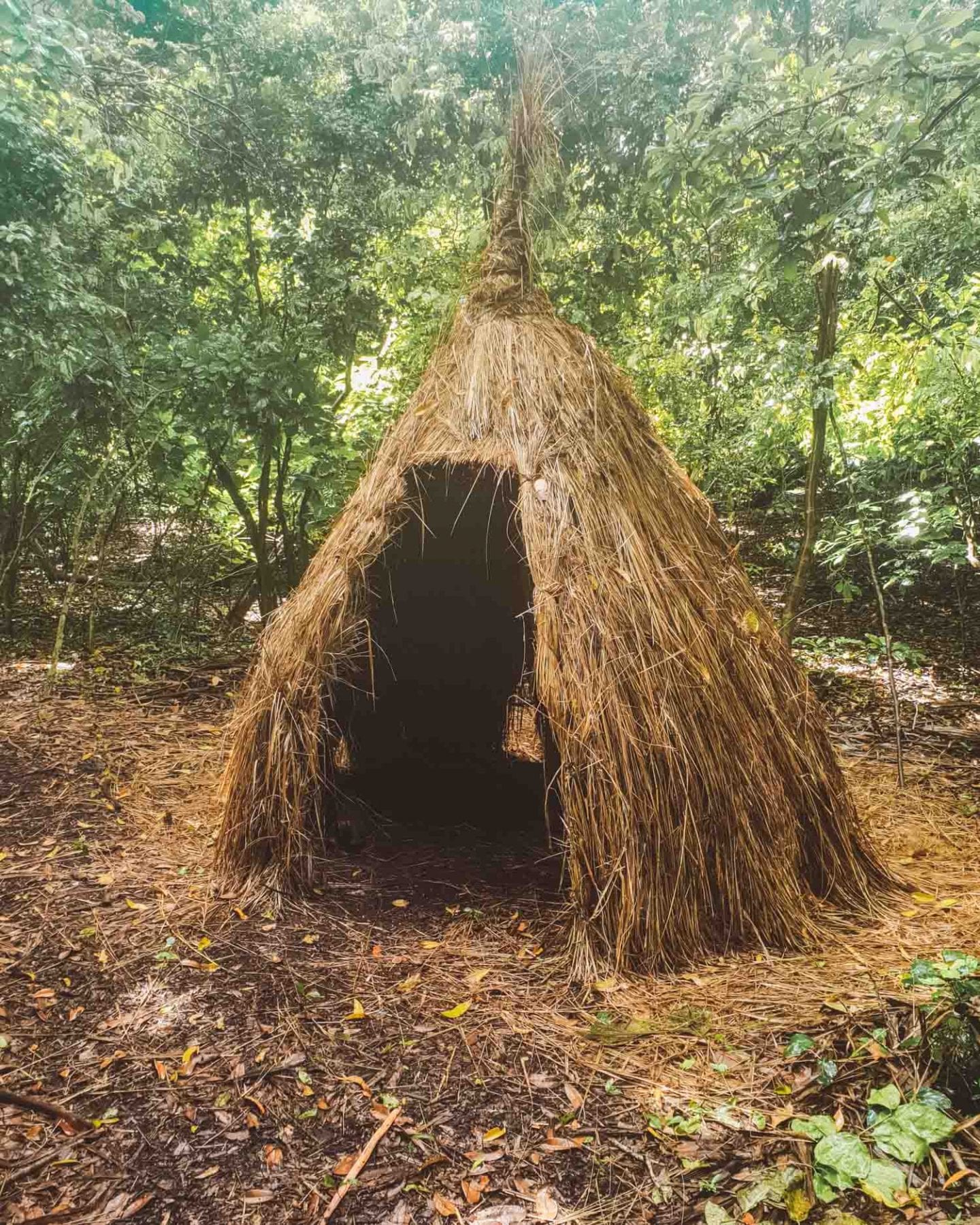 Kaya Kinondo Sacred Forest
The Kaya Kinodo Sacred Forest is home to the Digos. The tribe was kicked out of Somalia and Northern Kenya and eventually ended up in the forests along Kenya's southern coast.
Today, a small stretch of the forest remains and the tribe has started forest walks as an eco-tourism project.
During the trek, you'll have a member from the Digo tribe guide you through the forest. You'll learn about their history, culture, traditions and why the Kaya Kinondo forest is a sacred place for the tribe.
One thing to keep in mind is that the forest is a 30-minute drive from Diani Beach.
You'll struggle to find a tuk-tuk driver to take you out that far unless you pay them extra to wait for you, which I highly recommend doing.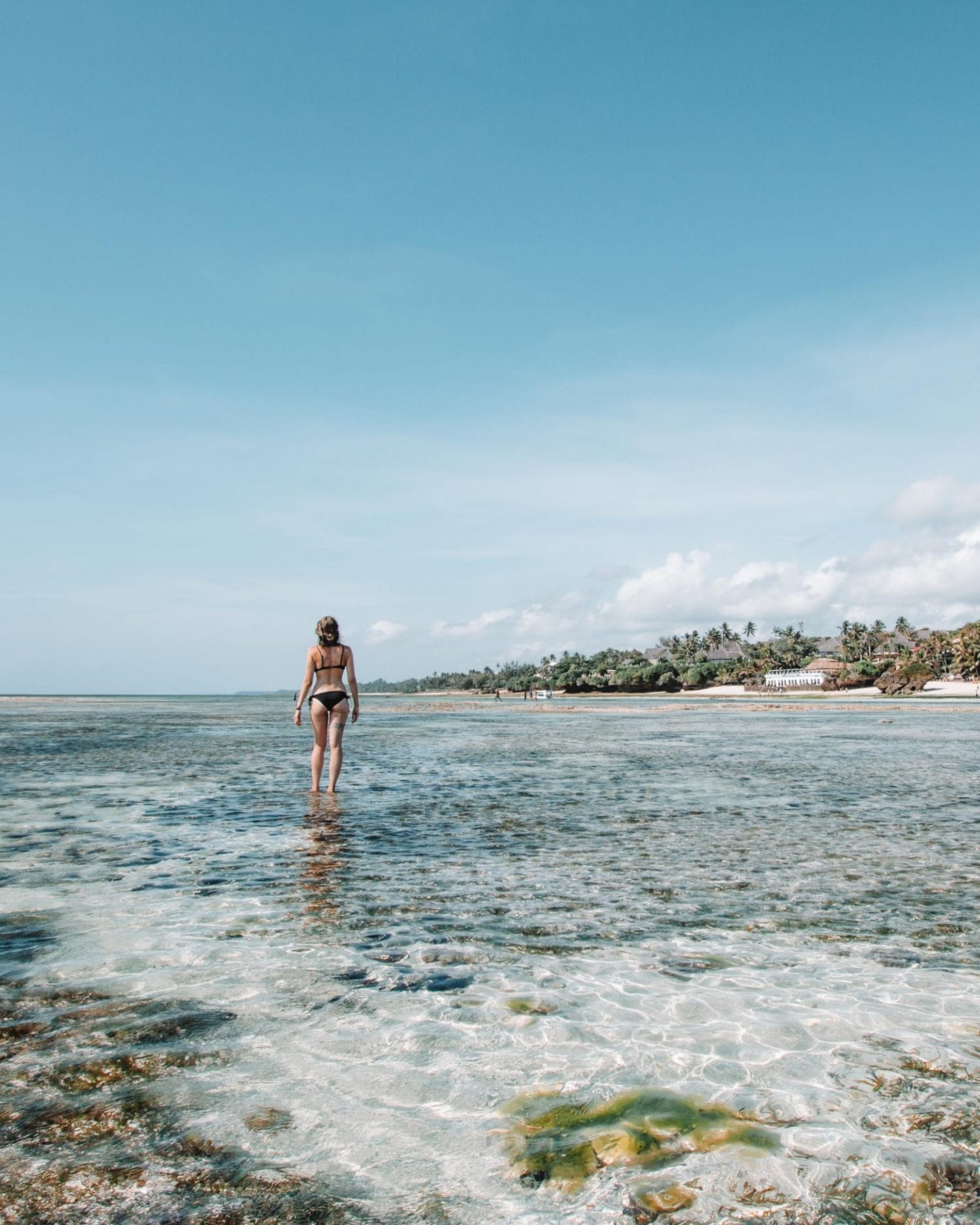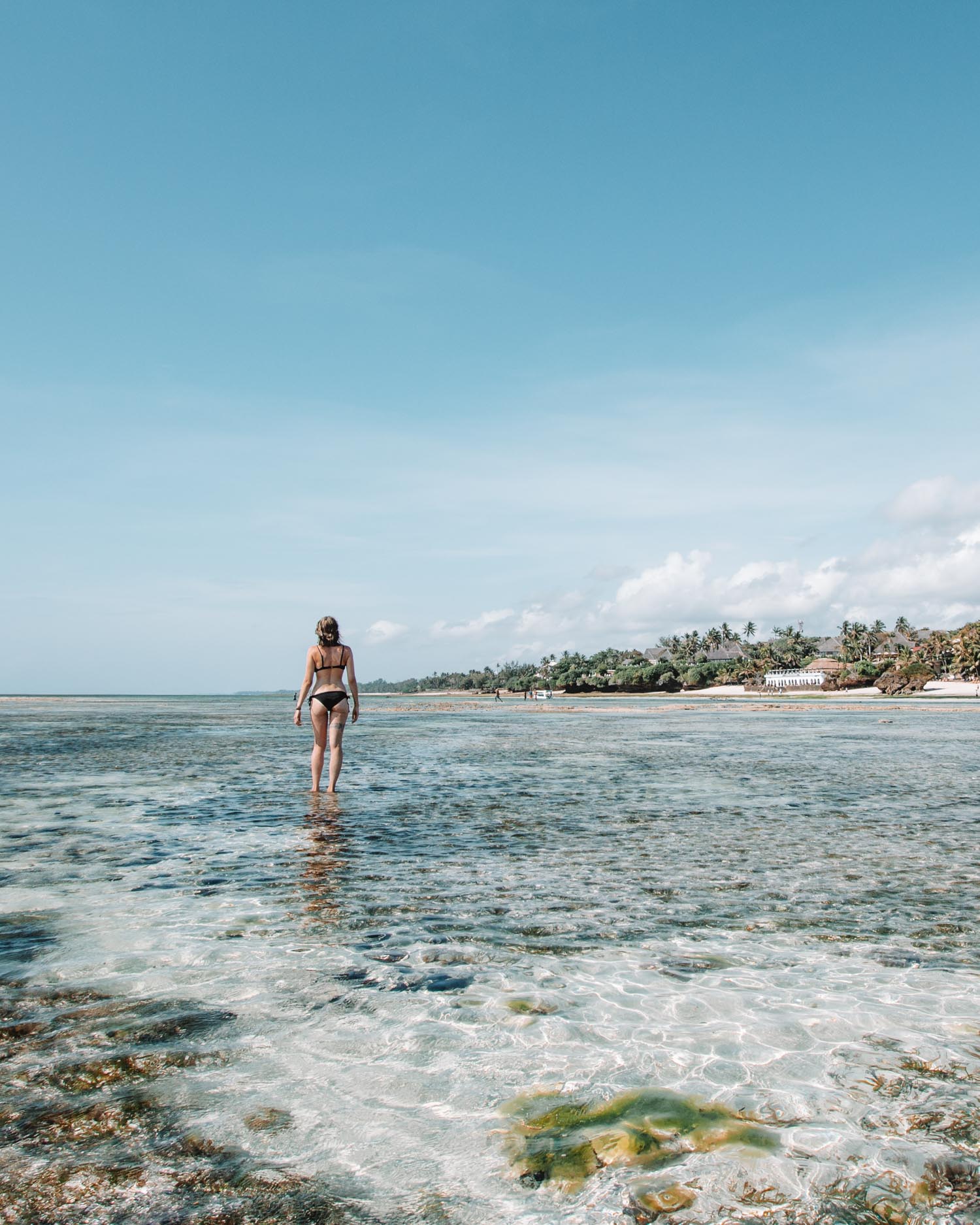 Snorkelling & Diving
If you're a diver, you're going to be spoilt for choice in Diani Beach. It boasts some of the top dive sites in the country and is a haven for the endangered Green and Hawksbill sea turtles.
Plan your visit around November and February if you want to dive with the migrating whale sharks! There's also a 15-year old shipwreck that you can explore if you have your Advanced Open Water!
---
Day Trips from Diani Beach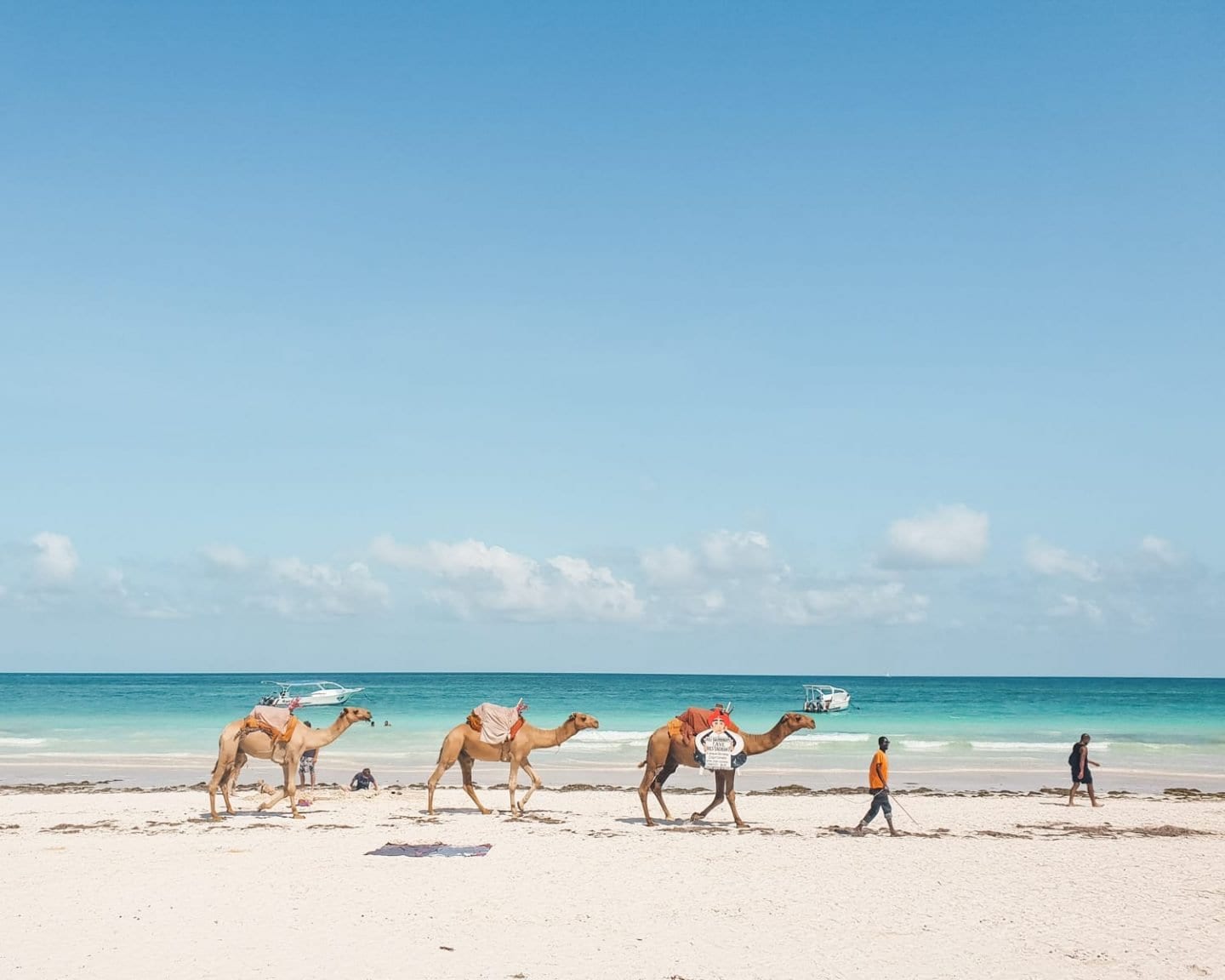 Kisite Marine Park
Kisite Marine Park is one of the best snorkelling destinations in the world. Underneath the waves, you'll have the chance to encounter migrating Humpback whales (between August and October), turtles, eels, manta rays and spinner dolphins!
It's super easy to organise a day trip from your hotel. The price will include pick up and drop off as well as lunch after a few hours of snorkelling.
You can also organise the trip by yourself if you don't mind a little bit of adventure.
Take a minibus from Diani Beach to Shimoni Junction and then take a motorbike taxi to Shimoni Harbour. You could also take an Uber or ask your hotel to organise you a metered taxi driver.
Once at the harbour, you can negotiate with the fisherman to take you to Wasini Island.
Hire a private boat to take you out to Kisite National Park.
It's a good option if you want more control over your itinerary and you're comfortable getting around Kenya without a tour guide.
Shimba Hills National Reserve
If you're travelling to Kenya on a budget and you're in the mood for a safari, pack your bags and head to Shimba Hills!
It's home to more than 700 elephants as well as leopards, waterbucks, and giraffes! You can book a tour from Diani Beach that will include a game drive as a hike to Sheldrick Falls.
While it is a doable day trip, Shimba Hills Lodge is an incredible accommodation option if you want to spend more time in the year.
It's the only 'tree lodge' within Kenya's Coastal rain forest, the price includes lunch and dinner, and most of the rooms have a beautiful view of the reserve.
---
Accommodation in Diani Beach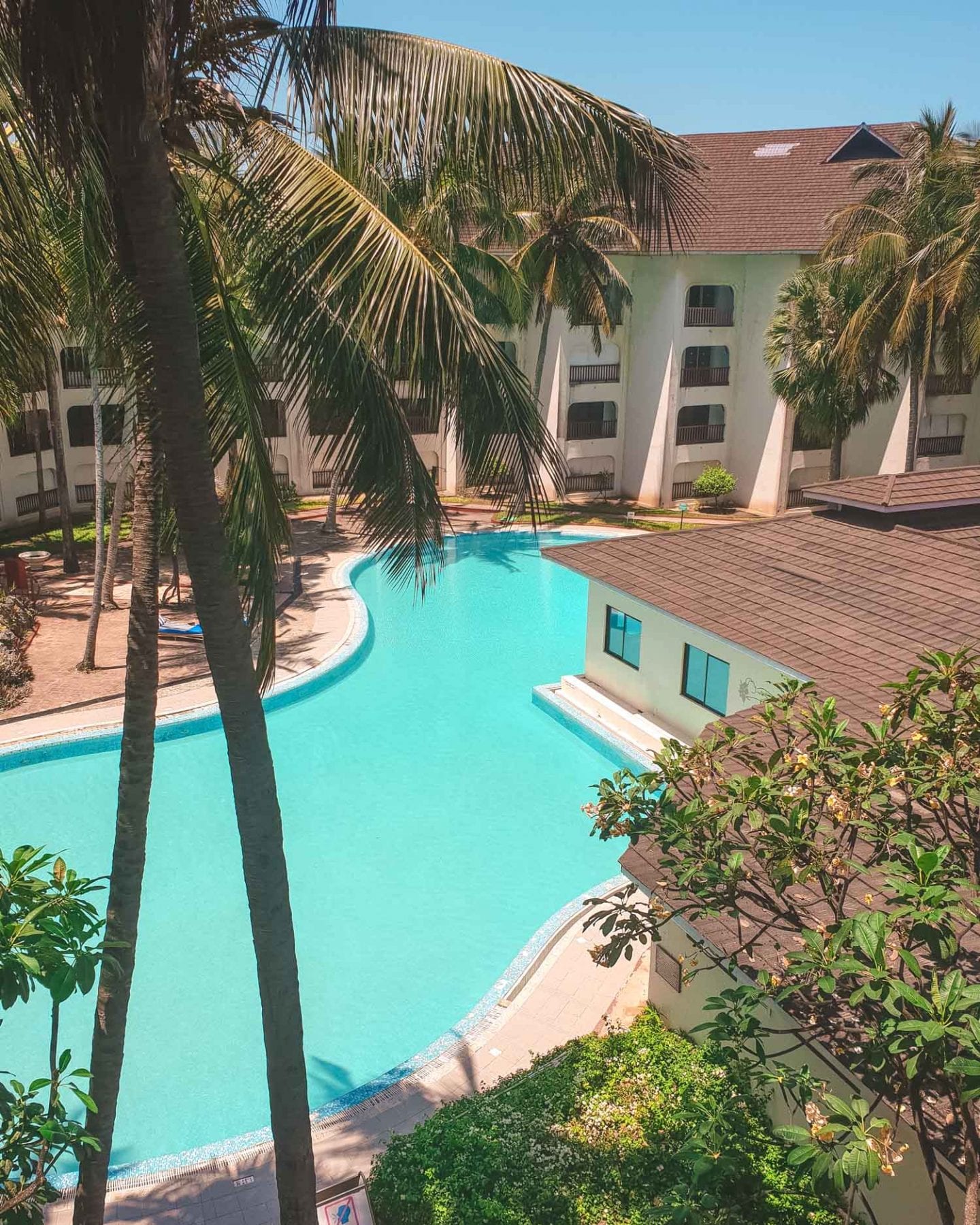 Diani Sea Resort (All-Inclusive)
I'm not usually one for resorts. While Diani Beach didn't change my mind, it offers a lot of value for money if that's how you like to travel.
There's a massive all-inclusive buffest breakfast, the rooms have beautiful sea views, and there's even a pool area where kids aren't allowed.
The hotel can also organise day trips to Shimoni for snorkelling or diving, and there's an on-site gym and restaurant.
While I didn't enjoy the sterile, massive resort feel and having people come into my room to turn down my sheets (when did this become a thing?), I loved the location.
I highly recommend waking up early to watch the sunrise from the beach and going for a walk during low tide. You can wander quite out into the reef and easily spot small marine life like starfish and sea urchins!
Stilts Backpackers
If I was booking the accommodation for Diani Beach, Stilts Backpackers is where I would have ended up. It's set in the middle of a tropical forest and is right opposite one of the best restaurants in Diani Beach – Ali Barbour's Cave Restaurant and Forty Thieves Beach Bar.
The owner of the backpackers is super passionate about the wildlife in the area and the environmental impact of humans in the area.
There's also a cheap, delicious on-site restaurant (Stilton Pub) and you can hang out with bush babies every evening.
---
Where to Eat in Diani Beach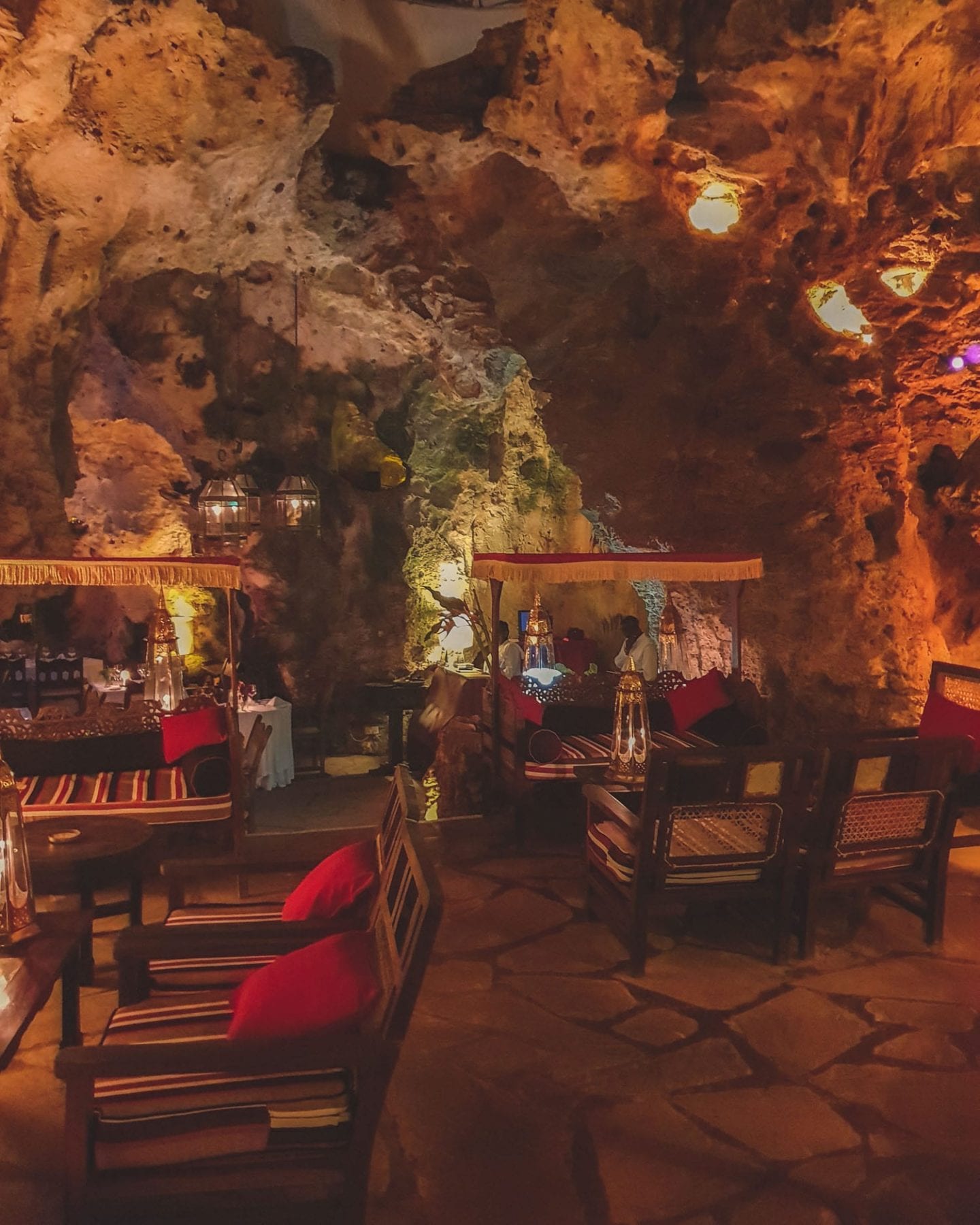 Ali Barbour's Cave Restaurant and Forty Thieves Beach Bar
Ali Barbour's Cave is an exceptional dining experience in Diani Beach. Situated inside an actual cave, there's an incredible ambience here that sets the evening off on the right food.
For vegetarians and vegans, the menu won't disappoint. There's more than one option to choose from, and Ali Barbour's Cave has an excellent wine menu.
My friends and I did indulge in a few bottles of South African wine, and we had zero regrets.
What really impressed me about the restaurant is that the owners will organise a shuttle bus to take you to and from your accommodation. It's not super safe to walk around at night and tuk-tuks, and Ubers are few and far between.
Once you're done with your meal, you can head over to the popular Forty Thieves Beach Bar. It's right on the beach and is the place to go if you're looking to experience the local nightlife.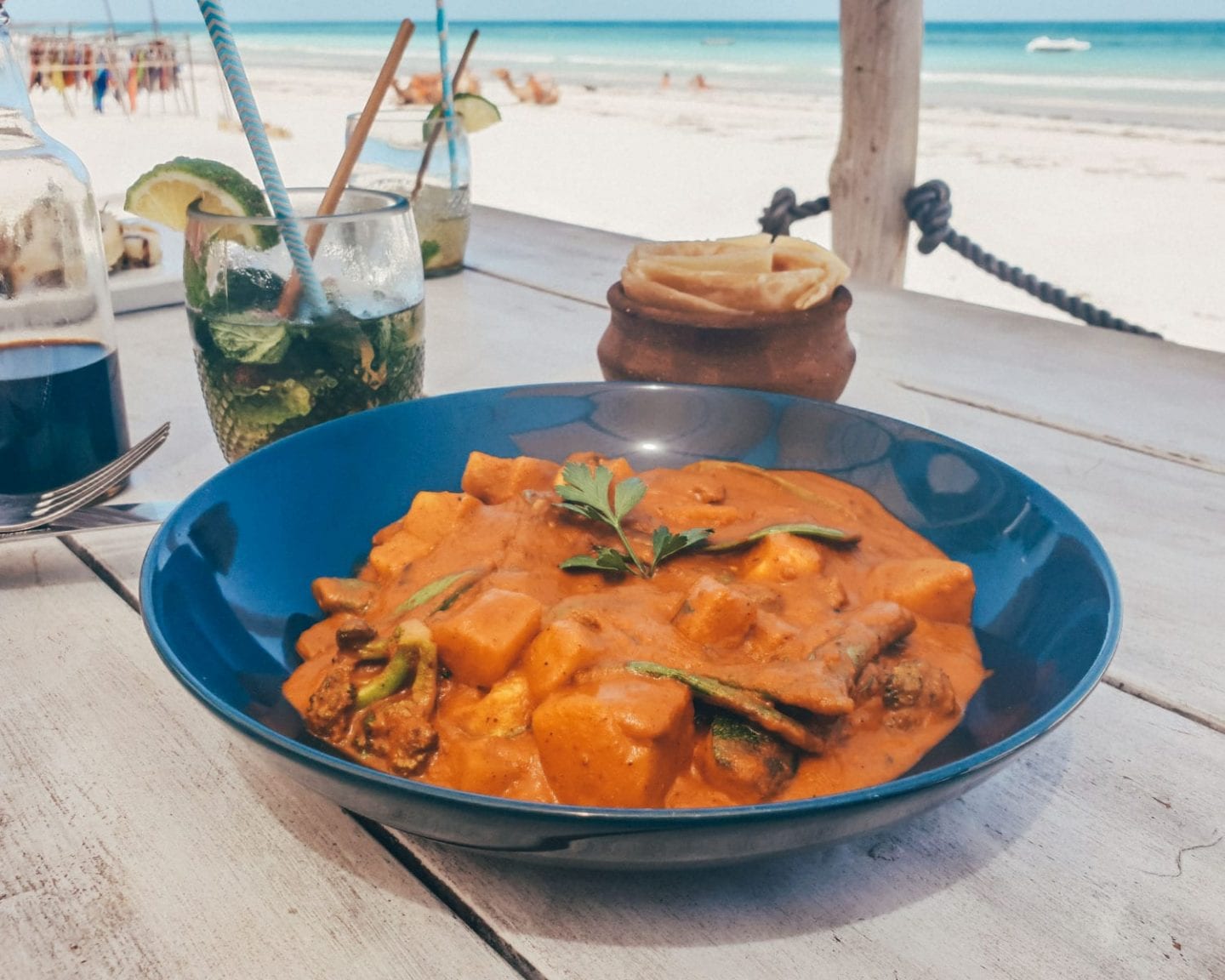 The Sands at Nomad Hotel
After working up an appetite paddleboarding, one of my friends recommended The Sands Restaurant at Nomad Hotel. It's set right on the beach and is a fantastic spot for sundowners.
I highly recommend trying their vegetarian curry! The restaurant also boasts a robust cocktail menu, and you can't go wrong with one of their mojitos or Dawa cocktails.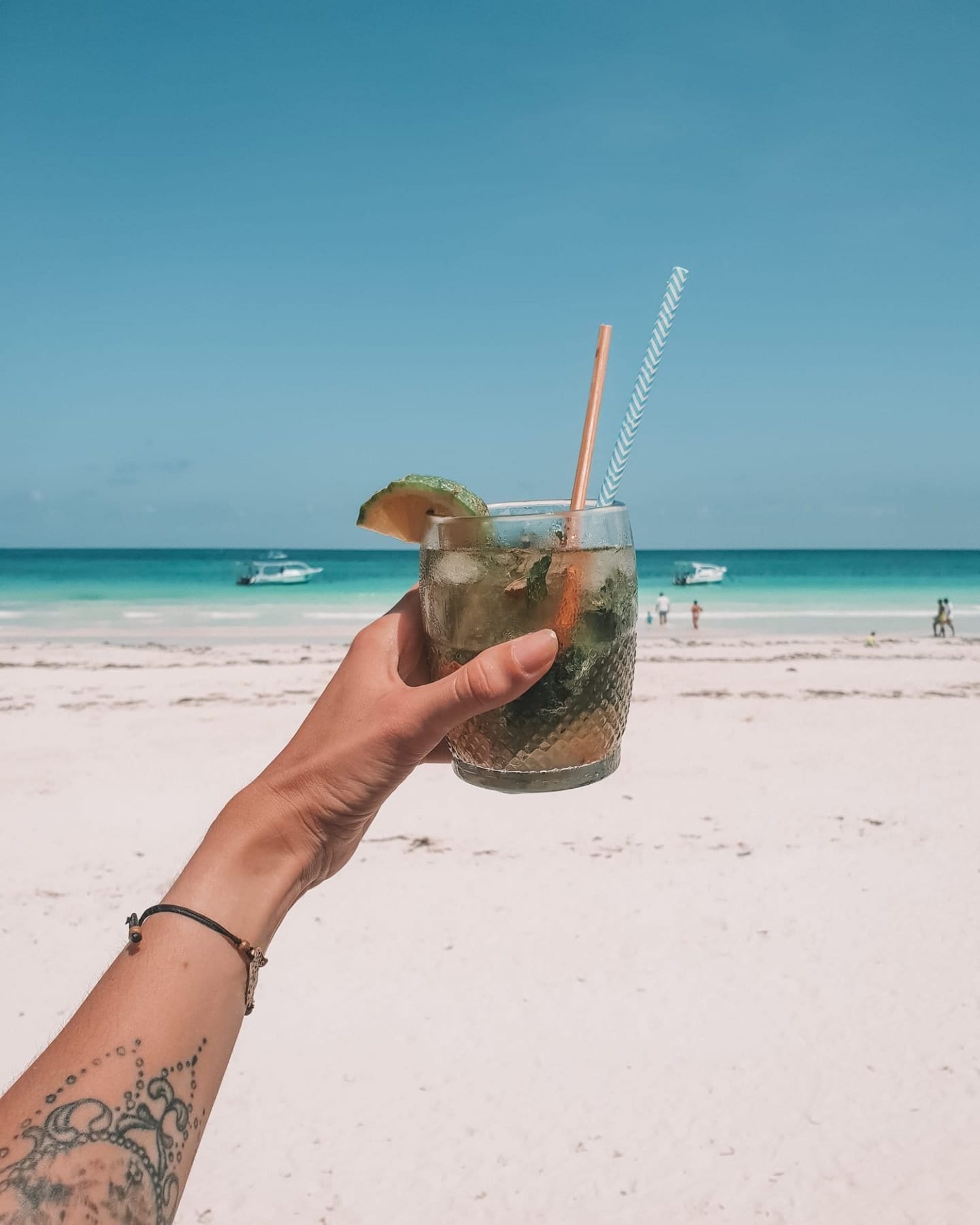 ---
Woohoo! You made it all the way to the end? Are you frothing to see some bushbabies and whale sharks yet? Did I miss out any of the best things to do in Diani Beach? Let me know in the comments below!
Psst…Want more Africa travel inspiration? Check out my other posts:
?If you like it, then you should put a pin on it ?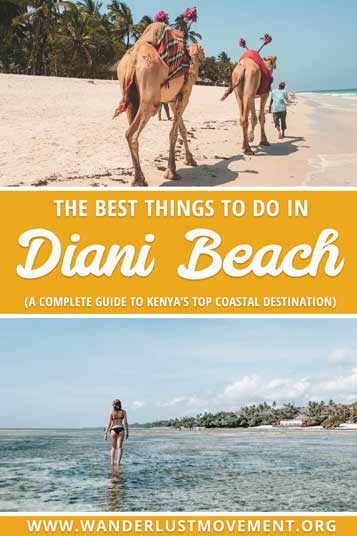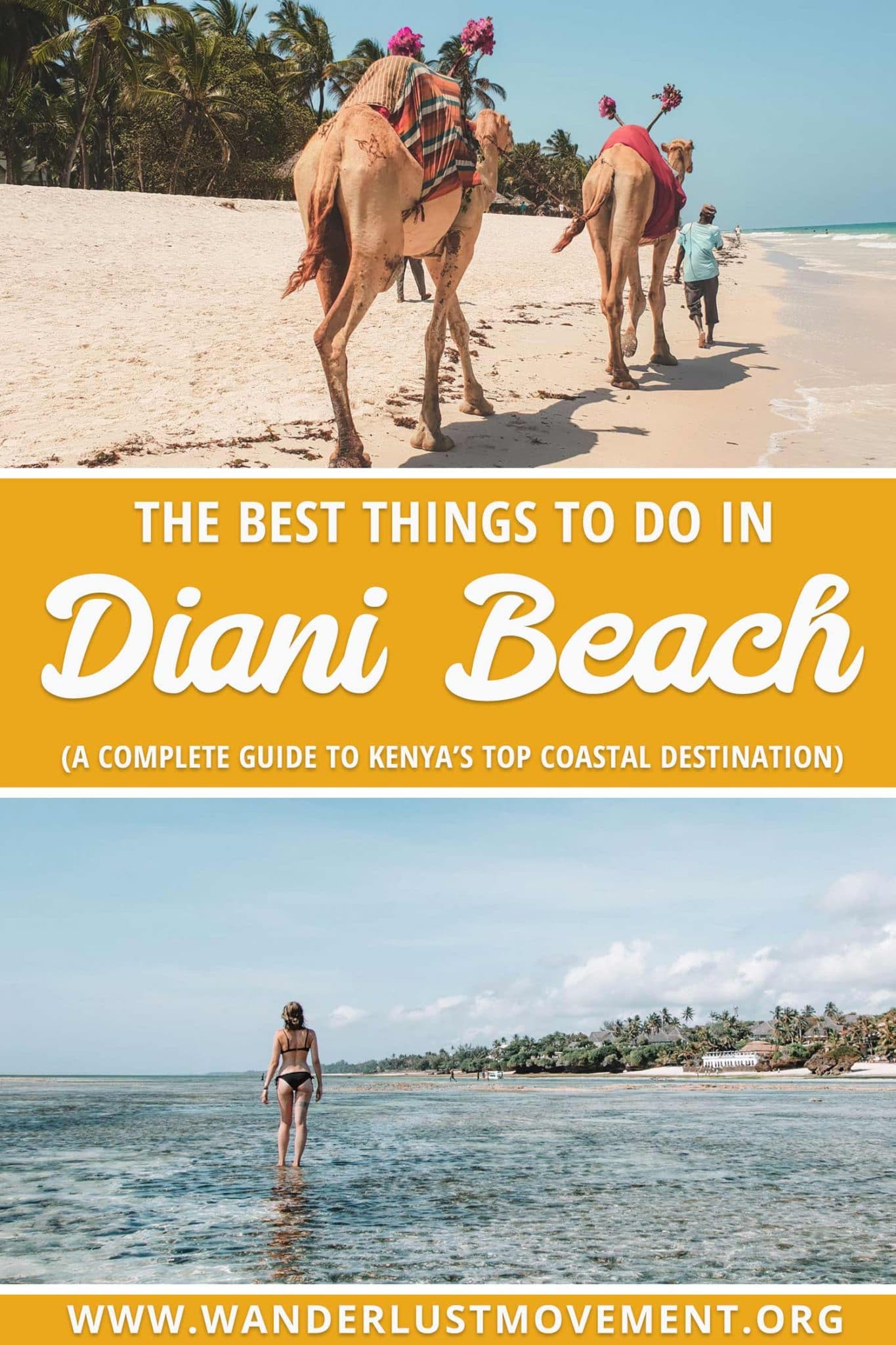 Armed with crystal clear waters, beautiful coral reefs and gorgeous beachfront hotels, here are the best things to do in Diani Beach, Kenya!