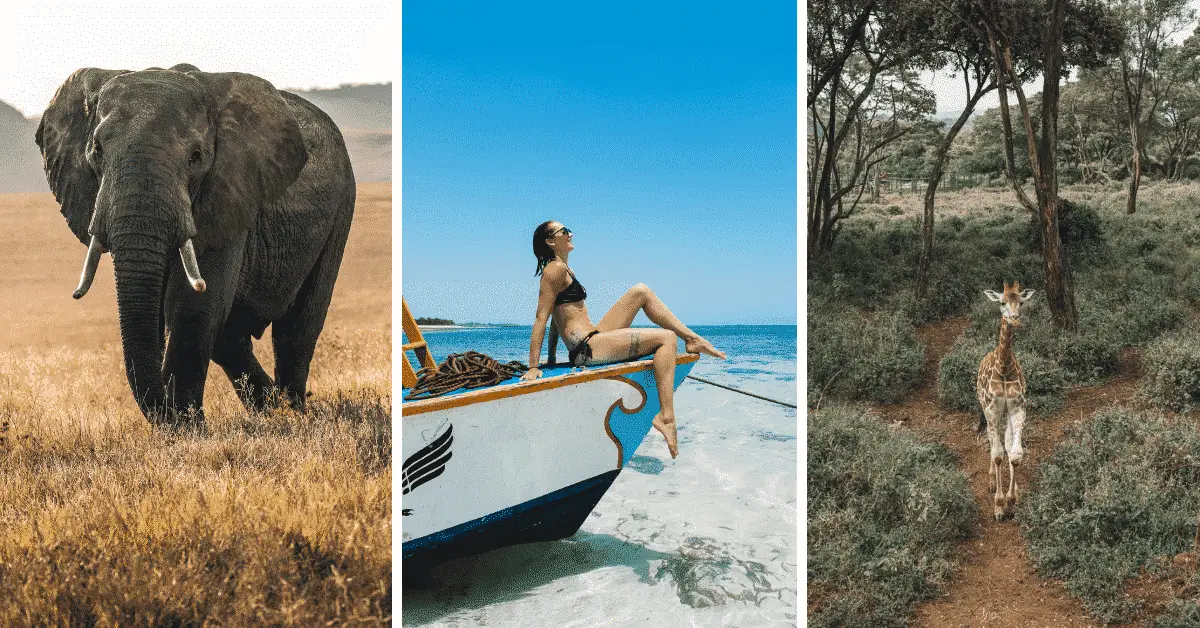 Fun fact: it's possible to travel to Kenya on a budget and today I'm going to tell you how. I mean, let's be real Africa isn't known for being a backpacker's paradise like South East Asia.
Hell, it's sometimes cheaper to fly to Europe than our African neighbours. And with quite a few countries using the US dollar, it doesn't take much to make your wallet burst into years.
But I'm happy to report that Kenya is one of the cheapest African countries I've travelled to over the last three years. I whizzed around the country in dirt cheap domestic flights, I ate my weight in glorious R 3 avocados, and I didn't have to pay for anything in dollars!
If you're heading to Kenya and you want to know how to save your money for travel and make your Rand or Dollar stretch further, ya girl has got your back.
Here's how to travel Kenya on a budget!
How to Find Cheap Flights from South Africa to Kenya
The first step in any budget traveller's plan is to find cheap flights. When I booked my flights to Kenya, I came across an incredible deal on Skyscanner and ended up paying almost half price for my airfare ticket.
If you want to get in on these incredible deals and up your cheap flight game, I've written a full guide on travel hacking tactics I use to get a better price. Earlier this week, I snagged return flights from Johannesburg to Belgium for R 3900.00!
My credit card has never been swiped faster.
But if you're too lazy to read the guide or you're short on time, the biggest takeaway is BE FLEXIBLE with your dates. It's how I find the majority of the deals.
Read More: How To Book Cheap Flights From South Africa To Your Dream Destination
---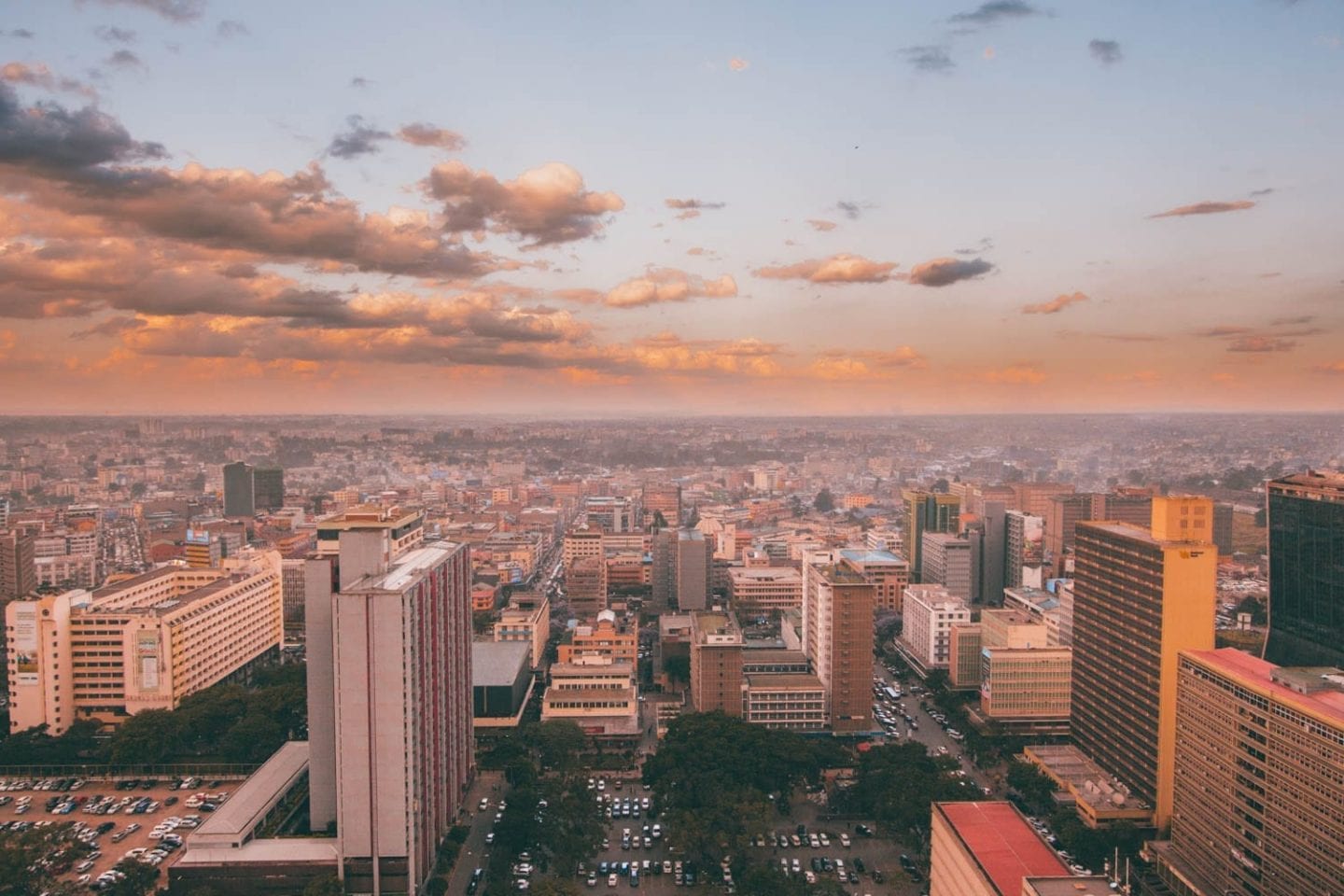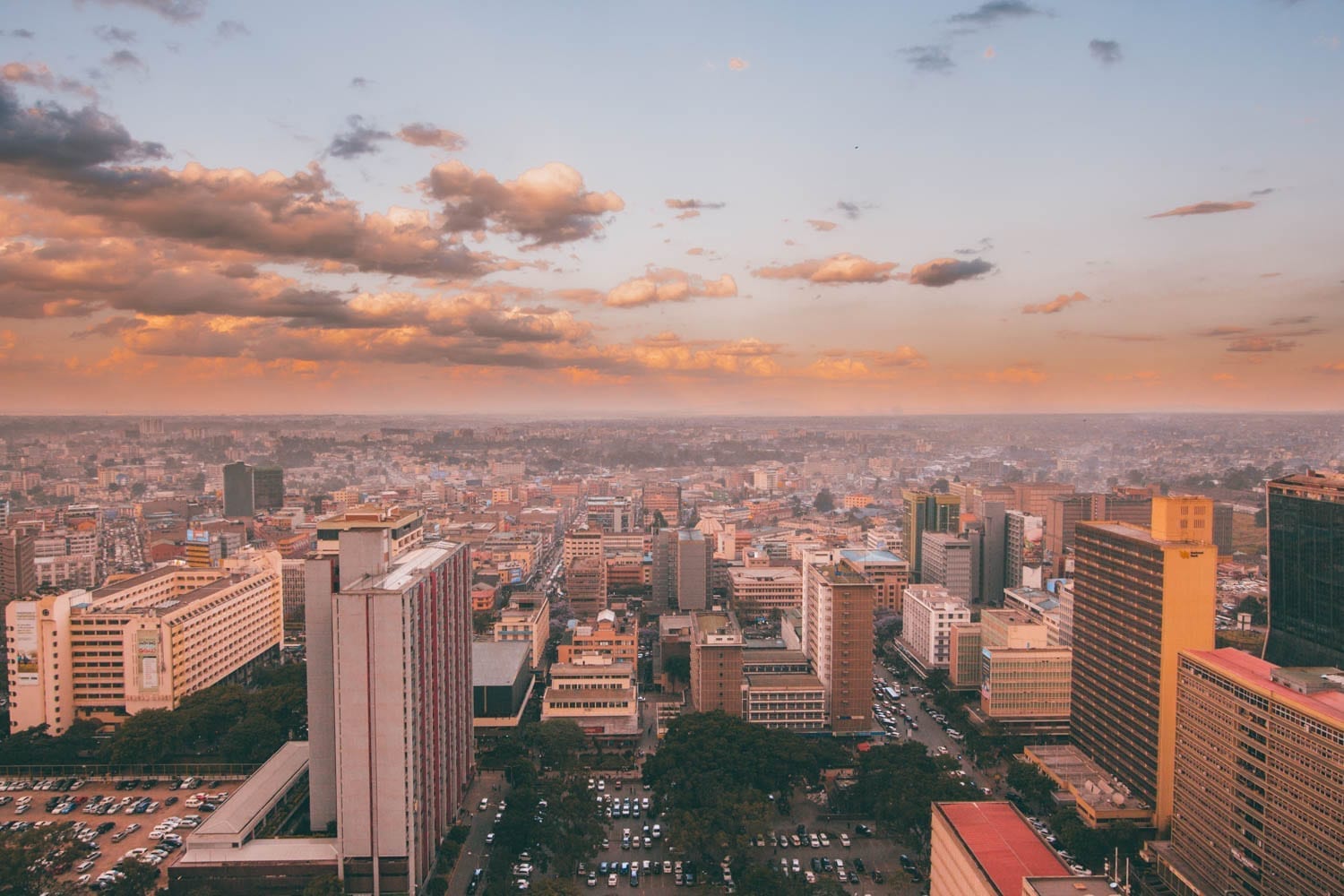 Getting Around Kenya on a Budget
Cheap Domestic Flights
I spent a month in Kenya, basing myself in Nairobi as part of a digital nomad retreat. During the week, I explored the city's delicious restaurant and cafe scene, and on the weekend's I bought cheap flights to Kenya's incredible coastline.
If it weren't for the ridiculously cheap local flights I found, I wouldn't have been able to travel Kenya on a budget and see as much as I did. I found that the best budget airlines were Fly-Sax (I used them for the weekend trip to Diani Beach) and Kenya Airways (I flew with them to Malindi).
I paid around R 1000 ($70) for return flights for both destinations
Nairobi to Mombasa Train
I wish I had the time to take the Nairobi to Mombasa train! It's a high-speed service that shoots across the two cities reducing the travel time from 15 hours to 4h 30 minutes!
Tickets cost Kshs 1,000 ($11) for economy class and Kshs 3,000 ($31) for first class.
As you can see, a return journey costs the same price as return airfare between the two cities. But the train is the better option for the environment if you're trying to reduce your carbon footprint while travelling.
You can buy your tickets at the train station, via Mpesa or through the Madaraka Express website. Book your trip at least seven days in advance as tickets sell out.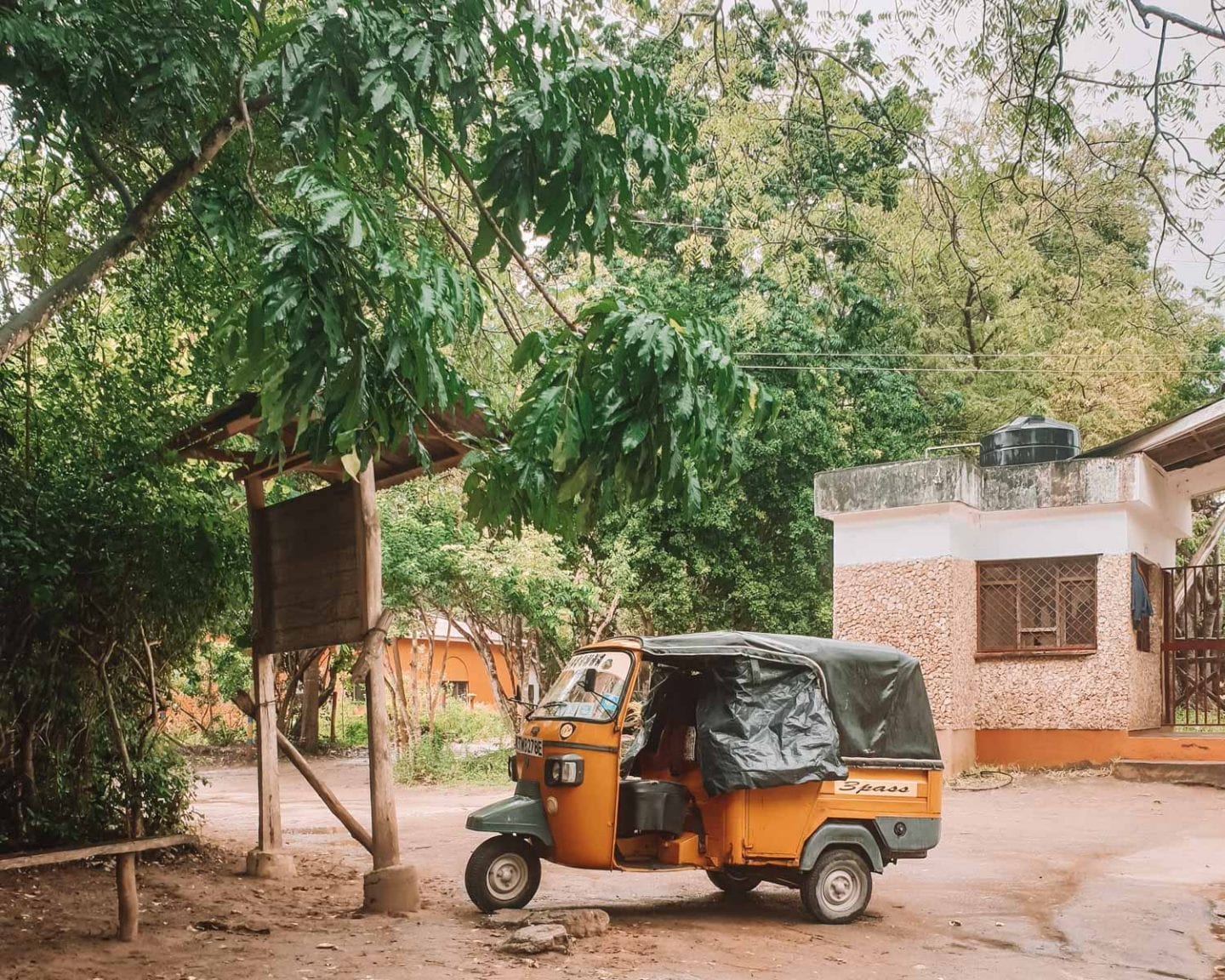 Uber
I don't know what I'd do without Uber in my life. I haven't haggled with a taxi driver in eons, and I don't miss it one bit.
With that off my chest, I spent quite a lot of time in Uber's while living in Nairobi. It's a massive city, and while it's safe to walk around, it's going to take you ages to get anywhere.
(That being said, if you leave your hotel during rush hour in the morning or evening, it will be quicker to walk. lol)
Uber is a safe, reliable way to get around Kenya on a budget. You can expect to pay anywhere from 250 KES (R34 / $2) for a short trip for 350-500 KES (R49-70 / $3-5) if you're gallivanting across the city like me.
Oh, Taxify is also a thing in Nairobi, but I'm brand loyal.
Local Transportation
If you want a unique Kenyan experience, you have to take the local transportation. Just like in South Africa, shared transport is organised chaos is big cities like Nairobi, but there will never be a dull moment.
The bad driving is not for the faint of heart. It's best to close your eyes and only open them again when you arrive at your final destination.
If you don't, you'll squeal endlessly with your eyes bulging out of your head like me.
In Nairobi, you can use the local matatu's (shared minibus taxis) to go just about anywhere. Whether it's a ride through the city or you want to travel further afield to Hells Gate National Park.
If you're visiting one of the smaller coastal towns like Diani Beach and Watamu, you can take tuk-tuks! These little guys are way less scary and are a super affordable way to get around.
I paid 1,500 KES (R200 / $14) to get from Malindi Airport to my hotel with a tuk-tuk. A regular taxi would have cost 2855 KES (R400 / $28).
In Diani, you can get to pretty much anywhere in the town with 50 KES (R7 / $0.50) and a tuk-tuk.
Read More: Travel to Kenya: 15 Useful Things To Know Before You Go
---
Where to Stay in Kenya on a Budget
Nairobi
I don't think Nairobi has great mid-range hotels. The city shines with its apartment rentals. Whether you're an AirBNB'r or you're in a committed relationship with Booking.com, there are tons of super affordable listings to choose from on those sites.
Uptown Studio Flat is a private apartment that costs R 300 per night. It's centrally located, and the apartment comes with a fully equipped kitchenette, a 24-front desk, a private bathroom, a patio, and a garden.
Bring along a friend, and you're each paying R150 a night – that's how much a bed in a dorm room costs!
Diani Beach
Stilts Backpackers is where I wished I had ended up for my weekend away in Diani Beach. It's a beautiful hostel only minutes from the beach and has a delicious on-site restaurant (Stilton Pub) where you can hang out with bush babies every evening. The price for a dorm room is R140 ($10), and you can rent private apartments starting at R350 ($25) per night.
Watamu
Watamu has a lot of bougie all-inclusive resorts, and it's not the most budget-friendly destination in Kenya for solo travellers. If you're on a tight budget, I'd recommend coming here in a group to split costs for accommodation.
I travelled to Watamu off-season (October) and got a really good deal on a room at Mawe Resort Watamu Boutique Hotel. Rooms here are usually well over R 1,000 a night, but my friend and I split a room for R 300 each per night.
Read More: 7 Epic Things to Do in Diani Beach, Kenya
---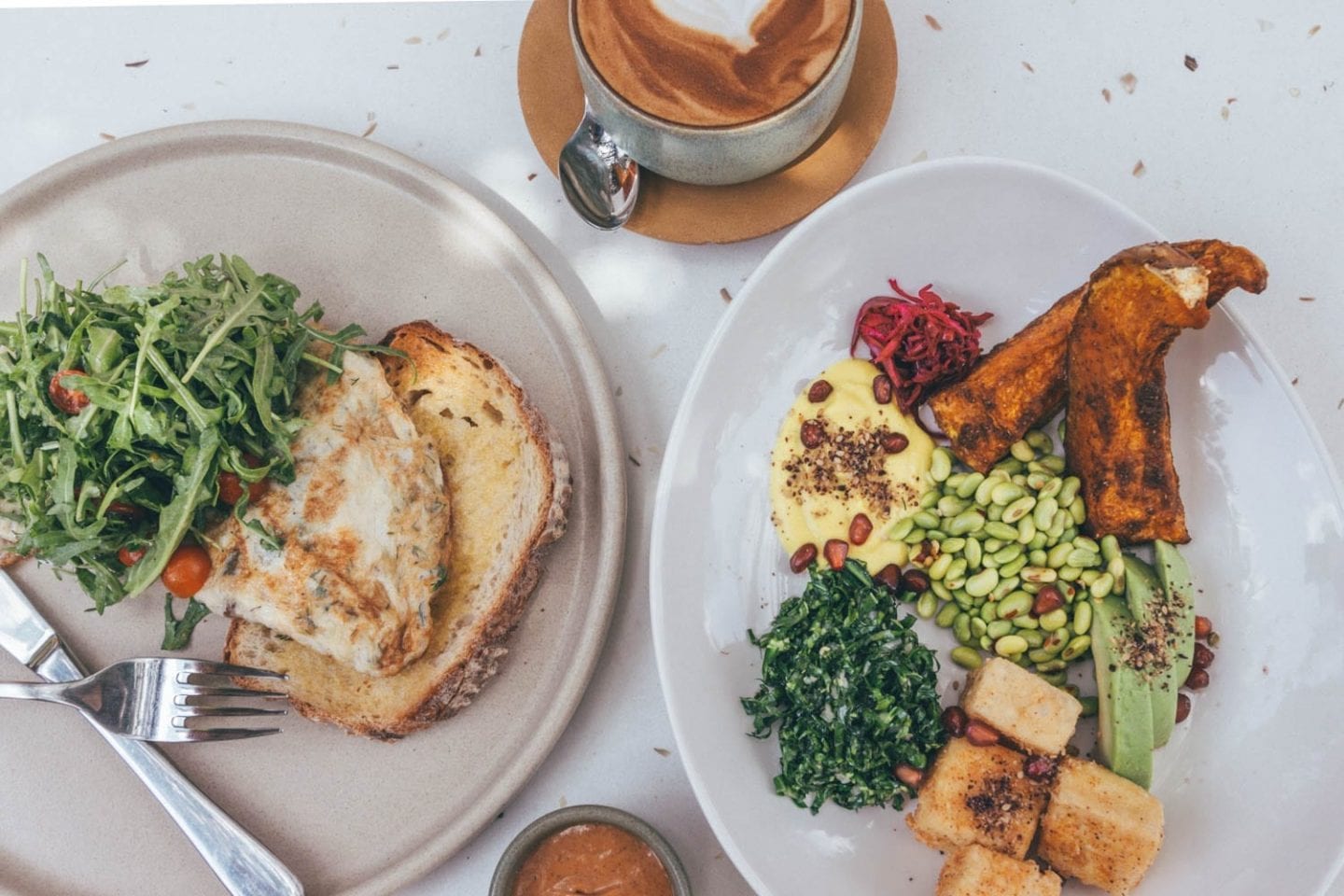 Food Costs in Kenya
When I walked into a Nairobi grocery store for the first time and saw R3 avocados.
I cried a little.
Back at home Woolies was charging R 60 an avocado. I couldn't have avocado toast every morning, the basic white girl inside me had been suffering.
Besides gorging myself on avocados for an entire month, I cooked most of my meals at my Airbnb, or I gave into UberEats. Here are some of the prices for food in Kenya to give you an idea of how affordable the city is for budget travellers.
Here are some of the prices for groceries I bought during my one month stay in Nairobi:
Avocado: 10 – 20 KES (R1.38 – 2.76 / $0.099 – 0.20)
Cereal: 650-800 KES (R90 – 110 / $6-8)
Pasta: 130-230 KES (R18 – 32 / $1-2)
Vegetables: 20 – 40 KES (R3-6) per item
Here's what you can expect to pay when eating out at restaurants or on UberEats:
Cup of coffee: 170 -240 KES (R23 – 33 / $1.60 – 2.37)
A large bottle of local beer (600 ml): 200 KES at local places and 300-350 KES at upscale spots.
Fresh orange juice: 400-500 KES (R55.23 – 69.04 / $3.95 – 4.93)
Meal at a kibanda (roadside food stall): 300 KES (R41.42 / $2.96)
Meal at basic restaurant/coffee shops: 700-900 KES (R96.95 – 124.26 / $6.91 – 8.88)
Meal at a mid-range restaurant: 1100 KES and up (R151.88 / $10.86)
Read More: The Best Restaurants in Nairobi for Vegans
---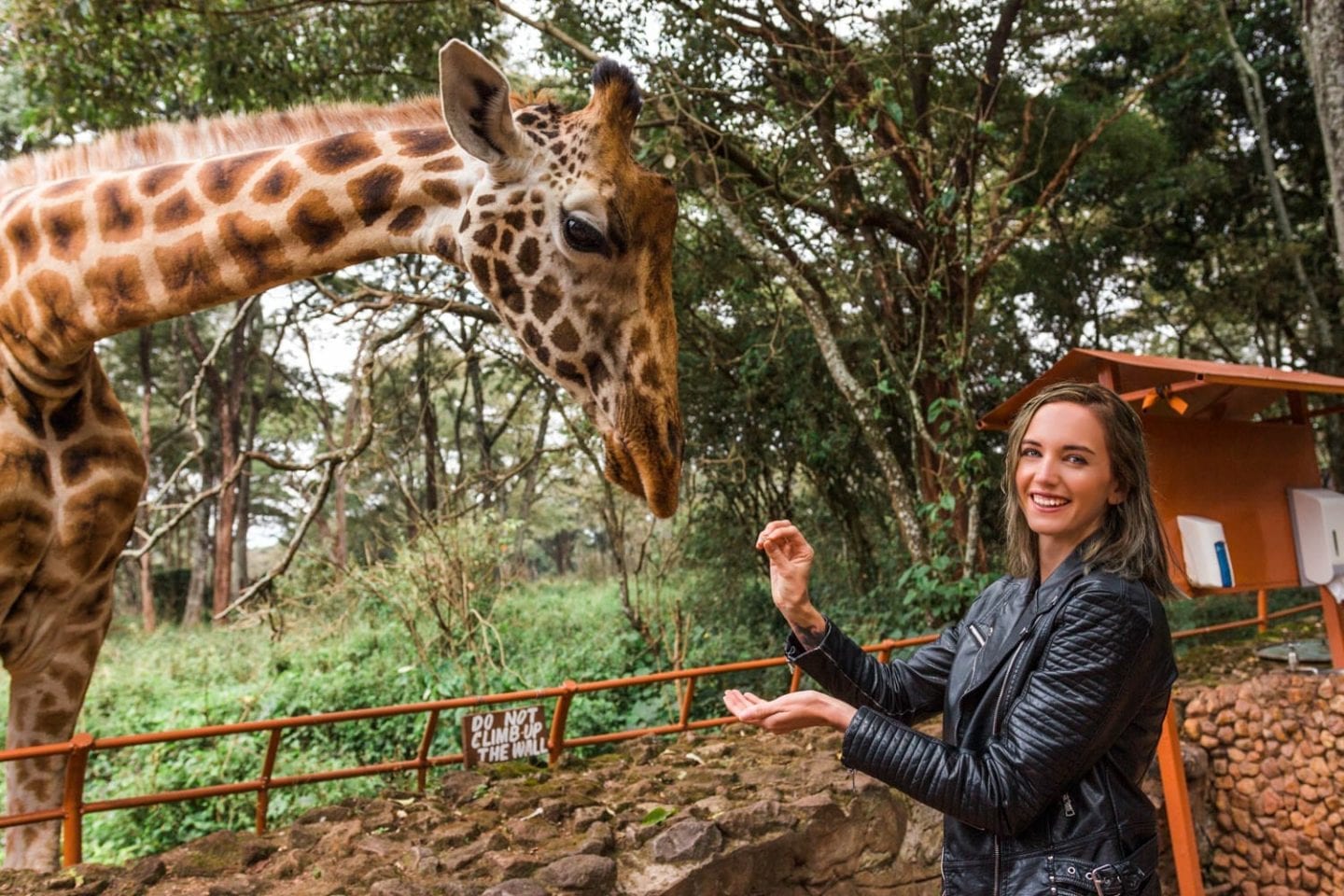 Activities in Kenya on a Budget
Giraffe Center
How often in your life are you going to get to feed giraffes? The majority of the world: 0
But if you're in Nairobi, you'll be one of the few people in the world who will know the texture of a giraffes tongue.
The Giraffe Center is one of the best things to do in Kenya on a budget. It's also the closest your frugal ass is going to get to stay at Giraffe Manor which is on the same property.
The centre is open every day from 9 AM to 5 PM, and I'd suggest getting there as soon as it opens to avoid the tour group crowds.
You'll also need to bring along a card that has been authorised for international payments. The Giraffe Center doesn't accept cash payments, only card or Mpesa.
Entrance for Non-Residents: 1000 KES (R138 / $10)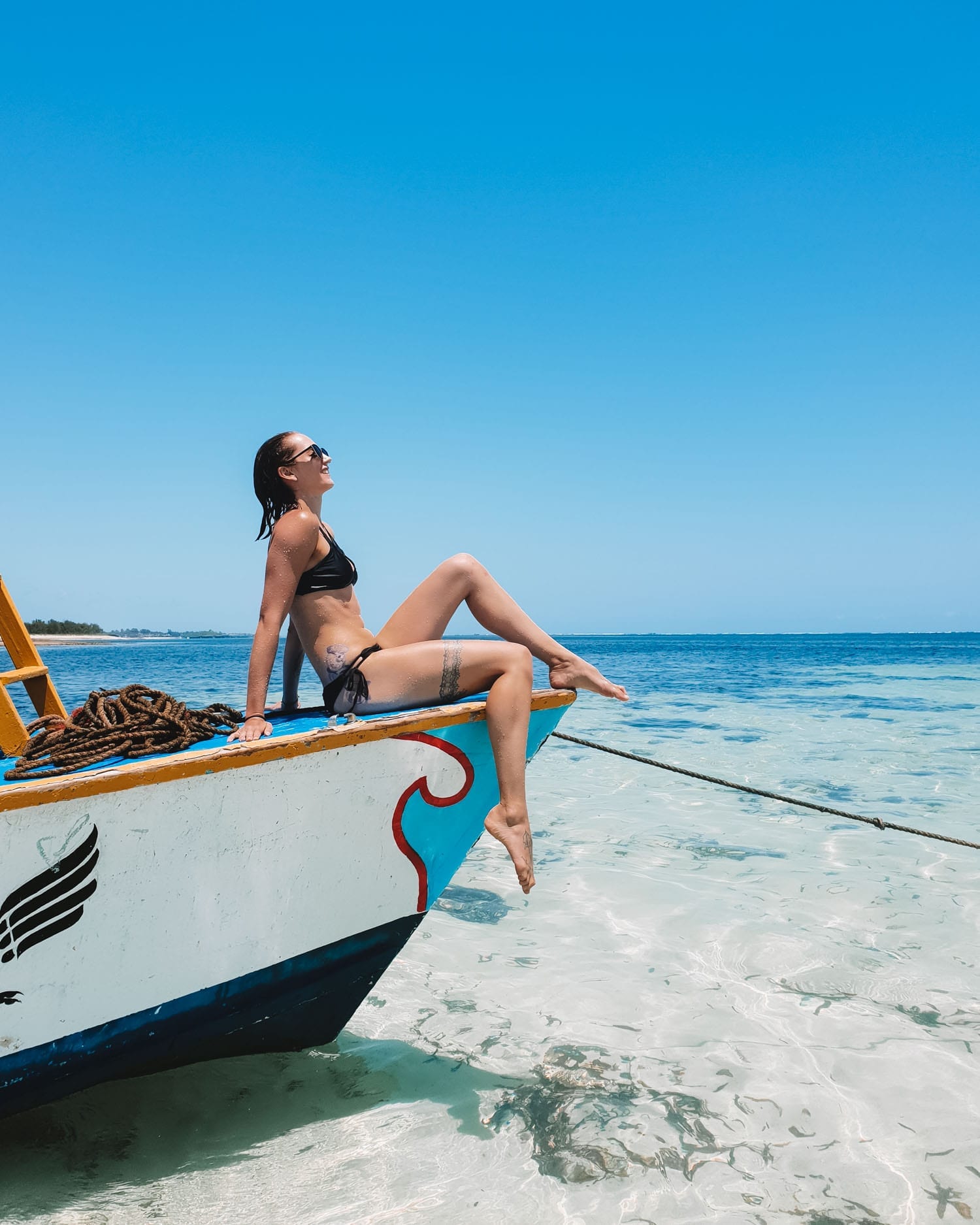 Private Snorkelling Half-Day Trip in Watamu
Besides the crazy hotel prices, Watamu is one of the best places to visit in Kenya on a budget. You can go on a PRIVATE half-day snorkelling trip in the beautiful Watamu Marine National Park for only 5000 KES (R690 / $ 50)!
When I went, I split the cost with two girls, bringing down the price to only 1,666 KES (R230 / $16) per person.
The marine park has some of the best snorkelling conditions I've ever come across, and the reefs are healthy and full of all kinds of creatures. If you're lucky, you might even catch a glimpse of a sea turtle and some spinner dolphins.
You also don't need to organise your trip in advance. All you need to do is go to the Blue Bay entrance first thing in the morning and hire a guide.
You will need to pay in cash, and the half-day trip fee doesn't include the marine park entrance fee ($17 / R230)
Total Cost for a Solo Traveller: R920 / $66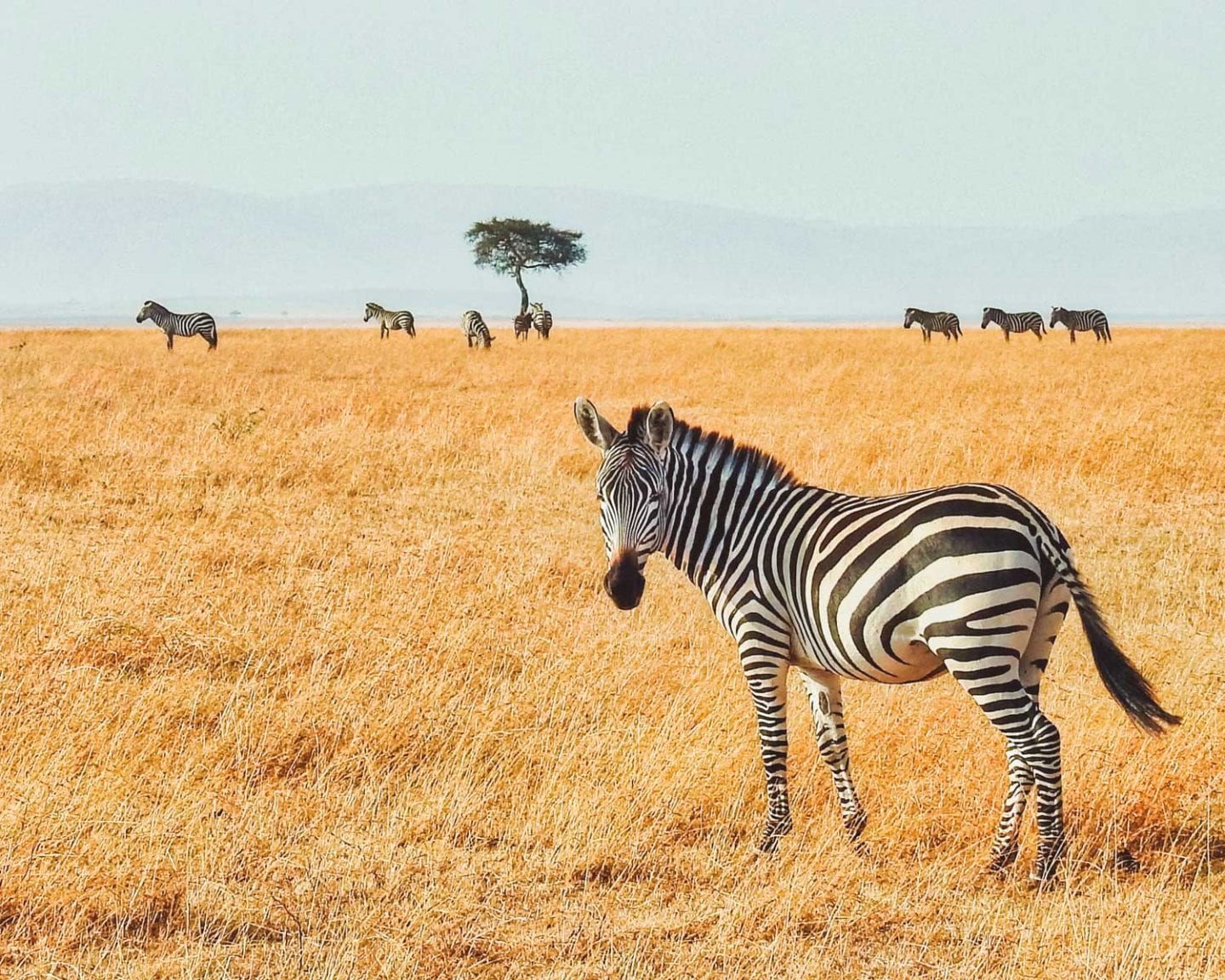 Walking Safari in Hells Gate National Park
Despite the deceiving name, you won't find demons lurking in Hells' Gate National Park or a gateway to the underworld. Instead, you'll want herds of zebra, giraffe, eland and more!
The best part? There's no predator's in the park so you can go on a self-guided walking safari and see them up close!
Hells Gate National Park is an easy day trip from Nairobi. If you don't want to rent a car, you can catch a local matatu to the town next to the park and get a local taxi to take you to the park's entrance.
Or if you're feeling bougie, you can sign up for a day trip with various tour companies in Nairobi. It's not cheap, but it' convenient.
With the entrance to Hell's Gate costing $26, I highly recommend staying over at one of the nearby lodges or backpackers so you can have a full day at the park. The park opens at 6 AM closes at 6 PM, and with so much to see and do – you'll want to get your money's worth.
Hell's Gate National Park does not accept cash – you'll need to pay with a credit card or Mpesa.
Entrance Fee: $26 (R350)
Bush Babies
If you're planning to visit Diani Beach while you're in Kenya, you can feed bushbabies (also known as Galagos) for FREE at Stilts Backpackers. Feedings take place every evening at 7 pm and as cute as the babies are, you're not allowed to touch them.
Total Price: Free!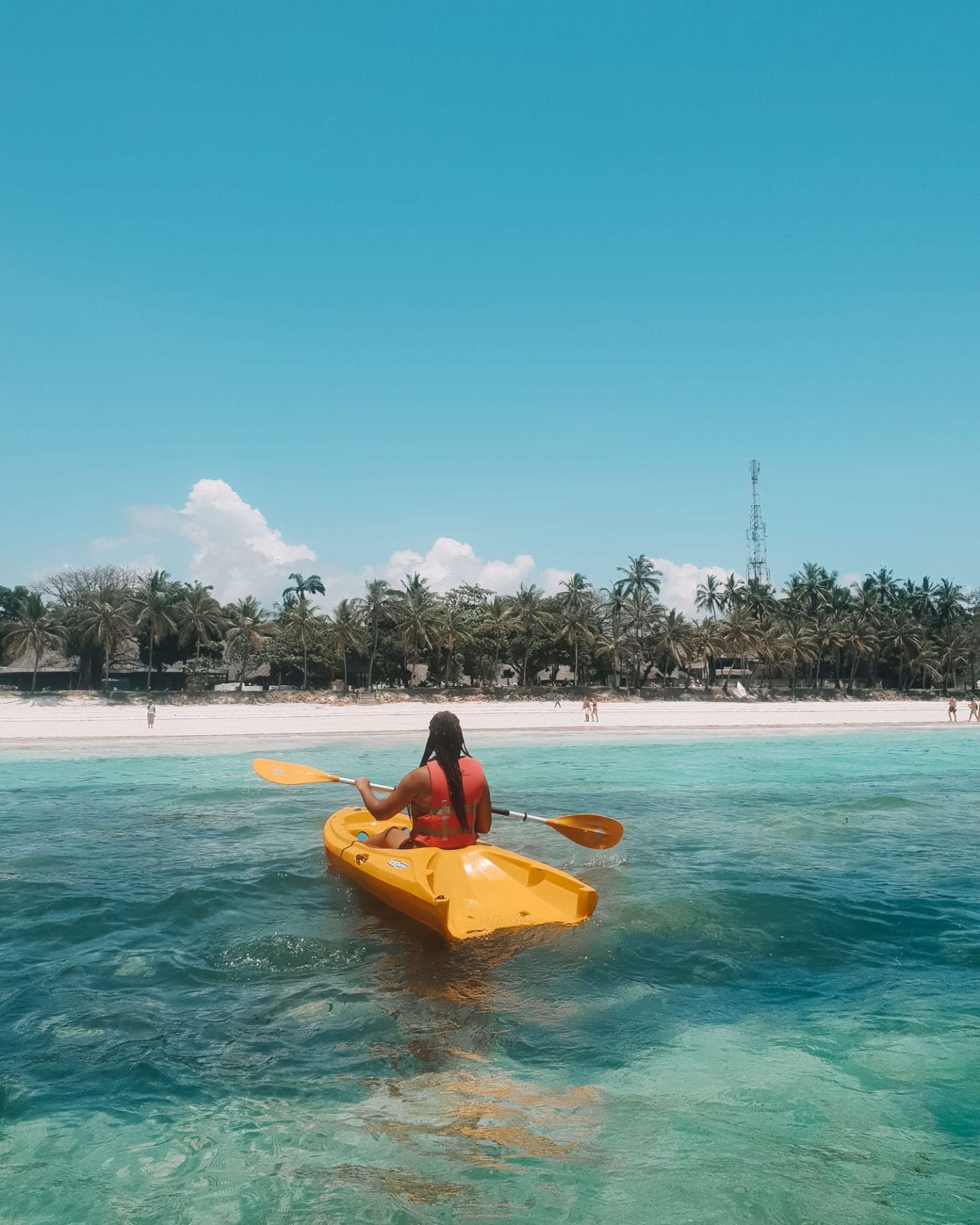 Stand Up Paddle Boarding or Kayaking
There are loads of places in Watamu and Diani Beach that rent out SUP boards and kayaks. You can expect to pay around R160 ($11) for an hour, or you can sign for a one hour lesson that will cost R400 ($29).
Total Price: R160 / $11
Visit the Golden Spider Restaurant in Watamu
Crab Shack is one of the best restaurants in Watamu. The restaurant is famous for its population of giant spiders that spin beautiful golden webs all over the property.
It's not the kind of place you'll want to bring your arachnophobia friend.
Set on the banks of the Mida Creek, Crab Shack is a popular spot for sunset. You'll have an interrupted view to watch the day end in one of the most picturesque destinations in Kenya.
If you want to come here for dinner, you'll need to phone ahead to make a reservation for 6:30 pm. If your name is not on the list, you'll be charged an entrance fee, and you'll get a shitty non-sunset facing table.
While the restaurant does specialise in seafood, the menu does have vegan and vegetarian-friendly options! Plus, the bar serves up one of the best Dawa cocktails I had in Kenya!
Total Price: R 80 ($5) +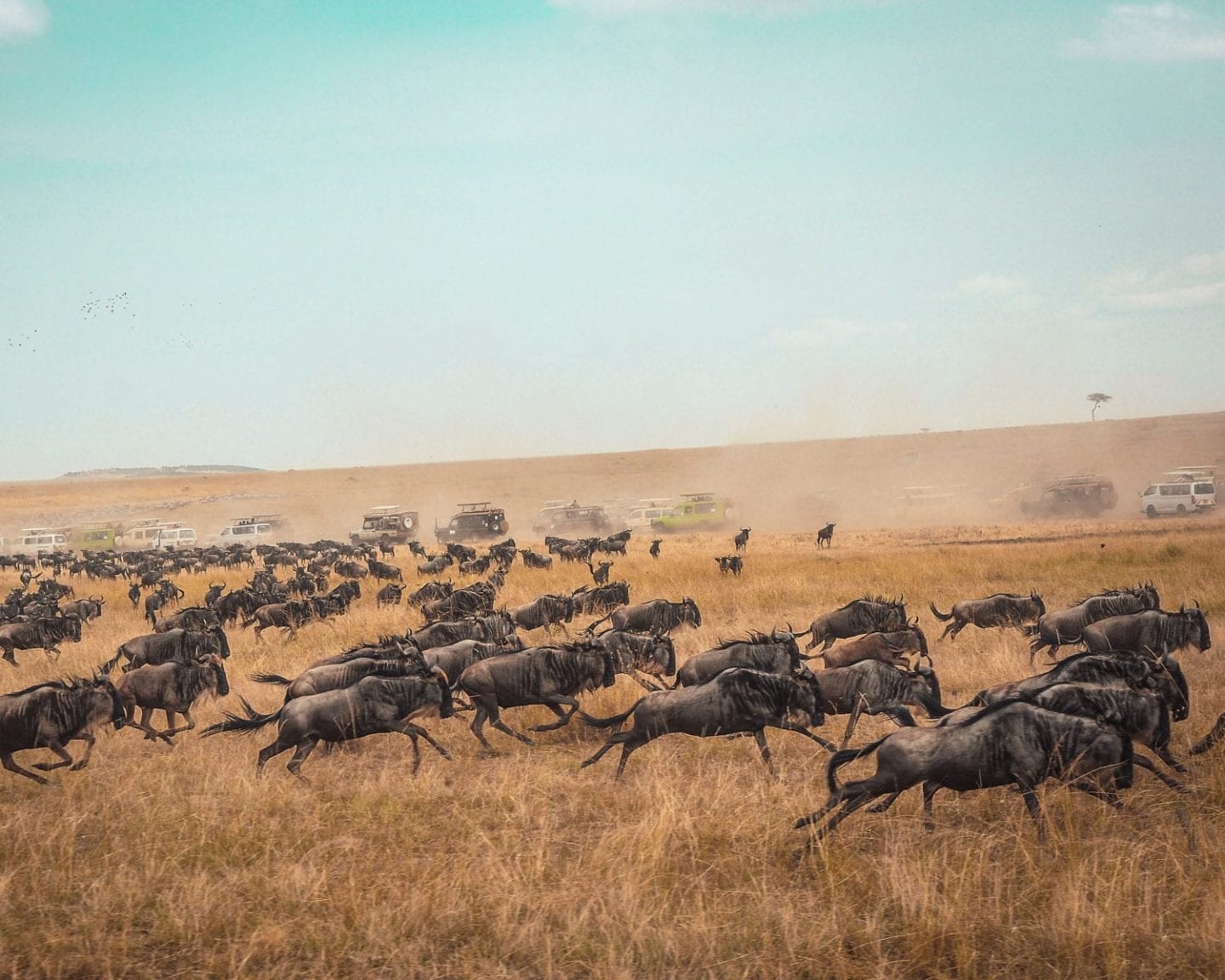 Masai Mara on a Budget
Visiting the Masai Mara on a budget is possible! And by that I mean, you'll pay slightly less out of your ass than usual, but your wallet will still feel a bit of a sting.
Mara Explorers Camp offers some of the best prices for travellers wanting to go on a budget safari in Kenya's Masai Mara.
You'll be staying outside of the park, which already brings down the cost by a whole lot. If you book accommodation inside the park, you'll have to pay $80 for each day you're in the park on top of your safari.
Here are the prices for a two-night-three-day budget safari in Masai Mara with Mara Explorers Camp:
Price based on 1 adult USD 1590
Price based on 2 adults USD 960pp
Price based on 3 adults USD 750pp
Price based on 4 adults USD 650pp
Price based on 5 adults USD 590pp
Price based on 6 adults USD 540pp
The price includes pick up and drop off in Nairobi and all your Masai Mara entrance fees.
Now would be a good time to start making friends. So you can slowly brainwash them into coming with you and avoid paying that painful single supplement fee.
**Mwahahahahahaha**
---
Do you have any tips for travelling Kenya on a budget? Anything that I missed that you think budget-travellers need to know? Hit ya gurl up in the comments!
Psst…Want more Kenya travel inspiration? Check out my other posts below:
?If you like it, then you should put a pin on it ?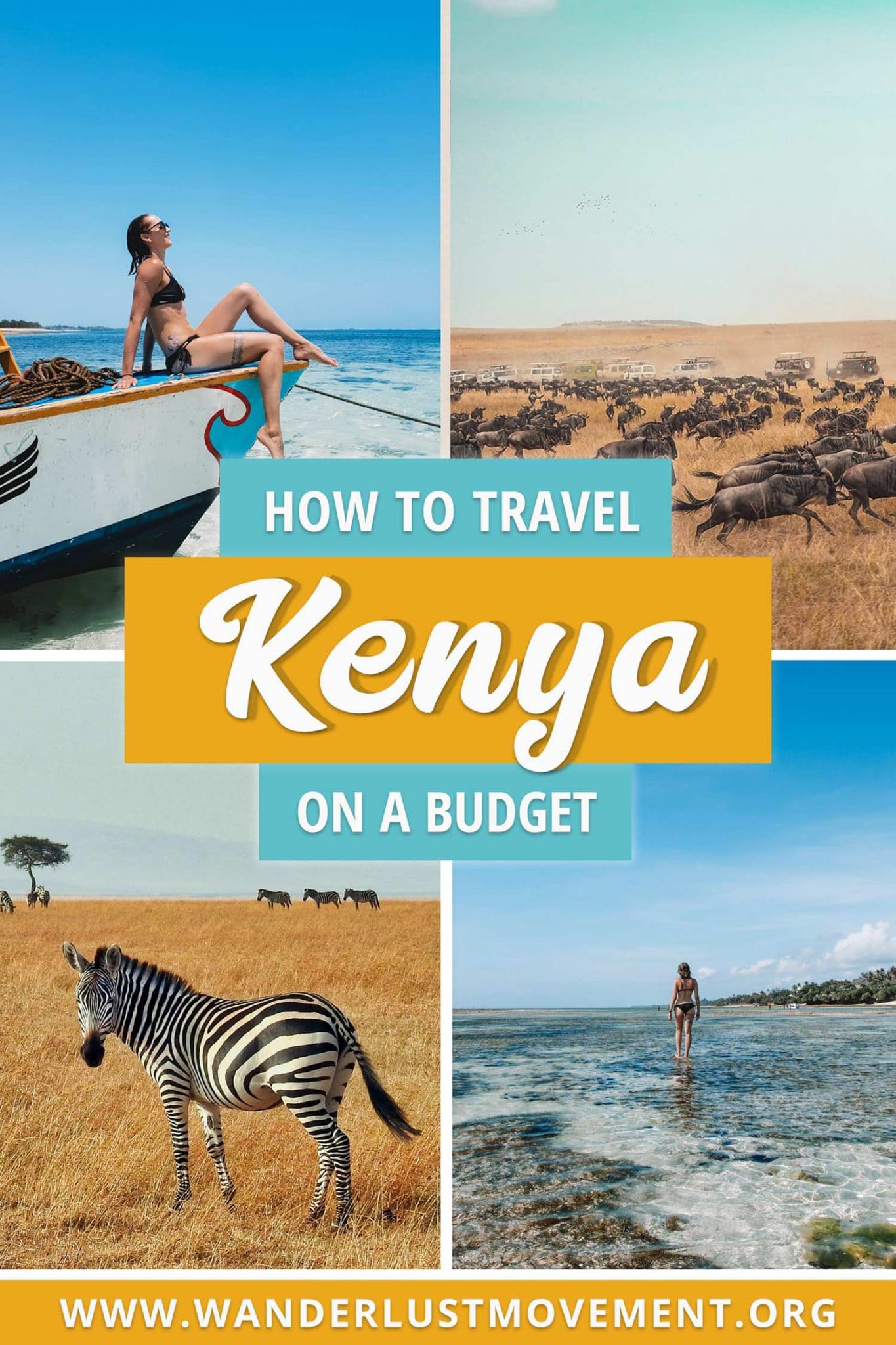 From budget Masai Mara safaris to avocados for less than $1 and private tours for $16 - here's how to travel Kenya on a budget!