Last Updated on March 12, 2021 by lauren
Wine and luxury go hand in hand, and no one does those two things better than Western Cape. Home to an abundance of wine farms and boutique guest houses, South Africans are spoilt for choice when it comes to planning a romantic weekend away to the Winelands.
Recently, I was lucky enough to spend a night at Andreas Guest House in Wellington during my last trip to Cape Town. While the rest of the region is still recovering from the drought, Wellington seems to have escaped the worst of it.
The mountains and wine farms are beautiful shades of green, a stark contrast to the dusty, dry landscape you drive past on your way to the property.
If you're looking for some inspiration for your next weekend away, here's what you can expect at Andreas Guest House in Wellington!
---
How to Get to Andreas Guest House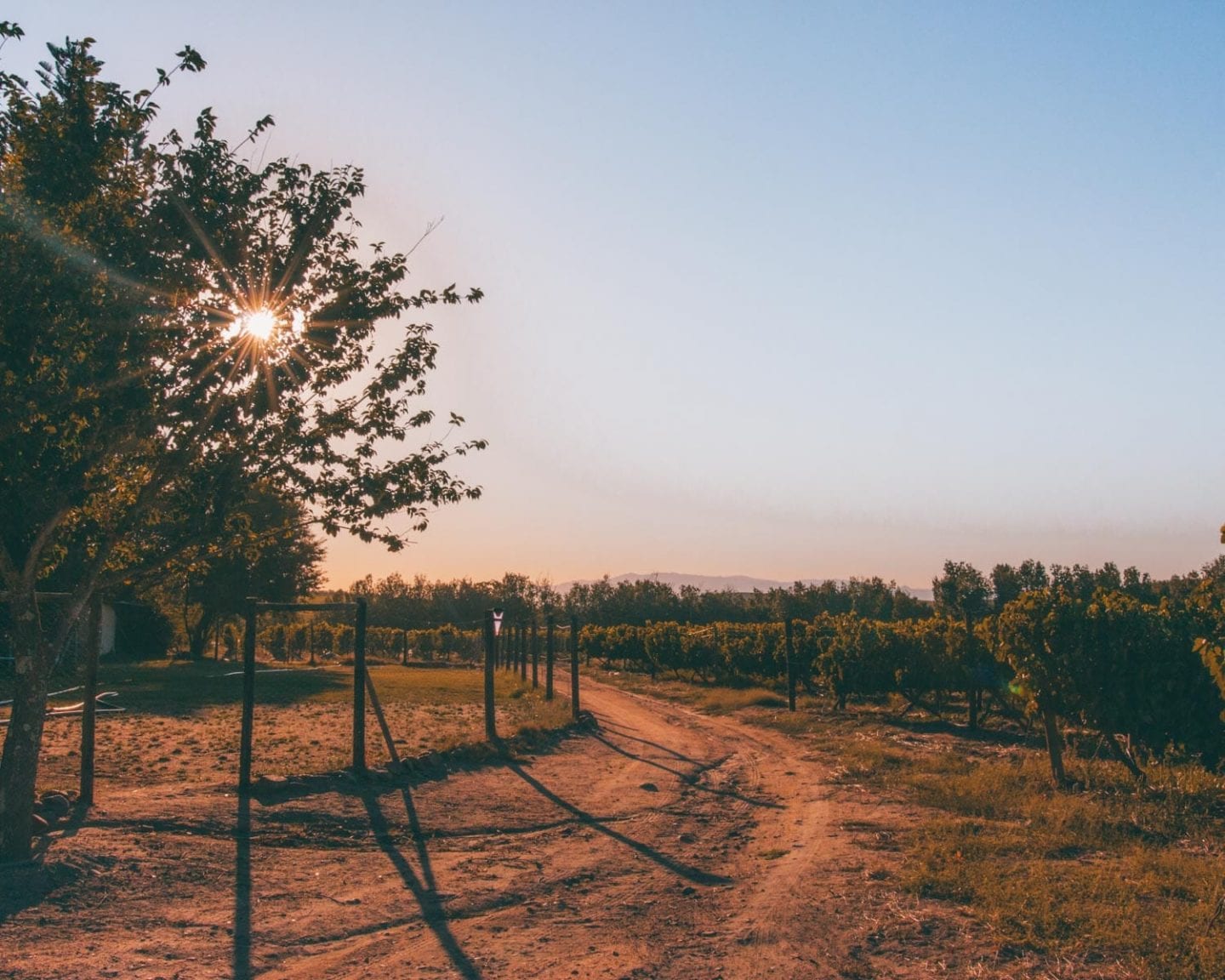 Andreas Guest House is located in Wellington, a picturesque town that's only an hours drive from Cape Town. The region is famous for its award-winning wines and is also South Africa's sole whiskey producer.
To get to Andreas, all you need to do is hop onto the N1 and take the R44. Once you turn into Wellington, it's only a few more turns before you'll find yourself on a dirt road pulling up to the estate's gates.
---
Andreas Guest House
Andreas Guest House is a beautiful refurbished Western Cape Dutch house from 1799. Through the renovations, the owners have taken care to restore details that help give the property its old-world romantic charm.
The floorboards still have subtle squeaks when you walk past, there are doors with their original handles, and the decor is comfortable and stylish.
The house boasts four luxury bedrooms with en-suite baths as well a common area with three lounges, a dining area, an outdoor patio, and a pool.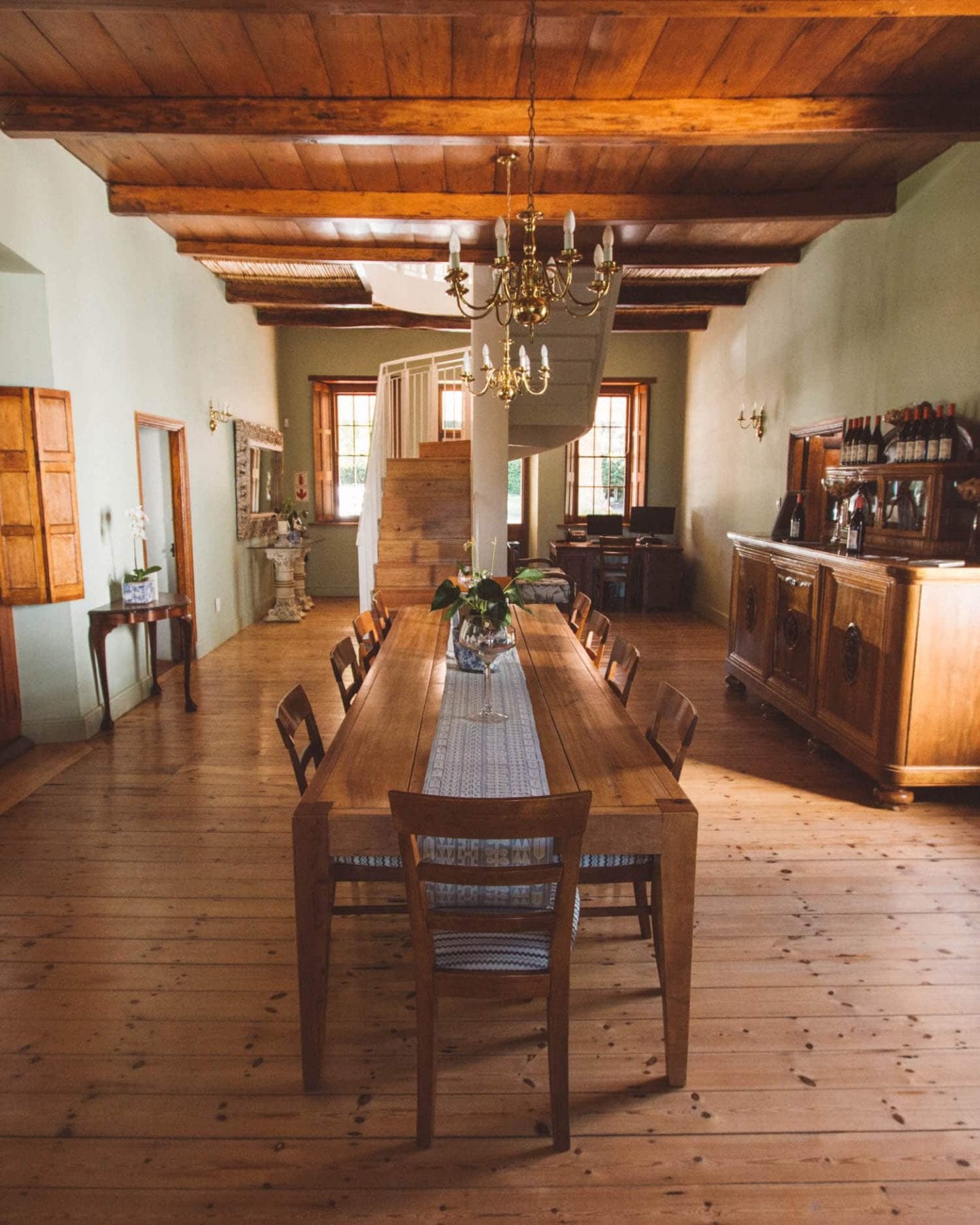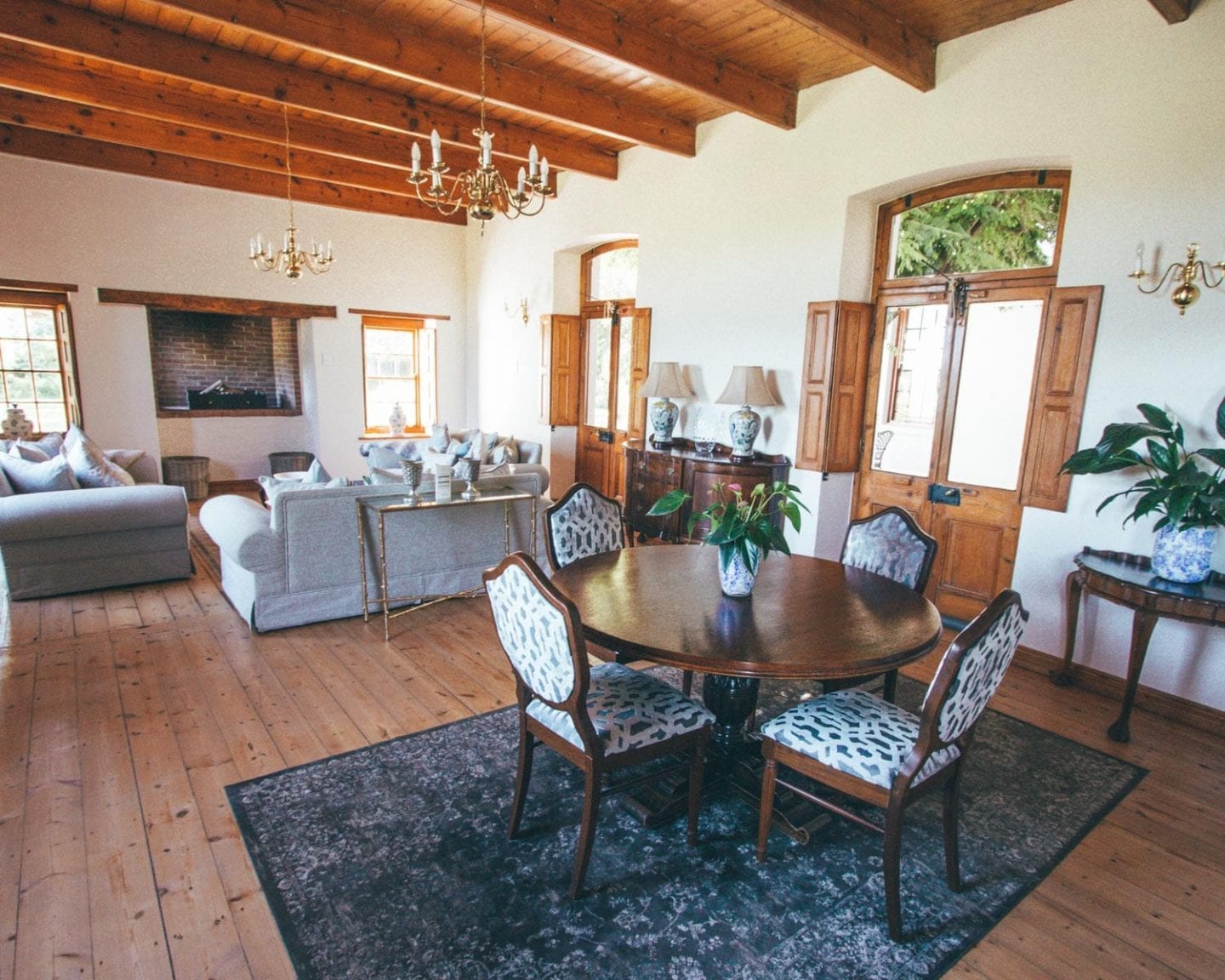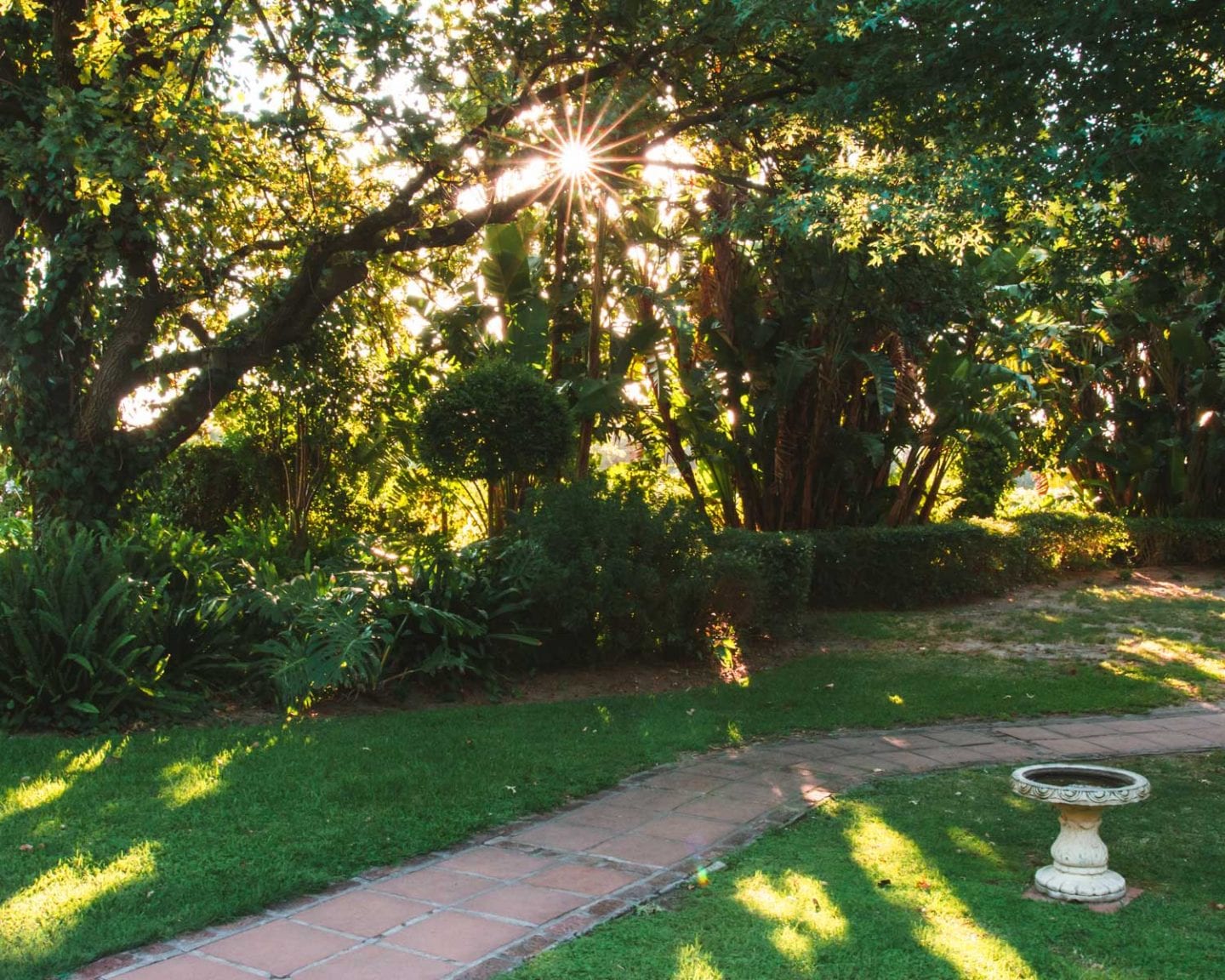 ---
The Rooms
The owners of Andreas Guest House spared no expense when it came to decorating their luxurious bedrooms. The beds are fitted with Egyptian cotton sheets, beautiful throw pillows, comfy his & her robes and every detail is carefully thought out.
The gorgeous en-suite bathroom is the star of the room. It features a massive shower that's big enough for at least ten people (in my opinion) and a gorgeous bathtub that made me regret not bringing along a Lush bath bomb.
Andreas Guest House has expertly used the space they have to make the rooms look and feel bigger. The neutral colour palette helps them achieve this goal as well as design hacks like hiding a mini office and a small fridge in one of the closets.
Every piece in the room feels intentional, and while each room packs a punch with what it offers, it never feels overwhelming.
It's luxurious minimalism at it's best! 
---
Food + Drink
Breakfast is included at Andreas Guest House. Once you arrive, you'll fill out a form where you can request what you'd like to eat and drink.
As a vegan, the chefs were able to accommodate me, and I didn't go hungry. I ordered a fresh bowl of fruit, toast, grilled mushrooms and tomatoes for breakfast and washed it all down with black coffee and fruit juice.
For lunch and dinner, there are three nearby restaurants: The Stone Kitchen, Oude Wellington Restaurant and Piza e Vino.
I only had time for one during my visit and decided to check out Piza e Vino.
Mountains, vineyards and olive gardens surround the restaurant. If you're coming here for dinner, I recommend arriving an hour before sunset and grabbing a table at the outside patio for sundowners and a gorgeous view.
The menu is traditional Italian food, and there are options for vegetarians and vegans. Piza-e-Vino also has an excellent award-winning wine menu to indulge in as well.
---
 Activities at Andreas Guest House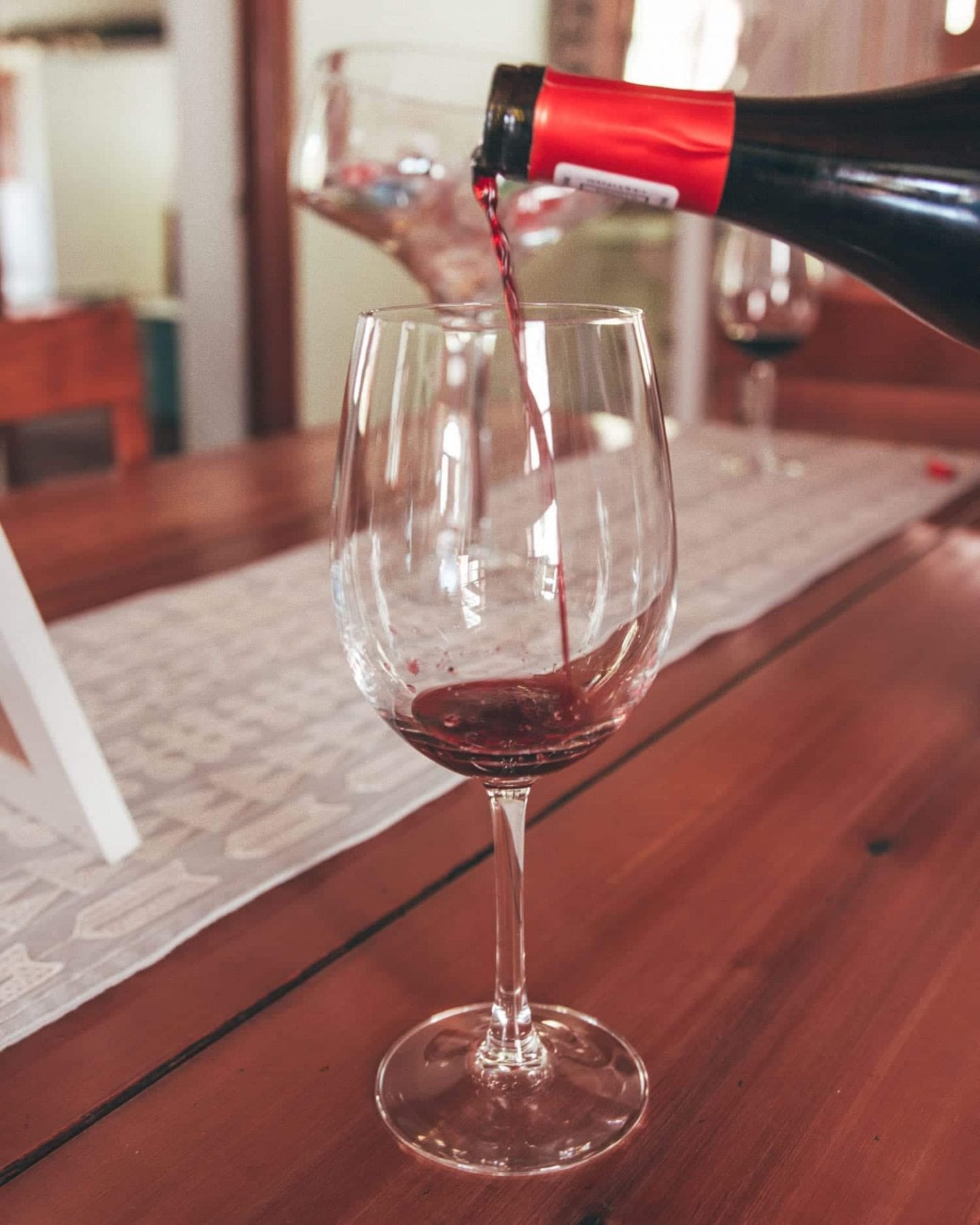 Wine Tasting
One of the best things about booking a romantic weekend away to Andreas Guest House is the wine. The property offers private wine tastings to all guests, and you get to go on a tour to see how Andreas creates their award-winning Shiraz.
I'm not usually a red wine person, but I really enjoyed their vintage. It's a smooth wine and perfect for someone like me who doesn't appreciate the tannin effect of red wines.
But your wine tasting adventure doesn't have to stop at Andreas! You can always wander off to any of the other nearby wine farms and create your own wine route for the weekend.
Hiking
Wellington is home to quite a few hiking trails that you can easily reach from Andreas Guest House. There are three day routes that you can explore: Bobbejaans River Trail, Rock Hopper Trail and the Happy Valley Trail.
You will need to purchase permits for these hikes from Cape Nature in advance.
Spa
Andreas Guest House can organise a variety of spa treatments while you're on the property. You will need to give them at least a day's notice as it is a travelling spa and bookings need to be made in advance.
Some of the spa treatments include massages, manicures, pedicures, waxing and facials. You'll find a full list of treatments in your room, or you can request the menu from reception before you arrive.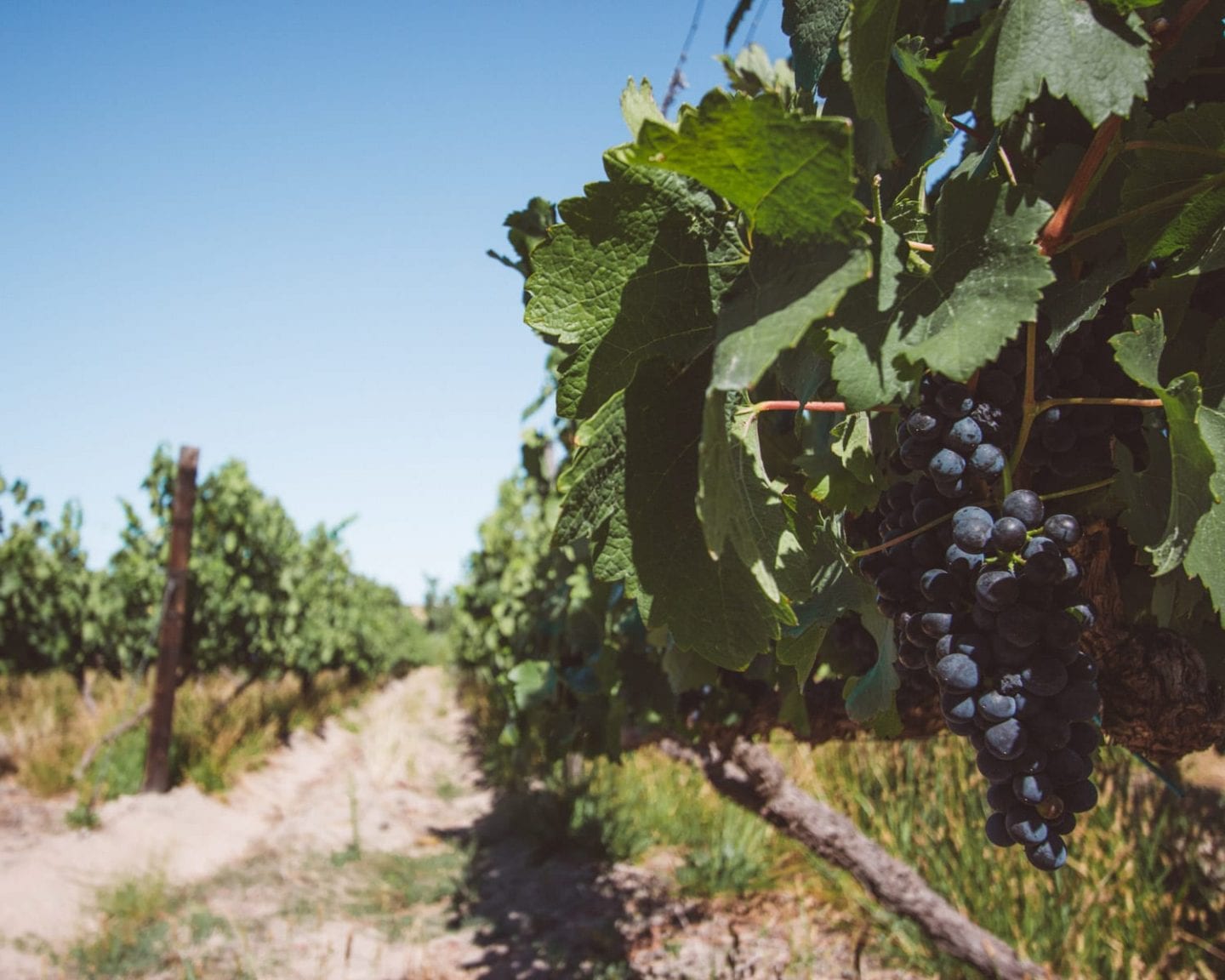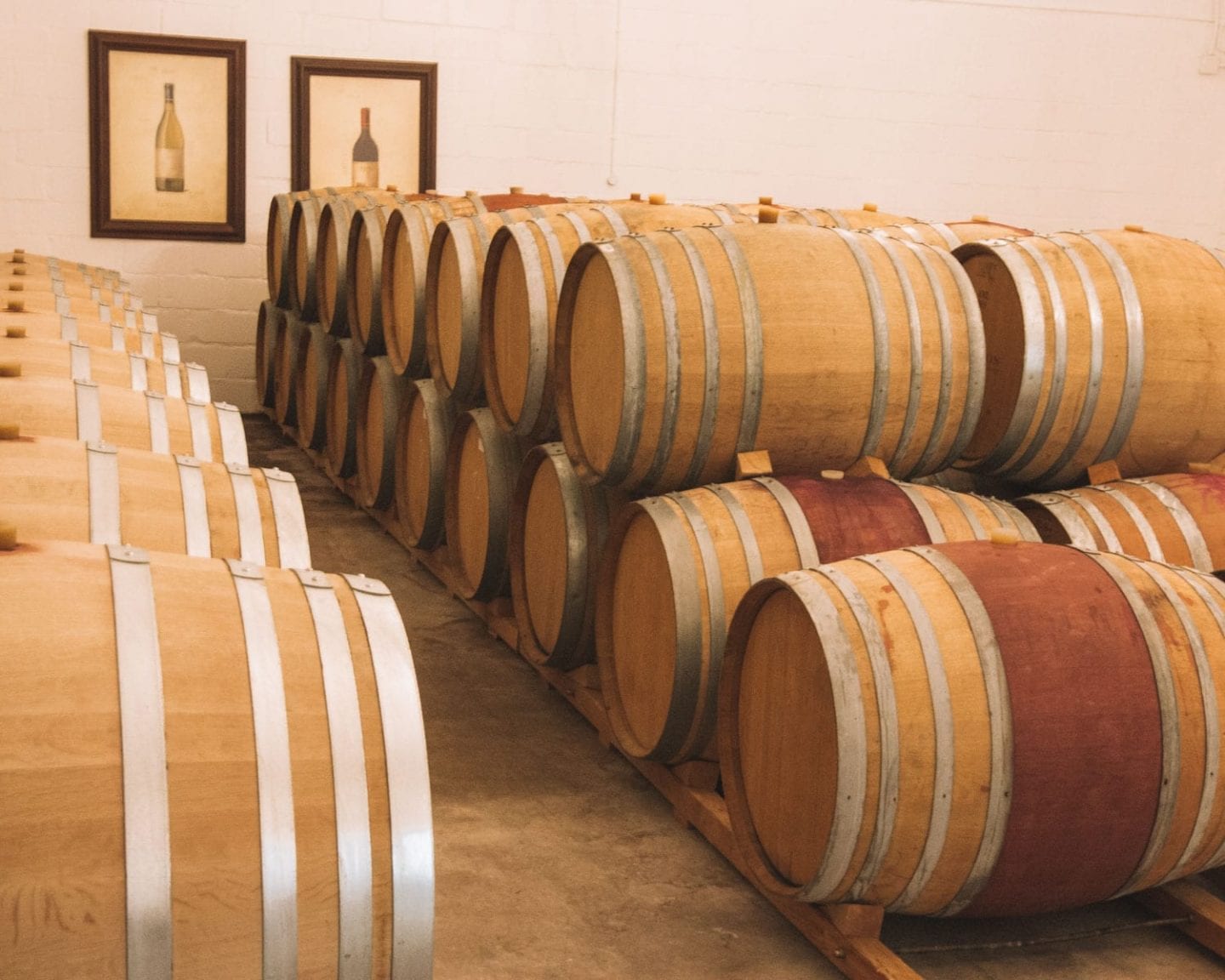 ---
 What I Think of Andreas Guesthouse
Andreas Guest House is the perfect romantic getaway for couples in South Africa who are passionate about wine,  exploring nature and the finer things in life. It's only a short drive from Cape Town, making it an ideal weekend away if you're looking to celebrate an anniversary or just spoil your partner.
The biggest takeaway I got from my stay here is the personal touch. The property doesn't feel sterile, and the staff are incredibly warm, welcoming and go out of their way to make sure you're enjoying your stay.
Thank you for Andreas Guest House for inviting me to their property! As always, all opinions are my own.
---
Psst…Want more travel inspiration for South Africa? Check out my other posts below:
Did you find this post useful? Save it for later on Pinterest!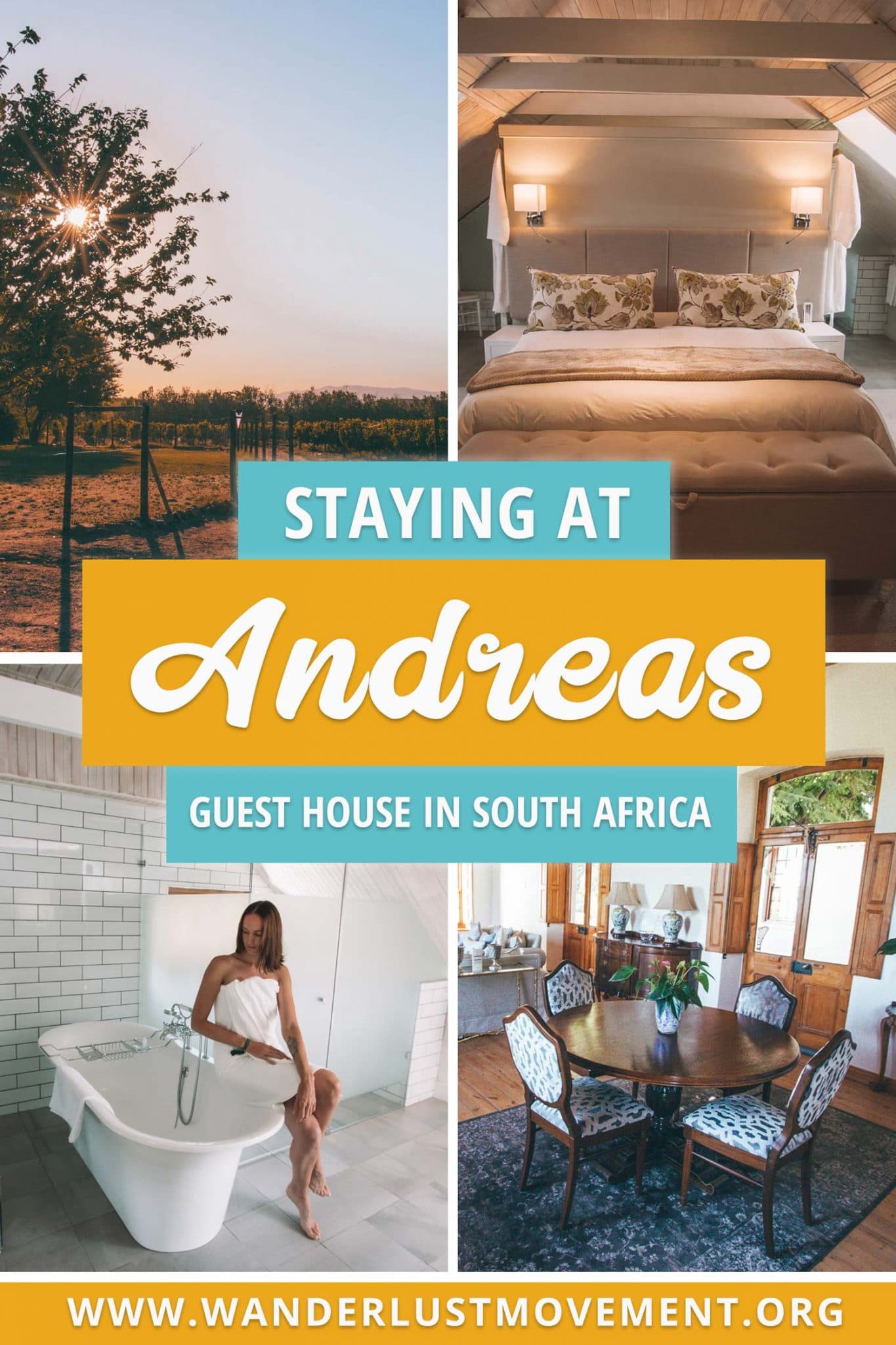 Andreas Guest House is a luxury getaway in the heart of Wellington's winelands. Here's my review on what you can expect!