Last Updated on April 16, 2021 by Taylor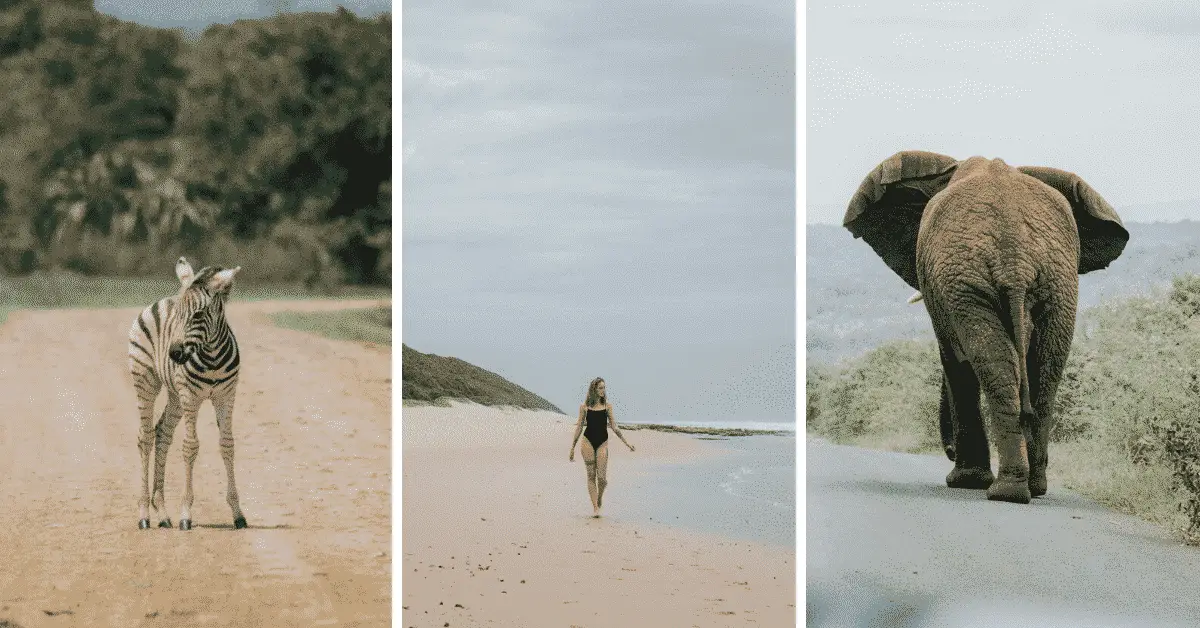 "Isimango-what now?"
That was my initial reaction when I heard about South Africa's first UNESCO World Heritage Site.
iSimangaliso means "miracle" or "something wondrous" in Zulu, and it lives up to the hype.
Located north of Durban in Kwa-Zulu Natal, the national park features:
Big 5 game drives
Lush wetlands
Isolated beaches
Bio-diversity on crack
One of the top 10 diving destinations in the world!
In essence, it's the ultimate escape for nature lovers who want the best of both worlds: safari meets the beach.
Here's my guide to planning an epic South Africa road trip to iSimangaliso – one of the jewels of our natural heritage!
Planning a road trip around South Africa? Check out these posts:
How to Get to iSimangaliso Wetland Park
iSimangaliso Wetland Park is located in KwaZulu-Natal, South Africa. All the park's gates are accessible from the N2 or R22.
Fly to Durban: The closest city to the park is Durban. It's 275 km from the city, and the nearest international airport is King Shaka. From the airport, it's a 2 hr 20-minute drive along the N2.
Fly to Richards Bay: If you're travelling from elsewhere in South Africa, you can choose to fly into the regional Richards Bay Airport. It's an easy 1 hr 10-minute to the along the N2 to St Lucia and the southern entrance gates.
Rent a Car: Whether you fly into Kwa-Zulu Natal or you drive down from Johannesburg, you'll need to rent a car (unless you have your own). For my summer road trip to the park, I used Budget Rent a Car.
---
Isimangaliso Wetland Park Entrance Fees
Coastal Forest
Adults: R28
Vehicle Entry: R29
Community Levy: R5
False Bay
Adults: R45
Community Levy: R5
Vehicle Entry: 1-5 people R20
Kosi Bay
Adults: R55
Community Levy: R5
Vehicle Entry: R56
Maphelane
Adults: R45
Community Levy: R5
Vehicle Entry: R20
Eastern Shores
Adults: R51
Vehicle Entry: 1-5 people R61
Overnight Levy: R8
Community Levy: R5
Sodwana Bay
Adults: R23
Community Levy: R5
Vehicle Entry: 1-5 people R32
Overnight Levy: R8
uMkhuze
Adults: R51
Community Levy: R5
Vehicle Entry: 1-5 people R61
Overnight Levy: R8
Western Shores
Adults: R51
Community Levy: R5
Vehicle Entry: 1-5 people R61
---
iSimangaliso Entrance Gates
You can access the Western Shores on your way out of St. Lucia. Enter through the Dukuduku Gate and exit at Nholzi onto the N2.
The Eastern shores are accessible via the Bhangazi Gate in St. Lucia.
Reach Sodwana Bay, Lake Sibaya and Coastal Forest Gates by following the R22 and taking the Mbazwana turnoff.
The southernmost Park entrance (Maphelane) is accessible from the Kwambonambi Junction on the N2.
Kosi Bay (the northernmost section) is only accessible via the town of Manguzi.
The gate for False Bay is on the R22 Hluhluwe turnoff.
Gate Times
1 April – 31 October: 06h00–18h00
1 November – 31 March: 05h00–19h00
**If you're staying inside the park, and you need to leave in the early hours of the morning, check to see if the gate will be locked.**
---
iSimangaliso Wetland Park Map
When you arrive at one of the iSimangaliso gates, you can buy a map of the park.
But if you want to save the trees, the park's official website lets you download individual maps for each section of the park.
Put the maps you need on your phone (Google Maps is no strong here) and plan out your route!
---
Best Time to Visit iSimangaliso Wetland
With incredible wildlife sightings happening all year-round – there is never a bad time to hop into the car and visit the 10 Jewels of iSimangaliso!
Summer: From November to March the weather is hot, humid and wet. But while the skies are moody and you'll need a rain jacket – it's not cold. Temperatures hover at 30°C, and it's the best time to catch a glimpse of nesting turtles and their hatchlings!
Autumn: Want to escape the summer downpour? Plan your road trip to iSimangaliso between April and May. The days are warm and sunny – but it's the school holidays. You'll pay high season rates for accommodation.
Winter: From June, the whale migration begins! Stay in St. Lucia and join one of the many daily tours to see these gentle giants with their newborn calves. The weather in winter is usually warm days with cool nights (pack a jacket), and rainfall is low. If you want to go on safari – it's the best time of year for game viewing.
Spring: The rains start to pick up again from September to October, but the whales are still around. The weather is warm, but it's super windy and walks on the beach might get painful.
---
The 10 Jewels of Isimangaliso
The Western Shores
The Western Shores are iSimangaliso's gateway to the Big 5! Once a forest plantation, the park has rehabilitated the area over the last eight years and re-introduced historically occurring game to the area such as elephant, serval, giraffe, buffalo, zebra, duiker, nyala and wildebeest. As the area is small, I would save it for your last day in St. Lucia. You can cover all the loops in about 3-hours and fit in birdwatching at Charters Creek.
The Eastern Shores
The Eastern Shores are a coastal paradise! Start your journey in St. Lucia and drive up to the beach at Cape Vidal (12/10 would recommend staying in one of the wooden huts). Go on a game drive, spot dolphins, humpback whales and turtles from the shore. Visit Mission Rocks and go to the Lake Bhangazi for panoramic vistas of the area.
Sodwana Bay
Sodwana Bay is the best scuba diving destination in South Africa. A remote destination where the WiFi signal is weak, you can get your PADI Openwater while swimming past schools of tropical fish, five types of sea turtles, whales, sharks and dolphins.
Kosi Bay
Kosi Bay is only accessible with a 4×4! It's an 18km stretch that borders Mozambique and boasts white sand beaches, dazzling blue water, wetlands, forests, lakes and mangrove swamps. It's a must-see destination for bird lovers, and the beaches are a breeding ground for the endangered leatherback and Loggerhead turtles.
False Bay
Over the Big 5? Head to False Bay and discover some of South Africa's smallest animals. It's home to one of the richest remaining sand forests in the country and has a diverse number of ecosystems. You can spot Nile crocodiles, African broadbills, pink-backed Pelicans (one of the few colonies in South Africa) while exploring the area's two self-guided walking trails.
Lake Sibaya
Lake Sibaya is the largest natural freshwater lake in Southern Africa. It's home to a massive hippo population, dozens of endemic flora and fauna species and occasionally 20,000 waterfowl. If you have a 4×4, you can ride up to the shores of the lake for a sundowner!
Lake St. Lucia
Lake St. Lucia is an incredible part of the park. As Africa's largest estuarine system, more than 50% of waterbirds in KwaZulu-Natal come here to feed, roost and nest. The lake has been on the Ramsar Wetland of International Importance since 1986 and conservationists saved the lake from dune mining in the early '90s.
Maphelane
Maphelane is the southernmost area of iSimangaliso and features a 183-metre vegetated dune – the highest in South Africa. If you're up for a hike, the views of the ocean and river mouth are breathtaking. You can also spot the shipwreck of the Jolly Rubino.
uMkhuze
More than 420 (eyyyyy ?) bird species call uMkhuze home, and it's one of the oldest game parks in South Africa. You can spot the Big 5, including the engaged wild dog and explore the only indigenous fig forest in Africa!
Coastal Forest
The Coastal Forest is one of the least visited areas of the park and is only accessible with a 4×4. But if you make the journey, you'll have the beaches, dune vistas and premier diving sites all to yourself.
---
Isimangaliso Wetland Park Activities
There is so much to see and do in iSimangaliso! Here are some of the top activities:
Turtle Tours: I signed up for a midnight patrol with Ufudu Tours in Sodwana Bay to catch a glimpse of nesting sea turtles. You can also book turtle tours in Kosi Bay and with Phinda Private Game Reserve.
Day Trip to Hluhluwe-Imfolozi: Hluhluwe-Imfolozi is the oldest national park in South Africa. It's famous for its wildly successful rhino conservation project and has the greatest density of rhino in the country. You can self-drive through the park or sign up for a half-day or full-day game drive. I booked my tour with Heritage Tours & Safaris.
Scuba Diving: Get your diving qualification at Sodwana Bay! I stayed with Coral Divers, where I did my refresher course and one dive. You can spot over 1,200 species of fish, including dolphins, sea turtles, ragged-tooth sharks, and whales.
Whale Watching: The Southern Right whales migrate from Antarctica to the warm waters of Mozambique to breed between June and October every year. While you can spot them from the shore, sign up for a whale watching tour if you want to see these gentle giants up close. There are operators in St. Lucia and Sodwana Bay that offer tours each day.
For a full list of activities and operators, visit the official iSimangaliso Wetlands Park website.
---
Isimangaliso Wetland Park Accommodation
Monzi Safari Lodge in St. Lucia
On a budget? You can't go wrong with Monzi Safari Lodge! I stayed here during my road trip through iSimangaliso and loved it. There are a variety of accommodation options ranging from shared dorms to luxury private tents, and the rates are affordable. Plus, it's located on the main street, and you're within walking distance from the shops and restaurants.
Coral Divers in Sodwana
For the adventurous that want to learn to dive (or spend most of their time in the water) – stay at Coral Divers. Choose from cheap as chips private tents (don't forget your own bedding!) or a private chalet. You can book dives at reception, and all the gear you need is available for rental.
Self-Catering & Camping
I hit the road last minute and missed out on staying inside iSimangaliso. The park offers gorgeous camping and self-catering options which are equipped with the essentials. Wake up on the beach of Cape Vidal, the bank of the Mfolozi River mouth or opt for a digital detox at the isolated Bhangazi Bush Lodge.
Visit the official website for bookings and to see all the iSimangaliso accommodation options.
---
Have any questions about iSimangaliso Wetland Park? Did I miss anything out that first-time visitors need to know? Hit ya gurl up in the comments below!
---
Psst…Want more South Africa travel inspiration? Check out my other posts:
Did you find this post useful? Save it for later on Pinterest!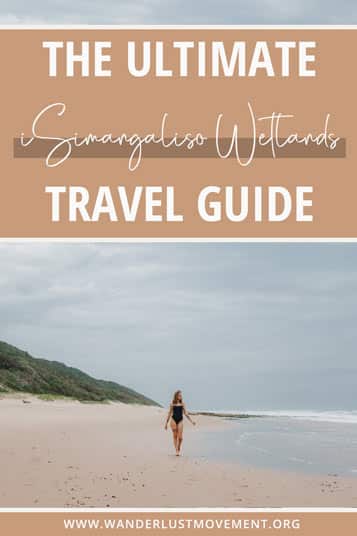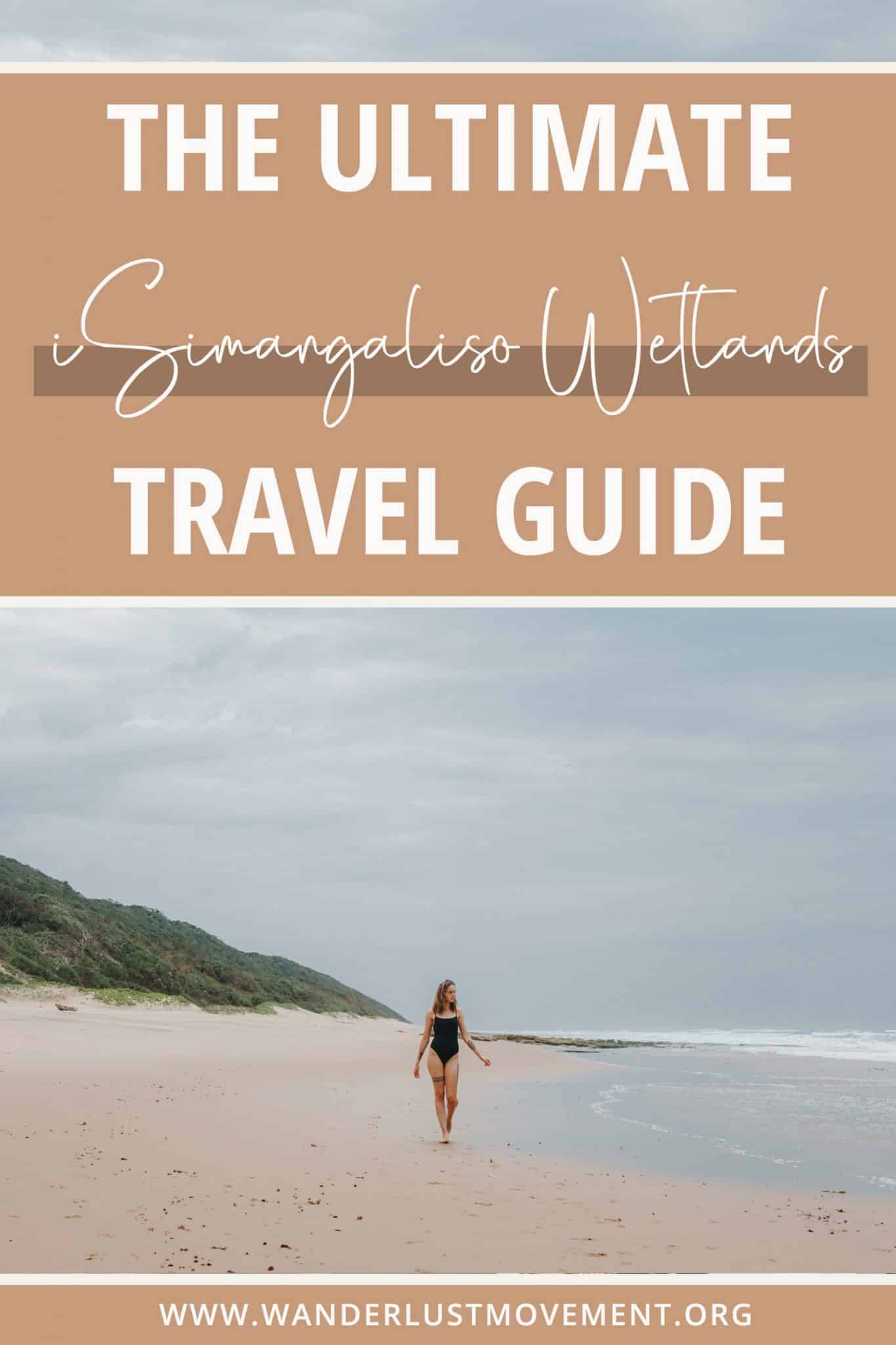 iSimangaliso Wetland Park in Kwa-Zulu Natal is South Africa's first UNESCO World Heritage Site and it lives up to the hype!