Mozambique doesn't have to be another expensive trip to a neighbouring country. Even with the South African Rand not being that strong against the Metical, it is still an affordable African destination. When I first started planning my journey to Tofo, Mozambique for my 25th birthday, I was completely blown away by the great and affordable travel options out there.
Here is how you can travel to Mozambique on a budget!
How to Travel to Mozambique on a Budget from South Africa
Avoid The Airlines
Sorry airlines, but it's not me, it's you. When deciding how to get to Mozambique, I had my heart set on flying directly from Cape Town into Inhambane – until I saw the prices. As it was my first trip to another African country, I had assumed it would be cheap to fly between countries like it is in Europe.
Oh, how wrong I was.
Here is what I learnt when I started tracking prices for flights between Cape Town or Johannesburg to Inhambane, Mozambique:
By breaking up my journey between Cape Town and Mozambique by flying into Johannesburg on a budget airline like Flysafair first would save me R 2,000 / 130 USD in airfare.
At the time I was looking at flights, I found a deal from Johannesburg to Hong Kong that was cheaper than flying directly from Cape Town to Mozambique.
Flying to Inhambane from either Johannesburg or Cape Town costs almost R 2,000.00 more than flying into Mozambique's capital city, Maputo.
And to put the airline craziness into more perspective, the economy direct return flight I was looking at between Cape Town and Inhambane cost R 7,071.00 / 450 USD.
For that same amount of money, I could have bought a return ticket to most European and Asia destinations.
My frugal side kicked into high gear, and I started looking at alternative options to travel to Mozambique on a budget.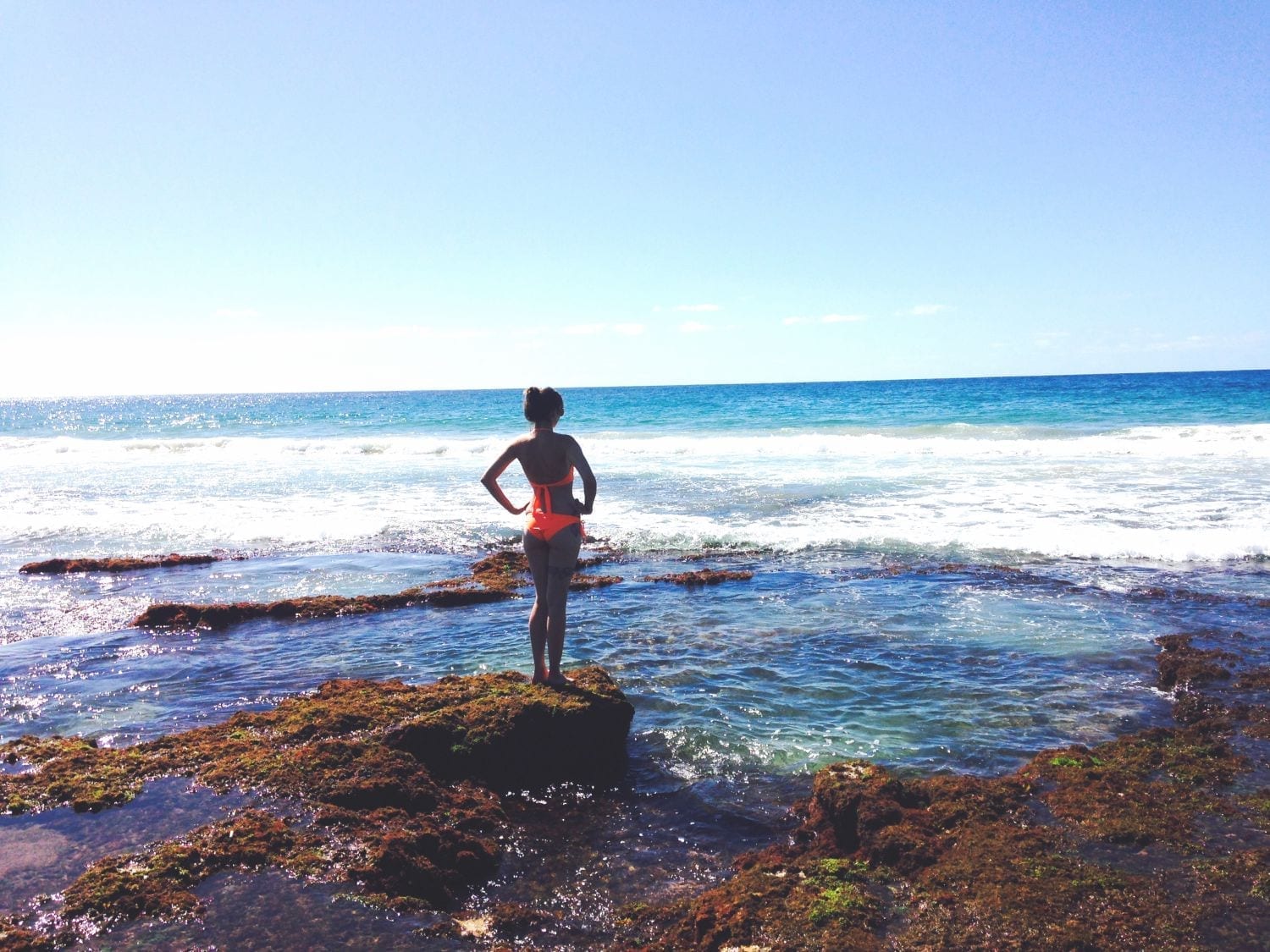 Photo by: Angelo Dias
Take The Bus
After much Googling, I decided the best way to travel to Mozambique on a budget was by bus.
I booked a return flight between Cape Town and Johannesburg for R 499.00 / 32 USD each way. The bus ticket to Johannesburg cost about the same as a flight, so I decided to take advantage of the faster travel time.
My Intercape bus tickets between Johannesburg and Maputo return cost me a grand total of R 690.00 / 44 USD
The only part I had left to figure out was how to get to Tofo overland. After a quick Google search, I found out that Fatima's Backpackers had a daily shuttle running between their branches in Maputo and Tofo. A return ticket cost me a whopping R 500.00 / 32 USD!
Thus bringing my total transportation costs in at R 2,188.00 / 140 USD!
Where to stay in Mozambique: Budget Accommodation
I chose to only stay with a backpackers and a budget motel for frugal reasons – and they exceed my expectations.
In Maputo, I spent two nights here in one of their dorm rooms. Fatima's is centrally located and within walking distance of some affordable, delicious restaurants. I felt completely safe walking around during the day and at night.
Bonus: There are ALWAYS taxis outside waiting to take you wherever you need to be – but remember to haggle down the price before getting into one.
The rooms were clean, well looked after and each bed had mosquito nets. The shower is a bit small and is a breeding area for mosquitos – but other than that I enjoyed my stay. I met a couple of backpackers making their way around Africa, and that made for some great company.
Top tip: Fatima's has a communal kitchen so if you want to save even more money pack some food to cook while you are there.
Cost: R215,00 / 14 USD for per night

Photo: Fatima's Backpackers

Photo: Fatima's Backpackers
Mozambeat is one of the most beautiful places I have ever stayed at so far. Although it isn't close to the beach (about a 15-minute walk) the dorms rooms were spacious, had a stunning outdoor bathroom, mosquito nets and a beautiful sunset deck area that really makes you feel those African paradise vibes.
Bonus: We had the entire dorm room to ourselves for four nights because we travelled to Mozambique during low season.
I spent seven nights there, and the staff here were some of the friendliest people I met. The only downside is there are no communal cooking areas, and they charge R50 per device per day for Wifi. So if you need to get your internet fix on, visit the local dive shops – it's free!
Top tip: Although I highly recommend the food from Mozambeat's restaurant, if you want to save money head into town and grab a meal at one of the many street stalls. As dodgy as some of them can look, the food is delicious.
If you want to travel to Mozambique on a budget and still stay on the beach – book a dorm room at Fatima's Tofu. It's the same price as Mozambeat Motel, but the WiFi is temperamental and you might need to visit one of the dive shops or restaurants.
Cost: R 167,00 / 11 USD per night
Total accommodation cost: R 1, 599.00 / 100 USD.
What To Do In Tofo, Mozambique on a Budget
Now that you have managed to save SO much money on transport and accommodation- it's time to have a little fun!
Ocean Snorkelling
If you're travelling to Mozambique on a budget, one of the most affordable activities you can do is an ocean safari. A three hour trip with Diversity Scuba will only cost you R 630.00 / USD 50.
At that price, I decided to gather all my courage and get past my fear of jumping into unclear water. And boy, was I not disappointed! I snorkelled with three pods of dolphins, countless tropical fish and my friend managed to spot a giant manta ray!
The snorkel usually takes you to where the Whale Sharks are as well, but we ran out of time when the tide came in earlier than expected. But after speaking to the group that went before us and did see the sharks, I'm happy to report that Diversity Scuba does adhere to Shark Guardian's rules of ethical conduct.
Top tip: Whenever taking part in an activity that involves wild animals – always do your research and make sure the tour operator is operating in an ethical manner that puts the creature's needs above their bottom line.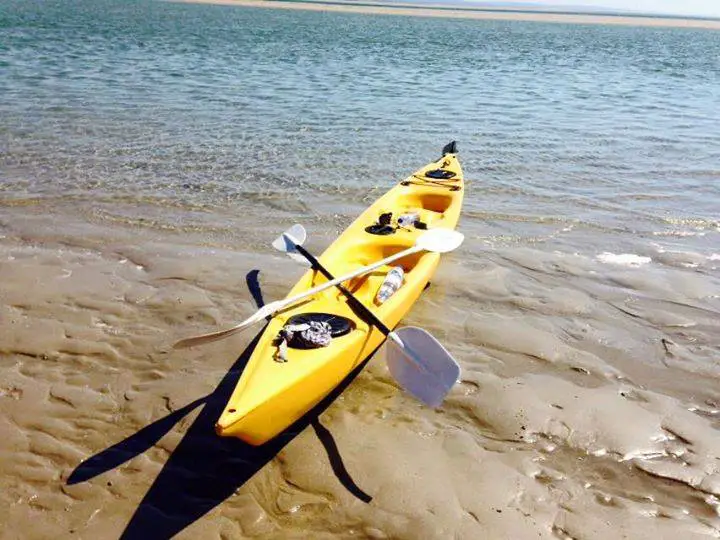 Sea Kayaking Adventure
If you are looking to do something different, but adventurous during your trip to Mozambique – Liquid Adventures is right up your alley. I joined their Island Kayak Trip for R 840.00 / 54 USD and got to kayak out to a nearby island, have lunch with the chief and return to land in a traditional Dhow boat!
While it's not the cheapest of things to do in Tofo, it is an activity that lasts the whole day.
Top tip: Look out for sand dollars and wear durable shoes for when you arrive on the island. Its shore is covered with a billion sharp shells that go all the way to the border of the village.
In total, I spent close to R 2,000 / 130 USD on various activities, food and souvenirs.
When Is The Best Time To Go To Mozambique?
Mozambique is a great travel destination all year around. Deciding when to go is really up to what you want to do on the trip. For whale sharks, sightings of 50-strong congregations are common from October in March.
I decided to go in May as it was my birthday and because it's cheaper to travel to Mozambique on a budget outside of the country's busy December to February high season.
So How Much Did My Trip to Mozambique Cost?
I managed to travel to Mozambique on a budget for 10 days and it only cost me: R 5,787.00 / 370 USD!
Well under the R 7,000.00 price ticket for just the airline ticket.
Job well done Frugal Lauren.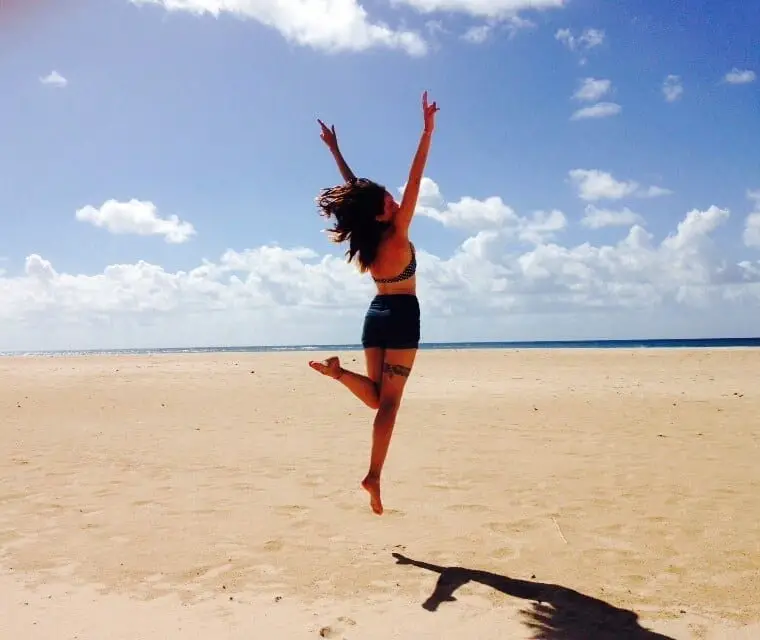 Have you got any tips for travelling to Mozambique on a budget? Let me know in the comments below!

Want to travel to Mozambique on a budget? It's one of the cheapest destinations for South Africans. Here's how I spent 10 days in Tofo for less than R 6 000.00