Last Updated on August 15, 2020 by lauren
In 2016, I went on my first backpacking adventure to Tofo, Mozambique. It was my first adventure into one of South Africa's neighbouring countries and it taught me a lot.
Like any adventure abroad, this trip taught me a lot about life. It made me realise how under-appreciated Africa is as a travel destination and exposed me to a lot of the preconceptions that many South African's still have towards their neighbours. But most importantly, it instilled a deep love towards this continent and inspired me to want to explore it more.
Here are the top 10 things I learnt by travelling from Johannesburg, South Africa to Tofo, Mozambique!
1. Buses Are Not Just For Black People
There is still an undercurrent of racism in South Africa. This is not new news.
I experienced this first hand when I decided to travel from Johannesburg to Maputo by bus. I was told on many occasions that "white girls don't travel on buses" and that I was making myself a "target".
Of course, this is all complete nonsense and just a symptom of apartheid brainwashing. I travelled into Mozambique at the height of South Africa's notorious xenophobia attacks and this basic white girl survived!
The bus was in excellent condition, none of the black people even looked remotely freaked out to see a white person on a bus and the driver even went out of his way to help me find my hostel taxi.
Humanity: 1
Racism: 0
---
2. Border Crossings Don't Have to be Painful
People love to bring up everything that is wrong in Africa. You rarely hear about when something goes right.
My experiences at both sides of the border were super efficient. After standing in the immigration line of doom at Heathrow International Arrivals, being able to go through a border crossing in minutes is like travelling porn for me.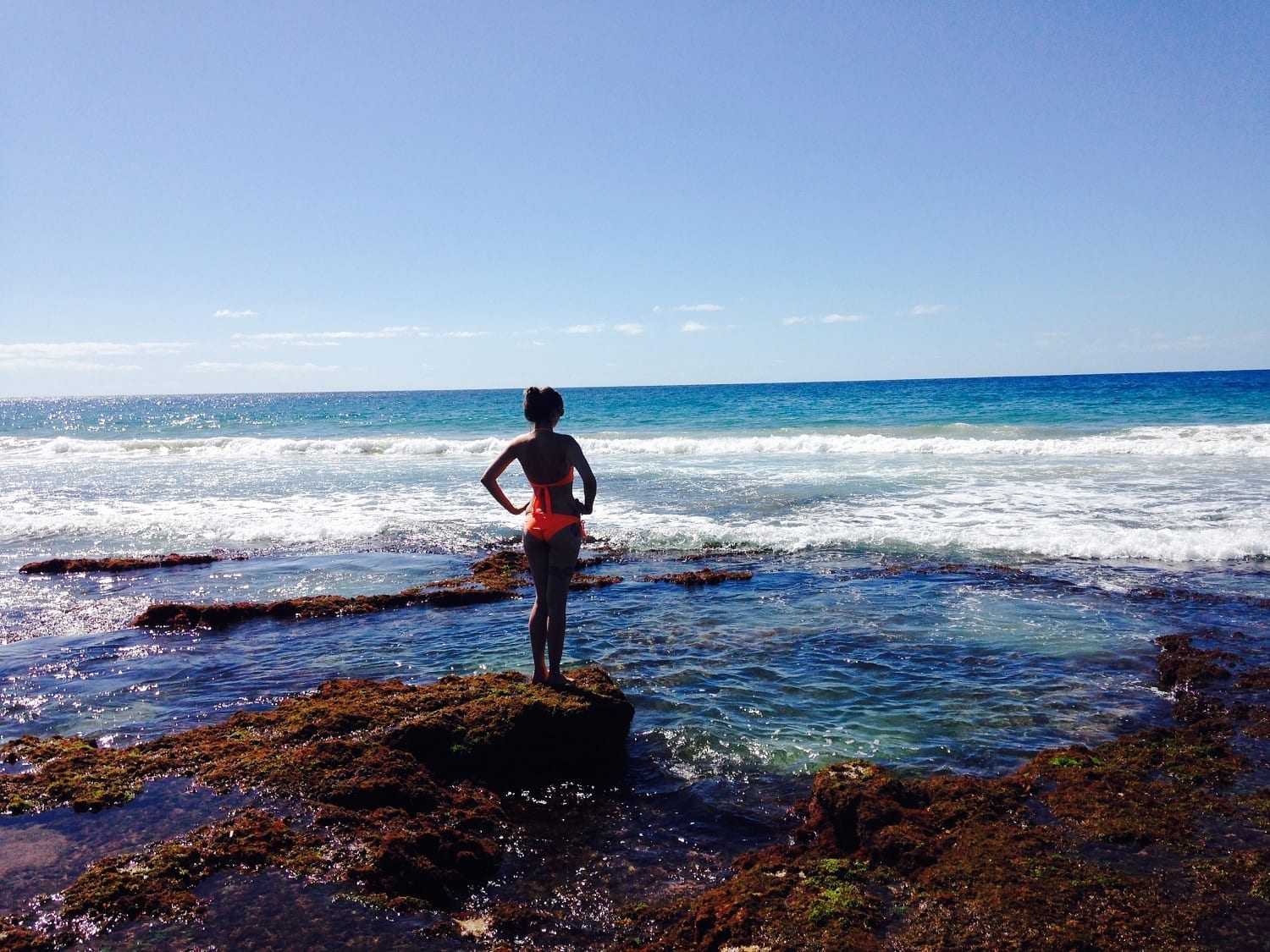 Exploring Tofo's natural beauty on a cliff walk. Photo by: Angelo Dias
---
3. Mozambique Has The Best Beer
I like beer.
Now that is something I thought I would never see myself writing.
None of my friends would ever call me a beer drinker. Even when we go to Beer House in Cape Town and always end up nursing a jug of strawberry flavoured Kopparberg cider.
But Mozambique changed me.
In my opinion, they have the best darn beer I have ever tasted. Coming from a non-regular beer drinker this either says a lot or holds no weight.
---
4. Stay Away From Debonairs If You Are On A Budget
Or any foreign fast food outlet. You are going to make yourself bleed money. Just stay far, far away.
But if you are into torturing yourself and crying salty tears of buyers remorse you can buy a small pizza for about 400 mts. This "pizza" is essentially four tiny slices of pizza for +/- R 130.
Eat local and save yourself from the emotional turmoil.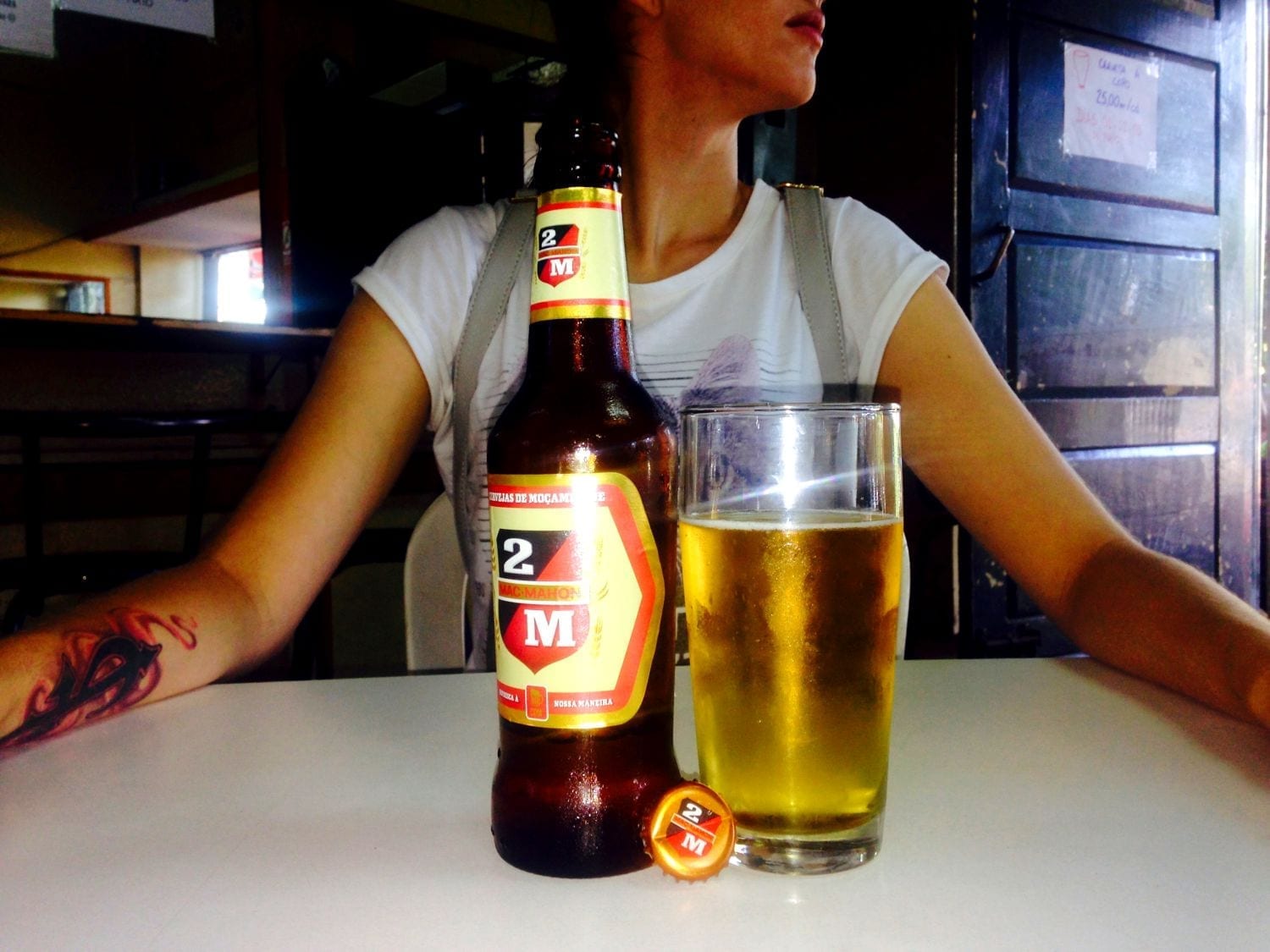 Trying the local beer! Photo by: Angelo Dias
---
5. If You Plan To Use Public Transport, Don't Be In A Rush
To get from Maputo to Tofo I took a shuttle that connects Fatima's Backpackers to Fatima's Nest. While it is a great option if you are a frugal traveller, it can be a painful journey for less hardened travellers.
After catching the shuttle at 4 am in the morning, we spent around two hours at a local taxi/bus rank waiting for the shuttle to fill up before leaving Maputo. Once on the road, we continued to pick up people until you could no longer see the floor or have any personal space.
There was no air con and the journey took a total of 10 hours with just one stop at a petrol station to buy lunch.
---
6. Beware of the Onions
I don't know why Mozambicans love onions so much, but they put them in EVERYTHING. Even if it doesn't say onions on the menu, you can be rest assured there will be hundreds of the devil's food chopped up into your meal when it arrives.
#oniongate2016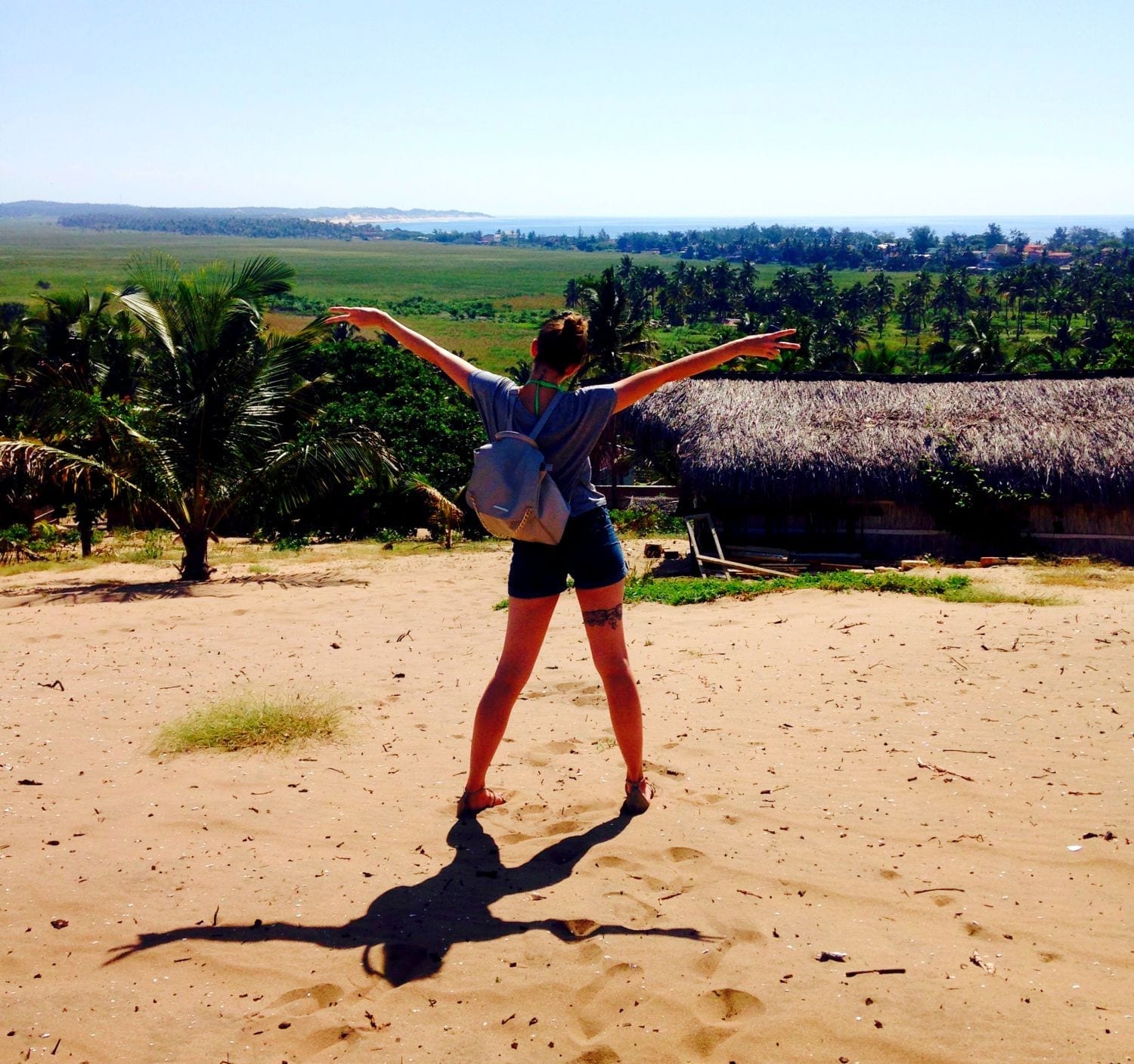 Climbing sand dunes on the way to the beach. Photo by: Angelo Dias
---
7. Don't Buy Goods From The Beach Vendors
On Tofo beach, you will get merchants coming up to you throughout the day with beautiful paintings, coconuts and jewellery. But instead of buying it from them right then and there, rather wait and go to the Tofo beach market.
I bought a painting for 500 mts of the beach and later found out it was going for half the price at the actual shop in the market. My wallet felt that burn.
---
8. Patience Is A Virtue
"African time or Africa time is the perceived cultural tendency, in parts of Africa and the Caribbean toward a more relaxed attitude to time."
Coming from Cape Town, I thought I was fully aware of this concept. But Mozambique has taken it to another level.
Everything takes its time here – especially the food. Don't come to the country and expect the same standard of super fast service. It all works at a far more relaxed time frame. But trust me, your meal will be worth the wait.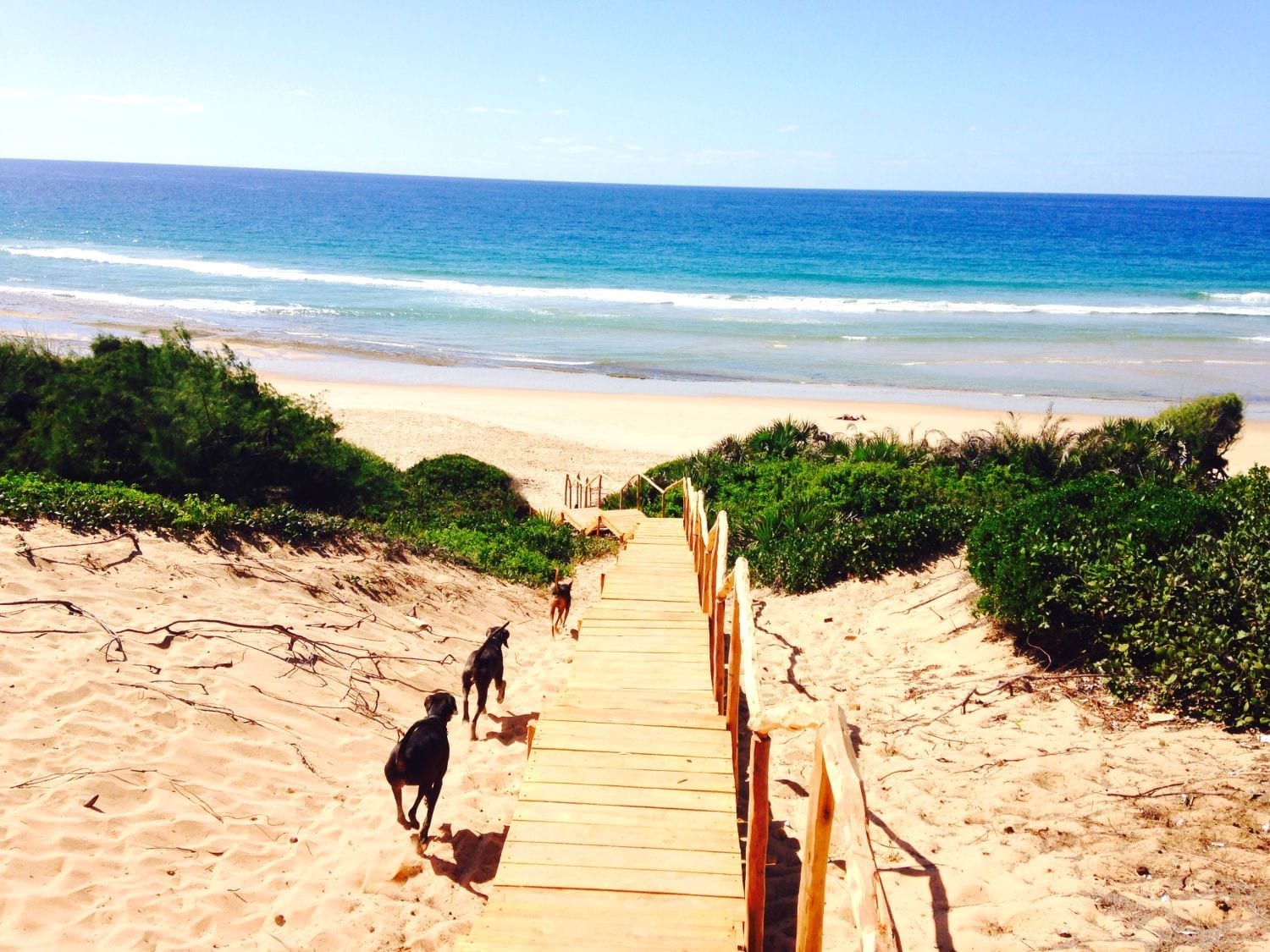 Off exploring the Mozambican coastline with three new friends! Photo by: Angelo Dias
---
9. How to Find Free WiFi
Finding free WiFi in Tofo turned out to be a bit of an adventure. My motel was trying to charge me per day and per device connected while a hostel down the road kept on switching theirs off at random times.
If you are in need of a constant and reliable internet connection, check into a more upmarket hotel and don't stay at the local backpackers. If you only need to check into the digital world occasionally, pop on over to one of the local dive shops like Liquid Adventures.
The dive shops have the best and most consistent signal – and it's usually free!
---
10. Mozambicans Will Take Care Of You
On my ride back from Tofo to Maputo, our shuttle ran into some technical difficulties. I didn't even know there was a problem until our bus driver had already had a solution.
He organised with another bus company to take us all the way to Maputo at no extra charge, found someone who could speak English to explain this to me and once we arrived, my backpacker's taxi service was already waiting to take me to my final destination.
Now doesn't that just give you the warm fuzzies about Mozambican people in all the right places?
---
Read Next: How To Travel To Mozambique on a Budget from South Africa