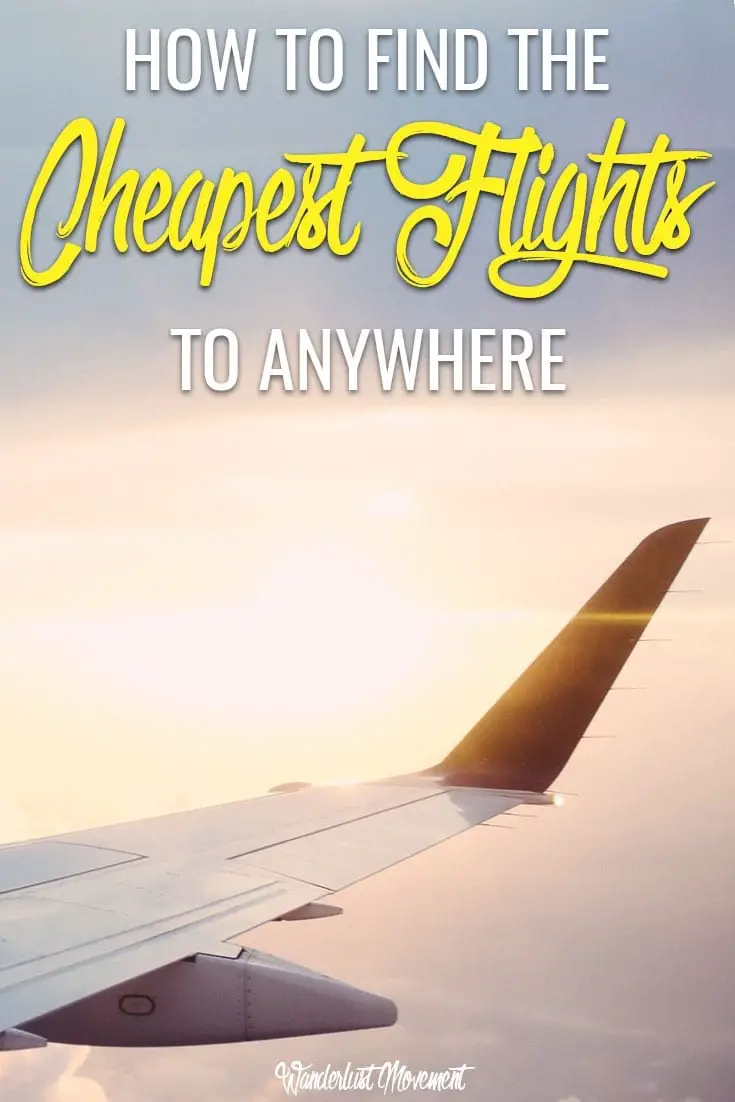 Flights can be the most expensive part of travelling, and for South Africans, our downgrade to junk currency has increased the pinch.
But that does not mean the deck is stacked against you. There are many ways to get around high airfares and find a price that works for your budget.
Last month, I helped my boyfriend find return flights between South Africa and Portugal for under R4,000 with these exact tips. So if you have been reading my other travel tip posts, wondering how I found those flight deals – here is how I did it all bundled up into one glorious blog post.
Check out my top tips for finding cheap flights from South Africa to anywhere in the world!
1. Use an Incognito Browser
Have you ever searched for a flight, only to come back a few days later to find that the fare has skyrocketed?
Airlines use cookies in your browser to drive up prices once they see you are interested in a particular route. To avoid this, use a private or incognito window to take your flight search under the radar.
To browse in private on Google Chrome, right click on the icon in your toolbar and select "new incognito window" from the menu.
2. Change Your Virtual Location
Sometimes airlines sell cheaper tickets depending on your location. For example, if you are trying to buy a domestic ticket between Phuket and Chiang Mai, it might be more expensive than if you were searching in Thailand.
To get around this and score discounted fares no matter where you are in the world, download a VPN browser extension.
PureVPN is a great option for this. I use it daily avoid Netflix's regional content blocks to binge-watch Charmed, and of course, find cheap flights when I am in the market.
Read More: 50+ Genius Ways To Save Money for Travel
3. Take Advantage of Search Engines
To get the most out of flight search engines, you need to check a few sites to make sure you are getting the best possible deal.
Not all search engines include budget airlines like RyanAir or AirAsia in their results because they don't want to pay a booking commission or their sites are not in English.
Here's my process:
Step 1: Start all your searches with Skyscanner. It shows airfare in Rand's and lets you discover the cheapest month to fly in an entire year to your dream destination.
Step 2: Hop onto Momondo and do a search once you have some rough dates. This search engine searches non-English sites, budget and major airlines as well as everything in between often finding a slightly cheaper ticket than Skyscanner.
Step 3: Double check with Google Flights. It is the best flight search engine for searching multiple cities and lets you discover flight prices for entire regions like Europe. This can be helpful if you don't have a set destination or you are looking for the cheapest entry point into a region.
Step 4: Once you have found a cheap flight from South Africa, check the price on the airline's website to make sure you are getting the best possible deal before hitting that purchase button.
4. Try Different Flight Combinations
Instead of taking the most direct route to your destination – get a little creative.
Search to see if it will be cheaper to book two one-way flights instead of a round-trip journey. Direct long-haul flights are also way better for the environment!
If you are flying to a destination that doesn't have direct flights, look to see if it would be less expensive to spend a few days at a stopover destination and fly out on another date.
For example, when researching flights to Ireland, one-way tickets from South Africa were almost R 6,000 – almost the same price as a return. So instead of booking a flight all the way to Ireland, I broke up my journey. I bought a ticket for about R 3,000+/- to Istanbul and then a ticket a few days later to Dublin for R 1,000+/-.
This tactic helped me save R 2,000+/- on airfare and let me add another country to my itinerary. Score!
5. Search Nearby Airports
While it might be slightly inconvenient, flying into a less popular airport can save you some serious cha-ching.
Both Momondo and Skyscanner have a checkbox that lets you search nearby airports. If you have the time and don't mind travelling from an airport that is further away, select this box to uncover cheap flights from South Africa.

For example, it was cheaper for me to book my flight to Dublin from the airport in Izmir rather than the one in busier Istanbul.
6. Pay With The Cheapest Currency
This is a cheap flight hack I have learned recently. After selecting my flight to Dublin on Aer Lingus, I had the option to pay in South African Rand or Euro. Now while selecting the Rand option might seem like the obvious winner, it actually turned out more expensive.
Why?
Because the airline had a set exchange rate.
After doing a quick currency conversion on Google, I discovered that it was cheaper by a couple of hundred Rand to be charged in Euros on my credit card than to accept their exchange rate.
So before committing to a price, check to see if it might be cheaper in another currency.
But make sure it won't come back to bite you in the ass via foreign transaction fees.
7. Find Cheap Flights From South Africa With Airline Error Fares
Sometimes airlines make mistakes when posting their fares and you can walk away with some seriously discounted flights.
But how do you find these deals?
One of my favourite ways is to use Skyscanner's Everywhere search for an entire month. It shows you the cheapest fares departing your city for either a selected month or an entire year. This allows you to quickly spot a significantly reduced fare and snap up cheap flights from South Africa before the airline realises their mistake.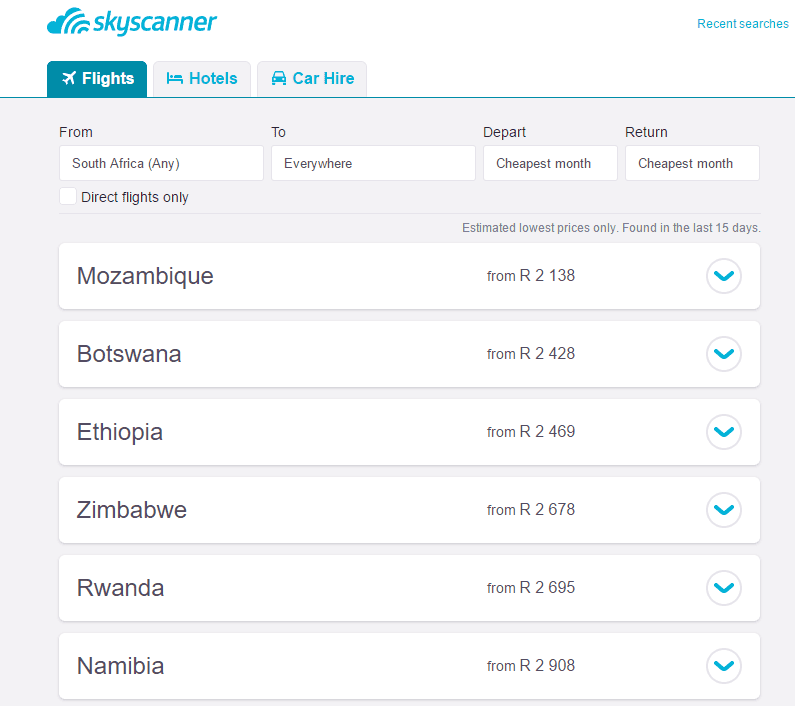 8. Find The Cheapest Day To Fly Out
If your travel dates are not that flexible, you can still save on flights with this simple hack from Skyscanner.
While many people say that Tuesdays and Wednesdays are the cheapest days to book a flight, there is no consistent truth to this theory. Your best bet is to get a quick visual of the prices for the month and see what the cheapest days for your specific route are.
Here's how:
Go onto Skyscanner and enter your departure and arrival cities.
Select one way or return depending on your flight plans.
Click depart, select "Whole Month" and choose your preferred month.
Hit search, and you will see a list of the lowest prices for each day of the month. If a price isn't shown for a date, select it and click get prices.
---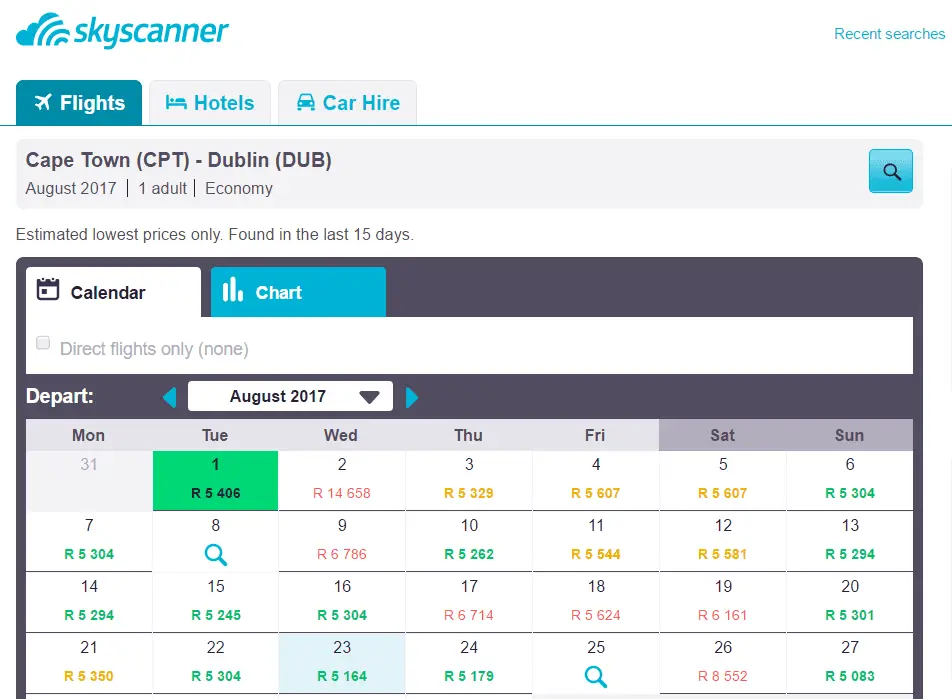 By following these steps, you'll discover the cheapest days to depart and avoid days where fares are high.
9. Earn Miles With Your Credit Card
One of the best travel credit cards for South Africans is Avios. You can earn miles with purchases at Pick n Pay, BP, Avis, Kuala and international airlines like Aer Lingus, British Airways and Iberia.
All you need to do to start earning miles is put all your expenses from their partners on your card and then transfer the money over from your bank account either that day or before the end of the month to settle your debt and avoid interest fees.
And before you know it, you could be flying off to far-flung destinations like Barbados, New York or Paris for free!
If you are a non-South African, Nomadic Matt has a great blog post on how to choose the right travel credit card.
What are your favourite ways to find cheap flights from South Africa?