To say I am a little bit obsessed with canopy tours is an understatement. I've done every single one in South Africa with Swaziland the only one remaining that I have yet to cross off my list.
While Cape Town is my home in between my travels, I spent a few months in Johannesburg this year, and it's reminded me how much it's changed. The old hangouts from my teenage years have joined the history books, and place new and exciting places have popped up in their place.
But what I've enjoyed most about being back in the Johannesburg is the day trips. From the Drakensberg mountains to music festivals in Mpumalanga, it's made me realise how much there is to see just three hours or less from the City of Gold.
One of those things is the Magalies Canopy Tour. Less than two hours from Johannesburg, it's ideally located for a fun weekend away or a last minute day trip. But it's more than just a few hours zip lining through the veld, it's a unique experience in so many ways and deserves a stay longer than just a few hours.
If you're looking to get outside of the city's hustle and bustle, here's everything you need to know about taking to the skies with Magalies Canopy Tour!
How to Get to Magalies Canopy Tour from Johannesburg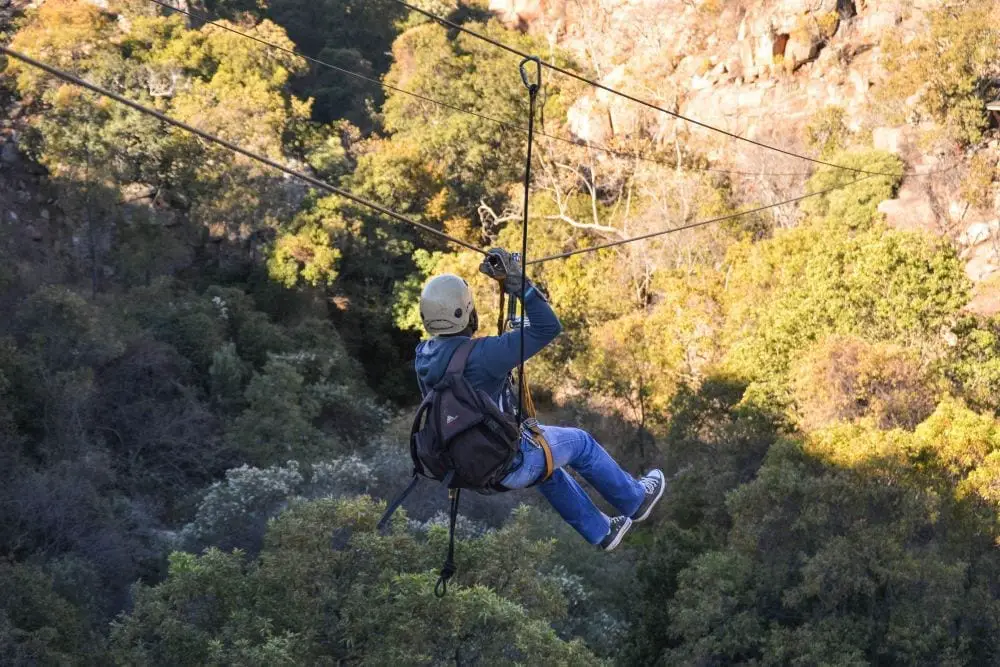 The Magalies Canopy Tour is located at the Sparkling Waters Hotel and Spa. It's an hours drive from Pretoria and 1 ½ hours from Johannesburg.
Keep in mind that there are tolls on the road, so make sure you have cash or an accepted credit card.
---
How much does it cost?
Magaliesberg Canopy Tours. Image (c) Gauteng Tourism Authority
The Magaliesburg Canopy Tour lasts about 2 to 3 hours and costs R 595.00 per person.
The cost also includes a delicious lunch after you've returned to base. After visiting six of the seven branches, Magalies is the only one that offers a veggie burger, making it one of the best spots for hungry vegan travellers.
There are also several promotions running at the moment that can help you save some moola. My favourite is the Fearless Women package for groups of 8 or more. It combines the canopy tour with a 50-minute full body aroma massage and includes a one night stay at the hotel as well.
---
What to expect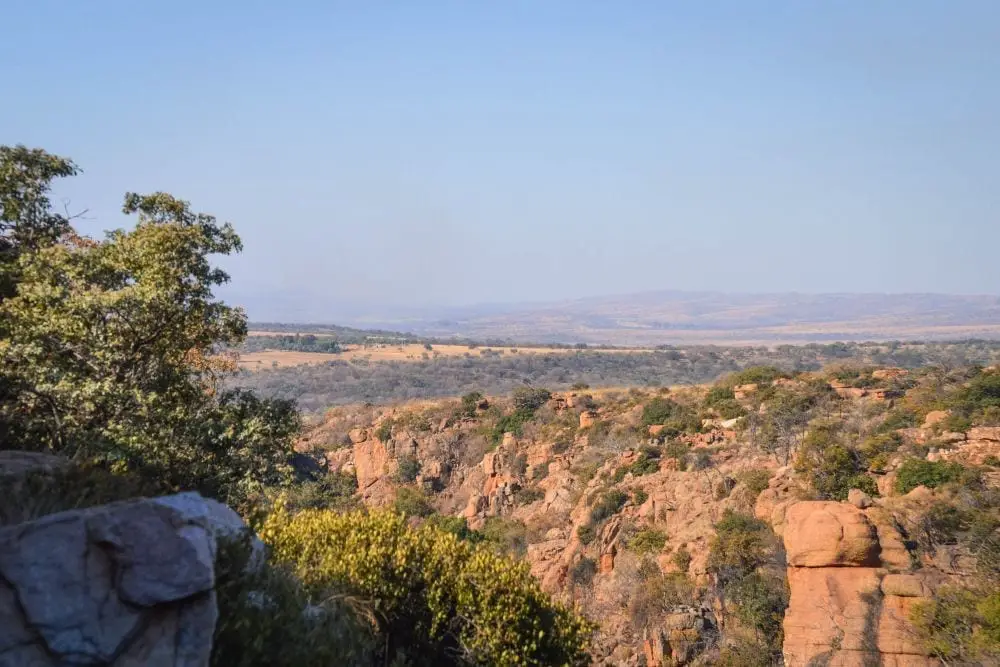 Magalies Canopy Tour is unlike its other brethren around Southern Africa. It's may not be as turbocharged as Karkloof or Cape Town, but it's the only one that comes with a mini game drive.
Based on a farm that is home to wild animals like Kudu, Zebra and even Leopard, you'll get to spot some of these creatures as you make your way to and from the first and last platforms. The best part is that the staff are super knowledgeable and will point out animals big and small throughout your time on the tour.
It's also ideal for any adventure seekers who are zipline beginners or what to overcome their fear of heights. The majority of the slides are chilled with epic views to distract you from the drops below.
Plus, what makes this place really unique is the fact that it's wheelchair friendly. Travellers with disabilities will still be able to enjoy this thrilling activity as it's one of the most accessible in the country with specially made harnesses kept on site.
---
Come for the tour, stay for everything else
Being situated on the grounds of a hotel means you'll be within walking distance for a weekend of pampering. Spend your day relaxing by the pool, hitting up the spa and taking to the skies.
The property is also kid-friendly, and the tour is ideal for parents who want to get rid of their children for a few hours to spend some quality time alone.
Prices at Sparkling Waters are affordable starting at R 950.00 sharing per night.
Plus you'll definitely want to stick around to snap some photos of that iconic African bushveld sunset.
Thank you to Magalies Canopy Tour for sponsoring me! As always, all opinions are my own.