Last Updated on July 18, 2020 by lauren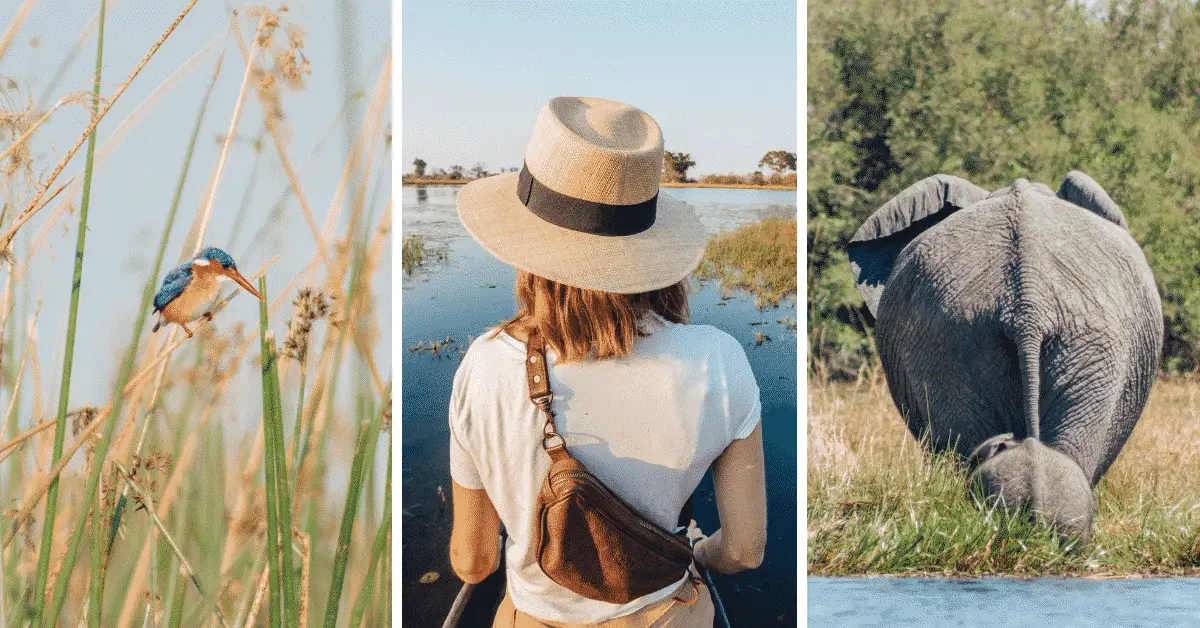 I recently returned from a week-long self-drive trip across Botswana, stalking all the adorable floofs (that could very easily eat me) and it was a once in a lifetime experience.
Seriously, if you're looking for an exceptional safari holiday, Botswana is it.
I sailed across the  Okavango Delta on a mokoro safari, I took a million photos of elephants and was thiiiiiis close to seven giraffes on a walking safari!
But visiting Botswana is not as easy as booking a flight and hopping onto the plane.
If you want a wildlife experience that you'll be raving about for years to come, you need to know when's the best time to visit Botswana.
Do you want bucket loads of adorable baby animals? Or do you want to watch thousands of flamingos turn the sky pink?
No matter your wildlife kink, I'm breaking down when to go to Botswana, what places you should visit and I'm throwing in a few festivals for good measure.
Here's the best time to travel to Botswana!
The Best Time to Visit The Okavango Delta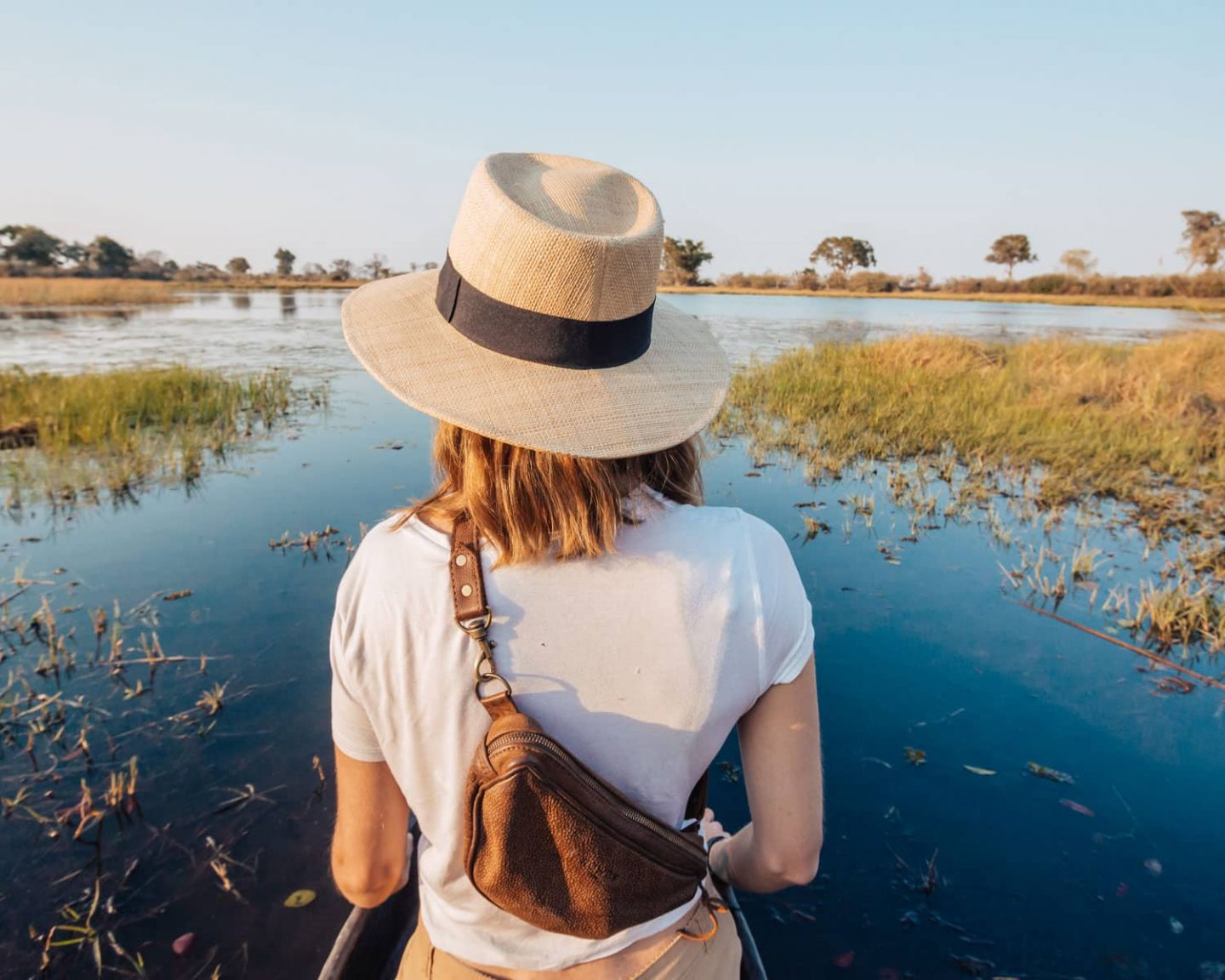 Dreaming about late afternoon mokoro safaris with elephants grazing in the distance? Then you'll want to visit the Okavango Delta between June and August.
The 15,000 km delta floods during Botswana's dry season, creating a web of lagoons and channels that attract an abundance of bird and wildlife.
The lack of rainfall drives thirsty herds of giraffe, zebra, elephant, and buffalo to the marshy paradise. They are closely followed by hungry predators like wild dog and lions.
It's an incredible experience and one of the biggest highlights from my week-long Botswana road trip! We stayed overnight in the Delta and had ten elephants drinking mere steps away from our campsite (including an adorable baby!).
If you're more into birds than Big Cats, book your flights to Botswana for the wet season. The rains from November and April turn the Okavango Delta into a bird-watching oasis.
You stand a good chance of spotting migratory birds like the African Fish Eagle, the Sacred Ibis, the Crested Crane or any of the other 444 bird species that live in the Delta!
---
Dry Season: The Best Time to Visit Botswana for Safari
Without a doubt, the best time to safari in Botswana is during the dry season. From May to October, waterholes dry up, and giant herds of wildlife congregate around the few that are left.
With less vegetation around, it makes it much easier to spot elusive creatures like lion and leopard that blend so well into the bush.
Despite it being the best time to travel to Botswana for a safari, the parks feel uncrowded. During my two-day stay in Nxai Pan National Park, I didn't see another vehicle until our last day!
Chobe National Park
Chobe National Park is the third largest park in Botswana and one of the best safari destinations in Africa. It's home to the largest elephant population in Africa (50,000 strong and counting) and is only a day trip away from the iconic Victoria Falls.
The best time to visit Chobe National Park is in the dry season. While the excellent game viewing will lure crowds of tourists around the Chobe riverfront, it's worth it!
For a unique safari experience, book a safari to Chobe's Linyanti region after the summer rains. You'll get to watch a magnificent Zebra migration.
It's one of Botswana's best-kept secrets and is the longest recorded large mammal migration in Africa!
Tip: Time your trip to Chobe right after the summer rains in May, it's the best time to visit Botswana and Victoria Falls. The world's largest falling sheet of water is gushing at full volume and is an unforgettable experience.
Read More: A Quick Guide to Victoria Falls: Everything You Need to Know
Botswana Festivals and Events
Okavango Music Festival: The Okavango Music Festival is a 3-day event that gives back to the local community. A portion of all money raised from ticket sales goes towards the local community who owns the land the festival uses. The event takes place on an island in the Delta, and the line-up includes artists from all over Africa!
Maun Festival: Curious about Botswana's tribal culture? Go to Botswana during the annual Muan Festival. It's a two-day celebration of traditional poetry, music and art.
Guu Tjilenje Cultural Festival: The Guu Tjilenje Cultural Festival is another traditional celebration. It's usually held in May in the small town of Nlapkhwane. Stalls are selling authentic Botswanan cuisine, and you can learn about ancient games, dances and music.
What to Pack
The dry season may be winter for Botswana, but that doesn't mean the country cools down. As soon as the sun comes up, the heat of the day begins, and it won't be long before you start peeling off your layers.
Don't leave home without a sunhat, sunscreen and a polarised pair of sunglasses!
For morning game drives, you'll need your warmest jacket, a beanie and a pair of long pants. Most guided game drives will give you a complimentary blanket to help you keep warm.
And if you're really spoilt, you'll get a hot water bottle.
---
Wet Season: The Best Time for Migratory Birds & Baby Animals
I don't know about you, but I get weak at the knees when I see baby animals. Especially newborn elephants. There's something about their floppy ears, and big feet that they keep stumbling over that's so adorable.
If you're looking for those type of feels, visit Botswana in the wet season. From November to April, the country's top national parks like Chobe, Moremi Game Reserve and the Central Kalahari are overflowing with cuteness.
Some of the cute floofs you might see:
• Baby cheetahs, lions and leopard
• Wild dogs pups
• A baby giraffe learning to walk
• Newborn monkeys are clinging to their moms, and so much more!
The only downside? It's Botswana's mosquito season.
Botswana is a malaria-risk area, so you'll need to contact your travel clinic before your trip to stock up on antimalarials. It's also a good idea to cover as much skin as possible between dawn and dusk to avoid getting bitten.
With this in mind, you'll want to make sure that you'll have a comprehensive travel insurance plan in case you get sick and need to visit the hospital. No antimalarial drug is 100% effective.
Read More: The Ultimate Botswana Bucket List: 10+ Top Places to Visit in Botswana
Makgadikgadi Pans
The Makgadikgadi Pans are one of the best places to visit in Botswana. During Botswana's rainy season, the massive salt pans flood and attract thousands of pink flamingos and pelicans.
Where's the best place to get up close and personal with the country's birdlife? Nata Bird Sanctuary.
The local community runs it, and there's a lookout tower right next to the salt pans. You and your camera will be a couple of meters away from flamingos that have travelled as far off as the Great Rift Valley to feast on newborn shrimps.
The best time to visit Makgadikgadi Pans really depends on you. In the wet season, the birdlife is phenomenal, but the dry season gives you the opportunity to drive onto the dried up pan for an incredible sunset!
Read More: Staying at Nata Lodge in Botswana
Festivals and Events
Maitisong Festival: Held in Gaborone, the Maitisong Festival is a nine-day celebration of traditional music, dance and theatre.
Botswana Day: Botswana Day is a fantastic event to attend if you need a reason to travel to Botswana. The country celebrates its declaration of independence from Britain with epic street parties, parades and more!
What to Pack
Pack your lightest, most breathable clothes that will keep you cool during the day. It's summer in Botswana that means you're going to sweat your calories away.
The most important things to pack are a reusable water bottle to keep hydrated throughout the day and mosquito repellent. Bring the coils, the lotions and sprays and turn yourself into a cloud of audacious smells that will keep those pests far, far away from you.
It's also a good idea to pack a lightweight raincoat that can fit into your day bag and binoculars.
Tip: Neutral colours are key for safari trips in Africa! You want to blend in with the bush as seamlessly as possible.
---
The Best Time to Visit Botswana on a Budget
With the rains comes Botswana's low season. If you want to plan a safari on a budget, the best time of year to visit Botswana is over the wet season.
While some lodges will close for maintenance over the tourism lull, the few that stay open lower their rates. All you need to do is put up with the short afternoon showers and the hellish heat.
One of the best places to stay in Botswana on a budget is Planet Baobob. The lodge offers some of the most affordable rates for experiences like visiting the Kalahari meerkats and watching the zebra migration!
---
When do you think is the best time to visit Botswana? Do you prefer the dry season or do you want to see Botswana's incredible birdlife? Let me know in the comments!
---
Pssst…Want more Africa travel inspiration? Check out my other posts:
Did you find this post useful? Save it for later on Pinterest!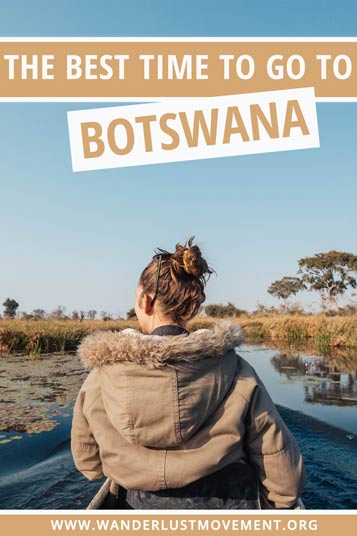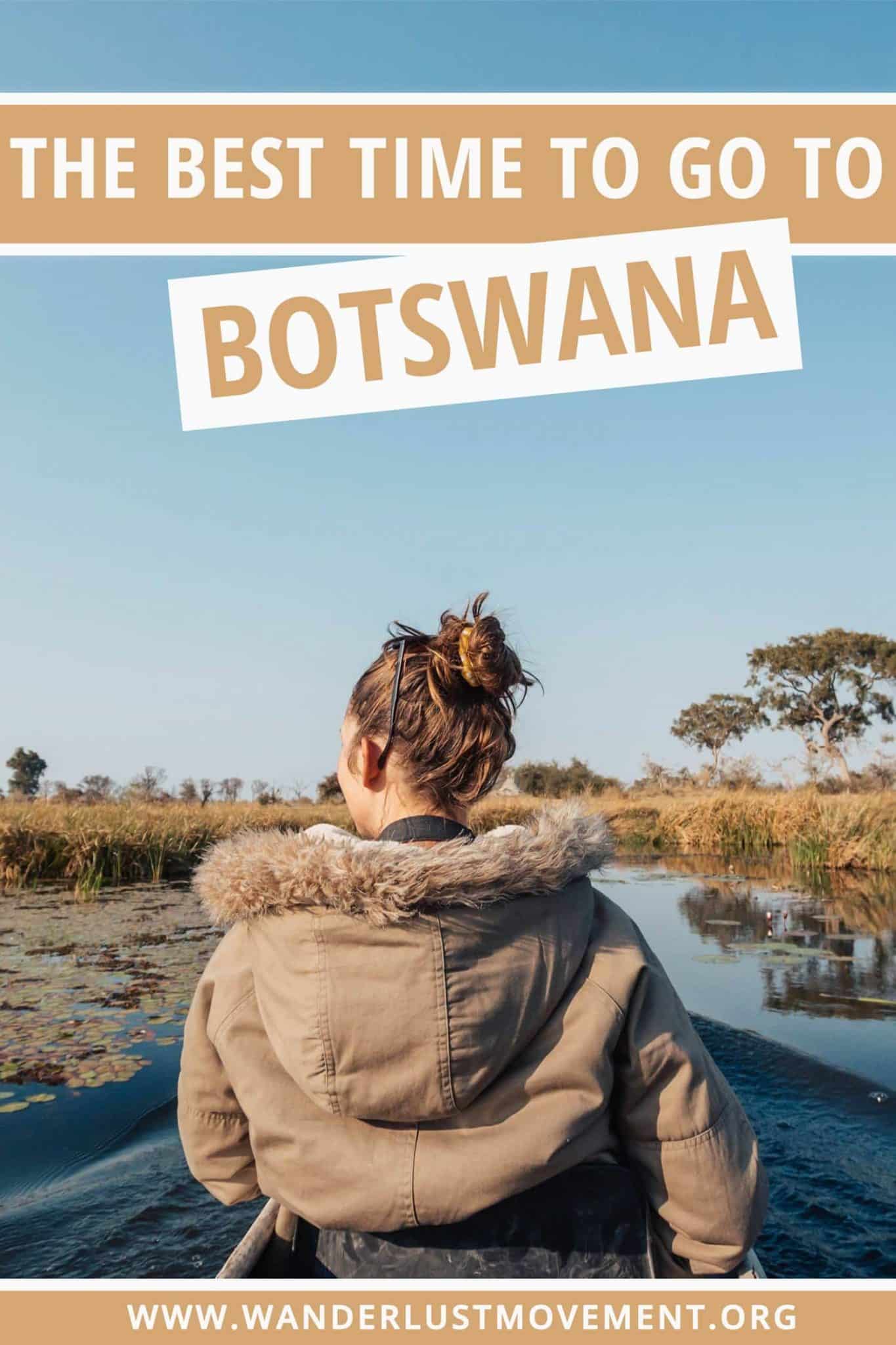 So when is the best time to visit Botswana? It all depends if you want to see Big Cats, baby animals or the sky turn pink from flamingos.