Last Updated on February 18, 2021 by Taylor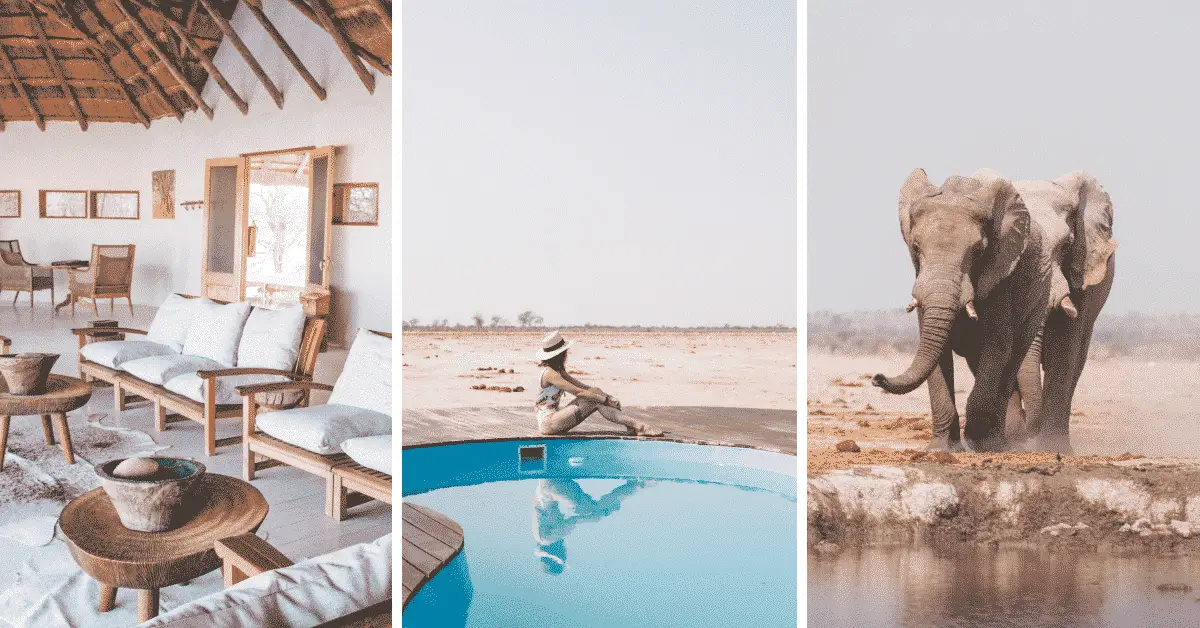 There are two ways to my heart – food and adorable animals.
Nxai Pan Camp delivered on both in SPADES. So it's official. We're in love, we're a thing, and my heart-shaped glasses are staying on my face forever.
What's makes Nxai Pan Camp one of the best safari lodges in Botswana?
1.) Well, the camp is inside the beautiful Nxai Pan National Park that's home to the largest zebra migration on Earth
2.) It's 100% off-the-grid, completely solar-powered
3.) It's only for the adventurous who want to stay at a lodge that prioritises time in the bush over catching a tan at the pool
Sound like the safari experience of your dreams? Then read on and get your credit cards fired up and ready to go.
Here's what it's like staying at Nxai Pan Camp in Botswana!
How to Get to Nxai Pan Camp
Nxai Pan Camp is in the remote, unspoilt wilderness of Nxai Pan National Park.
If you want to explore a part of Botswana that's under the radar but delivers on exceptional safari experiences, you have two options:
1. You can fly into Nxai Pan Camp. There is a private airstrip in the park and bush flights are arranged on request.
2. You can drive to the camp, but you'll need a 4X4 to tackle the corrugated sandy roads.
For our trip to Botswana, we loaded up our stuff in my friend's fancy new 4×4 and braced ourselves for one hell of a sandy adventure. I'm happy to report that the roads aren't that difficult to drive.
Even if you're a level noob with offroad driving, you'll be able to manage. Just don't stop the car while you're on the sand, or you'll spend the next couple of hours digging yourself out.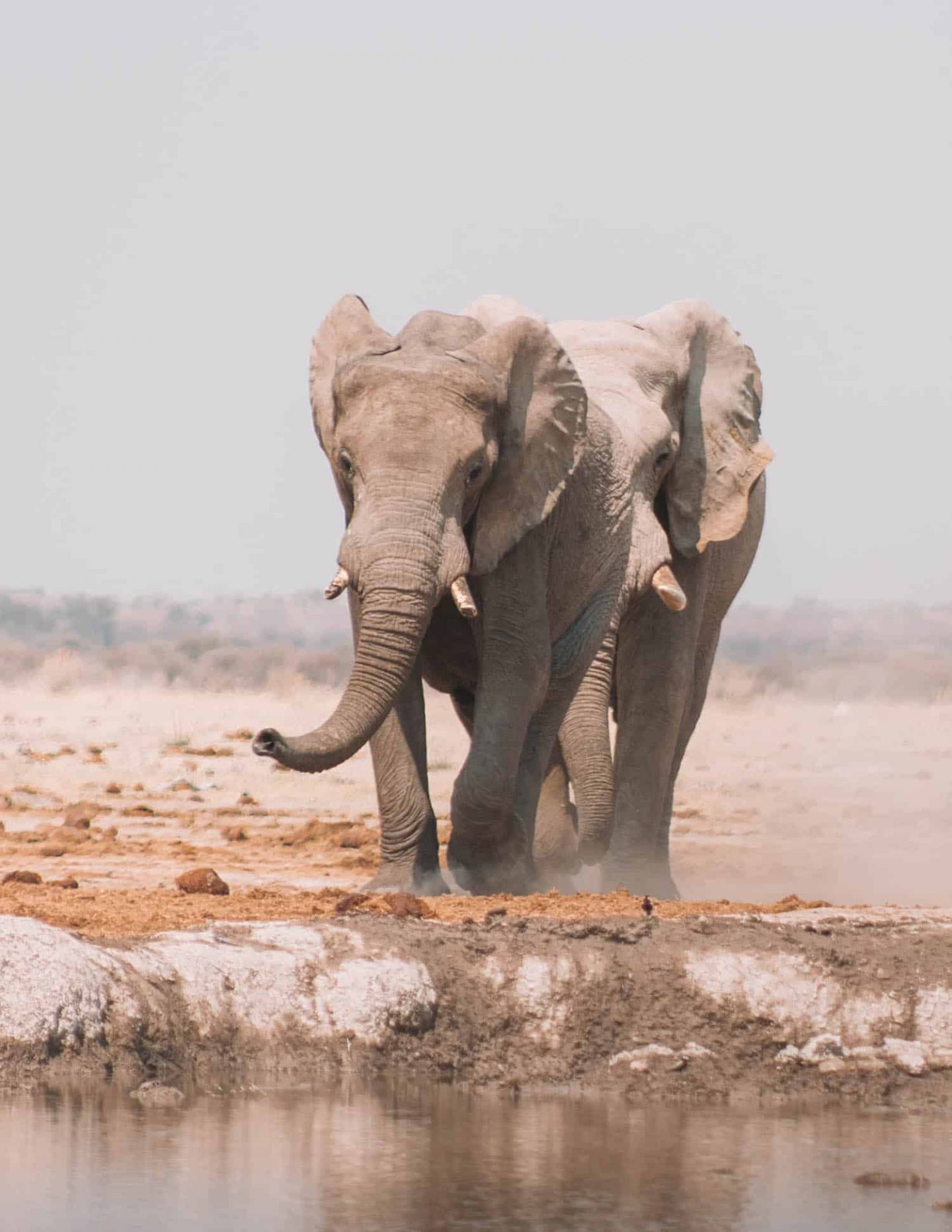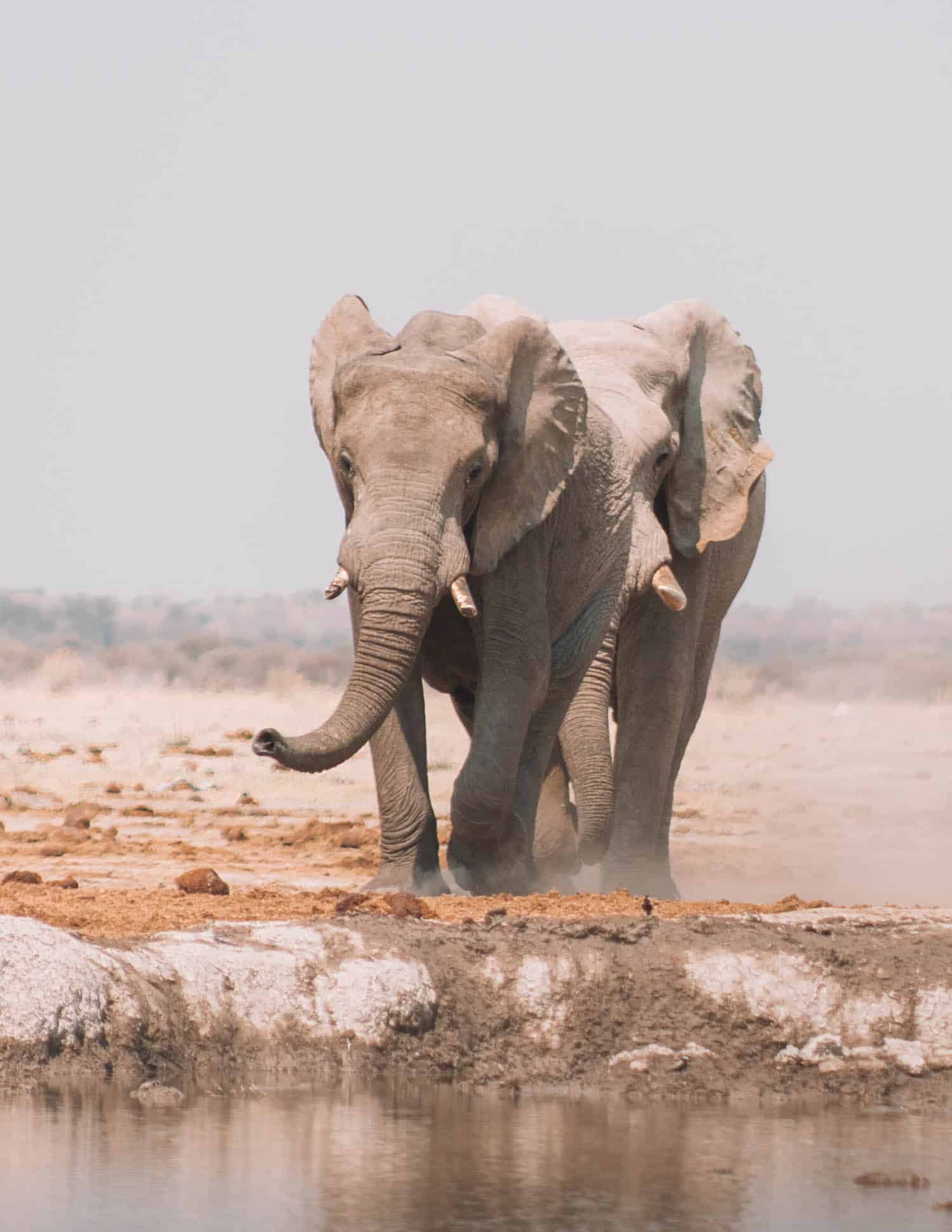 ---
About The Property
Nxai Pan Camp is a gorgeous off-the-grid eco-lodge set in the middle of Nxai Pan National Park.
The property is 100% Botswanan owned and only employs local people.
What I love about the camp's story is its employment history. The current manager of Nxai Pan Camp started as a babysitter for the Kwando Safaris! Plus, almost everyone at the camp has been working for Kwando for more than five years.
Nxai Pan is also fully solar-powered, and you won't find a single plastic water bottle here. When you go out for game drives, you're given a reusable glass bottle to keep you hydrated.
But the wow-factor doesn't stop there.
The camp is situated only a couple of meters away from one of the most popular watering holes in the park! We went to Nxai Pan during Botswana's dry season and every day we saw giant herds of elephants literally running to it!
After a long day in the bush, guests can kick-back at the gorgeous outdoor pool, have a drink by the boma fire pit or relax in the communal lounge area.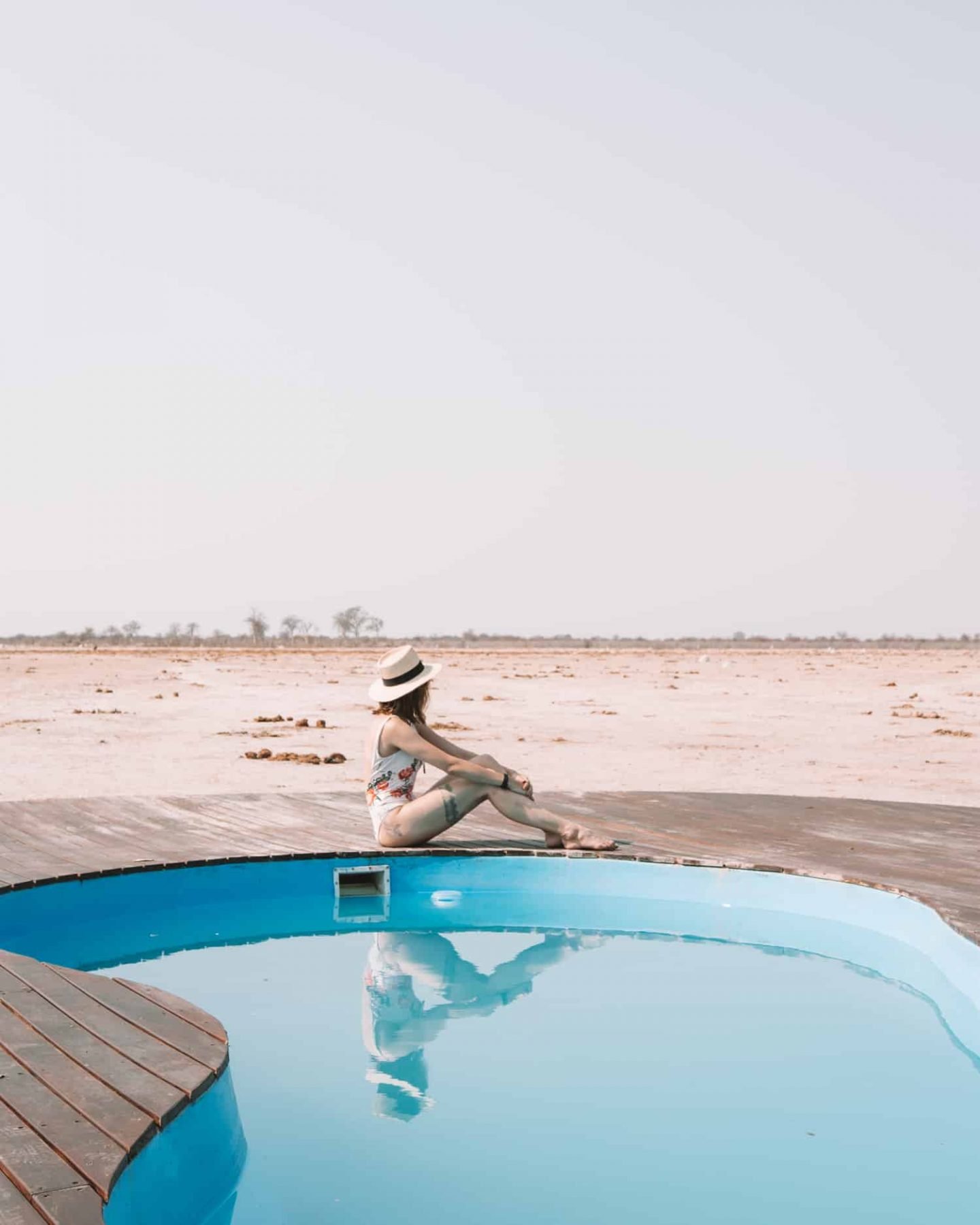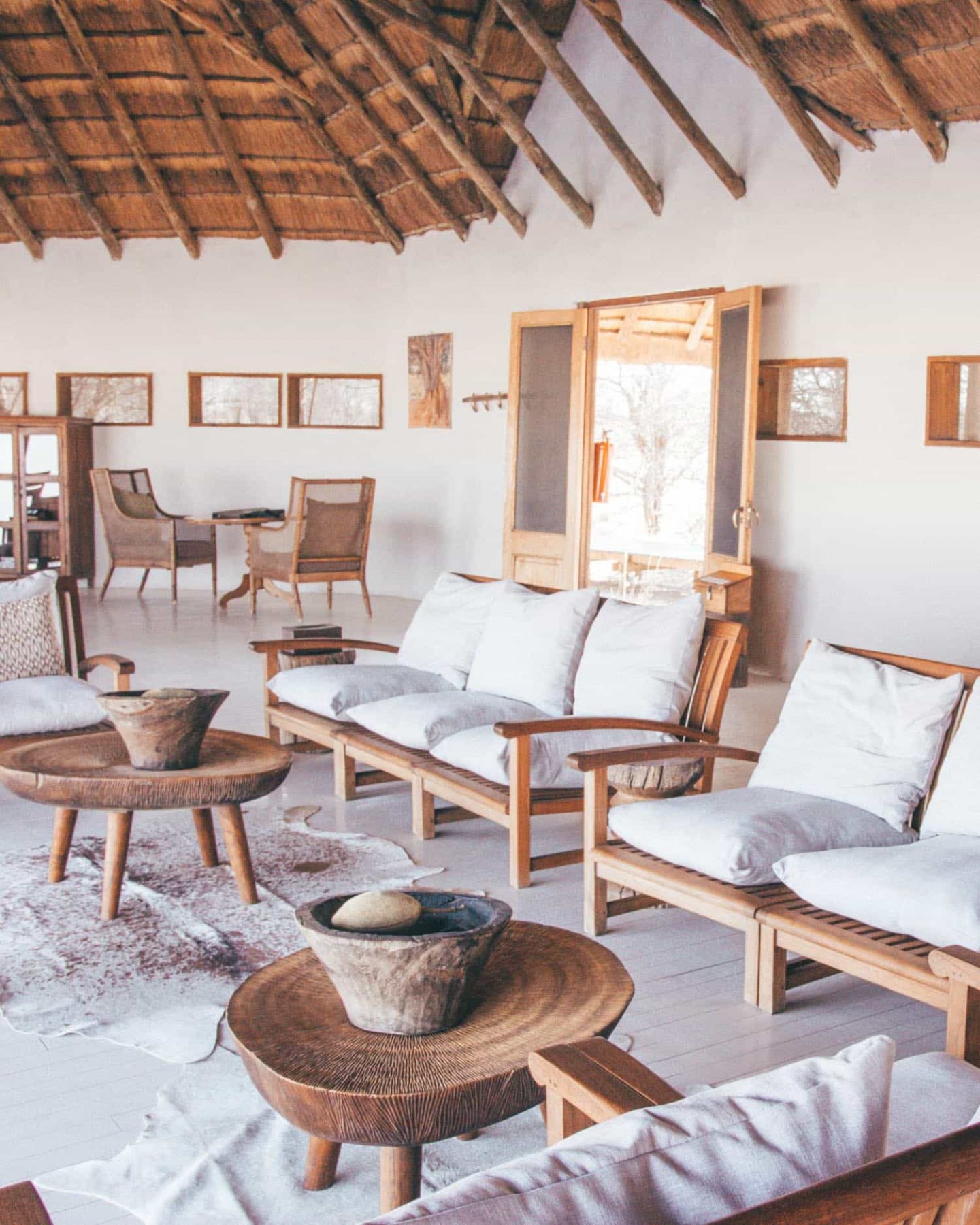 ---
The Rooms
The entire camp and each of its nine rooms are decorated with a minimalistic white-washed design. It helps the property blend seamlessly into the natural environment, and each decor item follows a colour palette that mimics what you'd find in the bush.
Each room is built from specially selected materials that keep it warm in winter and cool in summer. Despite the heat of the day, our rooms never felt stuffy and were always a welcome reprieve from the sun.
Our room came with the following amenities:
• Indoor and outdoor shower
• Ensuite toilet
• A king-sized bed and two singles
• Towels and eco-friendly bathroom amenities
• A laundry service
• Private deck area
• Daily cleaning service
• Hot water bottles in the evening
---
Food & Drink
While we did have incredible wildlife sightings at Nxai Pan, I'd be lying if I didn't say the food was one of my biggest highlights.
As a travelling vegan, I never know what to expect from lodges. Some have zero items I can "veganize" on the menu, others have a few options that aren't a salad, and then you get Nxai Pan.
From the moment I walked into the camp, I was showered with delicious vegan treats.
For high-tea, I had a specially made tartlet, and I gobbled it down in a matter of seconds.
For both my dinners, my taste buds continued to be blessed by the on-site chef's cooking prowess. I had plant-based traditional Botswanan options for my starters, mains and desserts!
And it didn't stop at breakfast.
Before our early morning game drives, we sat around the fire eating piping hot porridge. Other options on the breakfast menu included toast, freshly-baked muffins, yoghurt, honey and jam.
Another thing that crept into my heart was the drinks. You can have as much as you like, it's all included in the rate!
I indulged in some gin and tonic, and delicious glasses of South African Sauvignon Blac with my dinner.
---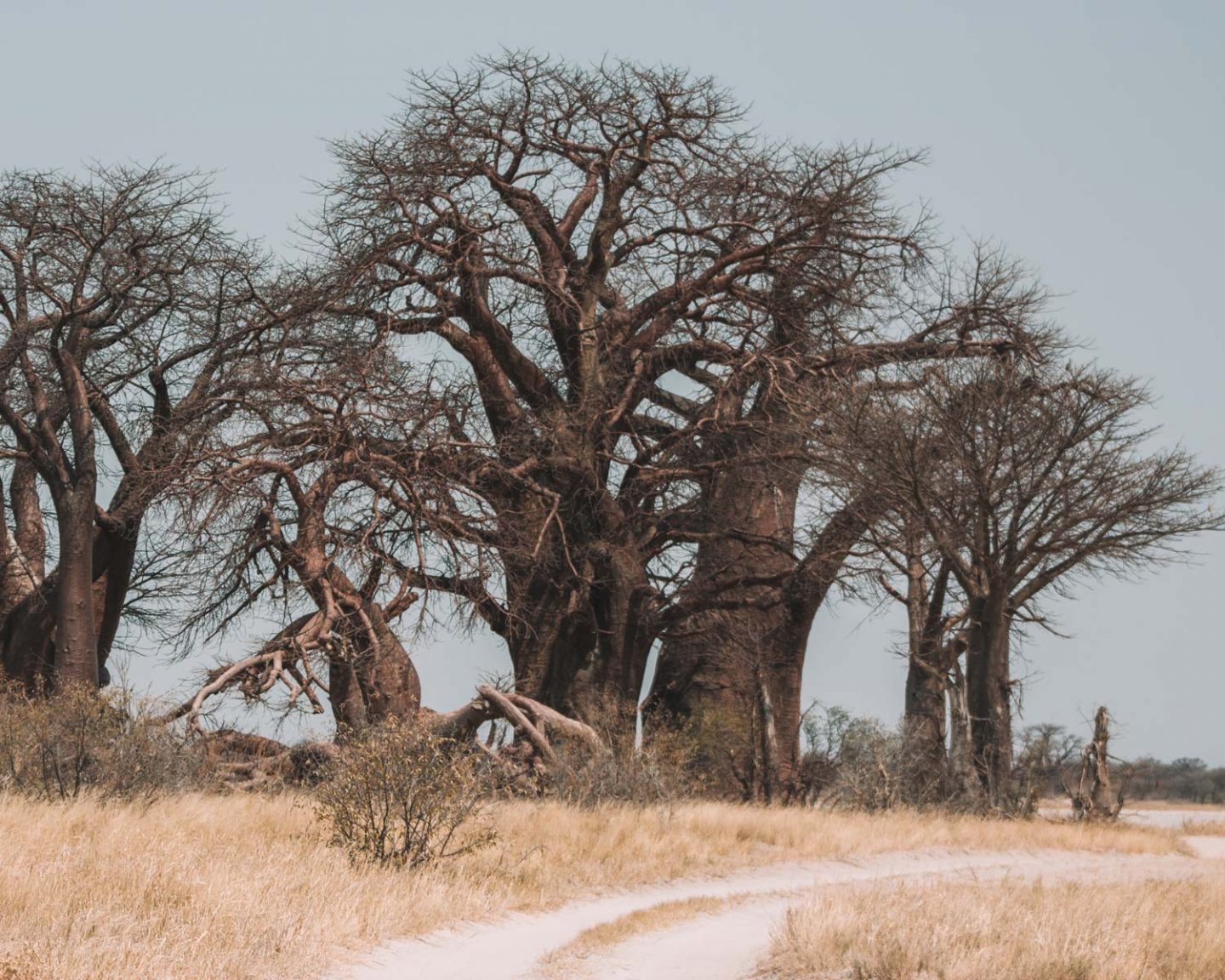 What to Do in the Nxai Pan National Park
Nxai Pan Camp caters for the adventurous traveller. If you want to be out in the bush as much as possible, soaking up Botswana's rich natural heritage and spotting as many elephants as you can count – this is the camp for you.
Here are all the activities included in your rate:
Morning, Evening and Full-Day Game Drives
Game drives at Nxai Pan aren't you're run of the mill experience.
First, you get a guide AND a tracker. This means you have two well-trained eyes looking out for those lion tracks, pointing out critters you'd usually miss and giving you bucket loads of valuable information about the bush.
Seriously, I would NEVER have seen half the animals (including the pride of lions!) if I had been left to my own devices.
Second, you get incredible evening game drives that include a sundowner, light snacks and a breathtaking sunset in the bush.
If you've been out in the park for the whole day, you'll return to camp in time to watch the sun go down over the nearby baobab tree.
Lastly, when you get back, the pampering starts! You're greeted with warm towels to wipe away all the dusty grime, the bar is open and dinner time is right around the corner.
Baine's Baobabs Day Trip
Baine's Baobabs are a cluster of ancient trees made famous by Thomas Baine. The explorer came across the trees during his expedition to Victoria Falls with David Livingstone and captured the trees in a beautiful painting.
Today, the trees look almost exactly as they did well over 150 years ago!
When staying at Nxai Pan Camp, you can opt to go on a full-day game drive that will take you to the trees. Once you're there, you'll have time to walk around before heading to a nearby campsite for lunch.
Bushman Walk
If you're curious about the San way of life, don't miss out on Nxai Pan's Bushman Walk. It's led by Shoes, the resident San tracker who grew up in the Central Kalahari National Park.
During your 20-minute walk with Shoes, you'll learn how the San survived in the hostile environment by reading the signs of the bush and the many uses for elephant dug.
Shoes will also show you how to start a fire with two sticks and what to do if you ever need to catch a guinea fowl.
---
What I Think of Nxai Pan Camp
Nxai Pan Camp is one of the most exceptional properties I've stayed at in Africa and beyond.
From the gorgeous seamless design to the super knowledgable guides, the world-class staff and the delicious food, you can expect nothing short of an incredible stay while you explore Nxai Pan National Park!
Thank you to Nxai Pan Camp & Kwando Safaris for inviting me to their property! As always, all opinions are my own.
---
Psst…Want more Africa travel inspiration? Check out these other posts:
?If you like it, then you should put a pin on it ?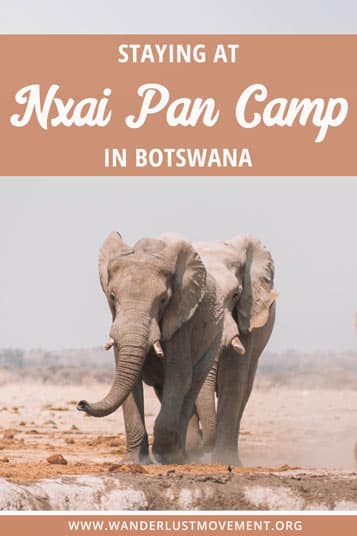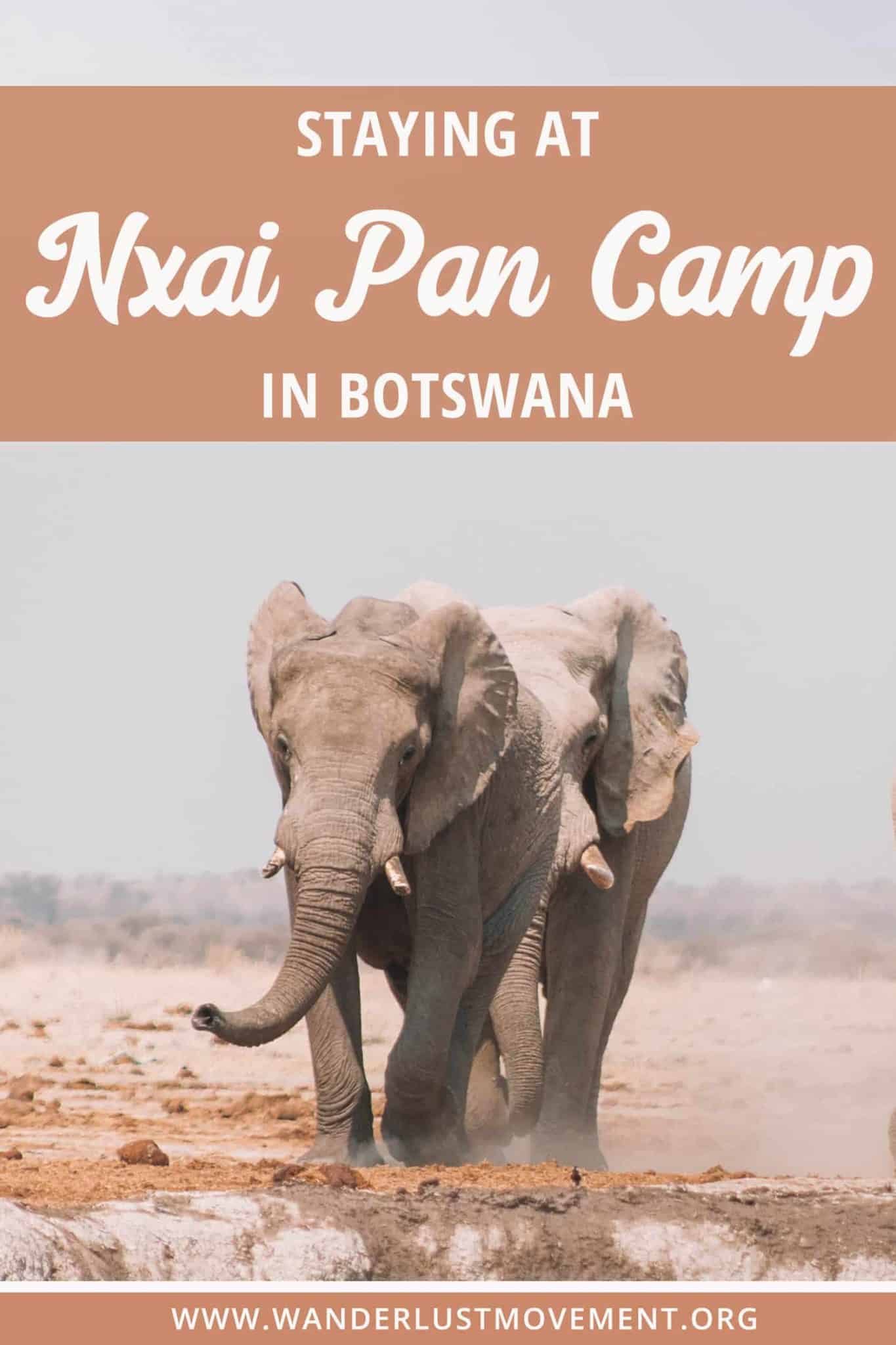 For an exceptional safari experience in Botswana, book a night or two at Nxai Pan Camp. You'll have elephants meters from you and the pool!