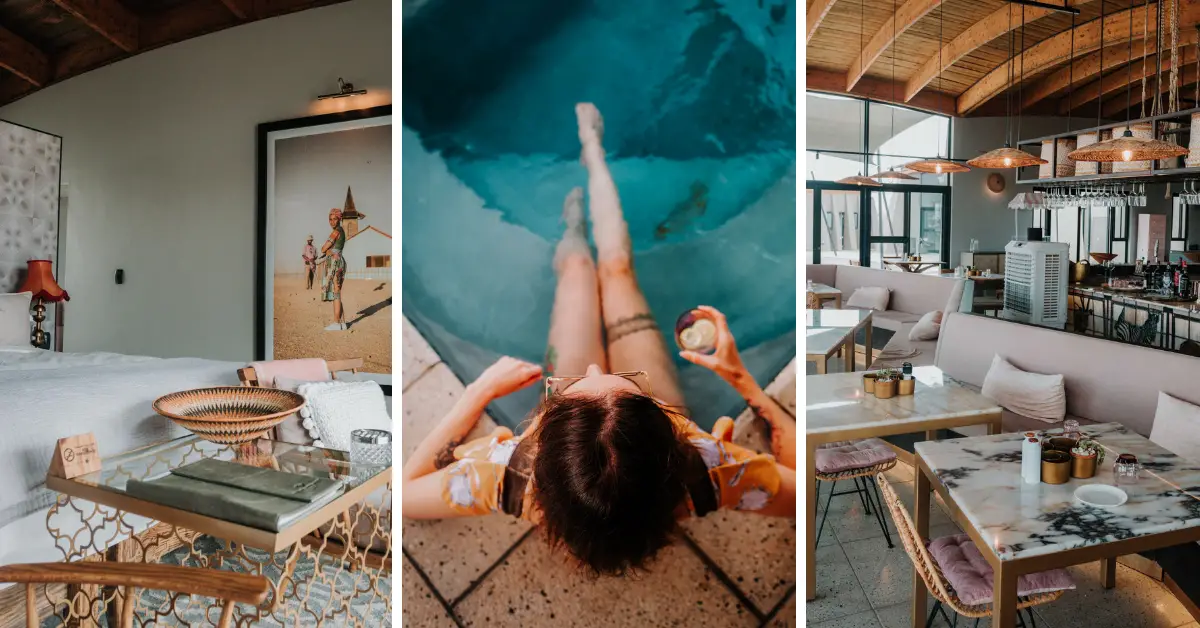 In my mind, Namibia is one of those destinations best enjoyed with a blend of 'roughing it' and a dash of luxury.
While the country has some spectacular campsites you should definitely check out, it's always a good idea to break up your trip with a night or three at a lodge.
Namibia has an incredible collection of properties, and at the top of the affordable luxury heap, sits Desert Grace.
Part of Gonwana's premium collection, it's an eco-lodge situated in the spellbinding Gondwana Namib Park.
Only a 1h 30min from Sossuvlei, you can wake up to Oryx right outside your bedroom, eat your weight in ice cream (it's all-inclusive), and soak up the serene desert atmosphere while sipping on a signature pink gin and tonic.
If you're looking for inspiration on where to stay in Namibia, here is a Desert Grace review, detailing what makes the property oh so special and luxurious.
I was welcomed graciously hosted by Gondwana Desert Grace during my stay. All photos, experiences and stories, however, are my own.
Psst…Want more hotel inspiration? Check out these other posts:
Desert Grace: An Introduction
Desert Grace is best summed up as Old Hollywood glamour meets the rolling dunes of the Namib desert.
The architecture seamlessly blends with the dunes' rolling shapes, and the entire lodge is tastefully accented with a delicious hue of pink.
You expect retro touches like a Marshall Speaker in every room with a modern interior with elements that pay homage to Namibian culture and heritage.
Everything simply fits. Nothing feels out of place or in contest with the spectacular desert scenery.
Blending Luxury and Sustainability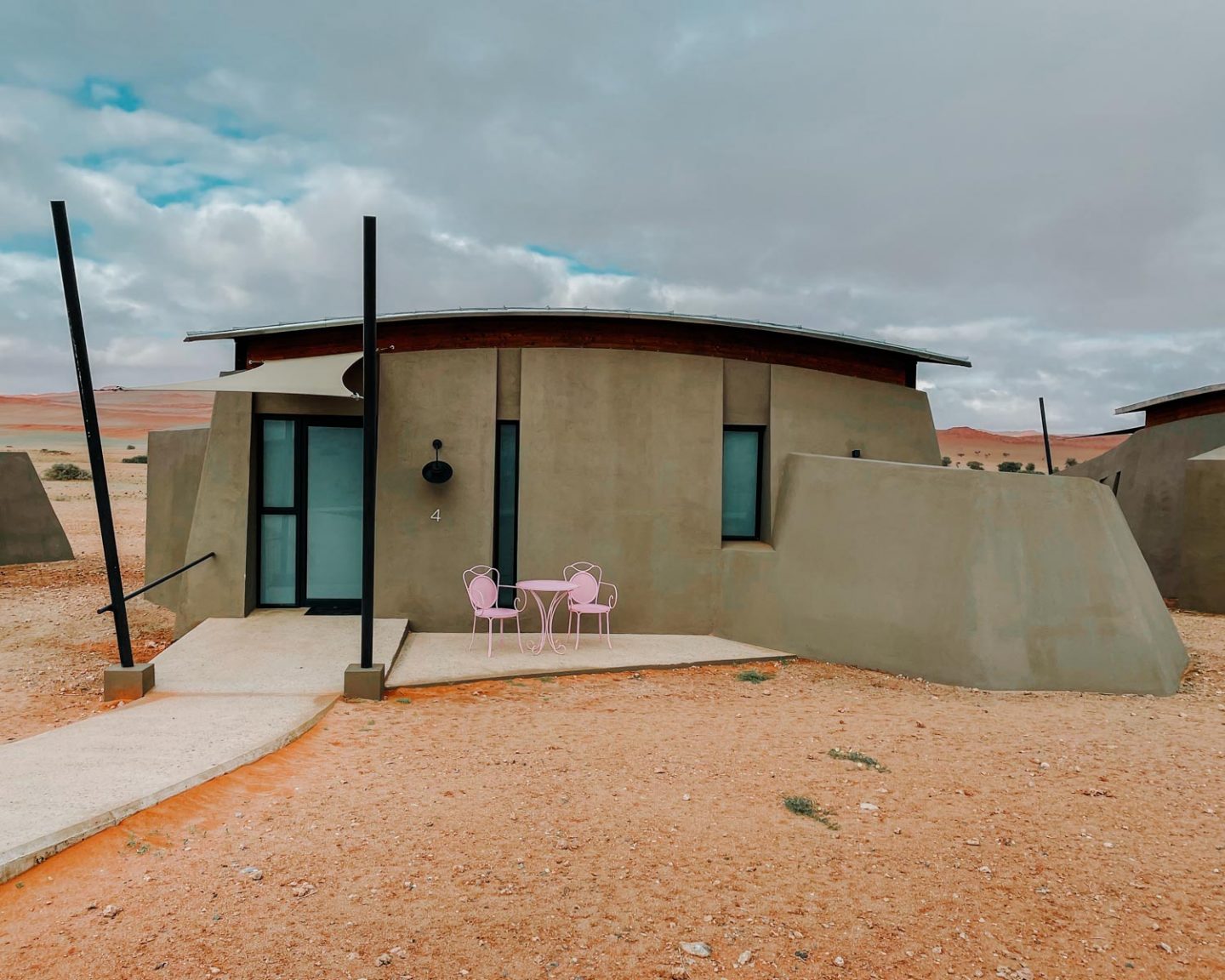 What I love about Desert Grace is its commitment to sustainability.
The lodge didn't use regular ol' bricks to build its bungalows.
Nay nay.
Gondwana used bags filled with Namib Desert sand. The natural materials have top-notch sound and thermal insulation properties, and I can attest to this!
Despite staying next door to my friends, I didn't hear a peep from them through the walls.
The lodge also has an on-site water-recycling plant, solar panels doubling as carport shades, and walkways made from concrete and recycled glass.
Fun fact: The construction o used over 200 tons of used glass bottles from lodges around Namibia!
And Desert Grace's commitment to minimal impact on the environment has paid off. The lodge received 5 Green Flowers in 2020 from the Eco Awards Namibia, a sustainable tourism certification program.
---
How to Get to Gondwana Desert Grace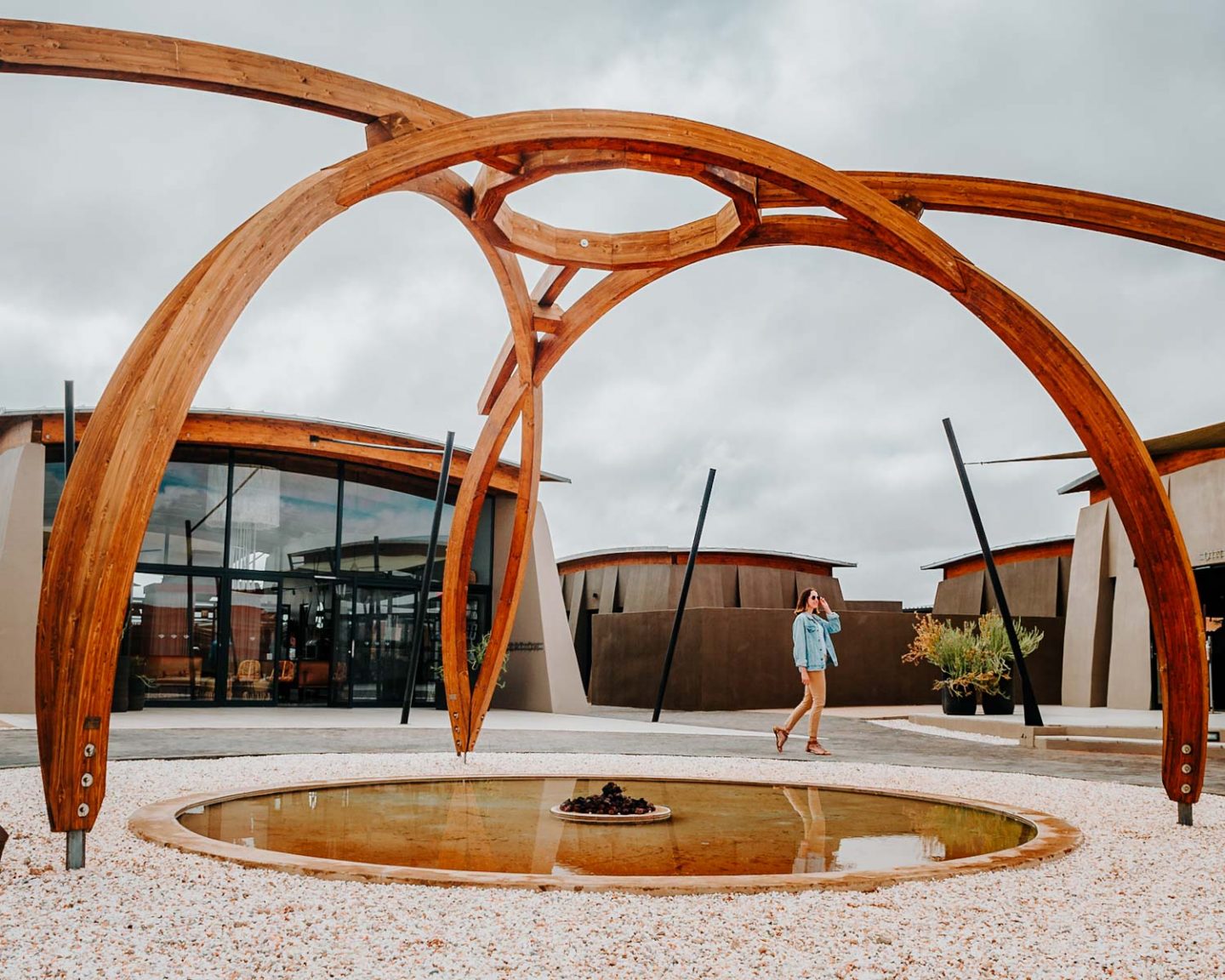 Despite its remote location, the lodge is easily accessible with a 4×4 or a regular vehicle.
You'll find Desert Grace between Solitaire and Sesriem, and only 50km from the iconic Sossusvlei entrance gate.
If you're flying in, the lodge is 4-hours from Windhoek's Hosea Kutako International Airport and 3-hours from Walvis Bay Airport.
For road trippers, I'd recommend splurging on a 4×4 vehicle. It will make getting around easier and give you more access to Namibia.
Read More: How To Book Cheap Flights From South Africa To Your Dream Destination
---
The Stylish Luxury Bungalows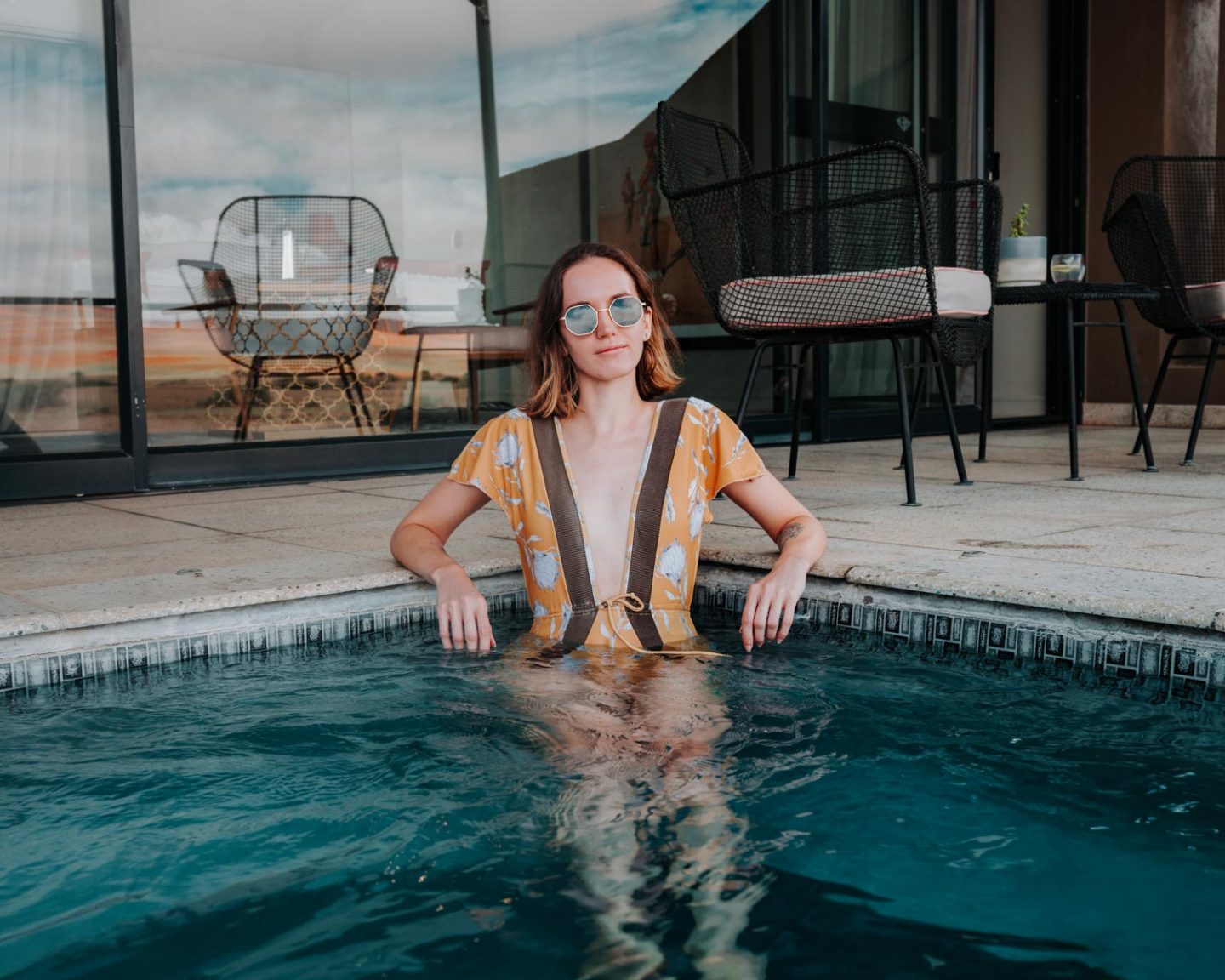 Checking into my bungalow, there was a lot to be thrilled about.
The mini bar was fully stocked with free treats! I'm talking gin and tonics (lemon included), brandy and coke, bottled water, and an assortment of fruit juices.
Then there's everything else. The room comes with soft pink hues, a spectacular en-suite bathroom with a loo that has a view, and a private patio with a plunge pool!
Everything about the bungalow screams luxury and comfort, which presented a small problem. I had tremendous difficulty prying myself from the bed.
Well…until I heard about the all-you-can-eat situation. More on that later.
Each bungalow comes with the following amenities:
Wi-Fi
En-suite bathroom and outdoor shower
A safe
Private deck area with a plunge pool
Complimentary shampoo, conditioner, and body wash
Tea and coffee station with a coffee press!
Delicious biscuits
Plug and USB points
Laundry service
Hairdryer
Aircon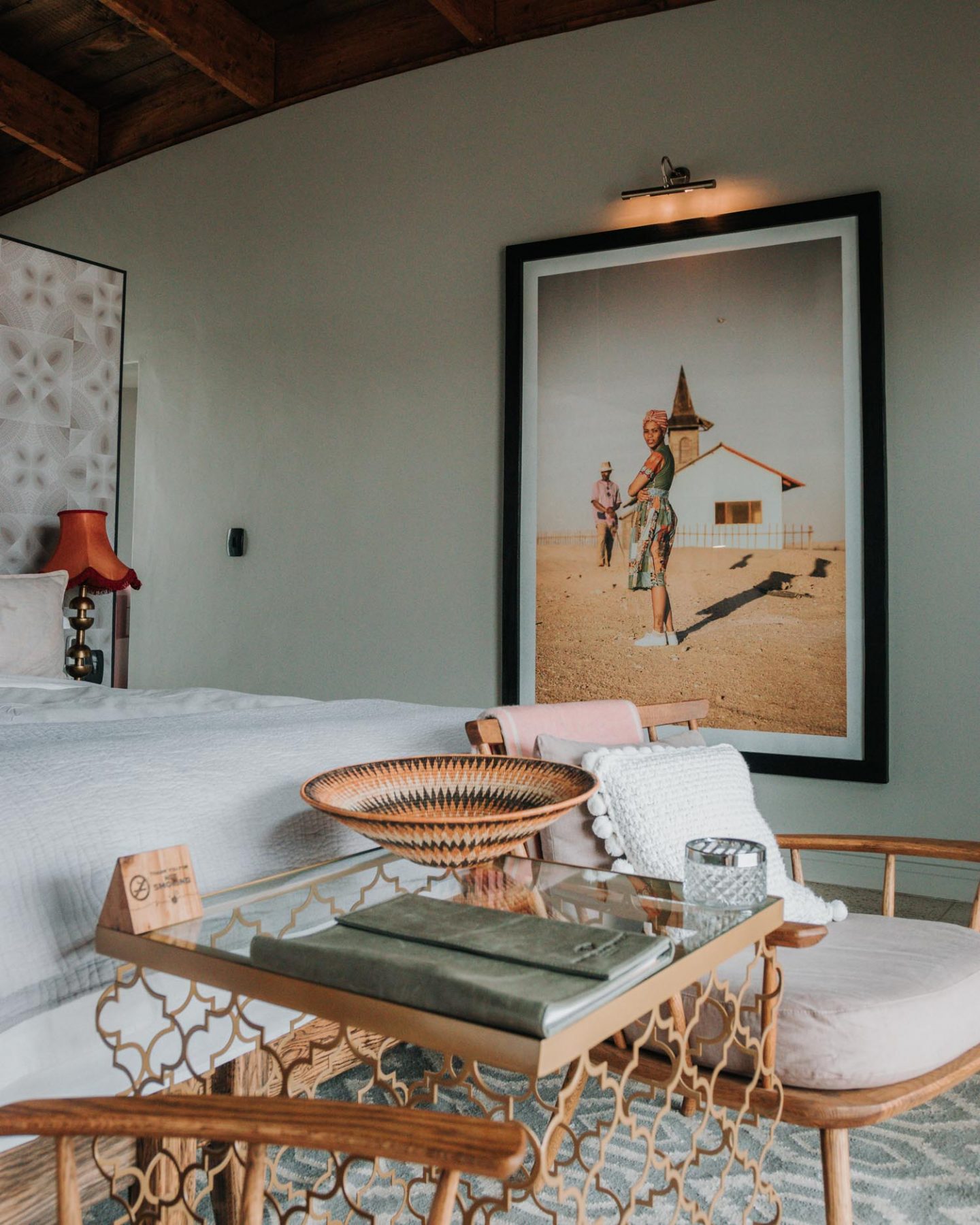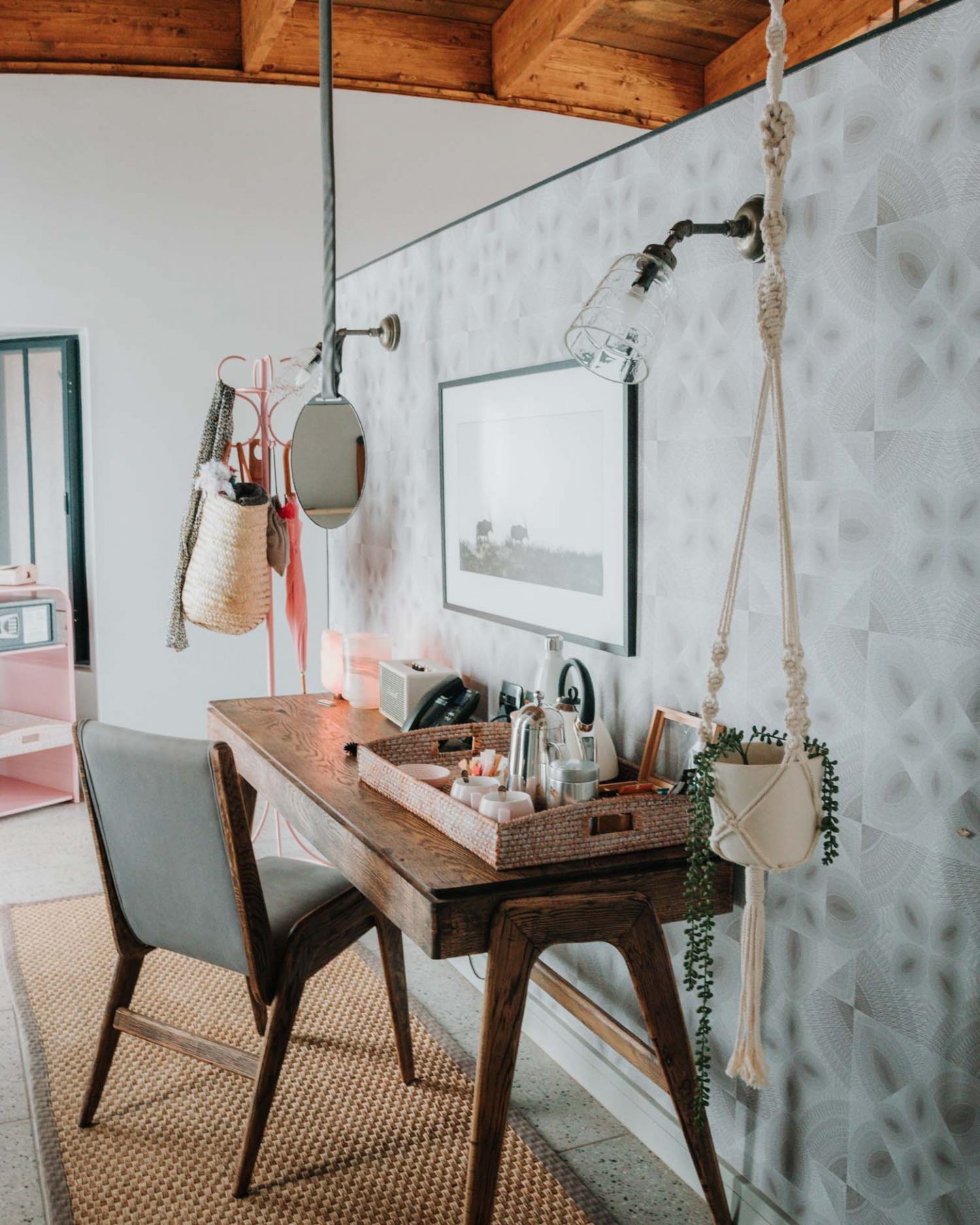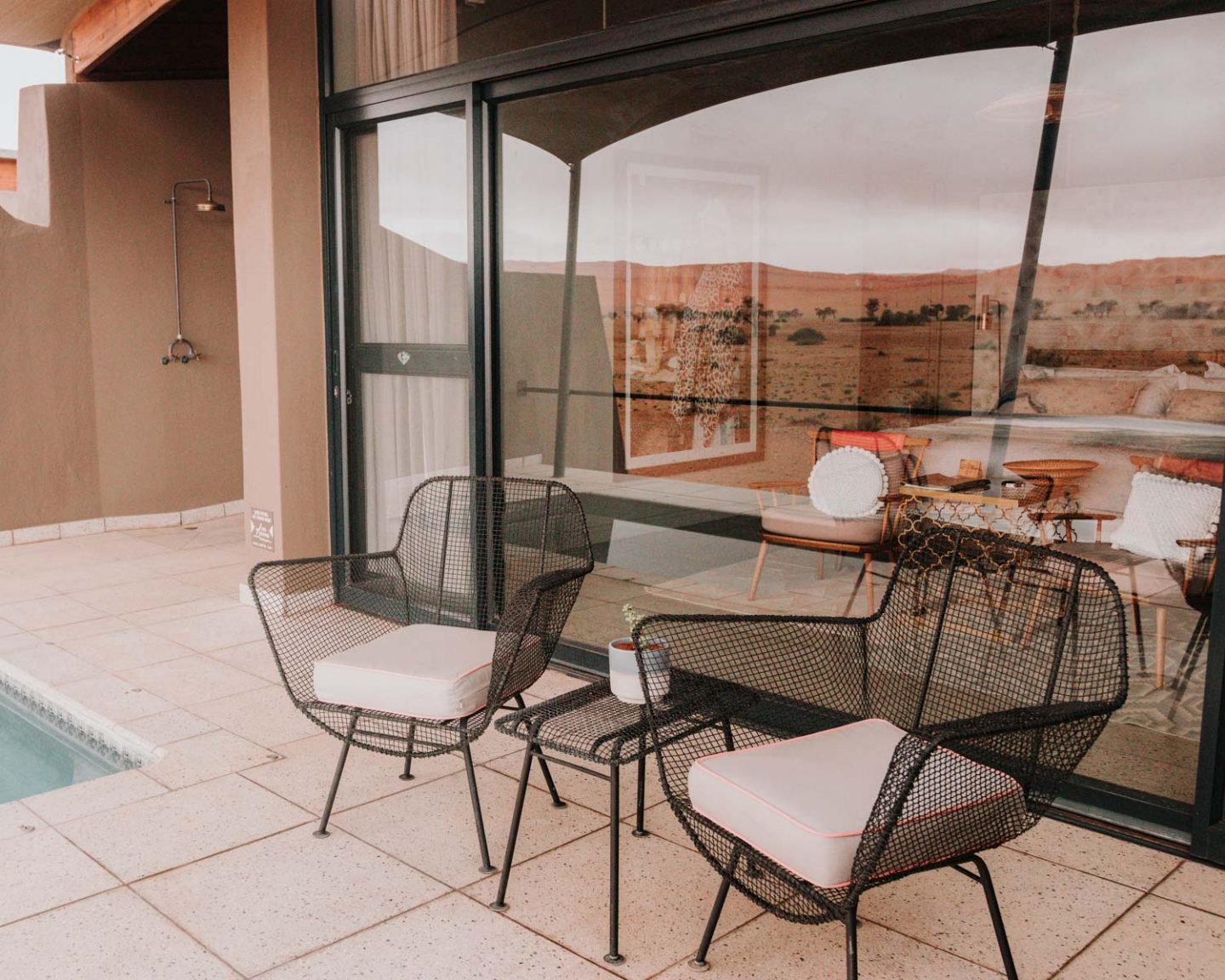 ---
The All-You-Can-Eat Food Buffet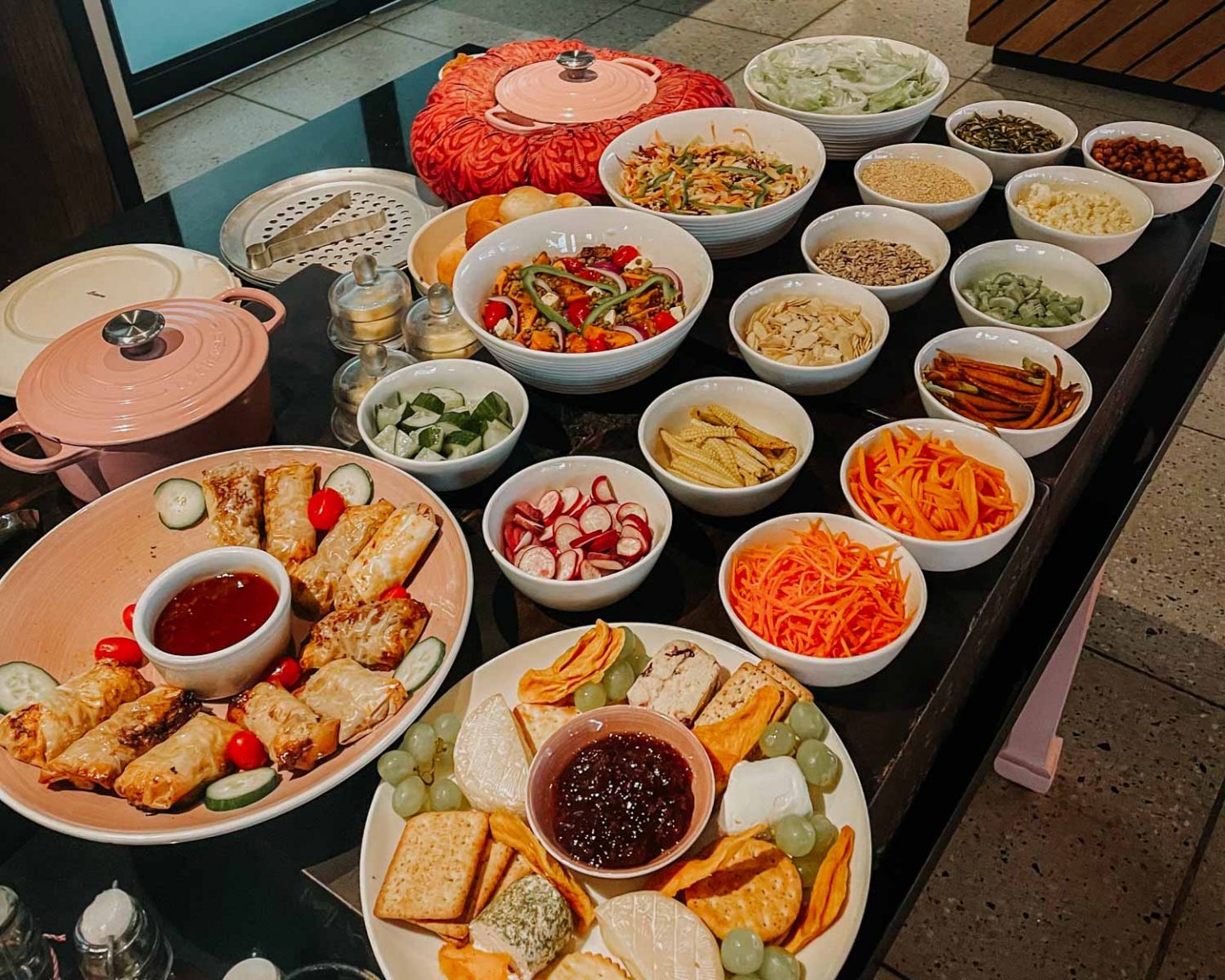 Not sure where to find me? Follow the food.
It's my greatest weakness and what I look forward to the most when staying at a luxury lodge, like Desert Grace.
And boy, was I NOT disappointed.
Dinner at Desert Grace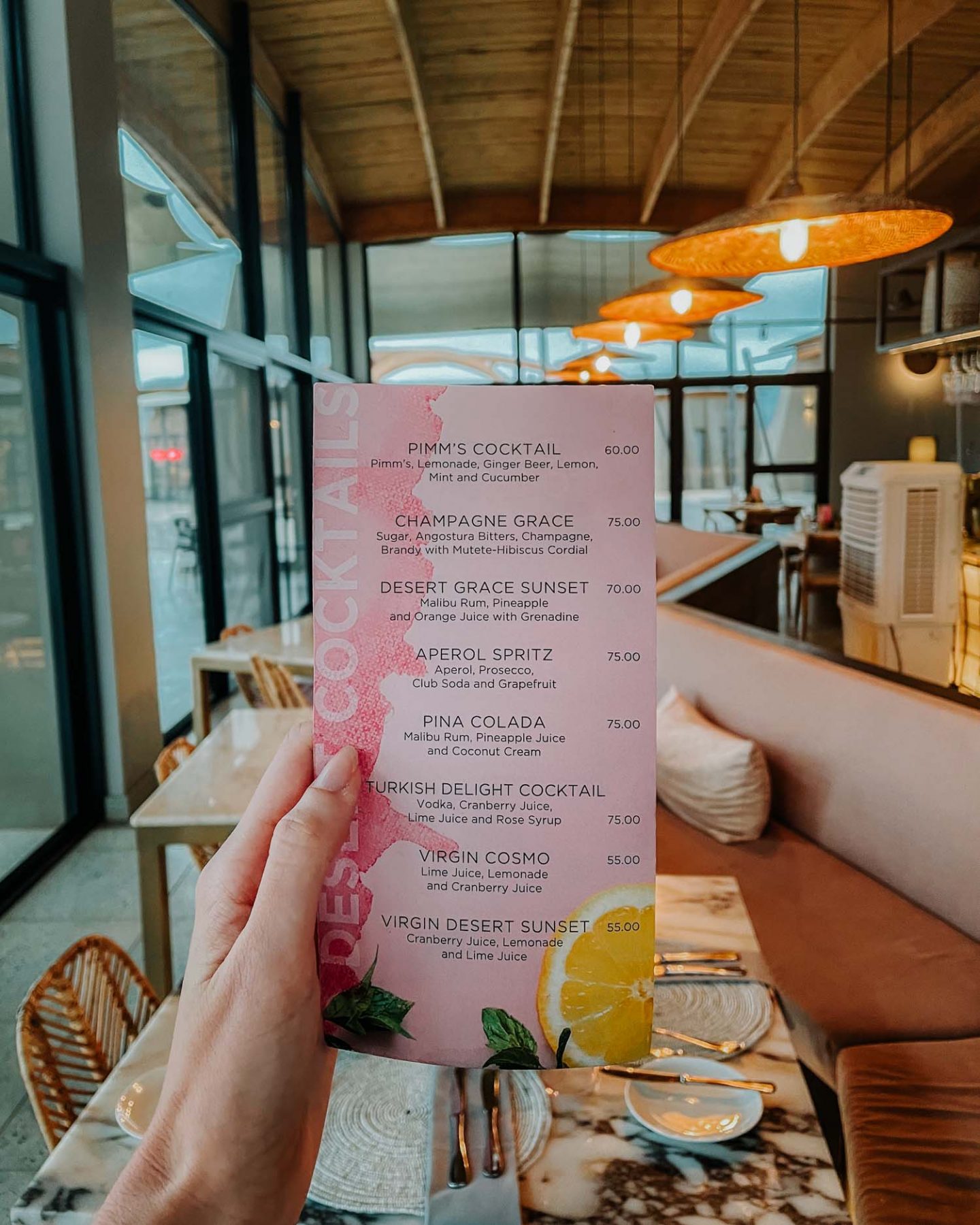 For dinner, we had an all-you-can-eat buffet but with a twist.
First, you had your starter buffet. It had delicious treats like spring rolls, cheese and crackers, and an assortment of salads.
I filled my plate high with chickpeas, olives, carrots, corn, sunflower seeds, lentils. If it was a vegetable, it was on my plate.
For second staters, I got to make a pizza (minus the cheese). I loved it so much – I forgot to take a photo. So you know it was good.
Then came the mains. For omnivores, there was a variety of meats to choose from. For us, plant-eaters, I had sweet potatoes, pumpkin, broccoli, and rice.
Suffice to say I was stuffed when dessert came around. I didn't have any space for the home-made ice cream, but I have it on good authority -it was delicious.
Breakfast at Desert Grace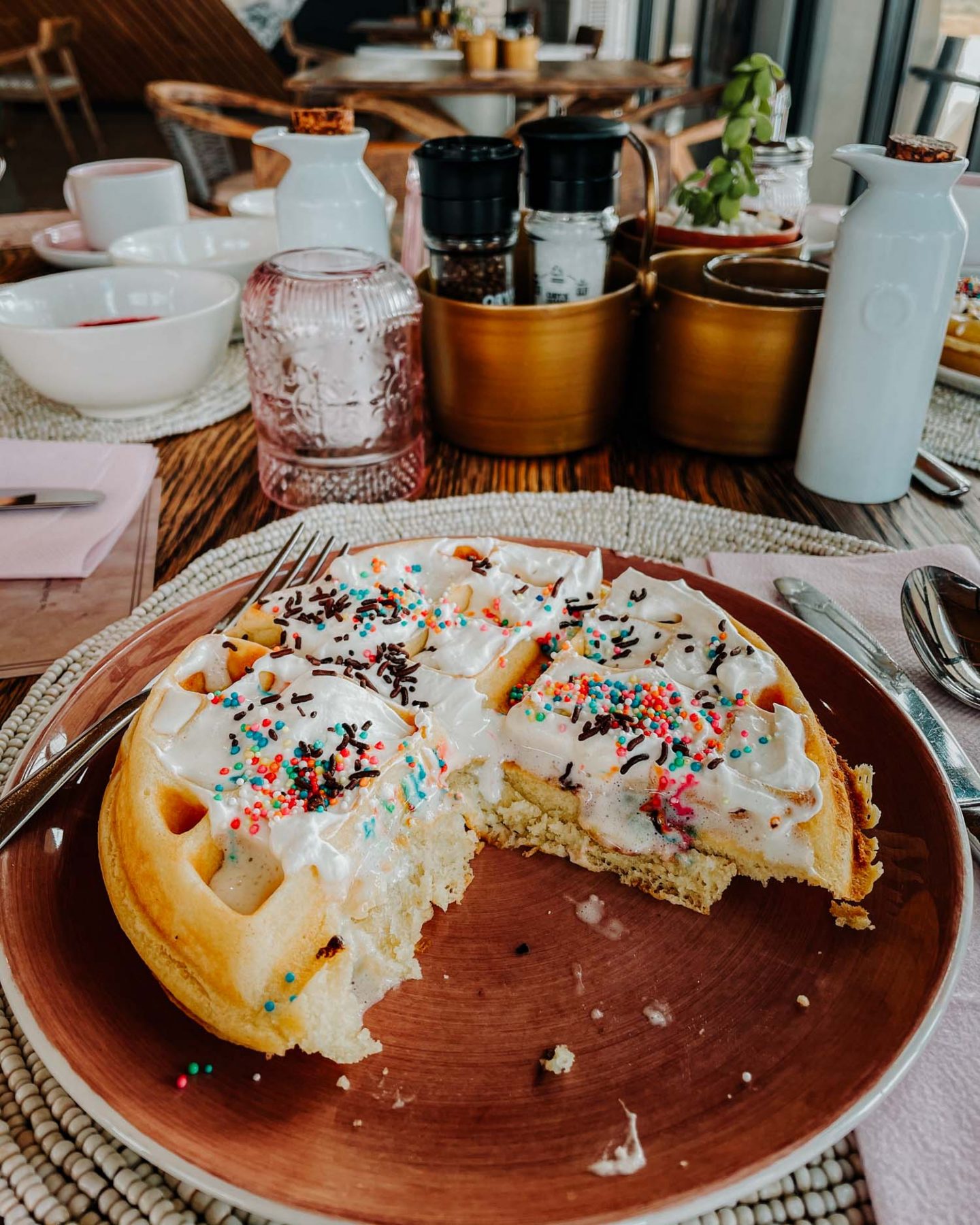 The smorgasbord of food continued at breakfast.
You can choose treats from the cold breakfast options, mini platters, and cooked breakfast from the set menu.
Cappicinoos, a variety of teas, and juices are up for grabs as well.
Some of the most mouthwatering items include the waffles with whipped cream and sprinkles, a cheese platter, and more than enough fillings for your omelette.
If you don't want to eat eggs, I can confirm the oats porridge will hit the spot, if you have space left over from everything else on offer.
---
The Instagram-Worthy Bar & Lounge
In the evenings, you don't want to miss out on having a drink at the bar. With its pink neon signs and gorgeous decor, it's the perfect place for sundowners.
Not sure what drink to order? 12/10 recommend trying the signature pink gin and tonic.
It will get you in the Desert Grace vibe.
Best enjoyed on the deck at sunset or inside the stylish lounge if the weather is not on your side.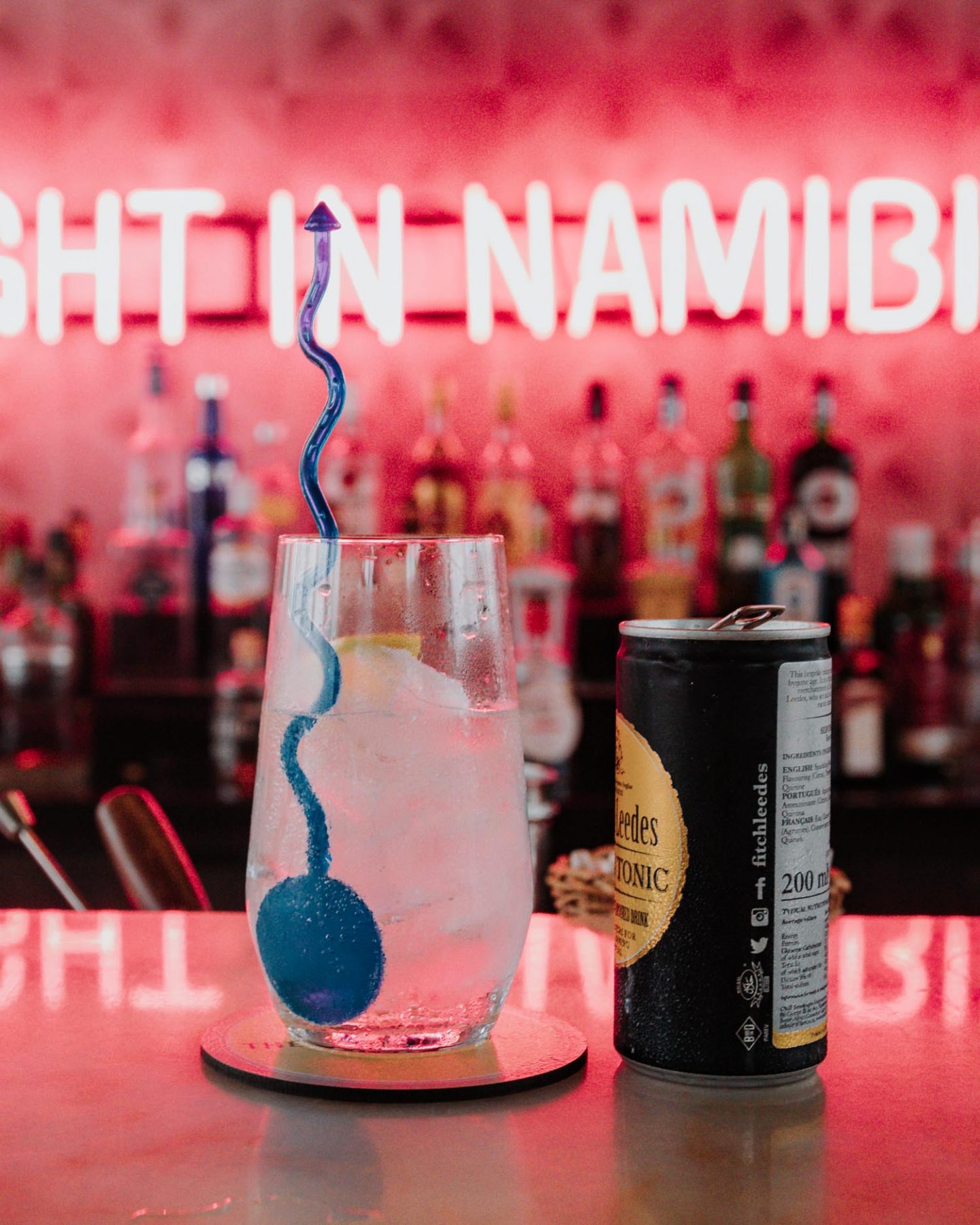 ---
Things to do at Desert Grace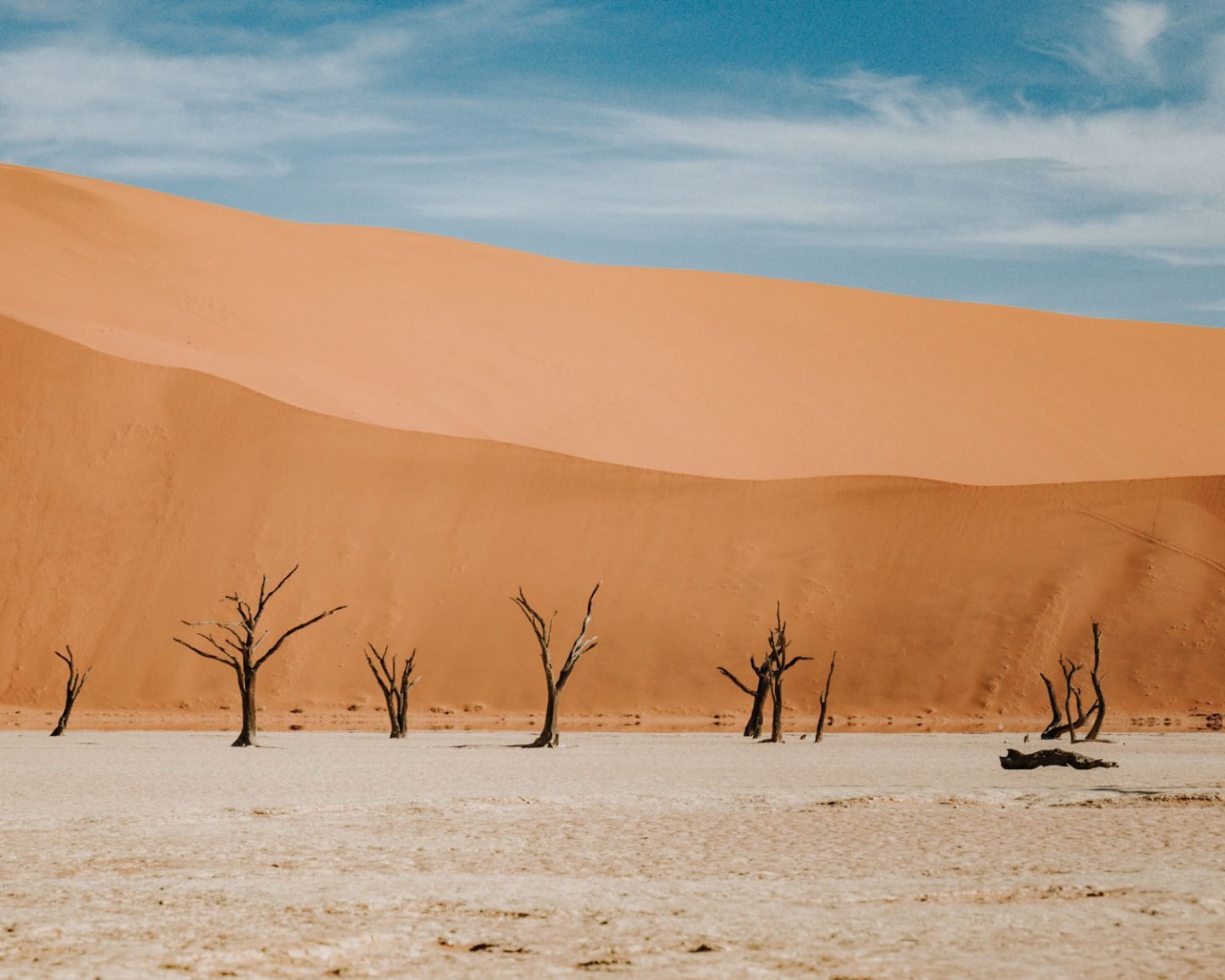 Here are some of the best things to add to your Namibia itinerary while staying at Desert Grace:
Sossusvlei
Have you even say you've been to Namibia if you haven't seen the highest dunes in the world? Covering over 30,000 square kilometres, the dunes form the only coastal desert in the world!
Desert Grace offers a half-day adventure to Sossusvlei where you can climb to the top of Dune 45, see the famous Dead Vlei trees, and tackle the Big Mama dune.
The trip to the World Heritage site includes all entrance fees to the park, brunch and refreshments.
Hot Air Balloon Ride Over the Desert
Staying at Desert Grace means you're close enough to do a sunrise hot air balloon ride.
Only a 60-minute drive to the launch point, you can tick off one of the top bucket list things to do in Namibia.
My flight got cancelled due to bad weather and floods, so if you go – spend pics!
Scorpion Night Walk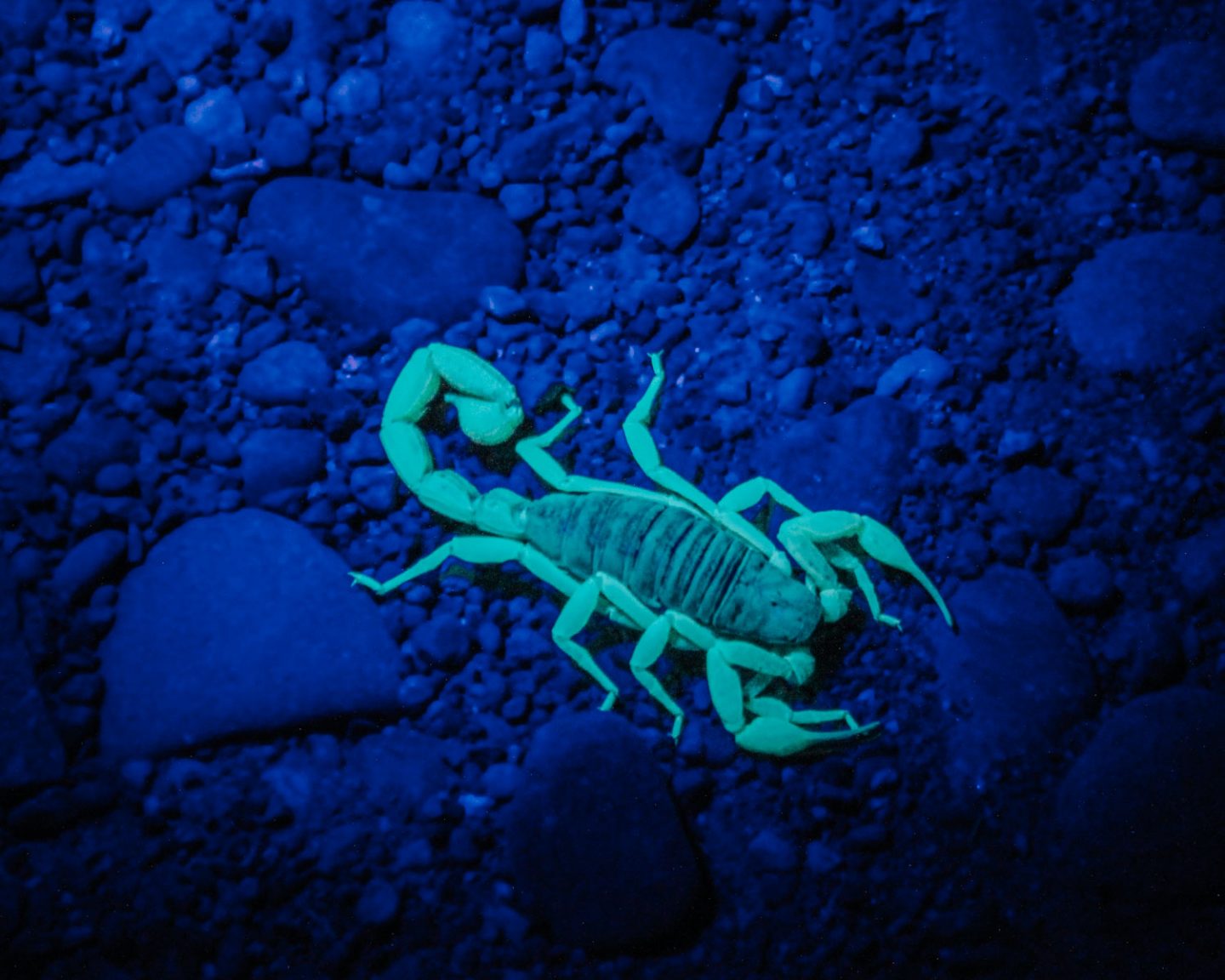 Back at the lodge, you can sign up for a guided scorpion walk. If it weren't pouring down with rain during our one night, I would have loved this!
Your guide will use a UV light to find the creatures on a short 3km walk. If nature is on your side, you'll see lots, or it might take you the entire walk to see only one.
E-Biking
As someone who can't ride anything with two wheels, I skipped out on this activity for my own safety.
But if you're more adept with things like balance and coordination, you can go on a guided or unguided 10km tour of the desert.
Keep your eyes peeled for bat-eared foxes, springbok, and other creatures!
Walking Trails
Put your walking shoes on and explore the 3km, 5km, and 7km trails weaving through the Namib Desert.
For minimal sweating and maximum enjoyment, start your hike early in the morning before the heat of the day sets in.
Nature Drives
One of the unique activities offered at Gondwana is the nature drive.
Your guide will get you up close and personal with the red dunes, and you might be lucky enough to spot springbok, blue wildebeest, Oryx, kudu or even a cheetah!
You can opt for an early morning or sunset drive. I'd go for the later if you want banger photos and a unique experience for sundowners.
The Curio Shop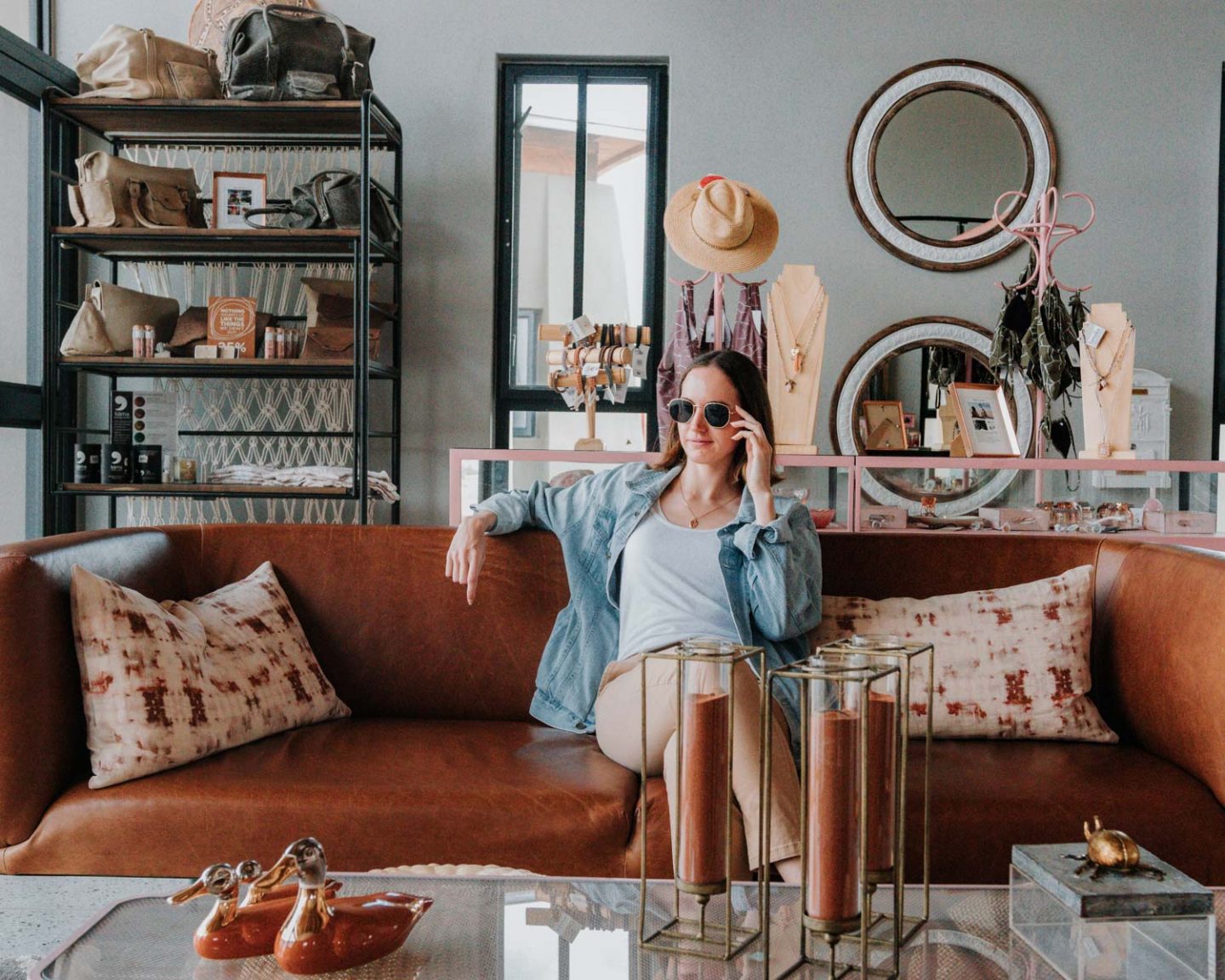 Before you check out of Desert Grace, spend a minute wandering around the beautifully curated curio shop.
I was stoked to see one of my favourite South African brands here – Gabrielle Swimwear! She is also an eco-friendly brand making swimsuits from plastic bottles.
Besides clothes, you can buy bottles of red Namib Desert sand (I got one for my mom!), Oryx plushies, hats from another firm favourite Sun Hats ZA, and gorgeous jewellery made from Namibian crystals.
---
Staying at Desert Grace: The Final Word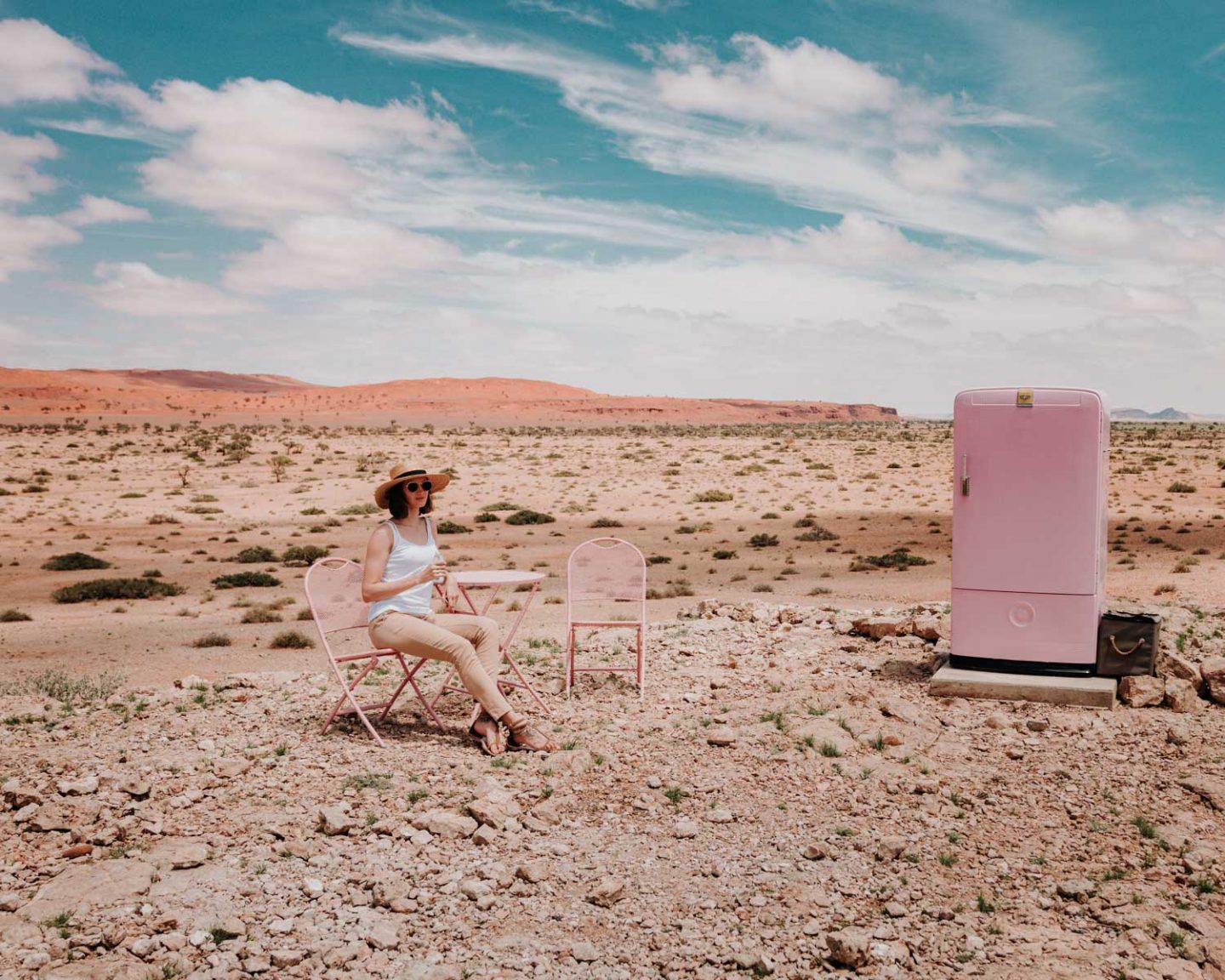 If you're on the hunt for a luxurious Namibian experience without all the kitsch safari decor AND you want bang for your buck, look no further than Gondwana's Desert Grace.
After my one night here, I'm itching to go back with less rain next time, please. I want to see the famous sunrises and sunsets with my own eyes!
Thank you to Gondwana and Desert Grace for inviting me to their property! As always, all opinions are my own.