Last Updated on April 9, 2021 by lauren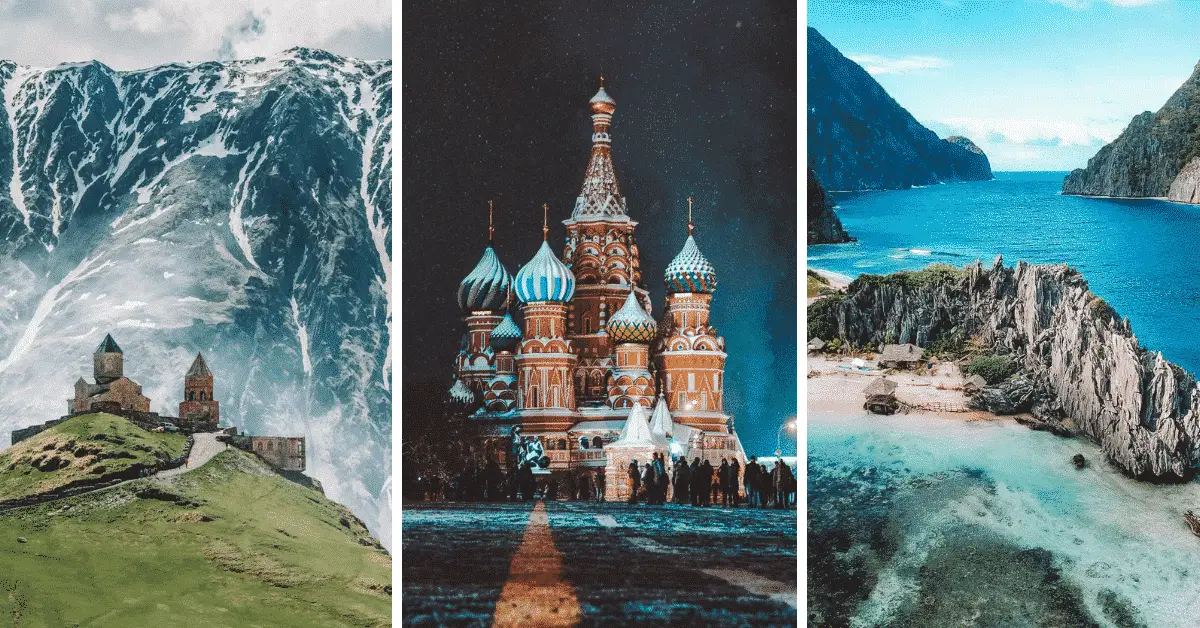 Soul destroying. Annoying. Tree Killer.
These are some of the colourful words to describe the pain of acquiring a visa as a South African.
If you'd like to leave that trauma in 2019, I've rounded up 20 incredible VISA-FREE destinations to visit in 2020.
Yup.
All you need to do is purchase a return ticket, book your hotel, rock up to the airport and get a stamp in your passport.
So baie maklik
Whether you're looking for the ultimate beach escape with mai thai's on tap, or hair-raising adventures with volcanoes and giant underwater sinkholes – ya gurl has you covered.
My the force of visa-free travel for South Africans be with you in 2020 and inspire you to boldly go where no Capago appointment can stop you.
Best Visa-Free Countries in Africa
Botswana: An Incredible Safari Destination
Best Time to Visit: May to September for unforgettable safaris and November to April for birds and baby animals.
Perfect For: Wildlife, Road Trips, Outdoors, Luxury
Can't Miss Spots: Okavango Delta, Chobe National Park, Makgadikgadi Salt Pans, Nxai Pan National Park
Unleash your wildest Lion King fantasies in Botswana!
You can get up close and personal with a mob of meerkats, watch millions of flamingos migrate to the Makgadikgadi Salt Pans or hop into a mokoro and sail through the Okavango Delta while cruising past zebra, wild dogs, elephants and lions.
On a tight budget?
While there are some luxe accommodation options, Botswana is an affordable destination for South Africans. There are Rand-friendly lodges like Planet Baobab which offer quality lodging and activities that won't put you into debt.
Read More: The Perfect Self-Drive Botswana Itinerary for an Epic Safari Trip
---
Malawi: Stay on an Uninhabited Island
Best Time to Visit: May to October
Perfect For: Digital Detox, Scuba Diving, Eco Travel, Beach
Can't Miss Spots: Mumbo Island
I don't know about you, but I spent many a Math class day-dreaming about owning a private island. While I haven't hoarded such a large sum of money (yet), I got first-hand experience in May 2019.
After stumbling across Mumbo Island in Lake Malawi National Park on a routine Google search of top luxury eco-hotels, I discovered the destination offers special all-inclusive prices for South Africans.
For R20,000 I got:
• Return tickets to and from Johannesburg
• All overland and airport transport
• Three meals a day
• Unlimited use of kayaking and snorkelling equipment and a sunset cruise around the island
• Seven nights accommodation
Plus, there I pretty much had the entire island to myself (minus one couple who spent the whole day at the beach).
If you do want the place to yourself, simply convince 14 of your closest friends to join you on a trip to Malawi.
*cries in introvert*
Read More: What It's Like Staying on Mumbo Island in Malawi
---
Reunion Island: Welcome to Adventure Island
Best Time to Visit: June – August (escape the South African winter)
Perfect For: Outdoors, Natural Attractions, Adventure, Beach, Hiking
Can't Miss Spots: Le Hermitage Les Bains, Piton de la Fournaise, Grand Galet
Ah, Reunion Island.
There is a je ne sais quoi to this slice of heaven in the Indian Ocean.
It's 207 km circumference is home to a bubbling volcano (I took a heli flip over the lava!), beautiful beaches, hidden waterfalls, delicious creole food, glass-bottom kayaks, crystal clear water and so much more.
Reunion Island is the perfect island getaway for South Africans who would rather go on an adrenaline-inducing adventure than sip on Mai Thai's by the pool in Mauritius.
Read More: Reunion Island Itinerary: How to See the Best of Reunion Island in One Week
---
Namibia: The Ultimate Desert Road Trip
Best Time to Visit: May to September
Perfect For: Wildlife, Safari, Outdoors, Road Trips, Camping
Can't Miss Spots: Etosha National Park, Sossuvlei, Fish River Canyon, Dead Vlei
When I ever I see a picture of Namibia my heart skips a beat, my palms get sweaty, and the wanderlust in me whispers: "I must go there".
While my passport is lacking a stamp from Namibia, it's on my to-do list for 2020, and it should be on yours as well.
From the desolate Skelton Coast sprinkled with shipwrecks to the towering Sossuvlei dunes and the incredible wildlife sightings, you could easily spend an entire month here and only scratch the surface.
---
Madagascar: Off-The-Beaten Track Adventure
Best Time to Visit: April to December
Perfect For: Wildlife, Hiking, Scuba Diving
Can't Miss Stops: Nosy Be Island, Avenue of Baobabs, Andasibe-Mantadia National Park
Madagascar is often described as the eighth continent of the world. With its isolated flora and fauna, there is no place on Earth like Madagascar and that alone is worth the R6000.00 return flight.
It's the home of King Julian (everyone's favourite party-loving lemur), the towering Avenue of Baobabs and kilometres of unspoilt beaches.
But due to its lack of infrastructure, Madagascar isn't the best choice for first-time travellers. It's ideal for seasoned travellers who are looking for visa-free countries for South Africans which are unusual and off the beaten track.
---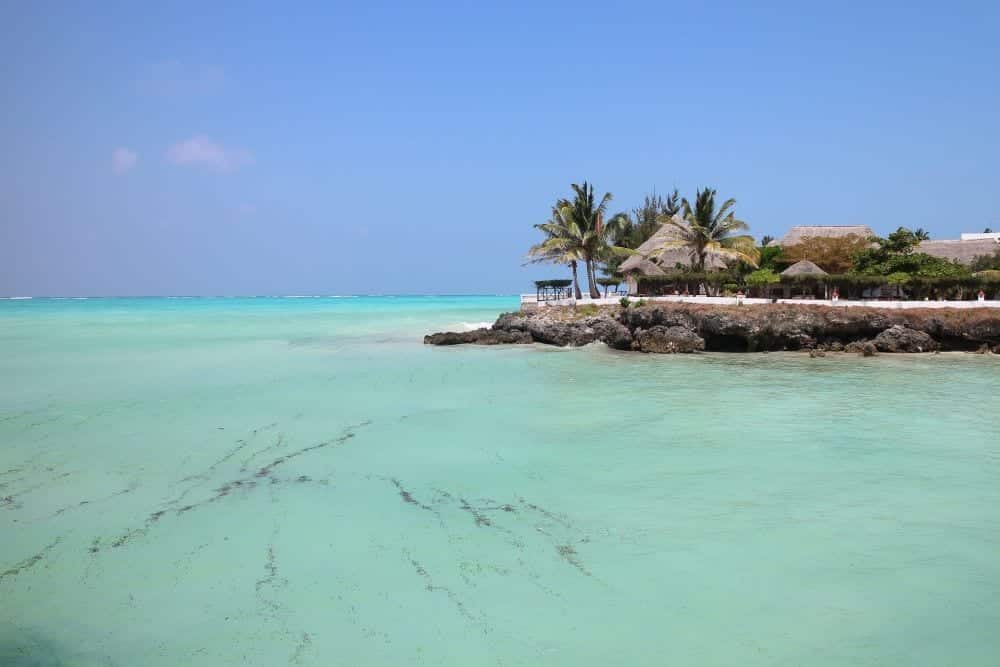 Zanzibar: Affordable Island Getaway
Best Time to Visit: June to October or December to February
Perfect For: Scuba Diving, Luxury Travel, Beach, Culture
Can't Miss Stops: Stone Town, Pemba Island, Spice Tour, Sunset Dhow Cruise
Daydreaming about spending your holiday relaxing on white sandy beaches, cooling off in crystal clear water and snorkelling past schools of tropical fish?
Book a trip to Zanzibar, honey. You deserve it.
Flights from South Africa to Zanzibar start as little as R3500 return, and you can find some excellent flight + accommodation combos from Flight Centre.
Plus, soaking up some sun here is a hella lot cheaper than Seychelles (and the views are just as gorgeous).
---
Best Visa-Free Countries in Europe
Georgia: One of the Most Underrated Destinations
Best Time to Visit: May, June or September
Perfect for: Wine Lovers, Hikers, History
Can't Miss: Tbilisi, Kazbegi, Vardzia, Kakheti
I knew nothing about Georgia when I landed in Tbilisi at midnight in 2016. What started as a three-week trip, turned into a two-month adventure.
Georgia is the birthplace of wine and a vodka drink that has the power to make you dizzy in minutes. It's home to the breathtaking Caucasus mountain range and incredible multi-day hikes.
Then there's the capital city's irresistible charm. Wander past sulfur baths with their meticulously detailed mosaics, the largest Ordathox cathedral in Georgia, an ancient fortress and the former palace of Queen Darejan.
Bonus: South Africans get a one year visa on arrival!
Read More: 7 Experiences You Absolutely Must Have in Georgia
---
Russia: For History Buffs With Insatiable Wanderlust
Best Time to Visit: May to September
Perfect for: History, Disney Geeks, Architecture, Nature
Can't Miss: Moscow, St. Petersberg, Lake Baikal, Peterhof
Ever since I watched Disney's Anastasia, I've been obsessed with all things Russia.
When I found out Lithuanians adopted my grandfather, I thought there was a highly probable chance I was related to the missing princess.
While my dreams of inheriting the Russian throne have faded, my love for the country's incredible architecture and history has not.
I can't wait to visit St. Petersberg and dance around the Hermitage Museum singing "Once Upon a December" at the top of my lungs.
Will I get kicked out? Probably.
Will it be worth it? 100%.
---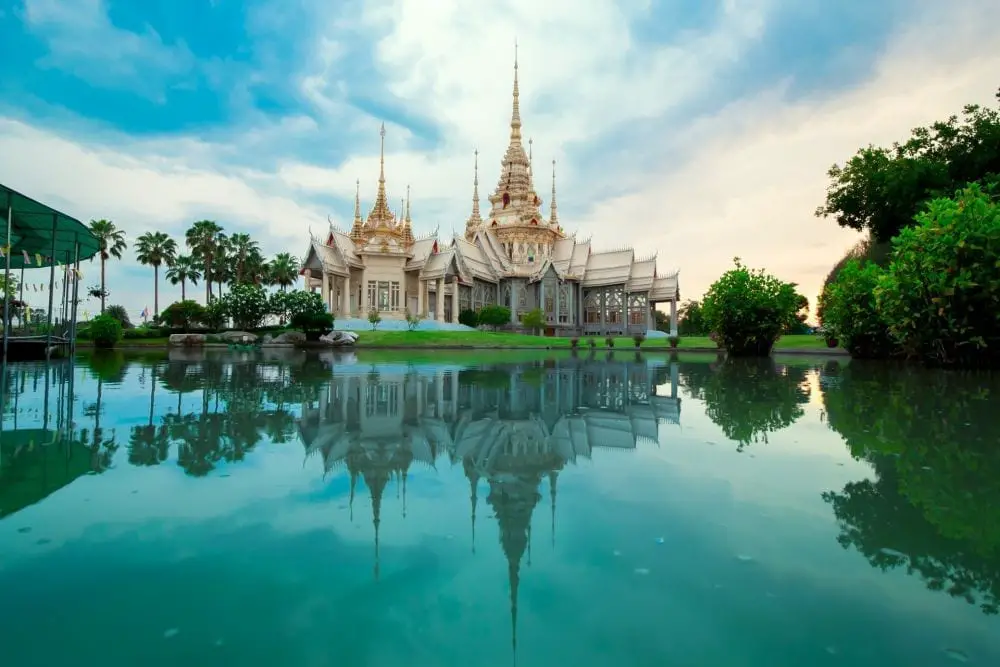 Best Visa-Free Countries in Asia
Thailand: An Island and Culture Escape
Best Time to Visit: November to April
Perfect For: Culture, Beach, Adventure Travel, Food
Can't Miss Stops: Chiang Mai, Bangkok, Chiang Rai, Koh Tao, Khao Yai National Park
Thailand is one of the few destinations I keep visiting. My love affair with the country started when I went over to teach English for six months in 2016.
After my tastebuds experienced authentic Pad Thai, there was no looking back.
With Thailand being the cheapest entry point to South East Asia for South Africans, no visa fees, and incredible natural attractions – you're almost guaranteed to have an incredible trip.
If you're after beach parties and island hopping, stay on Koh Tai, Koh Samui and Ko Pha Ngan.
For those who would rather avoid the drunk Australians, head to the north.
Places like Chiang Mai, Chiang Rai and Pai offer a quieter experience and a chance for you to learn about the intricacies of Thai culture.
Read More: The Best of Bangkok: The Perfect 3-day Bangkok Itinerary
---
Indonesia: Best Budget Destination for South Africans
Best Time to Visit: May to September
Perfect For: Adventure Travel, Culture, Beach, Luxury, Scuba Diving
Can't Miss Spots: Uluwatu Temple, Borodubar Temple, Komodo National Park, Gili Islands, Mount Bromo
Indonesia is one of the most affordable visa-free countries for South Africans.
Head to Bali, and you can rent out an entire villa with your friends for the same price as a hotel room, meals at the local warung restaurants start at R20.00 and hiring a scooter costs as little as R50.00 per day.
But if you have time your itinerary, explore the other islands.
Raja Ampat is an incredible liveaboard destination and Komodo Island is home to incredible hikes and the most terrifying largest lizard on Earth the Komodo Dragon.
Read More: How to Travel Bali on a Budget as a Frugal South African
---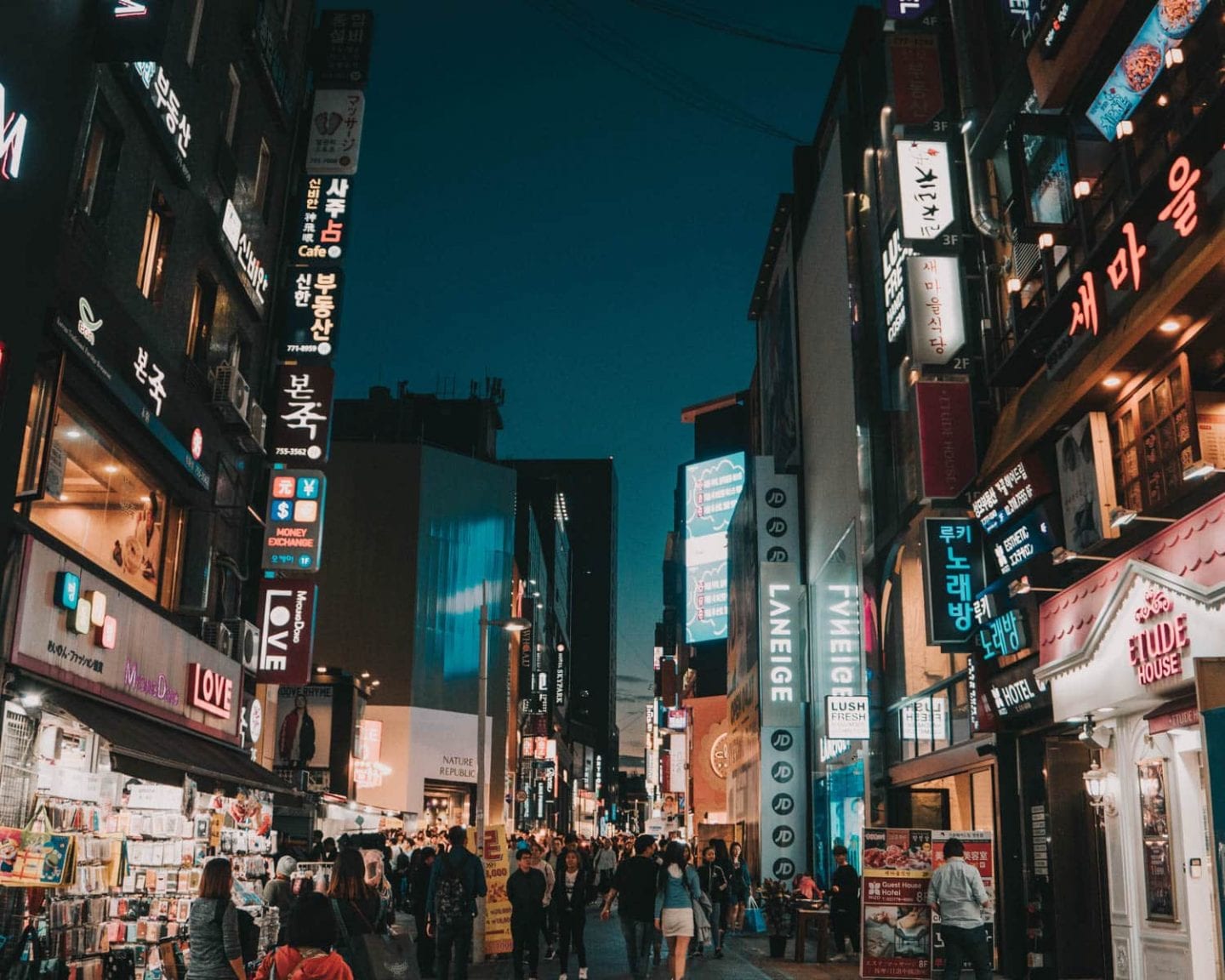 South Korea: Cherry Blossoms, K-Pop & Ancient History
Best Time to Visit: March to May & September to November
Perfect For: Culture, Nature, History, Food
Can't Miss Stops: Changdeokgung Palace, Seoul, Busan, Jeonju, Seoraksan National Park
Flights to South Korea from South Africa aren't dirt cheap, but if you're looking for a unique destination with something for everyone – it will deliver.
City slickers can wander around Seoul past towering skyscrapers, eat out at Instagrammable cafes, and explore ancient villages and palaces.
History buffs can venture to one of the most unique attractions in the world, the DMZ. It's the no man's land border between North and South Korea.
If you're all about nature, time your trip to South Korea for the cherry blossoms, hike Bukhansan National Park and visit the ancient Jingwansa temple complex.
Read More: How To Book Cheap Flights From South Africa To Your Dream Destination
---
The Philippines: Whale Sharks and Desserted Islands
Best Time to Visit: November to April
Perfect For: Scuba Diving, Beach, Budget Travel, Nature
Can't Miss Stops: Boracay, Bohol, Puerto Princesa, Panglao Island, El Nido
Is Thailand too mainstream for you? Hop on over one of the 7,000 islands in the Philippines.
The tropical paradise is giving Thailand a run for its money as the top destination in South East Asia, and it's cheaper.
You can spend $20 (R280.00) per day here as a backpacker. Street food costs as little as $1-2 (R14-28.00) and diving with whale sharks will only set you back $25 (R356.00).
---
Best Visa-Free Countries in South America
Chile: A Mecca for Nature Lovers and Adventure Seekers
Can't Miss Stops: Torres Del Paine National Park, Valle de la Luna, Easter Island, Santiago
As the winner of best adventure travel destination in South America for three years in a row, if Chile is on your travel radar, chances are you spend a lot of your time outside hiking in untouched wildernesses.
Or you obsessed with exploring one of the most isolated destinations on Earth: Easter Island.
While the 18+ hour flight time to Chile is brutal, at least you can escape the 8th circle of hell reserved for Schengen Visas.
Replace the hours spent at the Capago offices with the tall peaks of the Andes, trekking past ancient volcanoes and the dramatic coastline of Cape Horn.
---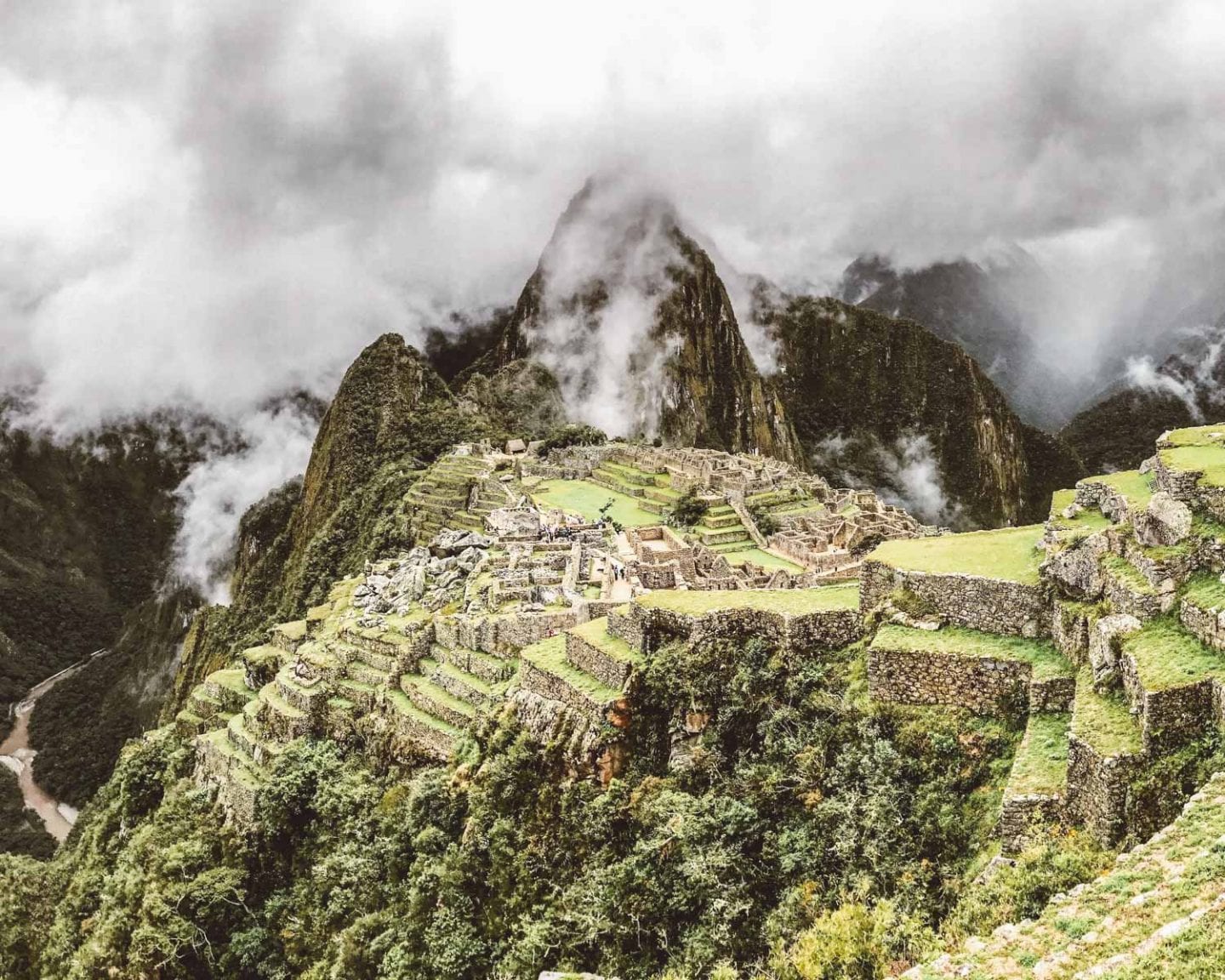 Peru: A Wonder of the World
Best Time to Visit: May – September
Perfect For: Hiking, Outdoors, Culture, History
Can't Miss Spots: Macchu Pichu, Cusco, Inca Trail, Nazca Lines, The Sacred Valley, Huacachina
If Peru was a person, it would be like Barney Stinton. A person incapable of taking a bad picture.
The country is home to  Macchu Pichu, the mysterious Nazca lines, an oasis in the middle of the desert and otherworldly UNESCO World Heritage Site cities.
Its sheer diversity of landscape and experiences make it one of the most popular destinations in South America.
While it sounds like you need a small trust fund to explore Peru, it's one of the easiest South American countries to explore on a budget.
And you don't need to skip Macchu Pichu to make that happen.
---
Argentina: Antarctica Expeditions & Wine Country
Best Time to Visit: October – December & April to June
Perfect for: Adventure, Food, Wine, Culture
Can't Miss Spots: Iguazú Falls, Córdoba Cathedral, Mendoza, Ushuaia, Patagonia
Argentina should be on your visa-free bucket list for two reasons:
1. The Mendoza wine region
2. Ushuaia: The end of the world
At the tip of Argentina is world's southernmost city and it's where expeditions to Antarctica set sail. You can book cruises in Ushuaia to the South Pole which will last anywhere between two weeks to a month.
Sounds like your dream trip, but the hefty price tag of $4,700-$20,000 is putting you off?
If you have flexibility in your travel plans, you can get a major discount to Antarctica.
All you need to do is travel to Ushuaia and book a last-minute spot. The only catch is that you can't control that dates of your ticket. It could be anywhere from the next day to the following week.
---
Best Visa-Free Countries in Central America
Costa Rica: Volcanoes, Cloud Forests & Jaguars
Best Time to Visit: December to April
Perfect For: Nature, Wildlife, Surfing, Hiking, Spiritual
Can't Miss Stops: Tortuguero National Park, Irazu Volcano National Park, Arenal Volcano, Manuel Antonio National Park
Costa Rica first popped onto my radar way back in 2014. I had started working at a global volunteering organisation who ran wildlife conservation projects in Tortuguero National Park.
It didn't take me long to fall hook, line and sinker for the country's black sand beaches, incredible wildlife (raise your hand if it's your life goal to see a wild jaguar), and ziplines gliding through dense forests and past waterfalls.
Besides, its world-class surf spots and unique accommodation options (picture remote treehouses and jacuzzi baths in the middle of the forest!), Costa Rica is a popular destination for spirituality and those who believe in the healing powers of the local ayahuasca ceremonies
---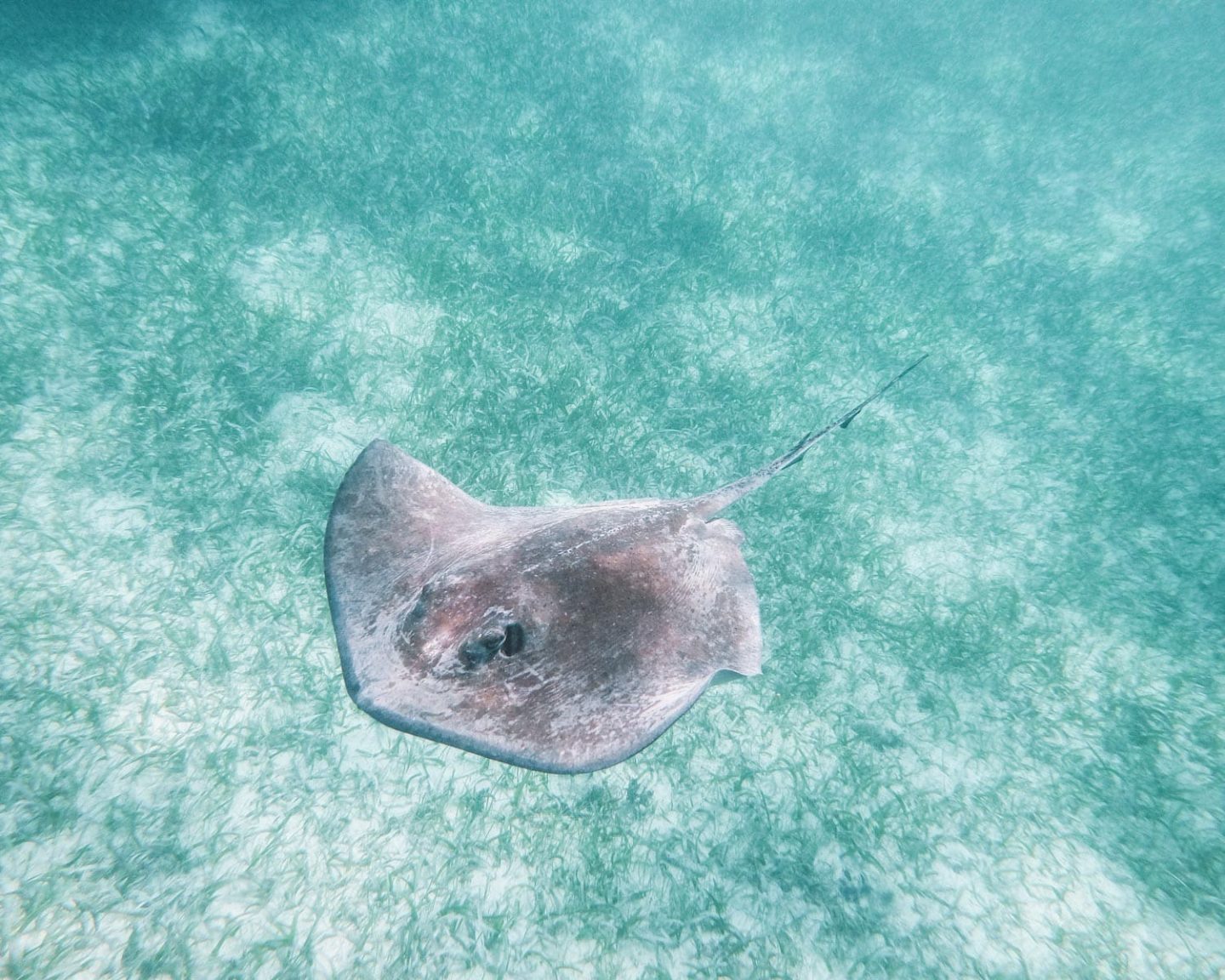 Belize: Underwater Paradise
Best Time to Visit: December to March
Perfect For: Scuba Diving, Adventure, Nature, Eco Travel
Can't Miss Stops: Great Blue Hole, Shark Ray Alley, Cockscomb Basin Wildlife Sanctuary, Caye Caulker
Calling all nature junkies!
Book your flights to Belize and prepare to get lost in one of Central America's most fascinating countries.
Inside its dense forests, you can spot jaguars and howler monkeys and catch a tan on palm-fringed beaches. Cool off in the second largest barrier reef in the world and go for a once-in-a-lifetime diving adventure at the UNESCO Great Blue Hole.
The best part?
It's one of the cheaper Central America countries and has a well-trodden backpacker route as well as options for mid-range and luxury travellers.
---
Jamaica: Bob Marley & Luxury Travel
Best Time to Visit: November to December
Perfect For: Eco Travel, History, Beach, Nature, Luxury
Can't Miss Spots: Seven Mile Beach, Blue and John Crow Mountains National Park, Bob Marley Museum, Rose Hall Great House
Want to spoil yourself with a luxurious holiday to the Caribbean? Jamaica is calling your name.
It's a visa-free country for South Africans, and it's where you'll find some of the top all-inclusive resorts in the Caribbean.
When you're not sipping on cocktails by the beach, you can visit Bob Marley's home, learn about the island's slave trade and visit UNESCO national parks.
---

Panama: Off The Grid Adventure
Best Time to Visit: December to March
Perfect For: History, Nature, Adventure, Surfing, Digital Detox, Bocas Del Toro
Can't Miss Stops: San Blas Islands, Panama City, Santa Catalina
Panama is a small country in Central America, but it packs a punch. Once underwater, it's now a land bridge connecting North and South America.
Used by the Spanish to transport gold between Peru and Spain, it's Old Town in Panama City is full of historic ruins and colonial buildings.
Get off the grid and visit the beautiful San Blas Islands. The only way to get to this part of Panama is to buy a package with the indigenous Guna people. It includes transport, three meals a day and accommodation.
There is no Wi-Fi signal here — only postcard-perfect beaches, lush jungles and crystal clear water.
---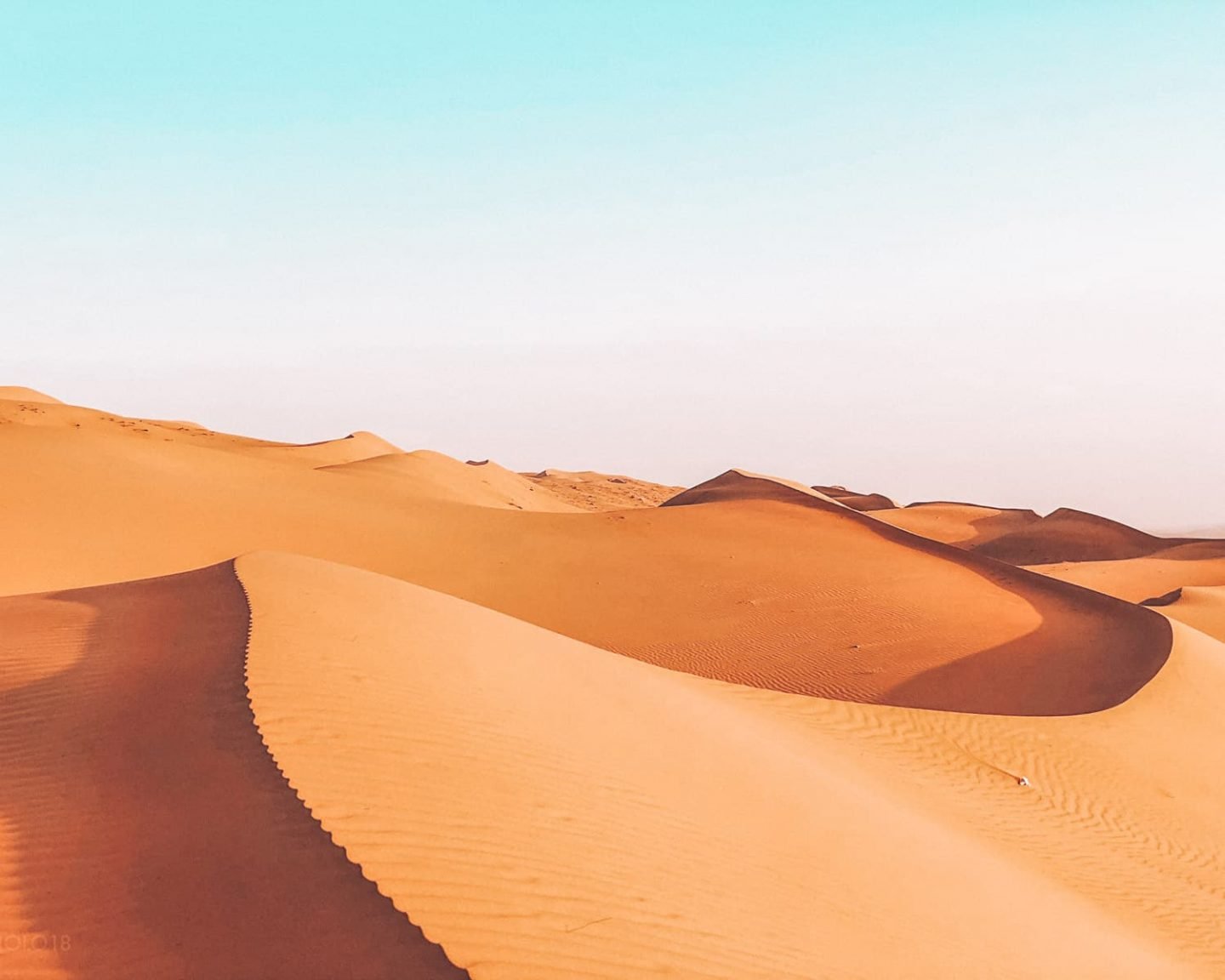 Best Visa-Free Countries in the Middle East
Oman
Best Time to Visit: October to May
Perfect For: Outdoors, Nature, Culture, Road Trips
Can't Miss Stops: Wahiba Sands, Sultan Qaboos Grand Mosque, Nizwa Fort, Wadi Bani Khalid
Oman is one of those countries not a lot of South Africans consider visiting.
If you want to go against the status quo, you'll find it has a lot to offer. Explore its vast desert, visit ancient forts, mosques and souqs and cool down from the heat in gorgeous wadis.
Plus, it's one of the safest countries in the Middle East!
---
Which of these visa-free countries for South Africans will you visit in 2020? Hit me up in the comments below and let's discuss!
---
Psst…Want more visa-free travel inspiration? Check out my other posts:
? If you like it, then you should put a pin on it! ?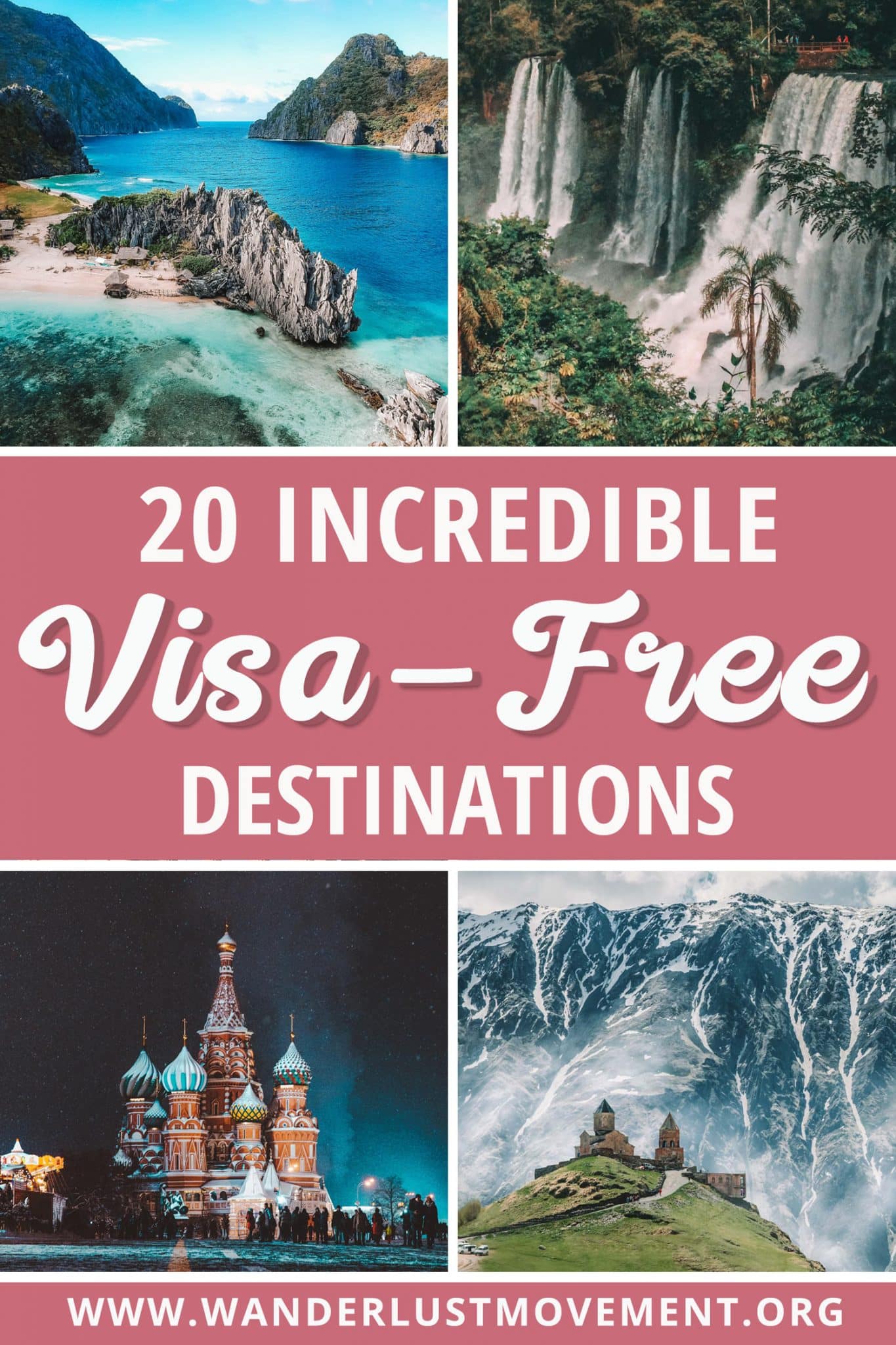 Ditch the annoying visa appointments in 2020. Here are 20 incredible visa-free countries for South Africans to inspire your travels!