Last Updated on September 20, 2020 by lauren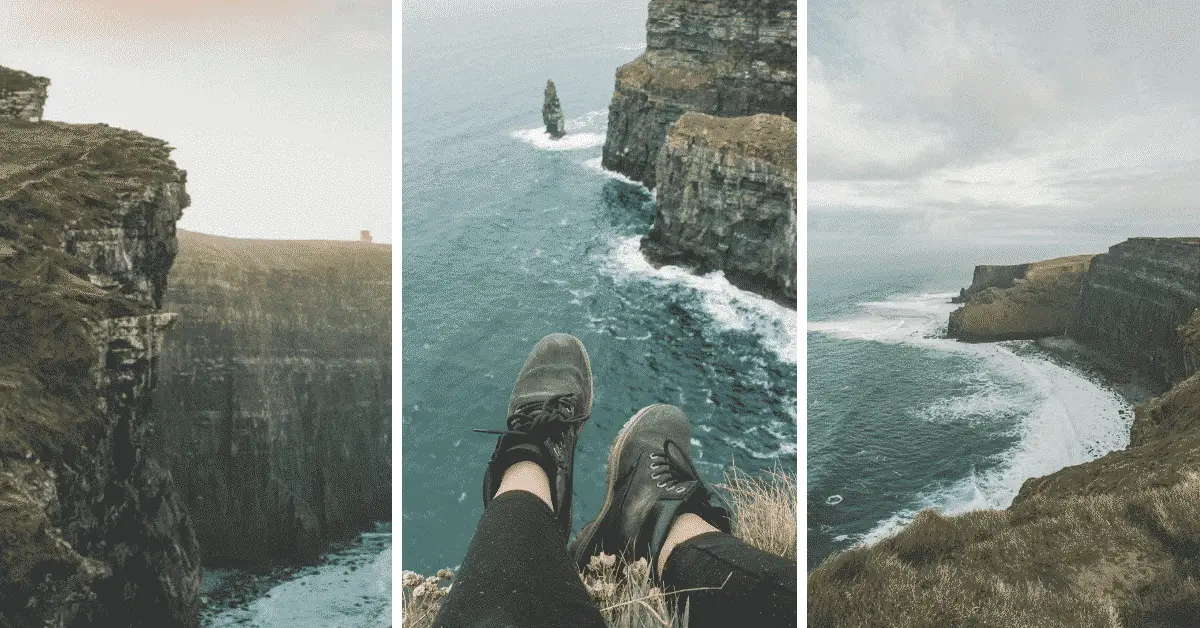 The Cliffs of Moher is the star attraction of Ireland's dramatic coastline.
Ever since I first stumbled across a picture on Instagram, I became obsessed with the cliffs and it went right to the top of my nature-wonders-I-need-to-see list.
And when I saw the Cliffs of Moher in Harry Potter – I knew I had to go there ASAP.
I'm proud to say I finally managed to tick that off – despite being deported from Ireland and technically denied entry into the country.
Talk about overcoming obstacles to achieve a goal.
Here's how to visit the Cliffs of Moher from Dublin!
---
 About The Cliffs of Moher
The Cliffs of Moher is Ireland's most visited natural attraction, and it deserves a spot on any Ireland itinerary. Each year, the cliffs attract one million visitors, and despite the general shitty weather these cliffs still manage to look majestic as fuck.
The 120-metre cliffs are home to 30,000 birds including puffins, a herd of wild goats and on occasion, you might even spot a basking shark, humpback or minke whale.
But as with most beautiful things in life, they do not come without their share of controversy.
It is also one of the most deadly tourist attractions in the world. With strong winds and no railings along the cliff walks, a number of people have fallen to their deaths and endangered others who have tried to rescue them.
---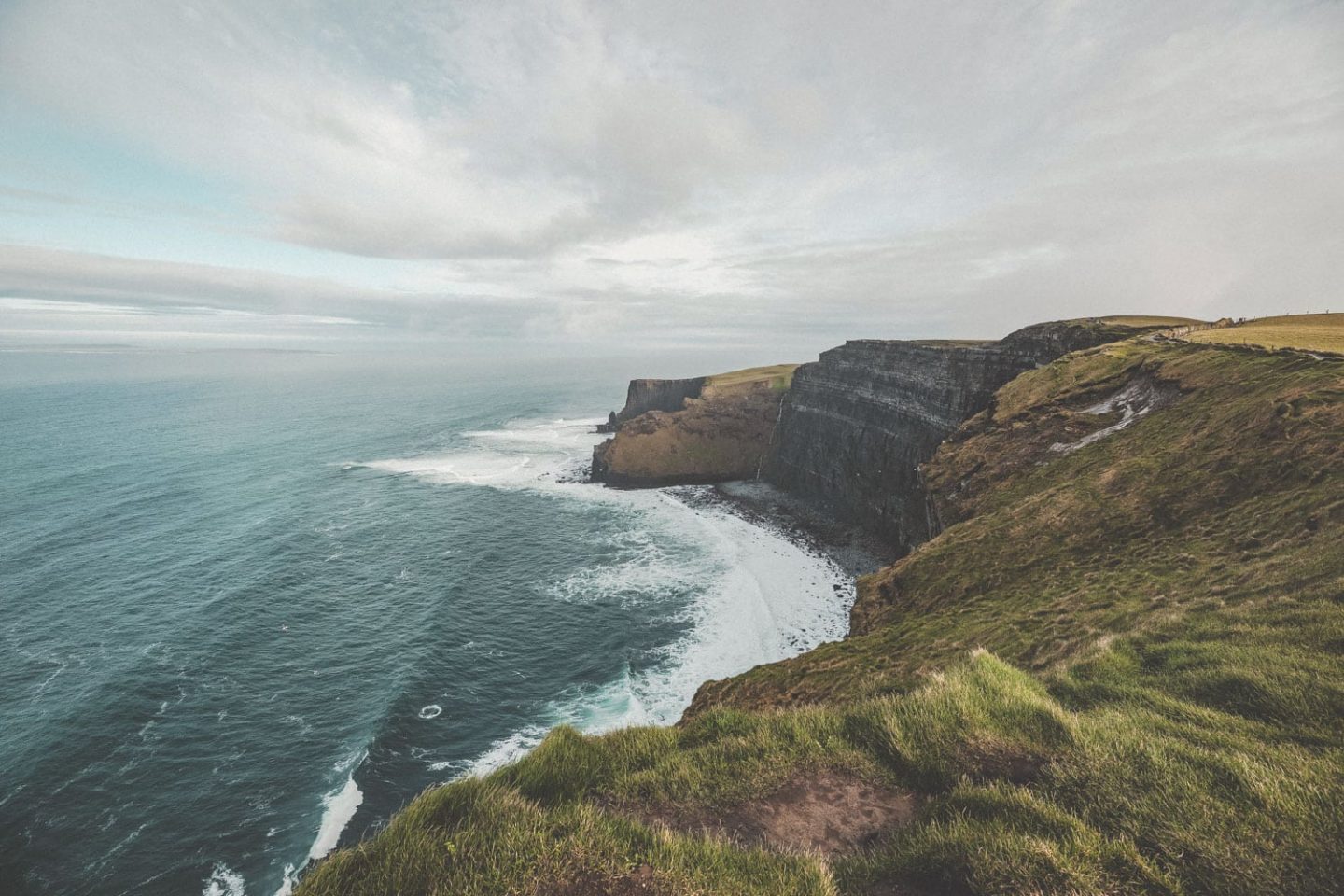 How to Get to The Cliffs of Moher from Dublin
Option 1: Sign up for a tour, sit back and relax and have the logistics be someone else's problem.
Option 2: Hire a car, without GPS, download directions and pray for the best.
Option 3: Take the train from Dublin to Cliffs of Moher.
Option 4: Take the bus from Dublin to the Galway bus station and then take another bus to the cliffs.
I went for option number 2.
Although it did take me much longer to get to the cliffs thanks to an unplanned detour through the Irish countryside, the views made up for it.
How far is the Cliffs of Moher from Dublin?
The drive from Dublin to Cliffs of Moher should take 3 hours if you are not geographically impaired. 
It blew my mind that in the same amount of time it takes to drive from Johannesburg to the Drakensberg mountains, I can cross the breadth of an entire country.
---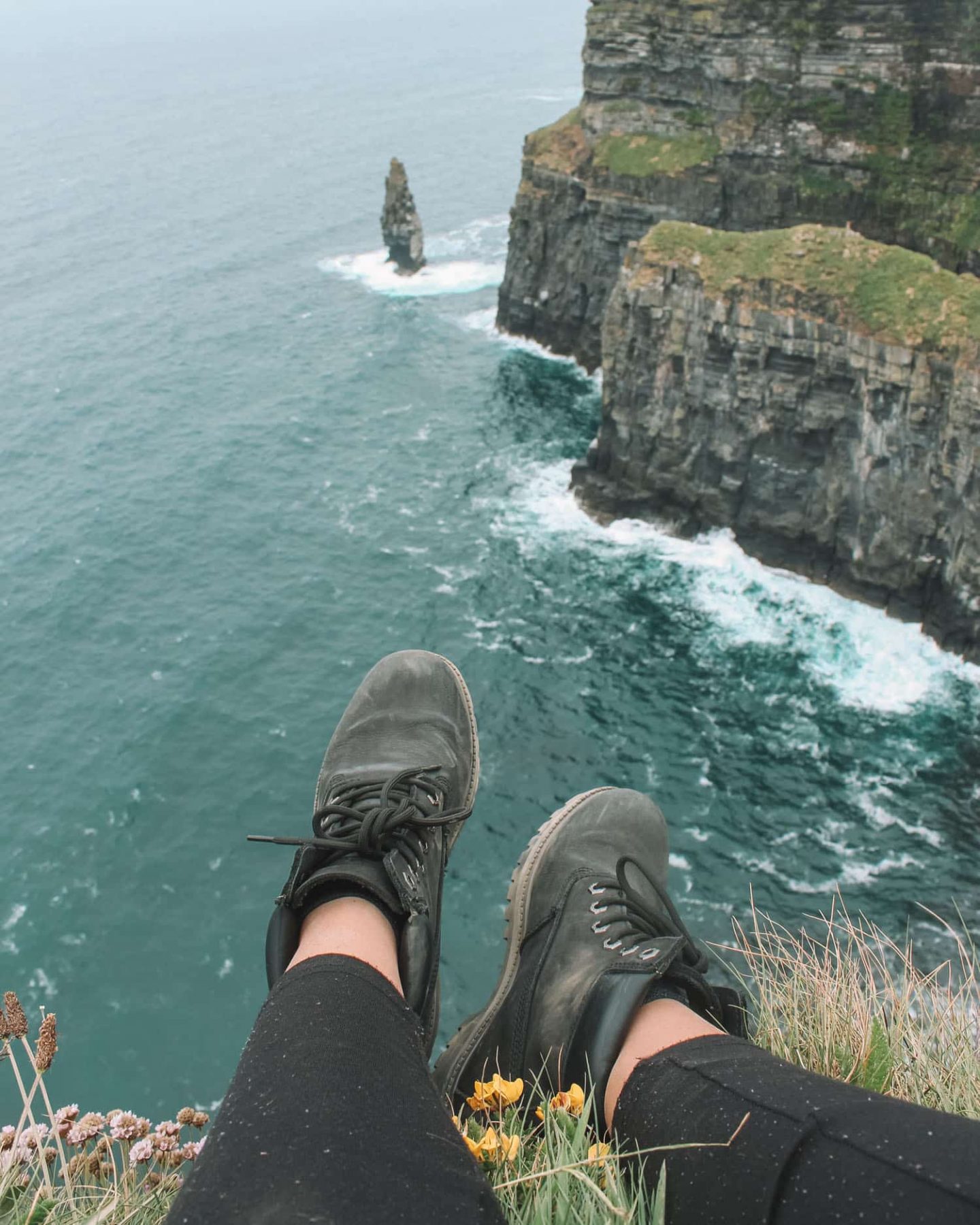 Entrance Fee to Cliffs of Moher
Once you arrive at the cliffs, you will see a massive parking lot opposite the visitors centre. It is here where you will pay for admission to all public areas as well as the Visitors Centre and Exhibition.
But, if you plan on going to the O'Brien Tower, that will cost you extra.
Cliffs of Moher Price:
Adults: €8
Seniors: €5
Students: €7
If you want to save money on your Cliffs of Moher entrance fees, book online. The adult rate goes from €8 at the gate to €4!
Prices for O'Brien's Tower:
Adults: €4.00 (R 30.00)
Child: Free up to under 16s
Cliffs of Moher Opening Hours:
January 09:00 – 17:00
February 09:00 – 17:00
March 08:00 – 19:00
April 08:00 – 19.00
May to August 08:00 – 21:00
September 08:00 – 19:00
October 08:00 – 19:00
November 09:00 – 17:00
December 09:00 – 17:00
---
Harry Potter and the Cliffs of Moher
If you are a Harry Potter nerd like me, you probably recognise these famous cliffs from the movie Harry Potter and the Half-Blood Prince.
Harry and Dumbledore stand on Lemon Rock looking at the Horcrux cave in the face of the cliffs. While you won't be able to stand on the rock from the scene, you can snap a few photos of it from the cliff path and tick off another Harry Potter filming location.
---
The Cliffs of Moher Coastal Walk
Thanks to getting lost and the weather making a turn for the worst, I didn't get to complete this entire Cliffs of Moher walk. But the small part that I did walk was incredible, and I highly recommend it to those that will remember to bring raincoats or umbrellas.
The Cliffs of Moher hike starts from Liscannor in the south and ends in Doolin in the north. Apart from the views of the cliffs, you will also see the Aran Islands in the distance, Galway Bay and Aill na Searrach.
The trail is not easy. There are no barriers with steep ascents and narrow flagstone steps.
Make sure you are prepared for sudden changes in weather and that you are physically able to walk for 18 km in difficult terrain.
---

O'Brien's Tower
Built in 1835, the O'Brien Tower gives visitors a beautiful viewing point and photo opportunity of the cliffs. Especially on a clear day when you can see five countries from the tower.
But if the weather is shit, and you are into weather, you can still visit the tower and learn about local weather patterns. #ItsTimeToNerdOut
Or you can be lazy like me and enjoy the tower from a distance before getting rained on and running into the Visitors Centre to dry off.
---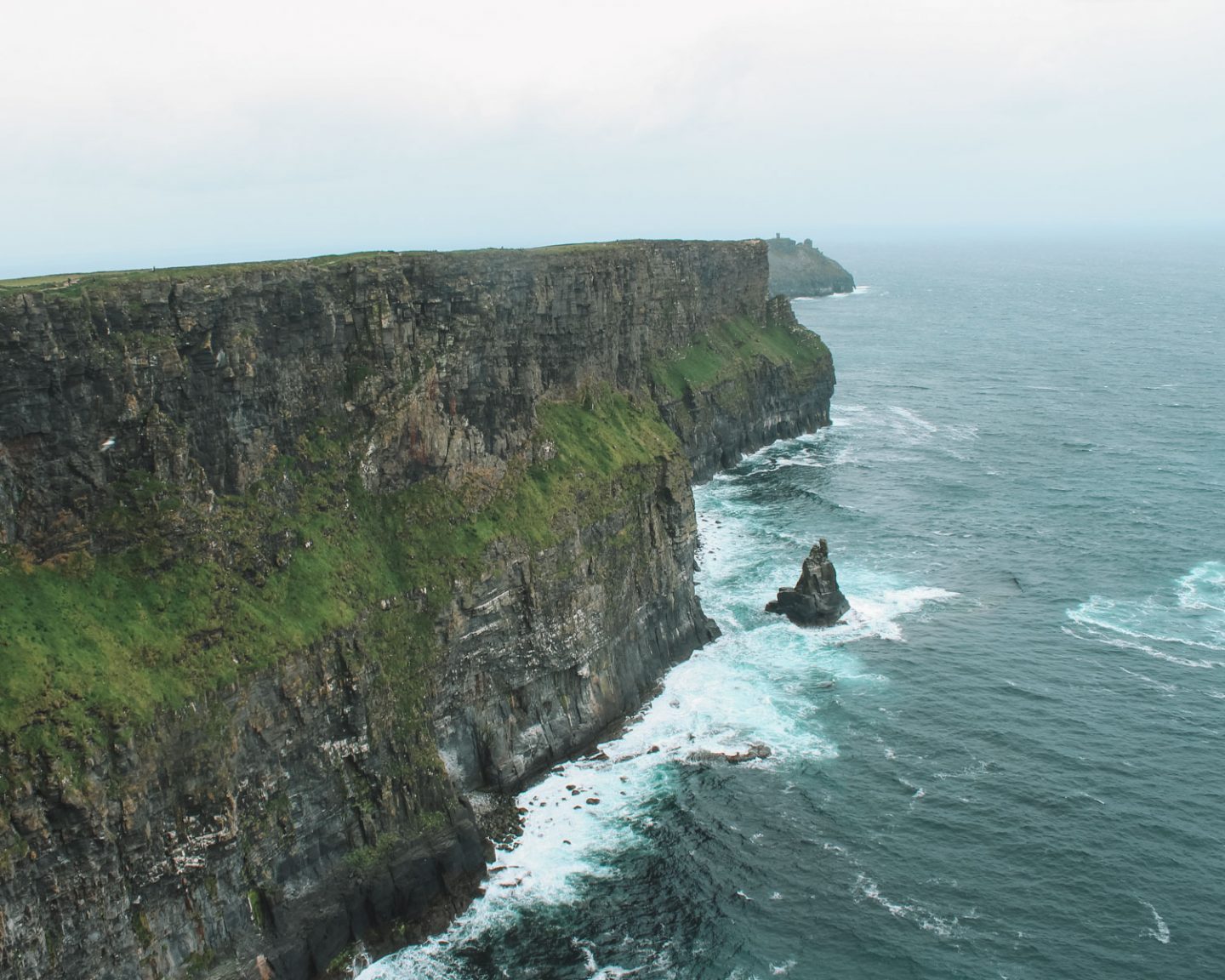 Where to Eat
The Visitors Centre does have a restaurant, but if you are looking to save money, I would recommend driving into one of the nearby towns. We stopped for some pizza and coffee at Stonewall Cafe in Doolin, about a 30-minute drive from the cliffs, before our trek back to Dublin.
Luckily, this time we managed to avoid getting lost and got back to our hotel in an acceptable time frame.
It felt amazing to finally be in a place that I fantasised about for so long. All that's left to do now is visit all the Game of Thrones locations in Northern Island!
The cliffs did not disappoint and were a saving grace from the drama train that was my time in Ireland.
---
Do you have any tips for visiting the Cliffs of Moher from Dublin? Or any questions you'd like me to answer? Hit ya gurl up in the comments below!
---
Psst…Want some more Europe travel inspiration? Check out my other posts:
Did you find this post useful? Save it for later on Pinterest!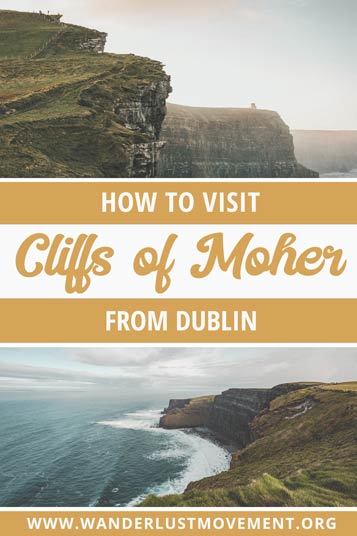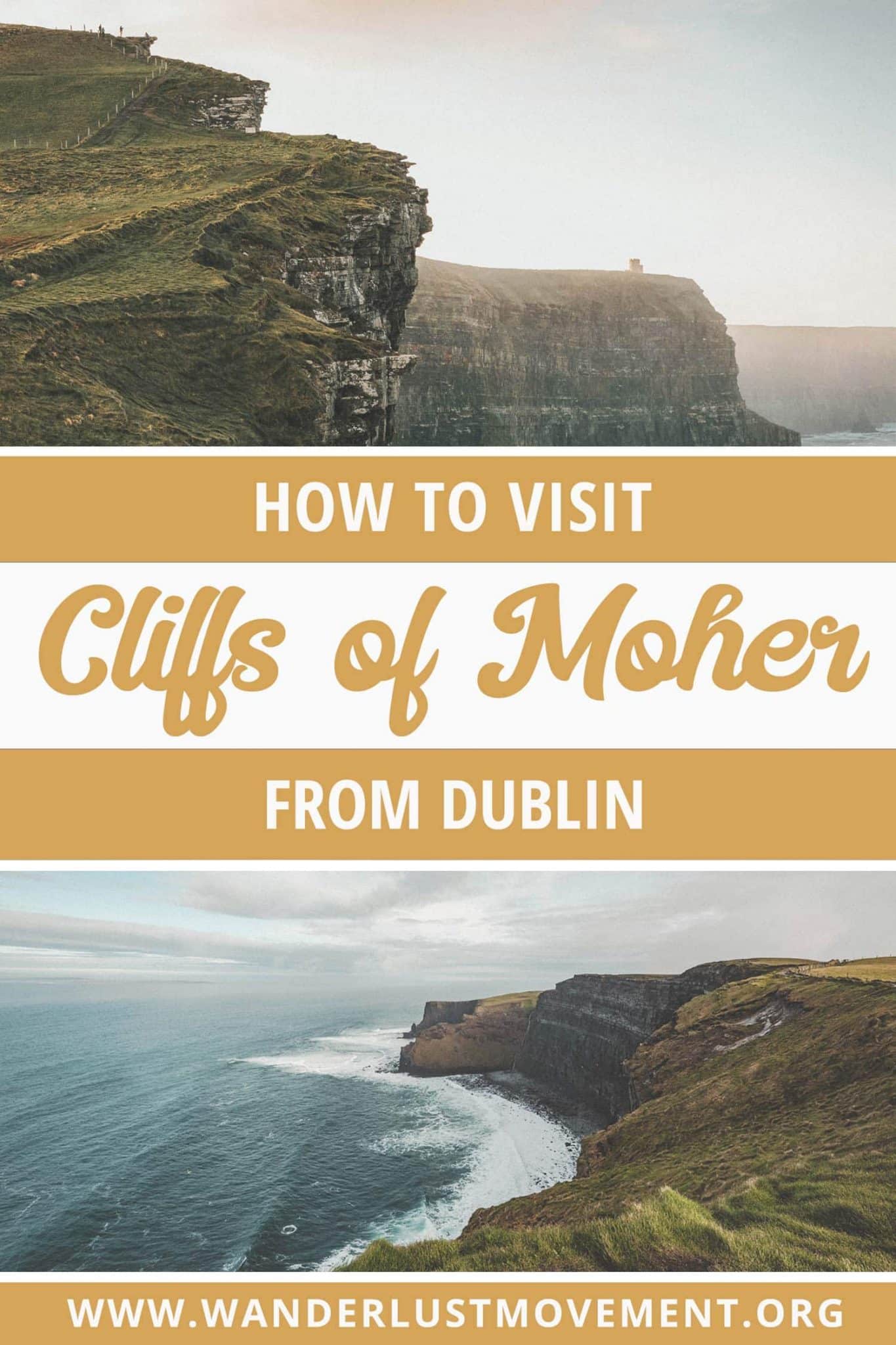 It's totally possible to visit Cliffs of Moher from Dublin by yourself. Here's what you need to know to plan your day trip across Ireland!